What's the story?
The one addition that everyone wants to know about. More than anything else I've done to my FJ Cruiser. Which admittedly isn't too much yet. Is this Front Runner Spare Tyre BBQ Grate. 99% of the time I stop for fuel, which is pretty often with the FJ Cruiser, someone will want to ask about it. Even my neighbour wanted to pick my brains about it after he followed me home from the shops one day.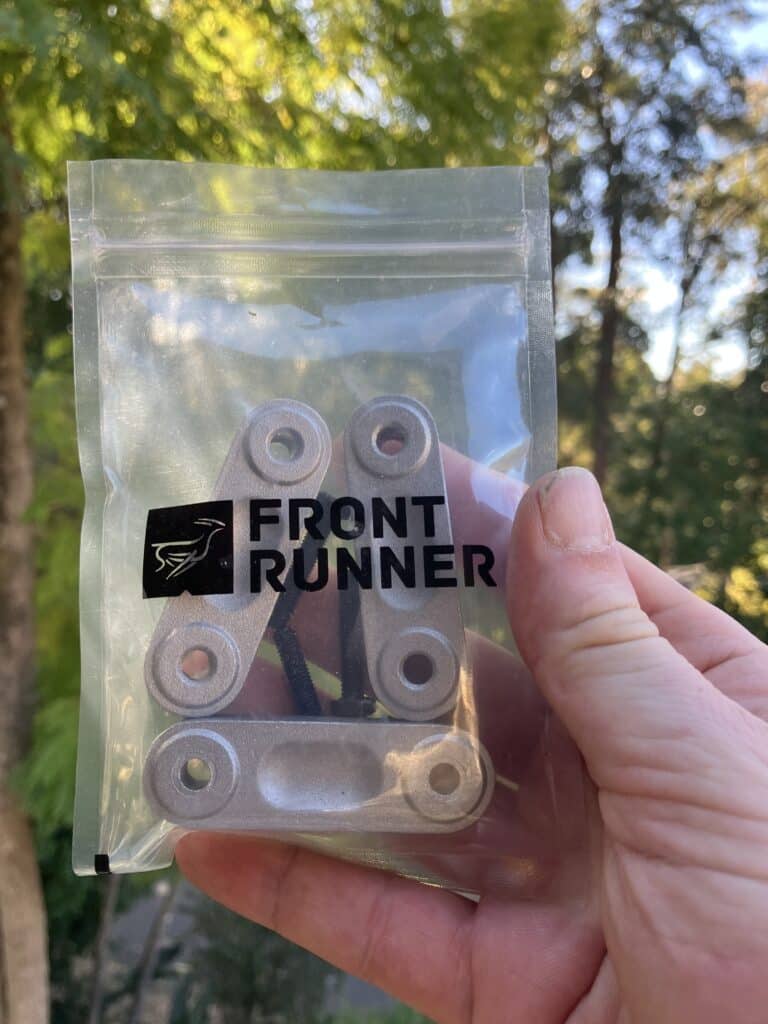 And I can see why. They look cool in a Mad Max sort of way. And they are a terrific idea, maximising otherwise wasted storage space. The Front Runner BBQ Grate sits securely on my rear-door mounted spare tyre. For best results, it's smart to run a ratchet strap around the tyre to hold the BBQ Grate in place. It's also adjustable with bolt-on leg extensions supplied to suit larger tyres if you decide to go up a tyre size. Something I'll be doing in the very near future. In fact, Front Runner says it will fit tyres from 29 inches to 37 inches in diameter, so you have room to grow with the product if you upgrade vehicles or tyre sizes.
Have you actually used it?
Yep, lots too. I used it for a week at Pebbly Beach. I've used it for a handful of weekend trips, and even took it on a boy's weekend where let's just say it copped a constant wagyu-steak-infused flogging over a roaring fire. We ate well. Not that you put this directly into a fire, that would be a misuse of the product and a waste of good steak. Make a smaller bed of coals, and rest the grate over them to have a fantastic meal and a long-lasting product.
Any negatives?
It would be great if you could quickly pop the legs off for easier storage. I leave it on my vehicle full-time for that reason. It's not cheap either, coming in at $365, but I'll likely have this for the rest of my life.
I also bought a Front Runner Spare Wheel Step off FB Marketplace because I thought it was a great idea for roof access. It also secured the BBQ Grate to my spare tyre. Well, I bent the ratchet strap the first time I used it, so have this daggy-looking yellow strap now. This is mostly my fault as I clearly had my Weet-Bix that morning. But the ratchet mechanism could be somewhat beefier. That's not a fault of the BBQ Grate, though, is it?
I have read some reports of people melting the alloy legs of the BBQ Grate. And I'm happy I did read them so I didn't make the same mistake. This to me is pure operator error, you can't just plonk it in a fire and call it good. I've had no issues, because I've been careful with how I position the legs, and how much heat I'm happy to see go through the grate.
Does it get dusty on the spare tyre?
Yep, absolutely it does. The BBQ Grate gets covered in sand, mud, dirt, dust, occasional bird poop and anything else you could imagine while sitting on your spare tyre. So I just give it a clean before use. I'm very particular about cleaning the grate before and after each use, and I have seasoned it as well. I'm yet to have a crunchy steak with a side of sand, so it seems this is not an issue at all. Just something to be aware of.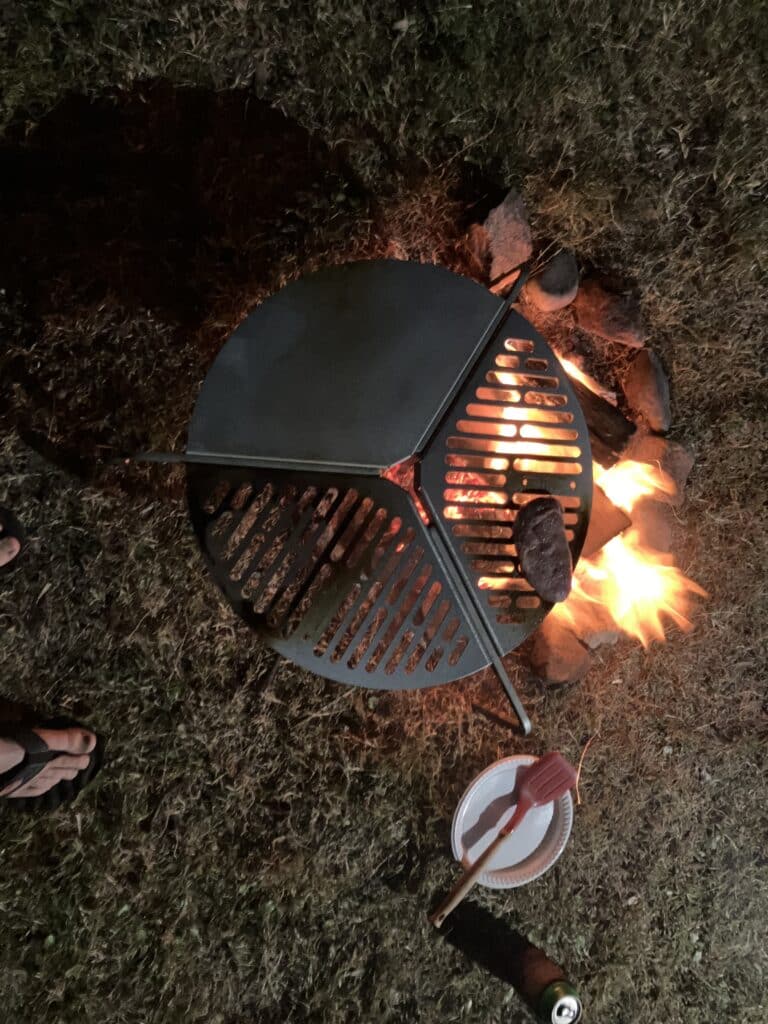 Do I rate it?
100% yes. It's been awesome so far (I've owned it for seven months for context). The Front Runner BBQ Grate is light, sturdy, cooks a variety of food over a small fire or coals well, and takes up no space. It's also a terrific conversation starter. Introverts this might not be the product for you. For anyone with a spare tyre mounted on the back door of your 4×4, I'd recommend the Front Runner BBQ Grate – I'll keep using it and will report back next year to see how it's holding up.
If you're interested in the Spare Tyre BBQ Grate from Front Runner, clear your schedule and check out their website. Warning, you will be looking for a few hours, as the website is utterly addictive.
https://www.frontrunneroutfitters.com/en/au/front-runner-spare-tire-mount-braai-bbq-grate.html