This awesome LandCruiser 6×6 tourer has been dragged out of the Unsealed 4X4 vault for your viewing pleasure.
Words and pics: Harry Temple
You know those phone towers perched up on top of that rocky outcrop? When you need to get there with a four-tonne trailer in tow this LandCruiser 6×6 tourer is one vehicle that's up for the job.
The owner of the 6×6 LC200, Pete, reckons no off-the-shelf, tried-and-tested vehicle could haul everything he needs to complete his contract work with the telecommunication giants. This job often involves travelling thousands of kays to the middle of nowhere and working remotely, but electrical design and construction is a passion Pete has pursued for as long as he can remember and, consequently, his love of the outdoors has only expanded with age.
After acquiring his licence, Pete cut his teeth in a janky old HiLux around the High Country and then progressed to a 47 Troopy, and then onto an 80 Series, which took him and his new family on several touring trips to Cape York. But after squeezing five bodies into the 80 Series for 15 years, Pete thought it was time to upgrade once again, this time to a comparably luxurious 200 Series. When that one had a disagreement with a bog hole, Pete stayed true to his Toyota tradition and picked up his current LandCruiser in late-2017, and it wasn't long before it was transformed into the 6X6 beast you see here.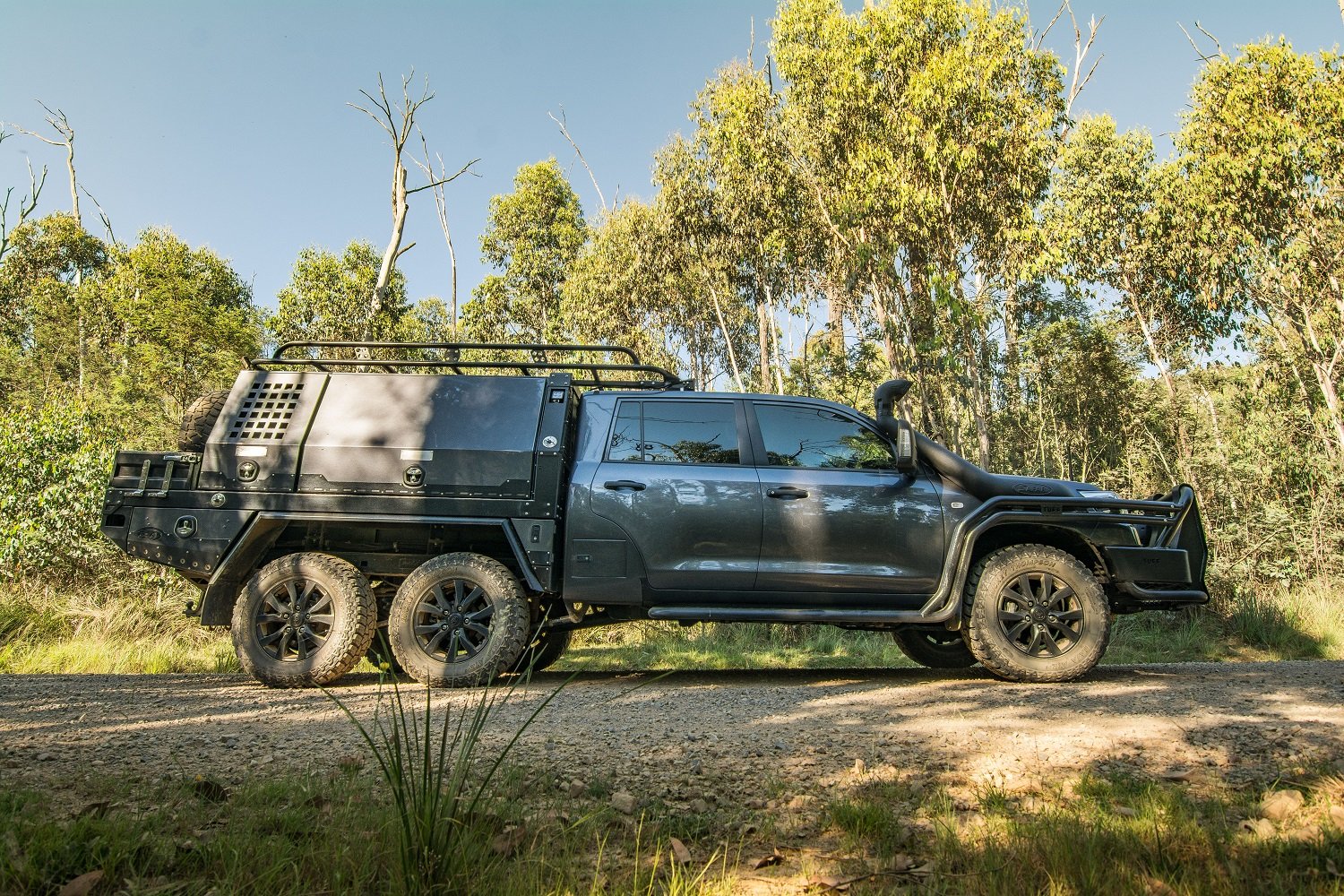 The Vehicle
When you are lucky enough to be able to claim the build as a legitimate business expense, why not go above and beyond? After inspecting several vehicle outfitters in Queensland, Pete ended up choosing one a mere 20 minutes down the road from his house in Melbourne, and it's easy to see why. Boss Aluminium is fast becoming the benchmark for insane custom canopies and customising high-end 4x4s to meet the often outlandish needs of its clients.
Pete approached Boss Aluminium owner Dave with a plan to chop, extend and add an extra axle under his 200. The chop itself, and fitment of a JMACX coils-spring 6×6 system, was performed at Australian Expedition Vehicles (AEV) in Townsville, Qld, and Pete jumped at the opportunity to drive his new rig up there for its date with a grinder. Once AEV had done its thing, Pete flew back to pick it up and drove the now 6X6 cab chassis back to Boss Aluminium in Melbourne, where he left it for a few months while Dave carried out every other modification on the vehicle in preparation for its maiden voyage out to the 2018 Big Red Bash.
I asked Pete why he didn't simply go for one of the big yank tank utes on the market and he bluntly responded: "I had a mate who was stuck in Broome for nine (yes, nine) days after a fitting snapped off the bottom of his F-Truck radiator. Until they have been around for a few more years and proved themselves in our conditions … I want to stick with a common vehicle like the 200 for ease of repair." When your business is time-sensitive, you can't put a price on reliability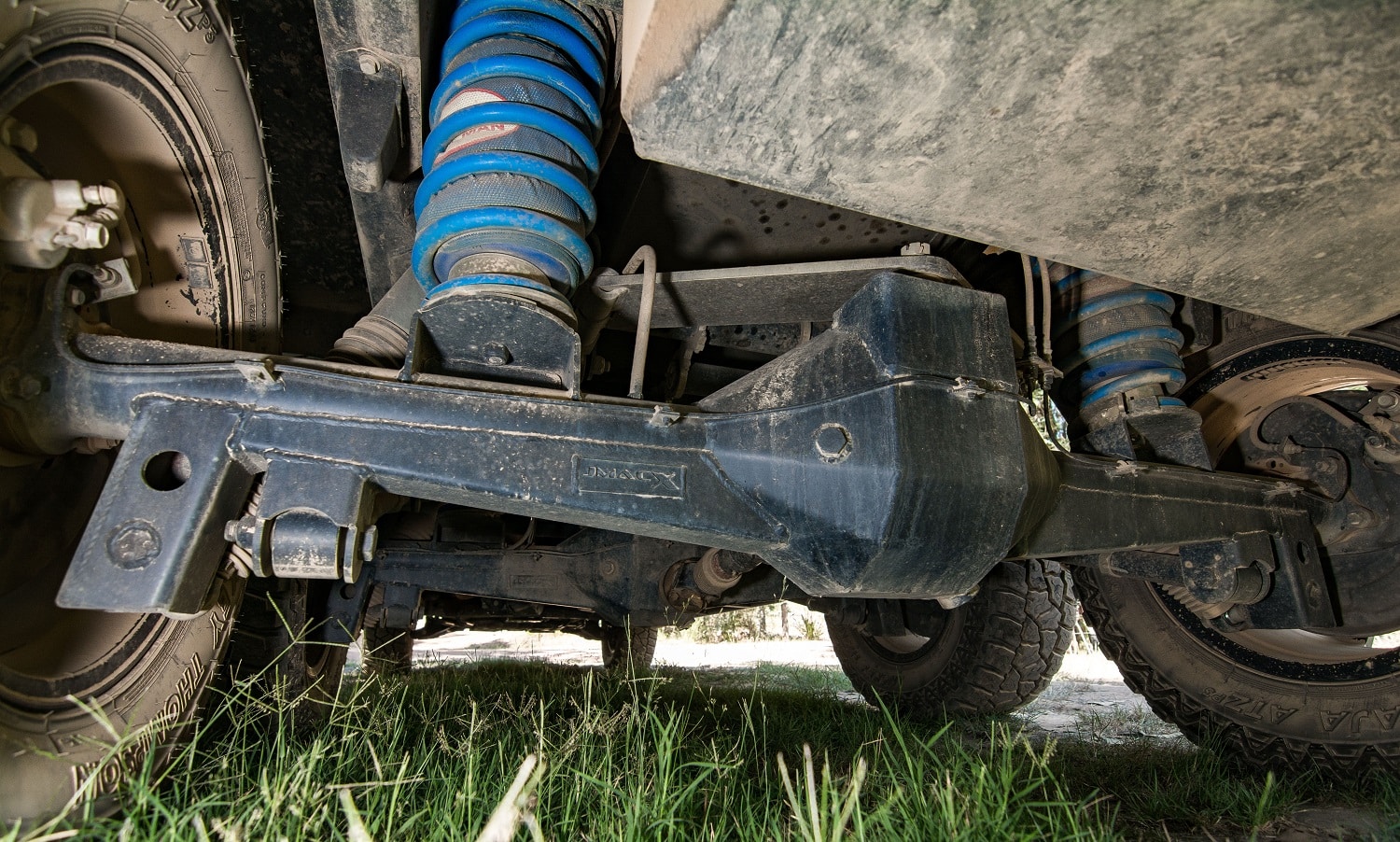 The 6X6 LC200 mods
So the term 'truck' has been thrown around a fair bit of late, but this 4×4 is quite literally a truck. With a GVM of six-tonnes and a GCM of 9.5-tonnes, you are required to have a light truck licence to steer this rig on any road. With the tow capacity raised to a hefty 4.5-tonnes thanks to the extra drive axle and dual JMACX coil conversion kit, it's no wonder Pete went ahead and installed a Tow Pro to manage those long haul trips up the centre.
To keep things reliable, there is only one modification in the engine bay (aside from the Safari Snorkel), and Pete rates the Unichip as a must-have for the weight he is pulling around. Easing the strain on the 4.5-litre TDV8 donk, the LandCruiser breathes a bit easier thanks to a four-inch exhaust. If something is going to be the weak link, Pete said his money is on the auto packing it in before anything else.
Up the front of the 6X6 LC200, the Tuff Bar is paired with some dual sliders. While it definitely isn't everyone's cup of tea, it sure is functional, having dealt with a few strikes so far with no visible damage. Kamikaze kangas are illuminated by Lightforce HTXs and slimline LED bars. Another Lightforce LED bar adorns the custom-made alloy roof rack that Boss made to carry the long lengths of electrical supplies.
Slotted in underneath the rack, 180W of fixed solar panel goodness keeps the 200Ah of lithium batteries topped-up while stationary on site. The ability to sit at camp and monitor the status of the 12V system from the palm of his hand seemed a bit unnecessary to Pete when he first heard of the Redarc Redvision system, but fast-forward six months and he wouldn't be without it. Now he can check on the Waeco, monitor the 108 litres of onboard water and toggle any of the canopy lights from the palm of his hand. Talk about convenience!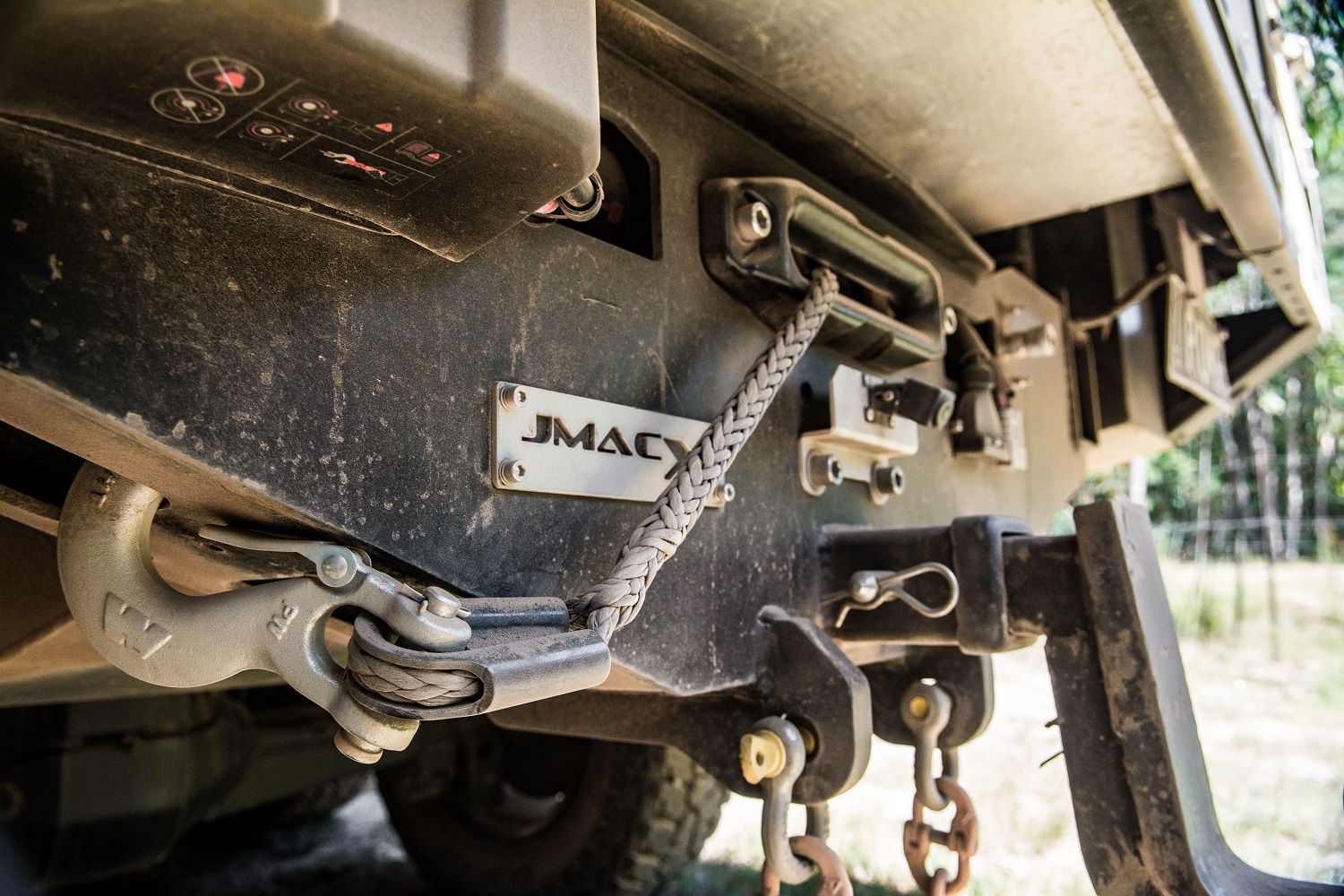 The heart of this build is undoubtedly the canopy. Over 2.5 metres long, the entire tray is alloy and is finished to a phenomenal standard. It consists of three main sections, each with a specific purpose. The main canopy section houses all Pete's tools in adjustable shelving and drawers, along with the kitchen, slide-out table, Travel Buddy oven and all the Redarc gear, from one huge inverter all the way to the Total Vehicle Management System. The dog box (which is also central-locked) doubles as extra work storage when not carrying his four-legged companions. On the back, high tray sides surround both spares and allow for plenty of firewood to be stacked. Avoiding excessive sun exposure is an investment in your future health, so on went a Darche 270 awning as it can provide plenty of wrap-around cover . The longer you look at the canopy, the more you notice; the stainless fittings complement the combination of the intricate sheet metal work accented by the Hammertone metallic finish. Undertray toolboxes store the compressors and act as overflow storage in the event that Pete actually manages to fill every other nook on the big rig.
Underneath the front-end, an Old Man Emu two-inch lift has corrected some of the forward rake, but the best way to sort it out is to load up the back with the full allotment of fuel (270 litres) and adjust the two sets of airbags resting on top of each coiled axle. Keeping all four rear wheels on the ground is very important (as Pete decided against lockers) and crucial to maintaining traction. Pete is currently testing a set of Boss Aluminium shocks suited to the 200 and his requirements. So far, they have kept the rear wheels firmly planted on terra firma, and they allow the 275/70R18 Mickey Thompson ATZ P3s to exercise their grip.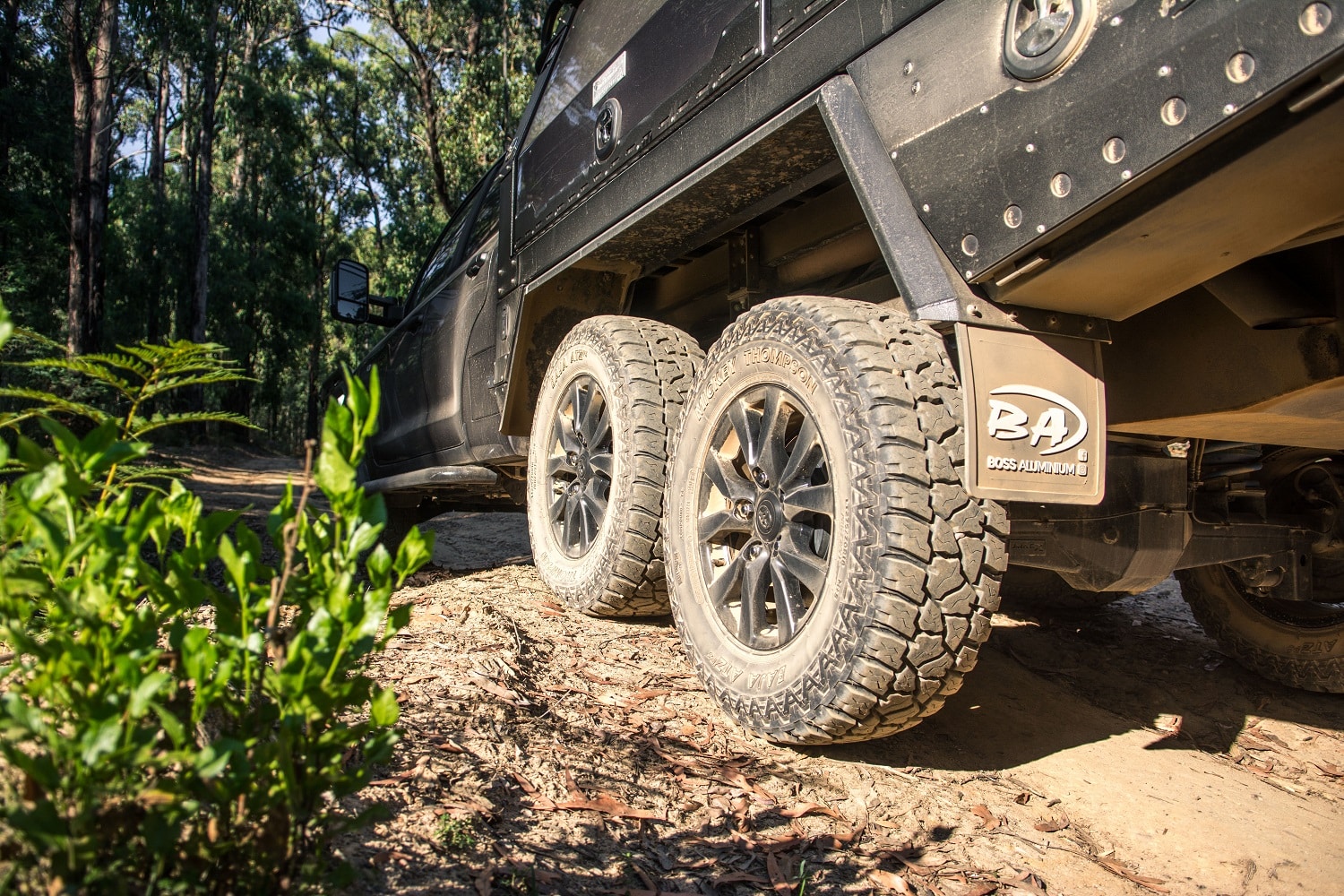 Future plans for the 6X6 LC200
When the 200 is eventually retired from work duties, it will take Pete and his wife around Australia on a lap or three. He's already hooked up the camper trailer a couple of times for the odd weekend escape and, after seeing the photos from the Big Red Bash in 2018, I'm officially jealous. Be sure to stop in and say g'day if you spot him there again next year. Great build mate, we couldn't think of a better suited touring vehicle for solo adventures.