Bridgestone Australia and the Leukaemia Foundation have marked World Blood Cancer Awareness Day by launching an enhanced transport service that will provide increased benefit to the blood cancer community in Australia.
The newly launched transport service bolsters the Leukaemia Foundation's ability to provide support to the blood cancer community through a more tailored approach via increased avenues of support. The revitalisation of the transport service was made possible through Bridgestone's investment in a pilot program that ultimately shaped the future of the service.
"For 35 years, the Leukaemia Foundation and Bridgestone have together put hundreds of Australians living with blood cancer on the road to recovery each year by helping them get to their medical appointments," Leukaemia Foundation CEO Chris Tanti said.
"This World Blood Cancer Awareness Day we are proudly revealing an important evolution of this invaluable service which will ensure these Australians are continuing to travel to their life-saving blood cancer treatment in a way that's right for them and better meets their needs, no matter where they call home."
Since 1986, the Leukaemia Foundation has provided a transport service in capital cities to assist people undergoing treatment for blood cancer through a dedicated fleet of cars driven by volunteers – a program that Bridgestone and its network has supported since its inception.  
In 2019, Bridgestone invested in research into the Leukaemia Foundation's former transport service and funded an innovative pilot program. Through this pilot, several key insights were realised and collaboratively, a revised model was developed. This provides people living with blood cancer with more flexible transport options and removes other potential barriers of accessing treatment, through the addition of supplementary support such as fuel and parking.   
"It is our priority as the Leukaemia Foundation to break down any barriers preventing Australians living with blood cancer from receiving the treatment they need where and when they need it, and by closely examining the way these Australians travel to and from treatment, we recognised an opportunity to offer them more ownership over their experience," Mr Tanti said.
"Through the newly enhanced transport service, the Leukaemia Foundation team will ensure every request for transport support from an Australian in need receives an individualised response, considering both their personal circumstances and preferences, and this unlocks services that deliver the greatest benefit for that person.
"These services now include expanded support options such as referrals to other transport providers, financial subsidies, or taxi, fuel or parking vouchers – whatever personalised support that is the best fit for that person's unique and specific needs and location to get them where they need to be efficiently, effectively, safely and without undue stress.
"This enhanced service will give families living with a blood cancer diagnosis complete control over their own journey to treatment, saving them time, money and worry, and it is available no matter what type of blood cancer someone has or what stage they are along their treatment journey.
"This transport service is only made possible through our long-standing community partnership with Bridgestone and we are proud to continue delivering this program for Australians living with blood cancer thanks to this strong and important support."
Bridgestone has welcomed the new model with open arms, with the enhanced service aligning to the company's focus of providing mobility solutions that benefit society, while also paying homage to Bridgestone's support of the former service with dedicated Bridgestone cars.
According to Bridgestone Australia & New Zealand Managing Director, Stephen Roche, the new transport program will place an increased emphasis on the contribution made by Bridgestone's network of stores throughout Australia, and their customers, towards this cause.
"We're proud to be able to continue our support by helping people living with blood cancer access the treatment they need via this new service offering available through the Leukaemia Foundation," Mr Roche said.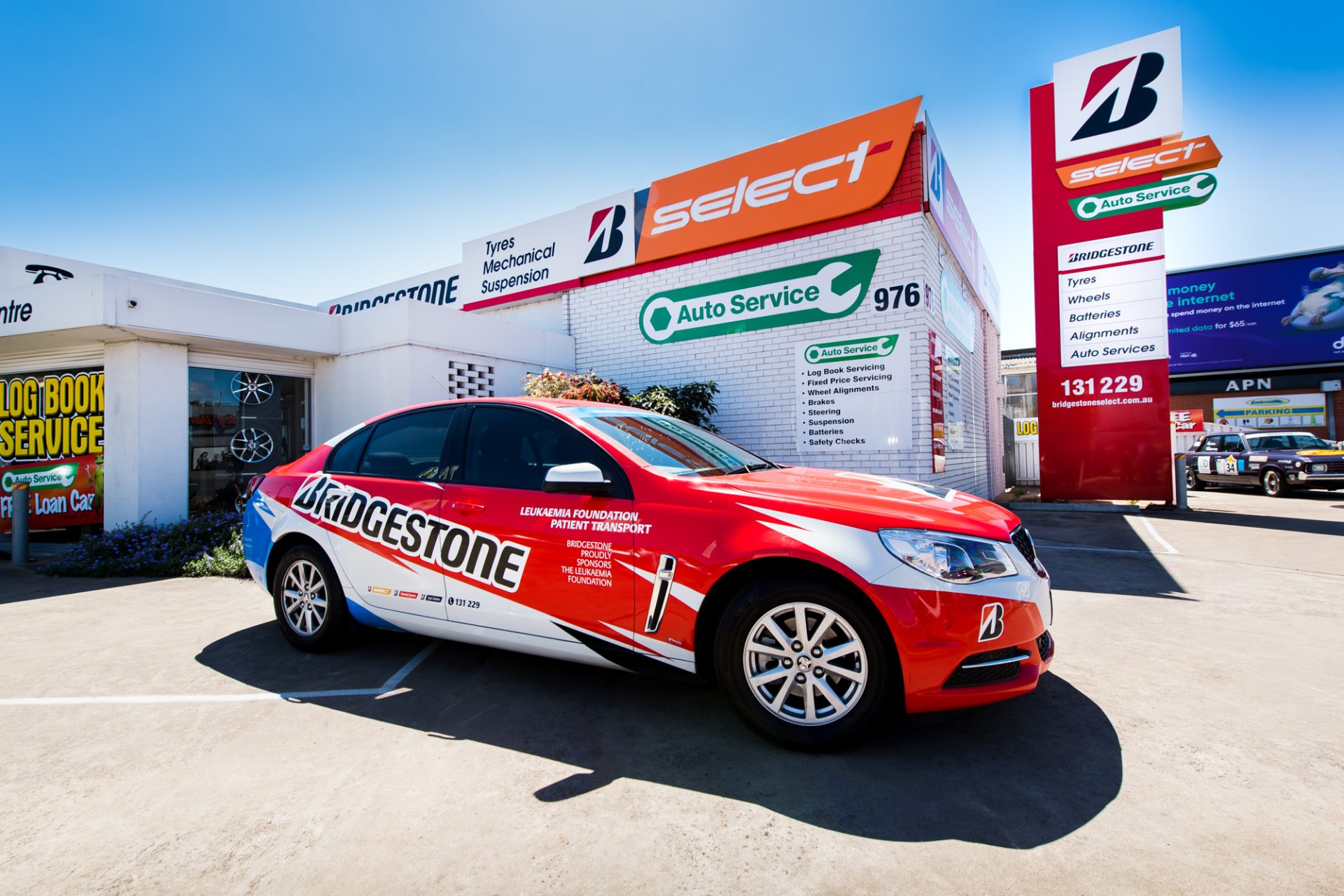 "Our contribution to the Leukaemia Foundation's transport program is driven by Bridgestone Select and Bridgestone Service Centre stores and through the sale of Turanza Serenity Plus tyres – with $2 from every tyre going directly to this service."
Bridgestone's unwavering support of the Leukaemia Foundation is underpinned by the strong alignment to the company's global CSR initiative, 'Our Way to Serve', which aims to enhance the way people live, move, work and play through three priority areas: mobility, people and environment.
"Our long-term partnership with the Leukaemia Foundation is such a core part of Bridgestone's local history, and as we continue to evolve as a business and the charity evolves, it's fitting that we continue to work together and create shared value for the community.
"The support of the Leukaemia Foundation showcases our commitment to our CSR priorities by supporting people and providing them with transport options. It's a great example of how we work with our partners to deliver shared value," Mr Roche added. 
About Bridgestone Australia Ltd.:
Headquartered in Tokyo, Bridgestone Corporation is a global leader providing sustainable mobility and advanced solutions. In Australia, Bridgestone Australia Ltd. offers a range of services and solutions to all segments of the Australian market to deliver social and customer value. Bridgestone's extensive range of quality tyres is complemented by the provision of mechanical and fleet services through the company's nationwide retail network of Bridgestone Select and Bridgestone Service Centres, mobile service provider Lube Mobile, and the manufacturing and sale of quality retreads through Bandag Pty Limited. Guided by its global corporate social responsibility commitment, Our Way to Serve, Bridgestone is dedicated to shaping a sustainable future of mobility and improving the way people move, live, work and play.
About The Leukaemia Foundation:
The Leukaemia Foundation stands with Australia to help cure and conquer blood cancer – with care. Together we are attacking every blood cancer, from every direction, in every way we can. We stand beside every Australian to be their voice and their someone-to-turn-to, fighting to get them access to the best care. We also accelerate research that's delivering rapid advancements in blood cancer diagnosis and treatments. Plus, we provide services and support that empower people living with any blood cancer to live well after diagnosis. You can learn more about the Leukaemia Foundation and blood cancer at leukaemia.org.au.
Related: 5 things you may not have known about tyres…