Here are some of Sydney's best 4X4 trips, ideally suited to those who don't have the time for a big, far-off adventure, as well as these strange times in which much travel remains restricted.
Sure, we all like to head to far-off lands and ultimate bucket list destinations but with many travel restrictions still in place, or you've just got a weekend or few days free to get away from it all we thought we'd point out some of Sydney's best 4X4 trips. If you live in Sydney or surrounds, here are a few trips you could knock over in a weekend, or even just a solid day trip. Welcome to the best four-wheel drive tracks Sydney has to offer. 
Kanangra-Boyd National Park  
Starting just out the back of Oberon and heading through the Jenolan Caves, there are a great many tracks in this area offering a variety of driving experiences. While many of the tracks are relatively well–formed, there are odd parts where things get a little slippery and shaly. Head on to the Kowmung River Fire Trail to access the biggest drawcard of the Kanangra-Boyd National Park, Kanangra Walls.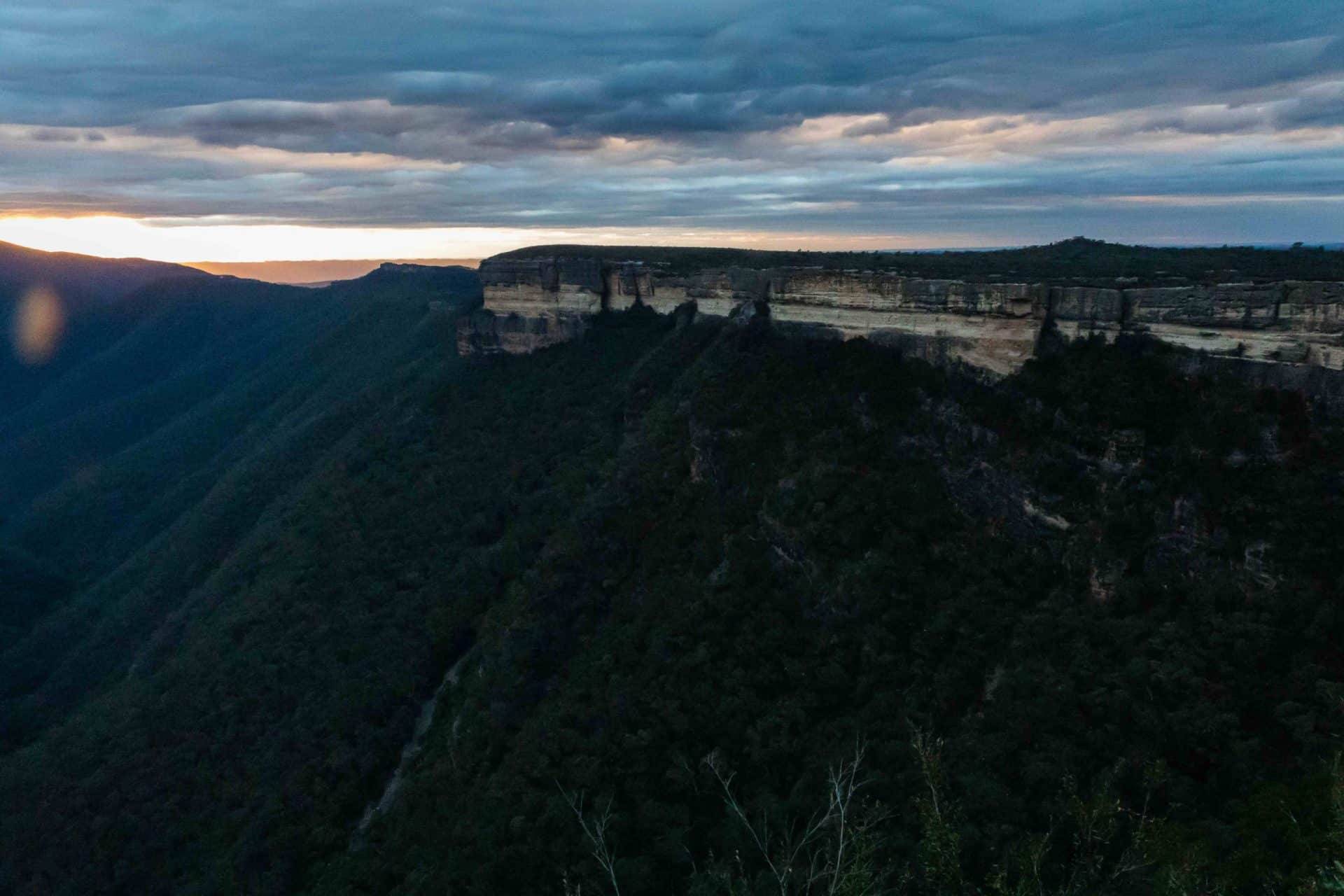 The campsite closest to the Kanangra Walls is Dingo Dell, at the base of Saddle Gully, which puts you within about a 15-minute walk out to the lookout for the wall. That said, if you're keen on a longer walk, there's a plateau walk that will take you around two hours return, that gives even better views of the valleys and escarpments of the national park. The Kanangra Walls lookout is spectacular on the sunrise, especially so on a clear day, with amazing colours and shades coming out on the escarpment as the sun rises on another day. It is undoubtedly worth dragging oneself out of bed while it's still dark to appreciate it.  
Marrangaroo National Park 
Out from Lithgow, you'll find one of Sydney's best 4X4 trips at the Lidsdale State Forest and beyond, at Marrangaroo National Park. In this area, you'll come across the Cox's River, which meanders its way from Wallerawang Dam to the north, down through the Lidsdale State Forest, to Lake Lyell in the south. The tracks in here are mostly still well–formed, not offering too much of a challenge; there are however many creek and river crossing in the area. One such crossing that is amazing unto itself is  just below Mount Walker where you need to drive down the length of the Cox's River for around 100 metres. Depending on rain, it's usually reasonably deep, with water lapping at the headlights.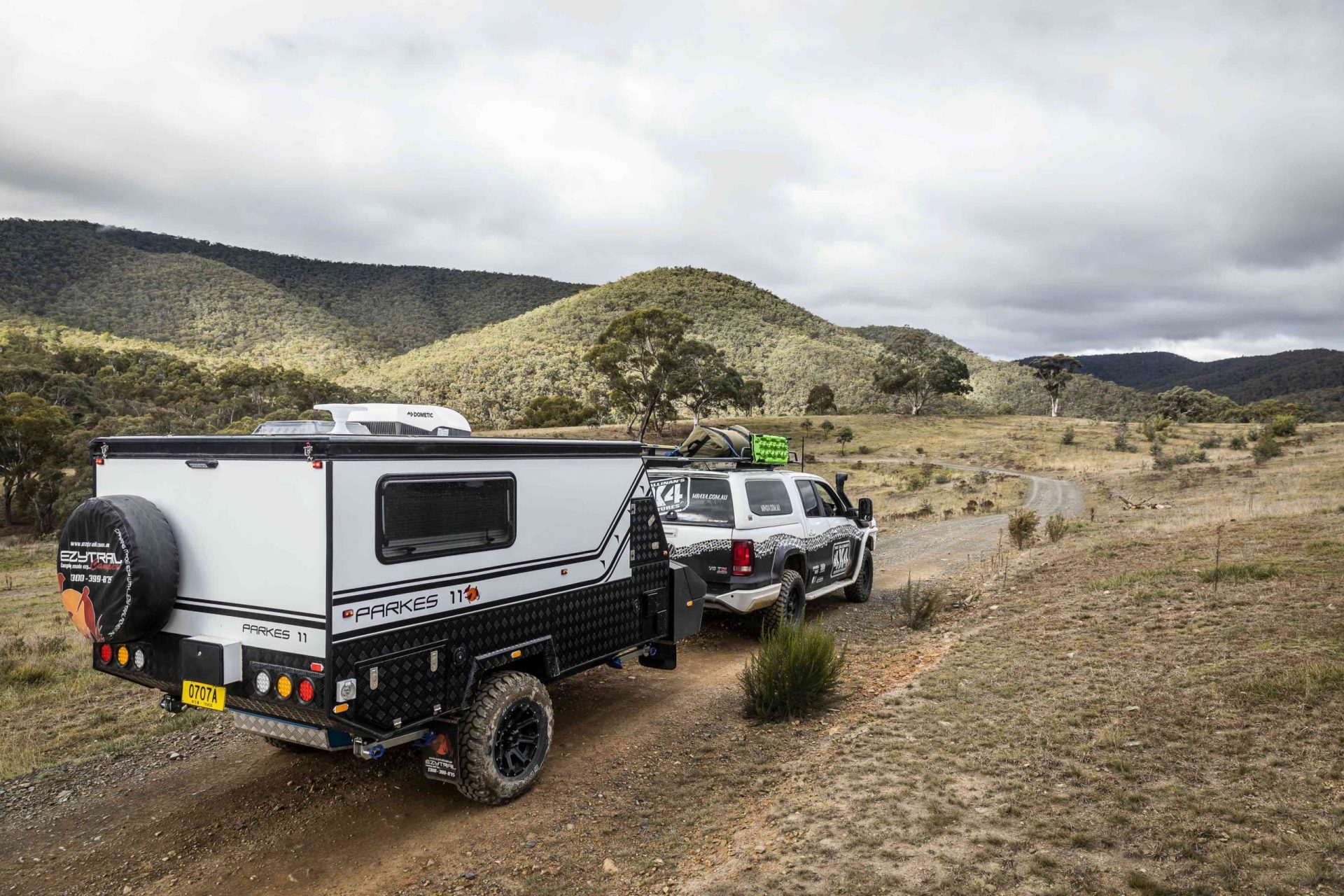 There are many tracks in the area, with some highlights being the infamous Fire Truck Hill, which has claimed more than its fair share of unprepared and inexperienced four-wheel drivers. Its namesake is set around a fire truck that rolled when attempting to climb the hill many moons ago. Mount Walker Road is another stand out track to drive, with some aggressive climbs and off-camber corners to test your mettle.  
Access to this area can be had either by coming in through the northern side of Marrangaroo National Park or Lidsdale State Forest. Alternatively, the township or Rydal in the south offers an easy and relatively expedient way of getting to the Cox's River and Fire Truck Hill. For Rydal, you can come in via the back of the local showground, however, some of the tracks are quite steep and gravelly.  
The Turon River 
The Turon is no secret to many four-wheel drivers that this is one of Sydney's best 4X4 trips, as it offers some fantastic freshwater swimming, fishing and four-wheel driving. There is also an amazing amount of history in the area, especially at our campsite for this stage of the trip, The Diggings Campground.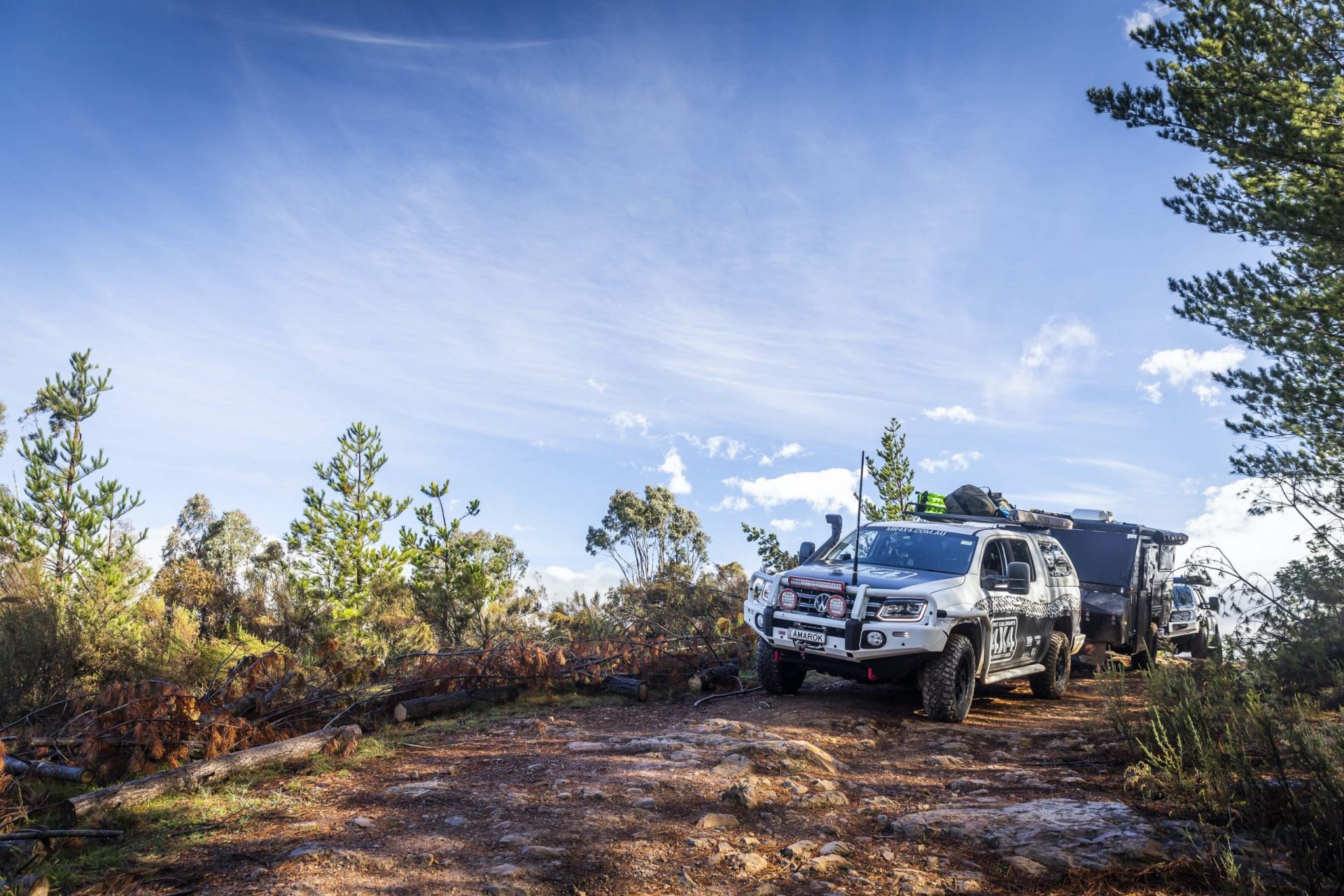 The area is a touch further north of Lithgow, near Capertee, however you can head into The Diggings campground from the south, through Sunny Corner along Daylight Creek Road. The majority of tracks in this area are reasonably sedate, especially to the south within the Sunny Corner State Forest, as it is still being used for logging purposes, so the roads are well looked after. As you get further north and head into the National Park, the tracks get a little rougher, but nothing you shouldn't be able to handle; we did it with an Ezytrail on the back.  
The most significant drawcard for the area is the campgrounds, touring, scenery and a few harder tracks that are spread around off the main tracks.  
Ben Bullen State Forest – Baal Bone Gap 
Just across the Castlereagh Highway to the south is the Ben Bullen State Forest, which includes the little tucked away four-wheel drive track and playground that heads up to Baal Bone Gap. The track itself can be accessed just off Wolgan Road and shows up as 'Bicentennial Trail' on most mapping equipment. Within the first 300 metres, you'll know if this track is right for you; it gets very interesting, very quickly. With large ruts, holes, off-camber climbs and some aggressive steps to get you started. From there, once you've climbed the first section, there is a rock towards the top of the track that you can climb to have a view over the Wolgan Valley.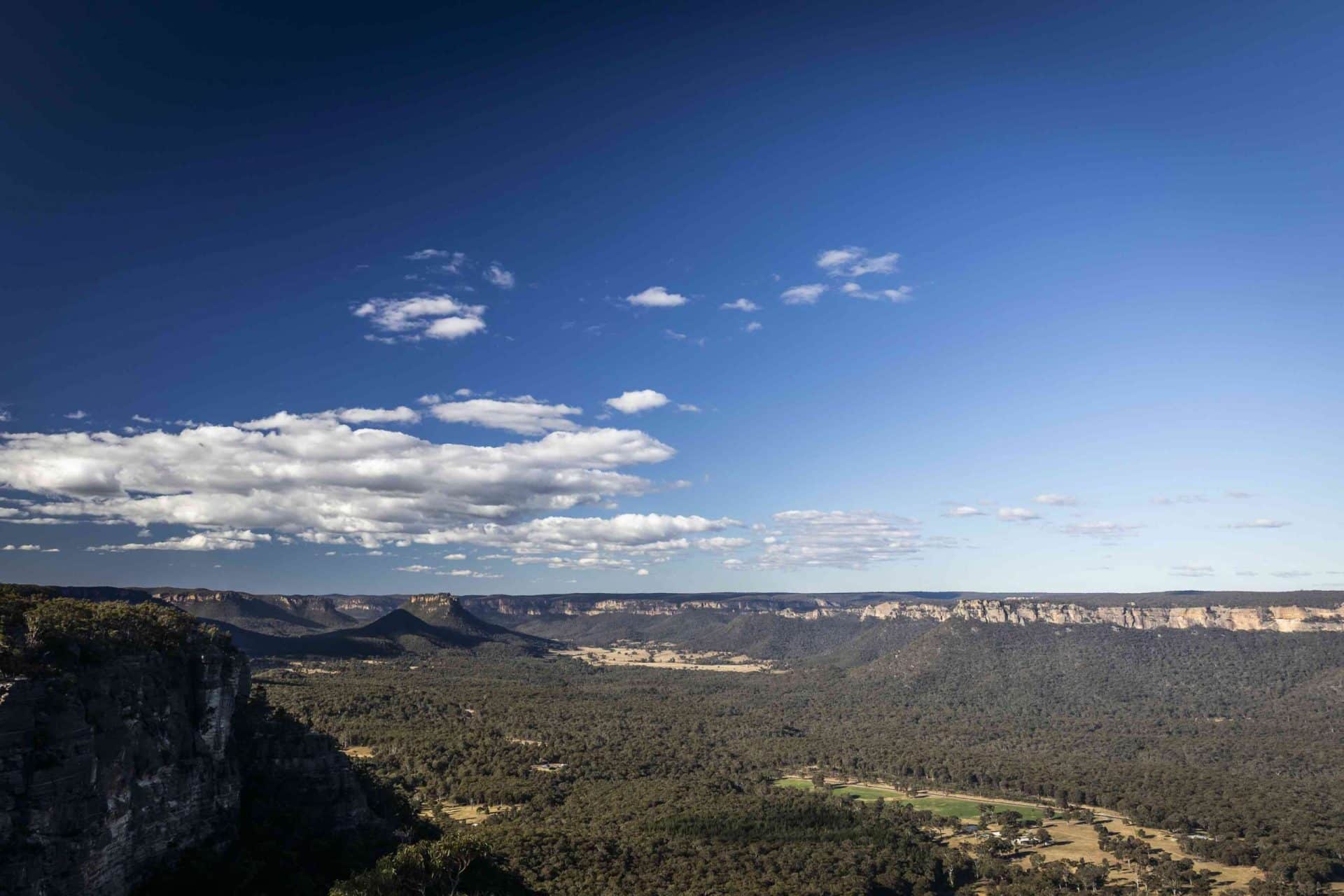 Once you've successfully traversed the first few challenges and got up to the top of the plateau, it is a sedate run along the top of the ridge. Follow this along for a few kilometres and you'll come upon the Ben Bullen Mountain Top Lookout, which looks to the east and opens right out to take in views of the entire valley, from Lidsdale through to Newnes Plateau. 
The trail follows along to Baal Bone Gap proper, further to the north, Cameron's Point Trail and look out to the north–east, and back along Baal Bone Creek to the north–west.  
It's worth keeping in mind, if you want to stay reasonably close to the blacktop, you've also got Blackfellows Hand Cave just over Wolgan Road to the entrance to the Baal Bone Gap trail. This offers a stunning area at the base of the escarpment with cliff–faced gullies and gorgeous flora and fauna.  
Watagan State Forest 
To the north of Sydney, there's an infamous trail known to the locals as CPT-80. It's an old logging trail for Compartment 80 that had been taken back by the forests and then in turn, by the four-wheel drivers. The difference here is that the average four-wheel-drive that tackles CPT-80 is an older live-axle four-wheel drive, with big lifts and big tyres. But some high-tech modern 4X4s have enough technology to make up for what they lack in large lifts and tyres. The trail itself can be accessed off Prickly Ridge Road and enters the Watagan State Forest from the south, just west of Morisset on the Central Coast.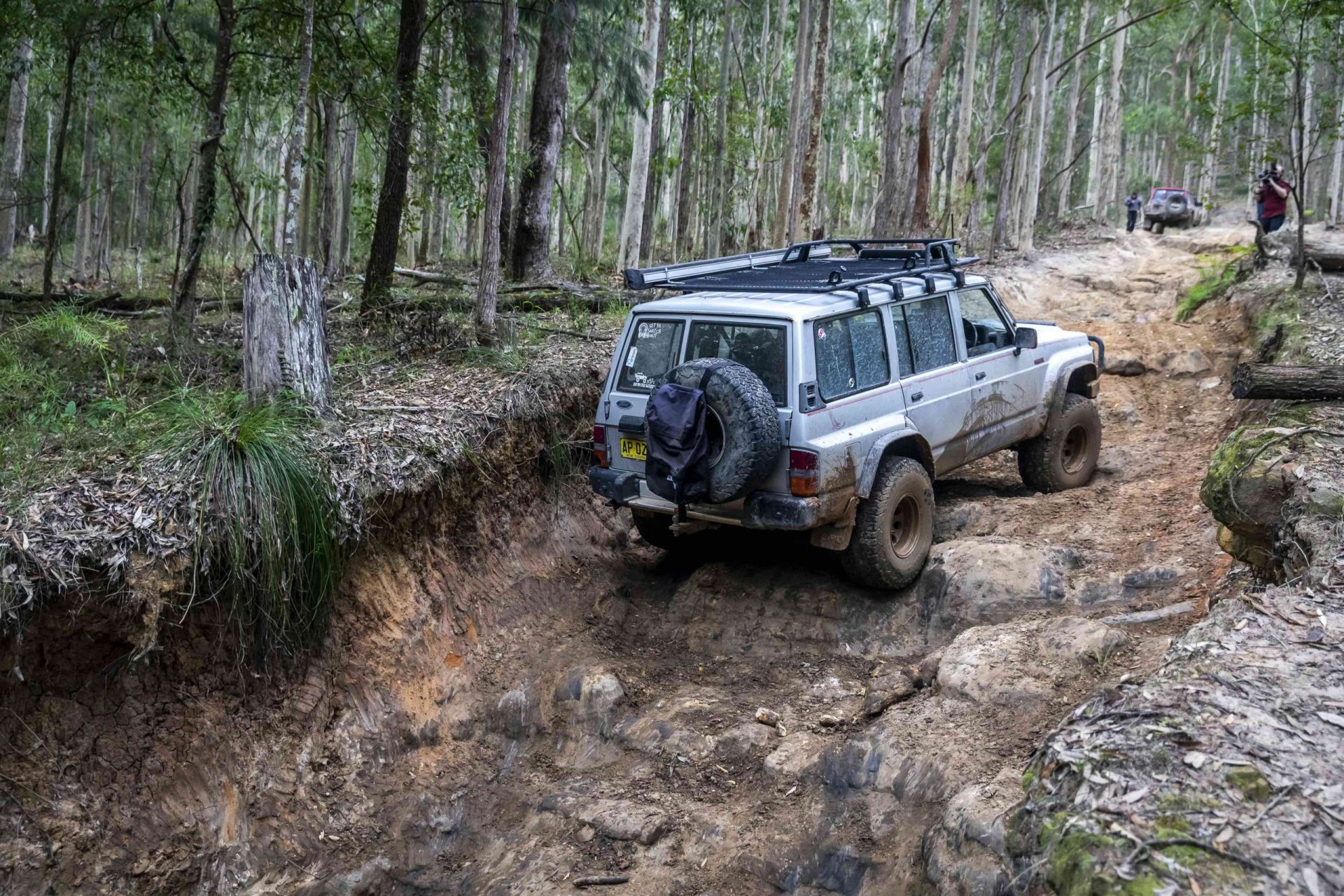 Once you're in the state forest and running along Prickly Ridge Road, CPT-80 is the first track off to your right. It's worth a walk in to see if you're up to the challenge this track presents, however, should saner heads prevail, and you want to bypass it, you can carry on along the main trail and bypass CPT-80. CPT-80 itself is an aggressive trail with big steps, big climbs and, as we said earlier, is more suited to the bigger four-wheel drives. There are many a 4X4 that has made a wrong move and wound up back at the bottom of the track much worse for wear.  
There are plenty of campsites and lookouts to be found throughout the Watagans, with The Pines campground being a personal favourite and Heaton Lookout to the north offering stunning views over Lake Macquarie. Boarding House Dam is also a tucked away picnic area that provides some amazing bushwalking and views. 
 
Blacksmiths Beach 
Our final trip on this list of Sydney's best 4X4 trips is one of my personal favourites; Blacksmiths Beach. The beach itself runs from the township of Blacksmiths just north of Swansea, through to Belmont in the north, and it offers some fantastic sand driving, fishing and camping.  
You'll need a permit for this one, which can be picked up from local service stations, and this gives you access to the beach. You're permitted to camp along the edge of Third Creek which is in the northern half of the beach, but keep to the beachfront as the dunes themselves are off-limits.  
And that wraps up Sydney's best tracks on which you can get yourself lost in for a few days. They're all easily accessible and open to anyone with a four-wheel drive. So next time you've got just a couple of days to head out and explore, get out there and have a look. 
Of course, there are plenty of other 4×4 tracks not too far from Sydney. Check out this story we published a few years ago for 5 Great Drives Within 3 Hours of Sydney.