Where is the best place to spend your next holiday on Fraser Island?
Words and Images by Dan Watkins
THE TWO SIDES OF FRASER ISLAND
Long a jewel in Australia's adventure travel scene, Fraser Island really does have it all. Expansive beaches, remote camping locations, pristine freshwater creeks, lakes and all manner of fishing opportunities (depending on your target species). It is a World Heritage-listed wonderland with animal and plant diversity unlike anywhere in Australia. It is also an island of two distinct sides and as we know, there are typically two sides to every story … east vs west coast time!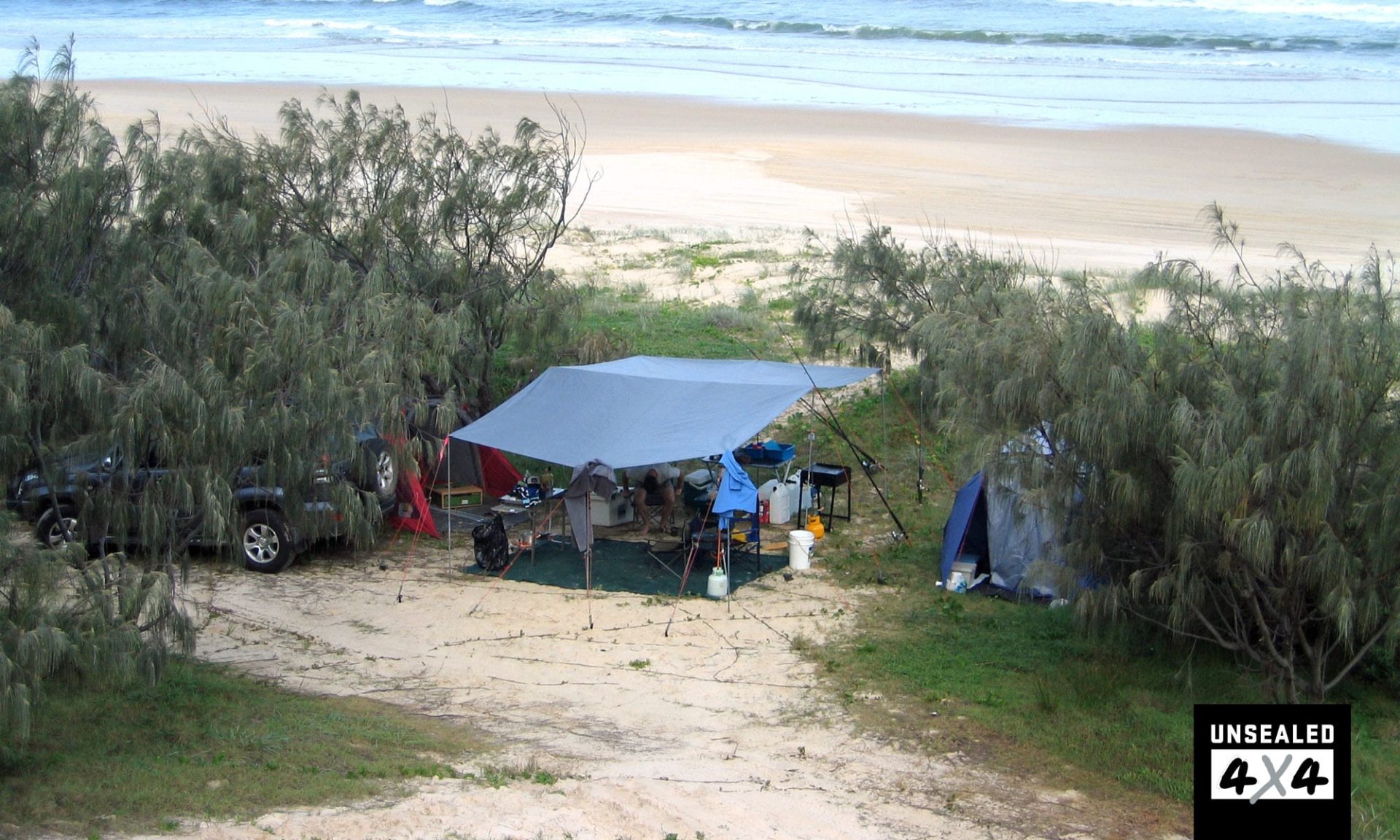 HOW DOES THE EAST COMPETE?
Fraser's predominant and most accessible side quite literally provides you a bit of everything. There are more campsites, more kilometres of beach, more notable attractions and arguably more to do for those who struggle to sit still. Easily the second most photographed joint after Lake McKenzie, a dip in Eli Creek is one of the best Fraser Island experiences you can have. The cool and relentless flow of crystal-clear freshwater over the most amazing white sand is really unmatched anywhere on the island.
Located approximately halfway up, Eli Creek is a convenient destination regardless of your location on the eastern side. If you are camping towards the northern end of the island or have the wherewithal for an adventurous day trip, Champagne Pools is another fantastic spot. Position yourself in the water and near the edge of the rocks and let the champagne-like bubbles of the surf wash away the worries (and camping smell).
HIGHLIGHTS
The open beach driving is a highlight for sure with low tide providing a nice wide and (generally) flat surface to traverse. From tip to tip the island measures approximately 120 kilometres and while this may not sound like much, throw in half a dozen or so bypass tracks and it can become tricky to cover this distance on a single tide cycle. As far as driving challenges are concerned, the bypass at Ngkala Rocks is a formidable one.
Equal parts famous and infamous (depending upon the level of success of the person recounting the story), the track can range from Main Street after rain to impassable without recovery aids at the other end of the scale. Whether driven south to north or vice versa, you will find yourself negotiating uphill sections of soft sand. In tough conditions (no recent rain, hot midday sand) you can practice all manner of recognised sand driving techniques and still find yourself buried to the axles.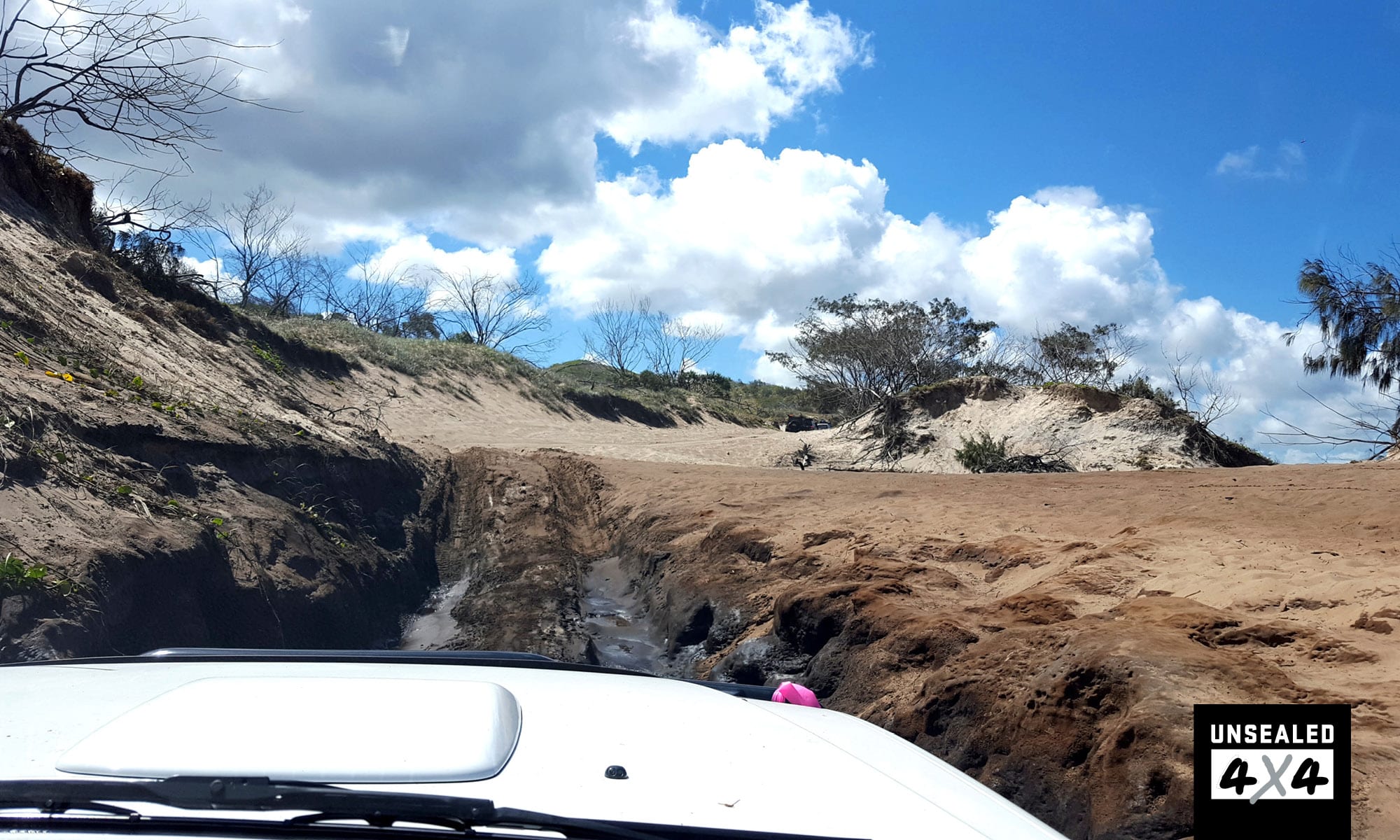 WILDLIFE
The beach north of Ngkala Rocks is a significant turtle nesting area for loggerhead and green turtles. A 6pm – 6am beach driving curfew is in place for this section of beach through the nesting season, so to check out this amazing natural phenomenon you will need to camp in one of the zones nearby. A scout of the beach on dawn will show a myriad of turtle tracks and perhaps a turtle itself trying to make it back to the water post-nesting.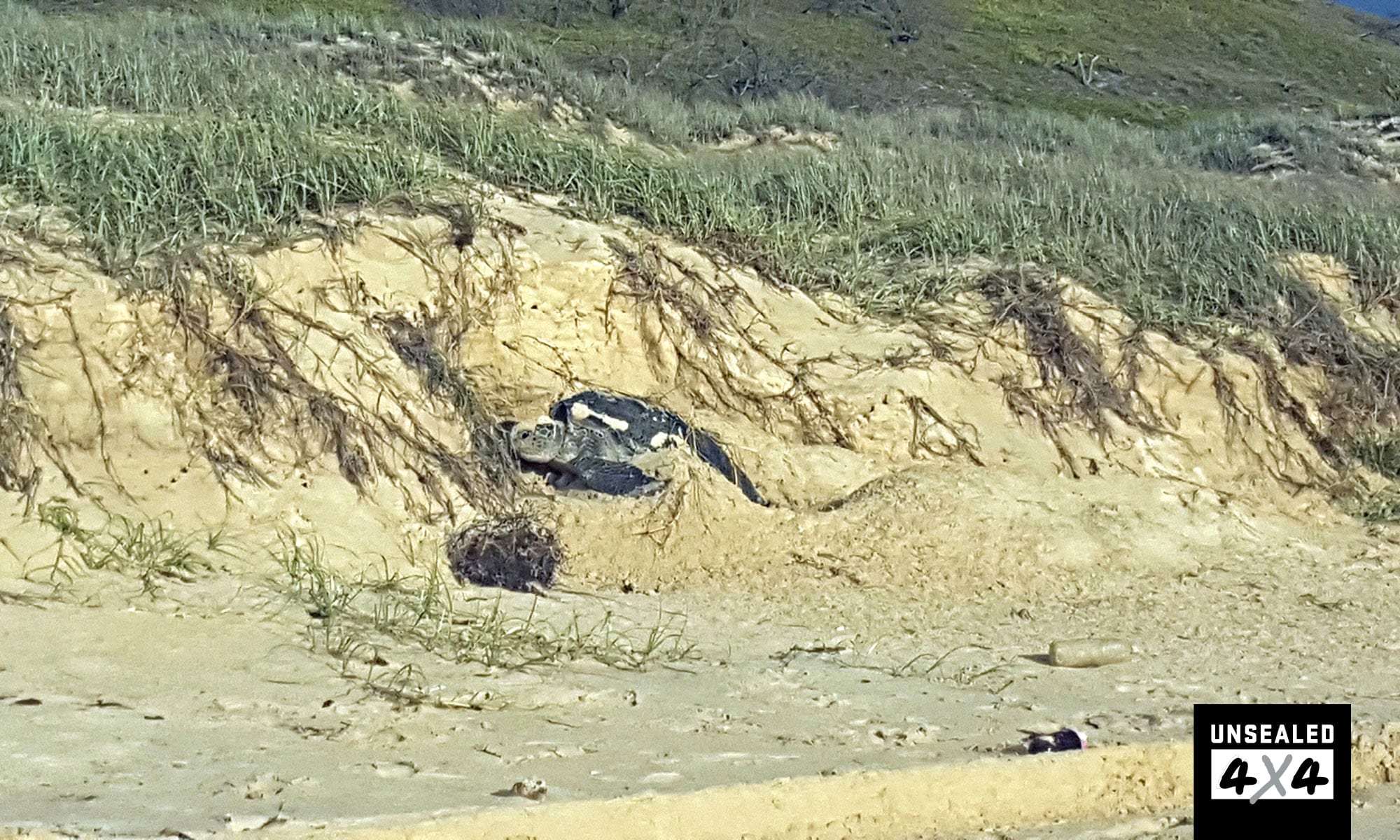 FISHING
With 120km of surf beach to explore, you can take your pick of the gutters to fish in. You need not be an expert in bait gathering to have yourself a handful of pipis in a few minutes or so. The usual array of surf-based species are routinely on offer and a quick trawl of Google Images will show XXL-sized Spanish mackerel and jew are not uncommon either. A sunrise or sunset spent with a fishing rod in hand admiring one of mother nature's greatest gifts is time well spent in my opinion.
IS THE WEST BEST?
With the tyranny of distance and serious limitations on campsites (and quantity of campers), the western side is far less frequented than the eastern side. Less people means less necessity for the State Government to provide a certain level of amenities and also less pressure on the natural resource itself. While most of us off-road adventurers yearn for such a scenario, it isn't for everyone. Not a toilet or shower in sight and no immediate access to water or waste transfer places a greater emphasis on trip preparation and self-reliance. What is relatively straightforward on the eastern side becomes that little bit more complicated on the west. There is probably less to do on the western side too but that's the whole point, right?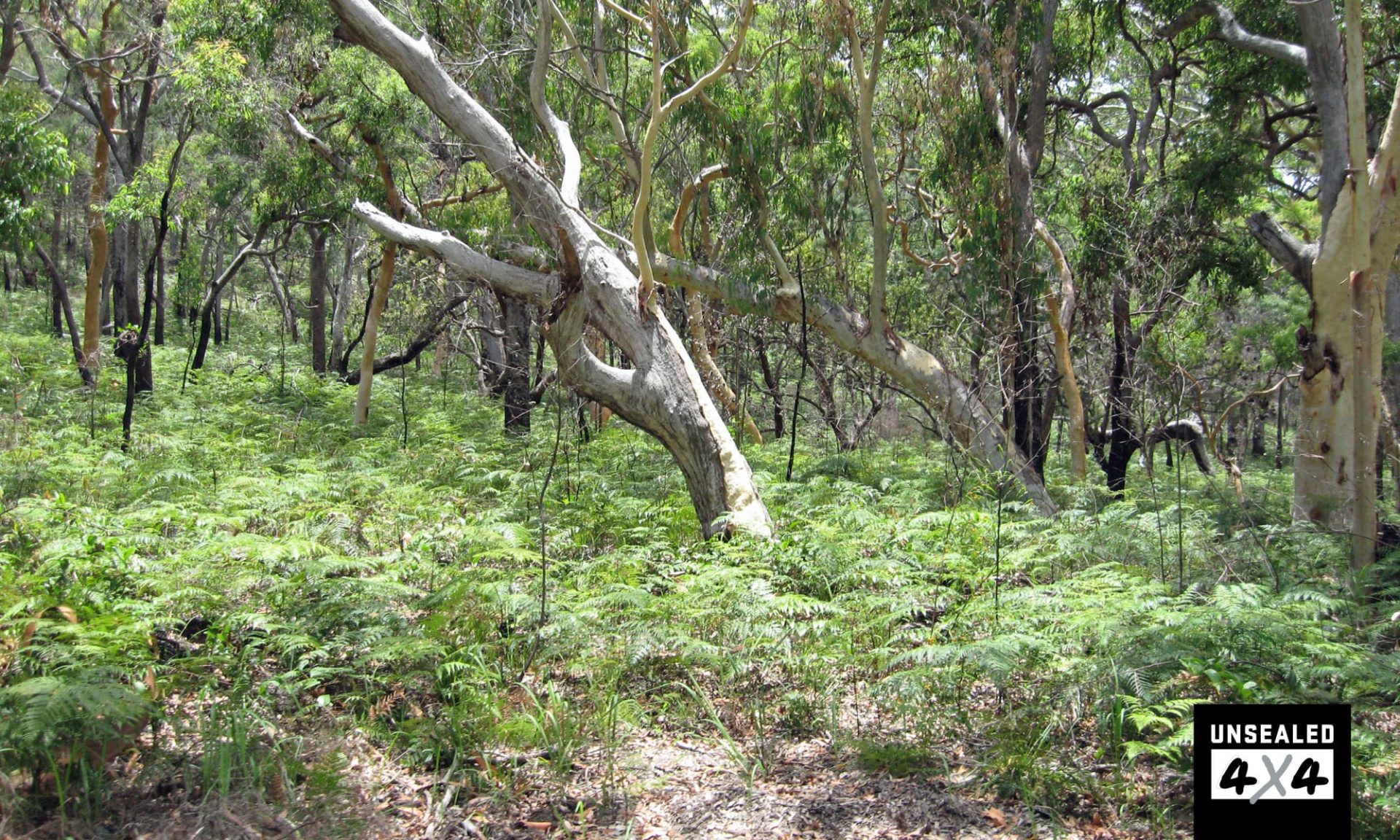 HOW TO GET THERE
Presuming you have taken the barge from Inskip Point, then Woralie Road is geographically the most sensible transition from one side to the other, taking you from just north of the Maheno wreck on the east to Woralie Creek on the west. The 15 kilometres should take a bit over an hour if you are towing a trailer of any sort. While not specifically part of the western side, the journey from east to west is equally as impressive as the destination itself. Passing first through the visually fascinating scribbly gums before dense sub-tropical rainforest and then finally coastal wallum is as diverse as it is unique.
HIGHLIGHTS
The reward for perseverance is an experience you are unlikely to forget. A long white sandy beach, clear flowing creeks and the most amazing glass-outs you will encounter when any breeze subsides or swings around to the south-east.
The western beach drive is much shorter and slower than its eastern neighbour but because of this there is much more scope for taking in the abundant views and scenery. With a favourable breeze and appropriate sun angle, all manner of marine life is visible as you roll up and down the beach. Dolphins, turtles, large baitfish schools and associated predatory fish make rewarding viewing for the keen eye.
Coongul, Woralie, Bowarrady and Awinya creeks are all comfortably passable on the lower halves of each tide cycle and provide a crowd-free place for a dip away from the risk of summertime Irukandji stings.
The fish-rich waters of Hervey Bay should need no real introduction or embellishment to those with an avid interest in the pastime. There is enough opportunity to wet a line from the beach but to truly experience Fraser flats fishing, the effort to drag the tinnie across with you is well worth it. Mackerel, tuna, trevally, queenfish are as much on offer close to shore as your bread-and-butter species.
If sunsets over the water are your thing (and let's be honest, who isn't up for one??) then this is about as good as it gets on Australia's east coast (save for maybe Weipa). The absence of any significant buildings or topography on the nearby mainland provides for a very true and realistic feeling of the sun setting over the water.
IS THE SAND WHITER ON THE OTHER SIDE?
Well that is largely a matter of opinion, as these things tend to always be subjective. One man's sunrise is another's sunset as much as one man's solitude is another's buzzing hive of activity. I enjoy a wide open space and feeling of remoteness as well as travelling with a tinnie, so the lure of the west is hard to ignore. Having said this, I have also spent many a trip on the east and enjoyed the proximity to the island's main attractions, but why not try both? The beauty of Fraser Island is that it is large enough and diverse enough to be explored in true touring style. Book campsites on either side and spend some time having your cake and eating it too.
TOP 5 EAST
Eli Creek: One of the most visited and photographed patches of water in Australia.
Champagne Pools: Equally as refreshing as Eli Creek on a summer's day.
Fish the surf gutters: Known as a hotspot for tailor but safe to say many other species are readily available to surf fishos.
Tackle Ngkala Rocks bypass: Take on one of Queensland's famed four-wheel driving challenges.
Turtle spotting: During the summer months the beach from Ngkala Rocks to the Sandy Cape Lighthouse is a great place to catch nature at its best.
TOP 5 WEST
Sunsets: There aren't too many places the sun sets over the water on the east coast, this is one of them.
Fish the calm bay waters: One of the most diverse fisheries our country has to offer.
Explore the western beach: Limited traffic means more opportunity to lope along the white sand beaches of the west.
Coongul, Woralie, Bowarrady and Awinya Creeks: Kinda like Eli but with far less people.
Woralie Road: You can't hit the west coast without traversing the inland tracks. Woralie Road is as picturesque as it can be challenging.