There's no two ways about it. What's old is new again. Well if not new, at least cool again. You can see it plain as day with the offerings from new car manufacturers. The U.S. is absolutely blowing up with the retro-revival Bronco. Hyundai are pushing hard on their Blade Runner inspired concept vehicles. Even Toyota is so committed to the idea of retro-cool 4X4s they've decided to keep producing the 70 in more or less the same configuration since the 1980s. How's that for dedication? Alright jokes aside, they're also in on the party with the relaunched Supra and 86 models.
Retro 106
But what if it's not enough to scratch that certain itch for you? What if you don't want a brand new model that looks faintly like an old one with a few throwback features? Well, a couple of companies on both sides of the globe might just be the kind of crazy you're looking for. First off the block is Japanese based Renoca. Their 106 LandCruiser starts life as an IFS 100 Series 'Cruiser complete with either the fire breathing 2UZ-FE V8 engine, or the godly 1HD-FTE turbo-diesel six. Renoca then nix all the sheet metal north of the windscreen and replace it with custom tin and a 60 Series inspired grill. It's understood you'd expect to pay around $40,000 to get one of these oddball creations in your garage.
The Wonder Cruiser
If a 100 Series 'Cruiser is just far too modern for you to even begin considering, Renoca do have a more genuine option. Based on the 80 Series 'Cruiser, the 'Wonder Cruiser' as they've dubbed it rides high on solid axles with either a turbo-diesel, or free revving straight six under the bonnet. The 'Wonder Cruiser' is a more premium package than the two-tone 'Phenoix Land Cruiser' it means you can not only expect all new front sheet metal for the 60 or 62 headlight treatment, but stunning… err… brown paint. You'll also score leather trim, although we're suckers for the tweed. And 40 style steel wheels and hub caps complete the look.
Yee Yee Truck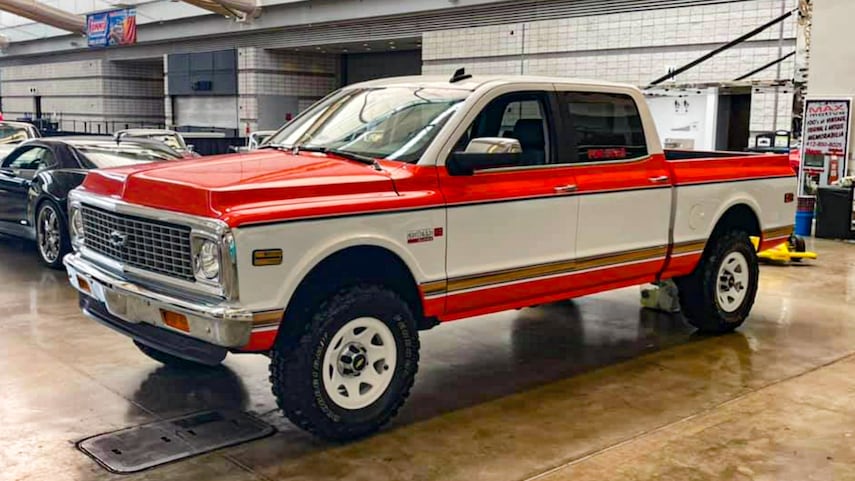 If you like both country and western genres of music then stateside conversion company Blain's Bodyshop and Auto Sales might be a little more to your reckoning. Rather than simply fitting new sheet metal to a classic 'Cruiser and calling it a day, these guys unpick the entire external sheet metal from a late model truck, and graft in reproduction panels of old Chevy's. The team keep the full interior, running gear, and safety features of the late model pickups, even going so far as to shorten the wheelbase to suit the old styling better. The one giveaway is the more modern sloped roof. Still, we can promise there'll be nothing on the tracks quite like it. So what do you reckon? If there was an Aussie company offering conversions like these in Australia would it be a recipe for success. Or an unbridled disaster?