Overdrive Toyota's Yazeed Al Rajhi takes 2021 Dakar Stage 7 win, Peterhansel extends overall lead, Price is just one second off the overall lead in the Bikes and Sanders bins it but comes home in fifth.
After Sunday's much-needed rest day, Dakar 2021 Stage 7 was the beginning of the Marathon Stage, which means competitors have no outside assistance from their own teams for two days, so they have to perform their own maintenance on their machines and make their own repairs if needed in the overnight bivouac.
Stage 7 itself consisted a 284km Liason and a 453km Special that ran from Ha'il to Sakaka in the north of Suadi Arabia, and with no support competitors had to look after their own machinery.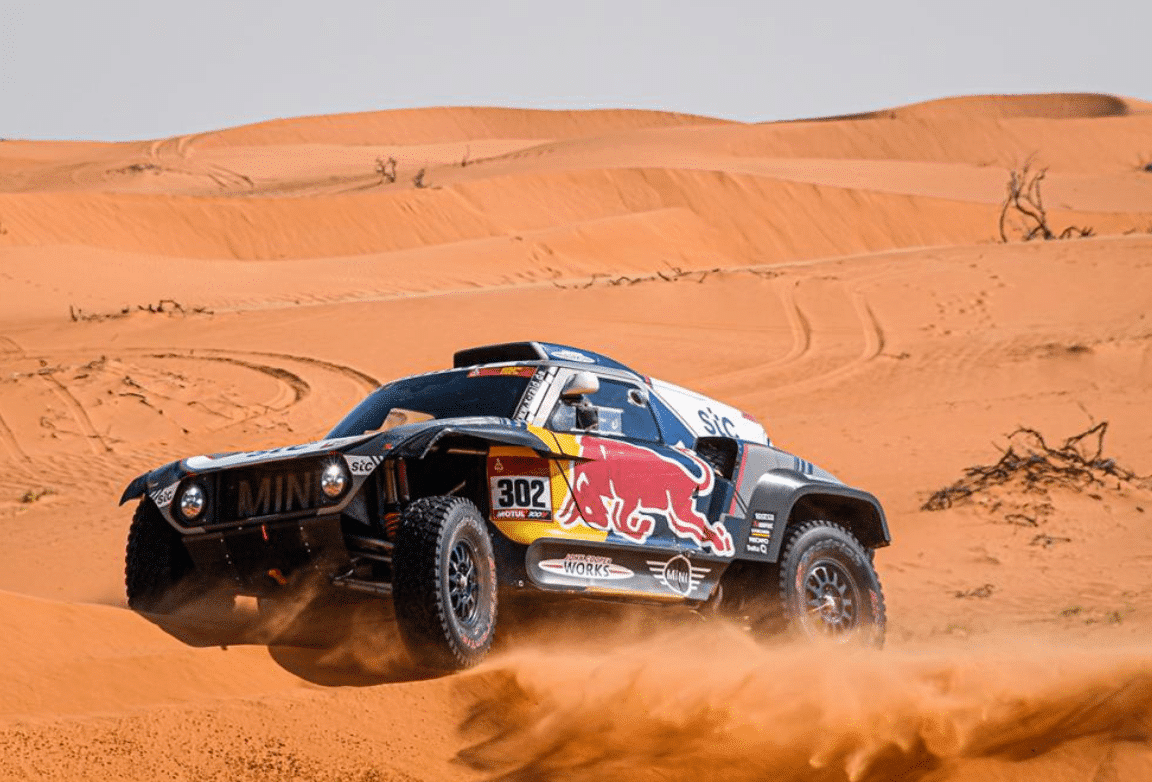 Yazeed Al Rajhi (Overdrive Toyota) took the stage win in his HiLux over X-Raid Mini JCW Team teammates Stephane Peterhansel and Carlos Sainz. Nasser Al-Attiyah (Toyota Gazoo Racing) came home in fourth. In the overall rankings Peterhansel now leads Al-Attiyah by 7m 53s and Sainz by 41m 06s.
Peterhansel will no doubt be worried prior to the start of Stage 8 after having damaged his rear right lower control arm on Stage 7, and having to make repairs without assistance. "Forty kilometres before the end, we had a big impact on the wheel, so we broke the rim, the rim was totally destroyed and broke the caliper, so it was not possible to remove the wheel, so we lose first five minutes to change the wheel, and after that, we start and 20km before the end I feel the car a little bit strange, a bad feeling, slide a lot, and we finish really like a taxi driver, and when we arrive we saw that the arm was broken," Peterhansel said. "The rear arm is broken, so we need to change it."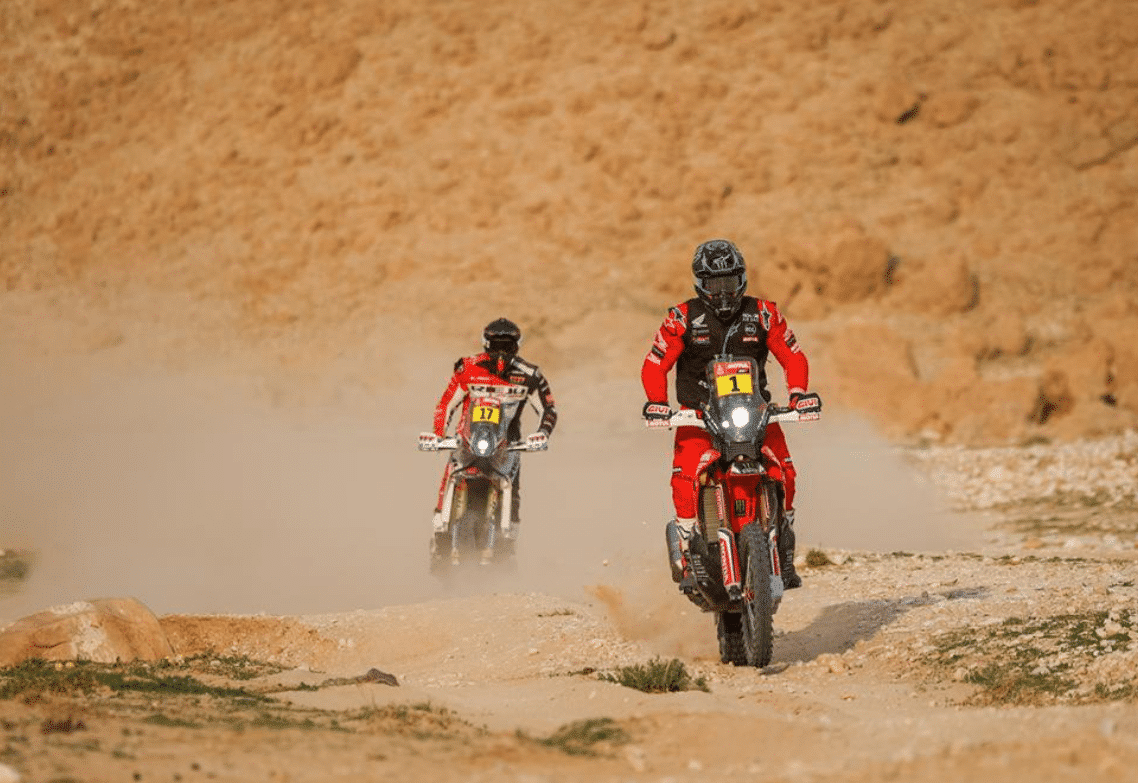 Last year's event winner in the Bike category, Ricky Brabec (Monster Energy Honda Team 2021), took his first stage win in 2021 ahead of teammate Nacho Cornejo and Skyler Howes (BAS Dakar KTM Racing Team). Aussie Dakar rookie Daniel Sanders (KTM Factory Team) had another great stage coming home in fifth, although he suffered a fall and took a chunk out of his chin,
"I was charging through and into the last 100 kays before the finish, I just come across a dune… and there was a rock in the bottom of it I didn't see," Sanders explained. "So as I validated the waypoint and checked the next note I looked up and started cutting across this dune and just, the front-end rocked and I went straight over the hangers and head first into the dune and sliced me lip open."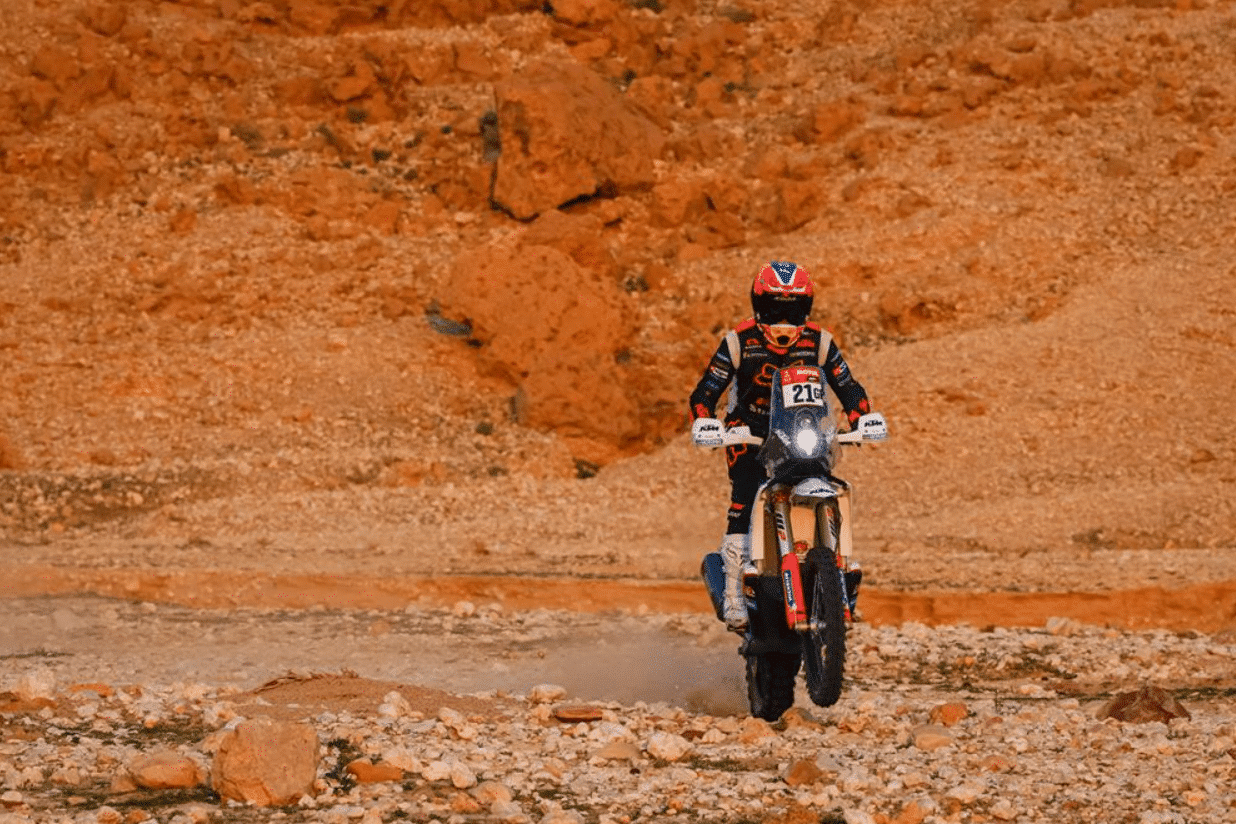 Previous overall leader going into the Marathon Stage, Toby Price (Red Bull KTM Factory Team), finished the stage in seventh, six-minutes off the winning time. Nacho Cornejo now leads the Bikes overall with a one second (yes, one second!) lead over Toby Price after eight days consisting nearly 29 hours of racing! Brit Sam Sunderland (Red Bull KTM Factory Team) now sits in third overall.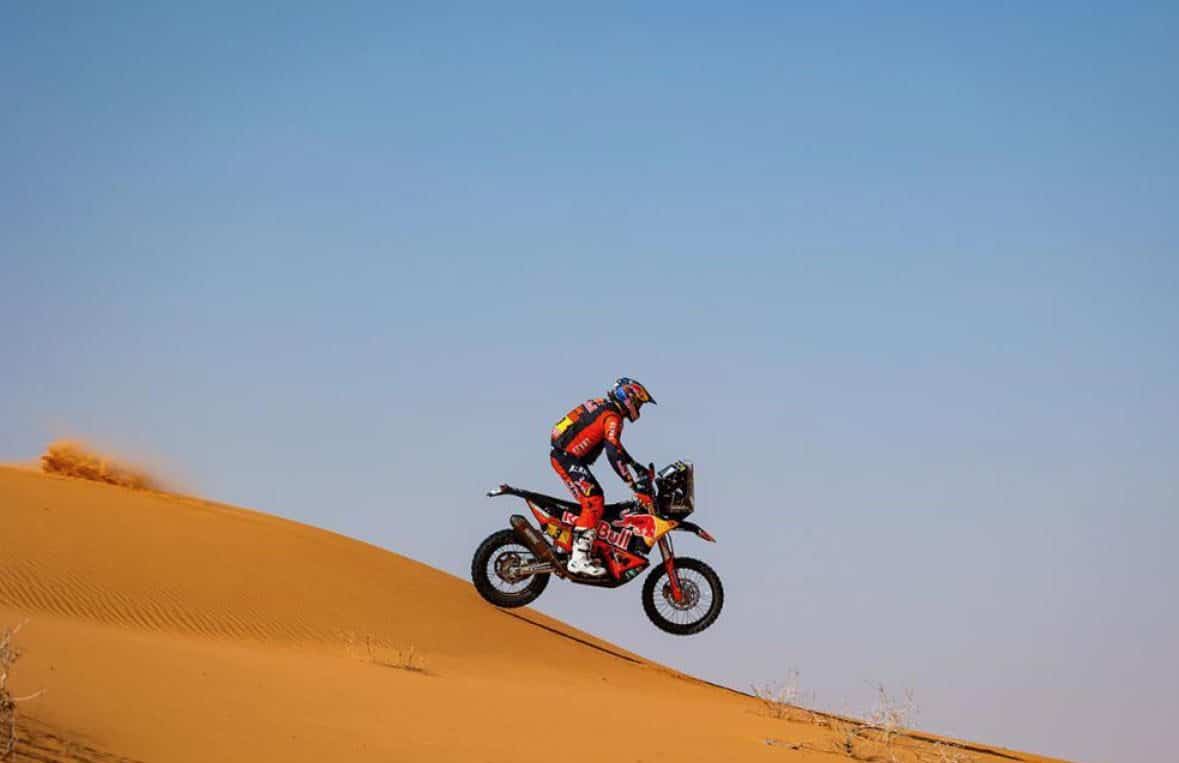 Price's big potential problem on Stage 8 will be a damaged rear tyre which has a massive cut in the sidewall. Under the regs Price cannot change the tyre on the Marathon stage, so he taped it up and threw on a few of cable ties and will hope for the best tomorrow. "Hopefully it holds together and hopefully my Dakar hopes stay in one piece," Price said.
The other Aussie riders, Michael Burgess (BAS Dakar KTM Racing Team) and Andrew Houlihan (Nomadas Adventure) finished Stage 7 in 39th and 62nd respectively.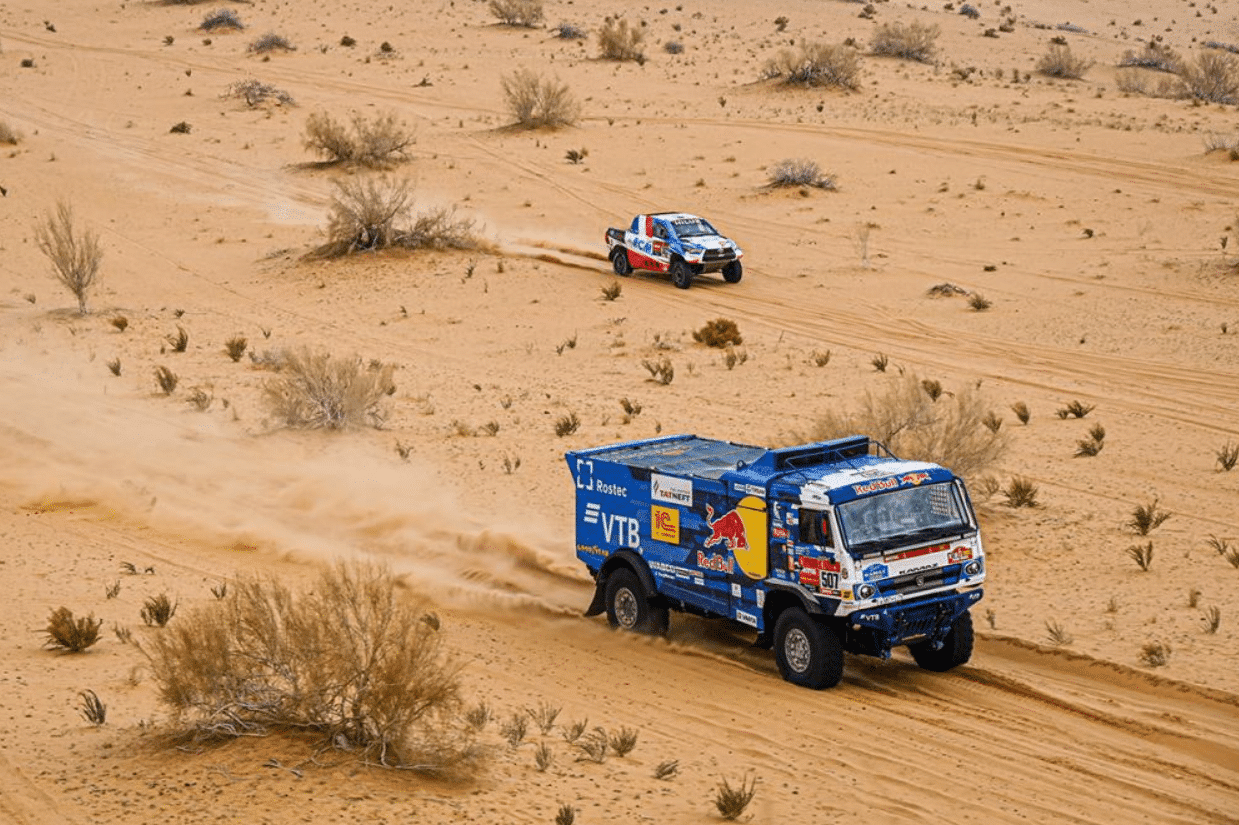 Dimitry Sotnikov (Kamaz – Master) is making a habit of winning stages in this year's Dakar, and Stage 7 was no exception. He beat home teammate Airat Mardeev by 3m 23s, who in turn beat teammate Anton Shibalov by another five minutes. The Kamaz – Master teammates now hold the top three positions overall in the Truck category, with Sotnikov ahead of Shibalov and Mardeev in the rankings.
You can catch the Stage 7 action now on Red Bull TV or at 1730 AEDT on SBS.