Every now and then in one's life, you have to bite the bullet. Throw caution to the wind and listen to your heart. I'm not talking about sending that suspiciously out-of-your-league hottie on Instagram (who totally gets you and thinks you're, like, the funniest person ever) your life savings. I'm talking about buying 4X4s.
Every so often, you can be forgiven for throwing up a middle finger to the haters. And buying that unreliable rust bucket that your dad taught you to drive in several decades ago. Or that rig you've had a nostalgic fondness for since first laying eyes on it back in the 80s. It's totally cool if you want a bit of a project.
However, the opposite is true when it comes time to purchase a work vehicle. Or daily driver. Or a family bus. You tell your heart to shut the hell up. Keep caution carefully secured in your pocket when it's breezy and spit that bullet straight out before you chip a tooth.
You want reliability, you want practical, you want a vehicle that'll handle whatever you throw at it. And come back for more. It's not about recapturing a sense of sentimentality; it's about choosing a rig that's just going to flat-out work.
What's the story?
the 2023 Isuzu D-Max perhaps doesn't have the internet cool points of the Ford Ranger. Even though it does ute things just as well. It doesn't have the pedigree of a Toyota HiLux. Even though it's arguably as handy all-round at being a ute. Nor does it have the interior comfort of the VW Amarok. Even though it has all the bells and whistles you could want in a workhorse. But what it does have is a solid truck-like foundation of being over-engineered and under-stressed.
In many minds, the D-Max is a no-frills kind of 4X4. But that's the beauty of these things. No matter what you throw at it there's that feeling of it not only being able to take it, but politely asking if that's all you have. And in today's world of failed electronics and engines designed to barely last the warranty period, there's something incredibly reassuring about that. 
2023 Isuzu D-MAX LS-U+Dual-Cab Specs
Price: $63,500 (rrp), $74,336 (as tested)
Warranty: 6 years, 150,000km
Engine: 3.0L 4-cyl CRD turbo-diesel
Power: 140kW/190HP
Torque: 450NM
Fuel Consumption: 10.8L/100km combined (inc. towing hybrid camper)
Fuel Capacity: 76L
Driveline: IFS; Solid axle rear; 6-speed Aisin auto; part-time 4WD; dual-range transfer case
Suspension: Front coilover double A-arm; rear leaf springs
Towing Capacity: 3500kg (braked)
Kerb Weight: 2175kg
GVM: 3100kg
Payload: 925kg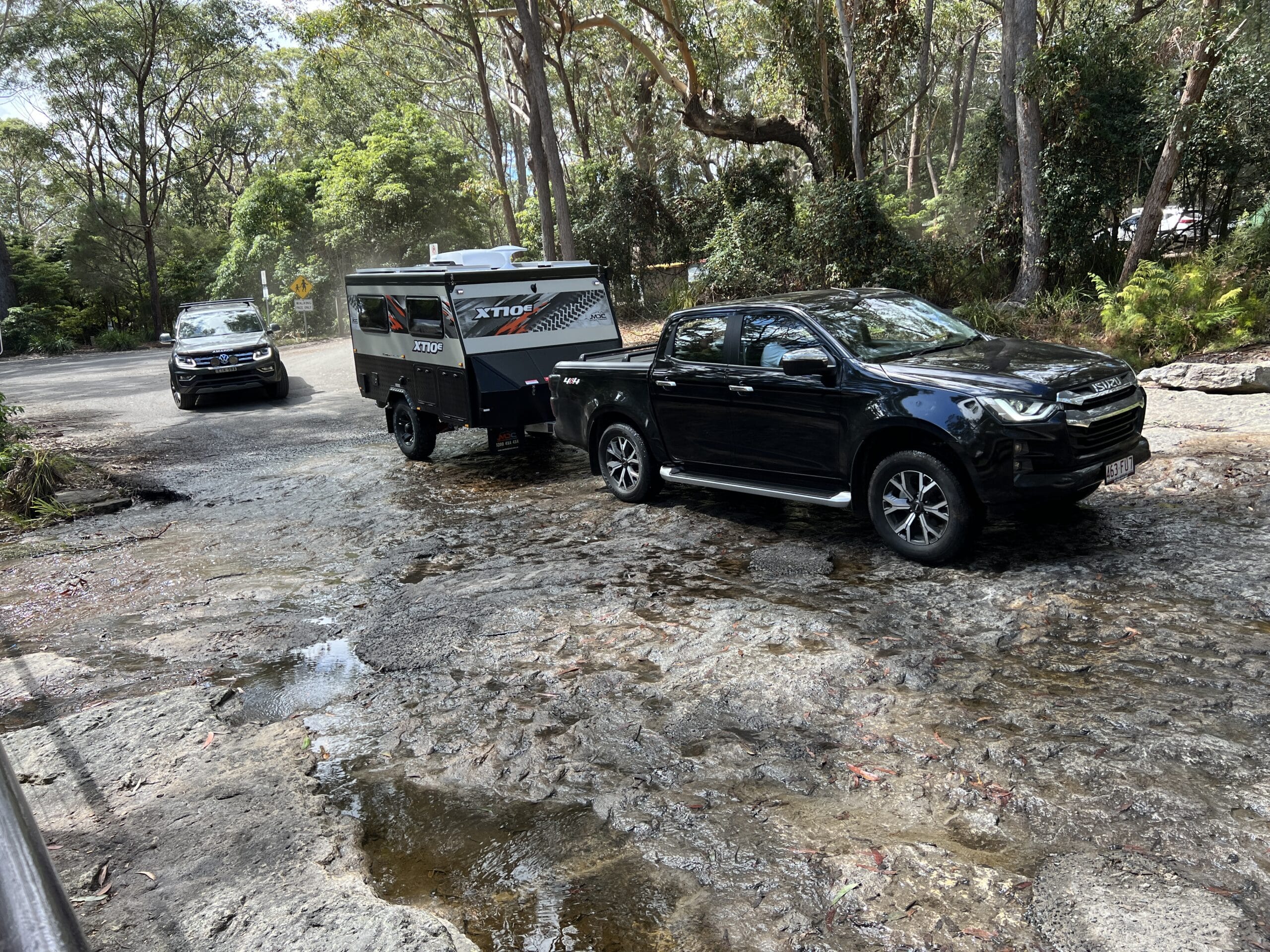 How's it drive?
We had the LS-U+ model for testing, which is an upper-spec variant. As such, it drove pretty darn nicely. With that said, the "I'm successful" leather interior and uprated driver assists did not really add a whole lot to the overall feel behind the wheel. So I'd be confident in saying that the D-Max would drive similarly across the range.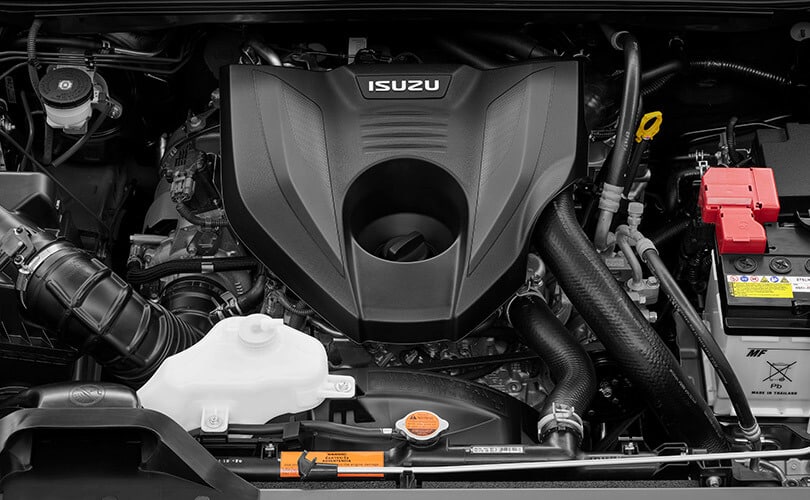 The engine is the latest version of the venerable 4J, and it's still a pearler. It's not so much the performance that gets you, it's the knowledge that it's capable of so much more. Spend a few grand and you'll have a ball-tearer (without sacrificing reliability). Or keep it stock and know you're highly unlikely to hurt it within the next half a million kilometres. For my money, it still has the title for the best 4-cylinder out of any dual-cab on the market. There's a reason folks transplant them into Patrols and Cruisers regularly.
The Aisin 6-speed auto could probably be updated to an 8-speed if I were being picky. But don't read that as a negative. It's still an exceptional box that'll do the job without drama. It's not like I found myself wishing for a taller (or shorter) gear at any point. It handled the weight of our camper (which would have been nudging a couple of tonnes) without ever seeming stressed.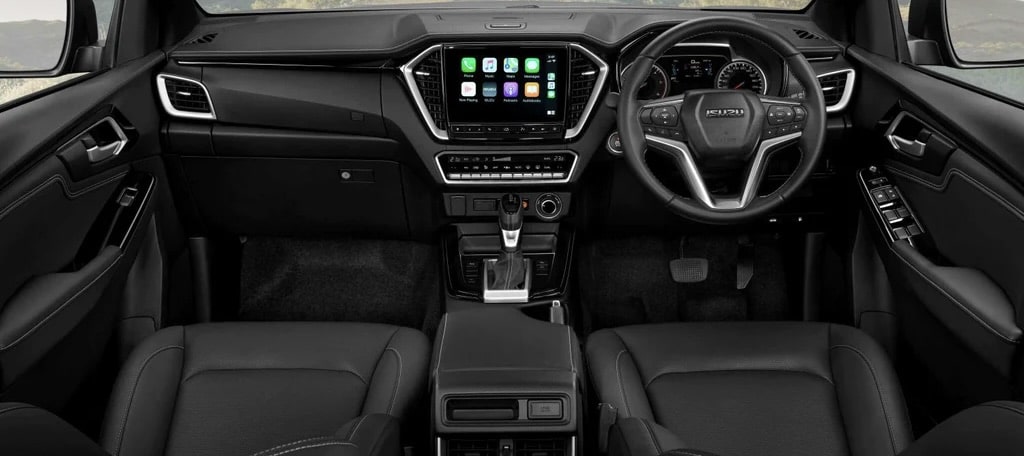 Interior comfort
As mentioned, the interior comfort of this model was right up there. The fully electric, heated, and cooled butt-huggers were a fantastic place to spend a few hours' drive time and there was just that unavoidable sensation that this is a vehicle that's built to work. Like if an Isuzu NPR was cross bred with a BMW saloon. It's still very much designed to get the job done, but it'll also stroke your hair and tell you everything is going to be ok at night.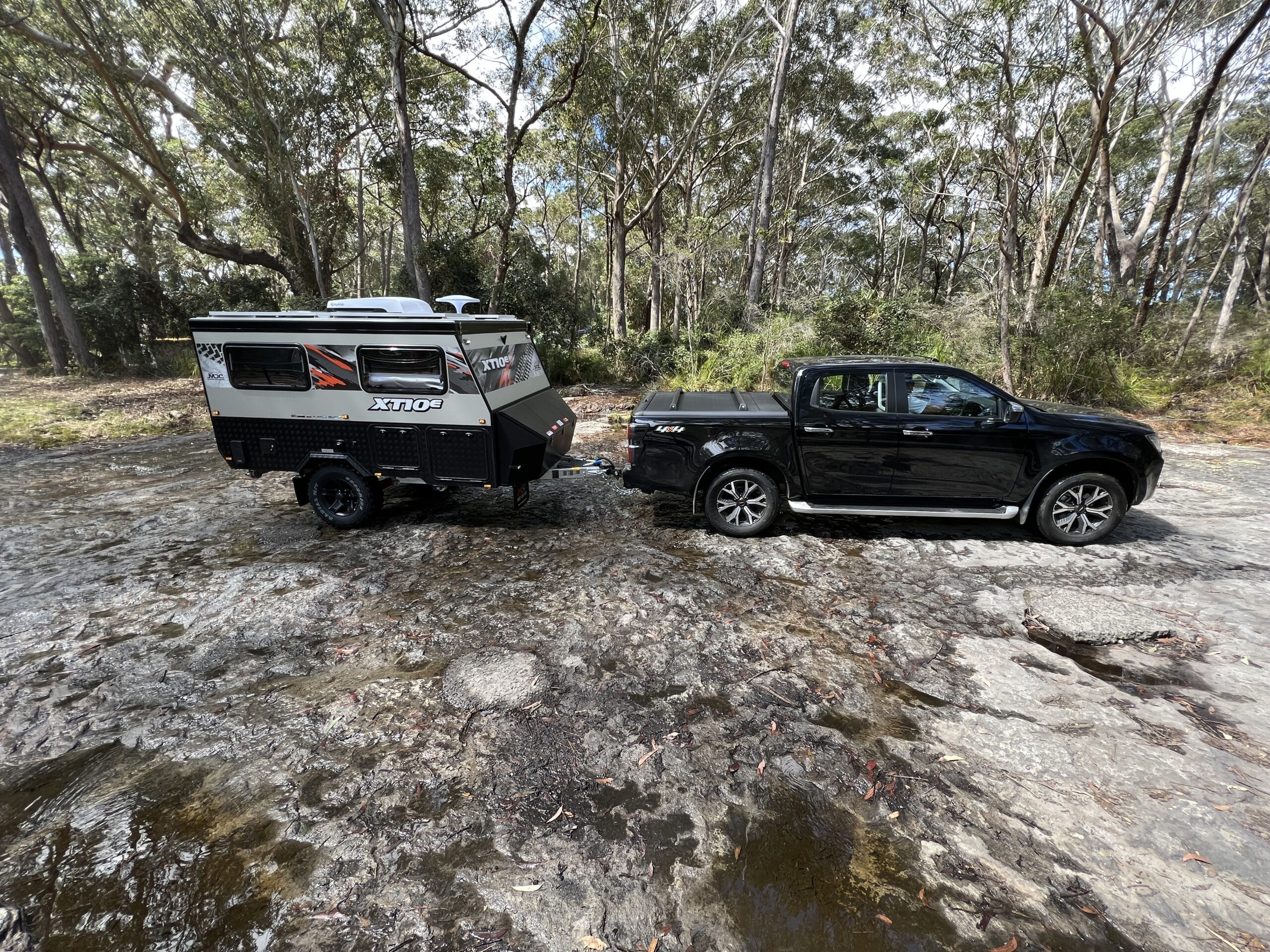 Off-Road practicalities
There's not a new vehicle on the market that doesn't need suspension and tyres thrown at it if serious off-road work is to be part of its workout regime. The D-Max is far from rubbish in stock form, however. It has 240mm of ground clearance, more than everyone else bar the HiLux, and a rear diff-locker that makes hill climbs a piece of Black Forest gateau.
The aftermarket has no shortage of upgrades available for the D-Max if that's your jam, but it's worth pointing out that we took the LS-U+ camping and off-roading for a few days and never really felt that we were missing anything. It's easy to live out of, the roller shutter over the tub gave us peace of mind for our gear during the few rainstorms we drove through, and the engine pulled our camper without a drama.
Again, it doesn't feel fancy, but it does just feel dependably solid. I reckon that's about as much as you could want from a ute, personally.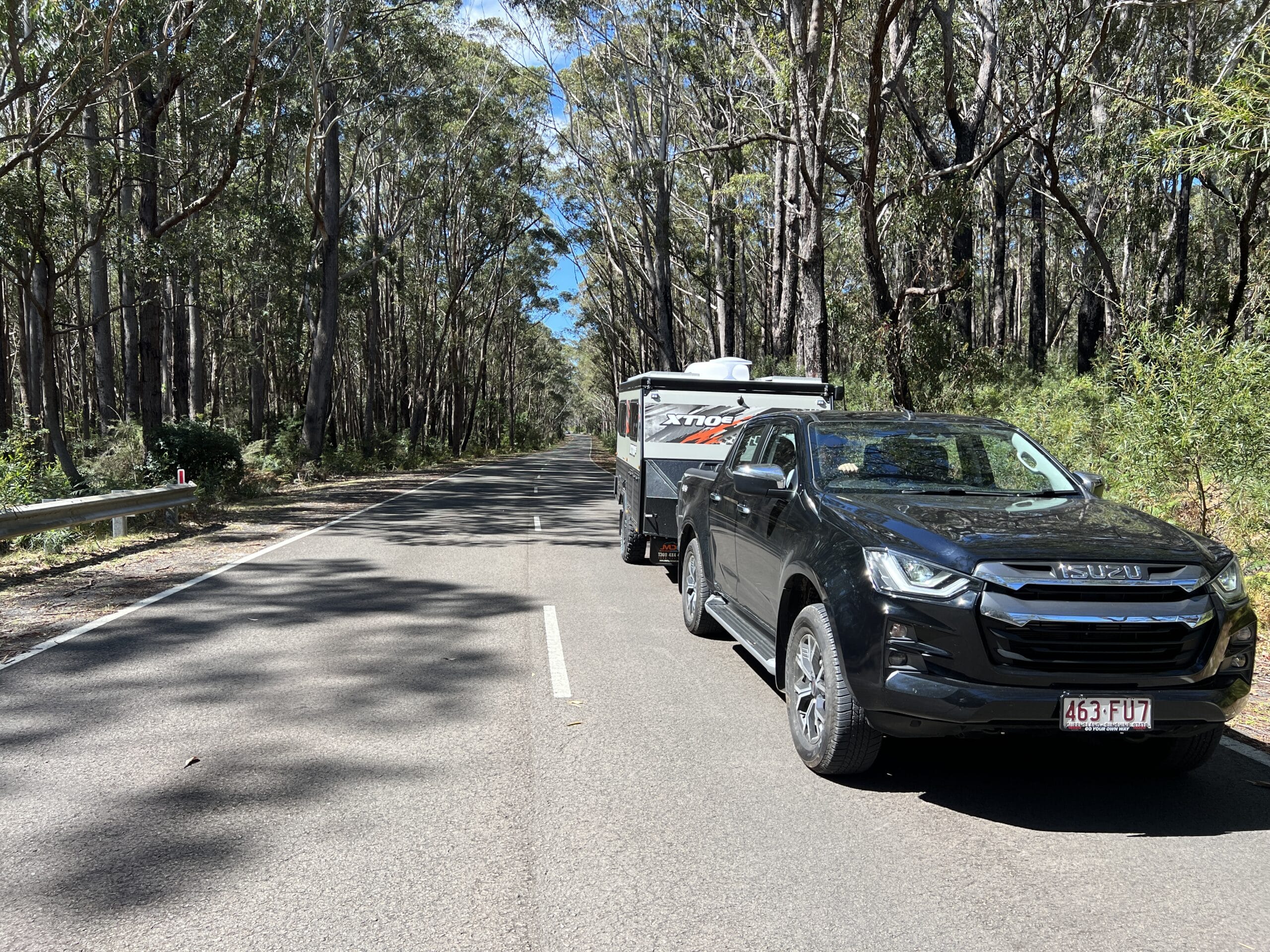 Daily driving D-Max
The uprated interior may have made me feel a little bit fancy, but as a daily, the D-Max was really pretty difficult to fault. Plenty of useable torque from the engine and six-speed, decent driving comfort – especially once there was a couple of hundred kilos in the back (#leafspringlife) – and all the mod cons you could want without needing to have a Ph.D. in electrical engineering to operate the head unit.
Fuel economy was better than decent. We returned around 8.6L per 100 clicks with the vehicle unladen, which climbed up to about 12L/100km when towing through the burbs. With a mix of highway, suburban and low-range towing we averaged 10.8L/100km. I was driving for economy, not mashing the loud pedal, not aggressively accelerating and generally sitting around the speed limit (but absolutely not 10-km/h over, Officer, that would be outlandish and irresponsible). Even so, I was impressed with the economy, especially given diesel costs about the same per litre as a decent single-malt Scotch these days.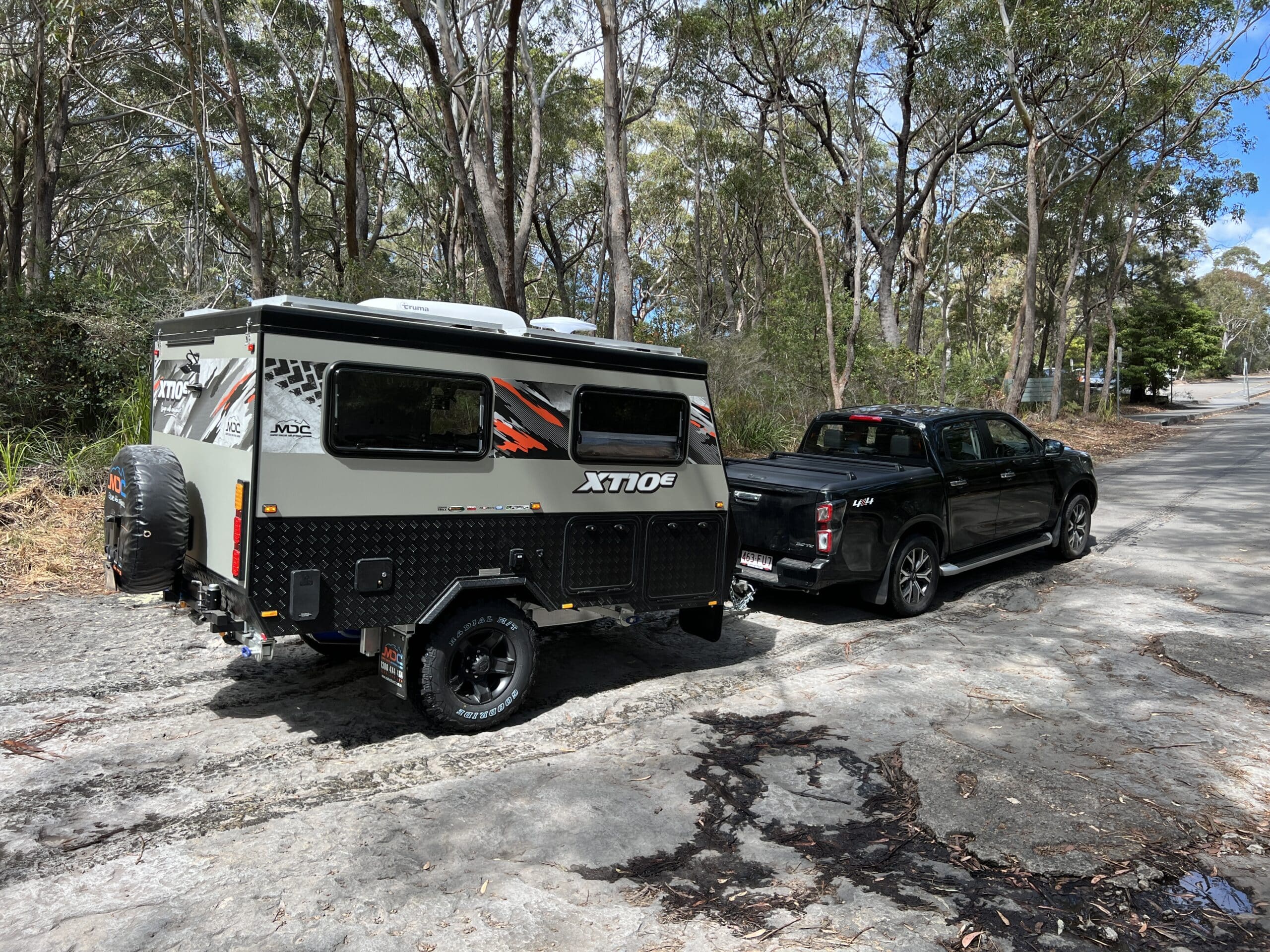 Can the D-Max tow?
Again, difficult to fault. Our camper was not exactly a beast, but it would still have been around the 2T mark, so not a featherweight either. Several long and steep hills were tackled, and my usual method of knocking it into manual mode and shifting down a gear or two to keep the transmission fluid circulating was unnecessary. I ended up just leaving it in drive, and it ate even steeper climbs up without a worry, so full marks there, Isuzu.
Hitching up was a cinch with the camera, and reversing the trailer was easy with the stock mirrors, although with a larger boat or full-size caravan, a set of towing mirrors may be a worthy investment.
Personally, I'd also go for a tune to get a bit more torque from the engine – which it is more than capable of – but that's not to imply the stock tune is bad. I just can't leave anything unmodified.
I'm sick, help me.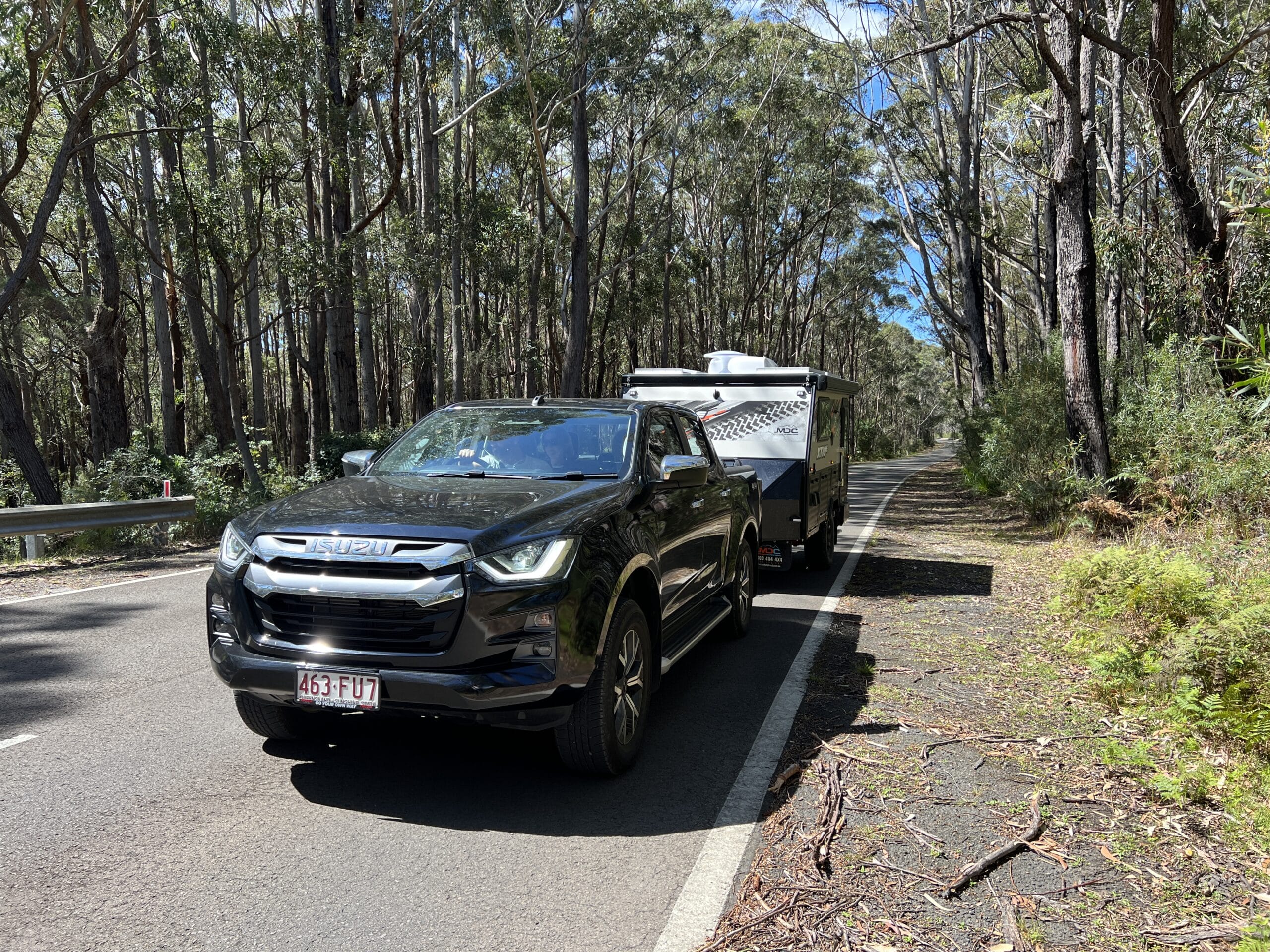 Isuzu D-Max areas for improvement
Now, this is not exactly Isuzu's fault, nor are these problems specific to the D-Max, but so help me Baby Jesus most modern driver aids need to get in the bin.
From the lane-keeping assist that does its level best to wrench the steering wheel from your hands as you move to change lanes, or the shrill and way too loud squawk of the autonomous emergency braking (which kicks in even when there's a couple of football fields in between you and anything remotely resembling a solid object that you might hit).
I understand that they've been marketed heavily to people who like to snooze on the straight sections of road or who think nothing of steering with their knees while texting with one hand and eating a McDouble with their other. But for actual drivers, these intrusions on your motoring experience are nothing short of someone sneezing on you in a movie theatre.
Thankfully, Isuzu has largely allowed the driver to turn them off, but it is somewhat annoying having to remember to do so before you take off.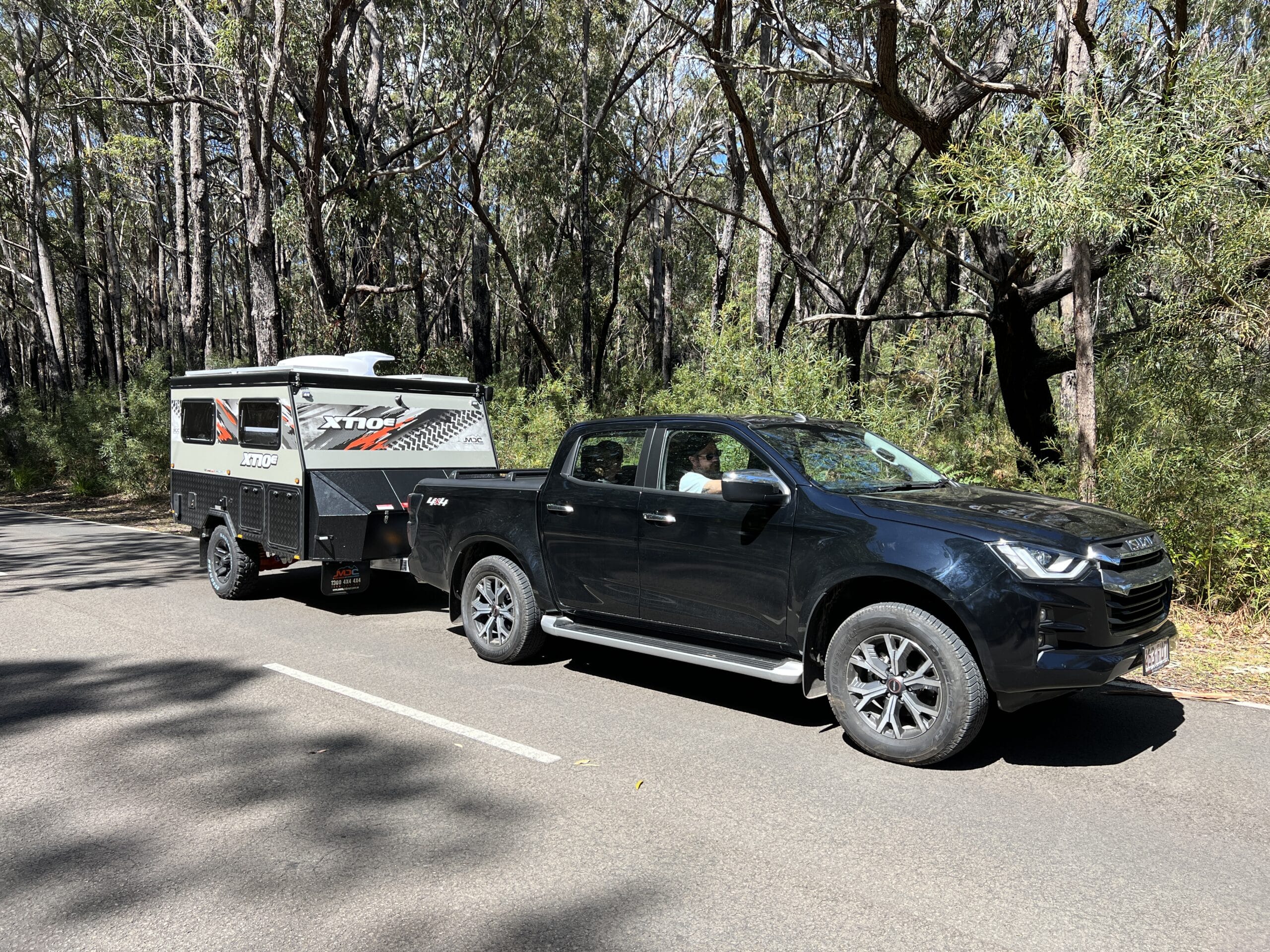 2023 Isuzu D-Max verdict
Isuzu has always been the sensible choice, often overshadowed by the flashier Ranger and HiLux, which is really a shame because it is easily as good as either vehicle and in a few areas, far and away better.
The strong selling point of the D-Max is the truck heritage coupled with the simple fact that whatever you want to do with this ute, it will handle it. For a tradie, I reckon that has to be worth its weight in gold. The last thing you want on the way to the job site is car dramas, nor do you want to be left high and dry if there's a few tonnes of trailer that needs to be hauled and your current rig is going to struggle. The D-Max will get it done with a minimum of fuss and still be able to be loaded up with camping gear for the weekend or the once-a-year trip away for a few weeks.
It's versatile, it's capable, it's comfortable and it's reliable. It's the safe choice.
And that's a beautiful thing.