We say it time and time again: as four-wheel drivers we are taking away more and more gear with us on our adventures. Be it the latest electrical gadget, bulky camping gear or even that deluxe portable camping pizza oven you have been eyeing. Long gone are the days of packing nothing more than your swag and a tucker box.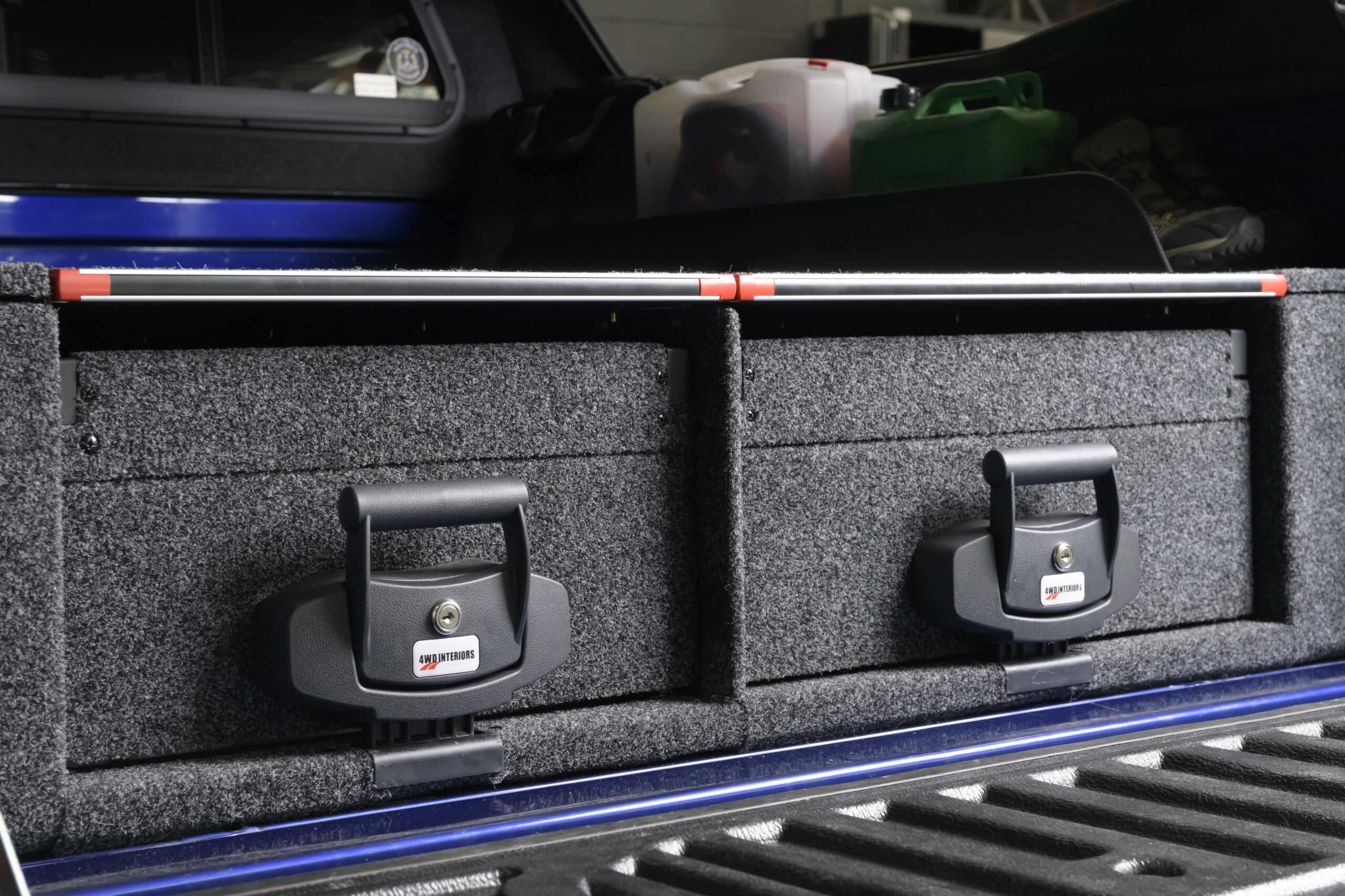 From a safety point of view, loose items stored in the back of a vehicle can be a real hazard. From a logistical point of view, searching through piles of cooking or recovery gear to find a simple item gets very old very quickly. You often hear experienced four-wheel drivers say after their maiden voyage in a new vehicle, that the one thing they want to sort out ASAP is the storage side of things. Once you have a decent system for storing your equipment, it's hard to imagine a life without it.
But how do you know which is the best set-up for your vehicle? With so many options out there, it can be a tricky task to identify the logical solution. This is why we want to discuss the pros and cons of popular storage systems on the market today.
STORAGE DRAWERS
PROS: Storage drawers are an excellent addition from an organisational point of view. They create a home for everything. No more ripping the interior apart to find a stubby holder or your head torch. It will be in the same place each time (in theory). Fridge slides can also be built in or adapted. As can water tanks and food preparation areas. This is the point of a good aftermarket storage drawer system. They offer the ability to customise your storage area to better suit your needs.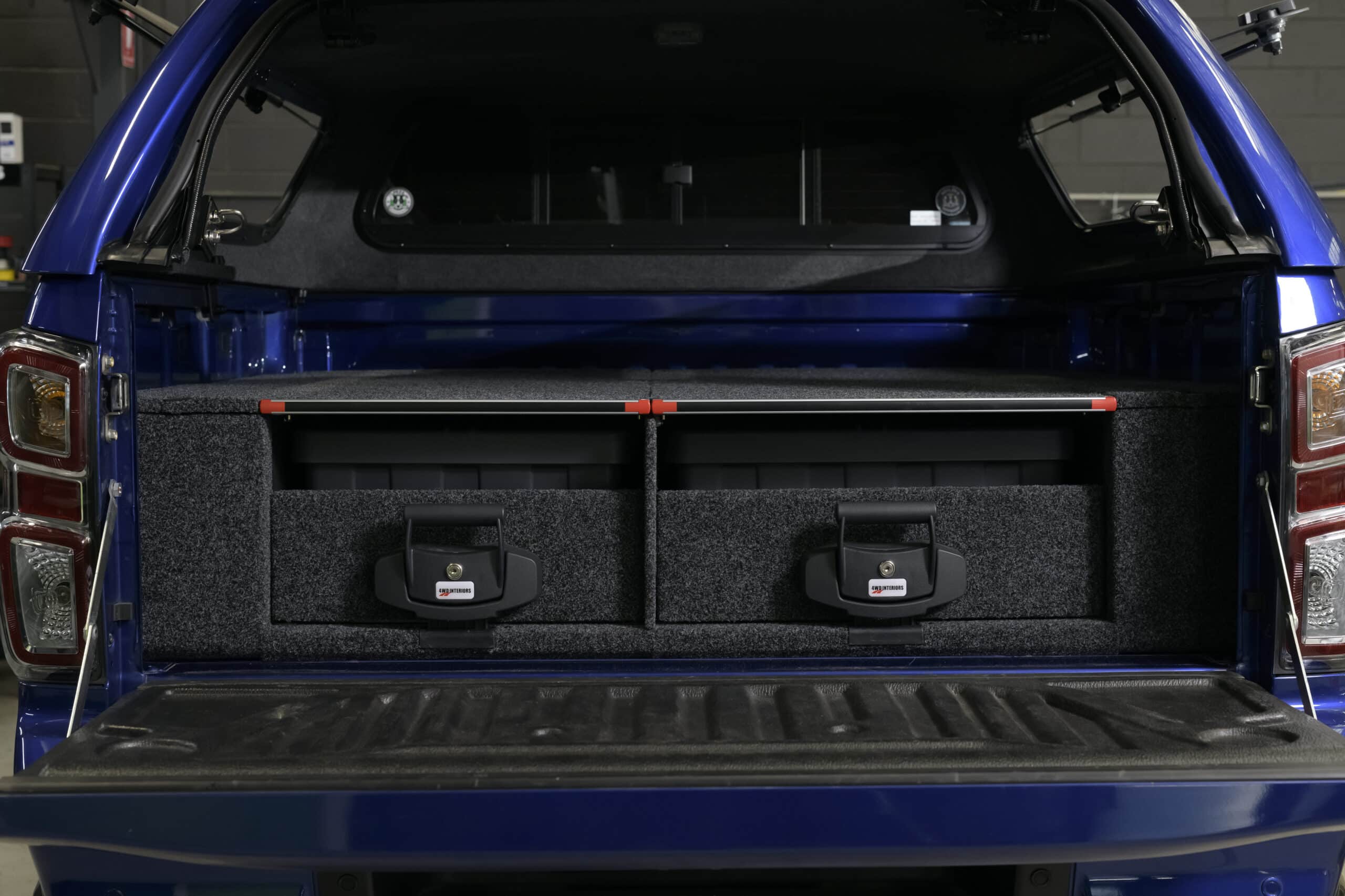 CONS: They can be expensive to do right, as construction involves a considerable amount of material and labour. Some units are heavy. Which, considering the construction material of choice being plywood and steel (alloy in some cases) isn't a surprise. Storage drawers are also a semi-permanent modification. They are not easily removed if need be. You will need to make sure the chosen design won't impact your day-to-day life negatively. Or limit cargo capacity if you occasionally need to store large items. Cheap storage drawers are also notorious for rattles from the drawer runners if not built well. Something to check when selecting a potential manufacturer or supplier.
ROOF RACKS
PROS: One of the most common reasons people install roof racks these days is to mount a side awning. But if you need storage for large or bulky items, roof racks will free up interior space considerably. The roof of a four-wheel drive has the largest surface area out of any panel on the vehicle. So why not capitalise on it? Roof racks make for a smart addition if you are into watercraft, bikes or skis. Clever roof rack manufacturers also offer amazing amounts of aftermarket accessories. Such as shovel or jack holders, so you can expand on your rooftop storage system as needs arise.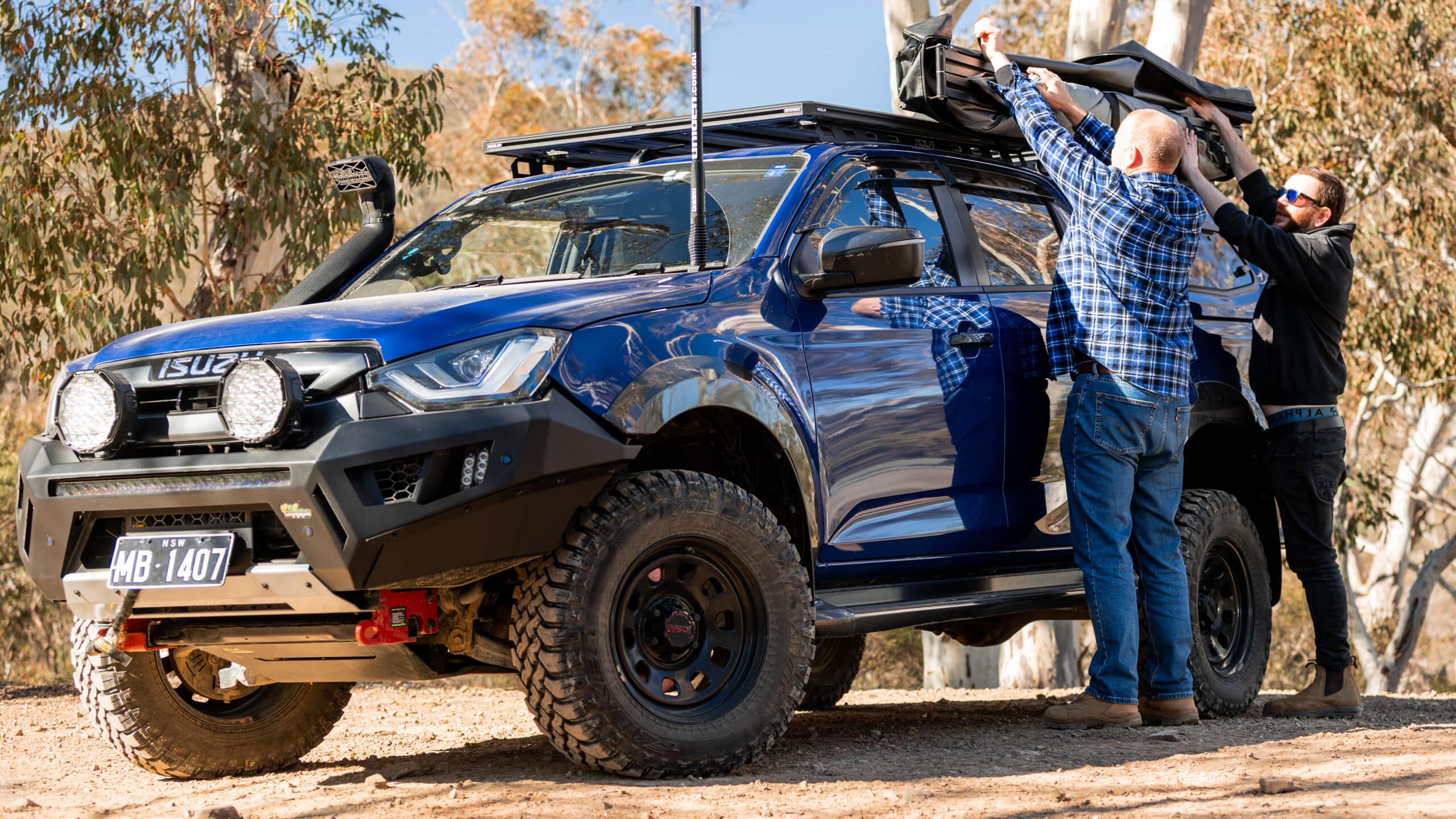 CONS: Thanks to additional wind drag, fitting roof racks generally increases fuel consumption. Wind noise can be an issue with older or more traditional rack designs; at highway speeds you might even hear an annoying whistling sound. The vehicle's centre of gravity will be raised causing issues with handling dynamics, as additional weight has been positioned up high. Say goodbye to some low-slung shopping centre car parks too, but that could be considered a good thing depending on who you are.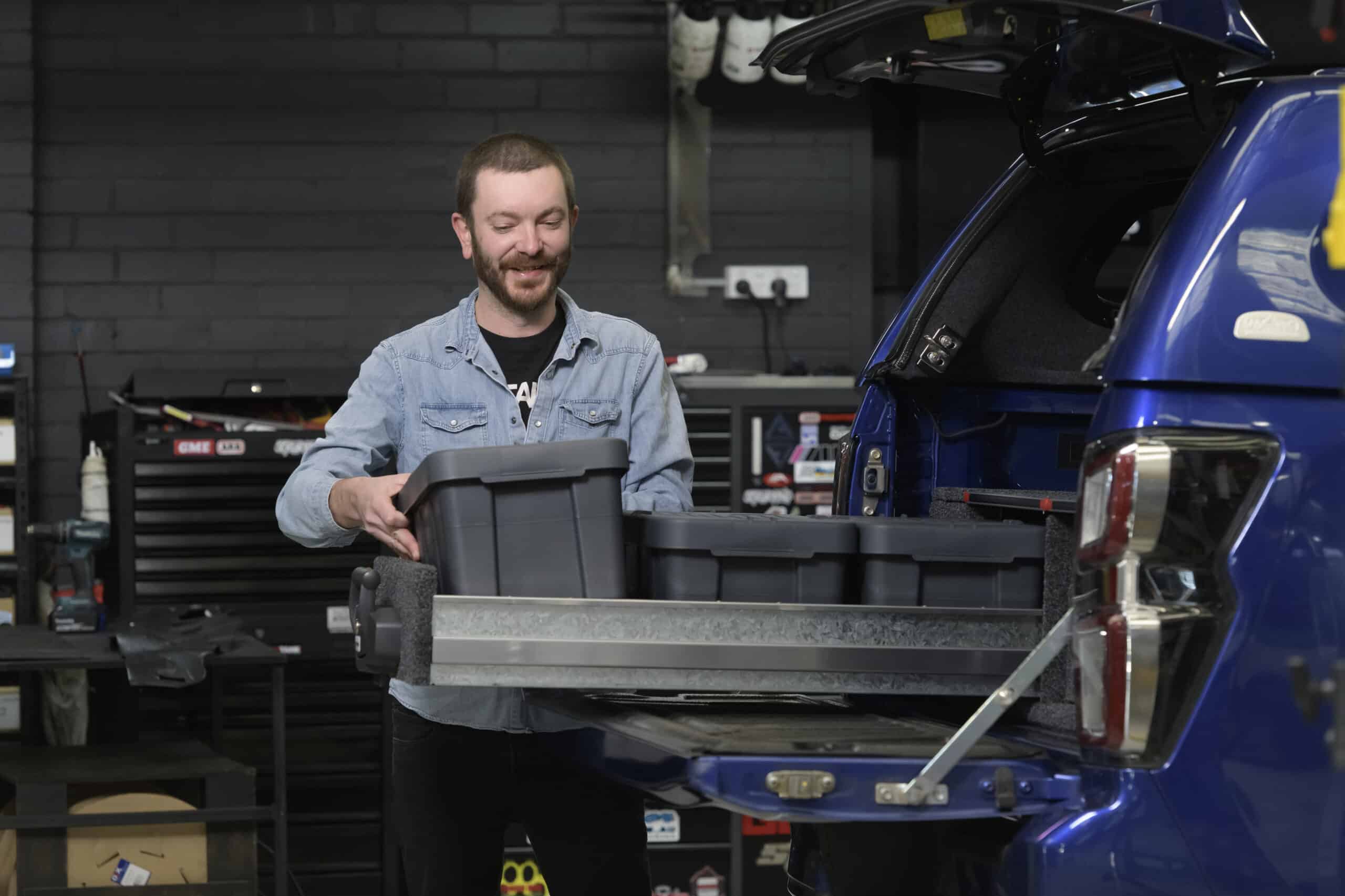 STORAGE CASES
PROS: Space cases, cargo cases… it doesn't matter what you want to call them. They all primarily do the same thing: act as a waterproof and dustproof storage box that will float in an emergency, is easily removed and can be used around the home or on a boat, too. There are many sizes available to suit your cargo area, and as a side note, a storage case makes for an excellent impromptu camp chair if need be. Best of all, no permanent modifications are required to be made to your four-wheel drive! You simply load the boxes up as required, and store them in the shed at home when no longer needed.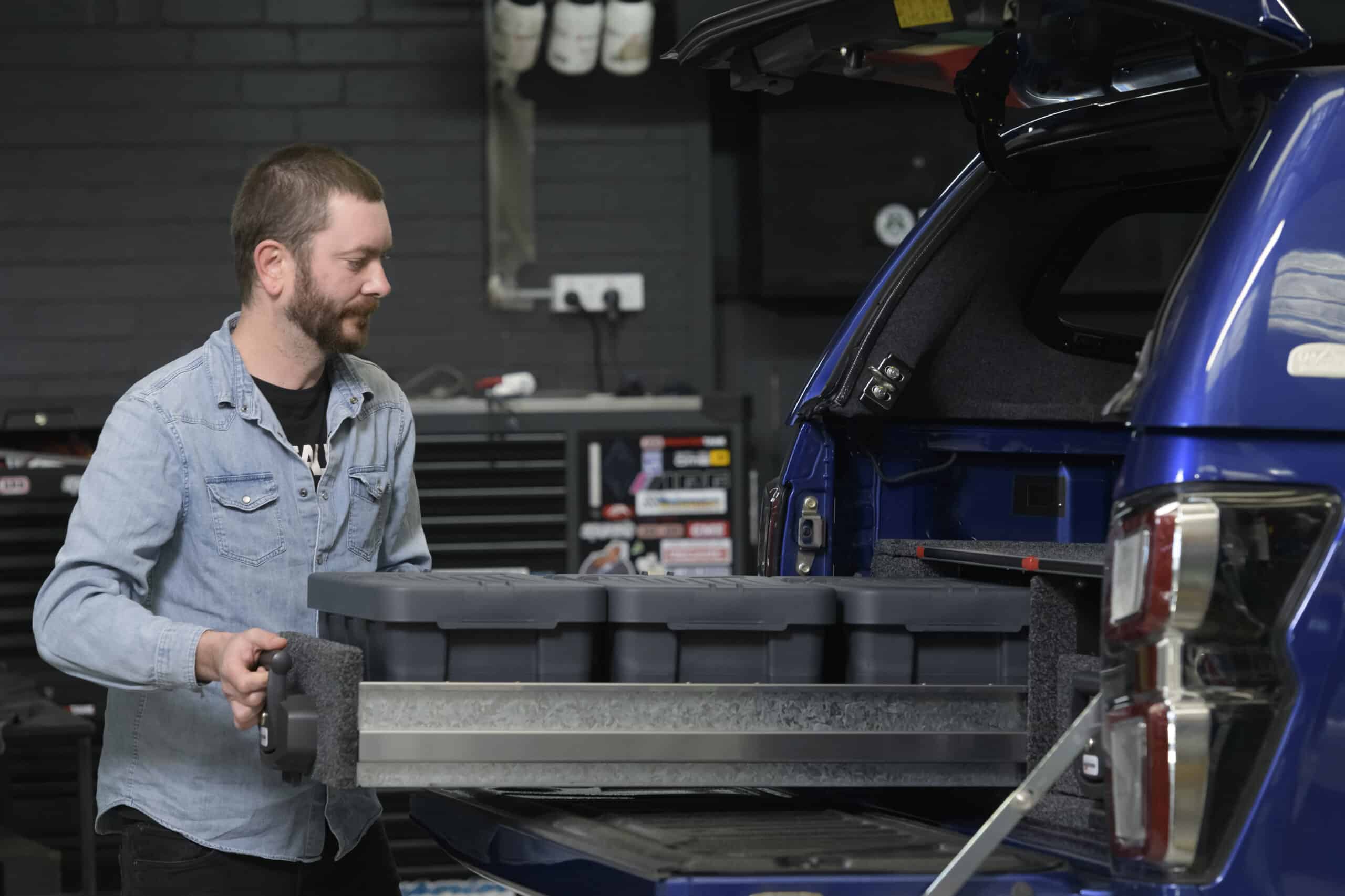 CONS: There really aren't many cons at all. Some storage cases are expensive to purchase initially, however considering the army used to drop them out of planes, they are built to last. Once filled up they are bulky to lug around on your own, and they are definitely not as sexy as custom storage drawers. But if you want a simple option, without the need for a permanent installation, storage cases are worth a look. These days, companies like 4WD Interiors are even incorporating storage containers into their drawer systems, which is a ripper idea.
CAMPER CANOPIES
PROS: If you have a ute, you would no doubt be familiar with what a canopy is. But what we are referring to here are full-length replacement canopies called camper or service bodies. They offer the ability for you to do as you wish with the available space, and can be considered the ultimate in storage systems. A full-length camper on a single cab ute tray will be long enough for you to sleep in if required. Best of all, drawers can be installed, too. This provides ample storage space, while still allowing for storage of bulky items for the ultimate compromise.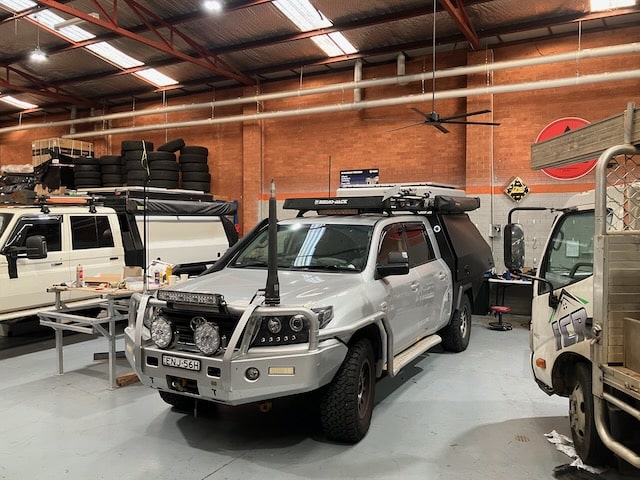 CONS: You need to own a ute which could be a problem for some. They are also fairly expensive to purchase but if you are planning on keeping the vehicle for a few years this is less of an issue. Being such a bulky modification there can be a lack of rear vision, so investing in a reverse camera makes sense. There is also the potential for additional suspension modifications to be required due to the additional weight. Avoid cheap units too as they can cut corners with the parts you can't see. Take inferior locks for example.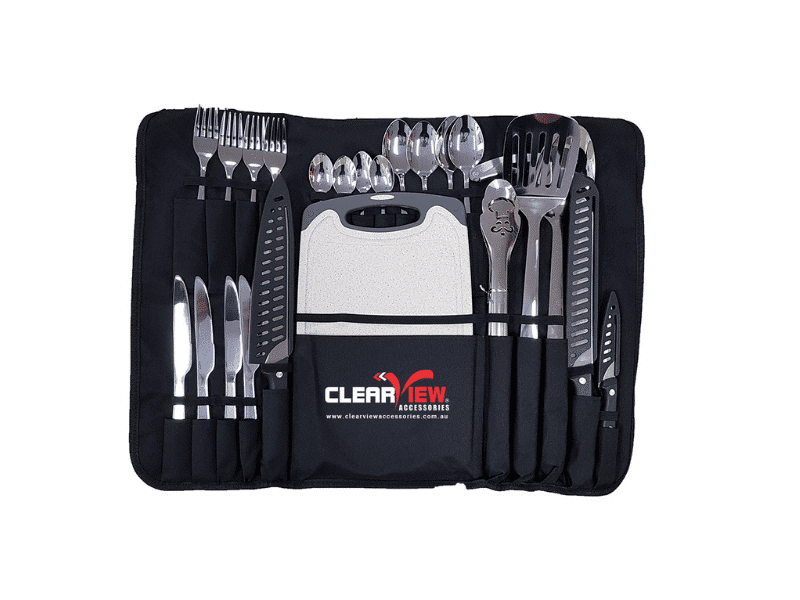 ORGANISERS
PROS: Storage organisers offer selective space for little knick-knacks. They are placed in easy-to-reach locations, are lightweight and don't take up much space. In fact, they actually utilise space that was previously wasted. The most popular examples are dash organisers, cargo barrier organisers and seat organisers, some of which even incorporate a flip-down table!
CONS: None really, however they do only offer a limited amount of storage for smaller items. If you are always losing your pen and sunglasses though, maybe pop a dash or seat organiser on your Christmas wish list.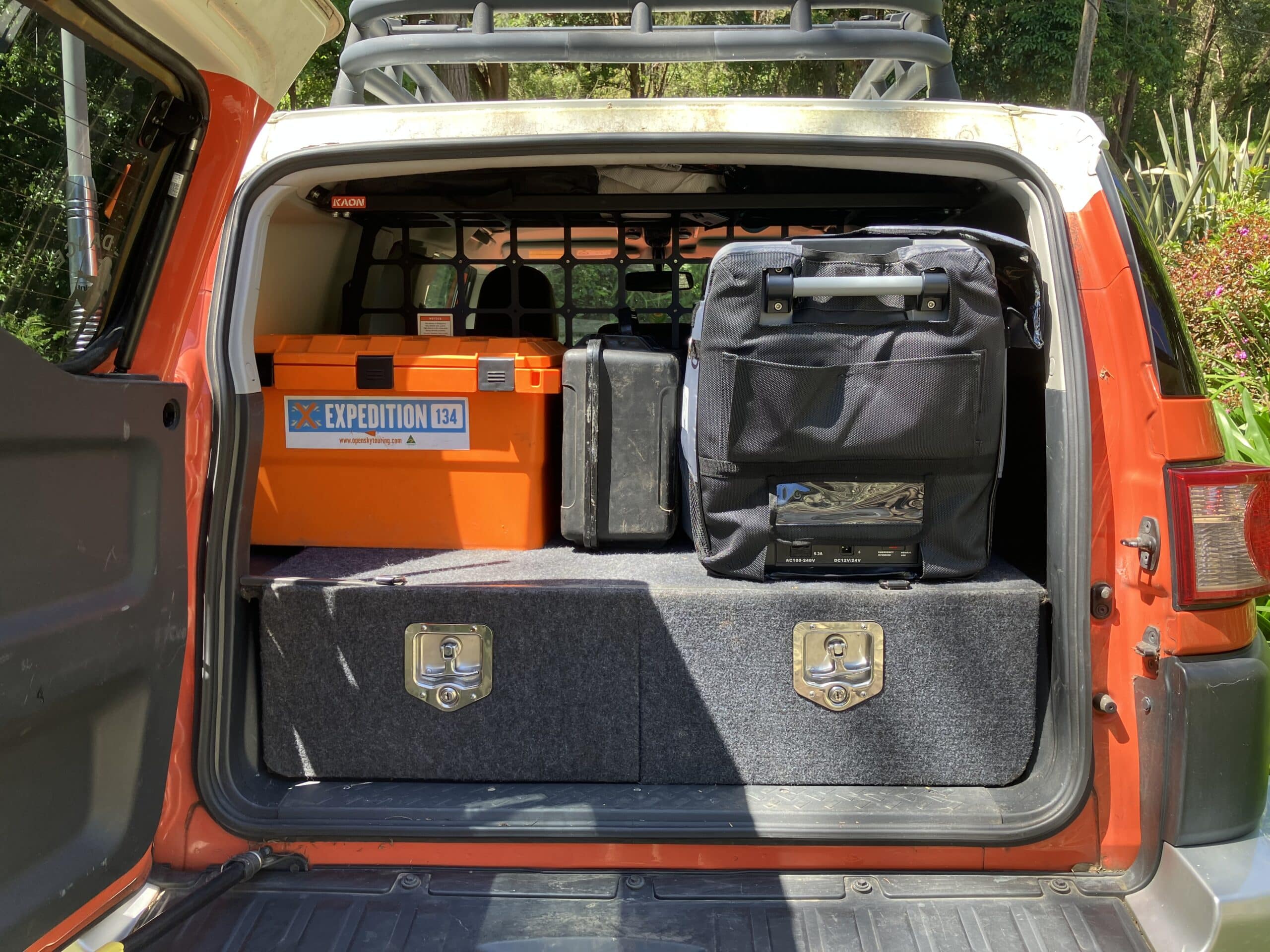 DIY OPTIONS
PROS: If you are handy on the tools, building your own storage system can cut costs, especially with the use of recycled materials. You gain a sense of pride and ownership, as well as the ability to create exactly what you want. The best thing about a DIY project is the ability to utilise common or easy-to-find parts for simple replacement in the bush.
CONS: If you aren't experienced with such a project, it's often best to leave it to the professionals. These projects take time to get right. Sourcing your own materials can often work out more expensive in the long run without trade discounts and such, and any teething problems that require trouble shooting will be your responsibility. You will spend all your spare time at camp making minor repairs, or working out other ways to tweak the unit rather than relaxing. But if you're adamant you want to build your own, send through some pictures when you're done!