Sean Caulfield decided this ripper 79 Series tourer would be the perfect rig to suit his needs… and who are we to argue?
When Sean Caulfield decided it was time to replace his Patrol with this 79 Series tourer, he first had to convince his better half. Here is his Custom 4X4 story:
In the beginning
The conversation went something like this: "Darling, the clutch in the Patrol is going, I think I should just buy a new car and be done with it. I was thinking a dual-cab LandCruiser."
"Oh yeah?" she responded, a little less mockingly than I had expected. "How much is that?"
"Oh well, you know, they're about, you know, like…" I mumbled the price quietly and prepared for the onslaught of "hell no!" and "you're dreaming, mate" that would inevitably follow. Not hearing any of those things, I silently grinned and set about planning my dream four-wheel drive.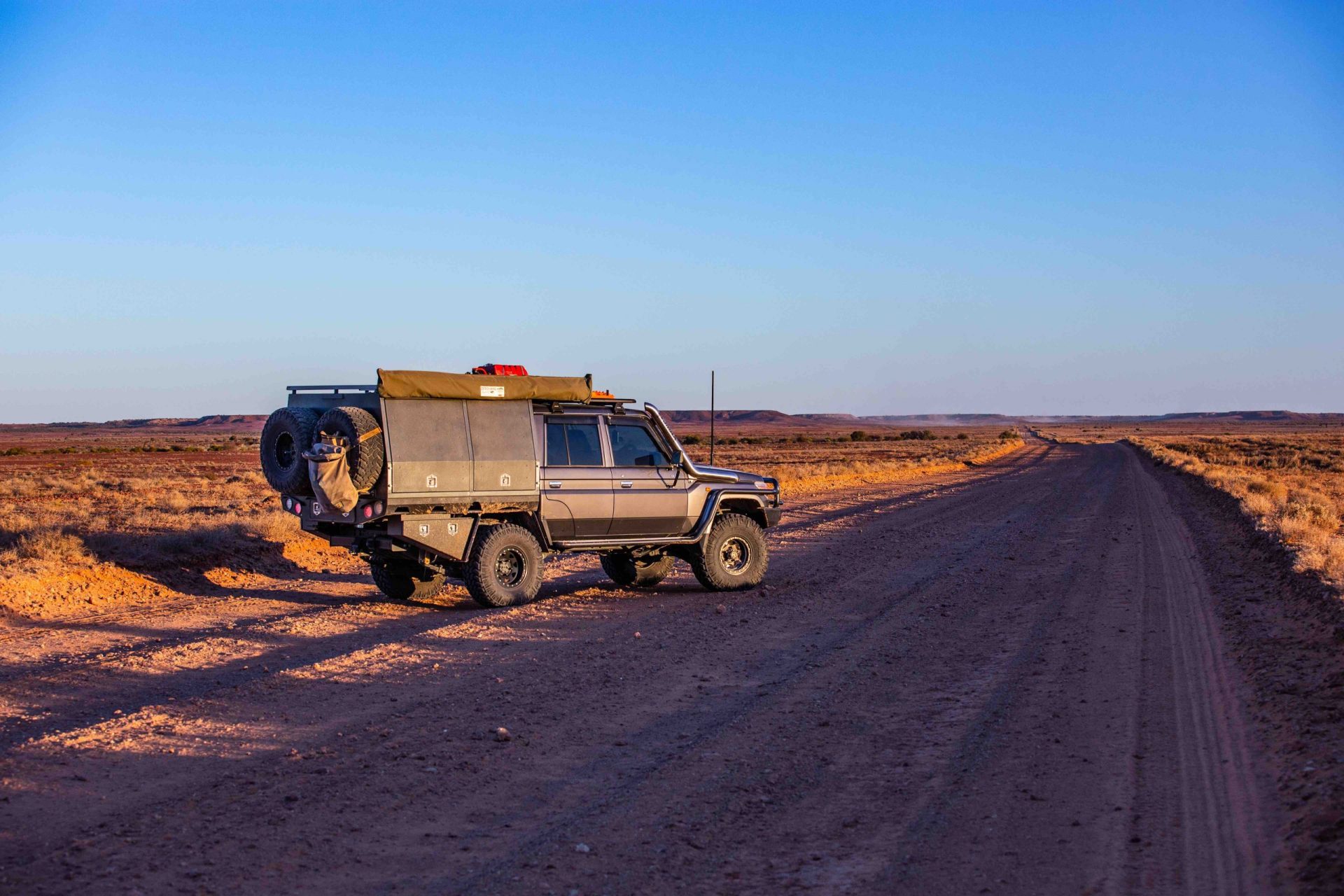 As a photographer and aspiring travel writer, I wanted to build something that I could comfortably live out of and, with a little one on the way, be not only reliable but have parts readily available pretty much anywhere in Australia. The LandCruiser ticked all these boxes for me – well, except the comfort one, but that could be fixed later…
I recall approaching my local Toyota dealership when the new 2017 model Cruiser had been released, and they were waiting for stock to come in. It had all new features including a taller fifth gear and a tougher looking bonnet. I was sold – then she mentioned 'DPF', or Diesel Particulate Filter. I recalled a time I was stuck at Erldunda Roadhouse for five days because a DPF sensor had died. Nope, I didn't want a '17 model. I was informed that they couldn't find me a graphite dual-cab. So, the hunt was on. After a few Facebook posts and many phone calls, I was on my way to Millicent, South Australia to pick up my ute.
The engine
Driving the ute out of Millicent Toyota, I was ecstatic, although somewhat underwhelmed by the power. The standard 4.5L V8 is seriously detuned out of the factory. As I was to discover, huge gains can be made with minimal modifications. I got chatting with BSC Performance in Carrum Downs, and a Unichip Q4 was added due to the flexibility of having different tunes for different conditions. The other reason being the ability to remove the Q4 and change everything back to standard should I experience any problems.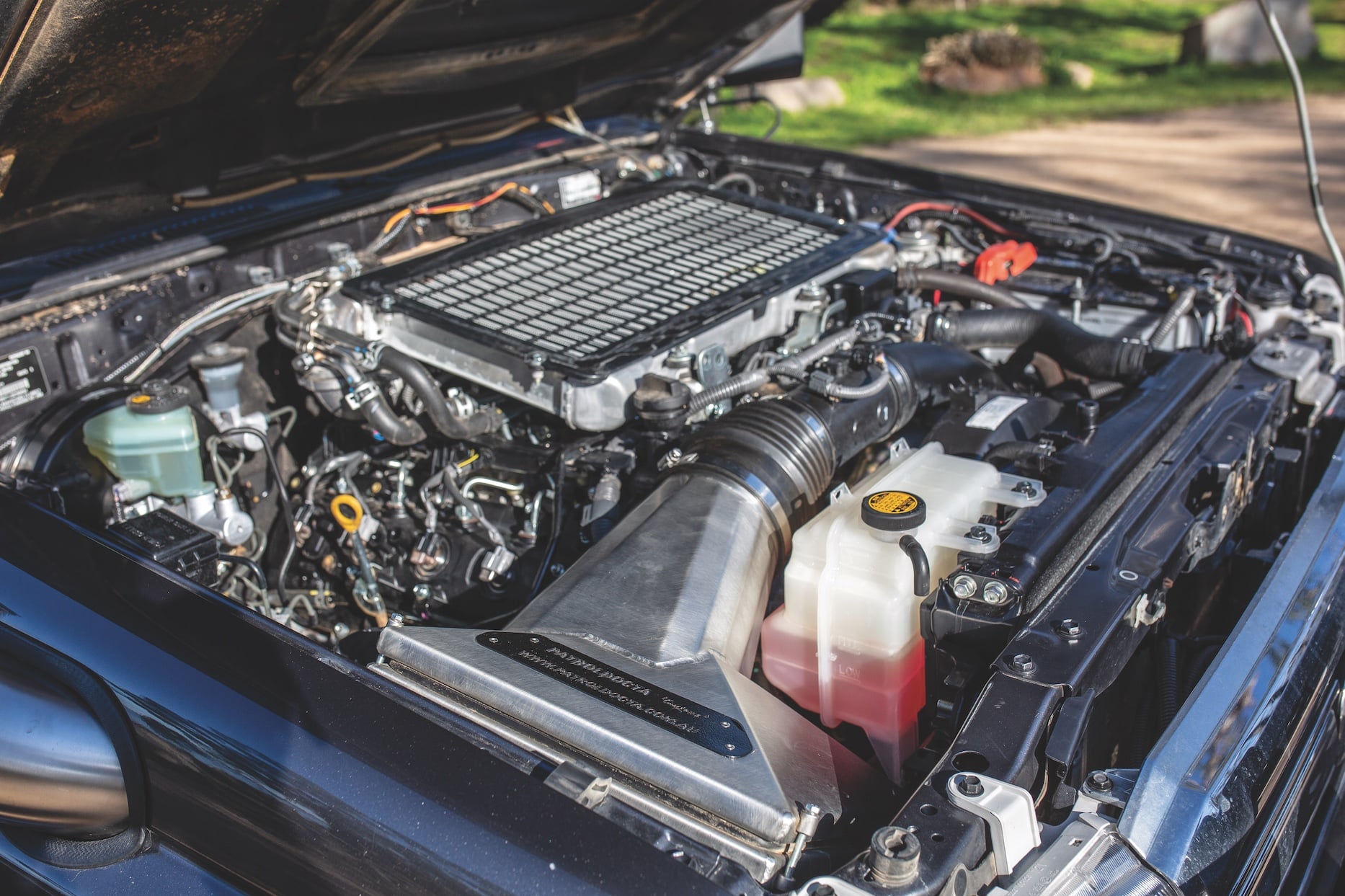 A three-inch Redback exhaust was fitted to make it breathe a little better and release that classic V8 Cruiser sound. After the tune, power was increased to a healthy 168kW at the wheels and 647Nm of torque. Sending an additional 350Nm through the factory clutch, which I assume it shares with a Prius, quickly killed it. So, it was back to the boys at BSC Performance for an NPC 1300 clutch and billet fly wheel.
Suspension, tyres & driveline
I have a passionate hatred for sealed roads, so the Cruiser is subjected to thousands of kilometres of corrugations. Good quality shocks were top of the to-do list. FOX remote reservoir shocks paired with Dobinson springs lift the Cruiser three inches, much to my very pregnant missus' disgust. After trying a few different tyre and wheel combinations, I decided to keep it simple and stick with 16-inch steel wheels. I like the flexibility of steel wheels, they're cheap to replace and can be fixed with a hammer or welded on the side of a track. They're also readily available in most towns no matter how remote. Wrapping the steel wheels is a set of Nitto Trail Grapplers in 315/75R16, which have been excellent so far, and were chosen for their strong sidewall and carcass construction.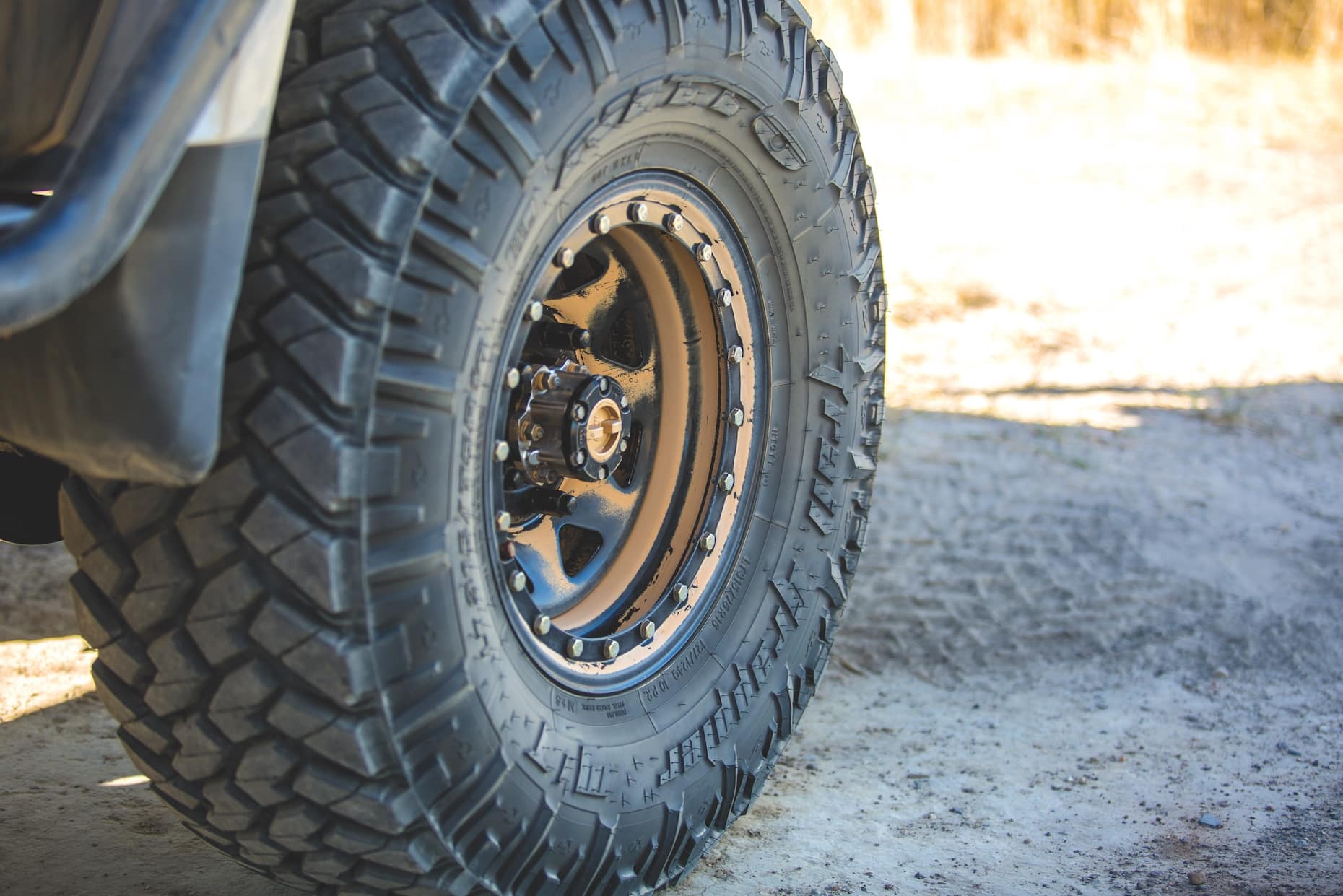 Barwork & body
Protecting the front end from suicidal skippies and unseen hatchbacks is an ARB big tube bull bar. Protecting the sides from an over-ambitious driver is a set of ARB rock sliders and scrub bars, both colour-coded graphite. The tray and canopy have been coated in Aztech hammertone to help protect them from the inevitable bush pin striping. A Rhino-Rack Pioneer Platform has been fitted to the roof for storing accessories.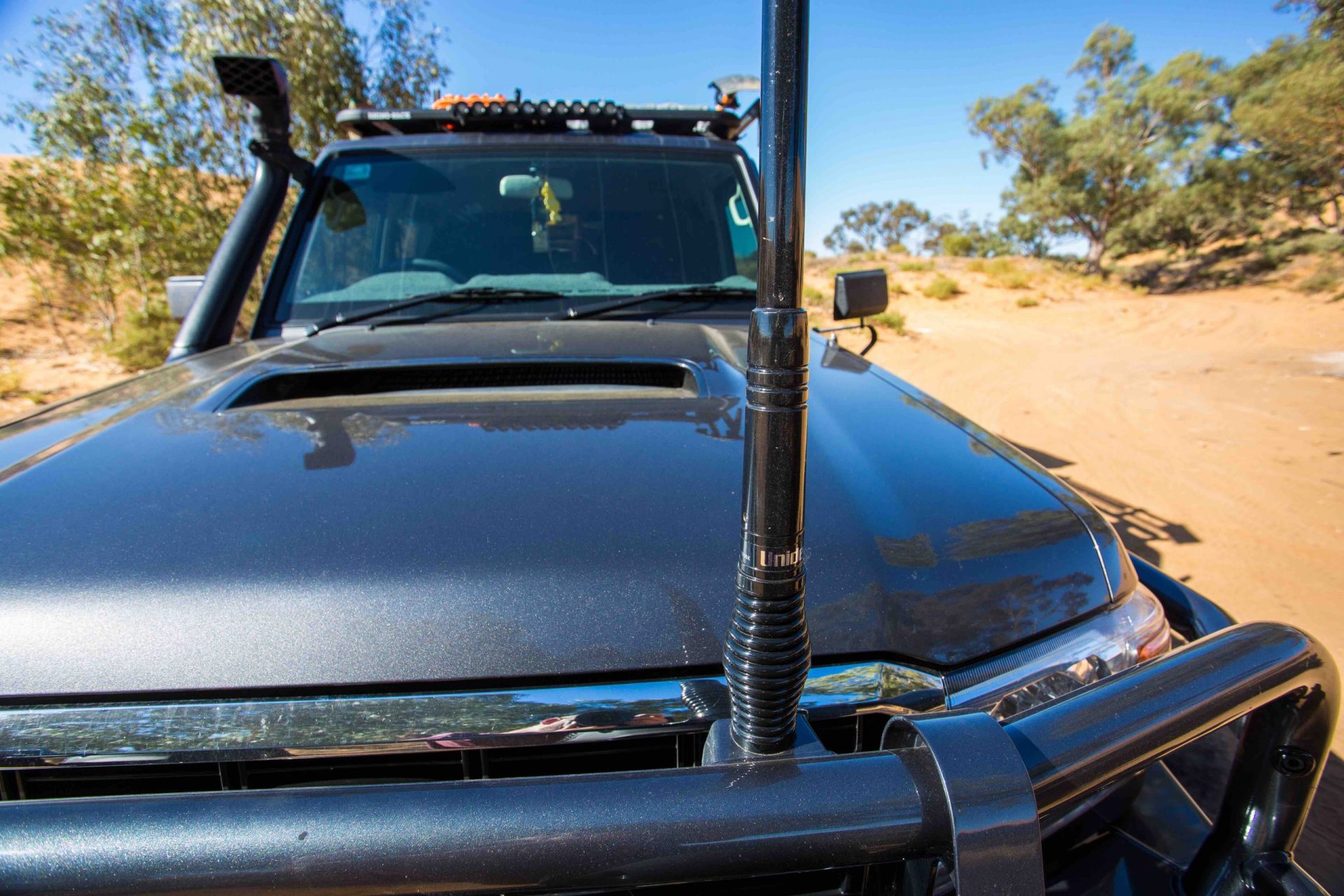 Lighting, electrics & comms
Lighting is taken care of by a set of retina-searing, Lightforce HTX driving lights and a Rhino 4X4 20-inch light bar (which is mounted to the roof rack). A Redarc 40A DCDC charger, paired with a 150W solar blanket, take care of charging the two auxiliary batteries – one Optima battery under the bonnet and a Fullriver AGM in the canopy. Communications are taken care of by a Uniden 80-channel UHF paired with a Uniden 6.6dBi antenna mounted on the bull bar, allowing me to receive distress calls from bogged Ranger drivers anywhere within a 10km radius.
Canopy
This is where it all comes together. Being a photographer and spending a lot of time travelling for work, I wanted to build something that could get me to the most remote places in the country and be self-sustainable.
Deciding to make the jump from having a Tvan to building a touring canopy was a decision that I didn't take lightly. The Tvan had a lot of great features, it was quick and easy to set up and could go everywhere I did. I decided that, in reality, I spend a lot more time away camping on my own and I'd like to have the comfort of a well set up canopy with me all the time. After trawling Gumtree, I found a canopy and tray in Mildura that would work perfectly. Firstly, I installed a false floor which also provides a heap of extra storage space underneath. After that, the hunt was on for a kitchen. I needed something that my five-foot nothing wife could use and easily access everything – basically meaning that everything had to be on a drop-slide. After looking around at options, I settled on the Clearview Pantry which mounts to the Clearview Easy Slide. An MSA drop-slide is located at the front of the canopy and houses a 60L Engel. A Joolca instant gas hot water system provides a touch of luxury when you have been away for a few days, and draws from a 40L stainless steel water tank under the tray, but can also pump directly from any water source.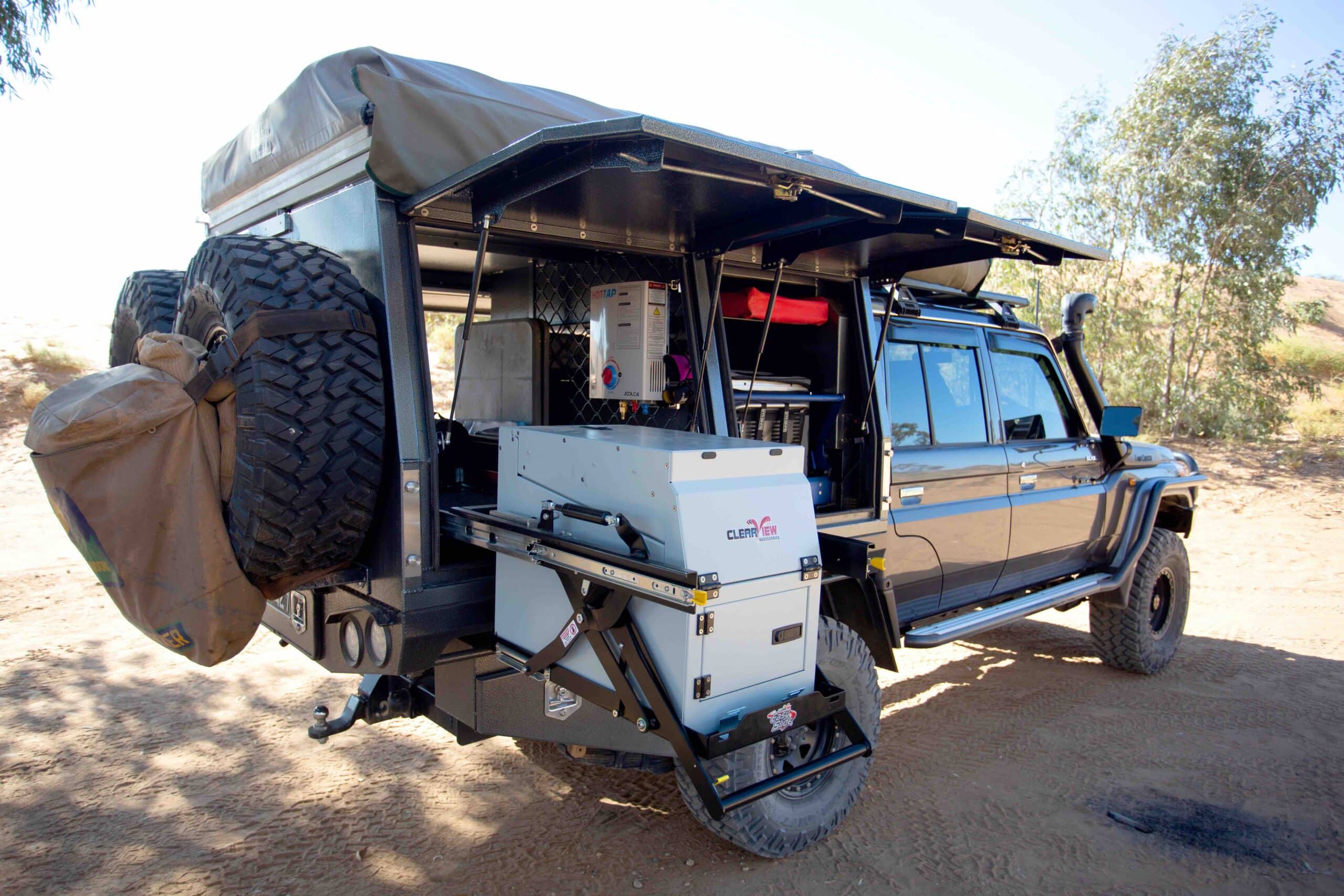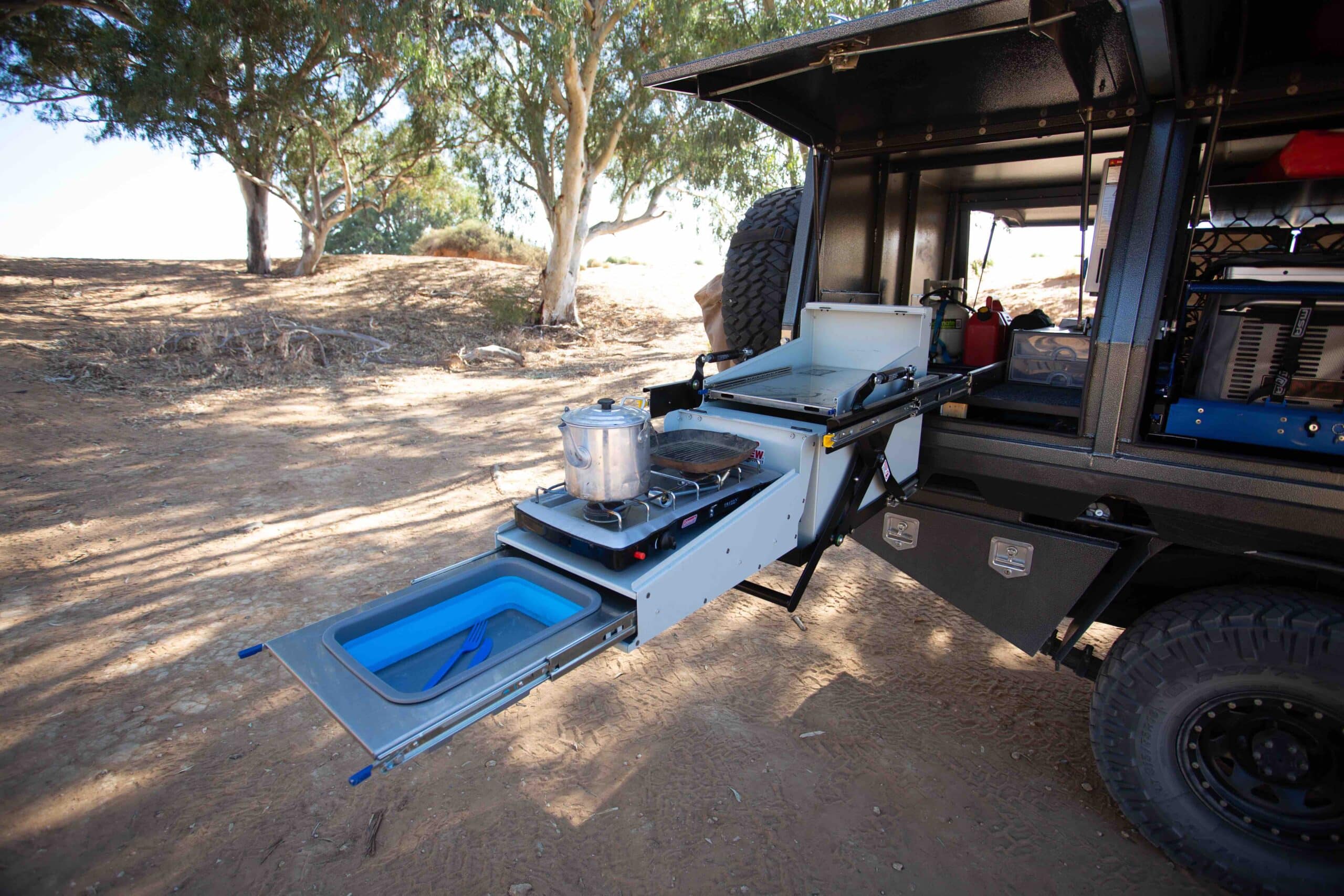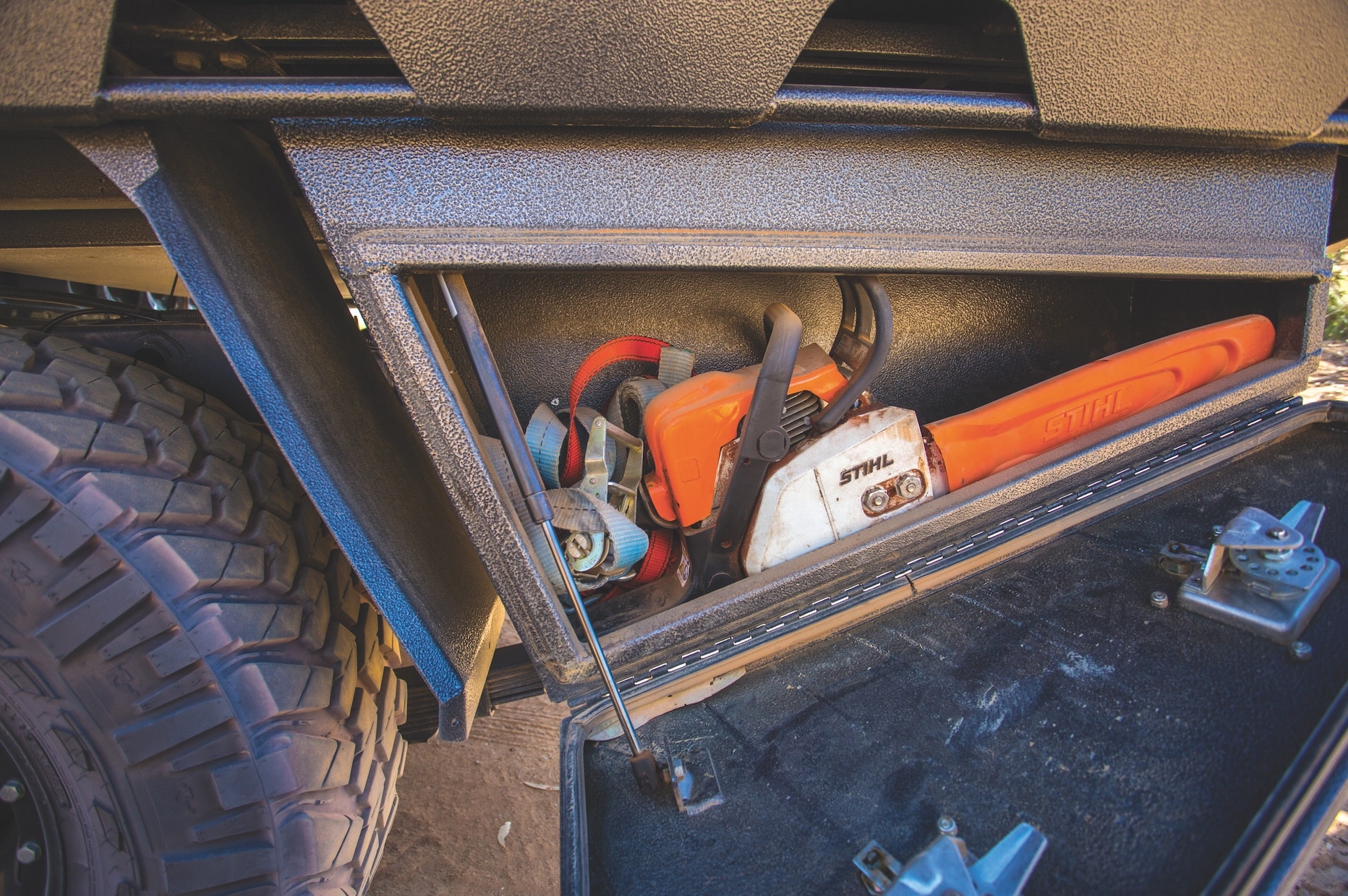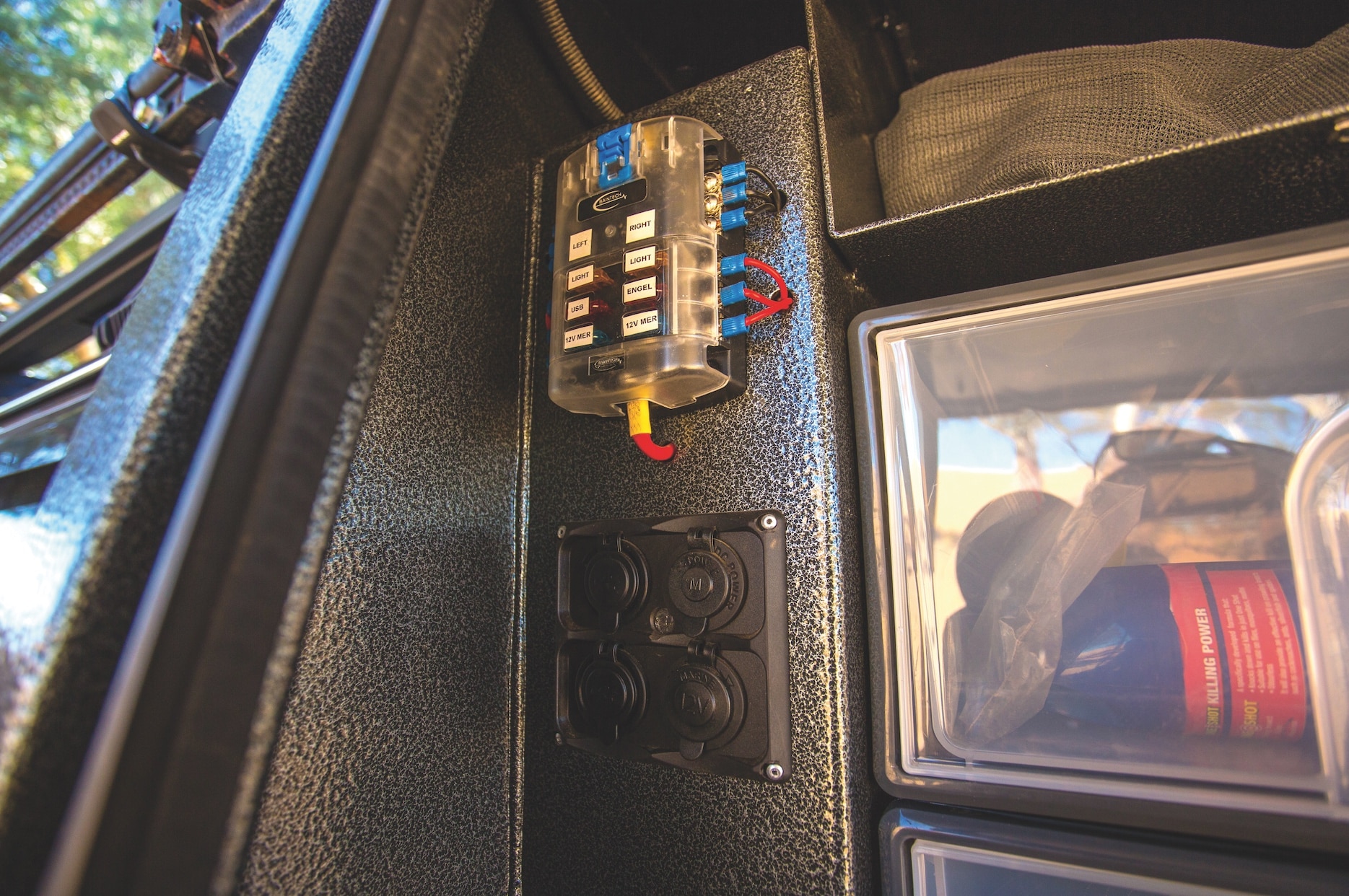 For shade, I looked at the whole range of 270 degree awnings. I wanted to have something that was free-standing and was advertised that way. After meeting with Mark from Tough Touring, I was sold on the Ostrich Wing. It has a great build quality with strong welds, the canvas is a lot stronger than I had seen on others and it's fully free-standing (but does have the option to drop down a pole should it be needed). This is easily one of my favourite things on the ute; it takes 20 seconds to set up and about 30 seconds to pack up. It's a three-metre awning so it provides an ample amount of shade. It covers the whole kitchen and back of the canopy, so I can walk around into the annexe without getting wet. An Aussie Traveller rooftop tent is fitted; I wanted to move away from the traditional fold-in-half rooftop tent. They're too small for my liking and they're too high when folded up. The Aussie Traveller tent is only around 300mm high when packed up, so drag is minimised.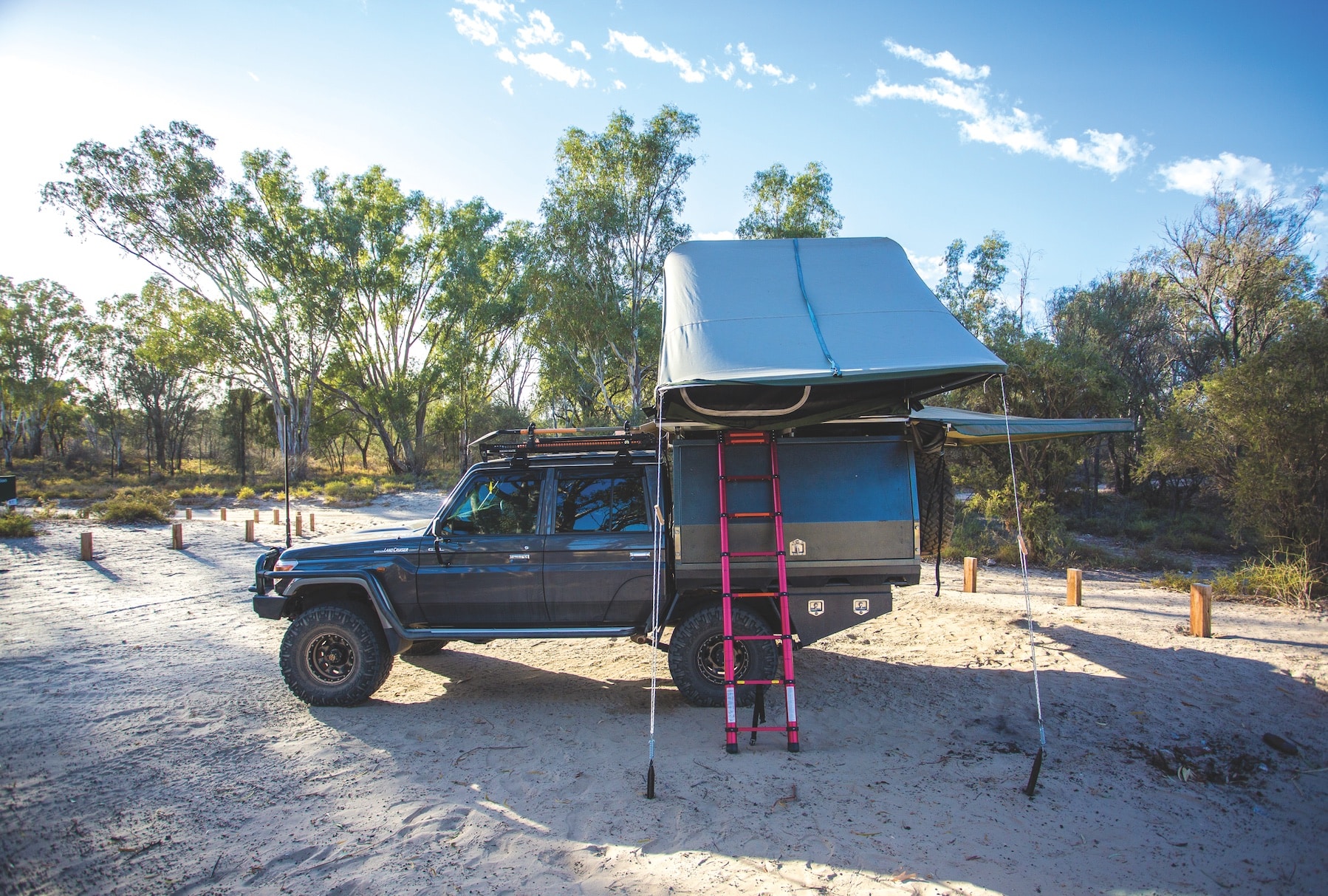 The canopy lifts off the tray with four legs, which allows me to avoid the biggest issue with any rooftop tent – not being able to get away from camp once I have set up. The 79 Series tourer tray is a one-off custom build and is all-alloy to keep weight down. It has an inbuilt 40L stainless steel water tank, under-tray tool boxes and twin inbuilt air tanks that run off a TJM compressor. All the toolboxes and guards are mounted on channel which allows me to adjust everything depending on tyre sizes and clearance issues.
Interior & comfort
The interior of the 79 Series tourer was very basic to begin with, so I have added a few creature comforts to make it a bit more comfortable on those long trips. It has been fitted out with a Cruiser Consoles centre console to add another couple of cup holders. A cruise control kit has been fitted to help retain a little bit of the fuel economy and help save my right foot from going numb on those long journeys. A Kenwood DDX917WS head unit is connected to a rear-view camera and keeps the Cold Chisel pumping. Barnsey's voice is delivered through a set of Kicker six-inch splits. An iPad mounted in a Ram Mount is used for navigation, running the Hema Explorer and Hema 4WD Maps app.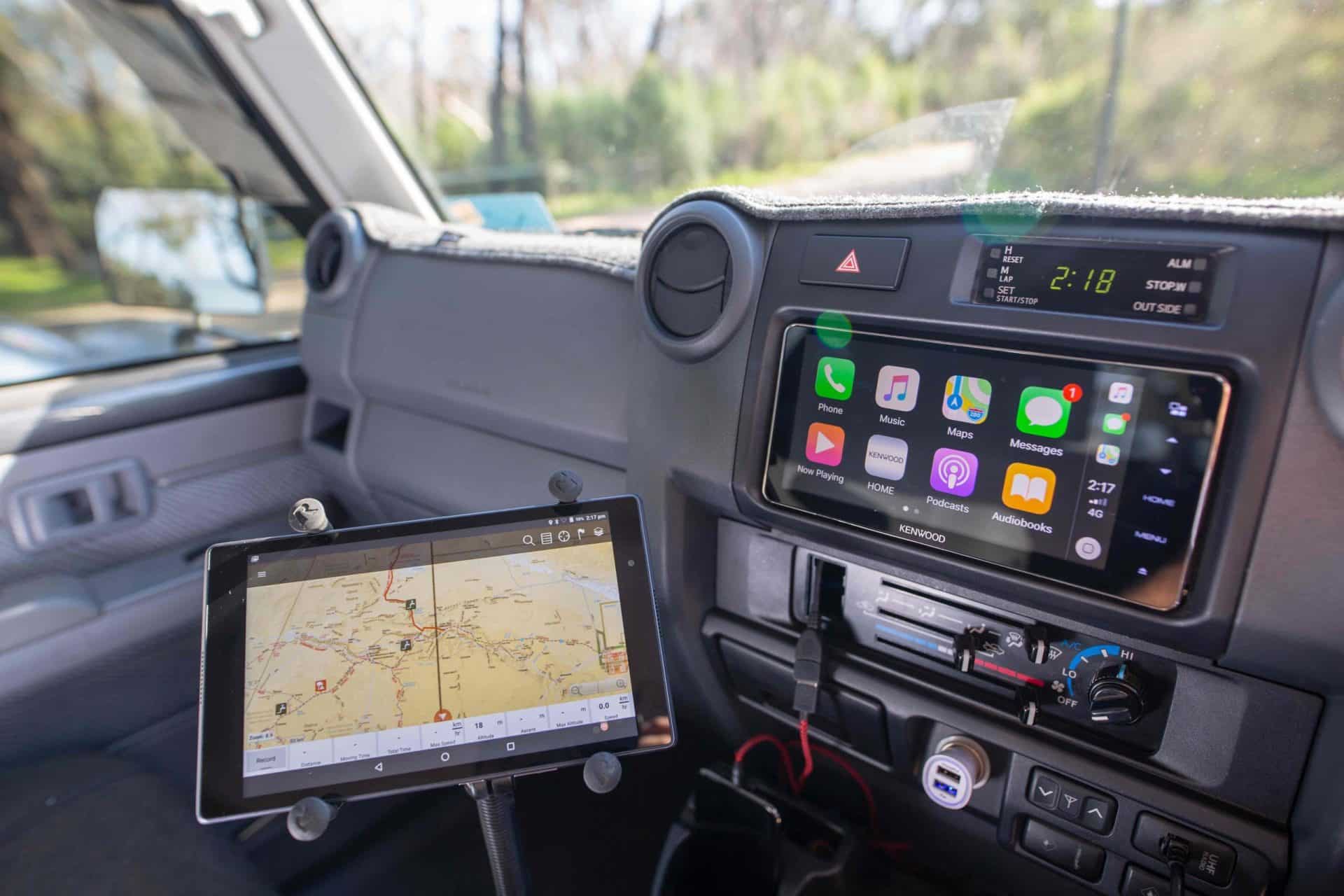 About me…
I am lucky enough to spend a lot of time out bush. Having tried several different combinations from a traditional rooftop tent on my old Patrol to the Tvan (that we dragged across the Simpson and along the Old Telegraph Track), I am happy with the current set-up. Having the ability to tow, as well as live out of the ute and leave camp set up while we explore, is perfect for me.
As with pretty much all four-wheel drives, this one is never going to be finished, much to the dismay of my wife. Future modifications include a long-range tank, roof console and possibly a chassis extension. For now though, this does everything I could possibly need and more. If you see me around, don't be scared to stop and say hi – there is always a cold one in the fridge, and I don't mind a yarn.