The covers have come off the all-new Ford F-150 pick-up truck, the most important vehicle in the 117-year old manufacturer's line-up, but it will only be built in left-hand drive.
Sadly, we have confirmation that the all-new Ford F-150 pick-up truck will not be coming to Australia – a Ford Australia spokesperson told Unsealed 4X4, "There are no current plans to make F-150 available in right-hand drive".
The Ford F-150 has been the best-selling pick-up truck in America for the last 43 consecutive years, which is why the manufacturer has targeted best-in-class towing, payload, torque and power of any full-size light-duty pickup.
"Since 1948, our hardworking F-Series customers have trusted Ford to help them get the job done," Jim Farley, Ford's chief operating officer said. "F-150 is our flagship, it's 100 per cent assembled in America, and we hold ourselves to the highest standard to make sure our customers can get the job done and continue to make a difference in their communities."
Design
Ford says the 2021 F-150's new exterior design has "a bolder, tougher look", and while Ford Australia declined to comment, this new look is a likely indicator of where Ford will go with the styling of the next-generation Aussie-developed Ranger ute. The new F-150 features higher front guards and a wider track for a "more powerful stance on and off the road", and it has a new headlamp design, new power-dome bonnet and wrap-around bumpers. There are 11 grille options across the range, and a selection of new tailgate appliqués. Available features include LED headlights and taillights, and power sidesteps.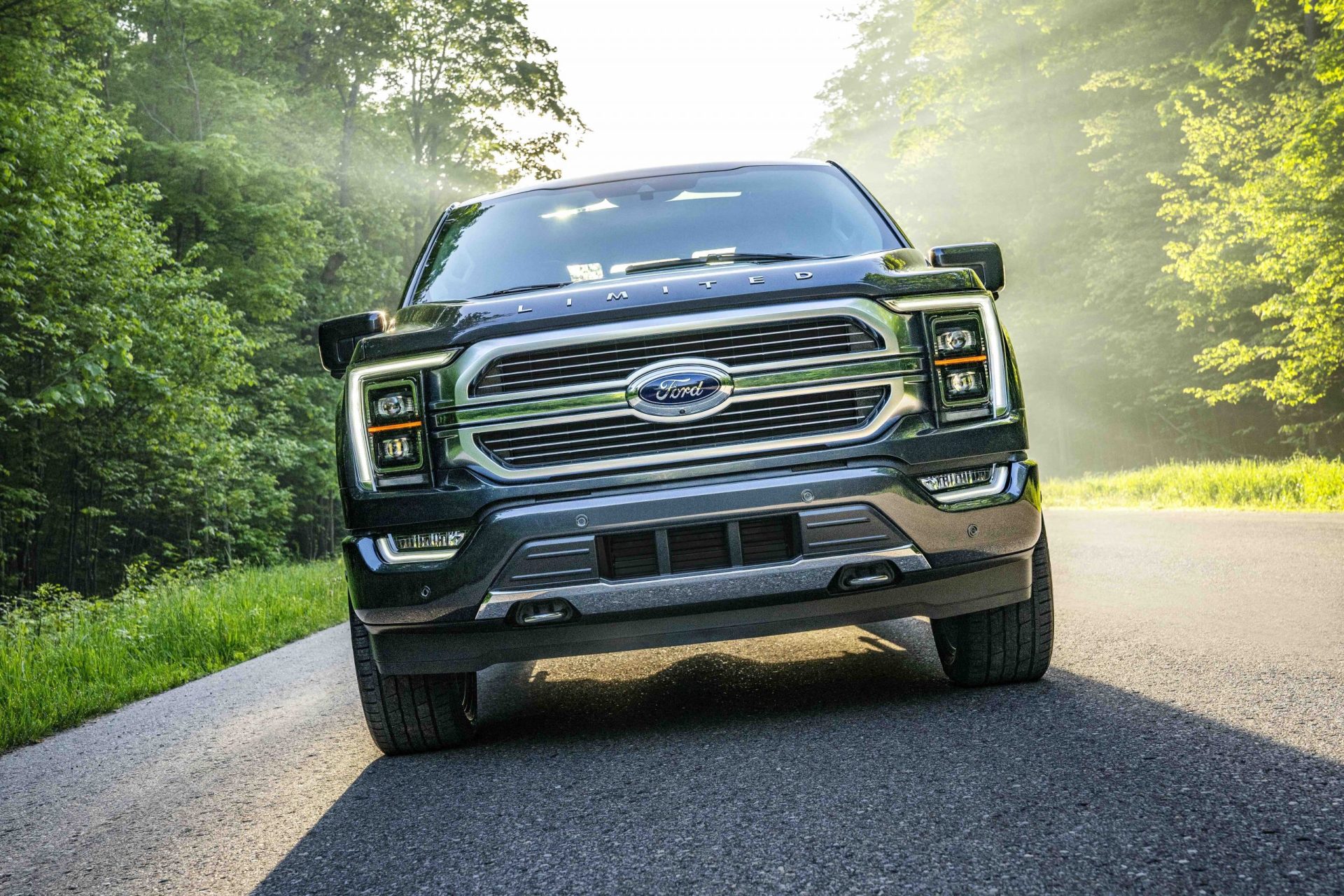 Under its new high-strength, military-grade aluminium alloy body, the new F-150 features a fully boxed high-strength steel chassis, with independent double wishbone front suspension with coil springs and live-axle rear-end with leaf springs. There are six available engine options, including a 3.5-litre V6 PowerBoost hybrid engine that's claimed to deliver the most power and torque of any light-duty full-size pickup. This powertrain is available across the range, and it will offer a staggering 5400kg maximum braked towing capacity and an 1100km touring range.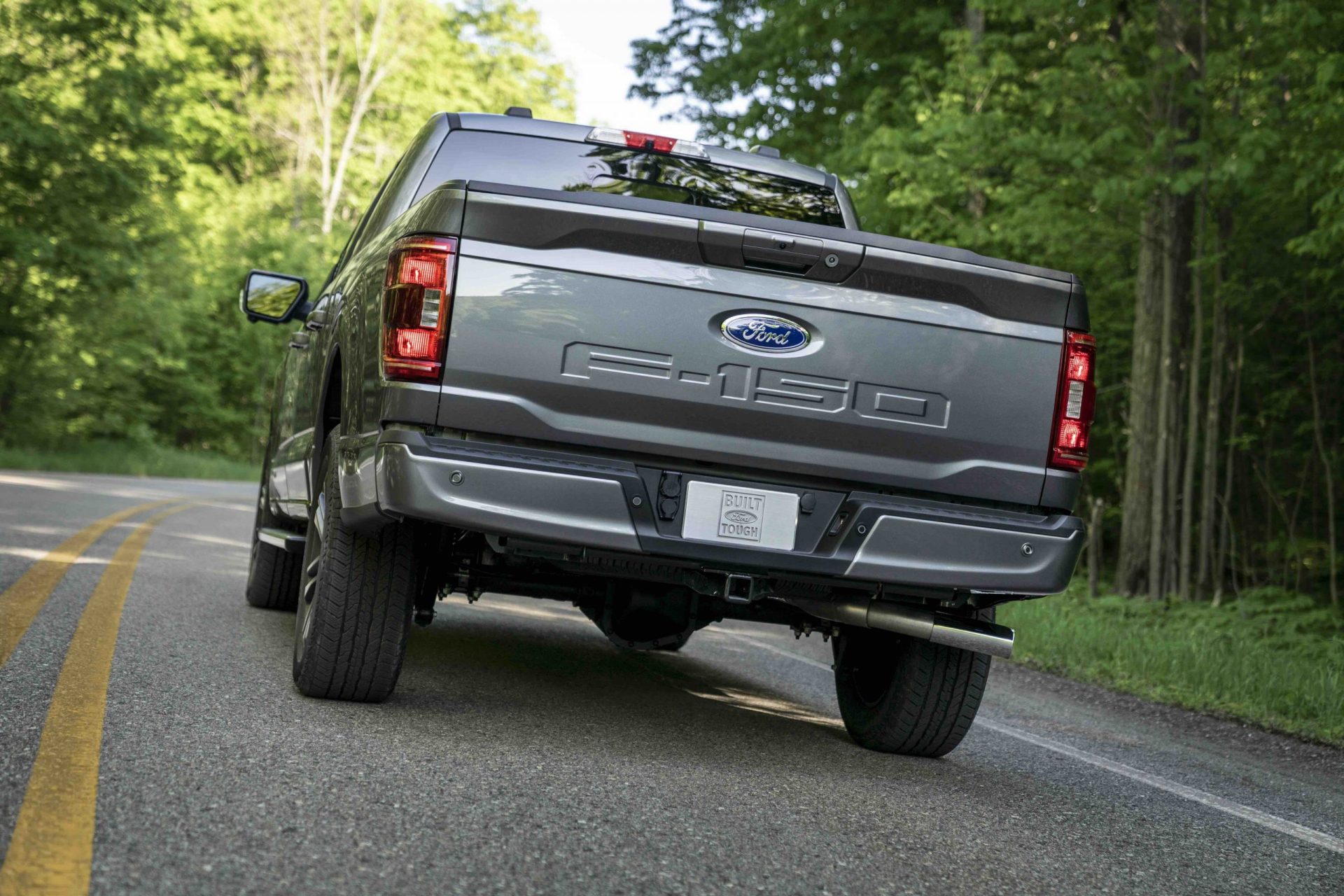 Hybrid
The hybrid PowerBoost engine combines Ford's EcoBoost V6 and 10-speed automatic transmission with a 35kW electric motor (integrated into the transmission). The electric motor uses regenerative braking to help recharge the 1.5kWh lithium-ion battery which is packaged underneath the vehicle so as not to impinge on cabin and tub space.
In an effort to improve efficiency, the new F-150 has active grille shutters, an automatically deploying active air dam and new cab and tailgate geometry for improved aerodynamics.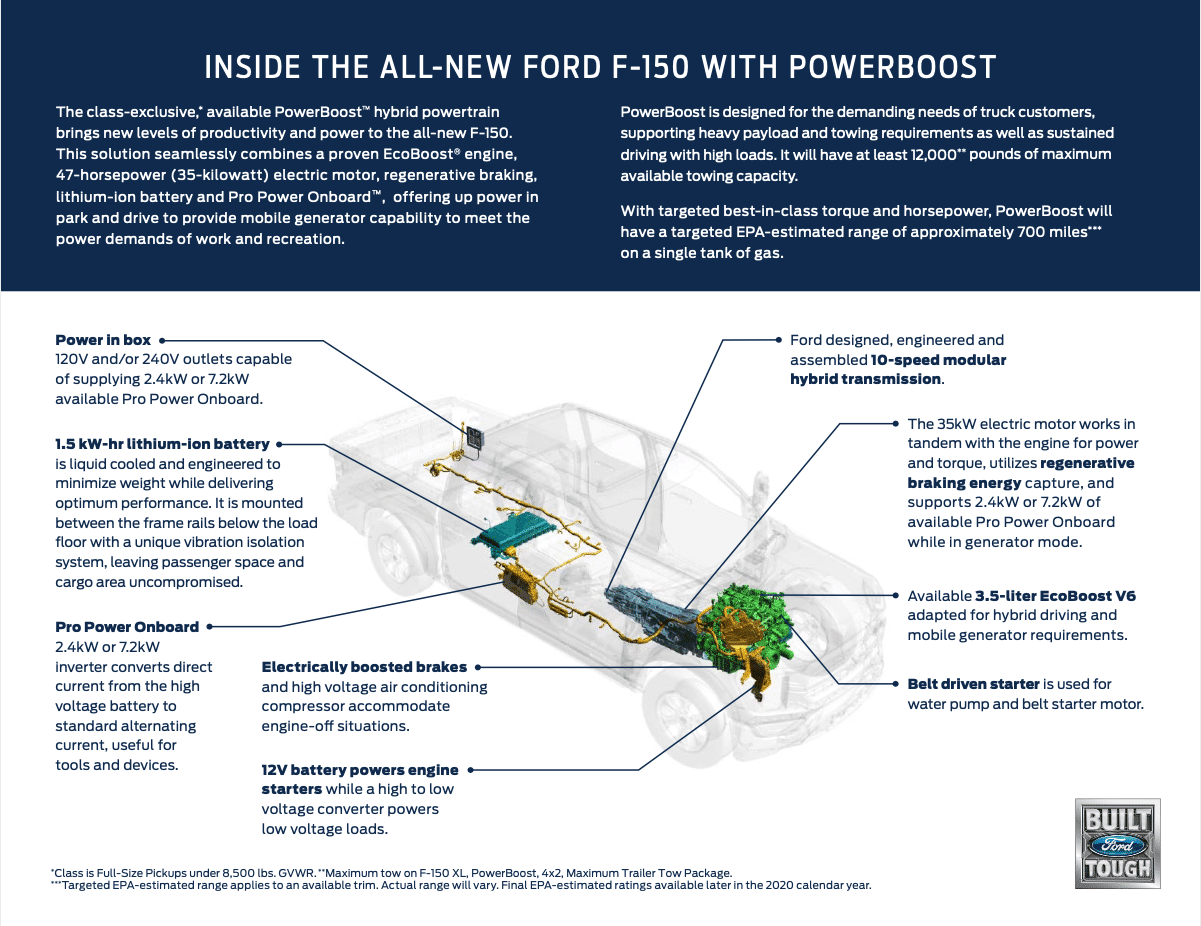 Other powertrains
In addition to the hybrid Powerboost driveline, the F-150 is available with a 3.3L petrol V6, a 2.7L turbo-petrol V6, a 5.0L petrol V8, a 3.5L twin-turbo petrol V6 and a 3.0L turbo-diesel V6. It's this TDV6 that has been mooted for inclusion in the next-generation Ranger. All variants are equipped with a 10-speed auto.
Towing Tech
In addition to the class-leading towing capacity, the new F-150 is available with Trailer Reverse Guidance and Pro Trailer Backup Assist. Trailer Reverse Guidance uses the vehicle's cameras to provide multiple views along with helpful graphics that advise drivers which way to turn the steering wheel while reversing. Pro Trailer Backup Assist is claimed to make reversing a trailer as easy as turning a dial.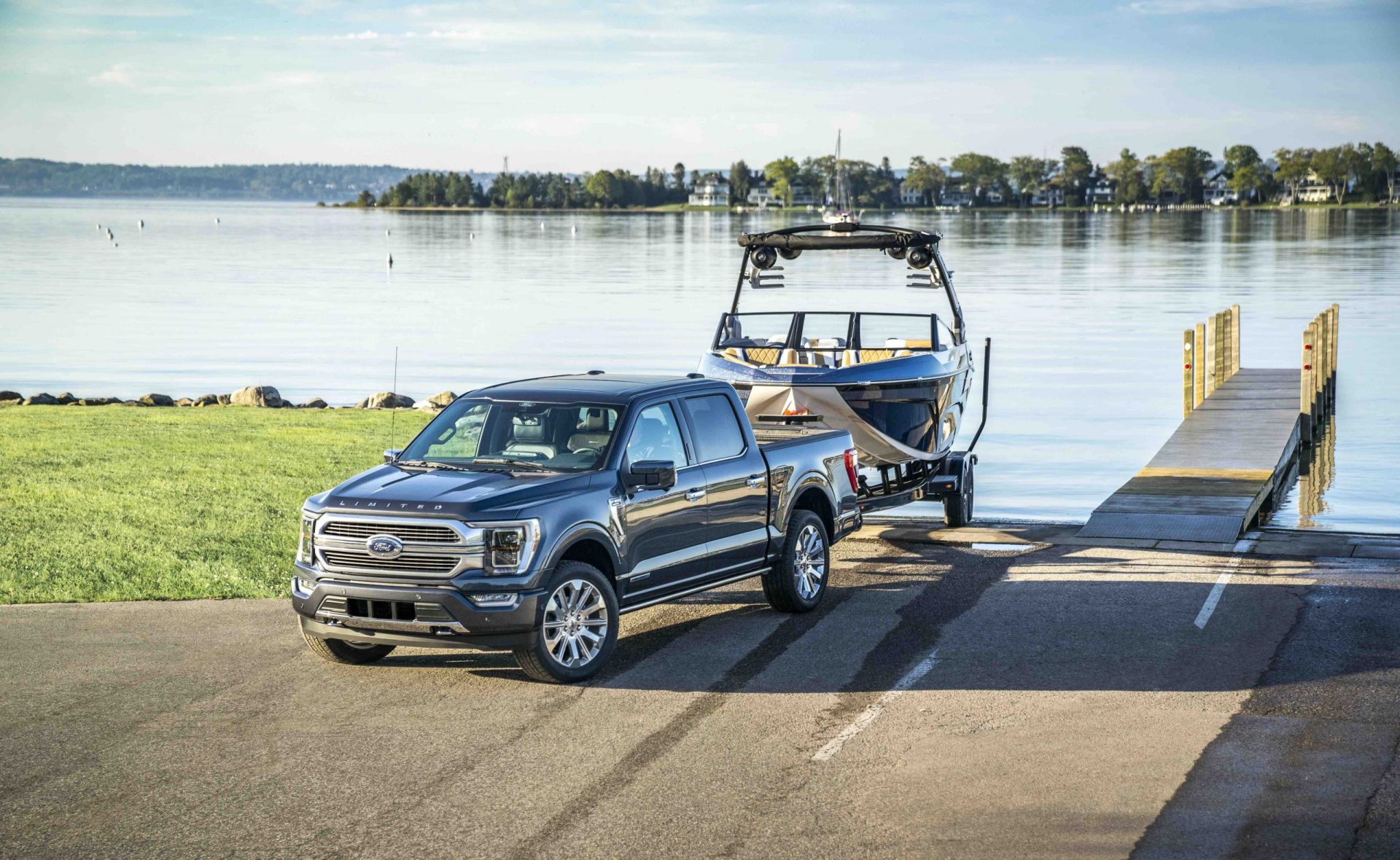 Interior
As well as the exterior redesign, the F-150 also scores an innovative new interior, with features including a massive 12-inch colour touchscreen (on XLT high series and above). This allows occupants to split the screen and control multiple functions simultaneously, including navigation, music and vehicle features. Lower-grade XL and XLT variants get an 8-inch colour touchscreen with an improved rear-view camera.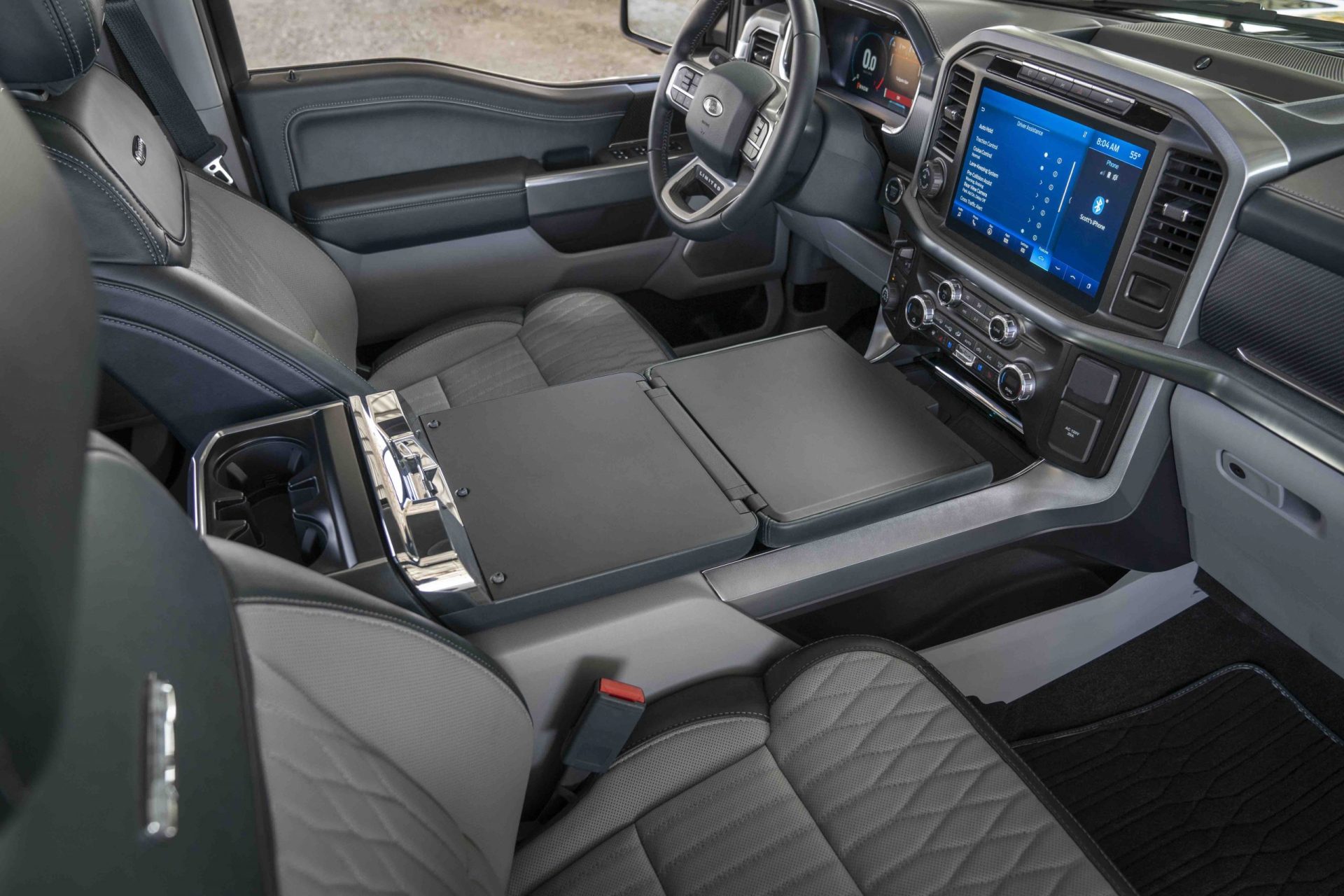 In addition, the front seats of high-grade models now fold completely flat, while all grades feature a fold-out work surface on the centre console for using a laptop or eating a meal. Ford describes this features as turning the F-150 into "the ultimate durable, anywhere office." There's also a massive, lockable storage bin under the rear seat for stowing valuable.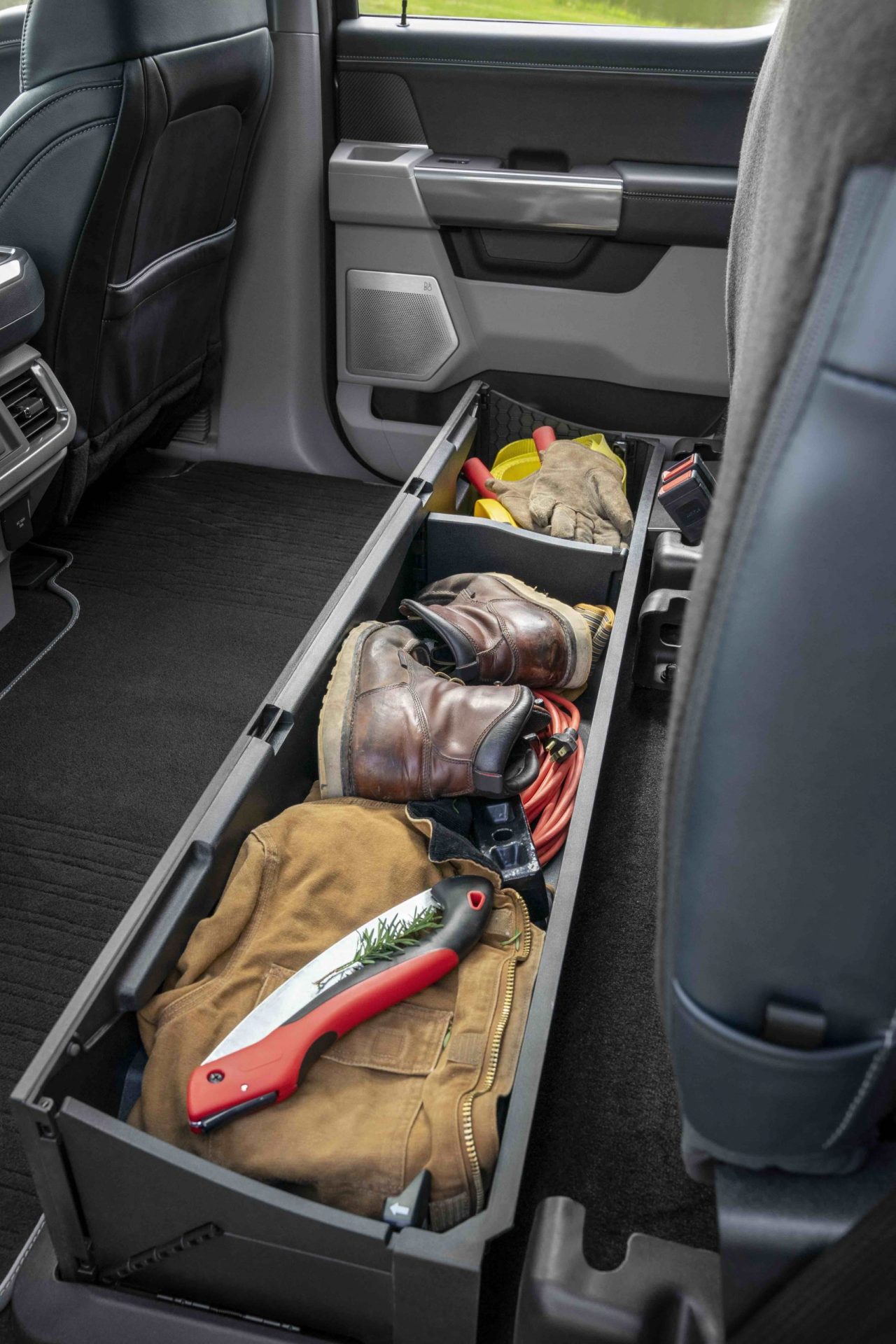 Technology
The new F-150 introduces a host of new technology features including over-the-air updates and SYNC 4. The over-the-air updates can include all-new functions and additional features throughout the life of the truck, and these can "support preventative maintenance, reduce repair trips, provide improved performance and ultimately result in more vehicle up-time".
New SYNC 4 is designed to keep owners connected with real-time mapping, hands-free voice control and wireless Apple CarPlay/Android Auto connectivity.
Look mum, no hands!
The F-150 also adds Active Drive Assist, which allows for hands-free driving on more than 160,000km of divided highways in all 50 US states and Canada. The software to enable functionality of this feature is expected in the third quarter of 2021, and it will be delivered by an over-the-air update.
Power
There's also an optional Pro Power Onboard system that can power household and work appliances, with enough energy to power "28 average refrigerators, charge a bed full of electric dirtbikes or run an entire job site worth of tools". Pro Power Onboard has a 2kW output on optional petrol engines, and between 2.4kW and 7.2kW (optional) on the PowerBoost-equipped F-150. There rae several power outlets through the cabin as well as 120V 20-amp outlets in the tub, and a 240V 30-amp outlet on the 7.2kW version.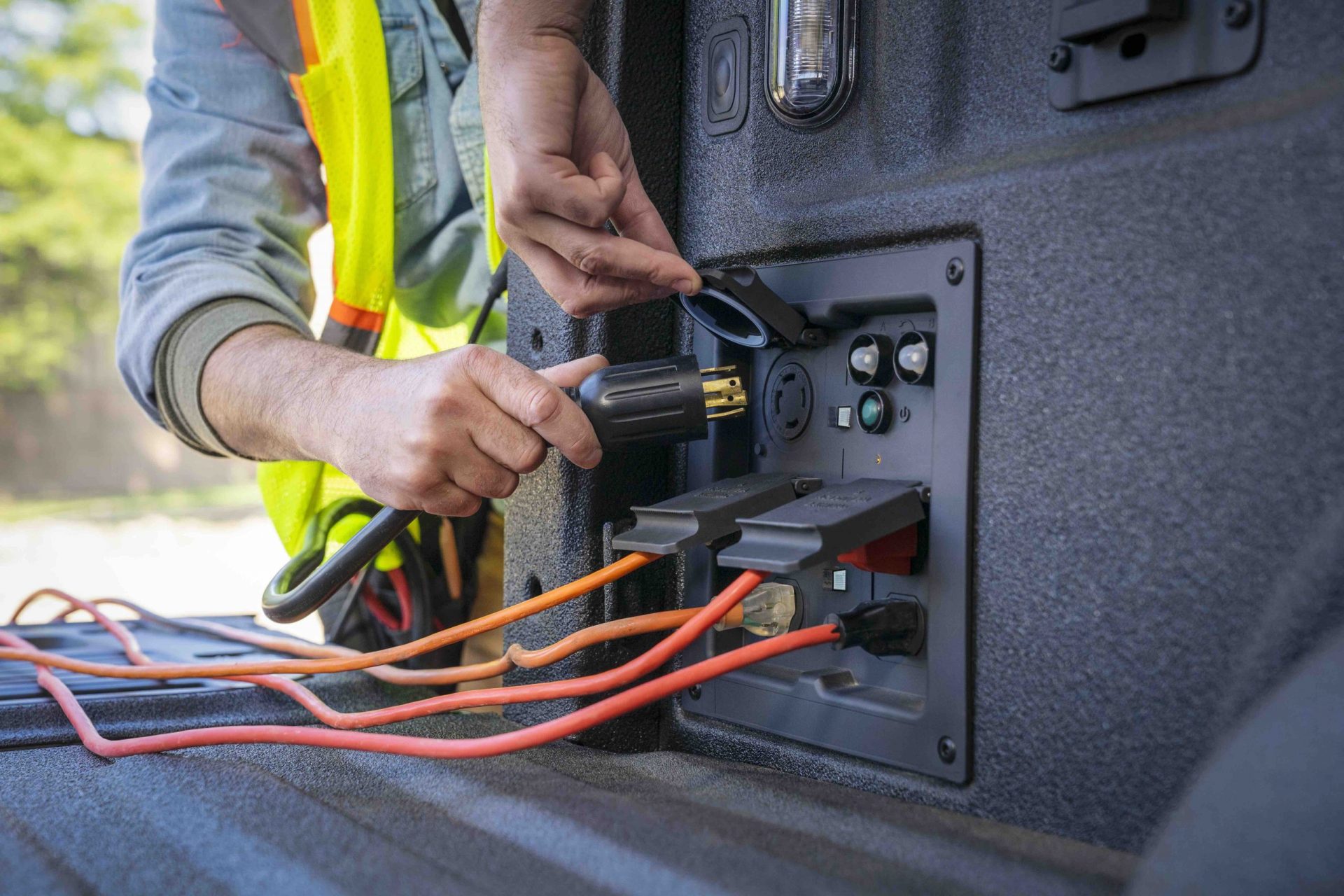 Versatility
All variants feature new tie-down points in the tub, while clamp pockets are now built into the tailgate so customers can use it as a workbench and hold materials down for precision work. An optional flat Tailgate Work Surface also includes integrated rulers, a mobile device holder, a cupholder and even a pencil holder.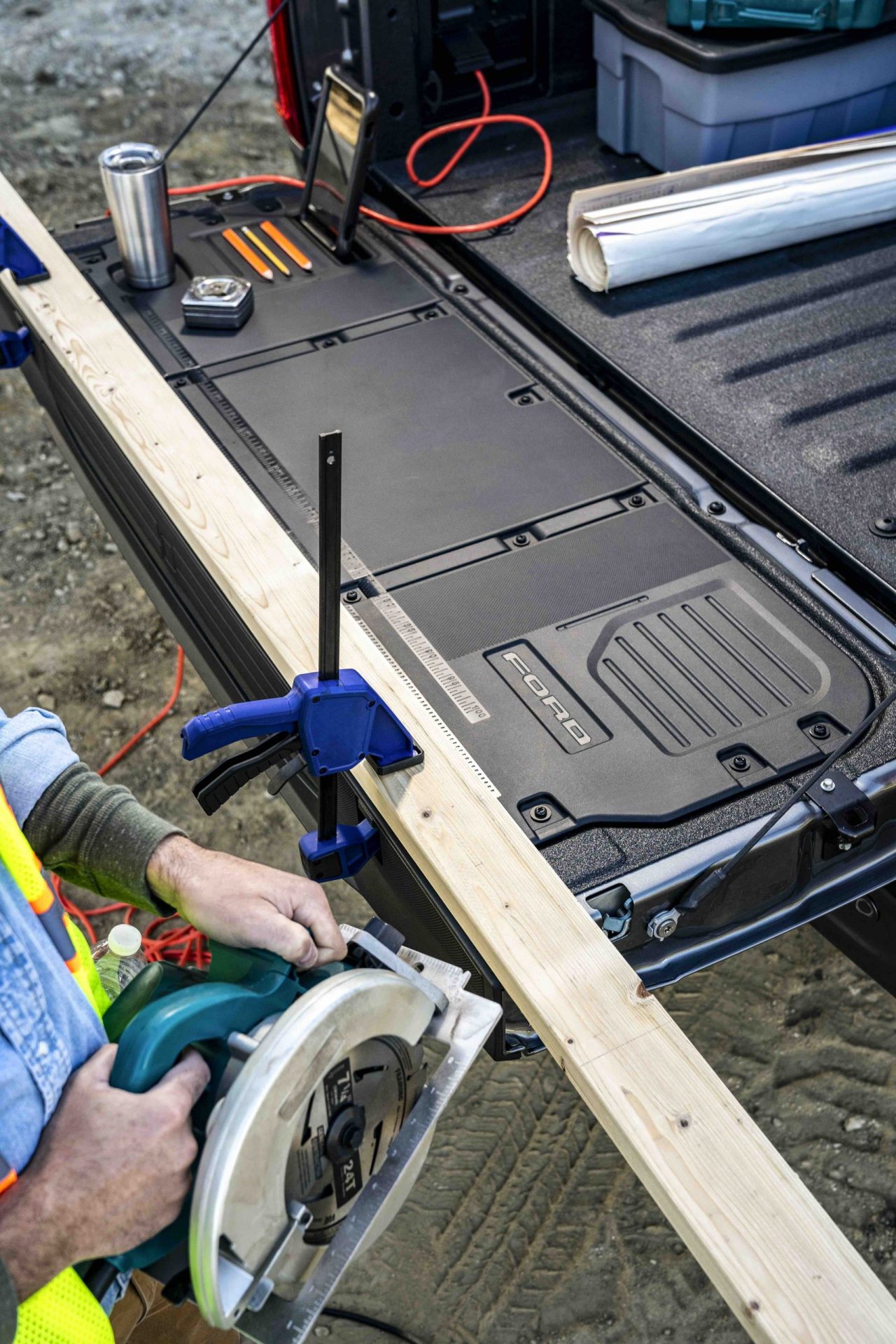 While Ford's all-new F-150 pick-up truck won't come to Australia through official channels, you can be that a private importer will be keen to get its hands on the vehicle and convert it to right-hand drive… and when that happens we can't wait to drive it.
You can check out the all-new Ford F-150 pick-up specifications here.
You can also see the video reveal of the new Ford F-150 pick-up below:
https://youtu.be/eg3_4JAKlmw?t=571