The all-new INEOS Grenadier has been revealed and those after a no-nonsense, capable utilitarian 4×4 workhorse will no doubt be very bloody impressed with what they see. Best of all? It's coming to Australia… possibly by late 2021, and from around $80k!
Just four years after its inception, the all-new INEOS Grenadier has been revealed and, as many suspected, it looks just like a modern-day interpretation the original Land Rover Defender… but built from scratch, with no compromises. Expected to go on sale in Europe in late-2021, INEOS says Aussie buyers won't have to wait too long to get behind the wheel, with key markets including Australia a priority for the brand.
And how much will it cost? Well, the Grenadier is not pitched as a luxury vehicle and, as such, INEOS Automotive expects it to compete with the likes of the Toyota LandCruiser 70 Series, and top-end utes like the Ranger Raptor, so we're thinking around the $80k vicinity.
The Grenadier will be available with either petrol or diesel BMW-sourced inline six-cylinder engines mated to an automatic transmission and a full-time 4×4 driveline.
But let's not get ahead of ourselves. Check out the official launch video here:
Styling
The Grenadier's styling similarities with Defender are no mistake, with INEOS keen to point out that the appearance of the new vehicle is a result of its intention – form follows function and all that. INEOS also emphasises the fact the Grenadier has been designed to be a genuine, no compromise workhorse 4×4, with a separate chassis, live axles front and rear and coil springs all around… no car-like monocoque body structure or fully independent suspension to be seen here.
In addition to a wagon variant, INEOS will also produce a Grenadier Crew Cab, with an extended wheelbase not dissimilar to the Defender 130 Crew Cab that Land Rover used to produce alongside its Defender 110 Wagon.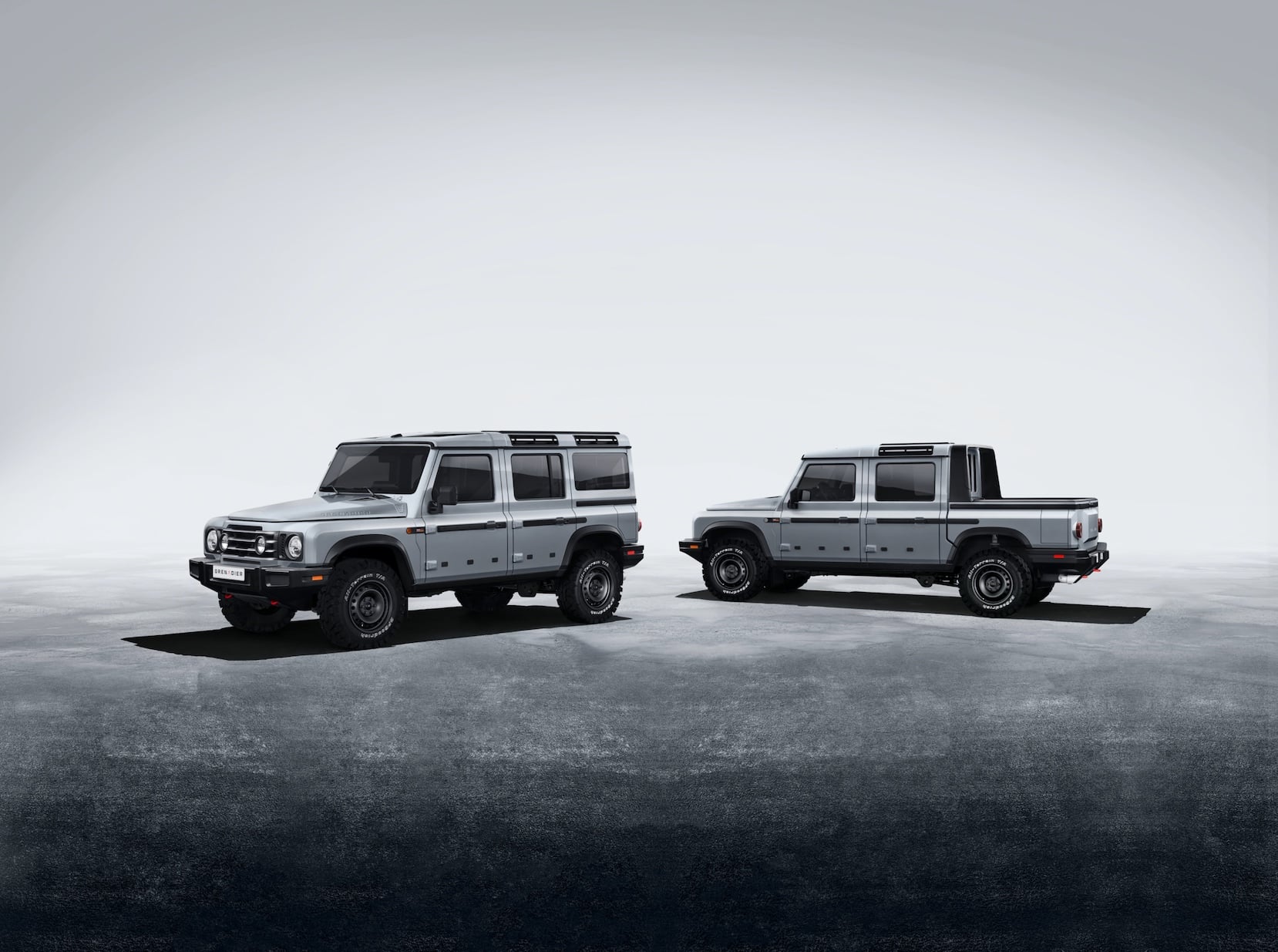 "We wanted to continue the idea of making the ultimate, uncompromised off-roader that's more than just an SUV; a proper working piece of equipment," Toby Ecuyer, designer on the Grenadier project told Unsealed 4X4 in a recent media briefing.
"The very early design direction, we wanted to design an uncompromised working vehicle; what had been the stalwarts of the utilitarian world were slowly being diluted and becoming more SUV-like," Ecuyer claimed, in a statement that could be interpreted as a thinly veiled swipe at the new Land Rover Defender.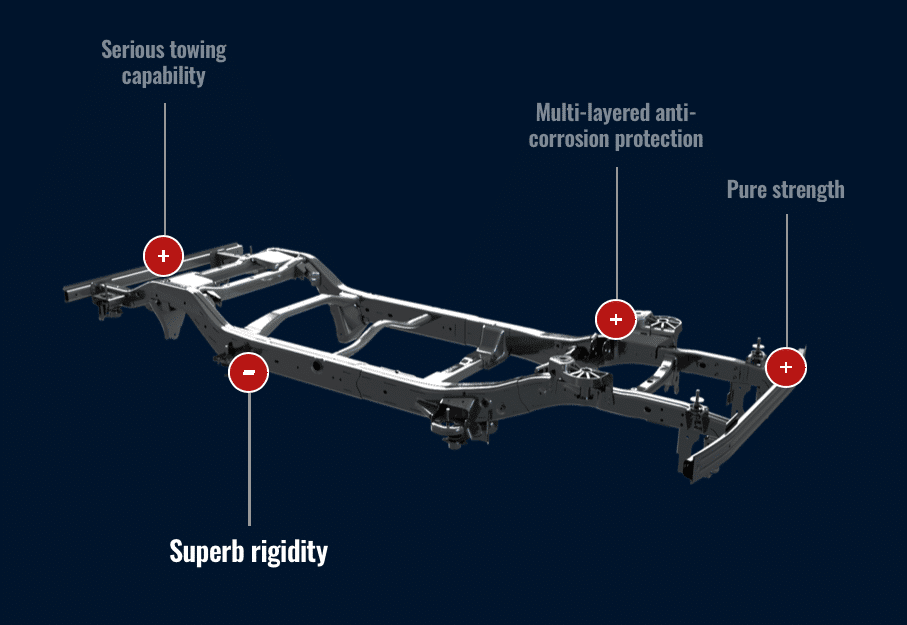 "We felt that there was an opening gap where we could actually produce something that was truly a proper workhorse, a proper tool," Ecuyer continued. "When you're designing a vehicle like that, and you're maximising the off-road capacity of a vehicle, you end up drawing parallels with other vehicles, because people have been through this [process] already, and you start to understand why things are a certain way.
"Obviously there are certain criteria that led to the design, so you want a wheel in each corner, you want to have some beam axles and that then really dictates where the engine sits, and the proportions of the car are almost dictated by the engineering," Ecuyer said.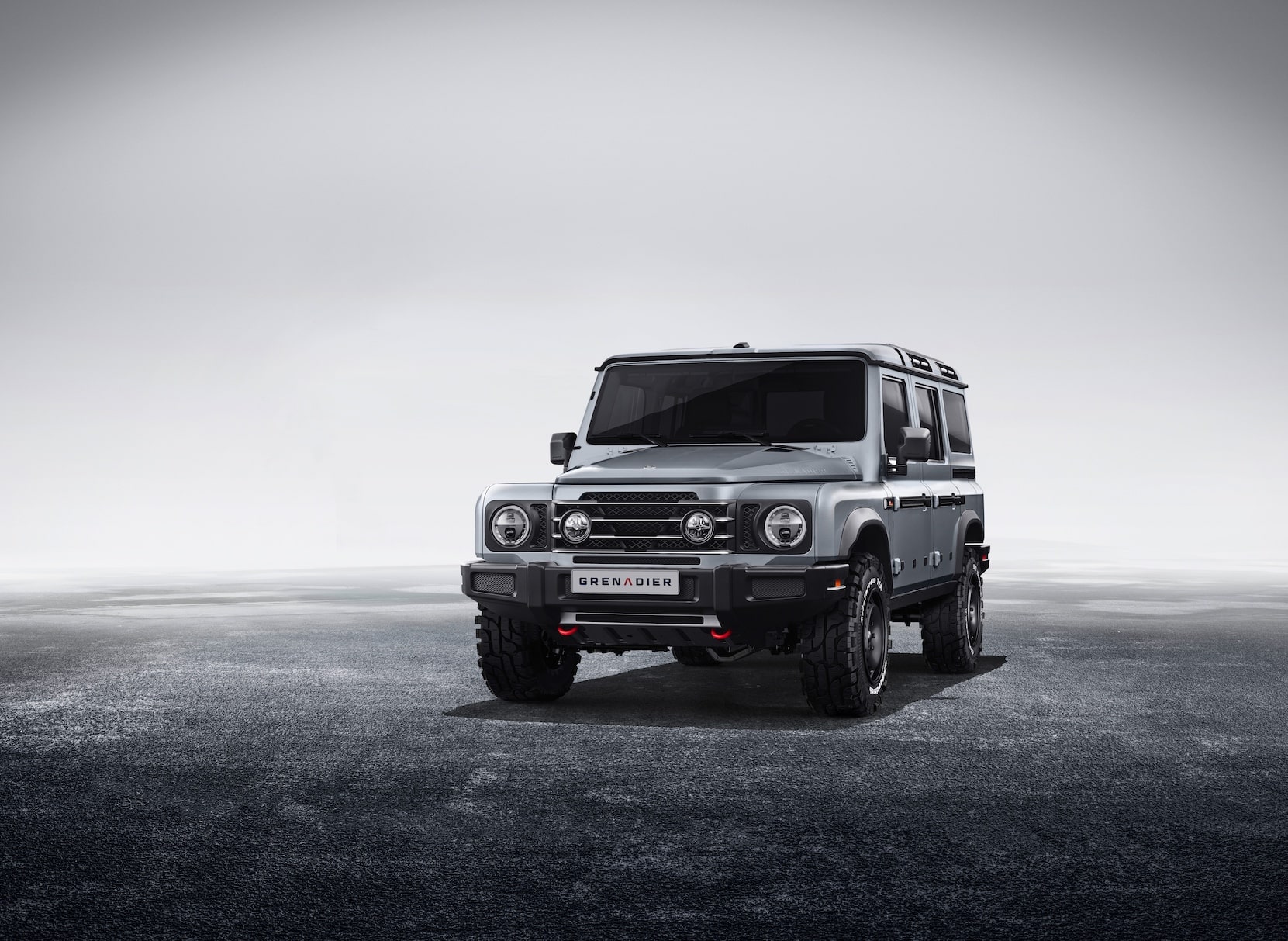 Of course, while the Grenadier's chassis, suspension and its intent played a big part in the final appearance of the vehicle, there's little doubt that INEOS has added several design elements that are straight out of the Land Rover Defender playbook, such as the shape of the roof that angles downwards from the B-pillar towards the windscreen, the old-school roof gutters, the oval roof inserts that mimic the look of a Defender's alpine windows, the size and shape of the side windows, the exposed door hinges, the exaggerated hipline, the tapered bonnet, the round headlights with black headlight surrounds, the overall vehicle profile… just to name a few.
And that's just the wagon! When Unsealed 4X4 asked if INEOS would release a ute version of the Grenadier, we were promptly shown an image of a vehicle that looks remarkably similar to a Defender Crew Cab.
Design highlights
Sure, the Grenadier might look a lot like a previous-generation Defender, but it also showcases plenty of new and unique design elements. For example, the Grenadier not only has gutters for mounting a roof rack, but also special tie-down points incorporated into the sides of the roof. There are also what INEOS calls 'Utility Belts' on the side of the Grenadier that can be used for mounting accessories and equipment.
"From (the rear 3/4) angle you can also see all the options that one might have," INEOS Automotive CEO, Dirk Heilmann said. "We have the utility belts on the side with the capability to strap things to the roof, and there's access to the roof via a ladder that's integrated and stable, plus you can add roof systems thanks to gutter and additional fixing points."
Heilmann also pointed out the removable roof hatches over the front seats that are "for light and fresh air, and you can also stand up".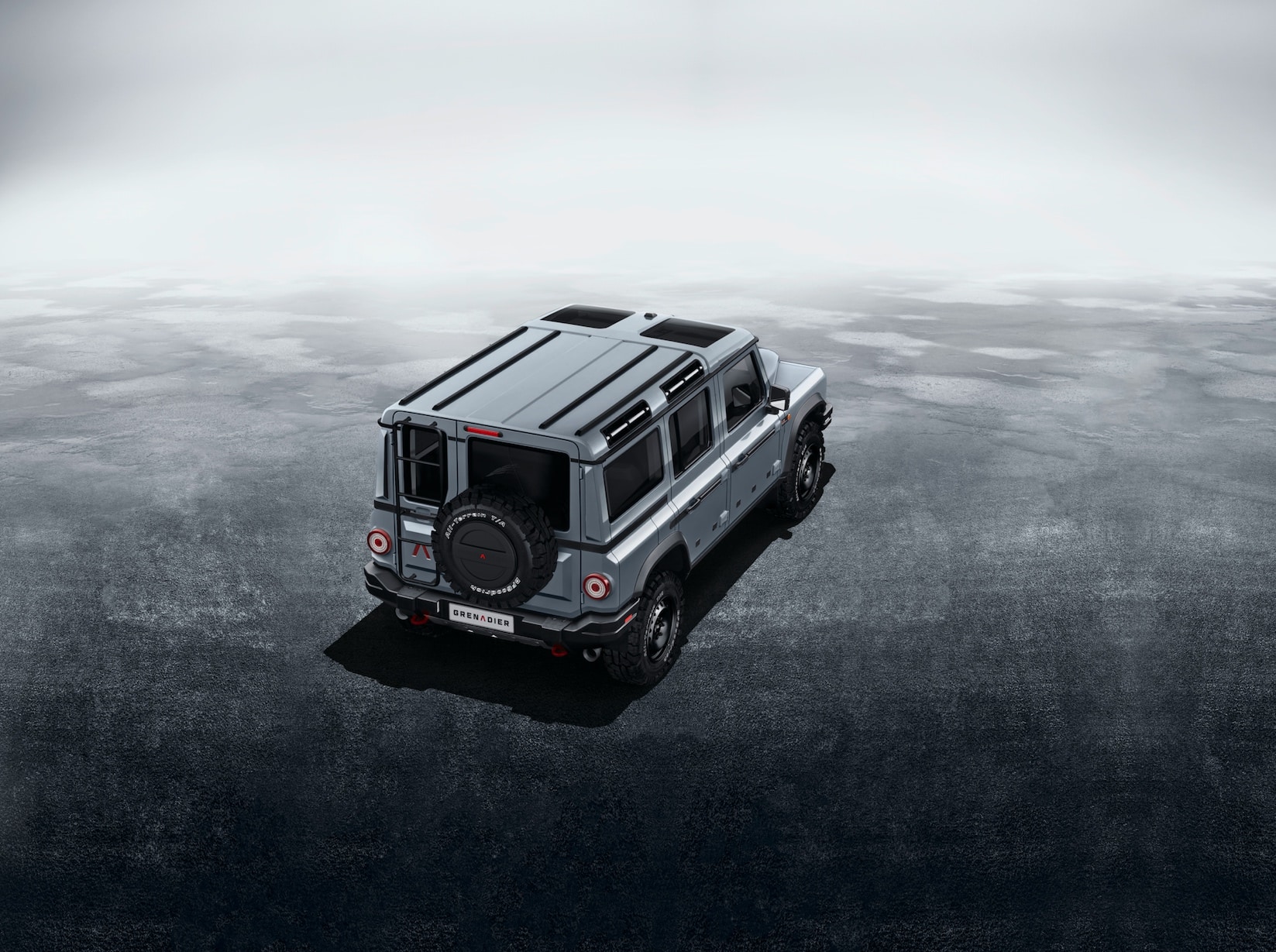 At the rear of the Grenadier wagon is a vertically split two-piece tailgate, with a small door that opens up first and then a larger door that can also be opened if required. For accessing smaller items in the cargo area there's only the need to open the small door, but with both doors open there's enough width to fit a Euro-size pallet in the back, making the most of the available space. This is a vast improvement on the old Defender's narrow one-piece rear door. The Grenadier Wagon is expected to have a kerb weight around 2500kg, with a one-tonne payload and 3500kg maximum braked towing capacity.
INEOS says it's also treating the Grenadier as an 'open-source' design; in other words, it's happy for aftermarket 4×4 equipment companies to develop their own accessories to suit the vehicle.
"We will have an extensive range of accessories at launch but we also have an open-source attitude to people who maybe want to develop or adapt existing accessories from their range in the aftermarket, to adapt to the Grenadier, because we also recognise that a number of people have got certain bits of kit in the garage already that they'd like to be able to affix to their new vehicle, and we're keen to encourage that," INEOS Automotive Commercial Director Mark Tennant said.
"There's a sense of community around this vehicle and personalising it to the specific requirements, which may evolve over time; we want to absolutely encourage that."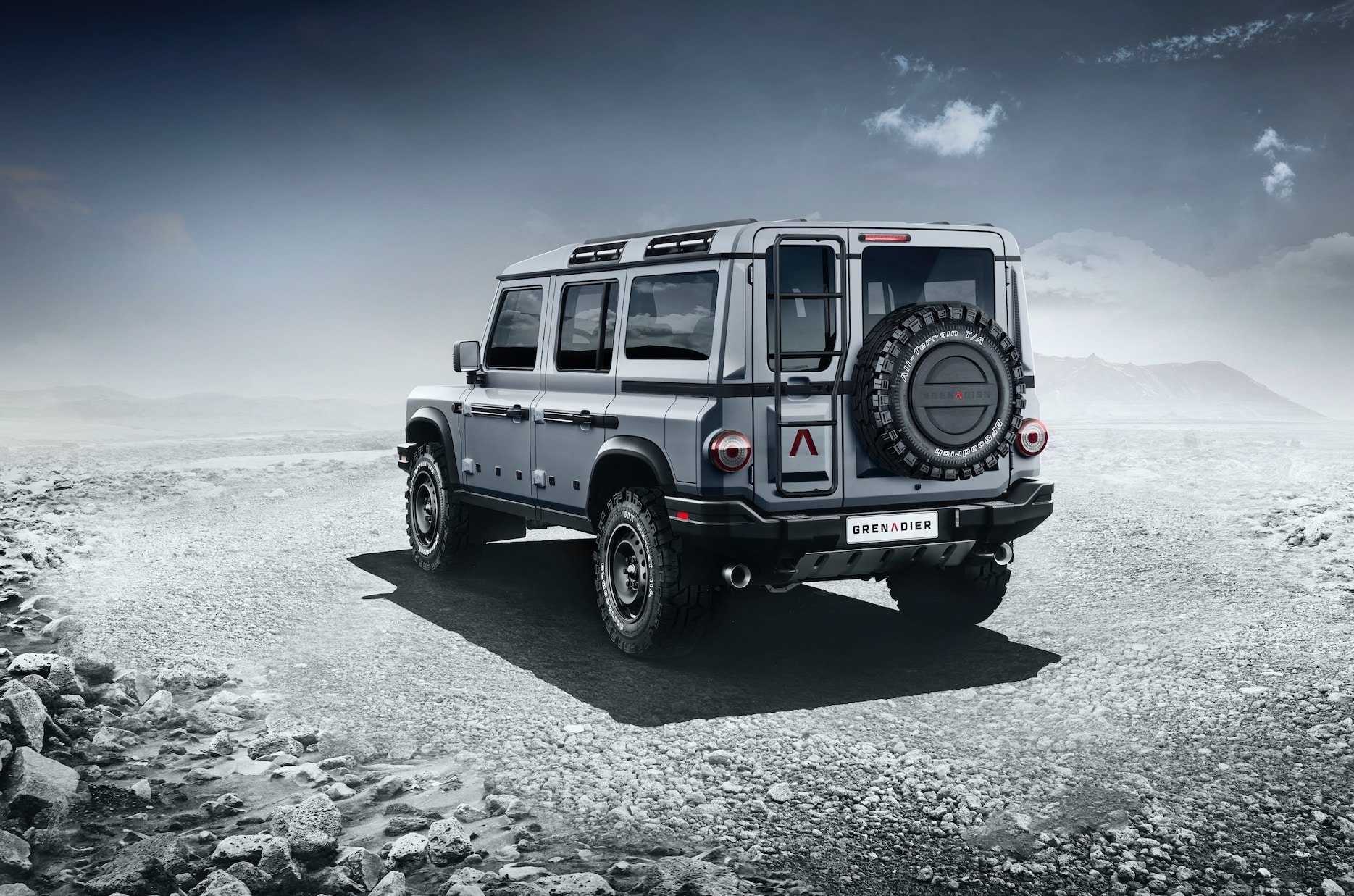 "It's not all about utilitarianism though," Tennant added. "We're not building something that's somehow nostalgic for the mid-20th century; it's bang up to date. It will have a comfortable, modern interior, it will have all the safety systems that consumers in the 21st century have a right and an expectation for and, of course, in terms of powertrain choices in particular, it will be as clean as clean can be.
"We're very much focussed on the emissions and the environmental footprint as well; we don't look entirely backwardly. It shouldn't be a painful experience choosing to have a utilitarian vehicle that's focussed on a job of work."
Partners
Rather than completely engineer the Grenadier inhouse, INEOS turned to a number of trusted "partners" to speed up the development process of its all-new off-roader. The Grenadier's chassis and suspension system, for example, has been developed by experienced 4×4 manufacturer Magna Steyr, while the inline six-cylinder turbocharged petrol and diesel engines have been sourced from BMW. The Grenadier's axles have come from the Carraro Group, which was selected due to its decades of experience in the off-road market for rugged and functional agricultural and earthmoving machinery.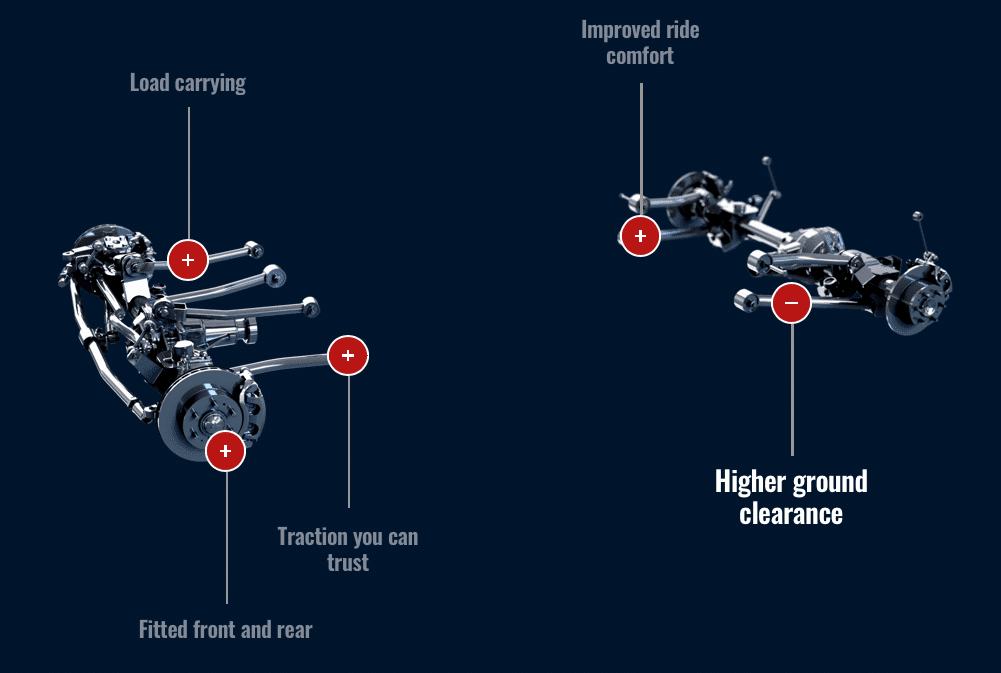 "In principal, we designed and engineered a vehicle for the world, literally, which basically means rules and regulations in Europe and the US," Heilmann explained.
"A lot of other companies shied away from the extra expense and went through the SUV route, but we decided, 'no, this is what we want', and therefore engineers had to come up with clever ideas of how we can still actually maintain that ladder frame, maintain the beam axles.
"And we wanted a powerful engine to start with as well, so a BMW straight six, which we were very happy we were able to secure BMW as a powertrain partner, because I certainly believe this is the most efficient internal combustion engine you can find these days."
Despite the size of the BMW straight-six engines dictating much of the Grenadier's design, Heilmann said that INEOS was never interested in developing its own internal combustion engines because it believes there's limited lifespan in this technology. He added that "alternative propulsion" was in the Grenadier's future.
Testing times
Prior to the completion of the body design the Grenadier had already been subjected to plenty of on- and off-road testing (one of the benefits of a separate-chassis design), but now that the body design has been finalised, INEOS intends to subject the vehicle to a torturous testing regime.
"The exterior design is complete," Heilmann said. "It's a bit early, which is a bit unusual, but we are a new brand, so we have no existing models to protect, so we thought why wait, we'll share it quite early with you guys to get some feedback and gauge some reaction to it.
"We started this in 2016 so this is a major milestone we're very proud of and before we embark on our testing program, which will total 1.8 million kilometres in various terrain, we also thought we should show the design, because we have no problem showing the car; we don't have to camouflage it, we can just (test) it in plain sight."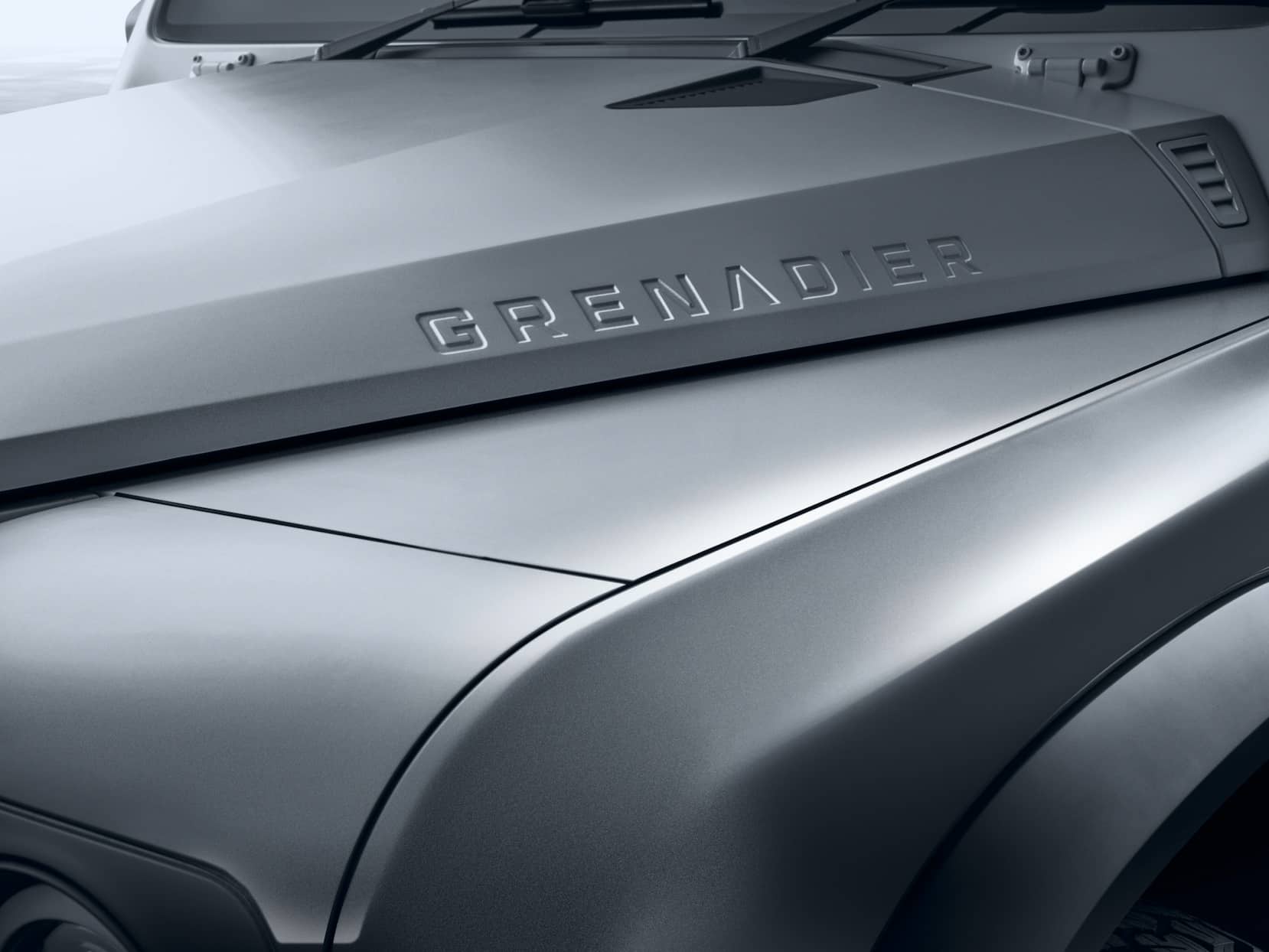 Building Blocks
According to Mark Tennant, the product vision for the Grenadier was always a simple one: "The genesis was, in time-honoured British fashion, in a pub, where Jim Ratcliffe, who owns INEOS… was sitting down with some friends and conceiving of what this vehicle could be. And this really is the very simple triangle that describes our intent with the product…"
Starting at the bottom tight of the triangle is 'Off-road Ability'. "The tendency has been to move to soft-roaders, to SUVs, that are more about on-road manners than off," Tennant explained. "We had a very clear intention from the outset to refocus back on off-road ability first and foremost…"
At the bottom left of the triangle is 'Durability and Reliability'. "Number two shouldn't need saying but definitely does," Tennant said. "If you're producing a primarily off-road vehicle, you're producing an uncompromising 4×4, it needs to be incredibly durable, which speaks to the choices we've made of suppliers and components. It's got to be able to get out there and get back again, so reliability is absolutely paramount."
"It has to be metaphorically, not literally, bulletproof," Tennant added, unlike Elon Musk's Cybertruck.
At the top of the triangle is 'Design'. "The market in all segments is littered with examples of very capable vehicles that don't quite hit the spot in terms of the design and therefore we have to get that right. We're very confident in what we've come up with and why we've come up with it," Tennant said.
"If (the Grenadier is) going to be a working tool, and it's all about the functions it's there to perform, and therefore the shape of the vehicle, the design elements of the vehicle, are absolutely engineering driven, because it's all about the job."
What's next?
INEOS Automotive says the Grenadier is around 18-months away from becoming a production reality, and that the vehicle will go on sale firstly in Europe, followed closely by key international markets including Australia, Africa and the Middle East. The North American market will also be targeted, but a little further down the track.
INEOS has quite realistic volume expectations for the Grenadier, too, suggesting it is targeting production of around 25,000 to 30,000 units per annum in around three to four years time. The Grenadier will be built in INEOS Automotive's new Bridgend manufacturing plant in South Wales.
Key design points:
Form follows function
Meeting the expectations of the 21st century consumer, for equipment levels and safety systems
Balance of proportions; no limitations dictated by an old platform
It's been designed as a blank canvas for accessories so customers can tailor the Grenadier to their (evolving) requirements
'Open source'. A wide range of accessories will be available from INEOS, and the company is happy for third-party manufacturers to develop a range of compatible accessories
The belt lines are functional – bump strips on the doors or an optional 'utility belt' to attach loads or accessories such as jerry cans
Rear-end. The small rear door opens first to enable easy loading and unloading of smaller items; with both doors open the Grenadier can accommodate a Euro pallet; and a rear ladder can be fitted to aid access to the roof
Exterior wiring. Exit points to the front and the rear of the roof allows easy access for powering auxiliary lamps, work lamps or beacons
Round lights front and rear; standard centre auxiliary lights; and front lights the same left and right for ease of servicing/replacement
Front fenders that you can sit on
Roof bars and roof strips to enable loads to be mounted and secured directly without a roof rack
Storage box on the rear side for grubby, smelly kit
Who is INEOS?
INEOS Automotive is a subsidiary of INEOS Group (www.ineos.com), a leading manufacturer of petrochemicals, speciality chemicals and oil products. It employs 23,000 people across 34 businesses, with a production network spanning 183 manufacturing facilities in 26 countries. From paints to plastics, textiles to technology, medicines to mobile phones, materials manufactured by INEOS are claimed to enhance almost every aspect of modern life. In 2019, INEOS had sales of circa US $61bn.