The compact seven-inch Bushranger Night Hawk LED driving light packs big light and is ideally suited to mounting where space is limited.
The Bushranger Night Hawk LED is now available in a new compact and lightweight seven-inch model, completing the brand's VLI Series LED driving light range which also includes a nine-inch model.
Bushranger says the new seven-inch Night Hawk LED is ideally suited to fitment on nudge bars and bull bars where minimum space is available.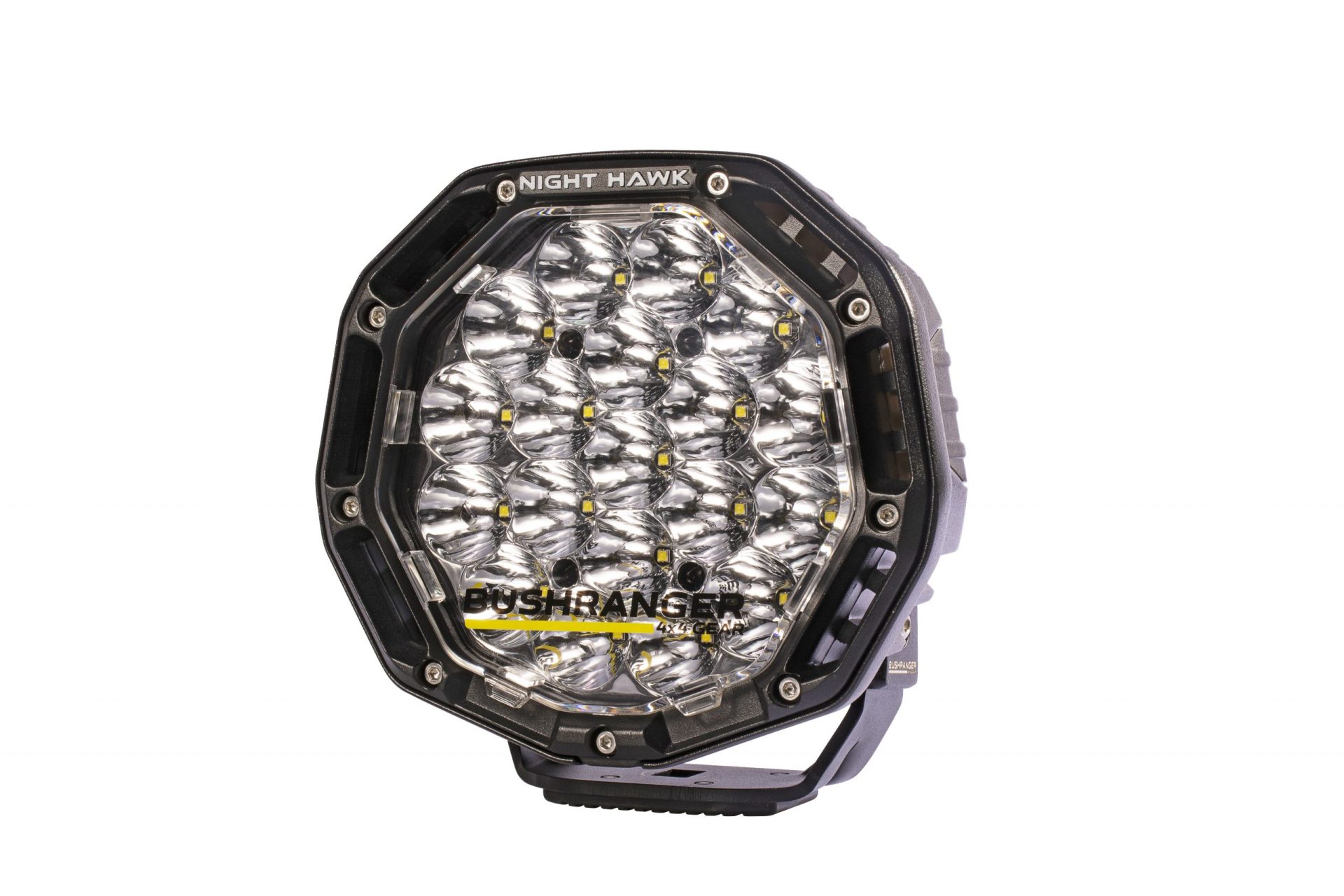 Despite the compact size of the seven-inch Nighthawk VLI lights, Bushranger says they're so bright it has incorporated a brightness-control function that allows for user control of light intensity in conditions where too much light might be detrimental to vision. The light brightness is controlled using Bushranger's relay-free VLI Series Wiring System, which is claimed to be the first of its kind and, according to Bushranger, "leads the way with simpler wiring, easier installation, more user control and greater reliability over traditional systems".
Packaged in a bold, modern design, the new seven-inch Bushranger Night Hawk driving lights feature cooling ducts that channel air directly over the heatsinks for optimum heat dissipation of the LEDs. The lights also feature an active temperature control system.
Tough pressure die-cast aluminium housings, 4mm-thick steel mounting brackets and hard-coated polycarbonate lenses ensure the Night Hawk LEDs are durable, and they are also sealed tight to be waterproof and submersible (rated to IP67 and IP69), while genuine Gore breathers manage internal air pressure.
Each seven-inch Bushranger Night Hawk driving light is supplied with two protective covers – a spot beam and a flood beam – and these are easily and quickly interchangeable to suit different driving environments. Using two spot beam covers, a pair of seven-inch Night Hawks produces a claimed 1 lux at 967m; with one spot and one flood beam cover they make a claimed 1 lux at 748m; and with two flood beam covers they make a claimed 1 lux at 498m. In addition, light width is more than doubled when using flood beam covers instead of spot beam covers.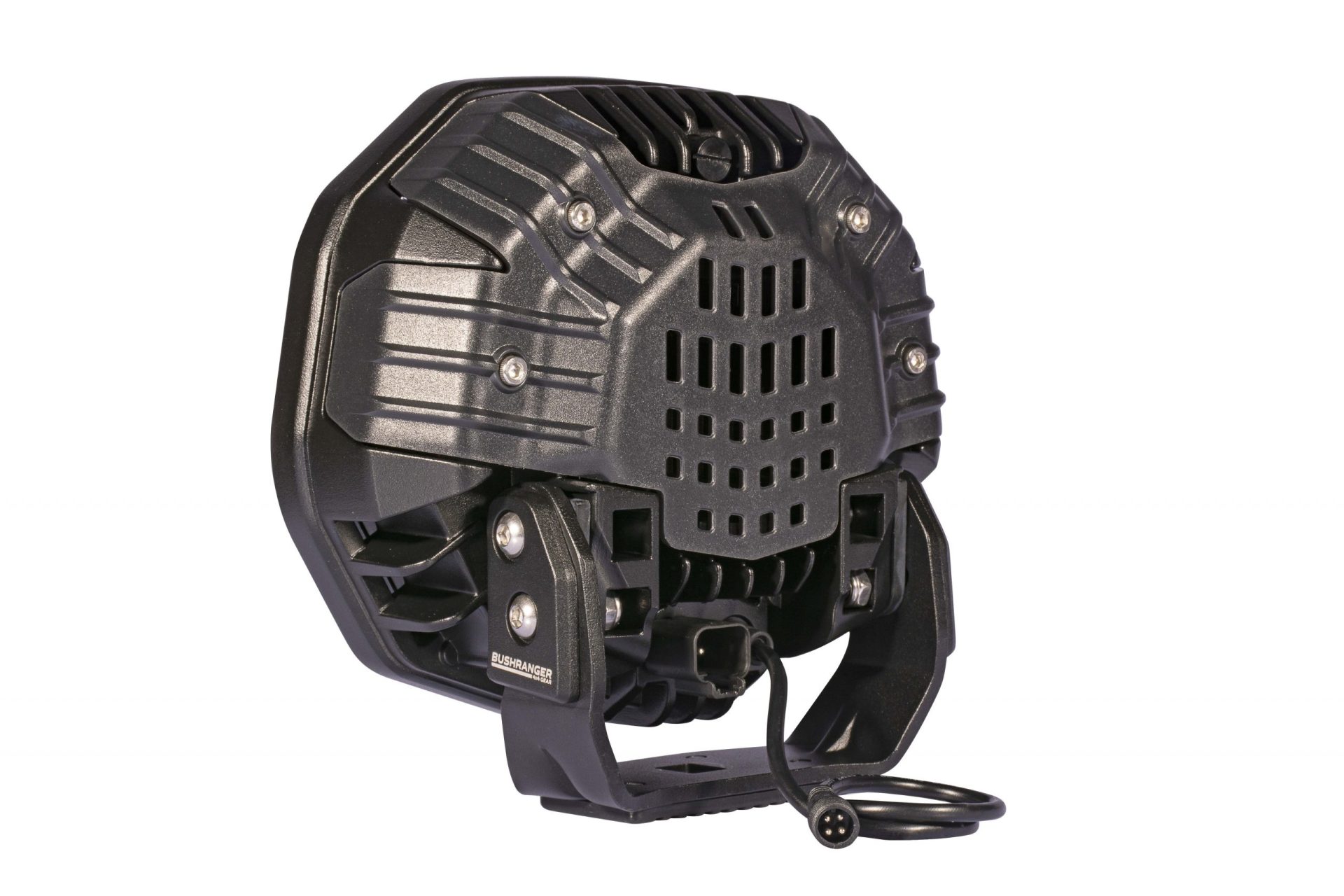 Each Bushranger Night Hawk 7-inch VLI Series LED Driving Light is sold separately and comes with a spot beam cover, a flood beam cover, a 2.5m power lead with fuse and a stainless steel mounting hardware kit.
Technical Specifications:
Single Light Specifications:
Power: 85W
Current Draw: 5.9A @ 14.4V
Voltage Range: 10-30VDC
LED Type: 19 x Genuine OSRAM LEDs
Luminous Flux: 6450 lumens (effective)
Colour Temperature: 5700K
Power Plug: Deutsch DT
Control Plug: 4 pin custom (use with VLI Series Wiring System, sold separately for $89)
Weight: 1.7kg
Compliance: CE, UNECE R10, IP67, IP69K, ROHS
RRP: $320 (each)