Two industry leaders in off-road innovation have teamed up to level up the off-road fun. Together with Rhino-Rack, Polaris are increasing the capability and versatility of their Ranger and General vehicles.
How?
With an exclusive line of premium storage solutions and accessories of course!
By using the latest in carrier technology, Rhino-Rack has created solutions that maximise storage capacity. As a result, riders can now be confidently prepared for whatever the day may bring.
"The all-new Rhino-Rack solutions elevate the versatility and capability Ranger and General are known for," said Steve Eastman, President of Parts, Garments, & Accessories, Polaris.
"This collaboration highlights our drive for innovative product solutions that enhance our customer's pursuit and enjoyment of the outdoor and adventure lifestyle."
Be it for work, play or something in between, this new range of off-road storage options ensures riders can above all, focus on the task or adventure at hand.
Check it out here!
The new lineup includes:
Ranger:
Rear Bed Rack / 3-Seat Roof Rack: Attach to the roof or bed of the Ranger with Rhino-Rack mounts. Consequently, this allows you to free up space in the cab, carry cargo overhead, and maximise capacity in the vehicle's bed. (Mounts sold separately.)
Roof Rack – Crew: Mount to the roof of your vehicle and customise with a range of Rhino-Rack accessories.
General:
Rear Bed Rack: Quickly attaches to the bed of your General so you can adapt your vehicle from workday to weekend. As a result, this allows you to maximise cargo capacity in the bed and free up space in the cab.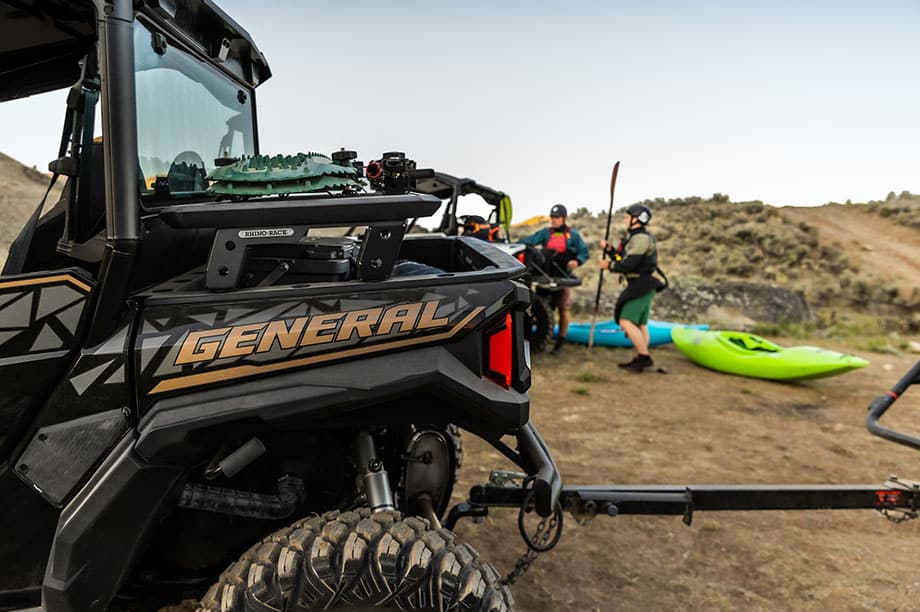 Accessories
These easy to install storage solutions also offer a range of accessories that allow riders to fasten their gear and tools securely on the trail while providing easy access. Accessories include:
Cargo corner bracket
Eyelet tie-downs
Traction board mount
High-lifting jack mount
Multi-purpose tool holder
Spare tyre holder
Gun mounting bracket
"From design, development, and testing, this partnership has been two years in the making. Our purpose-built storage solutions and Polaris' purpose-built off-road vehicles are an ideal match, and we are thrilled to see this valuable partnership come to fruition," said Ernesto Fernandez, General Manager, Rhino-Rack.
"This range of exclusive Polaris roof and rear bed racks, combined with our extensive range of genuine Rhino-Rack accessories, gives Polaris customers endless cargo-carrying options for both recreation and utility applications."
Now available in Australia, you can find out more information about the Rhino-Rack Polaris storage solutions here.