You won't be able to take your eyes off this LandCruiser JMACX installation.
This fascinating video showing a LandCruiser JMACX installation performed by the team at Jacksons 4×4 Accessories in Murray Bridge, SA shows the whole procedure, including fitment of a 300mm chassis extension and a hefty 4495kg GVM upgrade.
The chassis of the LandCruiser is cut apart and a 300mm chassis extension added for additional tray space and enhanced ride comfort, and then a fully fabricated JMACX rear-end is added to correct the Cruiser's mismatched front to rear wheel track.
The whole process is shown in the video… and it's absolutely fascinating.
First up, the Cruiser's fuel tank is removed, the driveshaft disconnected, the rear leaf springs unbolted from the chassis and the whole rear axle assembly rolled out from underneath.
The next step involves marking up the chassis – with extreme precision, no doubt – and then attacking it with angle grinders.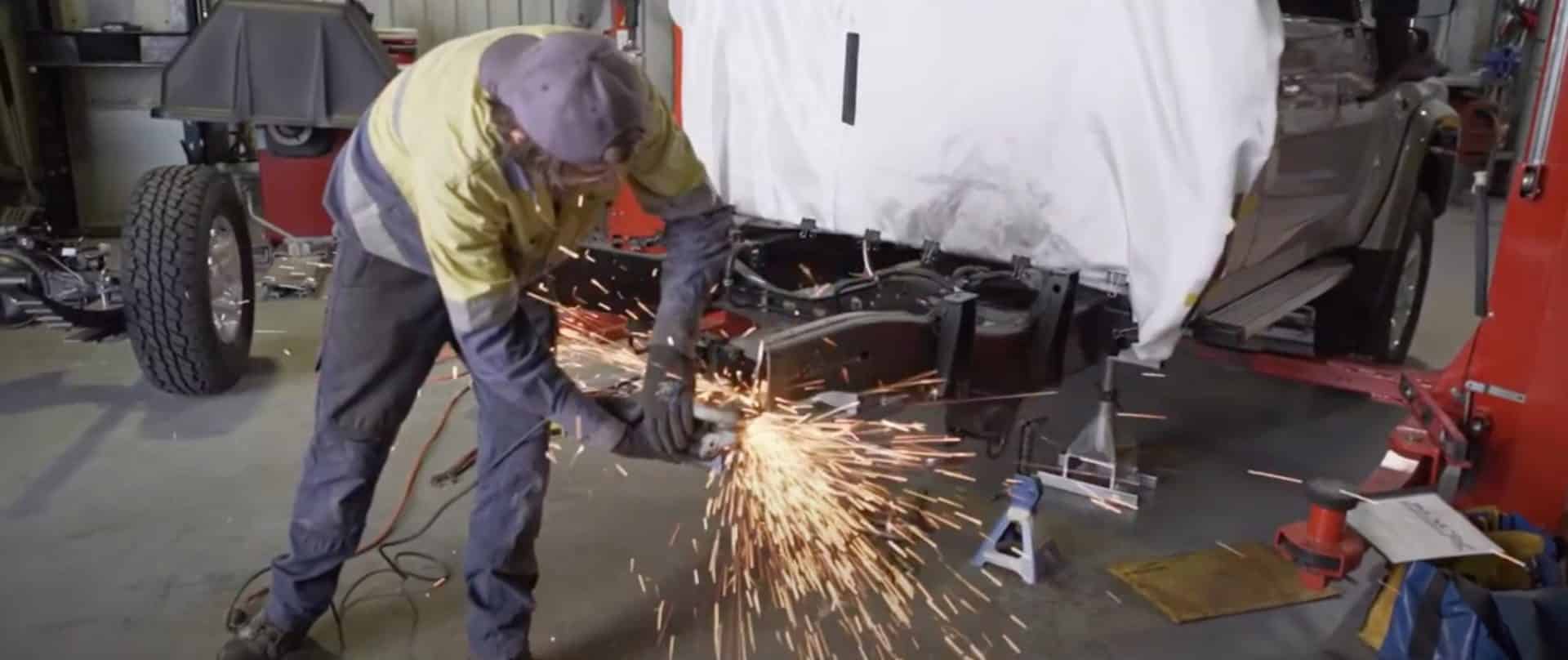 A new chassis section is then rolled in to place and welded on to the back of the Cruiser, and the JMACX axle assembly is fitted, the coil springs and airbags go in, and King Off-Road Racing shocks are fitted. The front-end also gets new springs and shocks before 17-inch Method Race Wheels and 35-inch Mickey Thompson tyres go on.
The attention to detail in the build is clearly evident in the video.
According to Jacksons 4×4 Accessories, "This system doubles your factory payload and adds half a tonne to your towing capacity whilst still maintaining excellent ride comfort and handling."
"As part of the package we convert the rear suspension to coil springs; this is the biggest key to achieving higher payload and providing ride comfort at the same time.
"Springs and shocks are selected for both ends of the vehicle to suit the application and desired ride height (2-inch, 3-inch or 4-inch options)."
Jacksons also upgrades the Cruiser's braking system, and on this particular vehicle a hydro brake booster has been fitted along with a set of braided brake lines.
This Cruiser also scores a stainless steel exhaust system, long-range fuel tank, heavy-duty clutch, speedo correction, rear winch cradle and an inbuilt towbar.
For more details check out the Jacksons 4×4 Accessories website. Oh, and make sure you check out the video below…