Check out this trick-looking Jeep Gladiator 4X4 tourer unveiled at the SEMA Show by FCA's performance and accessories arm MOPAR … and it comes complete with a hotdog roller grill.
You read that right: this Jeep Gladiator 4X4 tourer, called the Top Dog Concept, is equipped with a hotdog roller grill… no doubt to keep hungry mountain bikers fuelled after they've ripped up the trails and are back at camp.
Removing the standard cargo box and replacing it with a custom PCOR canopy, MOPAR designers transformed the Jeep Gladiator from a ute into "a fun concept vehicle for serious mountain bikers".
On the passenger-side of the PCOR canopy are drawers to store tools and supplies that mountain bikers need when out on the trails, as well as storage shelves, lighting switches and power supplies. Over on the driver's-side is where everyone gets fed, and this is where you'll find a portable fridge and the electric hotdog roller grill.
There's a roof rack on top of the canopy for the mountain bikes and another rack fitted to the vehicle's cab for recovery boards and other equipment, as well as for mounting the exterior work lights.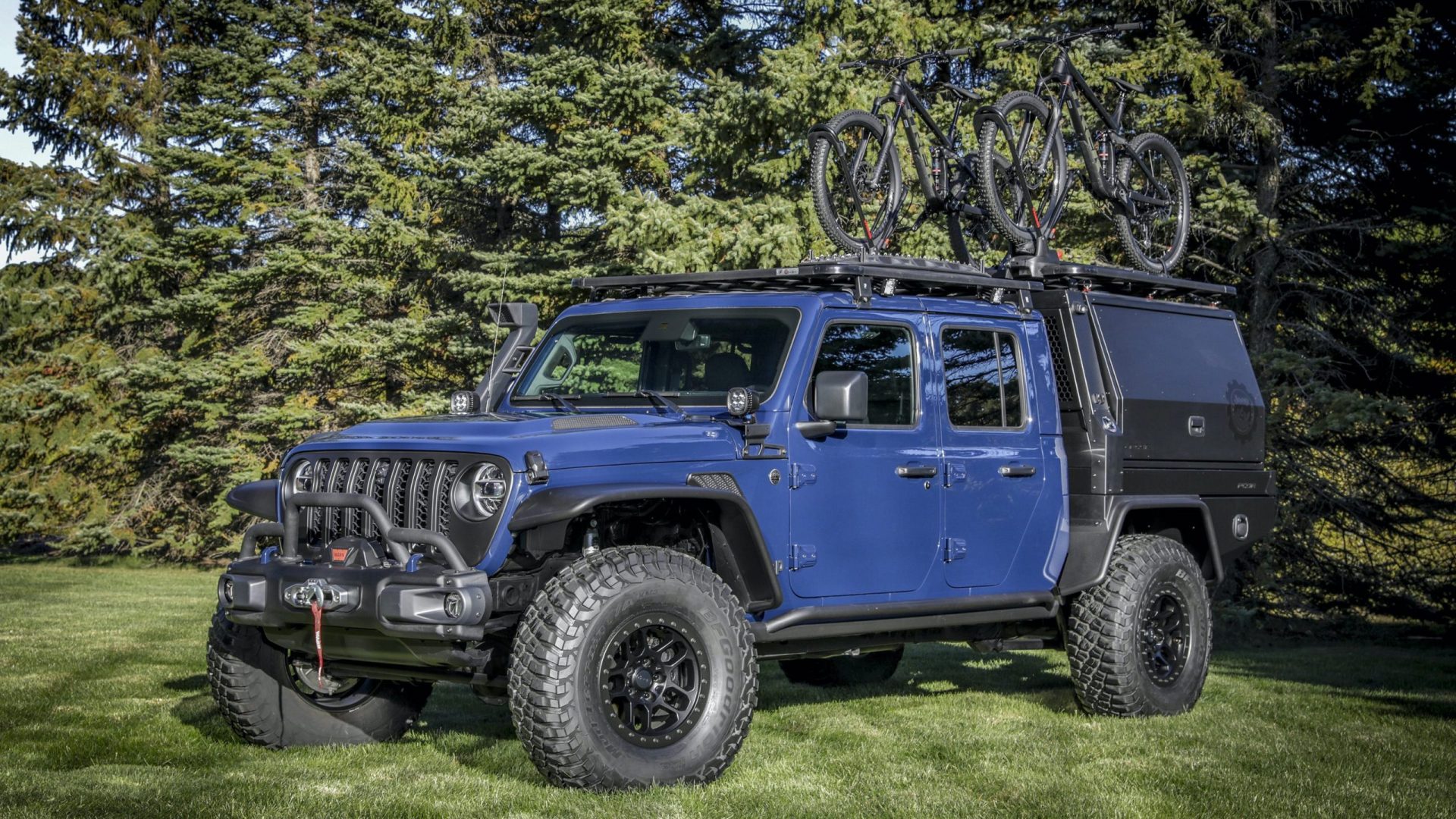 As with Aussie-market Gladiators, the Top Dog Concpet is powered by Jeep's 3.6L Pentastar V6 petrol engine mated to a TorqueFlite eight-speed automatic transmission.
Off-road capability was a priority in the design of this Jeep Gladiator 4X4 tourer and as such the Top Dog Concept wears 37-inch BF Goodrich KM3 muddies on 17-inch JPP beadlock-capable aluminium wheels, and it rides on a suspension system that provides a two-inch lift and FOX shocks all round. Steel "high-top" fender flares ensure the big rubber doesn't protrude beyond the guards.
The front-end wears a JPP Rubicon Bumper with wide-diameter two-inch steel hoops, and it houses a Warn 8000lb winch running 100ft of Spydura synthetic rope. JPP also supplied the Top Dog's rock rails and snorkel, as well as a pair of LED lights installed at the base of the A-pillars.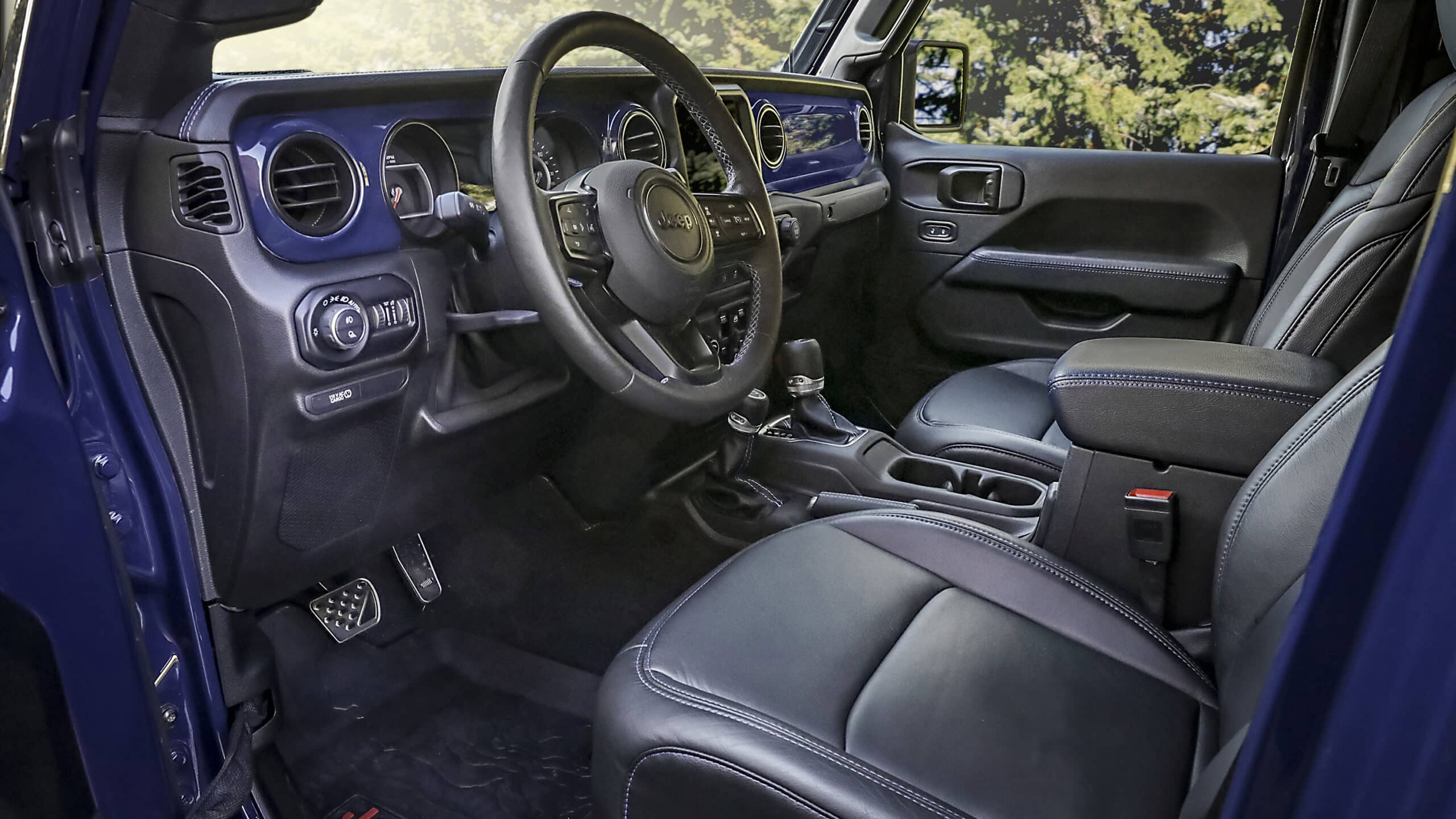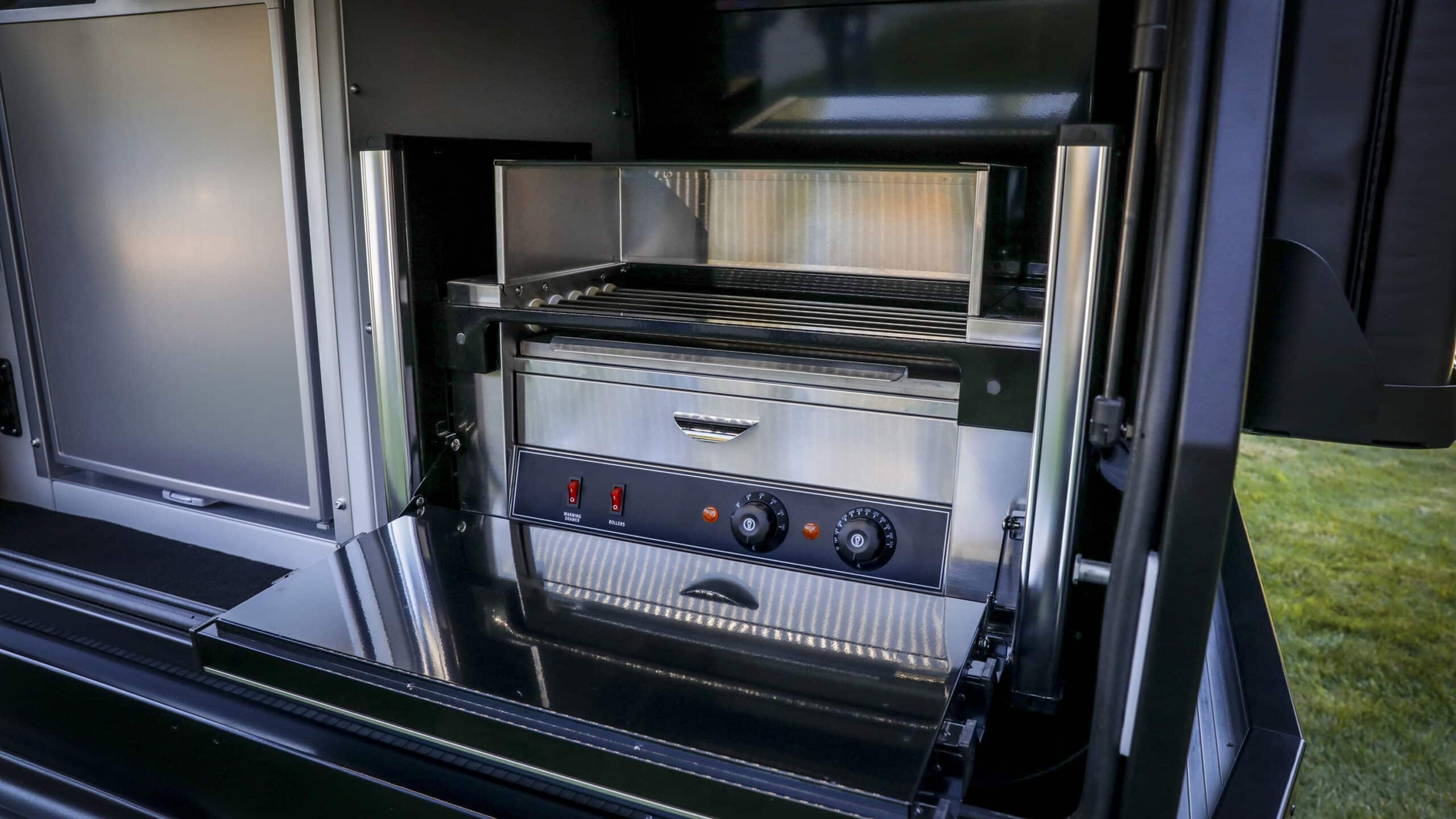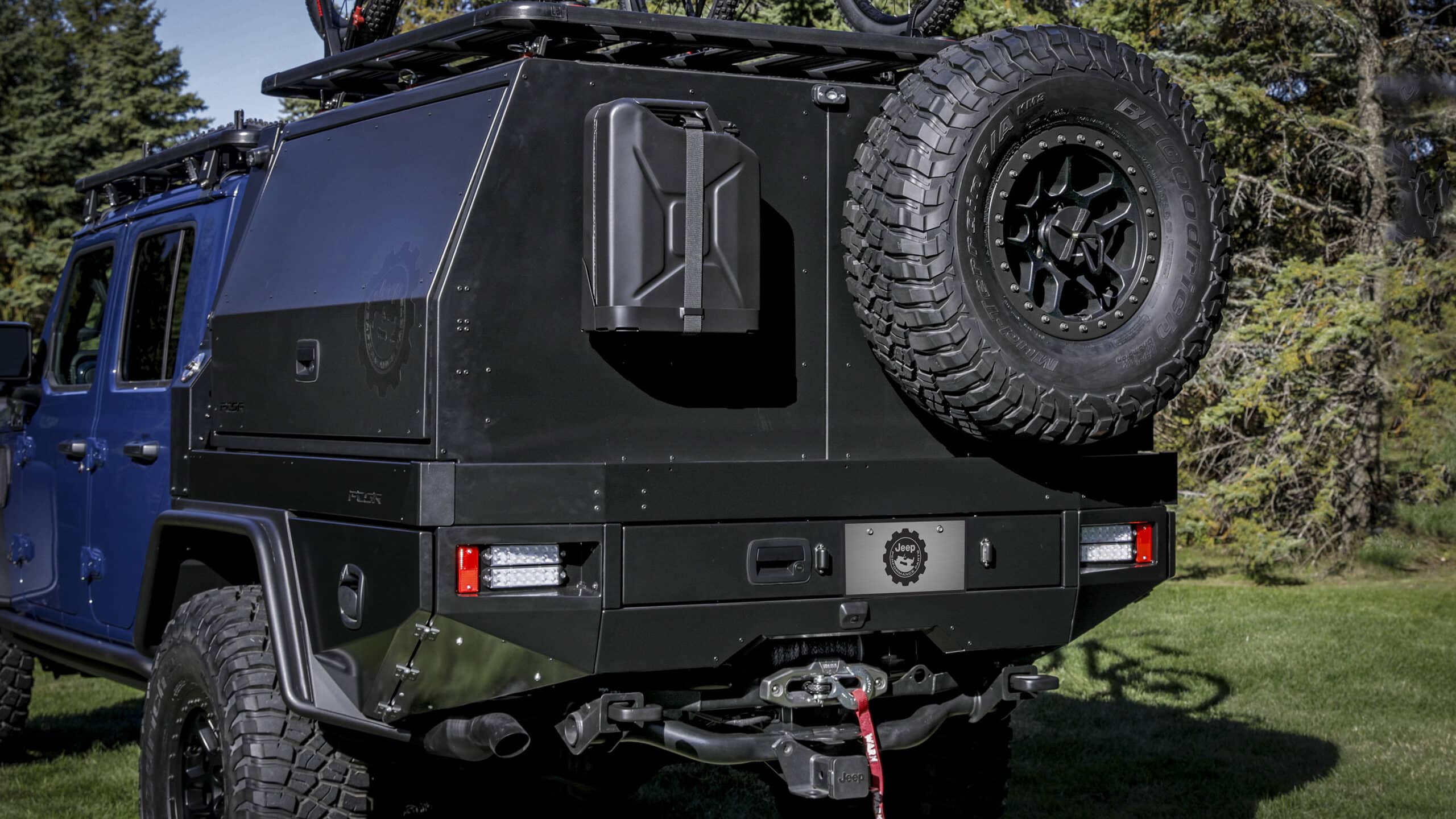 A second Warn winch is installed at the rear, just below a roll-out storage drawer that's home to a foldable ladder used to access the bike rack.
That deep blue paint finish is appropriately called K-9 Blue… what else would you expect for a Top Dog. There are blue highlights in the cabin that match the Top Dog's exterior colour, while black Katzkin leather seats, armrests, shifter boots, steering wheel and the parking-brake handle get blue stitching.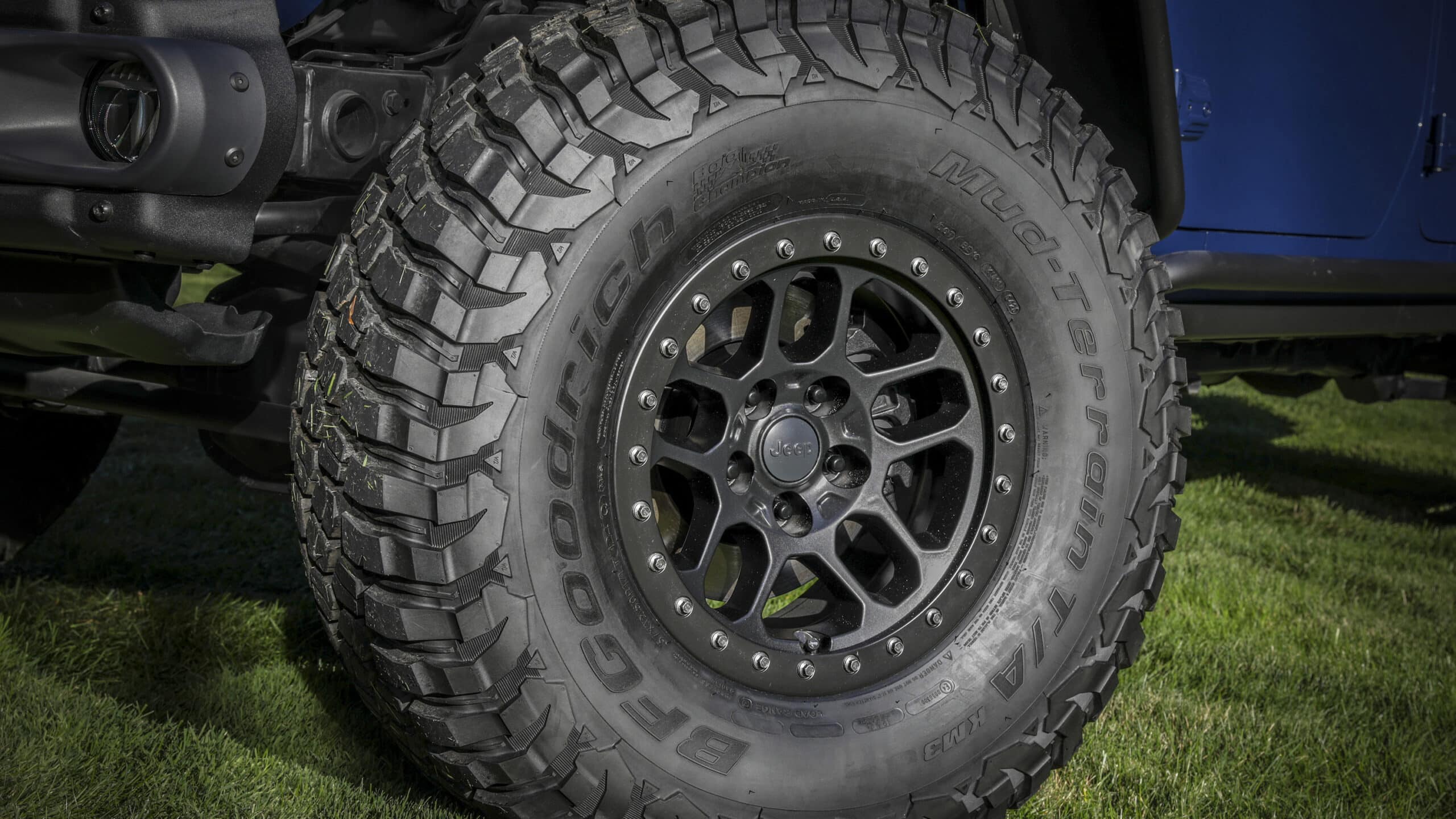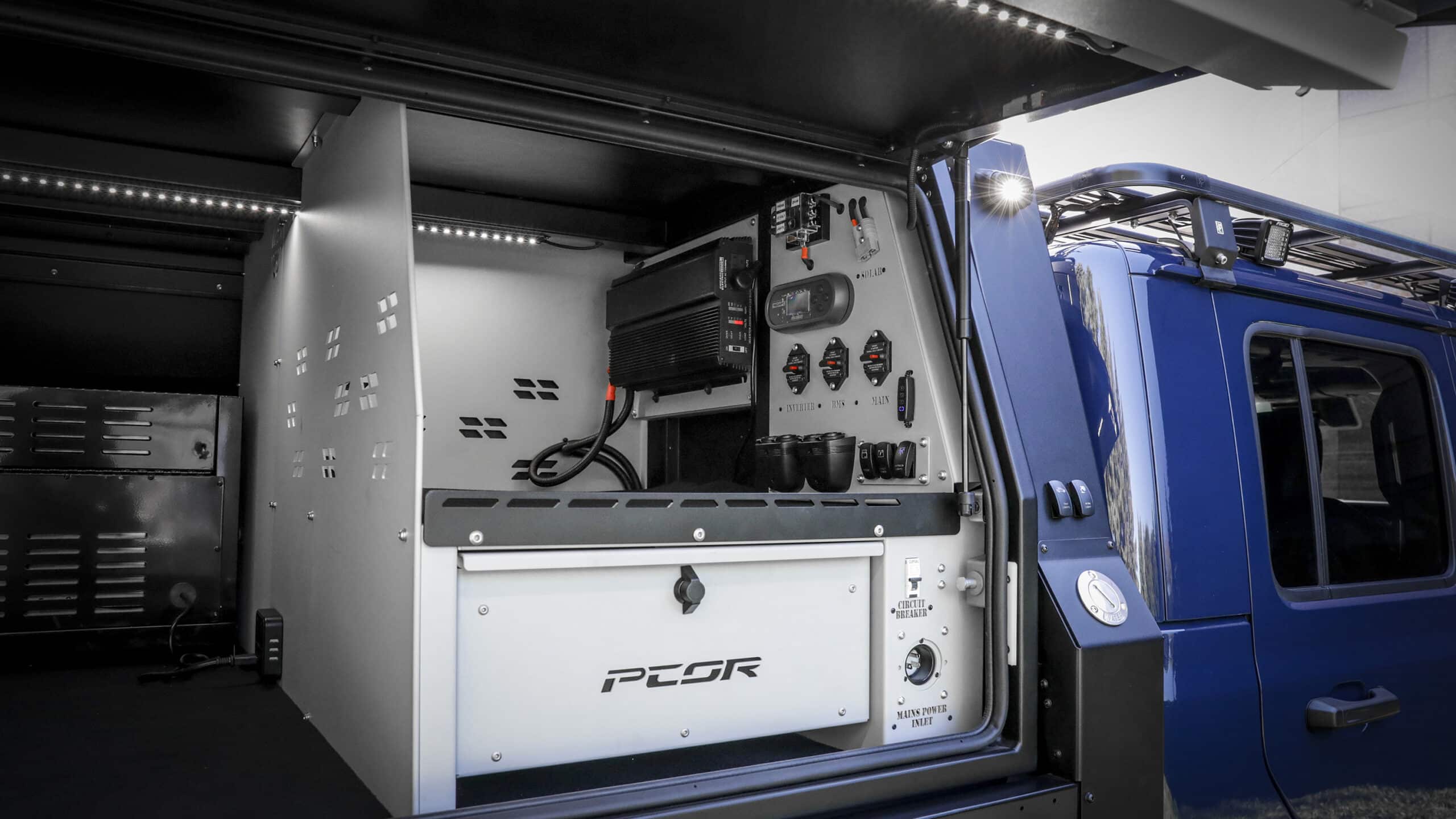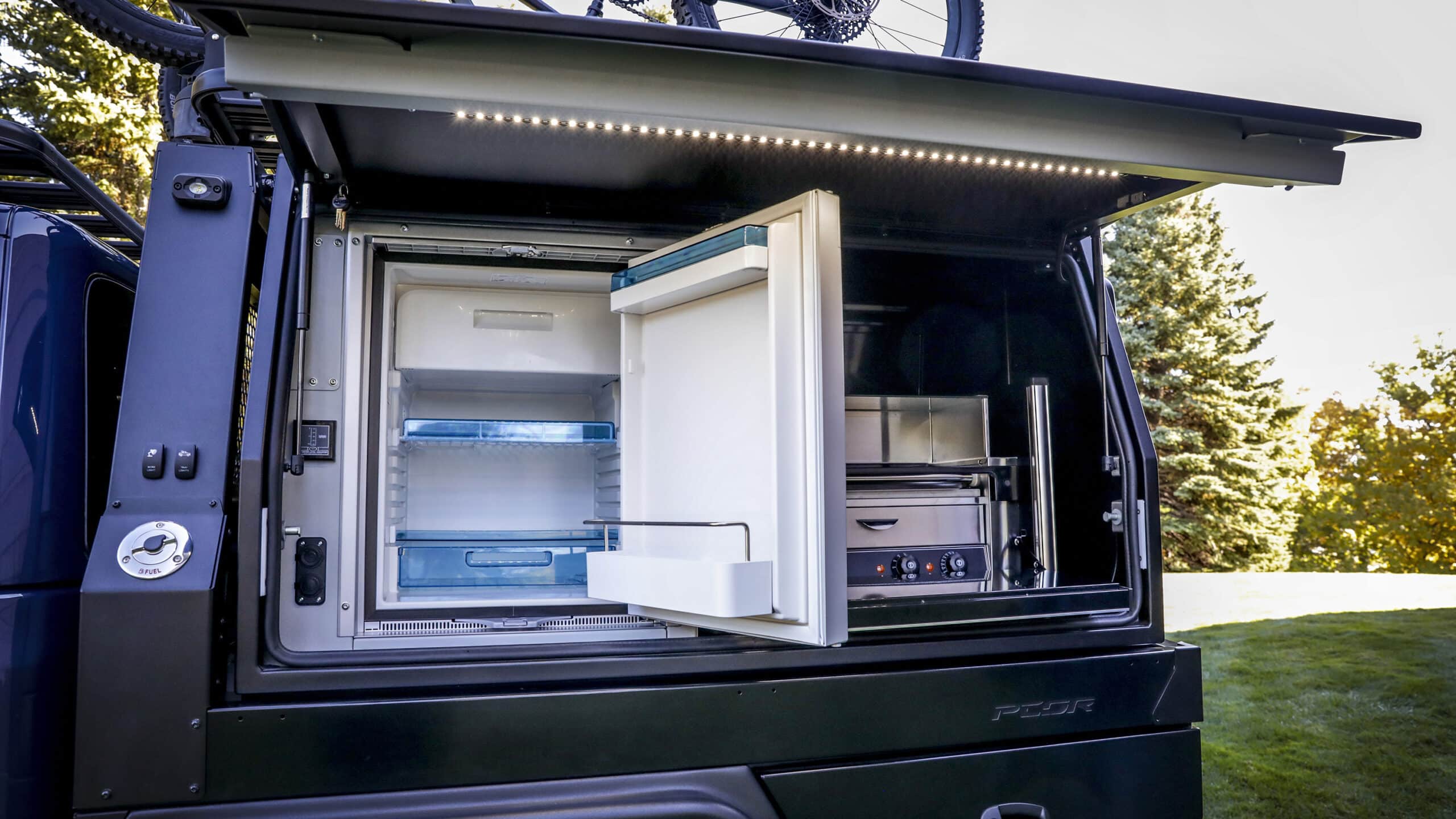 We reckon MOPAR has done an impressive job with the Top Dog Concept, but there's one mod that seems to be missing, and that's a GVM upgrade. In standard trim, the Jeep Gladiator Rubicon has a modest 620kg payload, so you'd probably want to have this addressed if you were building your own Jeep Gladiator 4X4 tourer. Luckily Pedders offers a Gladiator GVM upgrade kit to suit, increasing Rubicon payload to 755kg and Overland payload to 843kg.