How remote can I go?
Words and Images by Glenn Marshall
The line kept heading west, out into the beyond. So far out in fact, I wondered if I was crazy to follow it alone. But follow it I did, alone I was – that is what this adventure is all about. Discovering places I had never been, meeting people I didn't know and learning things about myself I didn't understand, all by following the Tropic of Capricorn. The road that leads you out of the Alice has a purple tinge to it, a reflection of what lies under the Mitchell grass and under the granite boulders. Soon though, the bitumen runs out and the red dust begins. I feel at home.
The last chance for cheap fuel is at Glen Helen Lodge and with over 2000km to travel until I hit bitumen again, it's worth buying. As I watch the crowded Glen Helen Lodge recede in my mirror, I welcome the serenity that awaits me. Corrugations, they start as soon as I'm off the blacktop, but I have to get used to them; I have a lot worse to come, I can feel it in my fillings. The towering Bell Range looms before me when I reach the first Tropic Crossing (TOC) of this stage.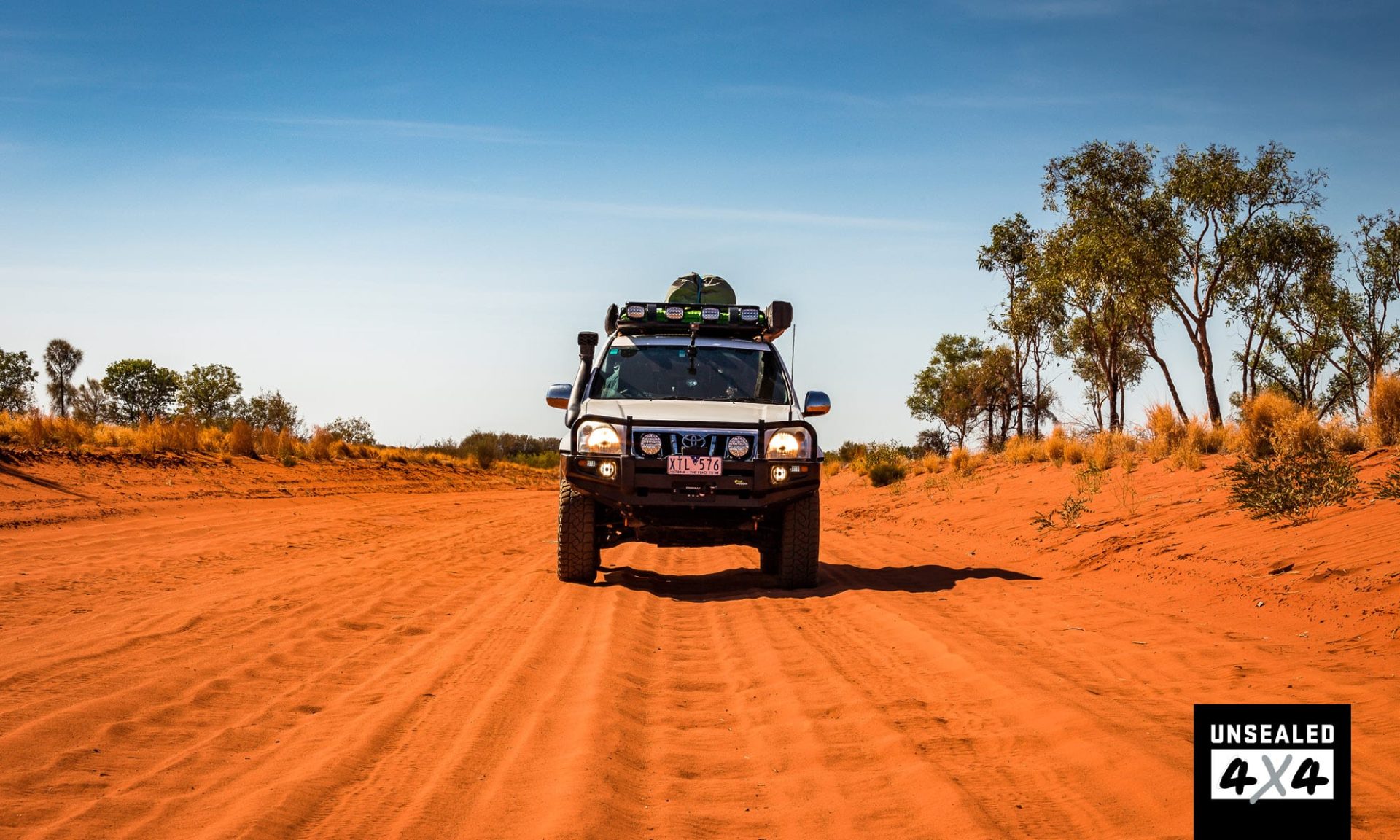 No sign, no plaque, just the map pointer on my Hema X-1 and Harry yelling at me to stop. Harry must have risen from the wrong side of the cup-holder this morning as he was very grumpy. A little past the turnoff to the Ikuntji (Haasts Bluff) was a cairn dedicated to Frederick Blakeley, bushman, prospector, author and friend of the Central Australian Aboriginals. In 1908, this fella rode a pushbike with a couple of mates from White Cliffs to Darwin. He also led an expedition, with Harold Lasseter as the guide, to find Lasseter's lost reef. He was supportive of the Aboriginals and when he died, his ashes were spread across Ngankirritja on 17th February 1963.
Once on the Gary Junction Road, it was good going the short distance to Papunya, where I learnt something new for the second time on this day. Just outside the community store is an old Land Rover. My first thought was Len Beadell, but it was, in fact, a tribute to the work of government officers and the Pintupi-Luritja guides, interpreters, drivers and others who helped with finding relatives that were still living a traditional desert nomadic life in the late 1950s. In 1957, the Northern Territory Welfare Branch had a mission to find out how many people were still living in the desert and used Land Rovers to seek them out.
The road from Papunya allowed a good speed and soon the Ehrenberg Range came into view. The track followed a sand dune and even though I'm remote, I don't feel it. In fact, I feel at home, at one with the land. I think a lot of the ranges out here top the Flinders Ranges in South Australia – rugged yet amazingly beautiful. As I moved westward, I again felt the pull of the TOC. At Sandy Blight Junction I decided to turn south, bypassing Kintore. Sandy Blight was so named as Len Beadell was suffering from the infliction when he and the Gunbarrel Road Construction Party built the track from March to July 1960.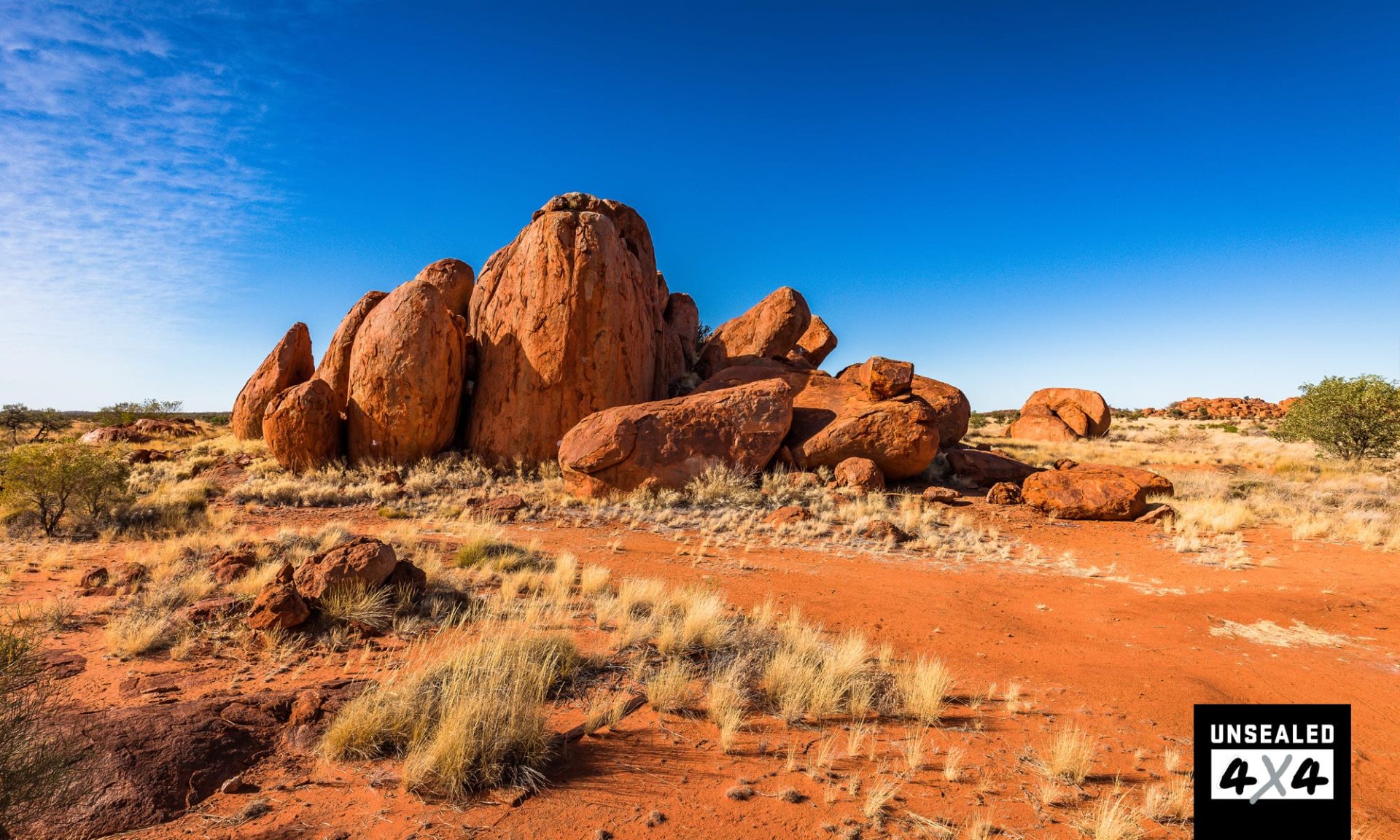 The Sandy Blight Track is a real ripper and I look forward to returning with a few mates and completing the track. As you pass through the Kintore Range (forever watchful for a lost gold reef) the track becomes stony and a bit rough. All the while the mountain stands high above you, dominant and rugged but so stunning. I am continually blown away by the beauty of this country. I was enjoying the track so much that I missed the TOC plaque, so I performed a 15-point turn and retraced my steps and still couldn't find a plaque or marker. I turned again and stopped at the precise point of the line on the map, got out of the Prado and searched. I couldn't find a plaque! Harry flipped out and asked, "Where's the plaque?"
"Sorry Harry, I thought Len had left one, but obviously I was wrong." It took me the best part of 10 minutes to convince Harry to pose for the obligatory photo, but he wasn't Happily Made anymore and refused to smile. Retracing our steps back to the Gary Junction Road, Harry was still sulking when I tried to show him Len's marker on Tietkens Tree. William Harry Tietkens was Giles' second-in-command before exploring west of Alice Springs himself in 1889. Among others, he discovered Lake Macdonald, the Kintore Range, the Cleland Hills and was the first person to photograph Kata Tjuta and Uluru.
I'd spent so much time searching for the TOC plaque and arguing with Harry that I missed the fuel window at Kintore. I wasn't too concerned as there were opportunities further along the way to top up the tanks. Before I knew it we were in Western Australia and covered nearly 2700km on our quest. Upon reaching Kiwirrkurra, the roadhouse was closed, it was a Wednesday afternoon. I could have requested a call out, but I would have been charged a fee and had to pay cash. That is something anyone who travels these desert tracks needs to keep in mind. Make sure you've emptied an ATM before you leave the big smoke.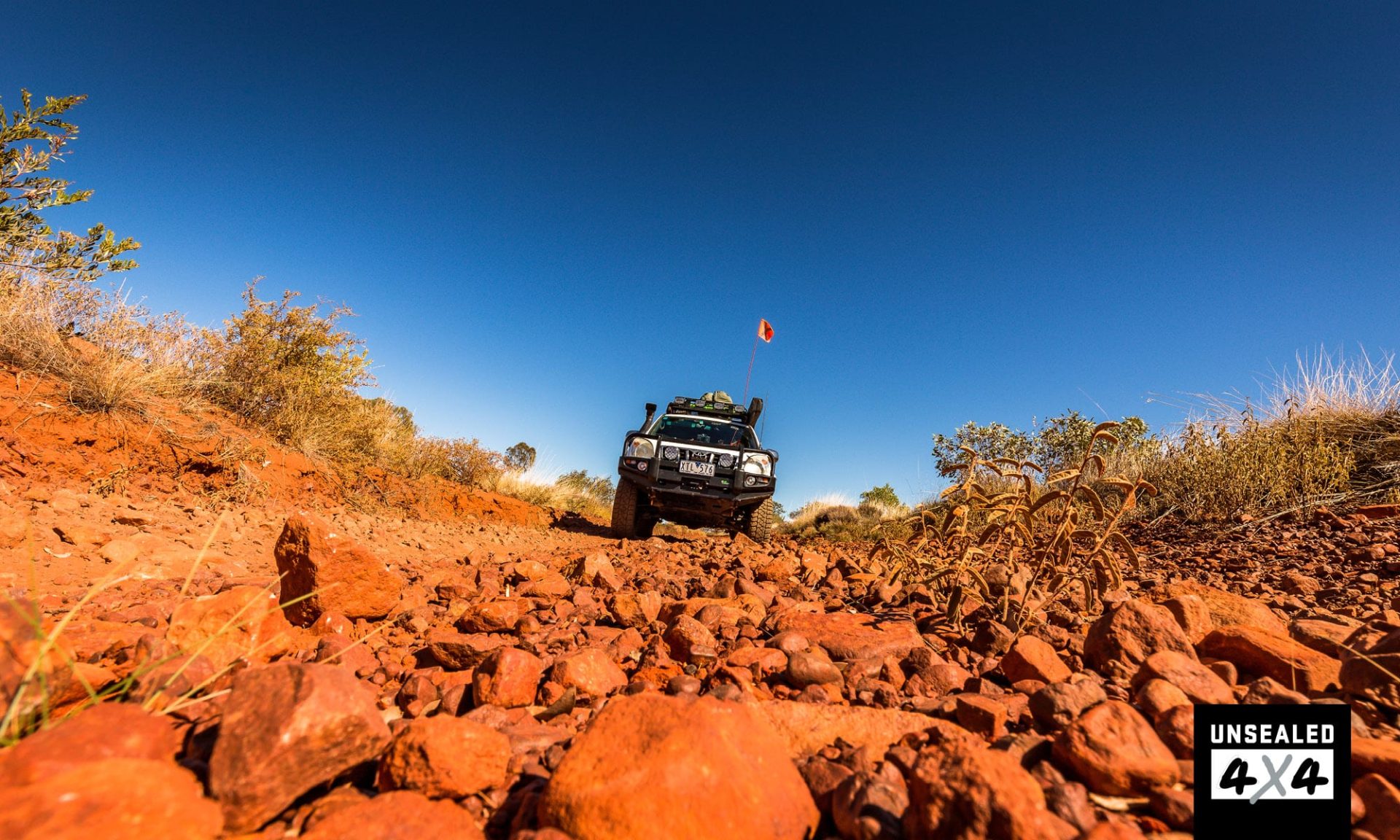 Passing through the nearby Pollock Hills, I was intrigued by a track that traverses through the range and is well marked on my Hema maps. Time and knowledge didn't provide me with an opportunity to explore this time, but I will be back as it looked a very interesting challenge. I rolled out the swag at Jupiter Well, enjoying some Spanish cuisine before socialising with some normal people around a fire.
Harry was banished to the console for the night. After a long day behind the wheel, I was nuggeted and snuck off to bed, almost asleep before my head had hit the pillow. From Jupiter Well, it is only 223km to Kunawarritji Community via the Gary Junction Road and Jenkins Track. It was also a recently graded run so I made it to Gary Junction in time for a late morning tea. When I reached Kunawarritji, the fuel window had just been closed (time works differently out here). I spoke to the fuel operator and he told me to come back at 2.00pm.
The notoriously savage corrugations between the community and Well 33 on the Canning Stock Route had been sedated by the cut of a grader blade, who'd have thought. I set up camp by the well and watched a falcon try a snag a zebra finch while a dingo nervously took a drink. I returned to fuel up, 2.30pm by the time everything was sorted. The mail plane had come in early so the fuel operator come storekeeper come plumber come carpenter come man of a million job titles had been tied up.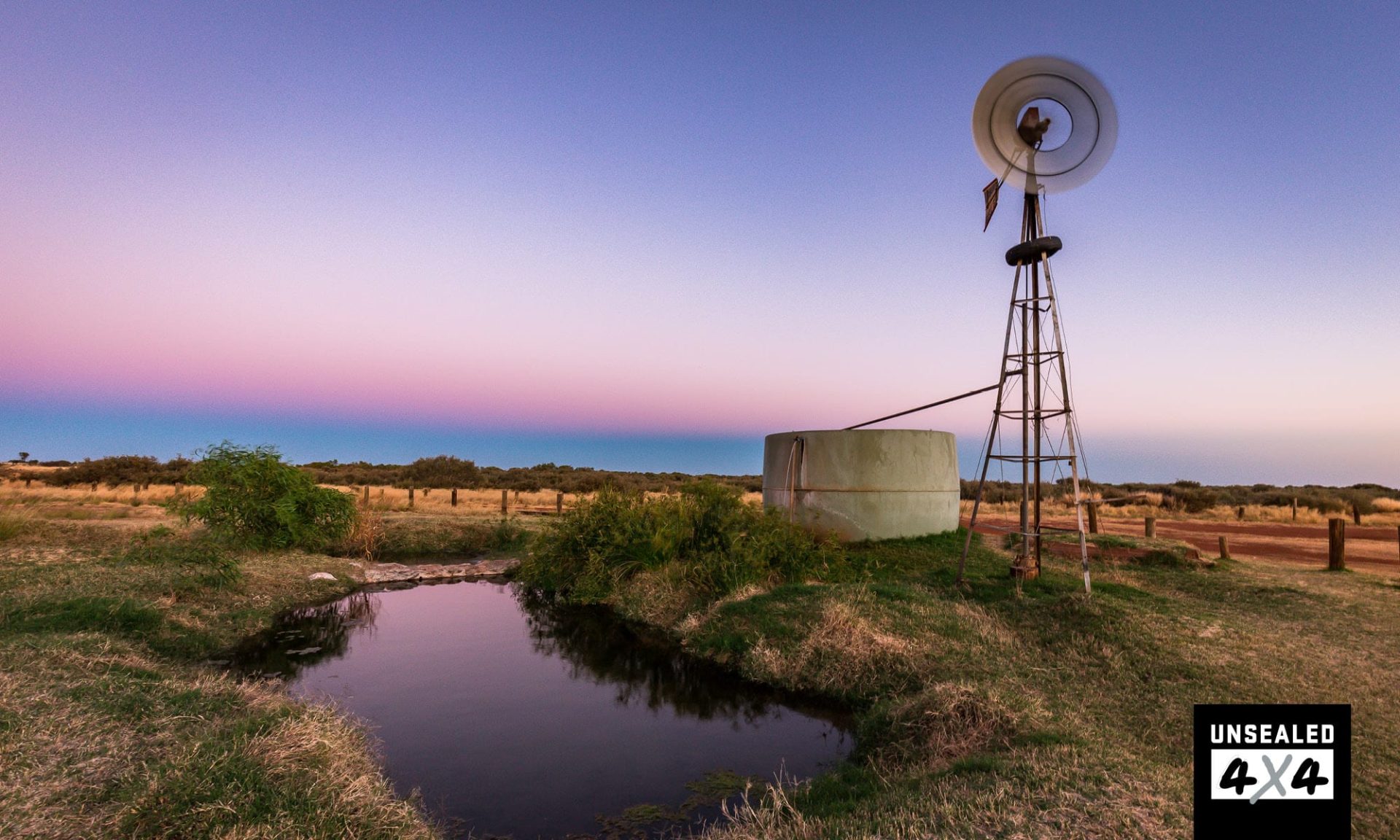 Turns out he used to be a roadie for John English in Melbourne during the seventies and eighties, the rock life etched into his skin. He loved to chat, especially with the newbies in town. EFTPOS was available, thankfully, as the bank balance was smacked like a Mike Tyson body punch followed by an uppercut. I picked myself up off the canvas, put the mouthguard back in, survived the ten count and paid the man. I paid a little extra and enjoyed a long, hot shower.
It was just me and the sticky flies at Well 33, but with the sky changing colour a couple of locals came down to walk their dogs, away from the town dogs. After they'd left, the serenity began to return when a group of five vehicles with camper trailers bustled into camp, kicking up the dust and scaring off the birds.
The dingoes started to sing, and then they entered the camp. My sixth sense awoke me with a start as two sniffed at my head. I am not sure who was more surprised, the dingoes or me, but we all jumped with fright, the dogs scattering. The wind returned, and the windmill pumped water with a flurry all night and finally, the sun rose on another day. This stage of the Tropic of Capricorn may be over, but I am sure the next one will be the best of them all.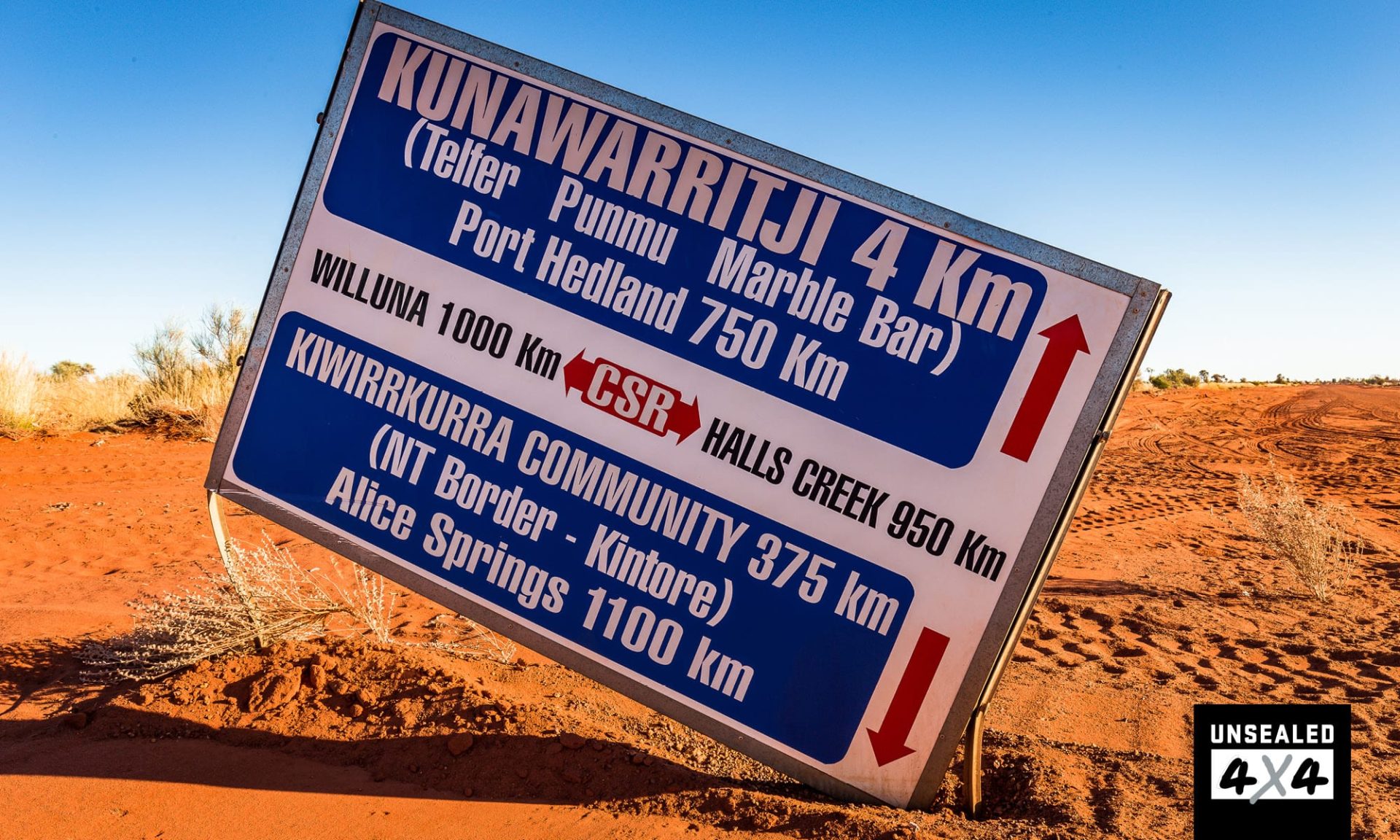 DESTINATION DETAILS
WHERE: Alice Springs to Well 33 on the Canning Stock Route.
SUPPLIES & FACILITIES: Fuel is available at Glen Helen Lodge, Papunya, Kintore, Kiwirrkurra and Kunawarritji. The opening times and payment types can vary so it is best to contact the communities before you get there. Carry enough cash to cover your fuel purchases just in case. Supplies are available at Alice Springs and limited at the communities.
CAMPING: The Central Land Council Permit expects that you will cover the distance to Kintore and beyond from Namatjira Drive in a day (323km), as camping is not permitted. Beyond Kintore and on to Kunawarritji there are bush campsites to be found. Jupiter Well is a nominated campground. Just be aware that just because a campsite exists on Wikicamps, doesn't make it a legal campsite.
BEST TIME: Milder months from May to September.
TRIP STANDARD: This is remote country and travellers must be self-reliant. High-clearance vehicle with LT rated tyres, recovery gear, air-compressor, tyre repair kit, satellite phone/HF radio, plenty of food and water. The tracks may be maintained but can change at any time.
PERMITS: You will require three permits to traverse this route.
• Glen Helen Lodge to Papunya, Papunya to WA Border from the Central Land Council (Gary Junction Road) – click here 
• Papunya to WA Border towards Docker River from the Central Land Council (Sandy Blight Junction Road) – click here
• Gary Junction Road WA Permit from the Ngaanyatjarra Land Council – click here