How to turn a cheap petrol auto 105 into a thundering beast in two weeks
Words by Mark Kendrick and Images by Wes Whitworth
THE OWNER
Until recently, Ray spent half of each year living in Weipa and the other six months in Tasmania. Weipa is an interesting place – the major town of the Cape York Peninsula, with a society lubricated by alcohol and sweat. Off-roading is one of the prime past-times for residents, be it in 4X4, quad bike, side-by-side or trail bike. This is where Gus, Ray's 105, was dreamed up.
Ray was after a robust 4X4 for the typical Tasmanian and Cape York tracks, as well as a tow vehicle for his Can-Am side-by-side buggy and for dragging the trailer into Cairns to pick up supplies by the pallet.
After a whole lot of research and querying the local experts, Ray pulled the trigger and purchased the petrol, automatic and very cheap 105 sight unseen in Melbourne. It wasn't quite running, with a missing exhaust and intake pipe (not mentioned in the ad!), so it was delivered to Wholesale Automatics to be packed with a gearbox and a whole host of parts as the build only had two weeks available for it once shipped to Tassie. Wholesale Automatics installed a quick and dirty temporary exhaust to be able to drive onto the Spirit of Tasmania, and a mate did the honours of getting it across the Strait. After arrival in Tasmania, another friend bought and removed the 1FZ-FE.
ENGINE AND GEARBOX
Flying back to Tas for a wedding, Ray had an engineless LandCruiser and a week to get it moving. The LSA and 4L80E gearbox slotted in with a bit of work and before the week was up it was ready for an exhaust to be custom-built. The GM-built 4L80E is Wholesale Automatics 'Extreme Duty' box, used in Humvees and yankee full-size pick-up trucks, and good for 600Nm of torque at factory spec. In this install it uses a Compushift transmission controller, which can have the shift points customised. The engine is a GM LSA, a 6.2-litre supercharged and intercooled V8 powerhouse developing well over 500HP. Fuel systems can be a problem with these installs; Ray used a Bosch 044 and a surge tank fed by whichever fuel tank he selects. The factory supercharger is overdriven by 18%, making 12psi for a fair bit of the range. The factory airbox didn't suit, so Moonlight Custom Fabrication in WA did a great job on a custom stainless airbox and snorkel.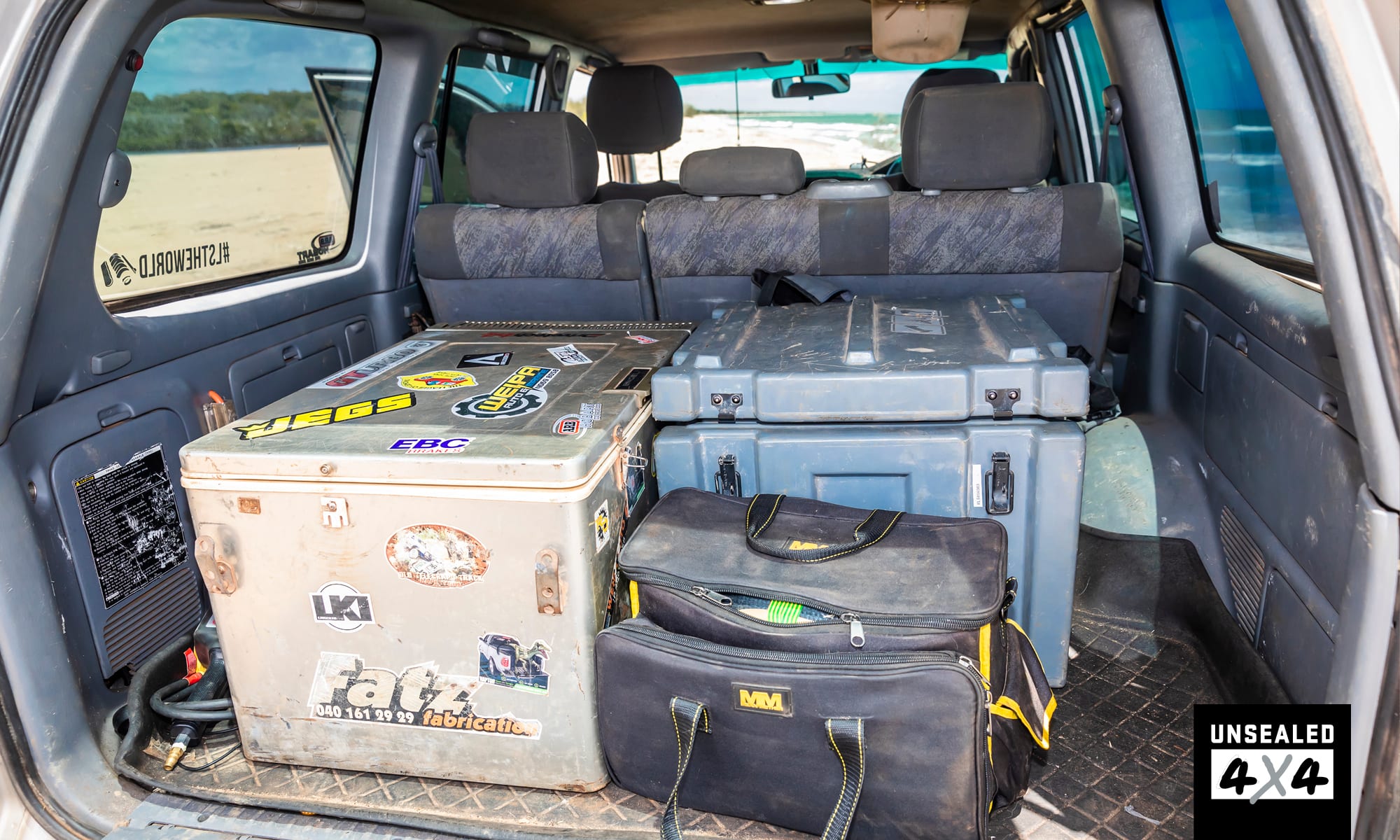 The second trip, a couple of months later, again for a week and again for a wedding, had the whole lot running and registered with a West Coast trip thrown at it two days later as a shake-down run. Keeping the engine cool has been a bit of a trial; initially Ford Falcon thermo fans were tried, then high performance Davies Craig fans in the Falcon shroud but they didn't last long with the Tasmanian mud. The final solution is engine-driven. A special bracket that attaches to the water pump studs mounts a Toyota 200 Series hub and fan, which is driven via a dog by the water pump impellor.To feed the beast, a sub-tank of 120 litres was custom-built by Maxit 4X4 in WA and shipped to Tasmania. Fuel economy driven gently is around 17L/100km, loaded up with the trailer on gets around 21L/100km, and a heavy right foot pushes economy off the charts…
Ray has a couple of gauges to keep an eye on the systems, with the air-to-fuel ratio (AFR) and boost monitored from the driver's seat. The AFR gauge lets Ray see if the engine starts to run lean, a death knell for the engine if not noticed. The latest change is upgrading the three-inch exhaust to a home-made 3.5-inch stainless steel system that sounds a lot deeper but not as loud, and also suits the LSA better for performance.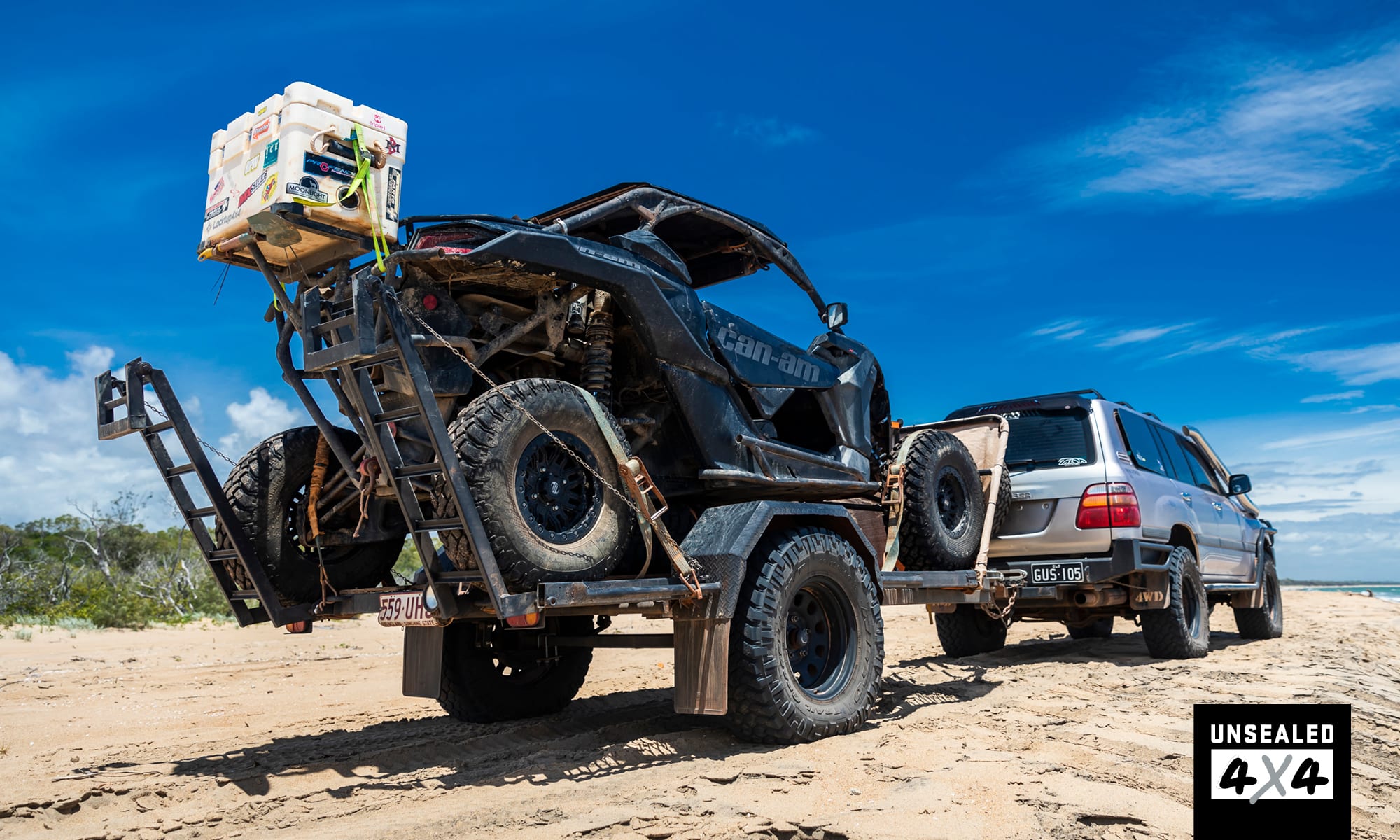 THE MODIFICATIONS
Ray fitted RAW 4×4 Nitro Max shocks and coils, with two inches of lift. Keeping it relatively low was important to Ray for handling and stability. Ray uses Nitto Trail Grapplers in 35×12.5×17 LT as they self-clear well in mud and with the LSA's surplus of power provide great propulsion in sand and air down well for a long footprint. They are fitted to Dynamic 17×9 steel rims with -26mm of offset, giving more stability and clearance for the tyres on full-lock too. ARB air lockers give the ultimate traction; Ray wired them up so the factory dash lights indicated the locker's status. A pair of hidden ARB compressors provide actuation. The body has been subjected to what was meant to be a few minor paint touch-ups, but unbeknownst to Ray, Talon Bodyworks in Moonah spray painted everything bar the roof and rear door, leaving the 105 looking sharp and fresh.
Ray has fitted roof bars to his 105, but stopped short of getting a rack. The bars are used for his swag and nothing else, keeping the centre of gravity low. A roof rack is just an invitation to pack too much! The rear fit-out is an exercise in simplicity; there's no heavy drawers full of gear that never sees the light of day, just a generously-sized Engel fridge, a decent space case for tools and recovery gear, and a recovery bag for the more frequently used items. Recovery gear gets well used around Weipa!
To run the fridge, a Redarc BCDC40 controls the auxiliary battery condition. Ray opted for a Tekonsha controller for the trailer brakes, and a GME UHF for communications. NQ Crash supplied a pair of LED spot lights while some ARB fog lights give the dual purpose of hiding some of the damage that the ARB bull bar had received prior to Ray buying the car. The rear bar was built by Weld Logic, who are also behind the rear winch mount and modified the sub-tank to match.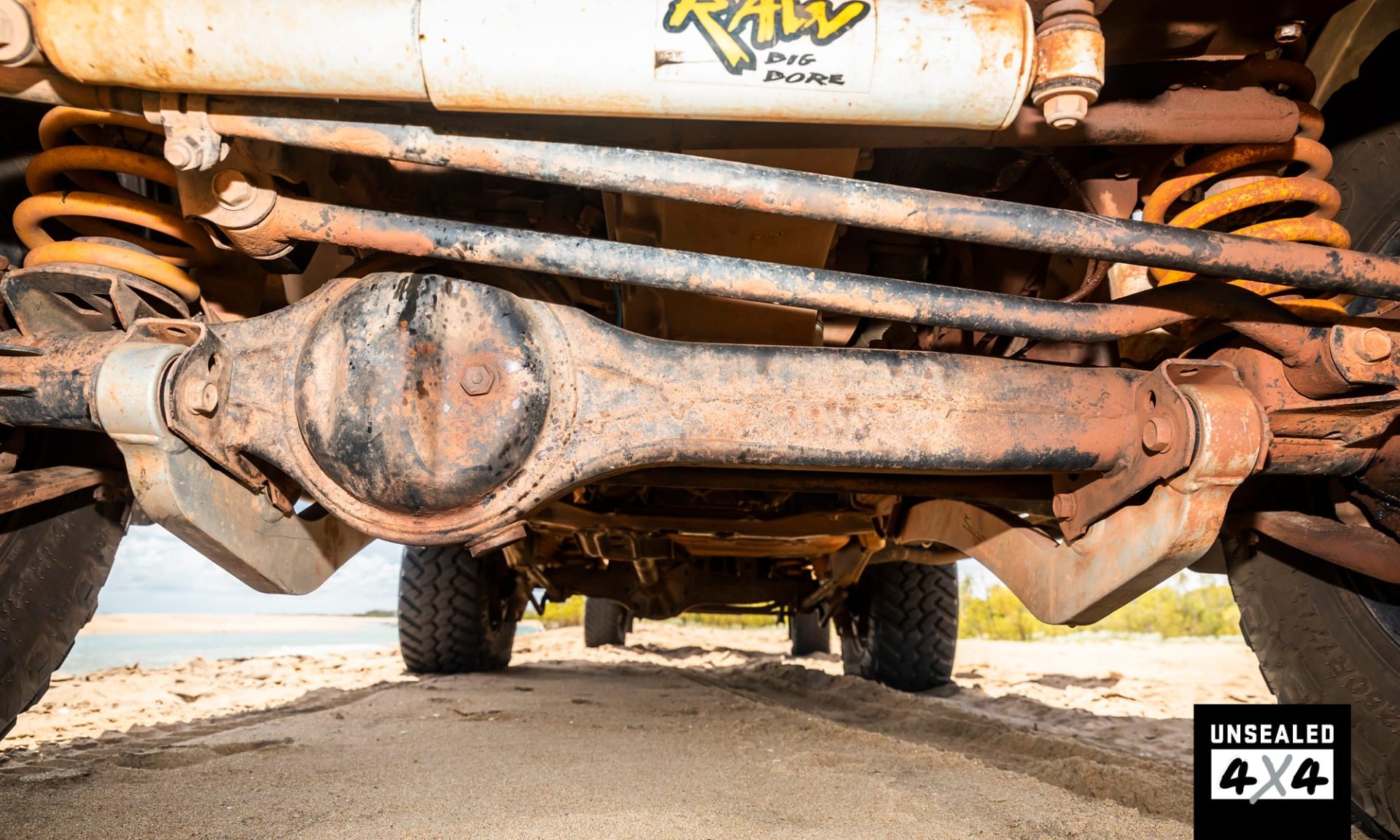 THE TRAILER
It's hard to pretend there isn't a Can-Am side-by-side buggy on a trailer hanging off the tow hitch of the 105. The trailer itself has led an interesting life though, being found near Weipa abandoned with the remains of an old speedway Falcon on it and the whole lot basically stuffed. The trailer was originally dual-axle, converted to a single with proper suspension and morphed into a very robust and useful trailer that has survived being towed all over the Cape and Tasmania with the Can-Am in tow successfully.