Ignored by most off-roaders because it lacks a diesel engine, does the big Patrol deserve another look though?
Words by Bruce Newton
There are few more famous names in Australian off-roading than Nissan Patrol. The first vehicle to successfully cross the Simpson Desert, it became a legend in Australia as it evolved through the G60, MQ, GQ and GU generations. Sturdy, tough, simple and mostly reliable, it was the Toyota LandCruiser's arch-rival. But when the Y62 Patrol came along in late 2012 it effectively vacated the battlefield. Developed primarily for the Middle East and powered only by a V8 petrol engine, it was a whole lot more expensive and complicated than its predecessor. Despite the occasional hint and hope, Nissan hasn't come out with a diesel version of the Y62 and shows no sign of doing so. It's a real pity because head for the outback and you'll find there's a lot to like about the current generation Patrol.
WHAT'S NEW?
Nissan has tinkered with the Y62 Patrol ever since it launched in Australia. The last update was in late 2017 and the changes were mostly cosmetic, including a new front bumper with a revised grille, new fog light housings and restyled alloy wheels. Inside there was an updated infotainment system with more intuitive multi-touch panel, two USB charging points and – in the top-spec Ti-L we're testing here – 8-inch screens built into the back of the front seat head restraints. More sensors at each end helped with parking. That's pretty handy considering this thing measures up at 5165mm long, by 1995mm wide and 1940mm high.
There's plenty more gear to be found in the Ti-L, which is handy because its costs $88,990 plus on-road costs. The Ti is $71,990. The counter-argument is it's a lot cheaper than equivalent 200 Series 'Cruisers. Both Patrols share leather-accented trim, eight-way powered front seats, tri-zone climate control, satellite navigation, a sunroof and a full-size spare under the rear floor.
But the Ti-L alone can boast driver's seat memory, a reach and rake power adjustable steering column, a memory function for the climate control, a 13-speaker Bose sound system, a power vertical tailgate, Xenon headlights, puddle illumination lamps and a smart interior mirror that displays a clear view of what's behind you via a camera. It also gets a bevy of driver assist systems the Ti misses out on. More on that in safety below.
The Ti does have more seats; eight versus seven. Neither gets CarPlay or Android Auto and both make do with an old-school foot-operated park brake. Both Patrols also fall short in one crucial area – warranty. Nissan is now the only top 10 brand in Australia to stick with three years and not to stretch to at least five years (or at least that was the case when this was written).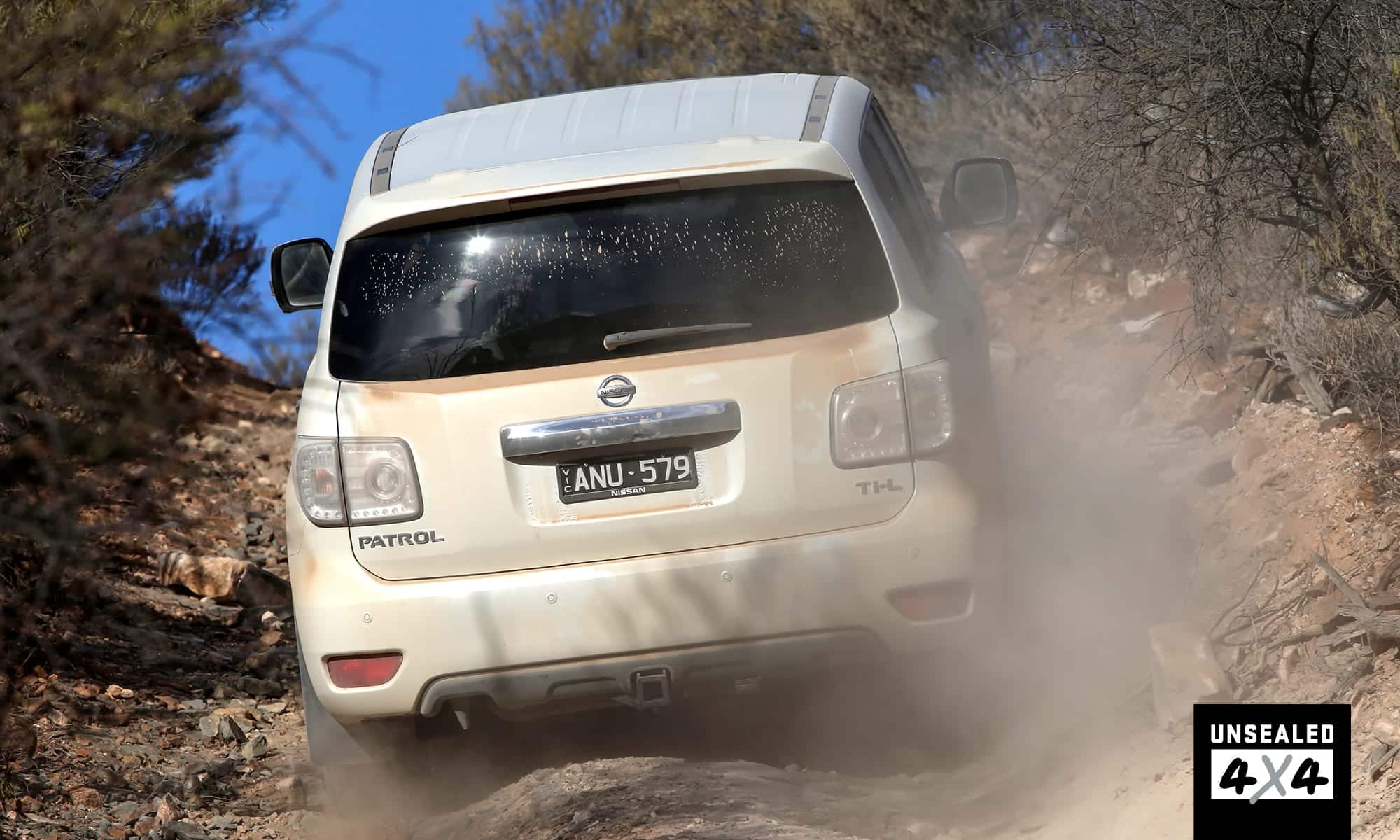 SUSPENSION
Underpinned by a ladder frame chassis, the Y62 employs independent double wishbone and coil springs front and rear working with Hydraulic Body Motion Control (HBMC). HBMC pipes hydraulic fluid to the four corners of the car to help reduce body lean in corners and improve ride comfort on the rough stuff. There's also vehicle speed sensitive rack and pinion power steering and four-wheel disc brakes – which is just as well because this thing weighs in at 2750kg (tare)! Despite all the weight, the height and the length, the Patrol does a bloody decent job on-road. HBMC does keep the roll contained and there's a welcome suppleness to the ride. That comfort was even more pronounced once we got onto dirt roads and corrugations. The fight over who got to drive it became more and more intense the worse the conditions became.
ENGINE
If the chassis overhaul is a big deal, then there's even more drama under the bonnet, especially when you press the throttle and the 5.6-litre V8 engine kicks down a couple of its seven gears.
Nissan reckons this thing can get from 0-100km/h in about seven seconds. Can't imagine your GQ diesel doing that! Or a LandCruiser for that matter… There's lots of techno trickery in this thing; all alloy, direct injection, double overhead camshafts, four valves per cylinder and variable valve timing and lift among them. The problem is if you enjoy that performance too much the claimed 14.4L/100km fuel consumption rate (on 95 RON premium unleaded) will seem like a fond memory as the average arcs into the high teens.
Get into some solid towing and you'll be into the 20s. At least, the 140-litre fuel tank means you'll still achieve a reasonable range between those expensive refuelling stops. And all that money you've saved up-front compared to an equivalent diesel 'Cruiser can be spent on petrol! What the Patrol does so well is isolate its passengers from the outside world. The drivetrain and suspension do their parts, but so does the noise dampening package. It's almost eerily quiet in this thing, even on loose gravel. The engine produces a brutal bellow when pushed and happily, you can hear that clearly!
ENGINE SPEC
5.6L V8
Maximum Power: 298kW @ 5800rpm
Maximum Torque: 560Nm @ 4000rpm
Transmission: Seven-speed automatic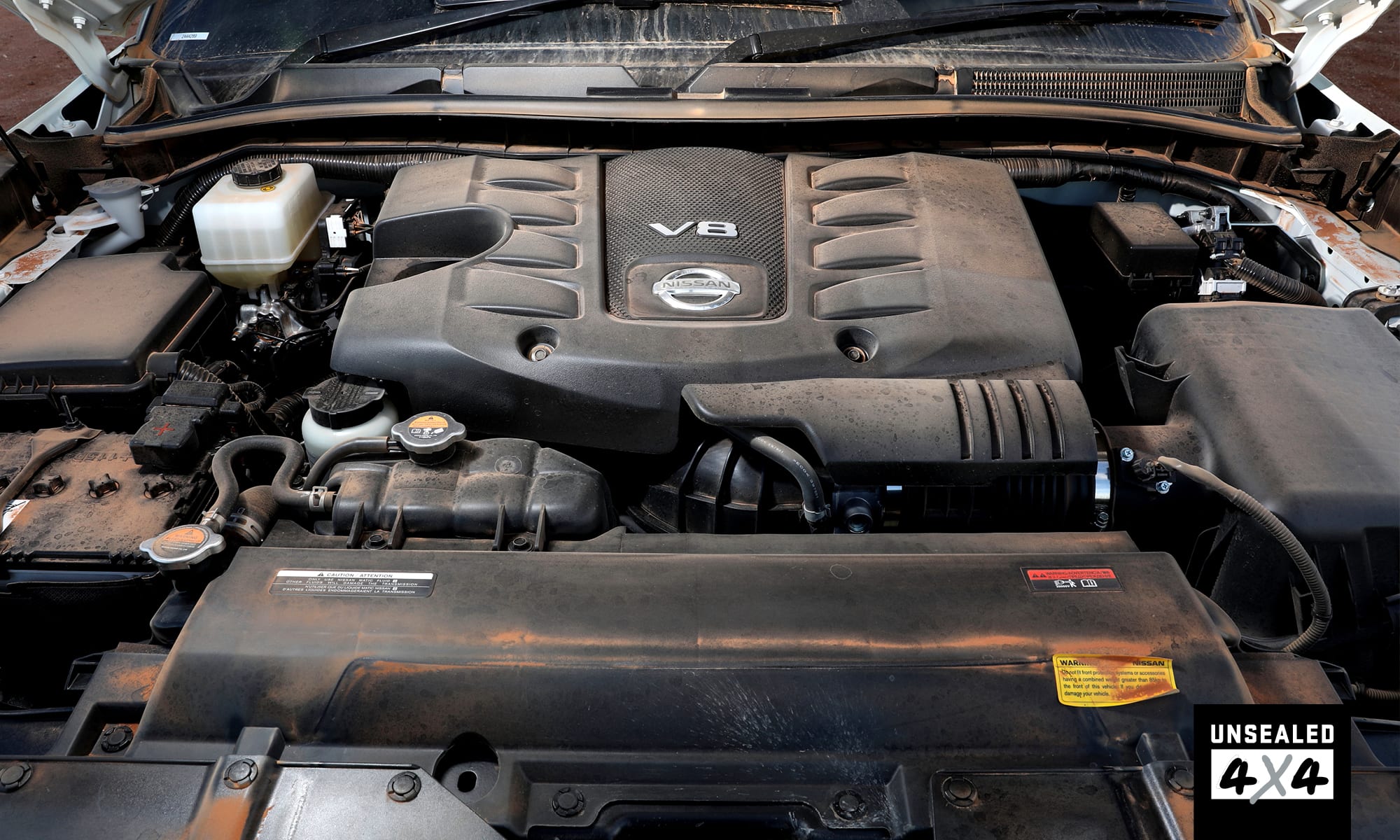 OFF-ROAD
At the guts of the Patrol's All-Mode 4X4 system is a lockable helical limited slip rear diff, lockable centre diff and open front diff, all supplemented by low range, stability and traction control, hill start assist and hill descent control. The system runs 100 percent rear-drive static, shifting up to 50 percent of torque forward under hard acceleration. The driver can also rotate a dial through sand, on-road, snow or rocks modes dependent on driving conditions. Off-road HBMC also helps combat the wheel articulation issues the shift to independent suspension generates, by pushing the wheel that is off the ground down to full stretch.
HBMC also abandons altogether disconnecting stabiliser bars as used by the 200 Series LandCruiser's KDSS, which Nissan argues limit articulation. Approach and departure angles are 34.3° and 26.2° respectively, ground clearance is 272mm and fording depth is 700mm. Underbody protection is good and there are tow hooks front and rear. The 18-inch 265/70 rubber has a healthy sidewall to work with. All that adds up to an entirely competent off-roader. You can be confident heading into the boonies as the Patrol is capable of dealing with anything this side of a severe obstacle. It walks up and down steep, rocky hills with ease, while you relax and take it all in from on-high.
TOWING
The Patrol has a 3500kg braked towing capacity. It weighs in at 2750kg, has a gross vehicle mass of 3500kg and a gross combined mass of 7000kg. That delivers it a decent 750kg carrying capacity. Towball download varies between 250kg and 350kg depending on how close to GVM you are. We didn't tow during our test but – as pointed out above – we do wonder how the engine will cope with a few tonnes on the back and what would happen to fuel consumption.
IS IT SAFE?
Nissan hasn't obtained an ANCAP safety rating for the Y62 Patrol, but it does fit the Ti-L with a heap of high-end safety aids. They include intelligent cruise control, forward collision warning, intelligent distance control, lane departure warning, blind spot warning and intervention and intelligent brakes assist – which is autonomous emergency braking by another name. Six airbags are also standard issue, as is a 360° camera, two ISOFIX child seats in row two and two top tether restraints in both row two and three.
INSIDE
This is a spacious and blinged-up interior – no shortage of shiny plastic trim here! Adults can sprawl anywhere in the first two rows on commodious seating, while its child-only back in row three. There's no shortage of storage opportunities – eight bottleholders, four cupholders, a cool box between the front seats, consoles in row one and two, bins in all doors and pockets on the back of both front seats. The Patrol offers 500 litres of storage space with all three rows in-place, 1490 litres as a five-seater and 3170 litres as a two-seater. There are 12V outlets in all three rows of seating.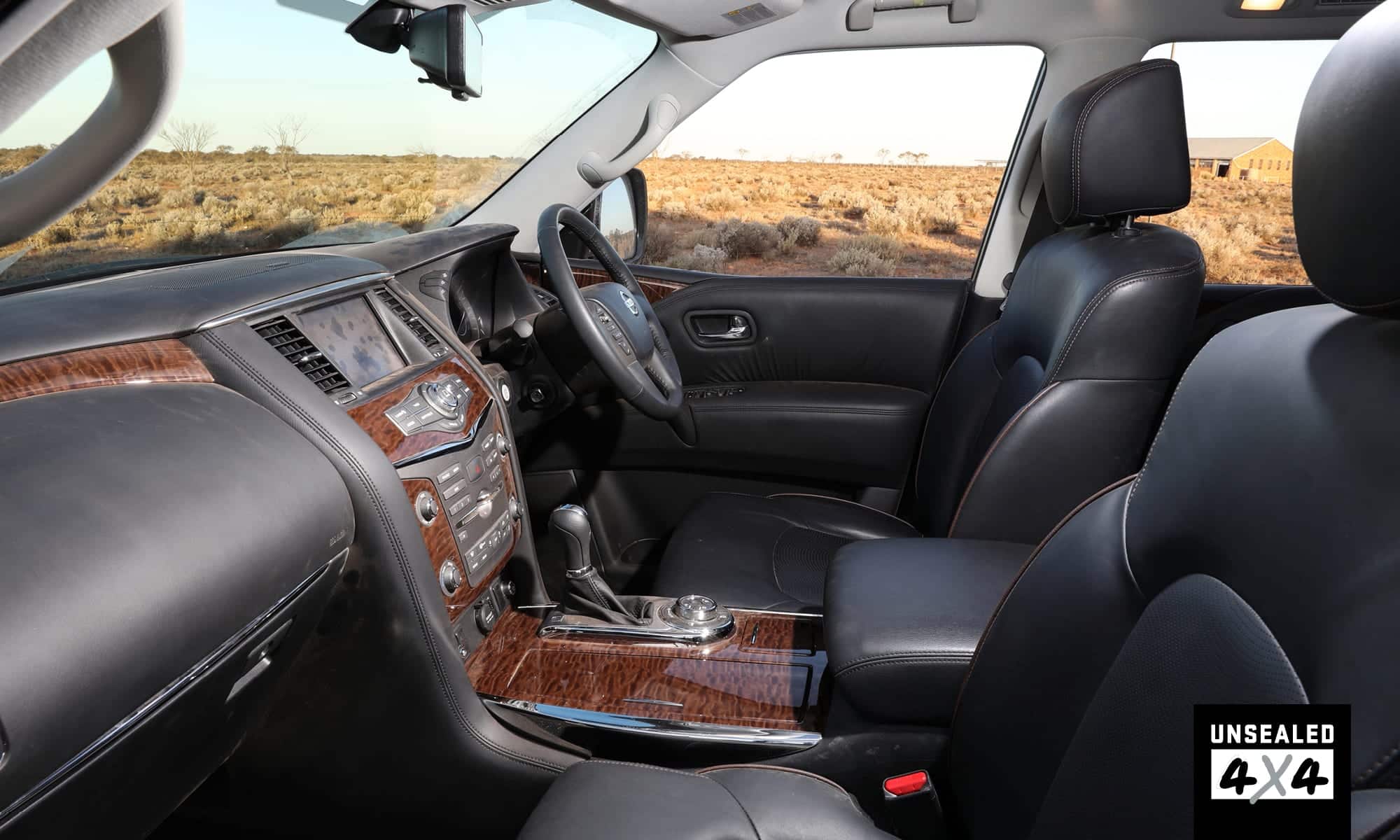 CONCLUSION
Our Patrol excursion covered a couple of thousand kilometres and every different sort of road type you could imagine. We also took it off-road on everything from well-formed gravel roads through desert tracks to rocky low-range climbs and descents. We suffered a couple of punctures and chewed a lot of fuel, but apart from that the Patrol did a lot to earn our affection. In terms of dollars it's dazzling value for money compared to the Toyota LandCruiser. On top of that it's so comfortable and so capable, it is a fantastic outback hauler, masterfully dealing with nasty conditions while capable of carrying a family and their luggage in splendid isolation. If only it came with the choice of a turbo-diesel engine! Then the LandCruiser would seriously have something to worry about!