This old school HiLux was the perfect base to conquer the Cape – we find out why
Words and Images by Harry Temple
THE OWNER
This Lux isn't up for sale and I doubt it ever will be. When you have lost count of the late nights and skinned knuckles, a vehicle becomes more than a tool. Any 4WDer who works on their own vehicle will understand the sense of satisfaction and confidence that is gained from maintaining their ticket to the tracks. Brodie is no different. For a 24-year-old, he possesses a mentality that is far beyond his years. It is clear that he takes great pride in every aspect of his life, whether it's his work as a carpet technician, tinkering on the 'Lux or his holistic approach to exploring the Australian bush. "It's all about seeing Australia, at your own pace, in your own way." Such an attitude on a younger bloke is refreshing and it's clear he has the experiences to back it up. With NSW, Fraser and the Cape under his belt, his next big trip is back to the High Country.
THE VEHICLE
Whether it's lifting wheels at Lithgow, sliding down Gunshot, parked up next to the Maheno or simply set-up for a weekend away near his home base in Canberra, the 'Lux is a different beast to when he picked it up nearly four years ago. A stock farm ute with a loud knock meant he got it for a good price and as the last of the solid axle LN106 series, it was the perfect base to start building a tough tourer. Brodie places a high value on the simplistic nature of older trucks, free from overbearing sensors and overcomplicated systems. He doesn't want to be chasing electronic gremlins through the engine bay on a trip, and he is happy to report that the only major incident was cooking a head en-route to the Cape last year. Putting it down to premature failure, the generous team at Dalby Engine Rebuilds lent him the tools and shop space and the straightforward head swap only took a day. Try organising that with a newer dual-cab!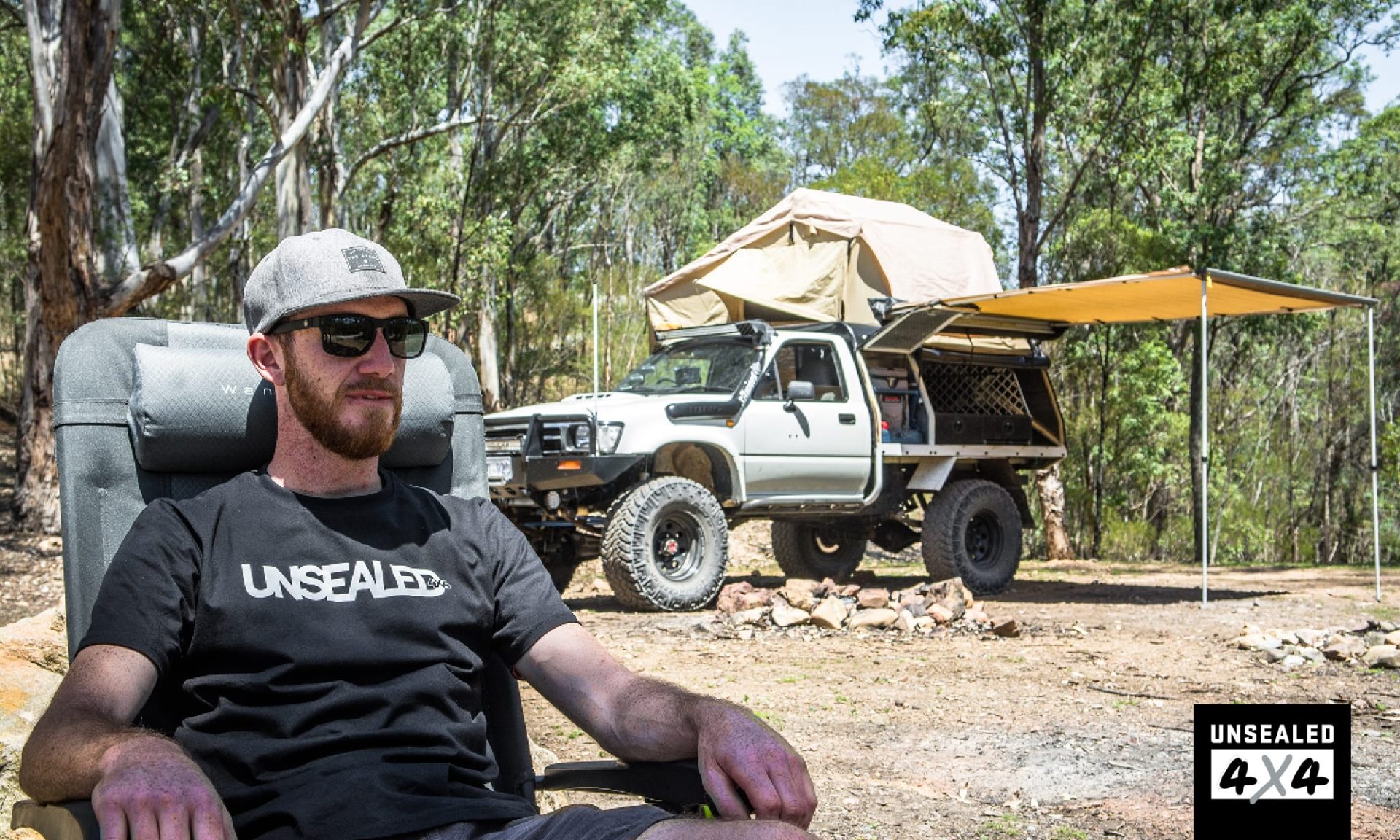 THE MODIFICATIONS
As self-reliance is high on his list, he was happy to find the Runva 11XP fitted nicely behind his ARB Deluxe bar. Opting to forgo brush bars for the clean guard look, he and his brother built a set of sliders that have proved invaluable on numerous occasions. The 3.0-litre (which is a 2.8-litre motor – confusing, right?) donk is never going to win any races, but what it lacks in straight-line speed it makes up for in reliability. He wasn't taking any chances though; a Mamba TD04 turbo and front-mount intercooler have found their way on, along with a custom cross-over set-up.
The three-inch pipe dumped behind the diff lets the 2.8 breathe and with a little over 300k on the clock, she should be good for years to come. Stick your head under the front and that's where it gets interesting. A RUF (rears up front) conversion takes centre stage, utilising customised rear leaf packs with banana shackles and new mounts. To maximize the additional flex, a set of 12-inch shocks and custom towers went in. The high steer set-up and IFS steering box squeeze in beside the tower and the entire area has been fish-plated for extra strength.
For additional width, IFS hubs and six shooter knuckles push the 35-inch muddies out into the guards nicely. To absorb some of the stress created by the incredible articulation, the housing has been braced and the internals have been swapped out in favour of RCV axles, drive flanges and ARP wheel studs. The rear received the same love, with a braced and trussed IFS rear housing and the longer IFS leaf packs coupled with 200mm Buds shackles. For a leaf-sprung vehicle, Brodie is happy with ride quality.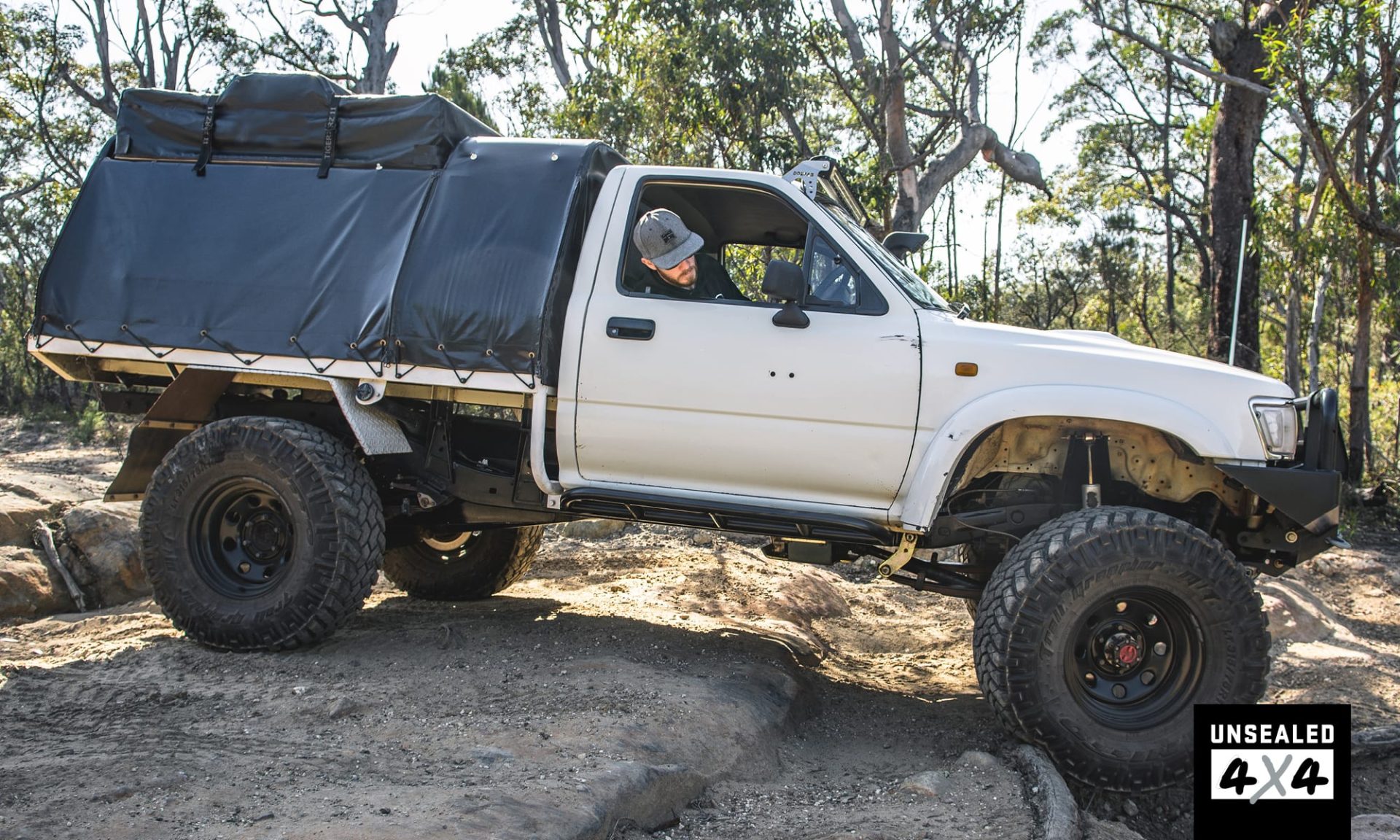 "It's excellent for a leaf-sprung rig and being tall I thought I would notice it more, but the custom packs work wonders." Notably, the inversion bar set-up not only provides the mounts for the 11-inch Bilstein shocks, but also braces the chassis rails. Custom bump stops on all corners and extended braided brake lines mean everything stays exactly where it should. Diff centres were swapped out for 4.88s and ARB air lockers give the HiLux true 4WD. Pressing the brake pedal is now a sure thing, courtesy of an 80 Series booster and disc-converted rear end. DFI brackets allow a set of Subaru Leone calipers to clamp down on GQ discs, a vast improvement over the drum set-up.
The tray is the epicentre of any touring ute and this one could easily pass as the product of a 4WD outfitter, rather than something built by two brothers in a shed. Split into three main areas and covered by millimetre perfect canvas, the tray/canopy set-up makes maximum use of the space. Behind the cab, there is a 40L Engel on slides on either side. When he isn't on a long trip, one stays at home and the cage doubles as a dog box for his four-legged adventure friend. The main section of the canopy houses four sturdy drawers and a slide-out table that Brodie built to simplify the often arduous task of cooking after a long day on the road.
LED strips provide ample lighting and he can comfortably charge the drones, cameras and laptops he records his adventures with thanks to the triple battery set-up. Separated with a cage, larger items can be stored at the very back near the braced wheel carrier without the risk of damaging critical components. The whole tray was covered in canvas by a Canberra local, who did a fantastic job molding to the angles and awning mounts, ensuring it remains as dust-free as possible. Brodie rates the rooftop tent as a must-have touring accessory, as it keeps you off the menu in places like Cape York and high and dry when things get soggy. To minimise wind drag, the tent was countersunk, which also helped lower the centre of gravity.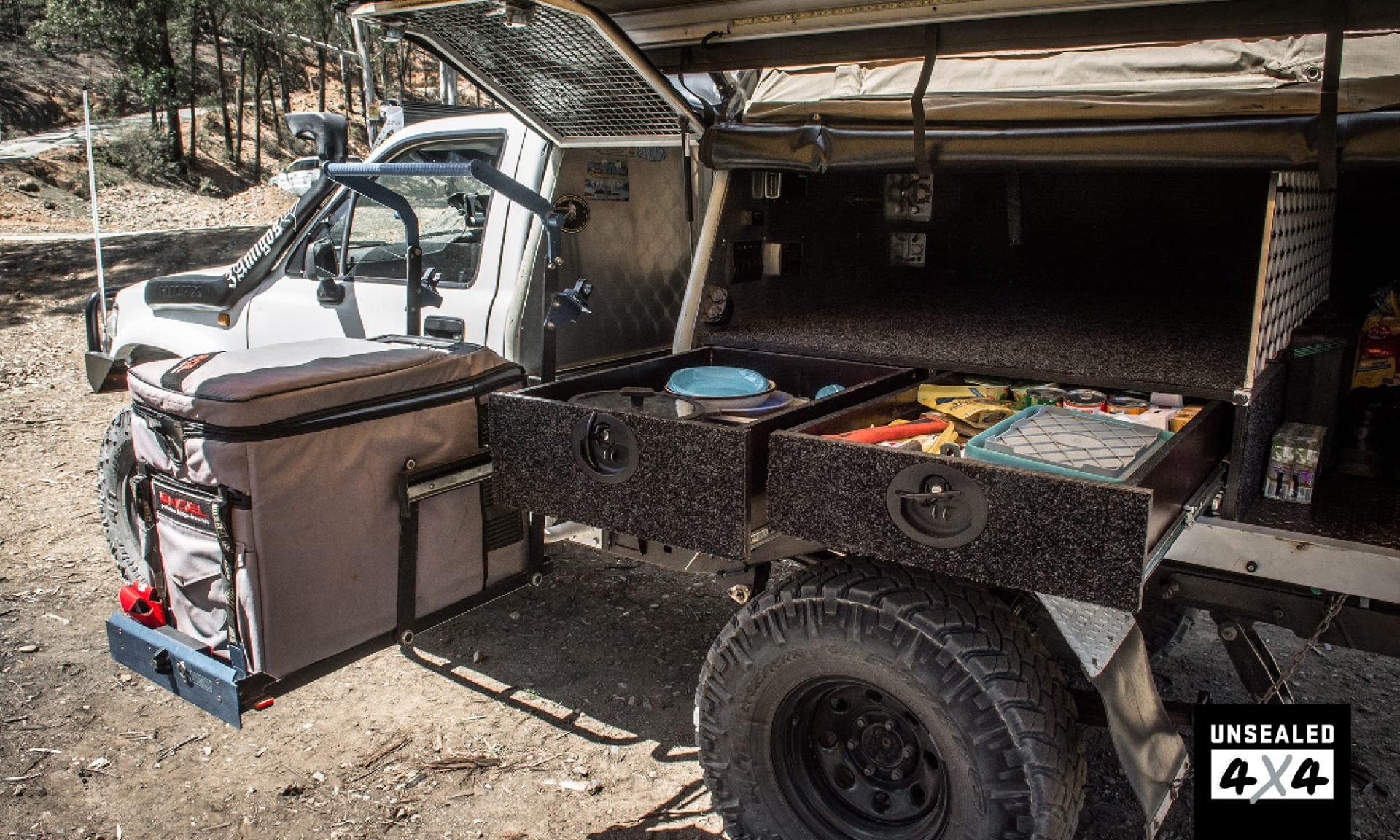 FINAL THOUGHTS
Brodie wants to continue living his dream lifestyle and is constantly waiting on weekends to escape at every chance and see more places before they are gated. "The scene has changed a lot recently, even over the last couple of years. The closures we keep seeing will continue to happen until people learn to clean up after themselves and drive respectfully. It's not hard." We agree mate, it's a shame not everyone shares your sentiments. Be the change you want to see in the world, folks.