Is Toyota's new more powerful HiLux SR5 Double Cab Cab Chassis much better than its predecessor? We get behind the wheel to find out…
As you're undoubtedly aware, Toyota has recently updated the HiLux 4×4 range and last week we sampled the new HiLux SR5 Double Cab Cab Chassis variant both unladen and with a load on board, on the road and off it.
What's it like to drive?
Well, the changes to the engine that result in more power and torque (see 'What's new?' below) are certainly noticeable from the moment you prod the accelerator pedal. There's loads of torque from low revs and acceleration is certainly more brisk than before.
We started our drive with the HiLux unladen, and the suspension upgrades (also outlined in 'What's new?') result in a more compliant ride over bumpy surfaces and good control when cornering. We then threw 500kg of stuff on the back of the factory steel tray (consisting five steel wheels and 235/85R16 tyres; a recovery box with drag chain, snatch blocks, shackles, straps and more; a hand winch and steel cable; a full 40L fridge; a massive double pit tent; and a couple of swags) with a lot of weight hanging over the back of the rear axle, and went for another drive.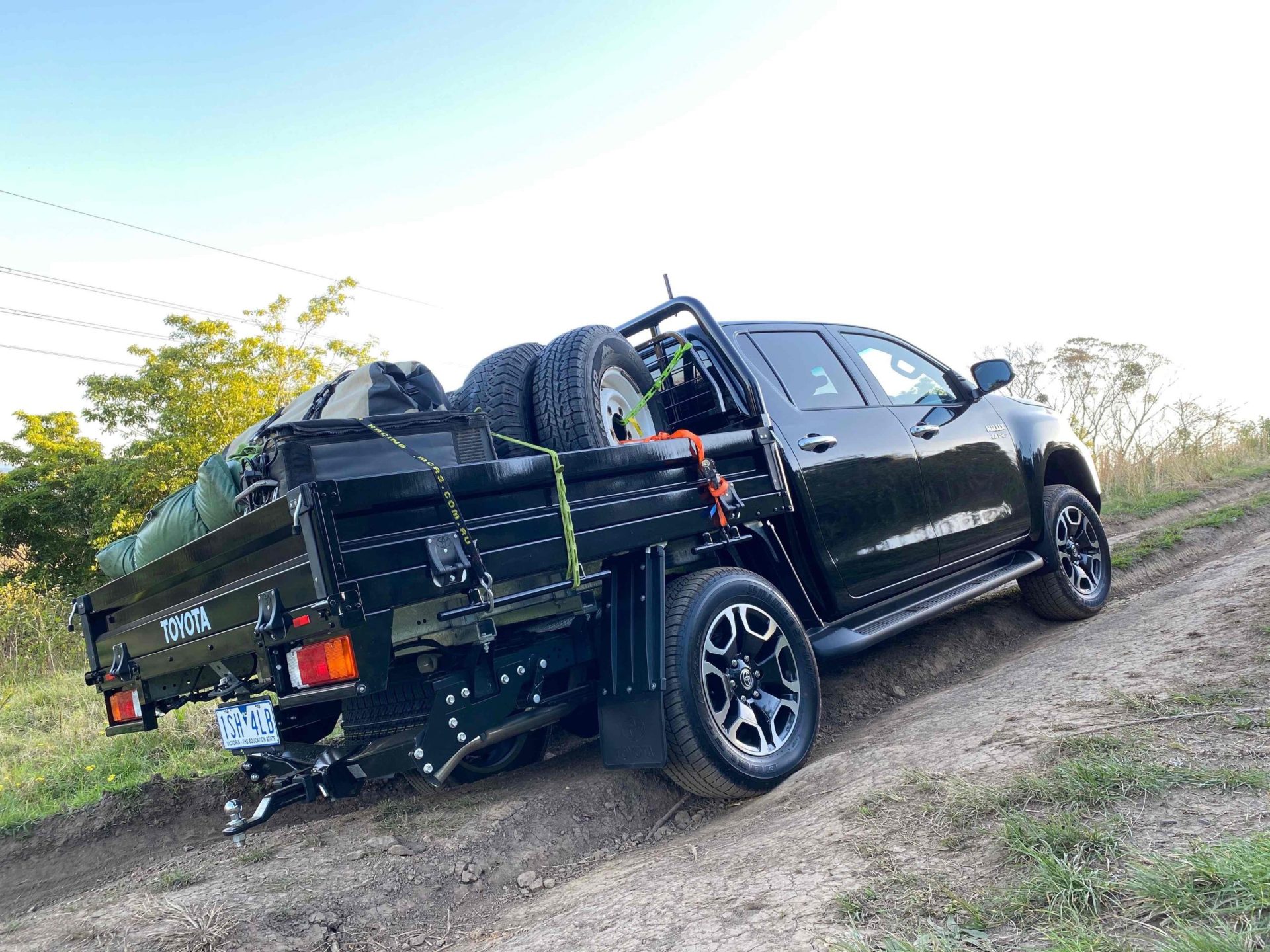 Why only 500kg? Although this model HiLux SR5 Double Cab has an 1105kg payload capacity, you still have to take into account the weight of a driver (80kg+) and the steel tray (around 300kg), so that adds up to around 880kg. Sure, we were still well short of maximum payload of 1105kg, but still had enough weight to give a good indication of what the revised suspension is like with a decent load on board. The rear certainly dropped down a bit as we loaded up the tray but suspension sag wasn't excessive, and steering feel remained well weighted.
As an aside, tying stuff down to the factory tray was aided by the headboard and the ample securing points at the sides, but there's nowhere to tie on to the rear.
The HiLux exhibited confident handling both unladen and with the load, although the lane-departure with steering assist operates by automatically applying the brakes when it thinks you're veering out of your lane, which is a little disconcerting, especially when there's weight in the back. The system is best suited to freeway driving; I'd recommend you switch it off when driving on narrow winding roads where it can feel overly intrusive.
Performance-wise, the revised engine had no problems hauling the 880kg load; in fact, the modest load barely had any noticeable effect on performance. The HiLux would easily hold 100km/h up even the steepest of hills we tested it on and roll-on acceleration was good when overtaking. Put your boot into it, however, and the engine gets a bit raucous; it's certainly noisier than many class competitors although it's not an unpleasant sounding engine.
The six-speed auto transmission offers a good spread of ratios and shifts smoothly. The lower ratios are low enough to aid spritely acceleration and the taller gears are tall enough to ensure relaxed highway touring. On steep descents the auto eagerly downshifts to aid braking and to help keep speed in check when the cruise control is set. Oh, and the cruise control is operated by Toyota's simple stalk on the right-side of the steering wheel, with a button to switch on, down for 'set' and 'slower', up for 'faster', and back towards the driver for 'cancel'. It's easily the best cruise control system for simple operation. Having said that, the distance control for the radar cruise is via a button on the steering wheel.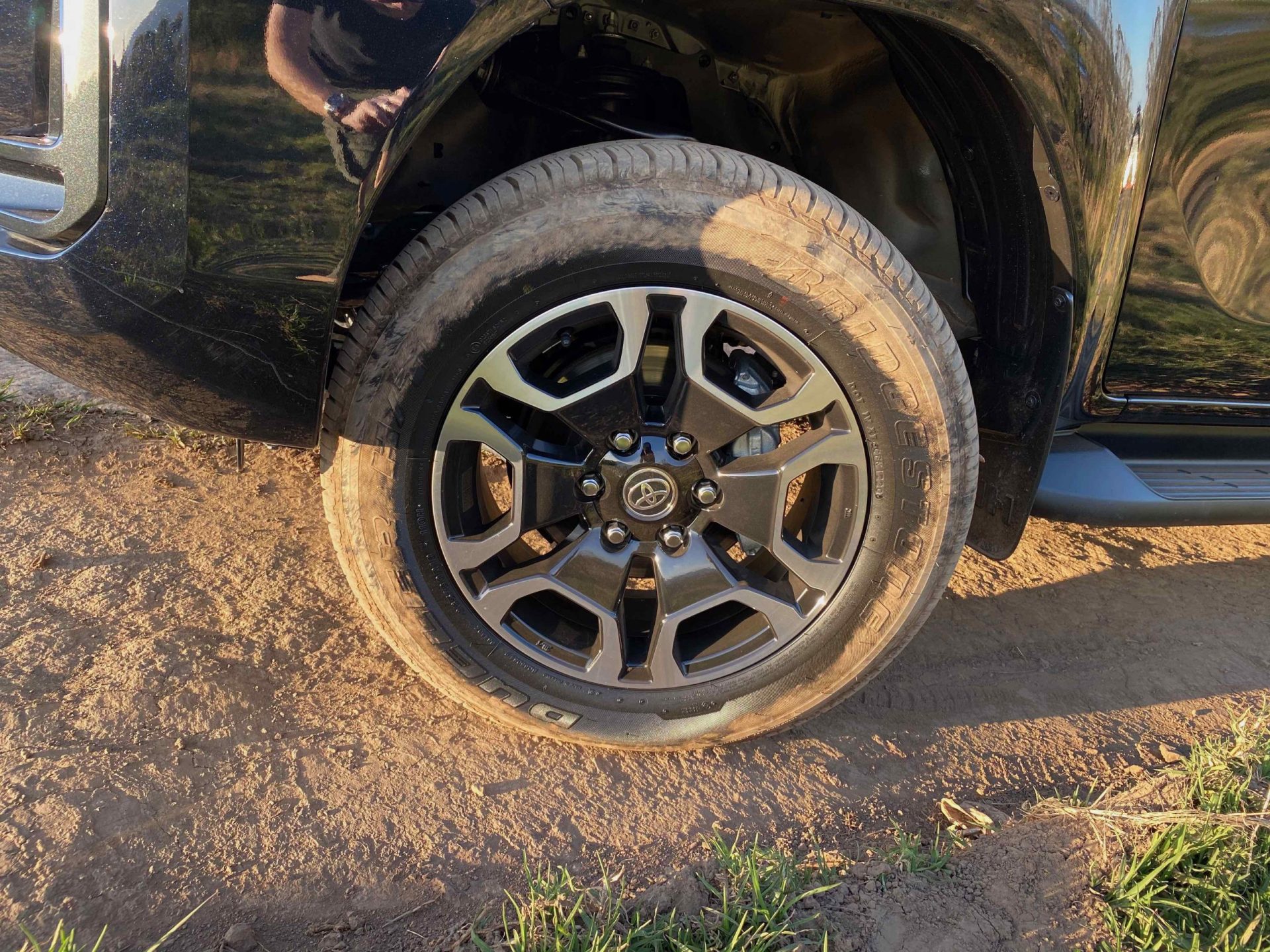 Our off-road drive wasn't exactly extensive (we only had the press vehicle for a short time but we have another HiLux booked for later this week) but a short undulating track soon saw the HiLux lift a front wheel into the air, and this required the rear diff lock to be engaged as the traction control struggled to maintain forward momentum. Despite the revised power-steering pump, the steering still loaded up a fair bit at low revs and the HiLux required a bit of arm-wrestling to get around some tight off-road corners. And when it comes to grip, the highway terrain 265/60R18 tyres don't help the off-road cause, although low-range gearing is respectable and ground clearance is adequate.
Check out this short video review on the HiLux SR5 Double Cab Cab Chassis.
What's new?
For starters, the HiLux SR5 Double Cab Cab Chassis is a new model grade to the HiLux 4×4 line-up, and it lists at $58,420 plus on-road costs. Our test vehicle was also equipped with a factory steel tray which adds $3858 (fitted), bringing the total price to $62,278 plus ORCs. Those who want leather seat trim, heated front seats and a power driver's seat can opt for the SR5+ pack, which adds another $2500, while premium paint will set you back another $600.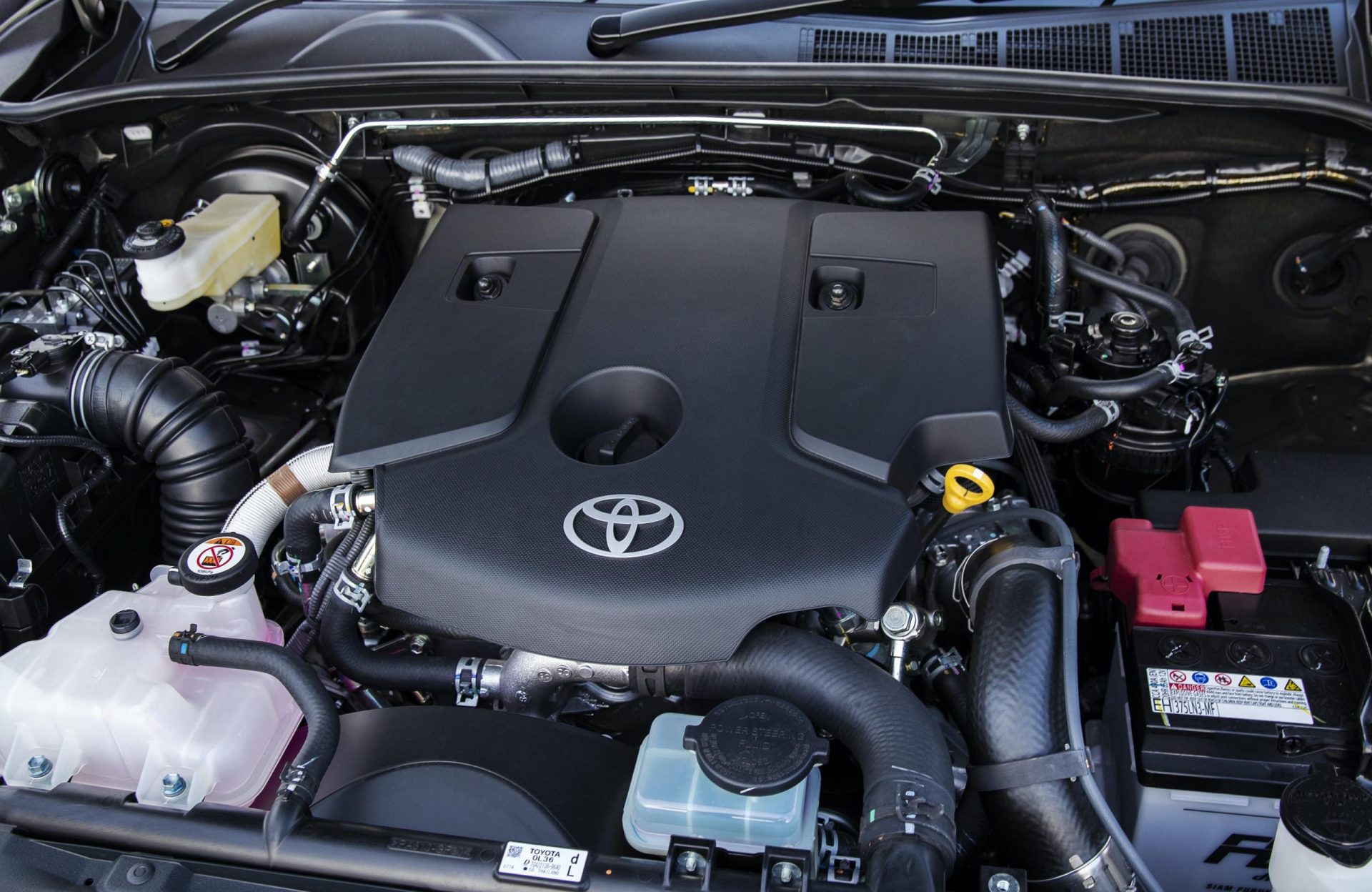 Of course, the HiLux receives a styling upgrade with a new larger, trapezoidal front grille and a bit more chrome, but the big news for the new HiLux is the revised 2.8-litre turbo-diesel engine which now produces claimed peak power and torque outputs of 150kW at 3600rpm and 500Nm from 1600-2800rpm (when mated to the six-speed automatic transmission as fitted to our test vehicle). Engine upgrades include a new common-rail injection system boasting higher maximum fuel pressure (250MPa), fitment of a larger turbocharger, a new combustion chamber design, a revised cooling system and a new exhaust system with revised exhaust manifold and more efficient EGR (exhaust gas recirculation) system.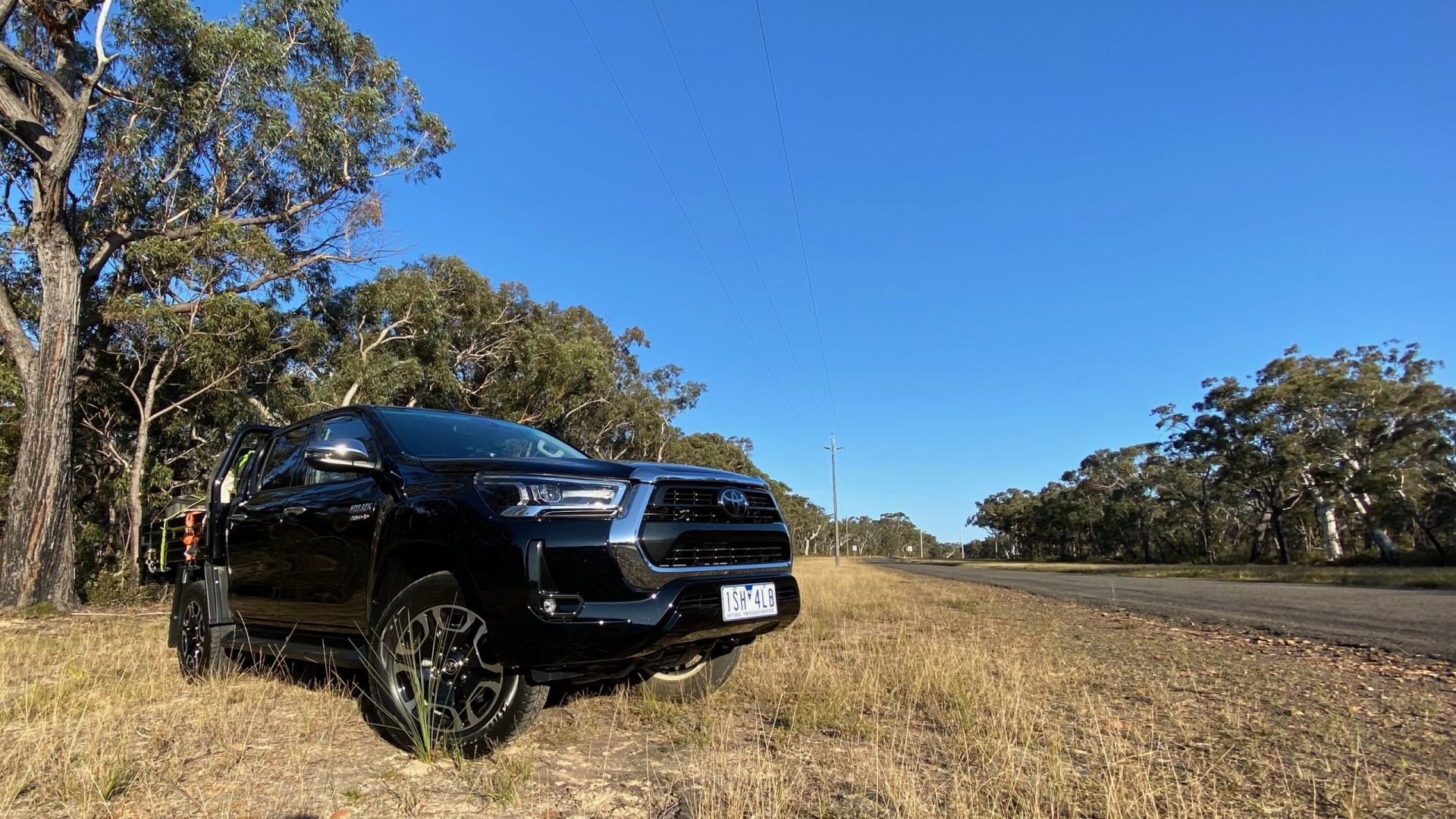 There have also been changes to the Diesel Particulate Filter (DPF) system, both in terms of hardware and software, to overcome issues experienced by some owners of the preceding model.
Toyota has also revised the HiLux's suspension to improve the unladen ride quality, and it features retuned spring rates, shock absorbers and suspension bushes, as well as fitment of new body mounts. The steering has also been tweaked thanks to fitment of a variable-flow control power-steering pump for improved assistance at low speeds, with a specific mode when driving off-road in low range.
As well as the obvious exterior styling upgrades, there are changes inside, too, with an improved multimedia system with a larger an 8-inch screen (up from 7-inch) with volume and tuning knobs replacing the previous capacitive-touch interface. HiLux now also gets Apple CarPlay/Android Auto and the SR5 Double Cab comes standard with sat-nav, digital radio (DAB) and six speakers.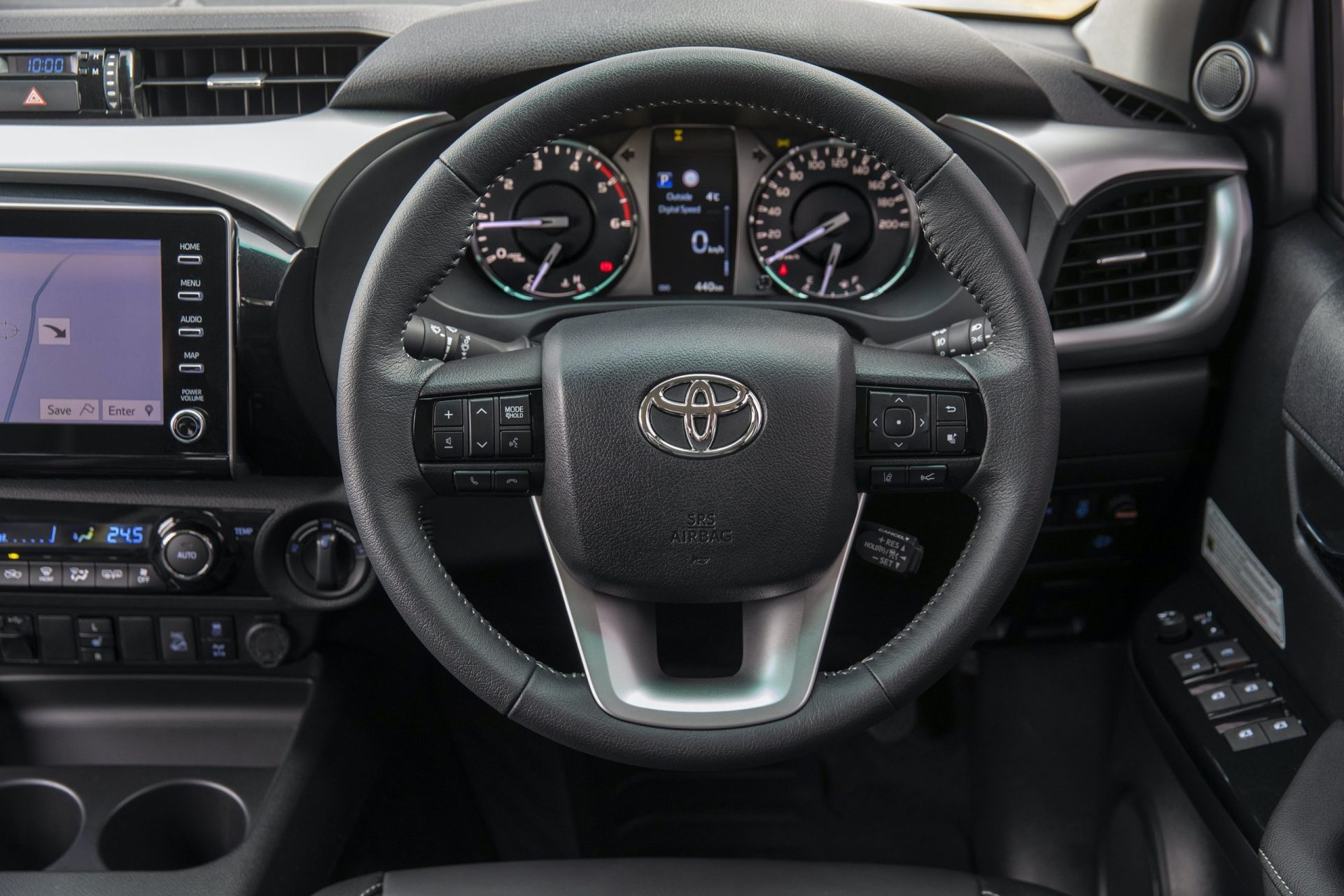 There are redesigned speedo and tacho gauges, and a new colour 4.2-inch multi-information display (MID) with digital speedo, trip computer, safety settings, front-wheel angle display and DPF regeneration status.
In addition, the SR5 Double Cab has a 60/40 split base for the rear seat, under-seat storage bins and rear-seat armrest with two cupholders.
On the safety front, the HiLux SR5 still comes equipped with Toyota Safety Sense technologies that include a pre-collision system that can detect pedestrians (day and night) and cyclists (daytime); high-speed active cruise control; and lane-departure alert with steering assist (via the brakes), while the road-sign assist can now recognise speed advisory signs. Although there's no reversing camera, the SR5 now gets two front and four rear parking sonars.
Quick summary
HiLux sales suffered a big drop in August 2020 compared to its nearest 4×4 ute competitor, the Ford Ranger, but as stock levels increase with this new model coming into the country we'd expect much healthier sales volume throughout the rest of the year. Will the revisions to the HiLux be enough to see it reach the top of the sales charts again in 2020? Maybe, as it's certainly an improvement on its predecessor, but there's also new competition in the market, including the all-new Isuzu D-MAX and the upcoming Mazda BT-50. And after driving the new top-spec D-MAX X-Terrain just prior to jumping in this HiLux SR5, we can tell you the competition is now very strong.
SPECIFICATIONS TOYOTA HILUX SR5 DOUBLE CAB CAB CHASSIS
Driveline
Engine: 2.8-litre four-cylinder turbo-diesel
Power: 150kW at 3600rpm
Torque: 500Nm from 1600-2800rpm
Transmission: 6-speed automatic gearbox, two-speed transfer case, part-time 4X4 with locking rear differential
Wheels: 18-inch alloy
Tyres: 265/60R18 Bridgestone Dueler H-T
Weights
Kerb: 1925-1965kg
GVM: 3050kg GVM
Payload: 1105kg payload
Max braked towing: 3500kg
GCM: 5850kg GCM
Dimensions/capacities
Length: 5325mm long,
Width: 1855mm
Height: 1815mm high
Wheelbase: 3085mm
Track (f/r): 1535/1550mm
Ground clearance: 216mm
Approach: 29°
Departure: 26°
Ramp-over: NA
Wading depth: 700mm
Fuel Tank: 80L
Price: $58,420 +ORC
Price as tested: $62,278 +ORC