A memo to its dealers shows just how seriously Jeep is taking the Ford Bronco threat.
Jeep is taking the Ford Bronco threat seriously in the good ol' US of A, sending out a memo to dealers to explain how sales staff can highlight the benefits of the Wrangler over the recently launched Bronco.
When Ford launched the Bronco on 13 July this year, the nameplate had been absent from the US market for 25 years, but interest in the new vehicle has been huge. And the Bronco is clearly aimed directly at stealing sales away from the Jeep Wrangler, with both short- and long-wheelbase variants featuring removable roof panels and doors… just like Wrangler.
Ford even recently ran a couple of Broncos across the Rubicon Trail – long-considered Jeep's own testing and proving ground – just to show how capable they are in off-road conditions. Check out the video of the Bronco's Rubicon run below:
Anyway, back to the Jeep dealer memo, aptly titled 'Bronco Information Sheet'. It points out that the Bronco is based on the Ranger pick-up platform (which was developed in Australia) and that its styling "recalls the original 60s version" of the Bronco. To counter this, and the fact that Bronco was absent from the market for a quarter of a century, Jeep dealers should point out that the Wrangler "has reigned as king of the hill for decades, with each successive version getting better and better".
Here's the first part memo as originally published on the Bronco 6G forum: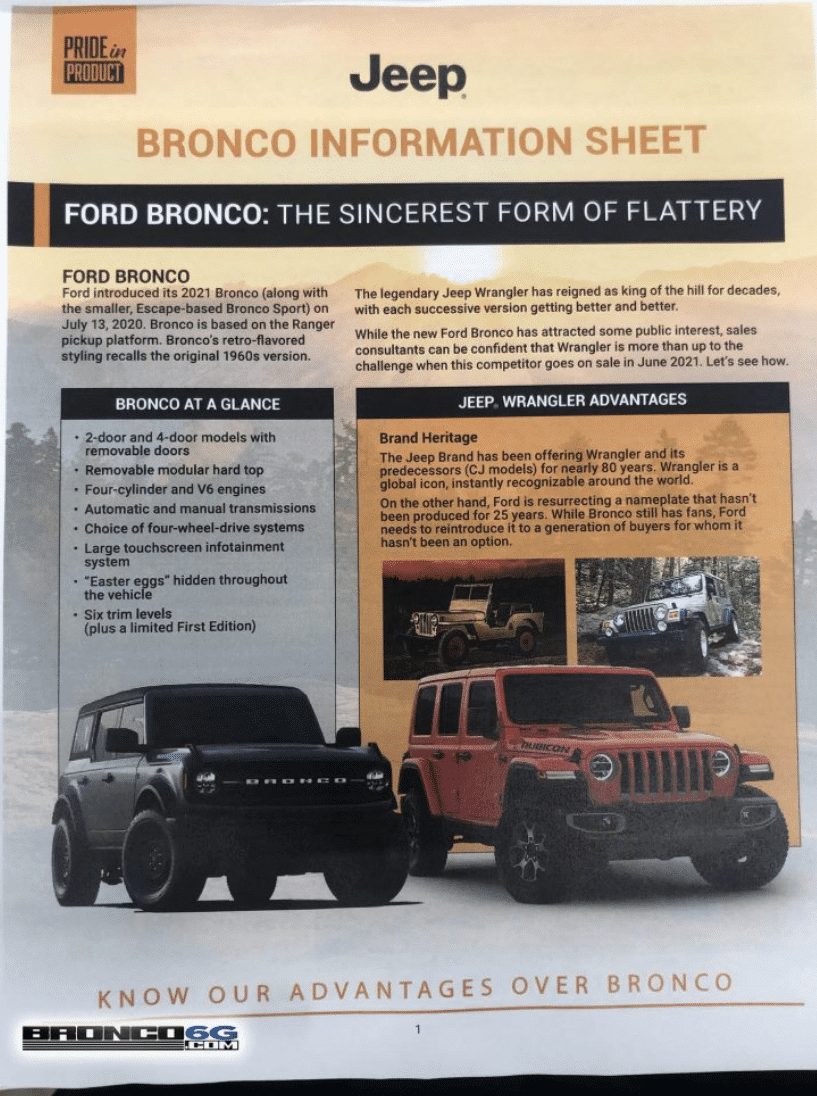 The memo goes on to point out other Jeep Wrangler advantages such as its fold-down windscreen, availability of a 3.0L EcoDiesel TDV6 engine and better off-road gearing, among other things. What it doesn't point out, and what probably really has Jeep dealers scared, is that the Bronco offers impressive off-road capability despite its independent-front suspension set-up, which no doubt makes it feel much nicer to drive on the road where, inevitably, the majority of vehicles like this spend most of their time.