Following a lawsuit 
from Jeep in 2019
 challenging Mahindra over the front-end design of the Roxor, a refreshed Mahindra Roxor has been revealed.
After being slapped with a cease and desist order in the US last year, Mahindra has redesigned the front-end of its old-school Roxor. The original complaint was that it looked too much like a CJ3 Jeep and this sort of aping behaviour is something we've seen with Chinese car makers selling vehicles in the home market that look like other vehicles, but something we've not seen in the US before. 
But the drama is understandable. See, Mahindra started out building CJ3s under-licence in India in the 1950s, and the Roxor you see here is really just a modern version of the CJ3. Although in India this thing is called the Thar. 
Faced with the prospect of not being able to sell the Roxor in the US (the Roxor is built in the US), Mahindra had to hastily redesign the thing so that, in their words, "The new ROXOR receives fresh styling in the grille/lighting area to offer a more pronounced and efficient lighting design". The truth was that it had to look less like a Jeep. Has it succeeded? We've got the before and after below.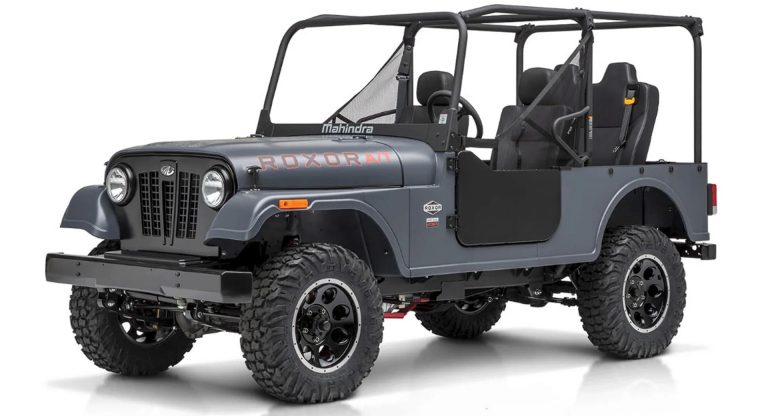 The five-slot upright grille has been replaced by a mesh-like grille and that's the extent of the exterior changes; there is also "new gearing (5:38 axle gear ratio), and a flood of new accessories in 2020". These include things like a standard-fit lift kit and more. 
"The ROXOR future continues to gain strength and momentum in 2020," said Richard Ansell, Mahindra Automotive North America Vice President of Marketing. "The new ROXOR line includes new design elements and performance enhancements and we will be introducing new accessories every month. We are beginning to shift more focus to the fleet, work, and ranch/agricultural opportunities as the ROXOR is strong, tough, and vastly outperforms light-duty 4X4s when it comes to getting real work done on a daily basis." 
It's worth noting the Roxor ain't for use on public roads. It's only got a top speed of 72km/h and so sits in the same class as side-by-side vehicles like those from Polaris, etc. It's priced from just USD$16,000. 
Get articles like this and more delivered to you every week. Simply join our Facebook page to talk about this article and subscribe to our newsletter for weekly updates (it's free and filled with 4X4 goodness).