When you've got a camper or caravan to store your stuff on, sometimes you don't need a 30kg roof cage, 20kg solar panel, rod holders, jerry cans, swag, table and kitchen sink hanging off your roof. Enter, the humble roof rack.
Chances are, if you tow your sleeping quarters instead of rolling them out at the end of a long day, you're going to prefer roof racks over a roof platform. I got sent these puppies from the folks over at Rhino-Rack to review and get my thoughts on them. The specific model I got was the Vortex RL110 in black, with gutter mounts to suit the old 'Cruiser. The three bar, six leg kit retails at $854, however you've now got the bars you can swap out to a different rack/platform, or to different legs if you change vehicles.
First thing I noticed, the quality! Even before you drag them out of the box, the packaging they come in is quality. Don't get me wrong, I know the box usually ends up in the recycling bin or used as a fire lighter, but it's the first thing you get to see. And a manufacturer that spends that bit extra on decent cardboard and printing instantly gives you a sense of quality.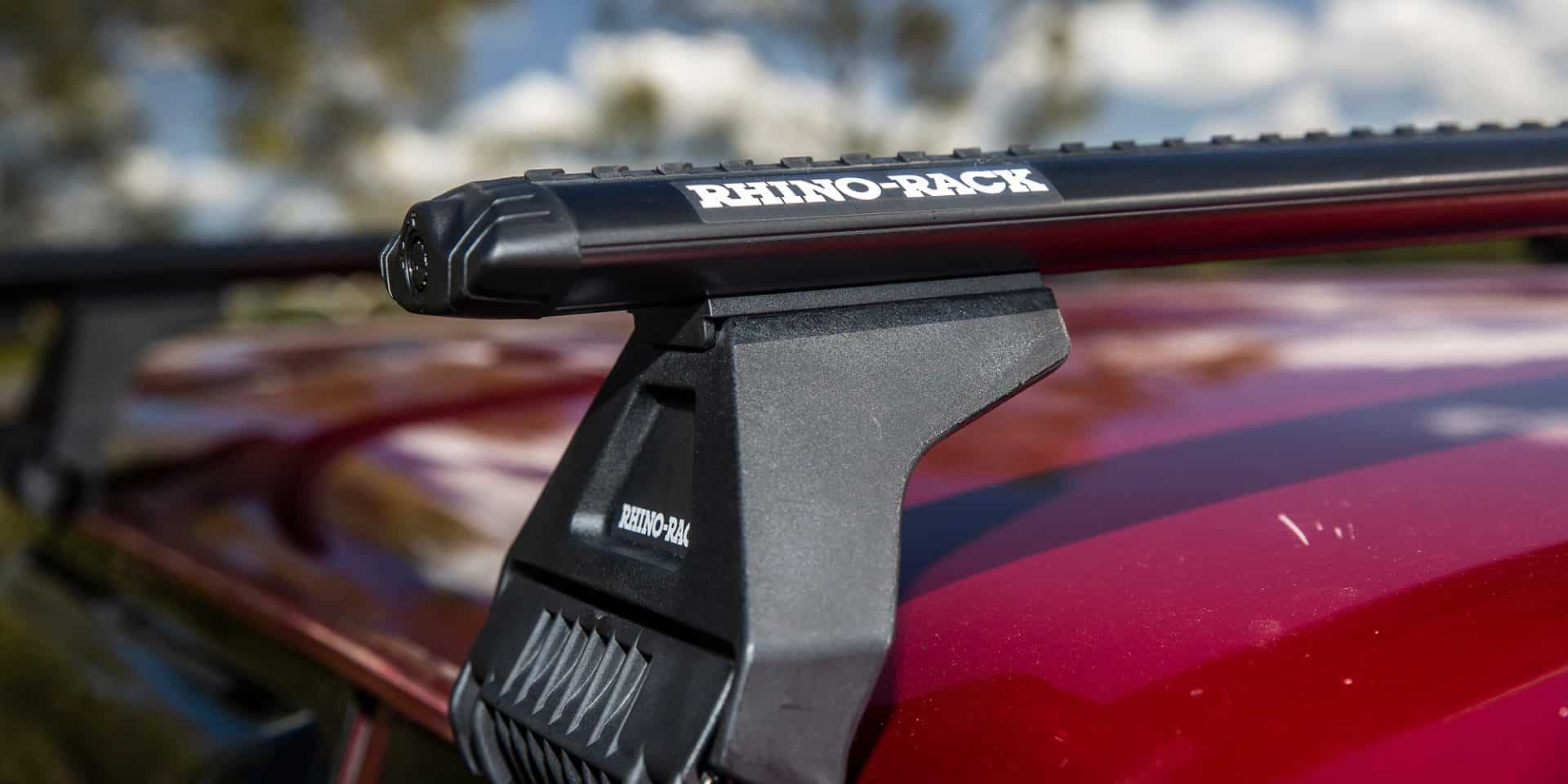 Out of the box they came, and a first good up-close look at them showed it was made well, solidly, and had good quality control on them. The cross bars are made from alloy, with rubber channel moulds, and nylon locking end caps. Every piece that had been moulded was perfect – no mould markings, no casting dags left over, just a nice neat, clean product.
The gutter mount feet were exactly the same. Made from nylon, and featuring steel grab capping under the feet, they scream quality. Looking through the instructions it took me all of 10 minutes to get them set up, and another 10 to throw them on the car and secure them. That said, if you'd prefer someone who does this day in and day out to set them up on your 4X4, all of Rhino-Rack's dealers can have them fitted up for you; I just figured it'd be worth doing myself to get a good feel of them for the review.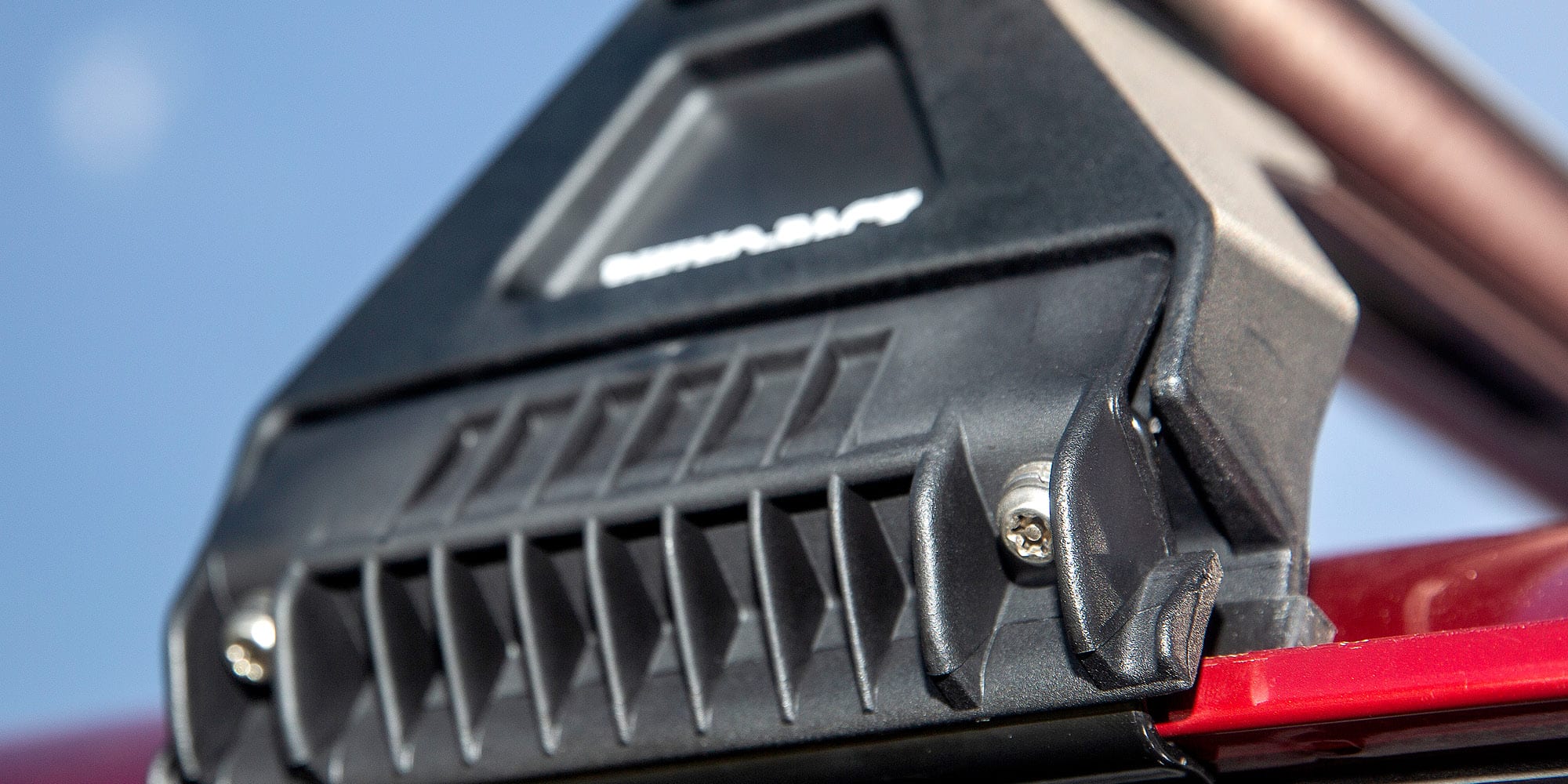 The mounting feet all have security hex keys for securing them down (you get the security hex-bit in the kit), so it's just that much harder for them to go walkabouts on you, and the end caps come with a special locking key to keep them in place.
The kit I got came with three cross bars and six feet, as well as a set of standoffs for the rear bars to keep them level, as the gutters on 'Cruisers aren't exactly straight.
Once they were on, it was just a matter of throwing the kayak up top, tying it down, and off we went.
Verdict
Absolute top-notch quality, easy to fit, and they lock up to your roof solid as you could want. There was no wind noise from them at 110km/h, and they'd do someone who doesn't need a roof platform down to the ground – they're a great place to put the kayak, surfboard, rods, or bike.
They're also essentially 'Barbie' for four-wheel drivers. They have more accessories that you can get for these than you can poke a LandCruiser at – spotty mounts, shovel holders, high-lift holders, bike mounts, recovery board mounts, mounts for mounts on mounts, the options are endless.
On the other hand, if you want to put a solar panel, swag, fishing rod holder and a kitchen sink on the roof of your 4X4, a platform rack is probably better suited. Keep your eyes peeled, 'cause I've got one of them coming to show you too!