I've long dreamed of decking out a 4×4 light-duty truck, finding them infinitely more visually appealing than a jacked up dual-cab and knowing full-well they're more capable too.
Despite my inclination for a light-duty jigger I went and bought a new Isuzu D-Max, assuming liveability and overall cost meant that a truck was out of reach.
Did I make a mistake? I couldn't help but wonder. After all, my social media feeds were littered with inspiration…or torment.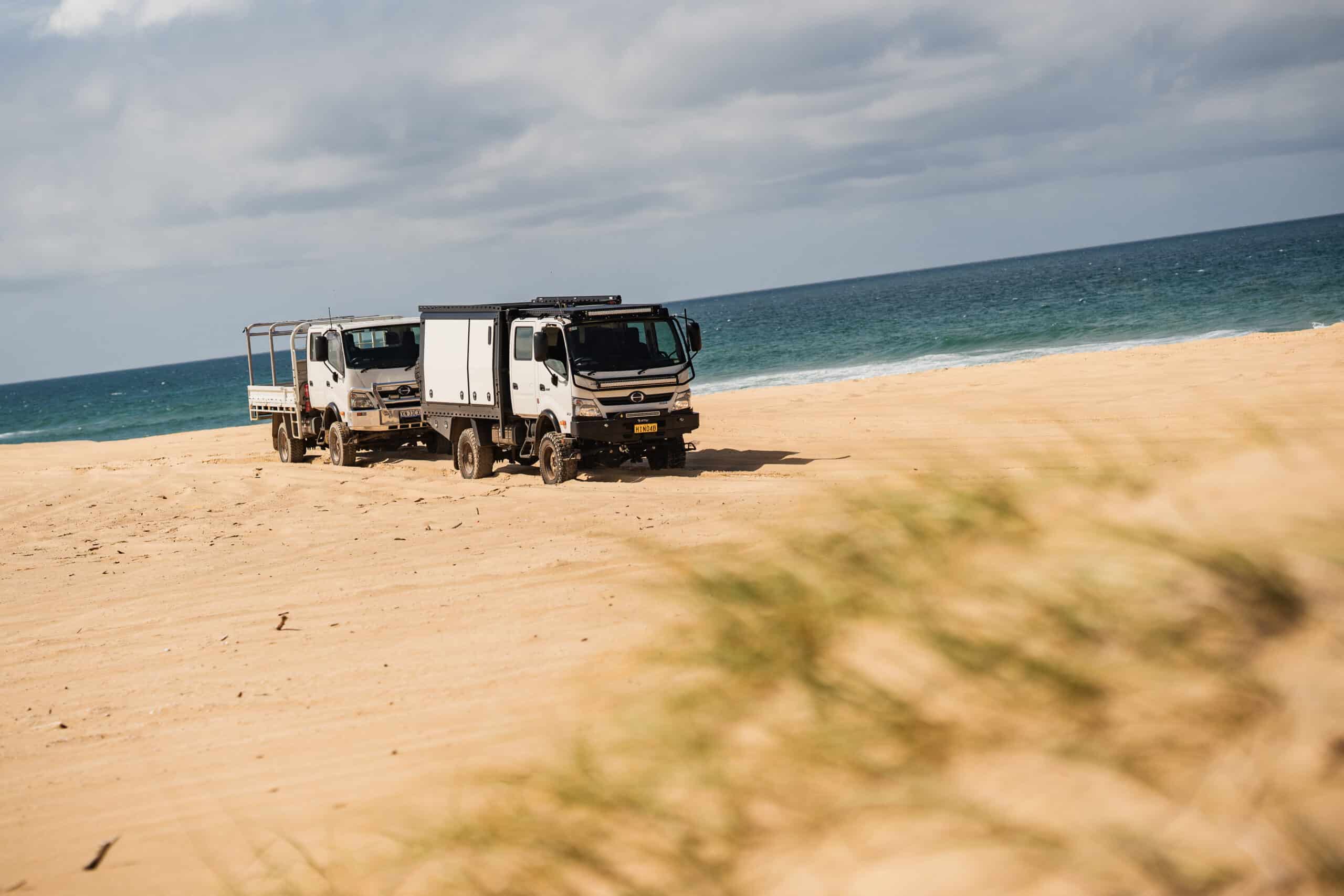 What's the story?
Looking to find out, I reached out to a few truck manufacturers to see if they'd throw us the keys to a 4×4 model for a couple of days.
We managed to get our hands on a Hino 300 4×4 and the brand's manager of product strategy, Daniel Petrovski, even put his hand up to join us in a recovery vehicle. Although, I suspect his reason for joining was in part supervisory.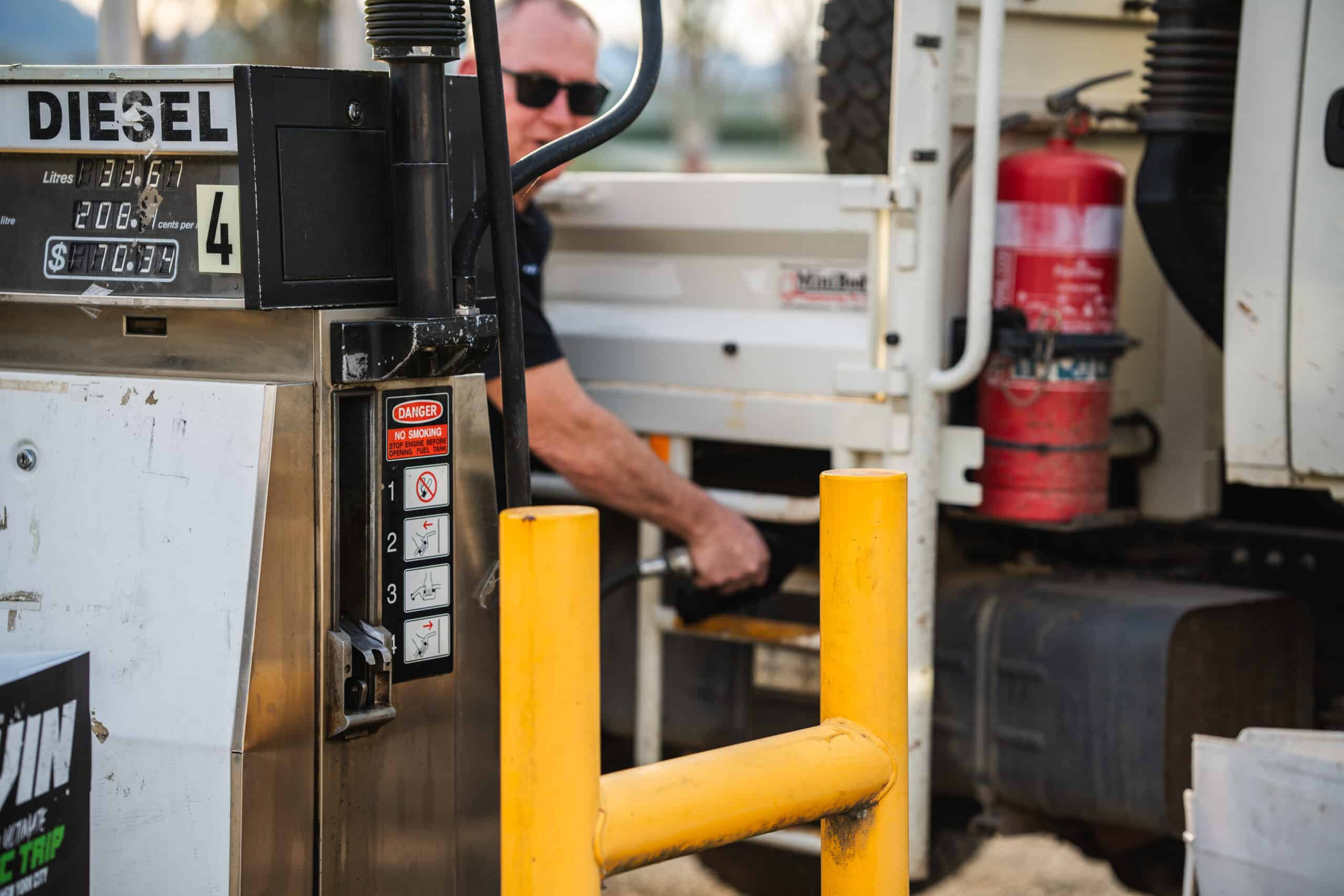 Being a big adventurer himself, Daniel and I put our heads together to come up with a suitable route. This was tricky, given we had just two days blocked out in the calendar but wanted a mix of bush and beach.
The obvious solution, with Hino based in Sydney and myself up in Brisbane, was to kick off somewhere in the middle. We landed on Tamworth as a starting point, before heading south-east to Gloucester and onto Nelson Bay.
For anyone who knows that drive, there are plenty of stunning roads along the way and, with every small town you pass through, cracking country pubs to stop at for a feed.
The headline act was a suitably decked out Hino 300 Series 4×4 with everything from bar work, to canopy, 37s and lights – the whole shebang. A stock-ish model would accompany us, as a recovery rig.
The one we're here to test is the big, bad, jacked-up build because it represents what we'd do if we bought a 4×4 light-duty truck. According to Daniel, this one came in at just under $200,000 after being decked out by All Terrain Warriors.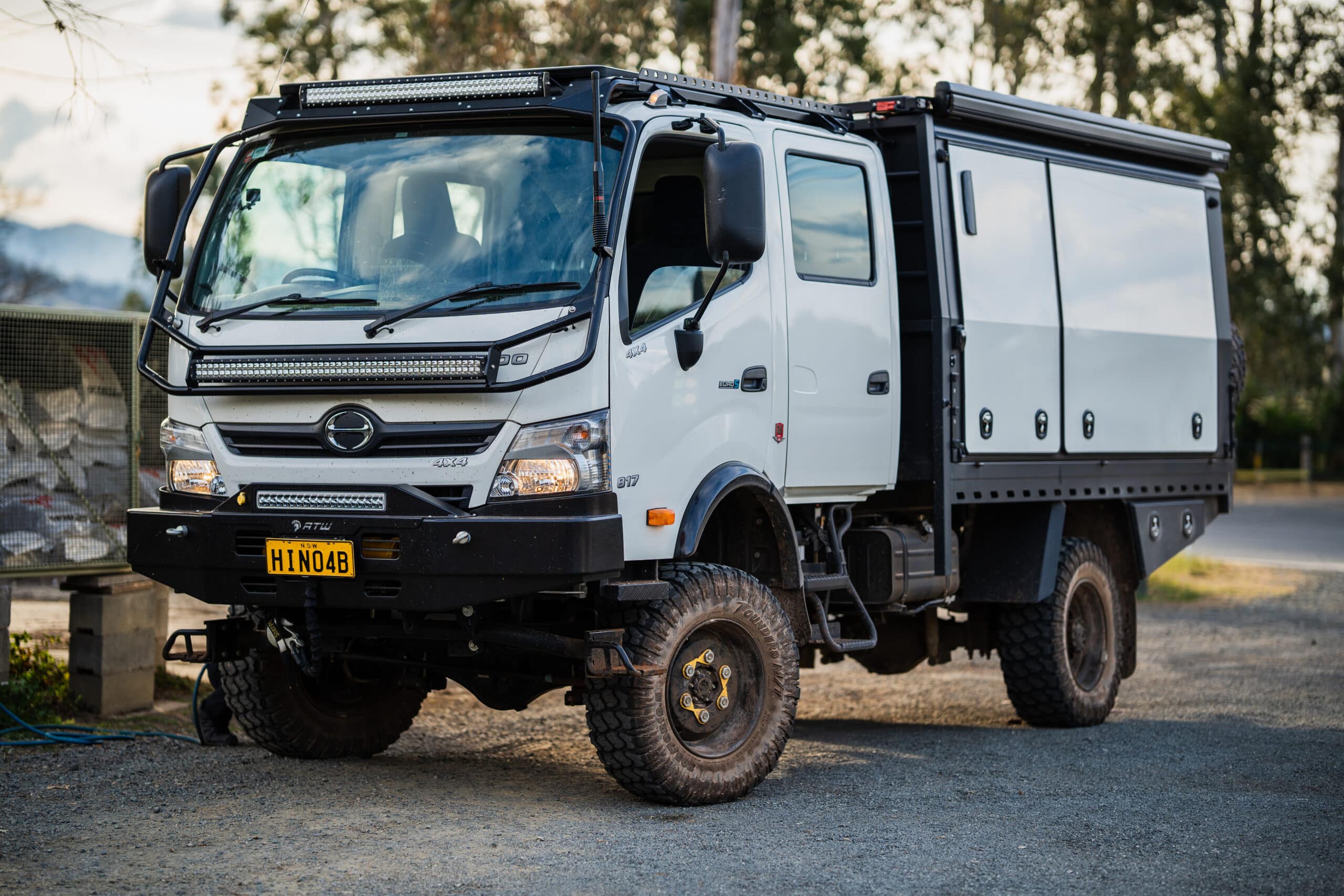 How much will one cost you?
These go for around $85,000 in cab-chassis form, giving you a blank canvas with single- and crew-cab options available.
Worth noting is that, at the time of writing, Hino Dealers have temporarily closed the order books until production catches up with demand. Talking to Daniel, the issue boils down to a mix of supply chain challenges and growing demand for the off-road models.
The 300 Series 4×4 is powered by a 4.0-litre four-cylinder turbocharged diesel engine, producing 121kW and 464Nm. It's only available with a manual, however for an extra $25,000 we're told dealers will fit an aftermarket Allison automatic 'box.
That may not sound like enough torque to move a three-plus-tonne truck but, once you accept you aren't going anywhere quickly, it feels just right.
While outright performance is down on a dual-cab ute, carrying and towing capacity is way up. With a 7500kg GVM, not quite enough to warrant stops at the scales, you'll have well over 4000kg left to deck out your dream touring setup.
A GCM of 11 tonnes means that even when loaded your towing capacity isn't hindered. Although, if you want to tow big weights, you'll need a different towing setup as the factory ball is limited to 4500kg.
As I arrived in Tamworth I was reminded of just how big these trucks are on the road – towering over regular 4x4s in the airport carpark.
Anyhow, let's find out if I should have bought one of these trucks.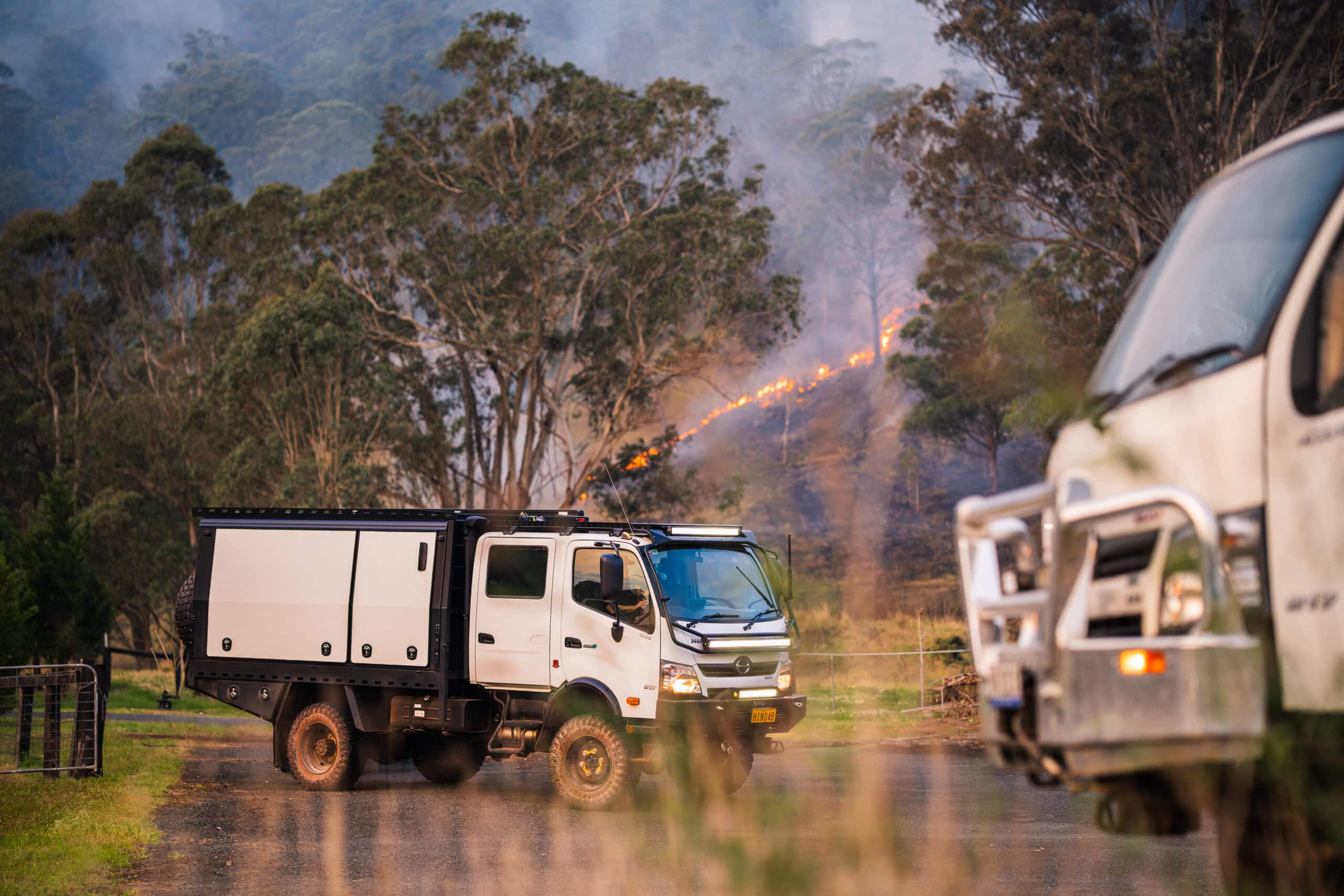 Forestry fun
Up early, we had plenty of time to pose in front of Tamworth's famous 'Golden Guitar', fill the 170-litre fuel tanks, grab a coffee and check over the trucks.
The plan was to shoot south-east to Nowendoc via any forestry trails that looked worth exploring around Nundle, then onto Gloucester for a bite to eat, before heading to Nelson Bay for the night.
So, how does a 4×4 truck drive?
The first thing noticeable when driving the 300 Series 4×4 on the country roads out of Tamworth is that it's every bit a truck, which sounds like an oxymoron – but hear me out.
It's big, slow, bumpy, and you're sitting right over the steering wheel. The gear changes are also tricky at first, with a notchy gate designed for durability and not speed.
The engine, with its big one-litre pistons, is also happiest between 1000-2000RPM – well below its 3000RPM redline. These truck engines like to lug a lot more than they like to spin up.
Despite being more work, they are a fun truck to drive and, sitting so high off the ground, the view is sensational. I can't think of a better vantage point than the 180-degree view out of a truck cab.
This truck sits on heavy-duty multi-leaf front and rear suspension, so it's never going to ride or handle like my D-Max or any other dual-cab ute. However, with a magnetically dampened torsion bar driver's seat, my back felt better than expected across the trip.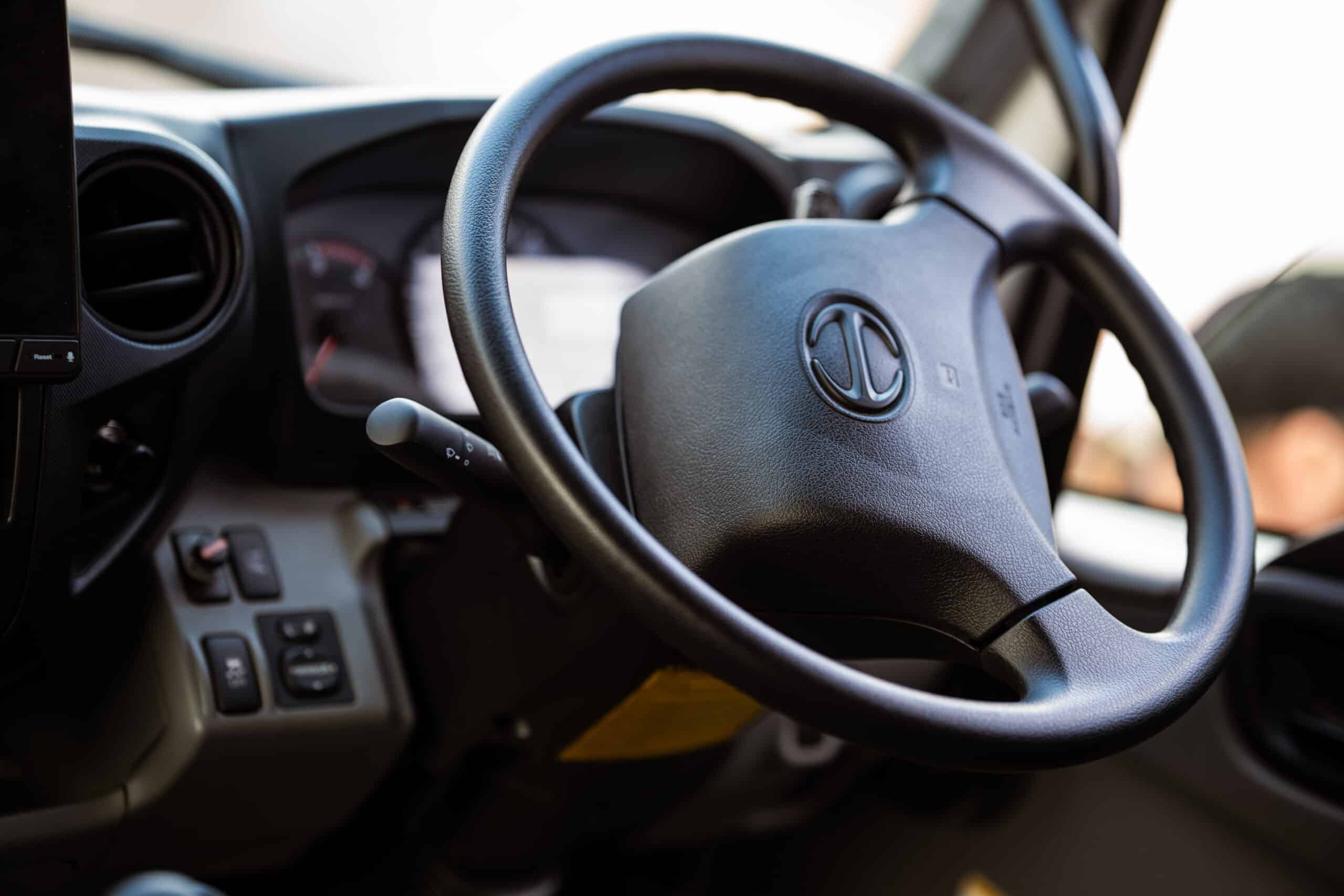 It's not as glamorous inside as some of the new utes on offer either, but it still has a decent amount of technology onboard. Reverse camera, cruise control and a 10.1-inch infotainment screen are all standard on the latest generation 300 Series 4×4.
The 300 Series 4×4 also has vehicle stability control, a luxury in the light-duty 4×4 truck segment, and it also has disc brakes at all four corners. This particular truck has been fitted with 37-inch all-terrain tyres, which does mean there is a fair bit of road noise but no more than we are used to in other modified 4x4s.
Big rigs off-road
Just outside of Nundle we hit dirt for the first time, opting to take forestry roads onto Nowendoc. Knowing we'd be exploring offshoot trails, not knowing what we'd find, we stopped to take the tyres from 90psi down to 50psi. This is a heavy vehicle, so that's the equivalent of going to, say, 25psi in a regular 4×4.
Forestry trails meant we could finally flick the big Hino into four-wheel-drive, which is done via a switch on the dash. You will have to get out and lock the front hubs, though, which is a little old school.
High-range will get you most places in this truck, because first gear is so short. We did try out low-range, though, and as expected it was awesome for creeping up and down any steep sections we came across.
This truck really shines off-road, with massive clearance and a hard-to-beat approach angle – being a cabover. We tackled a few unknown "puddles" with steep entries, which ended up being pretty deep, but the front-end always had more clearance than we needed.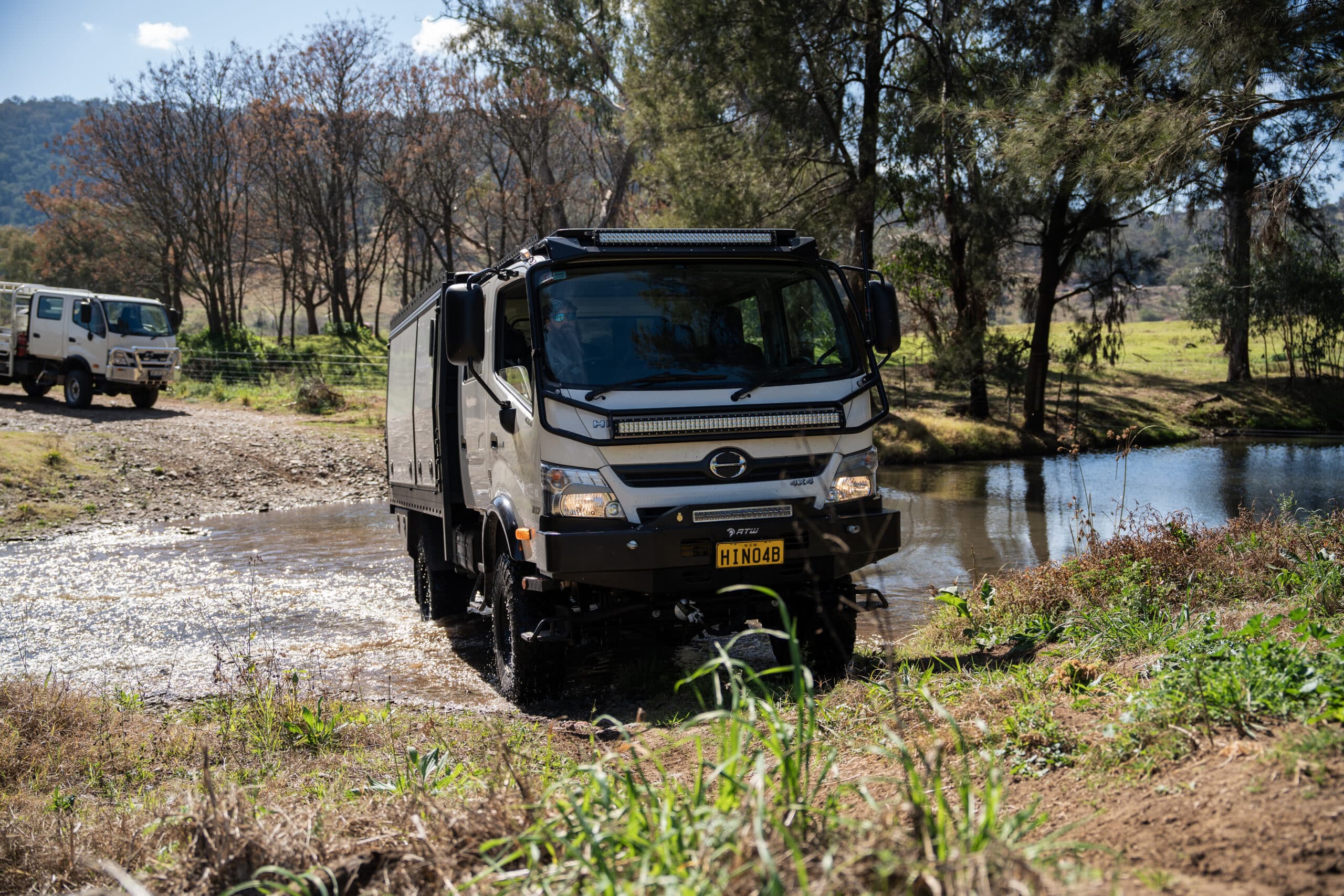 The huge 285/70 R19.5 all-terrain tyres were suitable through the rougher country, feeling like a good compromise despite the road noise.
By the time we'd finished exploring, we drove straight onto Gloucester where we refuelled and aired up, before tackling the last leg of highway driving onto Nelson Bay.
A cold beer was earned, we thought, prompting us to find a pub after parking up for the day. With day one down, the 300 Series 4×4 was growing on me and I was itching to hit the beach – excitement of course building with every beer.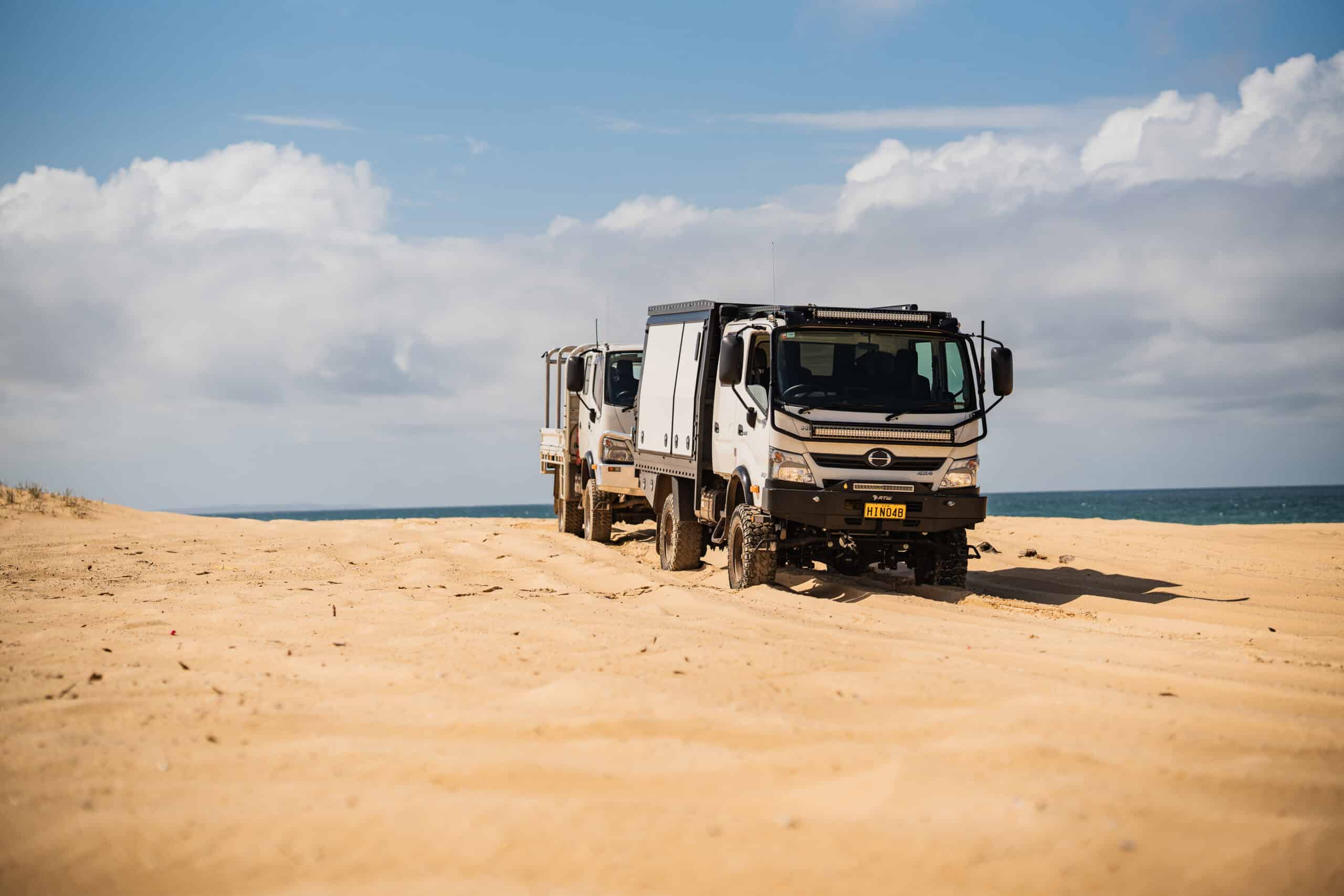 Bogged on the beach
Day two was a little disjointed, which really came down to poor time management on my part because I didn't anticipate getting bogged. Operator error, of course.
I jumped into the stock 300 Series recovery vehicle for day two, because it was fitted with an aftermarket Allison and I wanted to see how it compared.

Straight off the bat, the auto-equipped truck felt quicker because there wasn't the momentary power loss you get when banging through the gears of a manual 'box. However, it also felt a bit less exciting.
Being such big trucks, getting stuck is somewhat unavoidable if you lose momentum. I underestimated that part, multiple times.
After getting badly bogged for about the third time, I jumped back into the manual to avoid missing my flight. We also wanted to sneak in a quick hike of Mount Tomaree, which offers one of the best 360-degree views in this part of the world.
Our beach work was limited, but enough to prove these trucks are highly capable if driven properly. Come to a stop, though, and you do risk getting stuck – more so than a regular dual-cab ute.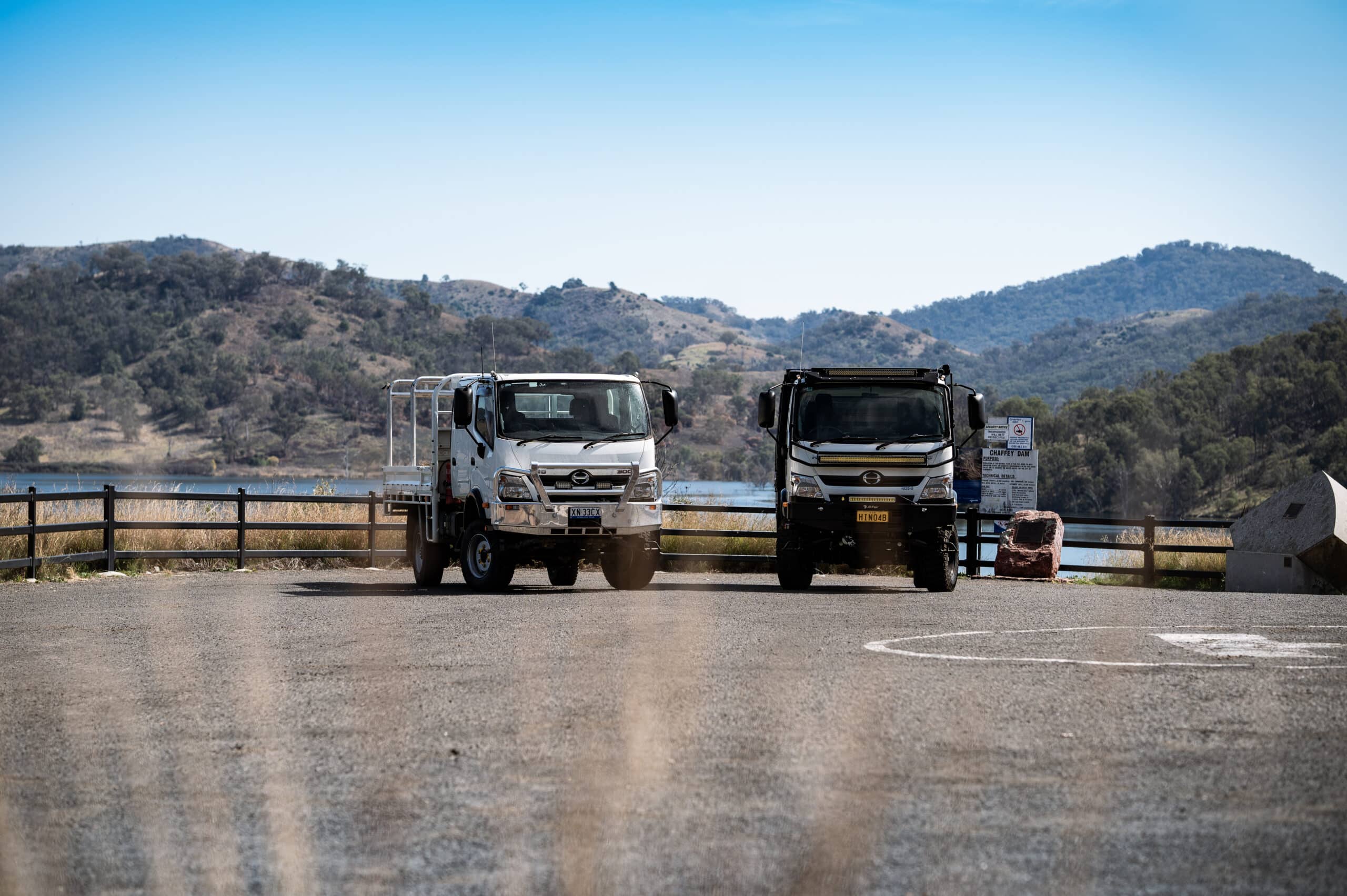 Video
So, should I have bought one?
Now, dual-cab ute or truck? After all, that's the question we set out to answer.
Well, my answer depends on how you intend to use it. A 4×4 truck will fit the bill if you are a tradesman, or have a commercial use for it, while still wanting to get out and explore on weekends.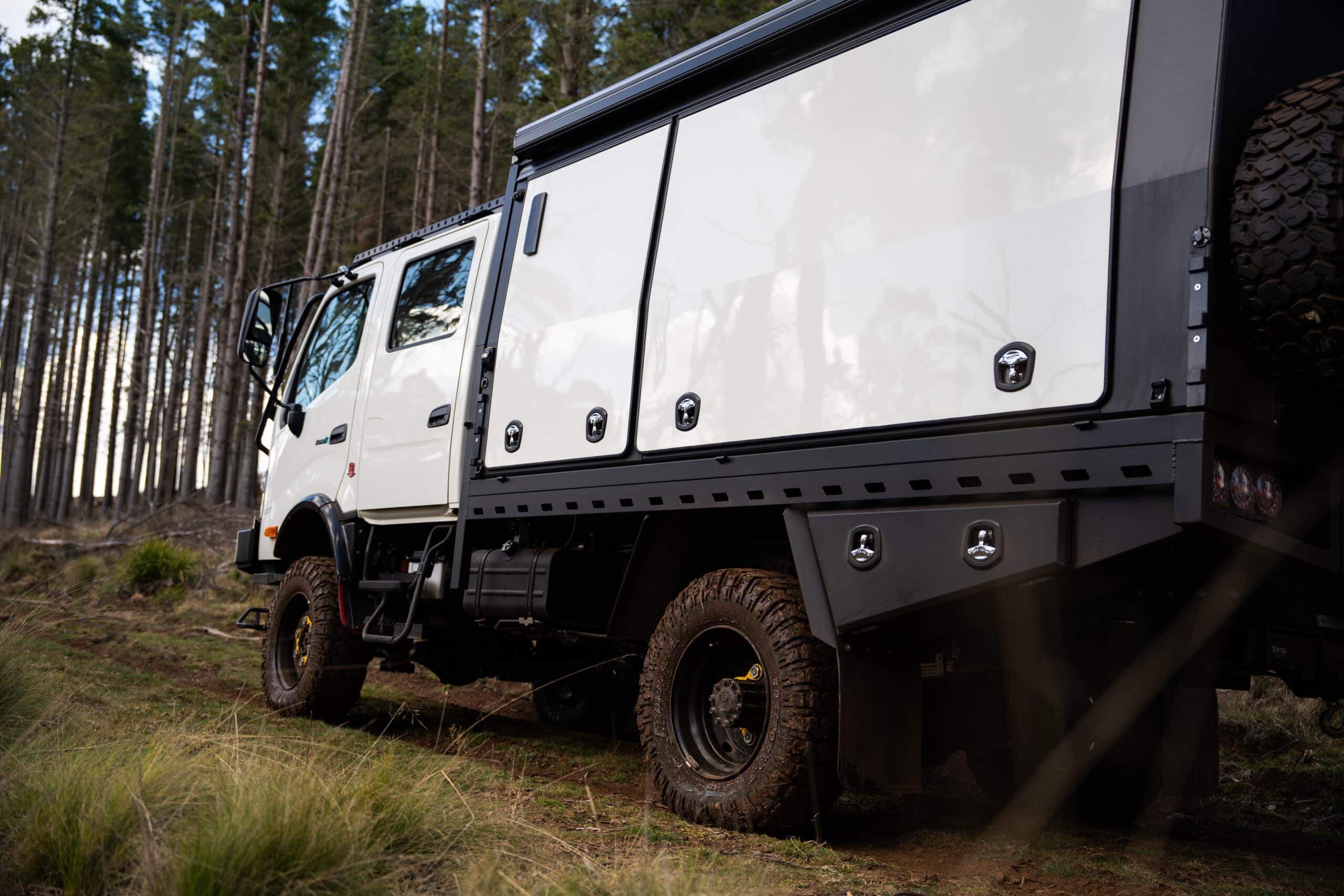 It will also work if you want a seriously big camper attached to the back, without having to mess with GVM upgrades or the pitfalls of a heavy setup.
Could you do the school drop-off or grocery run in one? Sure, but not as easily as you'd do it in a regular fourby.
While big dogs like the Unimog will absolutely smash your wallet, light-duty options like Hino's 300 Series 4×4 can be had as a clean slate cab-chassis for under $100k. That's pretty serious value if your use case aligns with the various benefits a truck like this offers.
I'll keep my dual-cab ute for now, but when the time comes to build a serious round-the-country tourer, I think I know what I'll be buying.