This

Aussie-built, go-anywhere Unimog motorhome

 

is set to tackle the world

 in luxury.

 
Words and photos: Mark Allen
Daniel (Dan) Mavin of Unidan Engineering is the hands-on owner and lover of all things huge off–road and his go-anywhere Unimog motorhome is proof of that. Yep, Dan loves turning Unimogs into the most capable motorhomes ever to grace the earth.
Dan has crafted an insulated a raised roof to this U1300L Unimog motorhome to provide more occupant headroom, as well as for fitting overhead ducted air conditioning. Gone is the standard camo drab green coverage replaced by this slick Special Ops Grey. While the cabin was off, the chassis was blasted and repainted, as were the diffs and most underbody components. Custom fabricated dual long-range fuel tanks replace the standard single smaller unit while matching water tanks are mounted on the opposite side.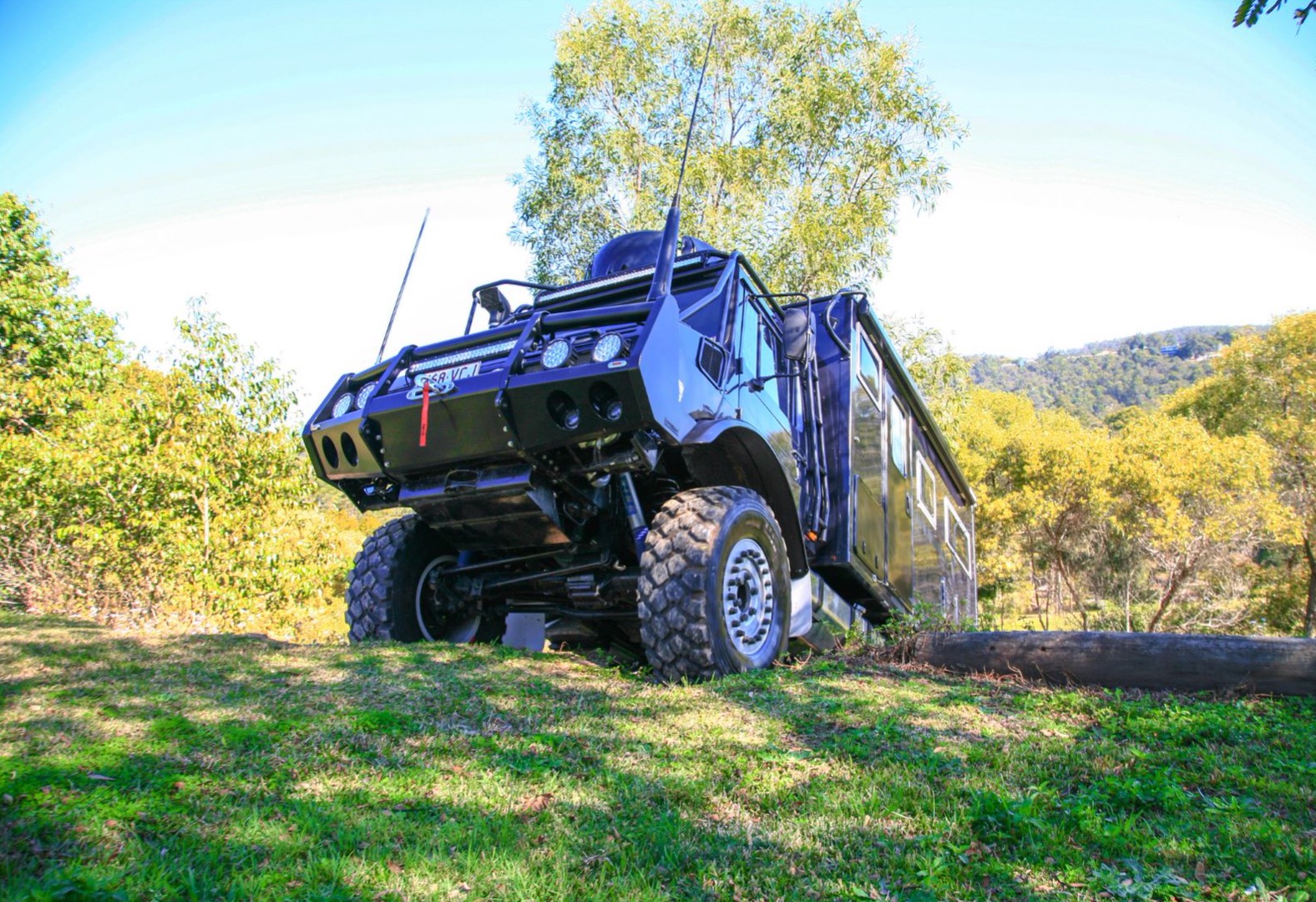 Standard Unimog bar work is limited to rugged but ugly. Daniel's design maintains that rugged practicality but combines much-improved aesthetics as well as improved approach angles. The overgrown bull bar includes low–mounted fog lights, four Great White round LED driving lights combined with a 32–inch light bar, a 17,500-pound RUNVA winch, plus bash plates for underbody frontal protection.  
An Exo cage-style rack attaches to the cabin at multiple points, and incorporates a ladder for access to the roof. A 50–inch LED light bar is slung under the windscreen bar, which also forms snorkel protection against low-hanging scrub.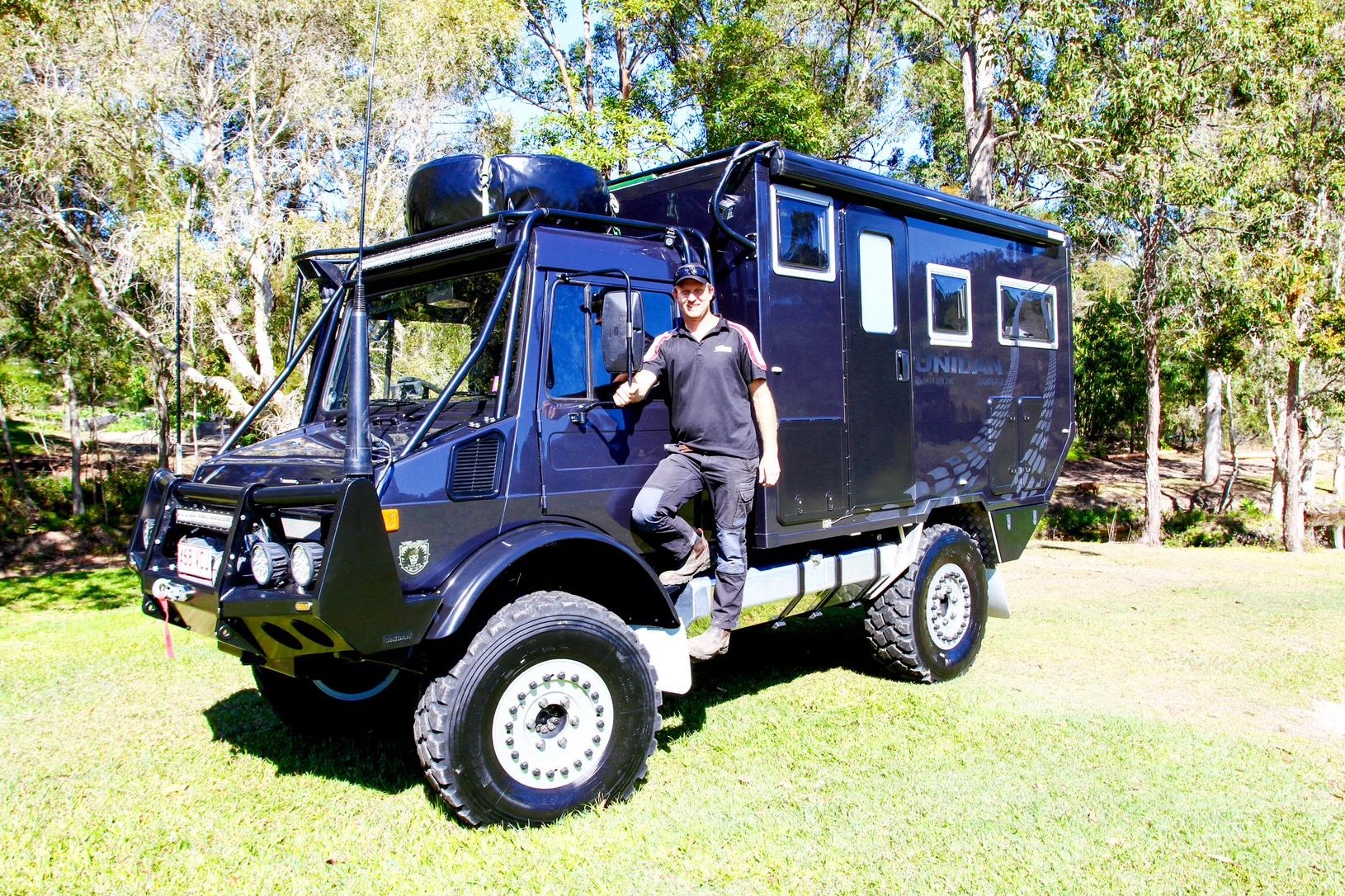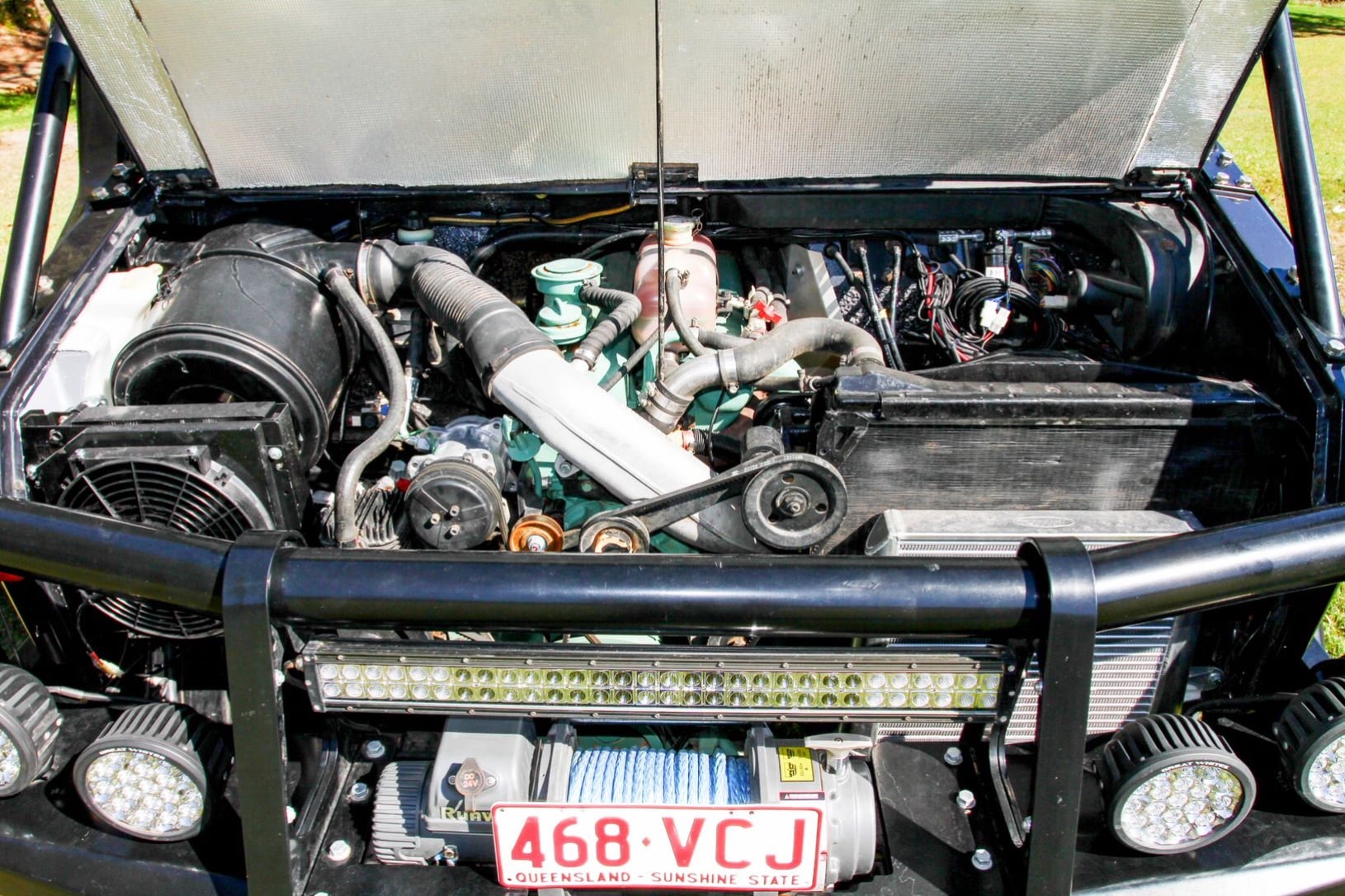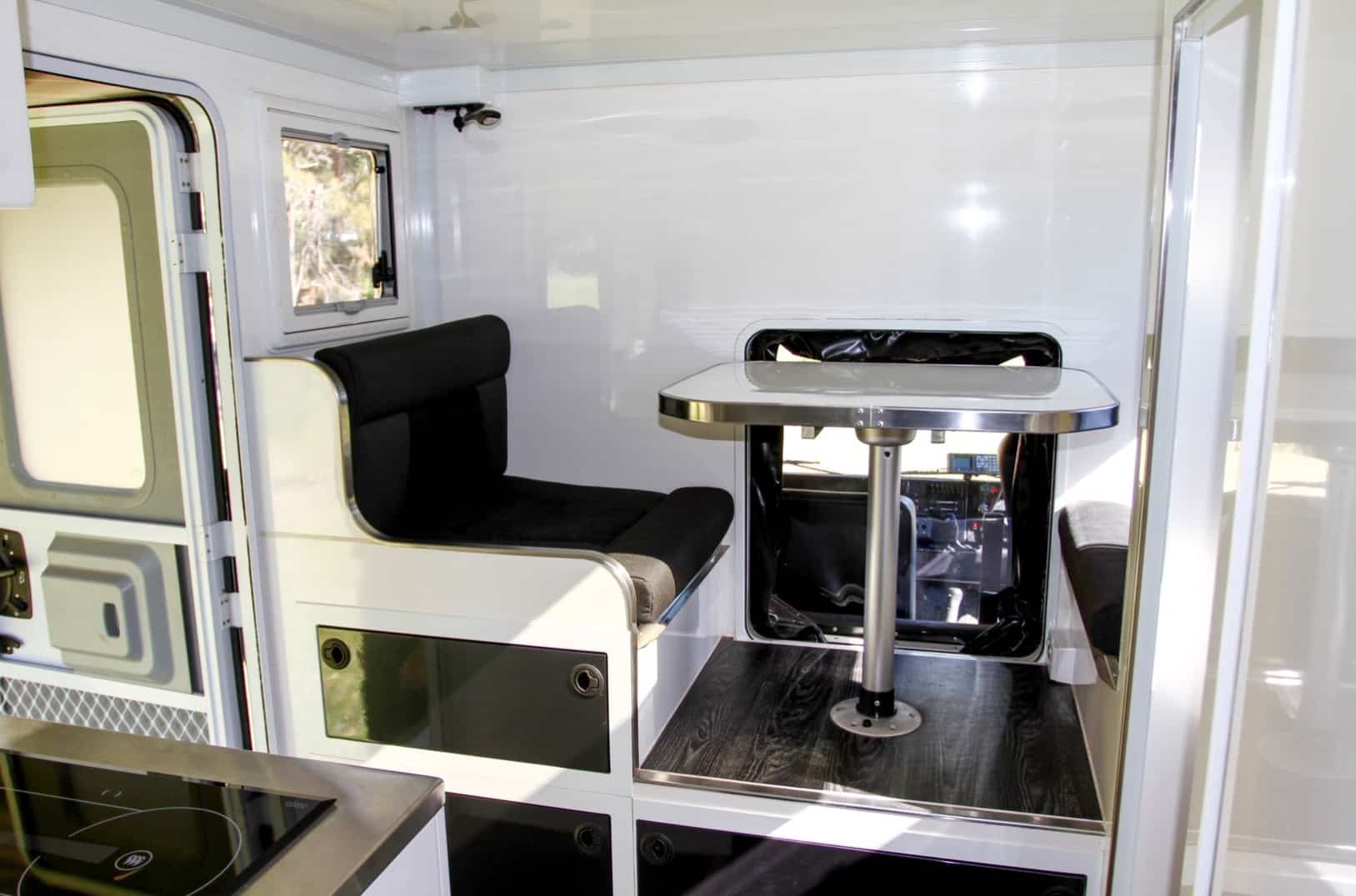 Mechanicals
Standard portal axles, combined with Michelin 365/80R20 tyres on alloy 20-inch Hutchinson beadlock rims aid the flexible chassis, ultra-low-range gearing and high-torque inter-cooled turbo diesel engine for extreme go-anywhere ability. Aiding on- and off–road suspension characteristics are custom tuned King Racing shocks, plus higher–set custom coil springs. 
A Claas overdrive incorporates taller gearing over standard to help with those long-distance hauls, as well as a little with fuel economy. An extra low-range gearing set has also been added to help with slow crawling jobs.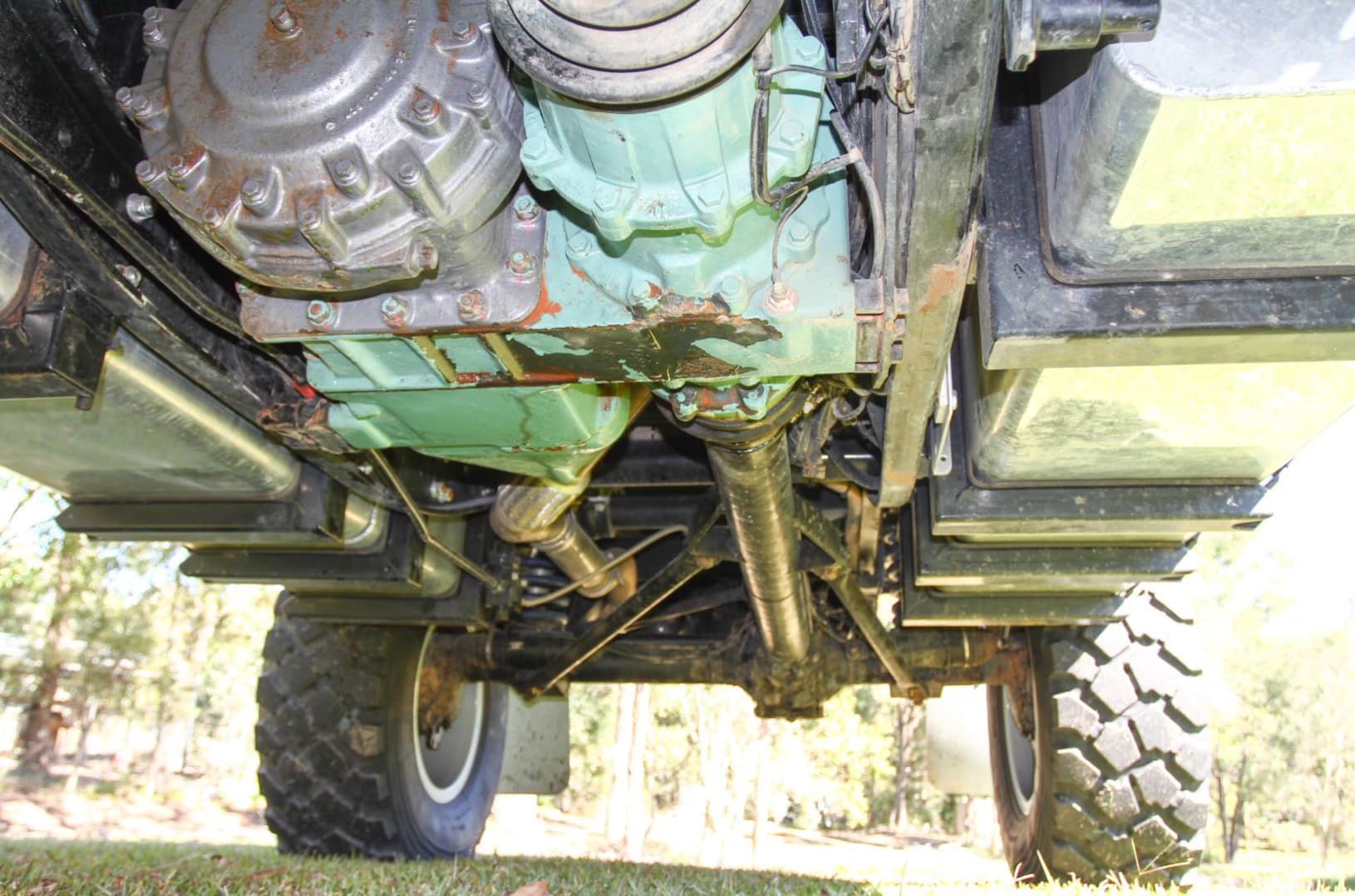 The overhead interior instrument panel houses dials to monitor every part of the Mog's workings; running gear temperatures, psi, battery voltage and dual fuel gauges, plus a host of toggle switches to operate front and rear winches, auxiliary batteries, reverse camera, roof lights, two ICOM UHF radios and a Barrett HF radio head unit.  
 A fully adjustable ISRI suspension seat aids in driver comfort, as does the Sparco sports steering wheel. 
Dan has fitted a custom intercooler, plus swapped the original 352 engine with a 366A turbo which pumps out 190hp, and is mated to a high flow stainless steel exhaust. Access to the engine compartment is via a custom–fabricated, removable fibreglass grill which takes seconds to unclip and remove.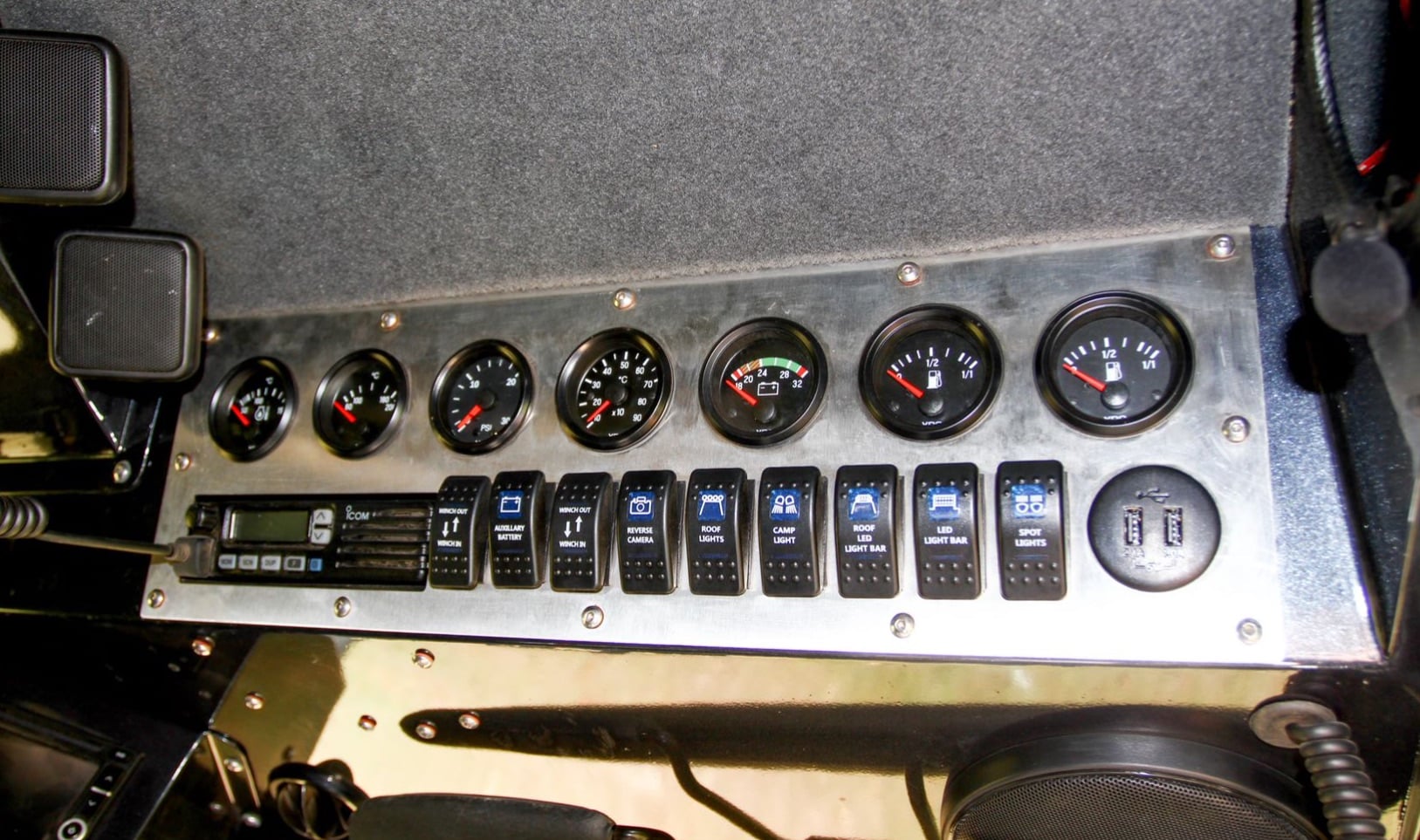 A high-flow air compressor with four airlines enables all four tyres to be pumped up simultaneously. Each coiled hose is secured in a tube fitted within the motorhome storage doors. 
An upswept rear steel tow bar houses a second 17,500-pound RUNVA winch, LED reversing lights and taillights, plus reversing camera, which is plumbed into the Polaris stereo and off–road mapping system.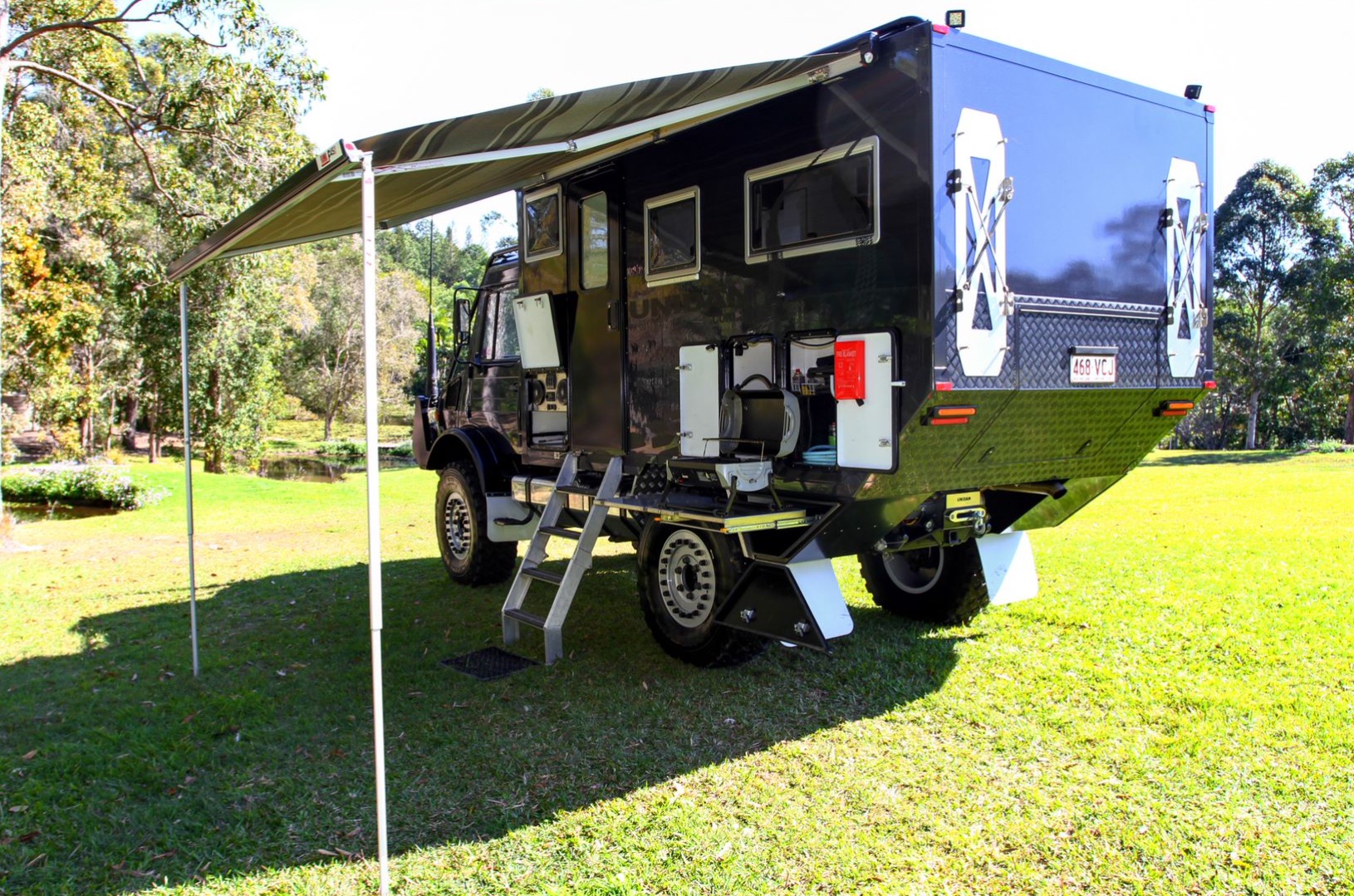 Expedition body
The Unimog motorhome has an aluminium–framed, fibreglass-composite–clad, live-in body that has been fitted to a torsion-free subframe to prevent cracking during off-road articulation. Marine-grade roof hatches, double-glazed windows and overall body design minimise internal heat build-up.  
Underslung, you'll find a 120L stainless steel drinking water tank and 400L washing water tank. There's 600W of solar, a 3000W inverter, 40A battery charger and two 210Ah Fullriver AGM batteries to ensure plenty of self-reliance. A diesel hot water system, diesel cooktop and indoor kitchen with stainless steel benches add convenience and luxury on the road.  
A rear–mounted, east-west facing double bed sits over pull–out drawer storage, plus a vanity with shower and cassette toilet is fitted right next to it. A Travel Buddy 12/24V oven allows for hot meals on the road, while two Engel fridges provide 90L of fridge and 90L of freezer space.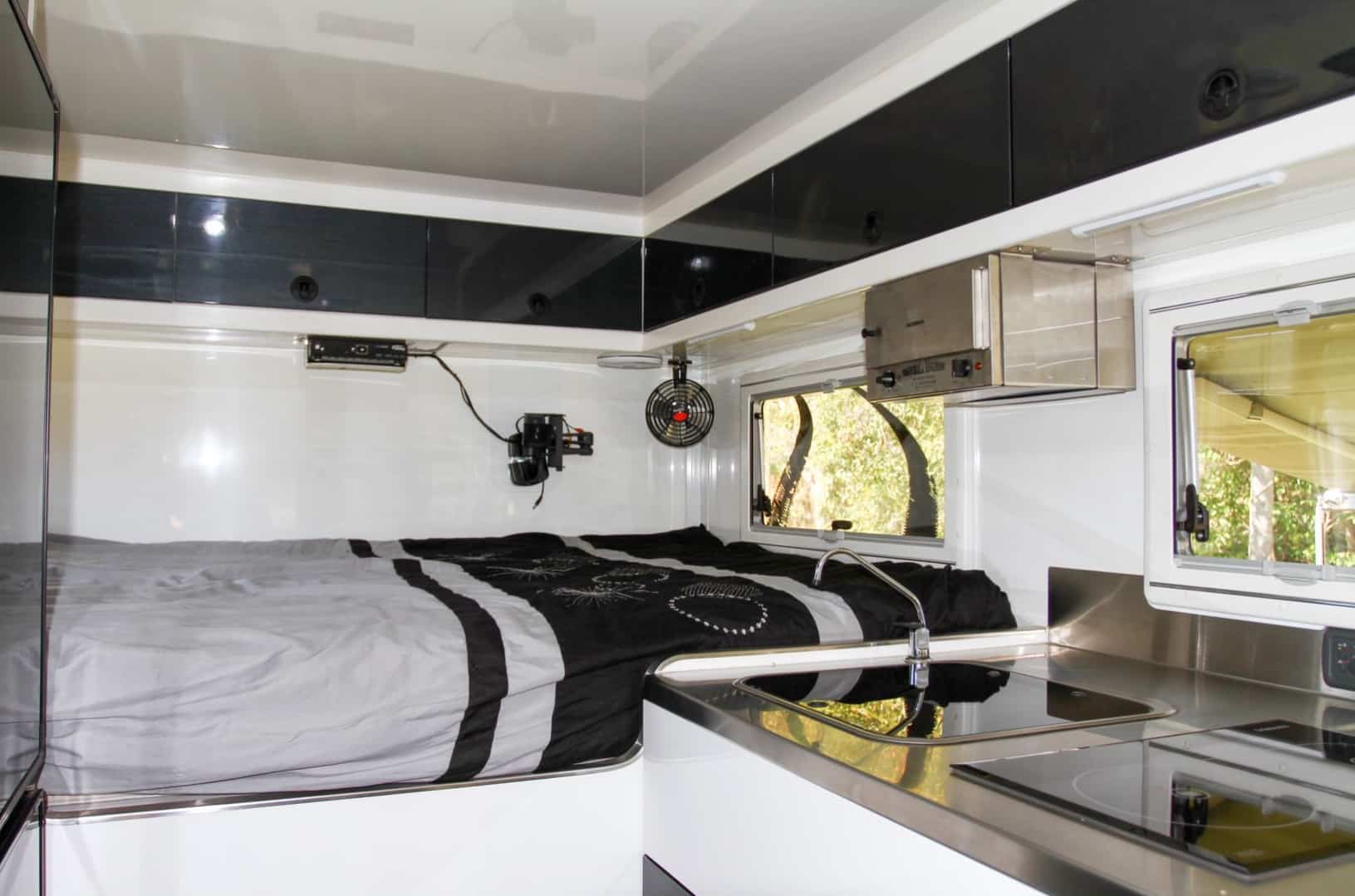 A satellite TV and Fusion stereo with internal and external speakers cover the entertainment features. 
At the rear, a clever slide-out and winch-down spare wheel arrangement is hidden under the bed area. The flip-down alloy steps aid in easy ingress, while a pull–out awning covers the passenger-side outdoor kitchen area, which is a simple affair using a travel barbecue with a heap of storage for food and camping equipment.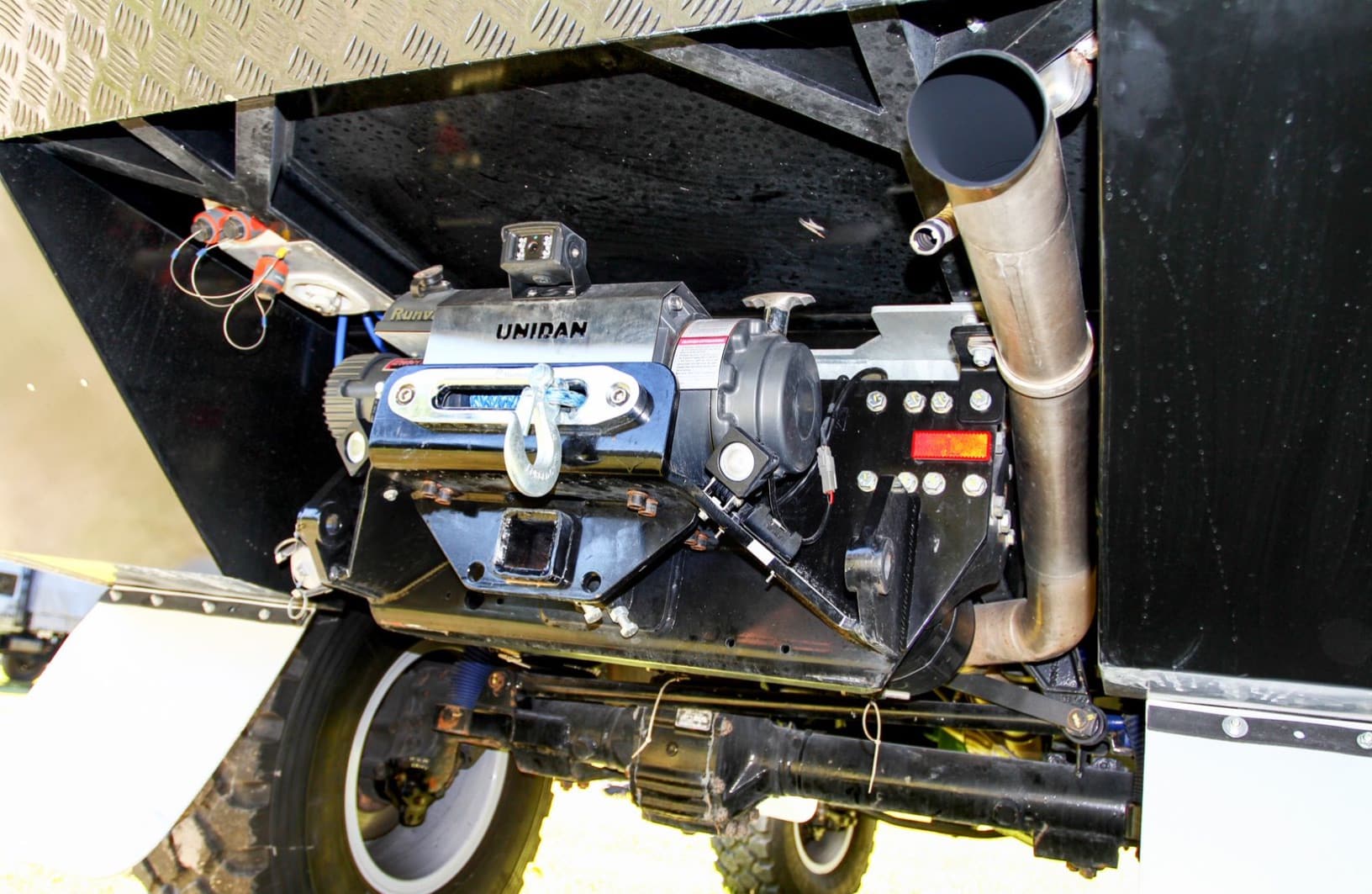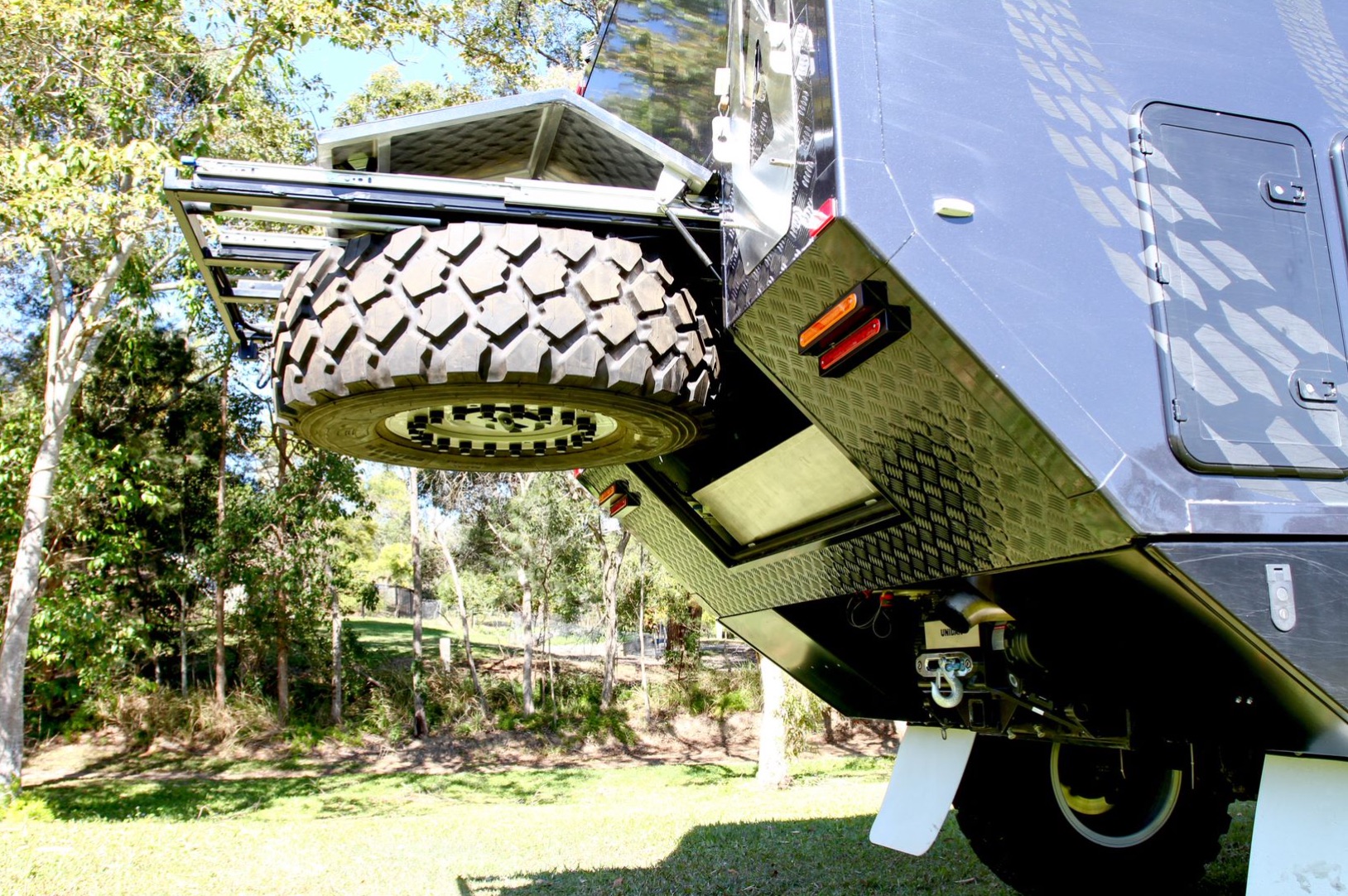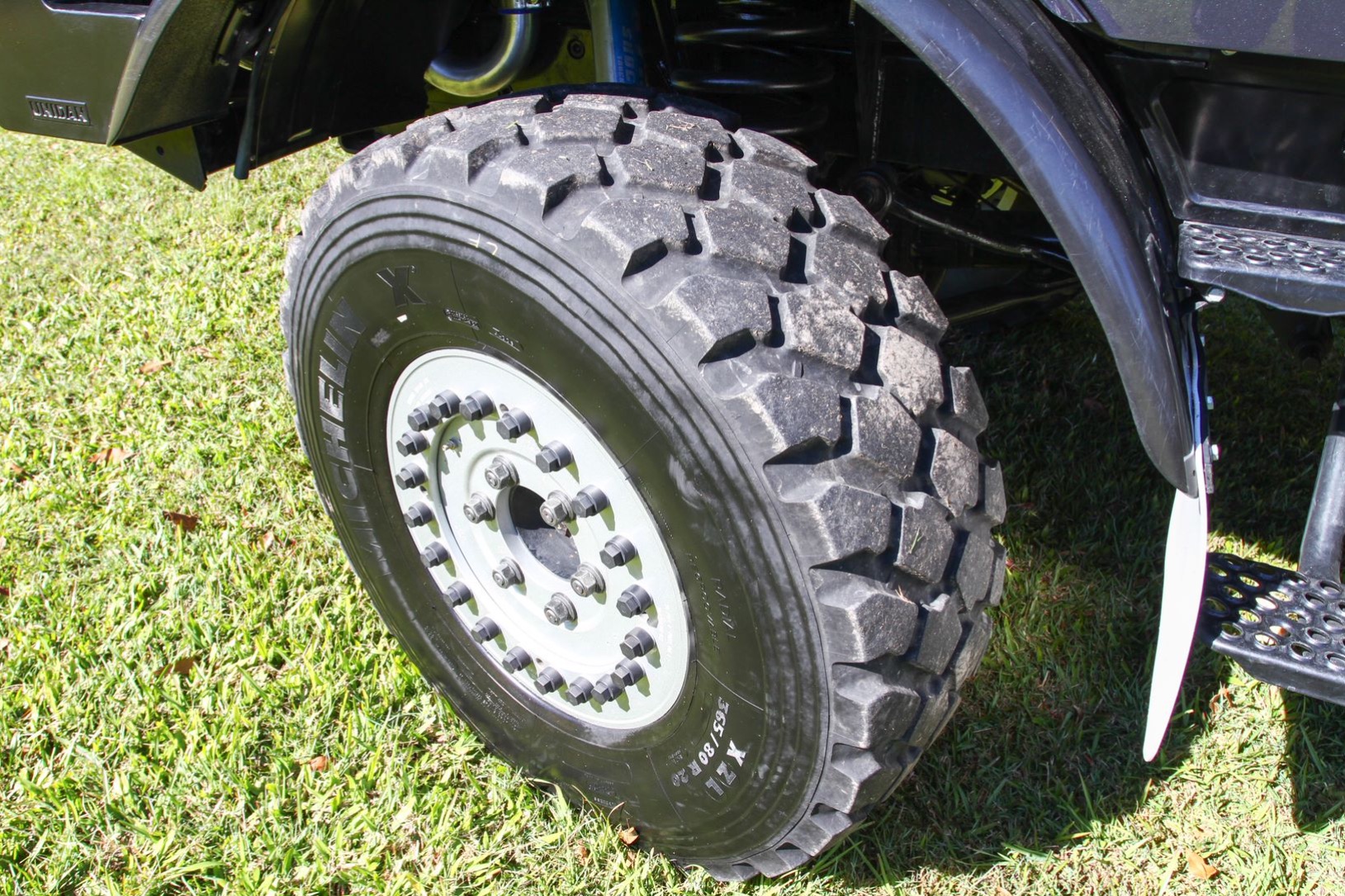 Given Unimog stands for Universal-Motorgerät, which roughly translates to 'universal motorised machine', that's precisely what was achieved with these machines originally being used world-wide as everything from military vehicles, agriculture workhorses, firefighting, competition and touring trucks. Dan has added to this list of uses in creating a go–anywhere luxury camping and expedition 4X4 motorhome.