The SCG Boot is a road-legal Baja 1000 weapon for the budding off-road racer… and there's even a four-door family version for those with kids!
Here's the perfect Weird Wednesday vehicle for budding off-road racers: the SCG Boot. This epic machine is built as more than just a modern, high-performance homage to the Steve McQueen Baja Boot from way back when; it's a road-legal (in the US, at least) Baja 1000 competitor truck that is totally awesome!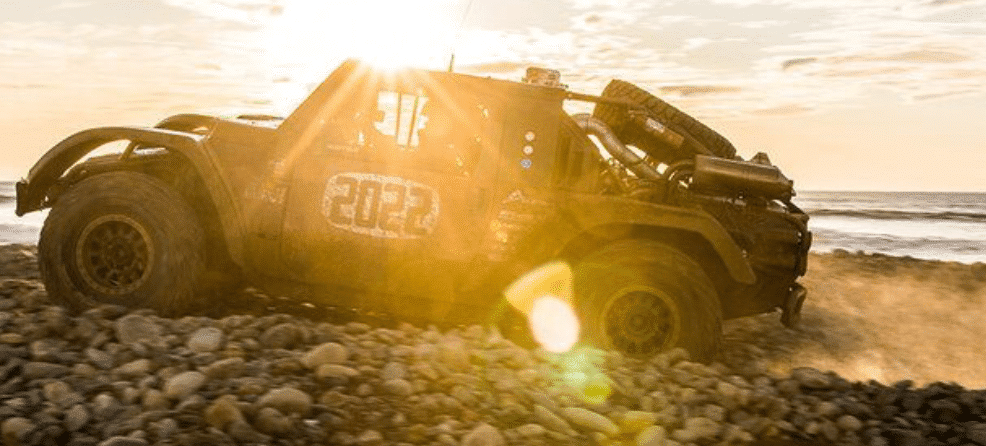 To give you an indication of just how awesome the SGC Boot is, the two-door version features a chromoly chassis, composite body (with removable hard-top) and removable doors. It features a selectable part-time 4X4 system, and is powered by a naturally aspirated 6.2-litre 460hp dry-sump GM V8. The powerplant is mated to the venerable GM 4L80E automatic tranny, and it puts the power down through a set of Fox 3-inch internal-bypass shocks with each corner entirely independent.
Wheels and tyres consist a set of 17-inch Method Racing wheels, wrapped up in 37-inch BFGoodrich Mud-Terrain T/A KM3s, and the SCG Boot runs a full-sized spare, in case you were wondering.
It's worth bearing in mind though, the SCG Boot is not all about completing the Baja 1000, as the interior is rather well fitted out. This includes electric seat adjustment, full leather-trimmed interior, and colour touchscreen with Apple CarPlay/Android Auto, camera, Bluetooth connectivity, satnav and GPS compatibility. In addition there are cupholders, storage bins and two USB charging ports in the centre console.
For those who really want the whole package, optional extras include: a 650hp supercharged 6.2-litre V8, a 4X4 winch, a Baja Designs LED light bar, a roof-cage, 39-inch tyres, front and rear ARB Air Lockers, tyre-inflation kit and a fire-suppression system.
This entire setup will only set you back US$258,750 (around A$335k) plus, of course, shipping, import duty and on-road costs, as well as the 400 hoops you'd need to jump through to get it engineered for on-road use in Australia. That said, considering the amount of bespoke vehicles that seem to be gracing the upper-north shore these days, we're going to say there is actually a chance this thing might be able to be engineered for use here.
Let us know in the comments below if there is anything on the SCG Boot (aside from the 37-inch rubber) that jumps out at you to stop this being registrable here! Oh, and if you weren't sure about its Baja 1000 heritage and capability, in 2019 the SCG team drove the Boot to Ensenada to race in the Baja 1000, where it beat the Ford Bronco entry by 280 miles, and then drove it straight home again. There is also talk of a hydrogen-powered option coming soon, that may or may not be lining up to race the Tesla Cybertruck in the 2023 Baja 1000.