With almost 26,000 km of oceanfront property and beautiful beach drives, there's certainly no shortage of amazing sandy adventures waiting to take place. Whether you're out there purely for the thrill of four-wheel drive touring, or you'd like to sit back, relax, and catch some fish (or some beers), we have an adventure for you.
Sandy Cape Tasmania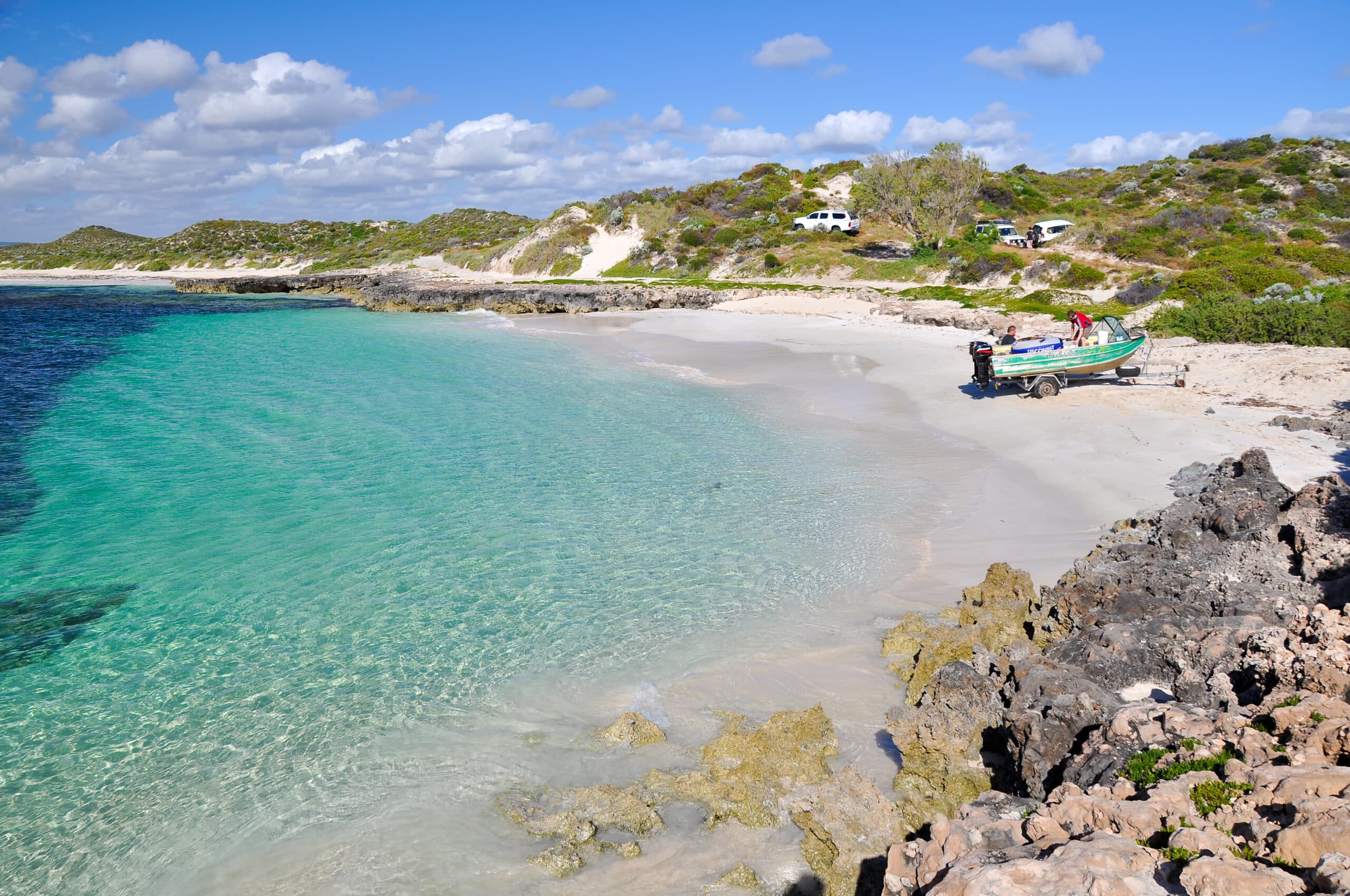 Quicksand, Antarctic winds, and deep creeks flowing into huge seas punctuate this must-do 4X4 trek on Tasmania's west coast.
The rugged coastal scenery is spectacular however don't let it distract you, this is serious 4X4 country with some of the best beach drives around. It's not for the faint hearted though as it's claimed more than a few vehicles. Travelling in a convoy is compulsory due to the regular occurrence of quicksand which can swallow your truck – always have your recovery gear ready and be aware of tidal movements.
The 12km beach run begins at Greenes Creek, however even getting there requires some low range antics through big bog holes on the Balfour Track.
Rainbow Beach to Noosa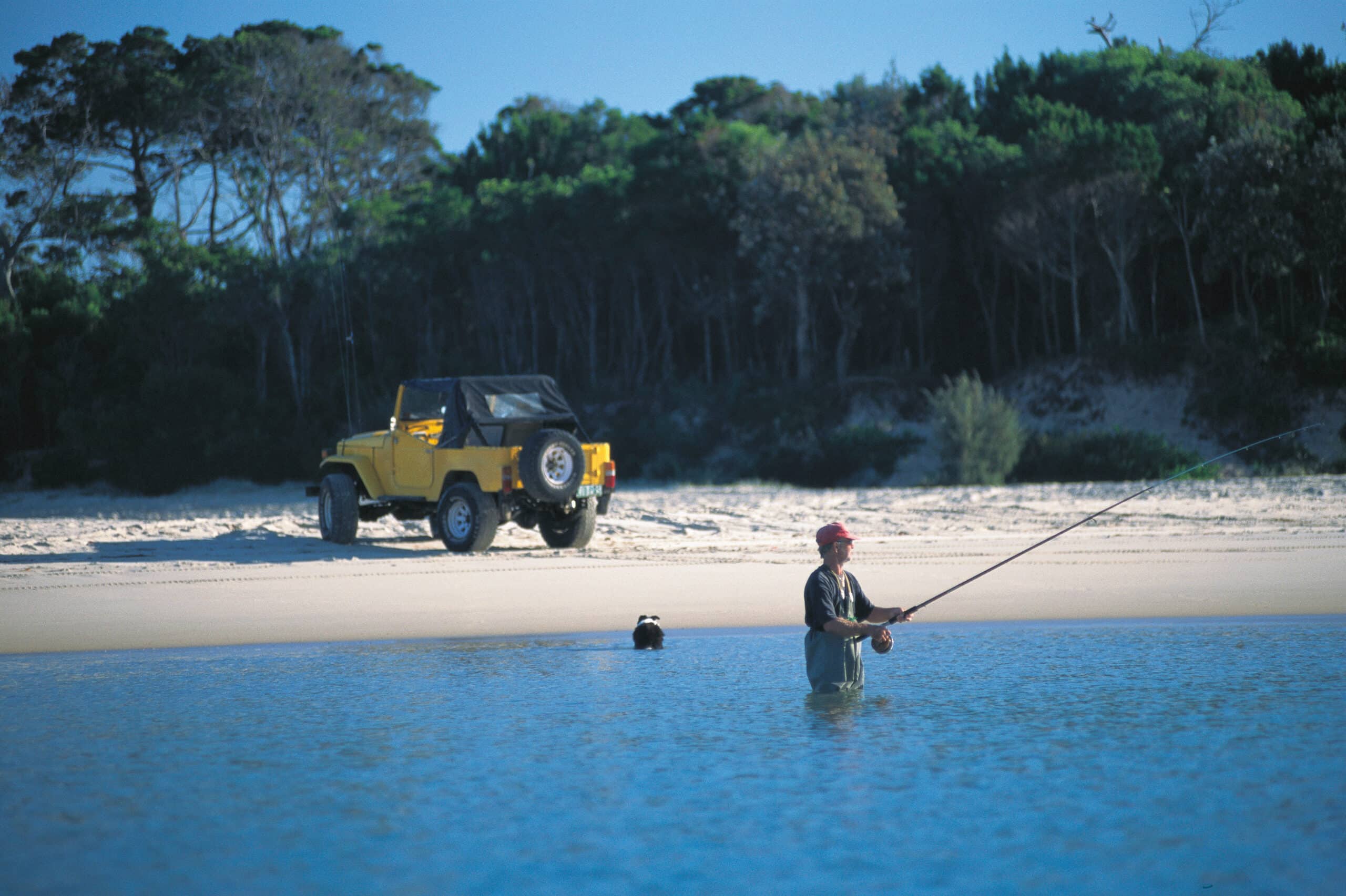 Looking for a great first beach drive that's only a few hours from Brisbane? Not interested in catching a barge to Fraser? Then check out this trek which starts at Rainbow Beach and heads to Noosa via a stunning series of beaches that have it all: beach camping, gigantic sand dunes, sensational fishing; surfing and more.
Take note of speed limits as police patrols are common, although they won't be a problem at high tide when it's slow going and sand can be almost non-existent, especially after large swells.
Those swells can also make the short drive from Double Island Point to Rainbow Beach impassable, or at least inadvisable, with the hour-long detour via the Freshwater Track the only alternative.
Score a camping permit for Inskip Point
Moreton Island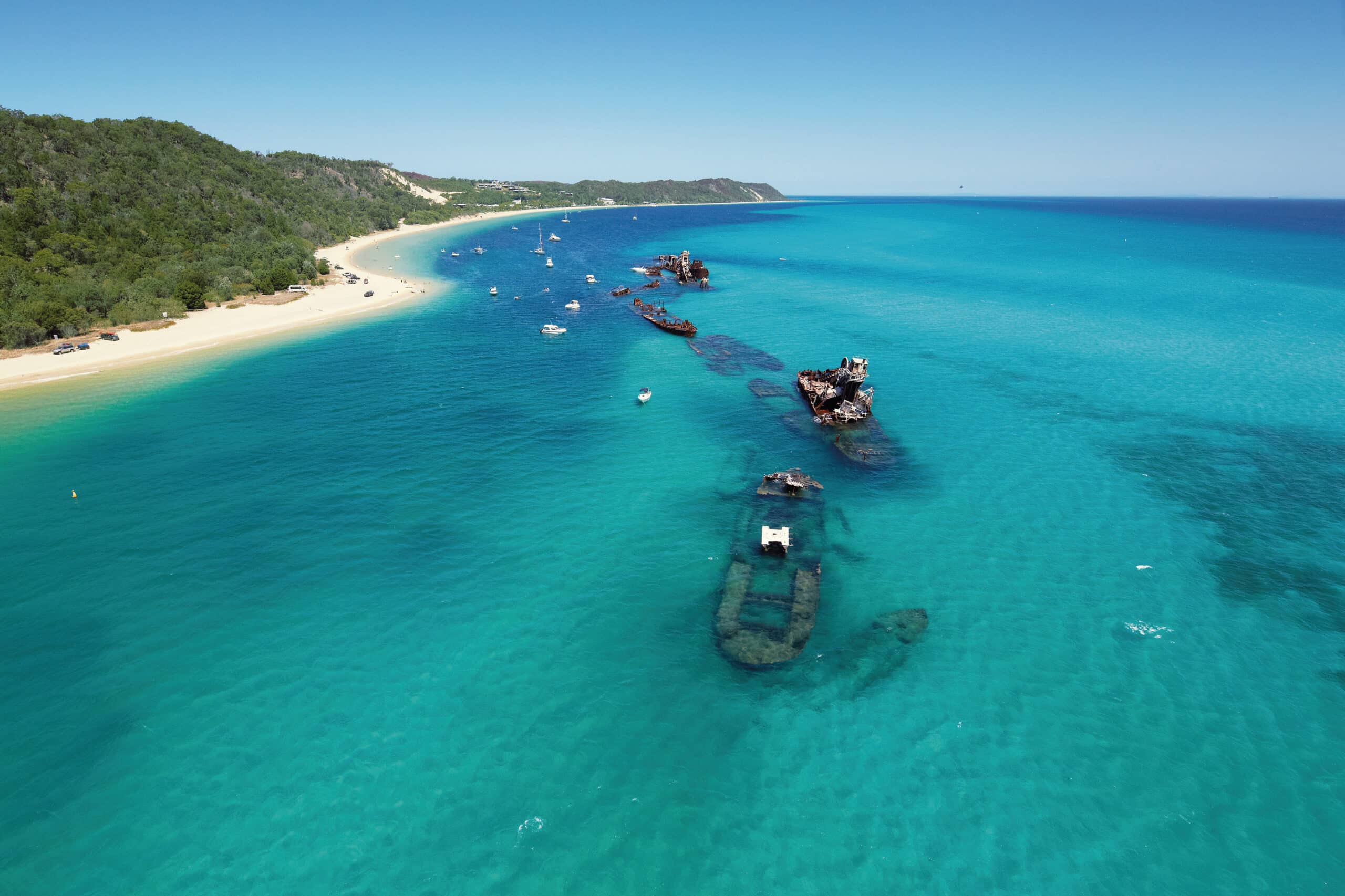 Travel from the city to the sand without driving a kilometre! One of the best beach drives in the country is accessible via a 75-minute ferry trip from the Port of Brisbane.
Your arrival will have you rolling off the ferry and onto another of Queensland's 4X4-friendly sand islands. At 37km long and 10km wide, Moreton Island can be traversed in a day, however you could easily spend the week exploring war relics, shipwrecks and freshwater lakes in between surfing, fishing, diving and simply soaking it up.
While the driving is generally cruisy, large swells can expose coffee rock on the beaches, and some dune tracks get quite rough during holidays.
Up-to-date Ferry Fees and booking
Stockton Beach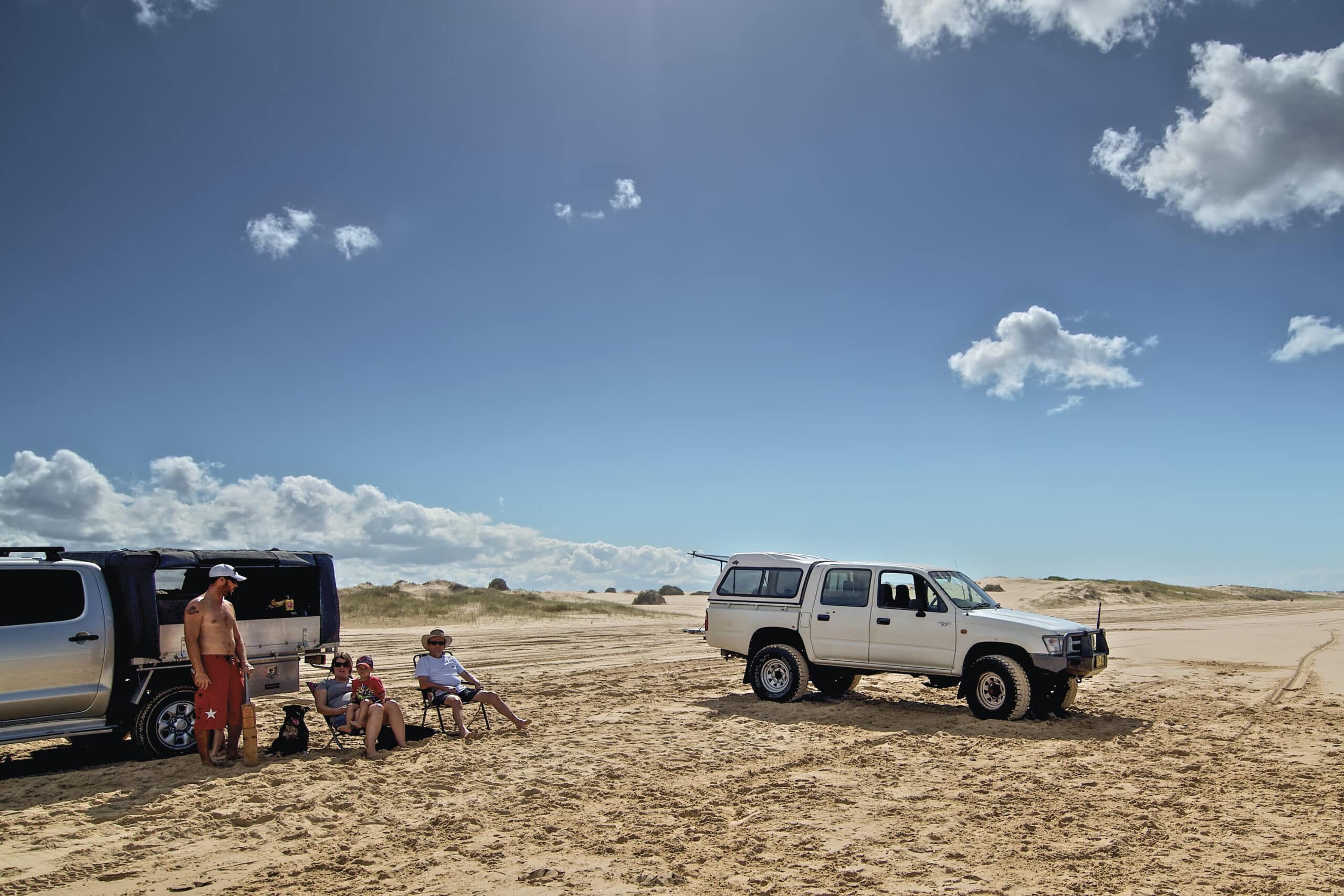 An easy two hours north of Sydney, behind the bustling port of Newcastle, lies the longest beach in NSW.
The 31.8km stretch of sand that is Stockton Beach is a 4X4 Mecca, with much of it open to vehicles, although big swells regularly make driving impossible at high tide.
Camping at Stockton and driving in the dunes has been off limits since a 2012 storm, however access is currently under review.
There are two entrances onto the beach, Lavis Lane at Williamtown about half way down and at Anna Bay on the northern tip.
Everything you need to know about Stockton Beach
Robe Beach Run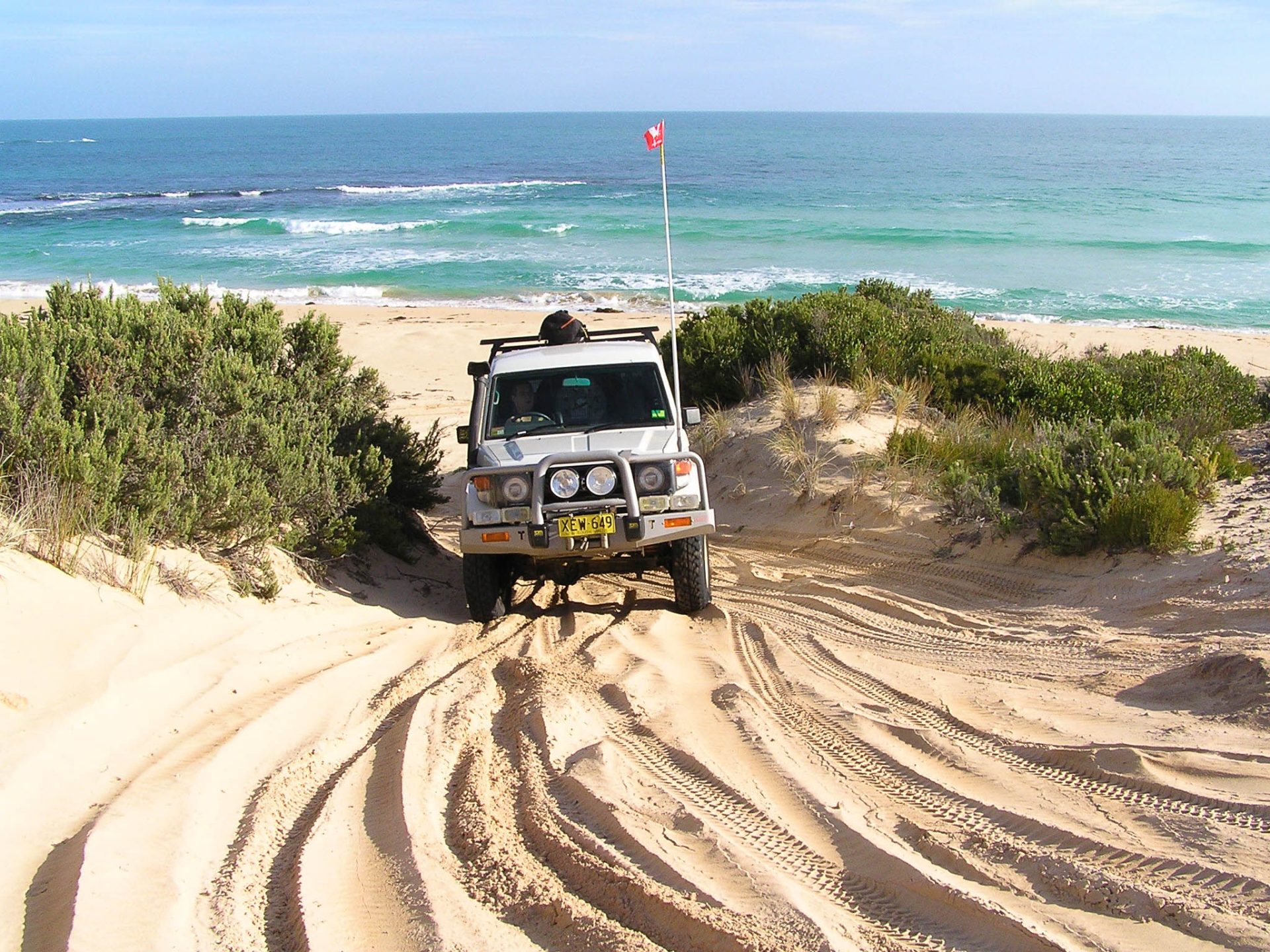 Renowned for ultra-soft, power-sapping sand, challenging beach exits and a warren of tracks weaving through stunning coastal scenery, South Australia's Robe Beach Run is a must-do.
Antarctic winds are common, whipping sand at your truck, howling in tune with your screaming engine that struggles for purchase on tracks that remind you why heavy items don't go on the roof.
Travel with company and recovery gear, lower your tyres to a near bead-breaking 14psi and bring a flag to avoid head-on collisions. A decent map wouldn't go astray either.
Bruny Island – Cloudy Corner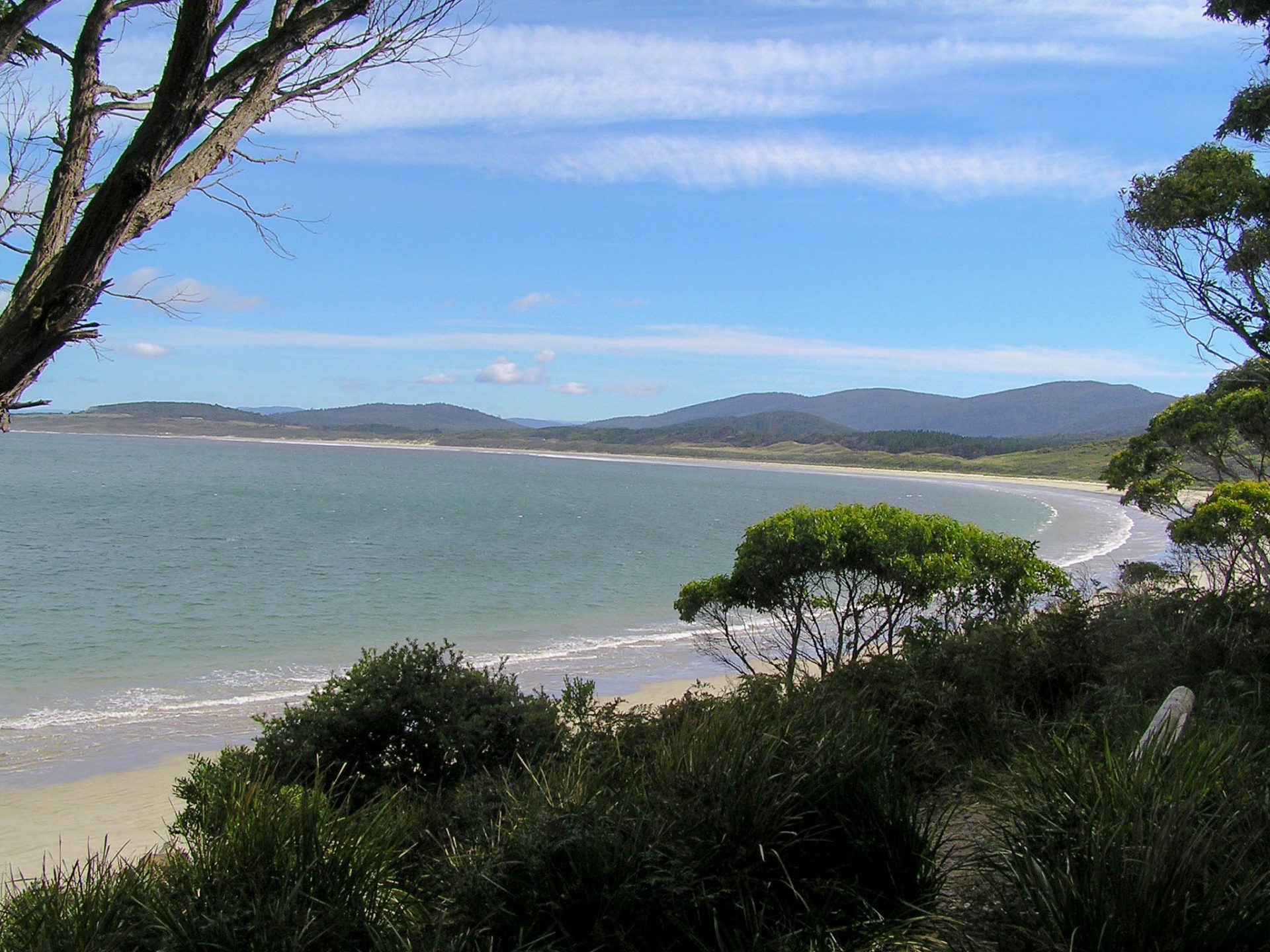 Nestled at the southern end of Bruny Island off the southeast coast of Tasmania lies a camping spot so peaceful its existence alone is reason enough to own a four-wheel drive.
Having caught a car ferry from Kettering and driven the full length of Bruny Island you will arrive at Cloudy Bay, deep in the wilderness of South Bruny National Park.
Access is via 3km of easy beach driving that leads to a campsite tucked among the trees and protected from all weather.
With magical walking, great fishing and gently peeling waves you may never want to leave.
Everything there is to know about Bruny Island
Wedge Island and Lancelin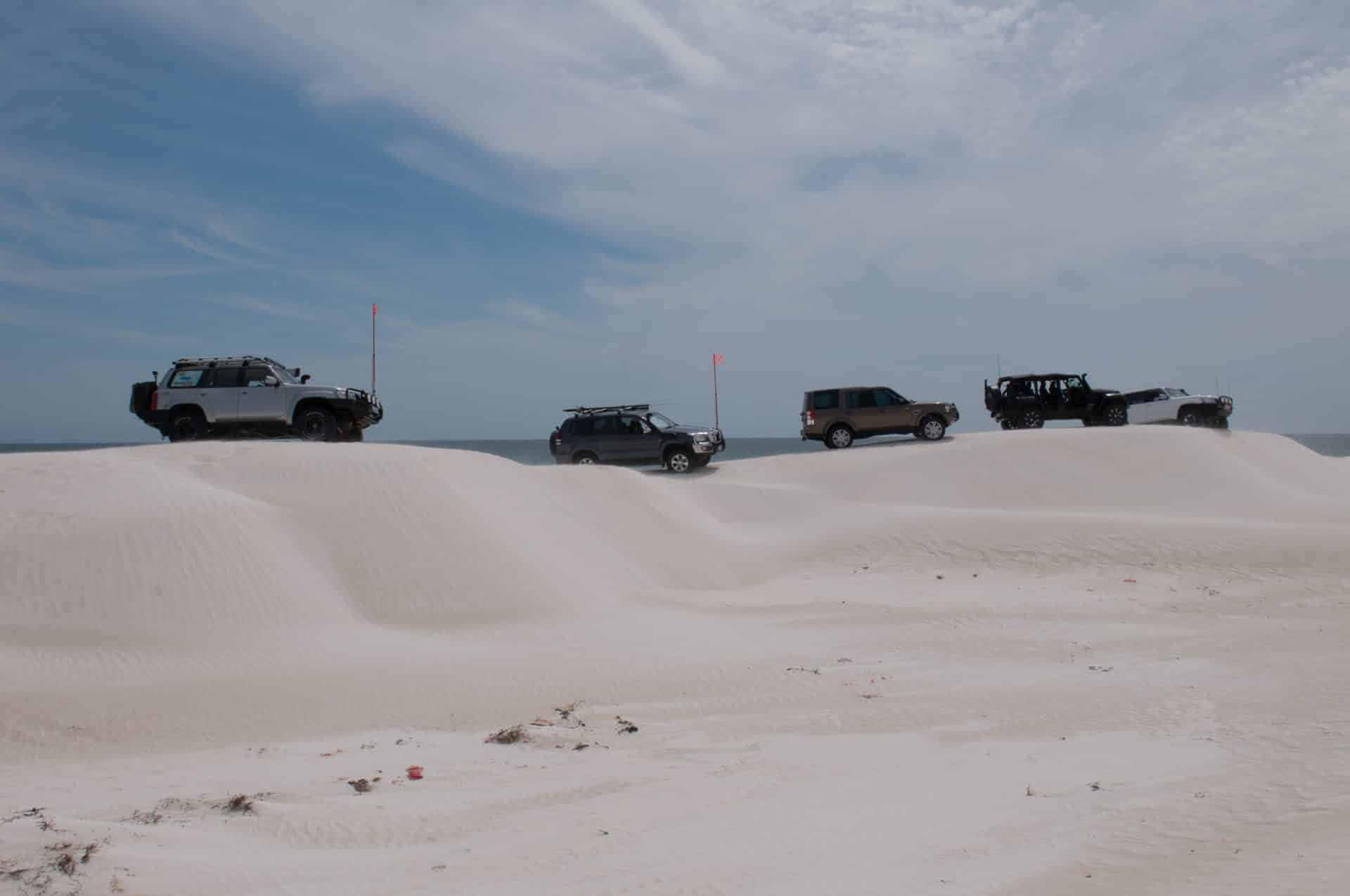 Ninety minutes north of Perth lies one of Western Australia's best beach getaways. Wedge Island is a popular holiday destination with around 350 beach shacks catering for tourists and residents alike.
The beach driving is excellent, although appropriate care must be taken when driving below the high tide mark.
The popular dunes behind the beach are now permanently closed, however 25km south is the Lancelin Off Road Vehicle Area where vehicles and bikes of all types can play in the dunes.
Their proximity to Perth means they can get busy on weekends and holidays, however with a bit of planning they could be all yours.
Cape Flattery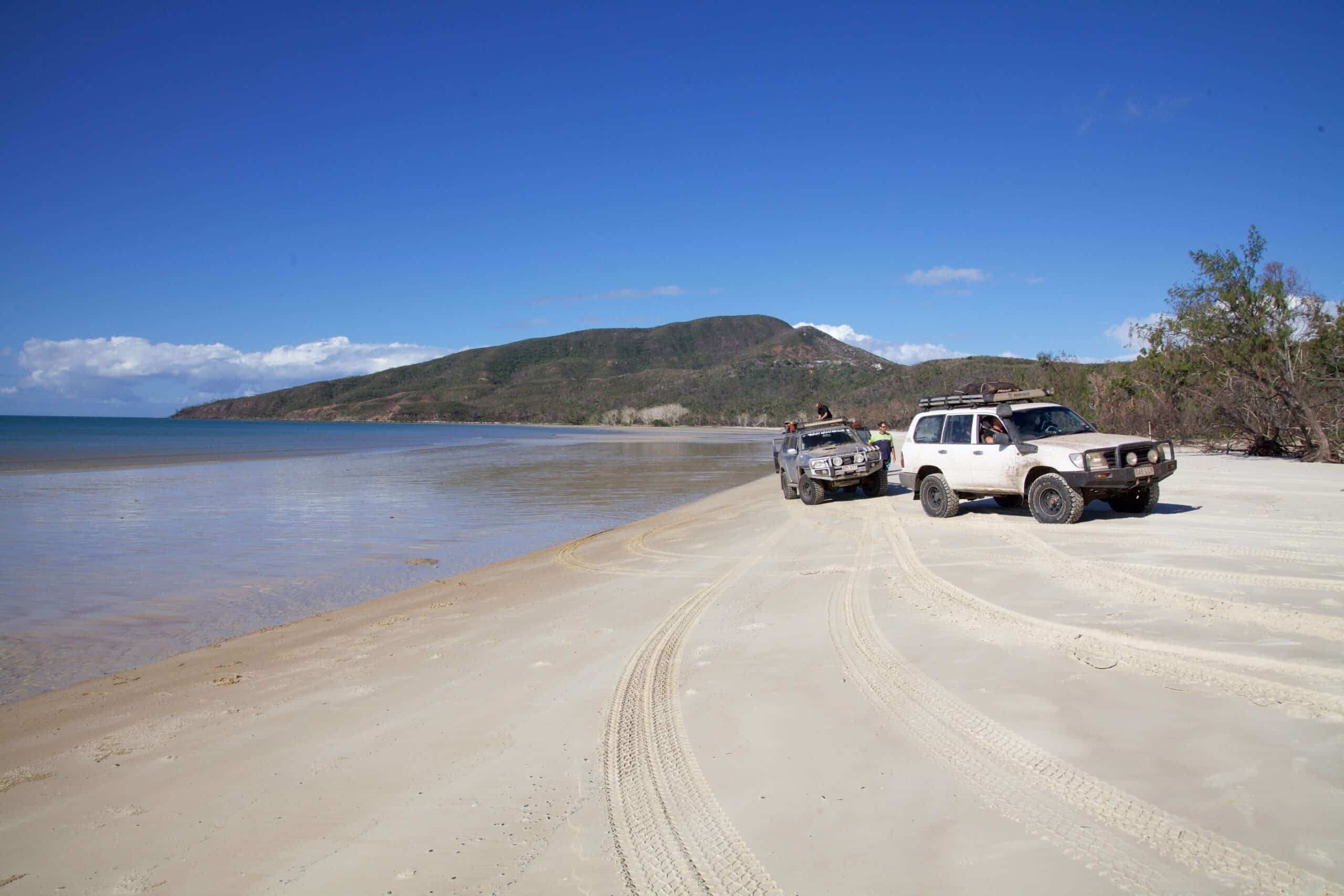 Located in remote Far North Queensland, you'd be forgiven if you hadn't heard of Cape Flattery, even if it's less than a half-day drive from Cooktown. But if you're looking for a remote beach, it would be hard to beat this one.
Just don't forget to air down your tyres and bring a few different recovery options. The entrance to this beach sees no traffic, has several water crossings, and a steep, soft climb.
Sandy white beaches and the opportunity for you to explore this rarely travelled, remote area will make this something you won't forget. Pair it with a side trip to the coloured sands of Elim Beach and a stay at Eddie's Beach Camp.
See Cape Flattery like the locals
Cable Beach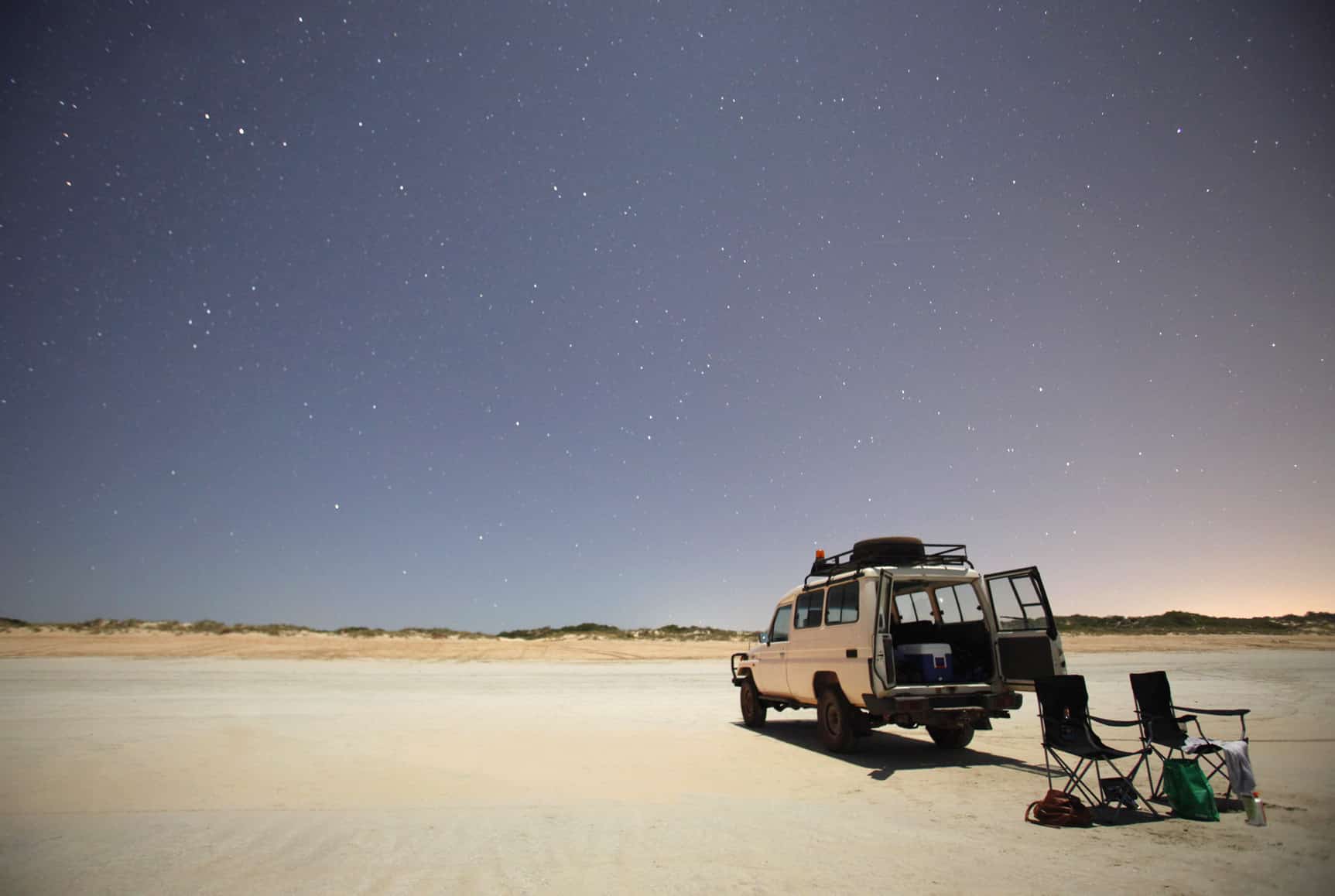 In the heart of Broome lies 22km of brilliant white sandy beach drives that are regularly described as one of the world's most beautiful beaches.
This is an accolade that is sure to attract the crowds and Cable Beach is nearly always bustling with tourists and locals alike, with campsites almost impossible to find during holidays.
Driving along the shores of Cable Beach you are likely to encounter plenty of fellow four-wheel drivers, herds of camels being ridden by backpackers, nudist colonies and fisherman – sometimes all at once!
However there is plenty of room to find your own pocket of paradise and watch the sun melt into the Indian Ocean.
Plan a Cable Beach trip right here
Fraser Island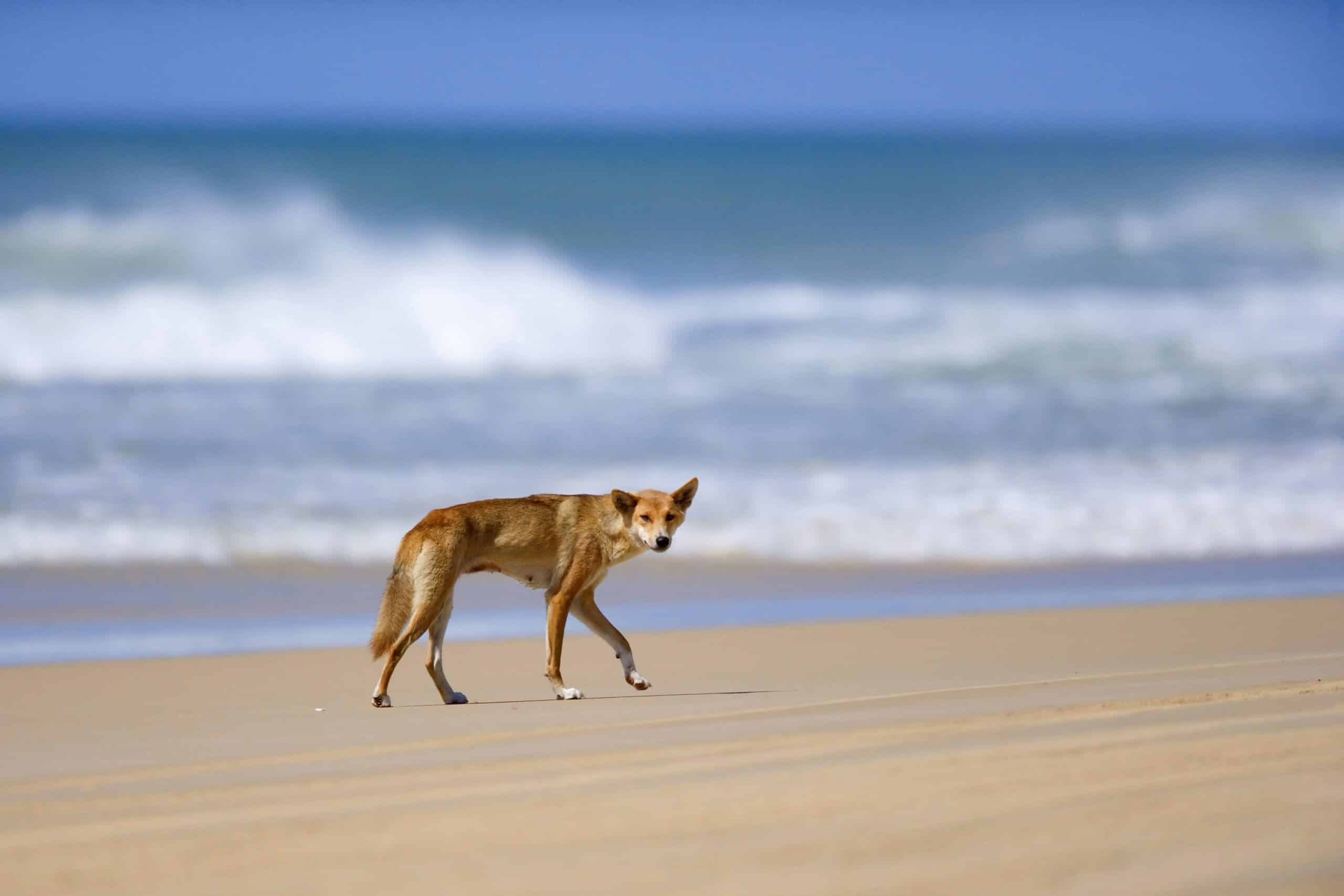 Did you think for a second that we could talk about Australia's best 4X4 beach drives and not include Fraser Island? The world's largest sand island is one of the premier 4X4 destinations for good reason. With over 100 freshwater lakes, countless lengths of drivable beaches, plenty of shipwrecks to explore, and fantastic fishing, it's easy to see why.
There's no excuse for you not put Fraser Island on your list. Even if you're without a four-wheel drive vehicle, you can rent one on the spot, and if beach camping isn't in the cards, there's always the well-appointed Kingfisher Resort.
Just be sure to follow the rules (and the always decreasing speed limits) and it'll be hard to have a bad time! Just make sure to book your ferry in advance.
East Vs West – How to do Fraser Island
Quick Links
Beach Driving 101 – how to make friends and not act like a clown
Get your 4×4 ready for summer