In contradiction to the title of the story, we actually did Fraser Island the wrong way. It gives us a unique angle on how to do it the right way. We went at the absolute worst time of the year (Christmas); and drove a stock-standard 4X4 that was towing a camper trailer. That being said, it was all pretty good, and even at its absolute worst, Fraser Island is pretty damn good.
If you're looking for an island escape with plenty of four-wheel driving and beautiful scenery, be sure to follow along.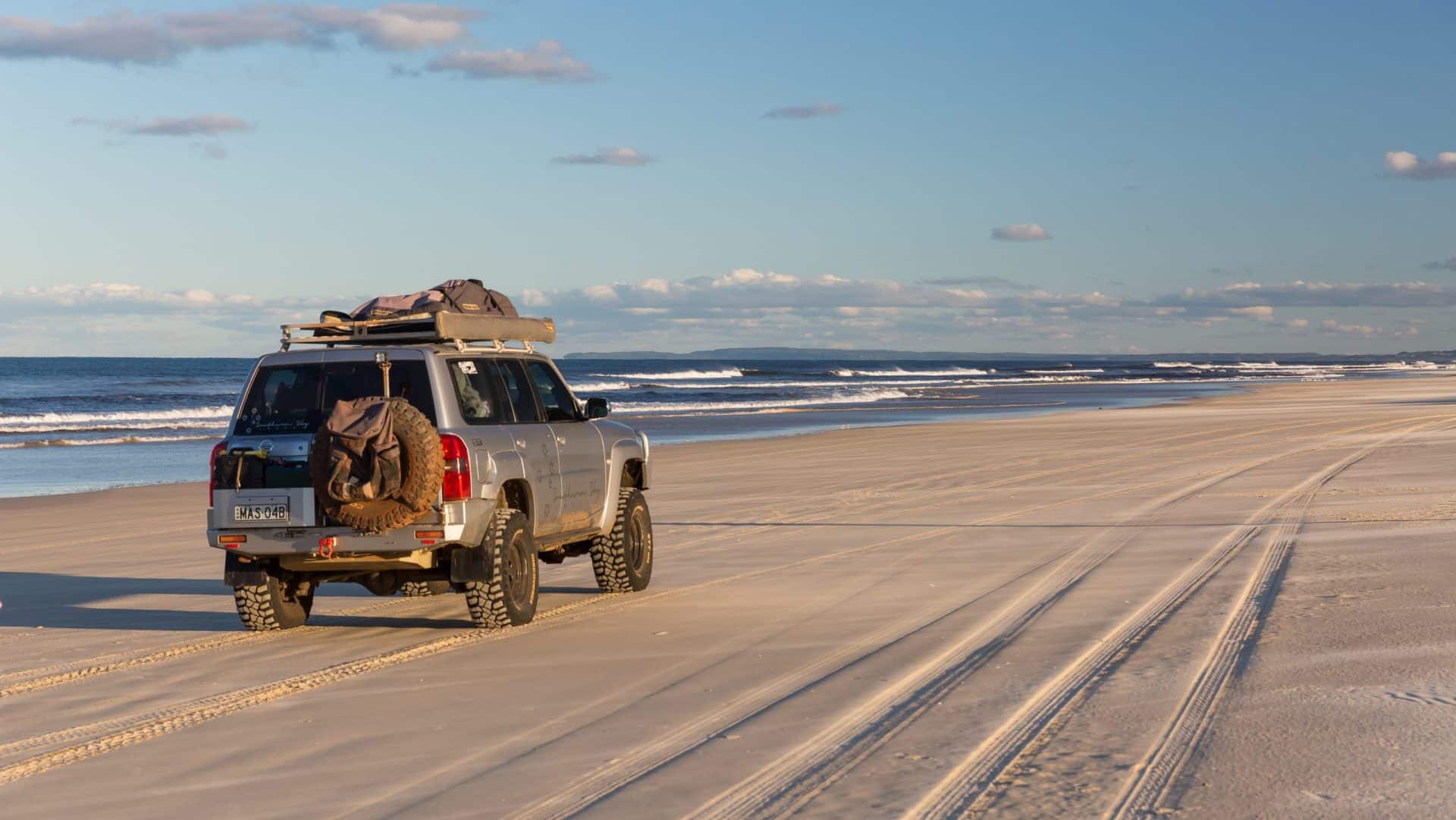 How To Get There
You can't drive to Fraser Island; but you most certainly can drive to a ferry or barge that will take you there. There's three players in town that'll get you to the island, and whichever one you choose is up to you. The Kingfisher Bay Ferry and Fraser Venture both require bookings and leave from River Heads (near Hervey Bay). After about an hour long ride, they'll drop you off in the middle of the island. The Manta Ray at Inskip Point is the shortest ferry at around ten minutes, and doesn't require bookings. It leaves you at the southernmost tip of the island.
The Permits You'll Need
Both your vehicle and your campsite will need a permit for your stay on Fraser Island. Trust me, the rangers will check your permits, and if you forget them, they will not sell you permits.
Vehicle
A vehicle access permit is required for you to legally drive on Fraser Island. If you're planning on visiting Cooloola while you're in the area (Rainbow Beach, Double Island Point) you can get a permit that allows you to drive in both recreation areas for a discount. You can get one month or one year permits.
FRASER ISLAND RECREATION
AREA PERMIT $45.10 (One Month)
$226.30 (One Year)
FRASER ISLAND AND COOLOOLA RECREATION AREA PERMIT $72.20 (One Month) $362.20 (One Year)
Campsite
It's important to ask yourself if you want to bush camp along the beach or if you want to camp in an area that has services and amenities. You'll need to book your permits appropriately for the dates you'll be there. It's best to purchase them online ahead of time (you can reserve up to six months in advance), as Fraser Island can fill up quickly.
TIP Display your vehicle permit on the inside of your windscreen, and display your camping permit in a visible location on your tent, preferably in a plastic bag.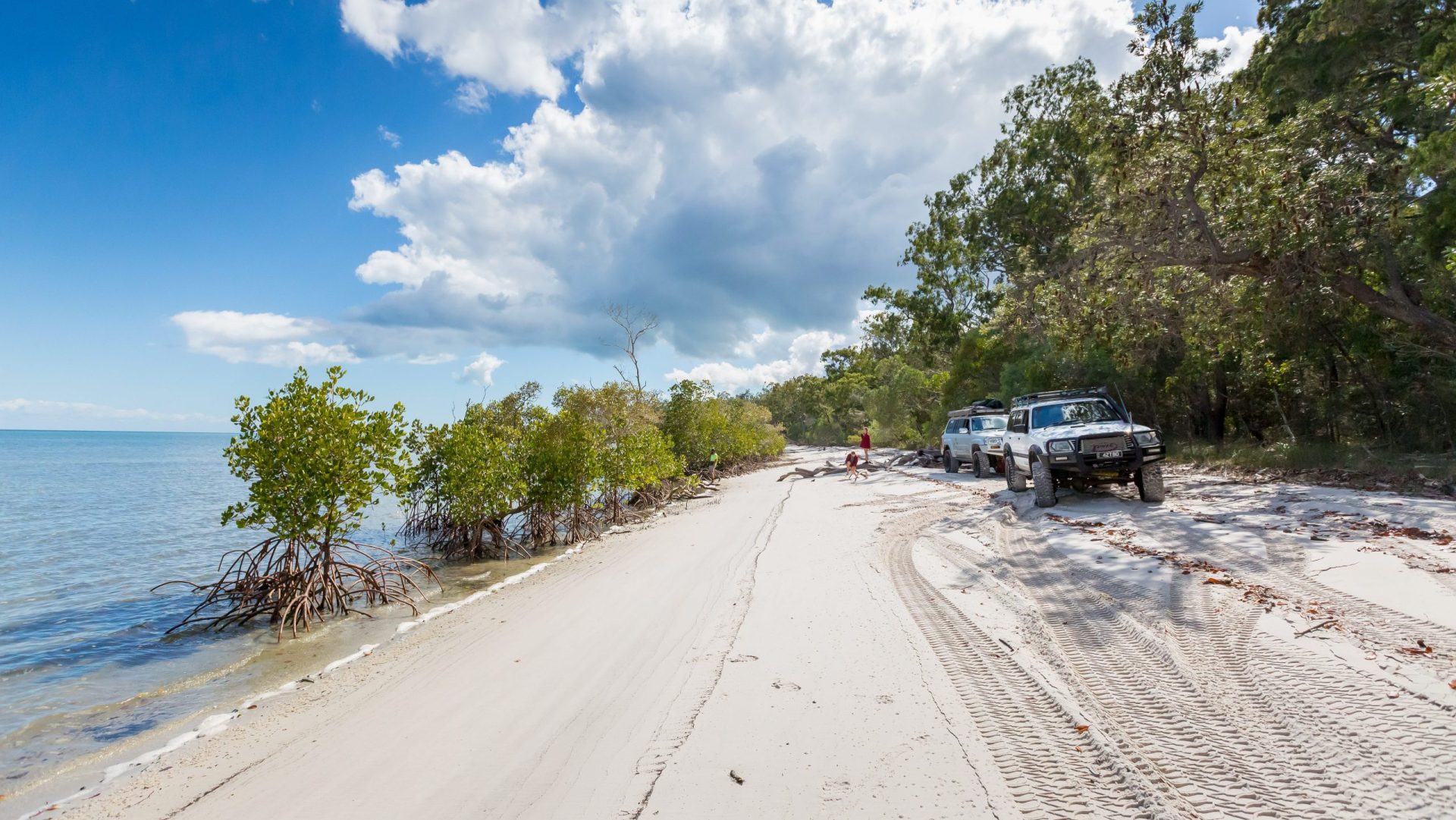 What Kind Of Vehicle Should I Take?
Four-wheel drive and low range should be considered essential if you really want to get out and explore on Fraser Island. We went everywhere we wanted to go with a bone-stock FJ Cruiser and lowered tyre pressures. Most of the rental vehicles that run up and down the beach daily are also stock.
You will see the occasional soft-roader making its way around Fraser. Though as I learned from helping a family in a brand-new Nissan Pathfinder that came all the way from Sydney, you'll need to be careful what you take across to the island. They made it less than a kilometre before being forced to turn back, ruining their vacation.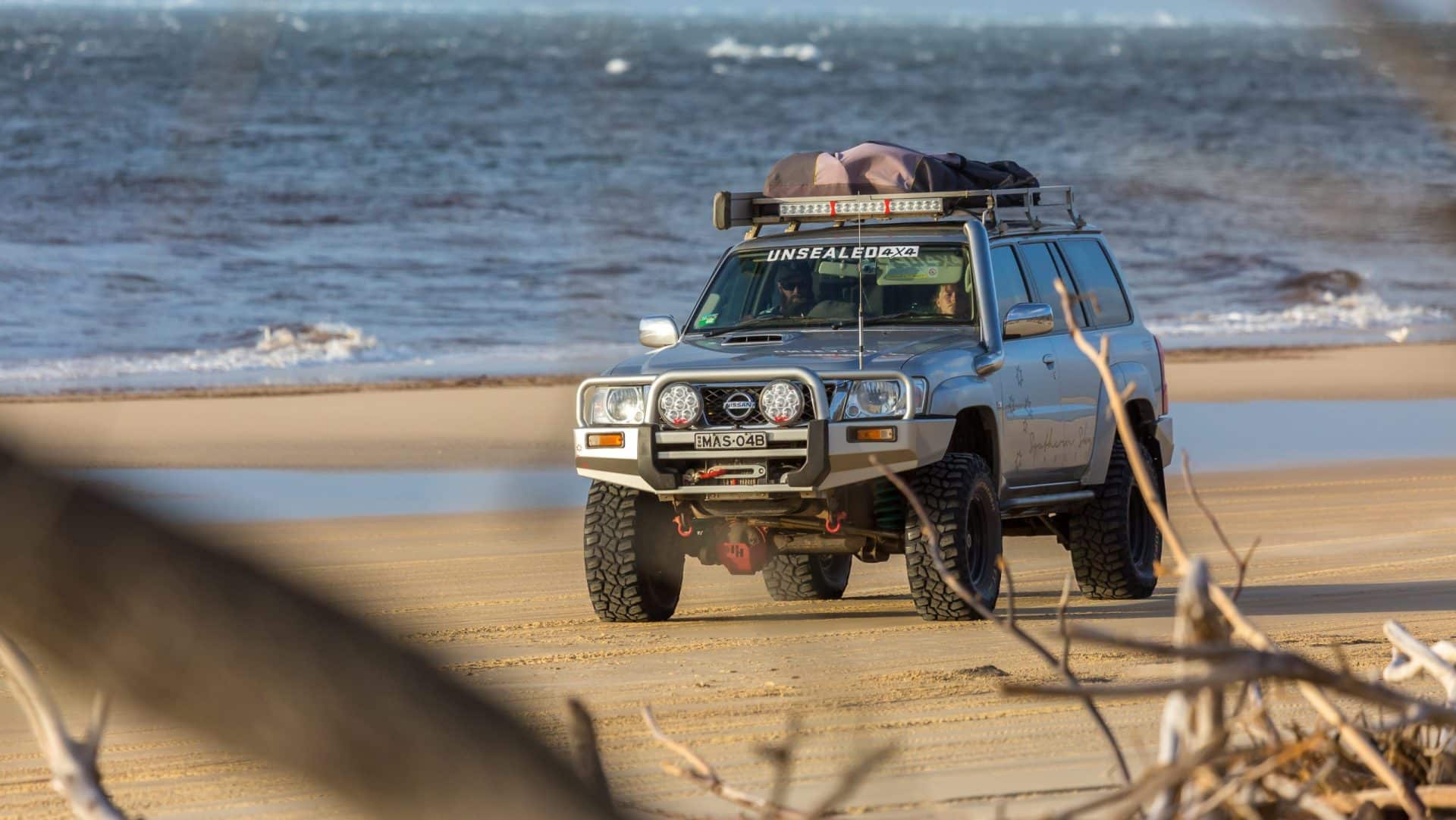 How To Not Get Stuck
Tyre Pressures
It is essential to run your tyres at a low pressure when driving in the sand, as it greatly increases the surface area and grip of the tyre. It does this by spreading the weight of your vehicle over a larger area thanks to the increased length (and also width) of the tread pattern. A lot of weight in a small boat will cause it to sink, lowering your pressures is like increasing the size of the boat – you won't sink … as easily.
It is important to remember that the lower you go, the more likely you are to de-bead the tyre if you make a drastic turn. I usually start around 20 PSI and adjust down from there depending on conditions. Make sure to lower your camper trailer tyres as well … unless you like dragging a boat anchor through the sand.
Momentum
You'll see most people get stuck on Fraser Island when they're trying to go inland. Why? Because you have to drive uphill, and people lose momentum. Since so many people get stuck in the same place, the sand becomes incredibly soft and it all goes to hell. A good consistent 'run-up' paired with steady throttle control is essential to maintain momentum and prevent you from getting stuck.Read The Sand
Generally speaking, the further away from the beach you go, the softer the sand will be and the more likely you will be to get stuck. Softer sand also sucks up time and fuel. If you drive closer to the water where the sand is 'darker' and harder, your life will be much easier. This is why it's preferable to travel during low tide, where more of the beach is exposed.
Driving Techniques
Be gentile on the pedals – both of them. If you intend to stop, let the sand slow you down, if you slam on the brakes or come to an abrupt stop you'll create a small sand mound in front of your tyres, which makes it harder for you to get going. Likewise, if you slam on the throttle the only way you'll find yourself moving is down. Start slowly and progressively add speed – the more your tyres spin, the more you dig in.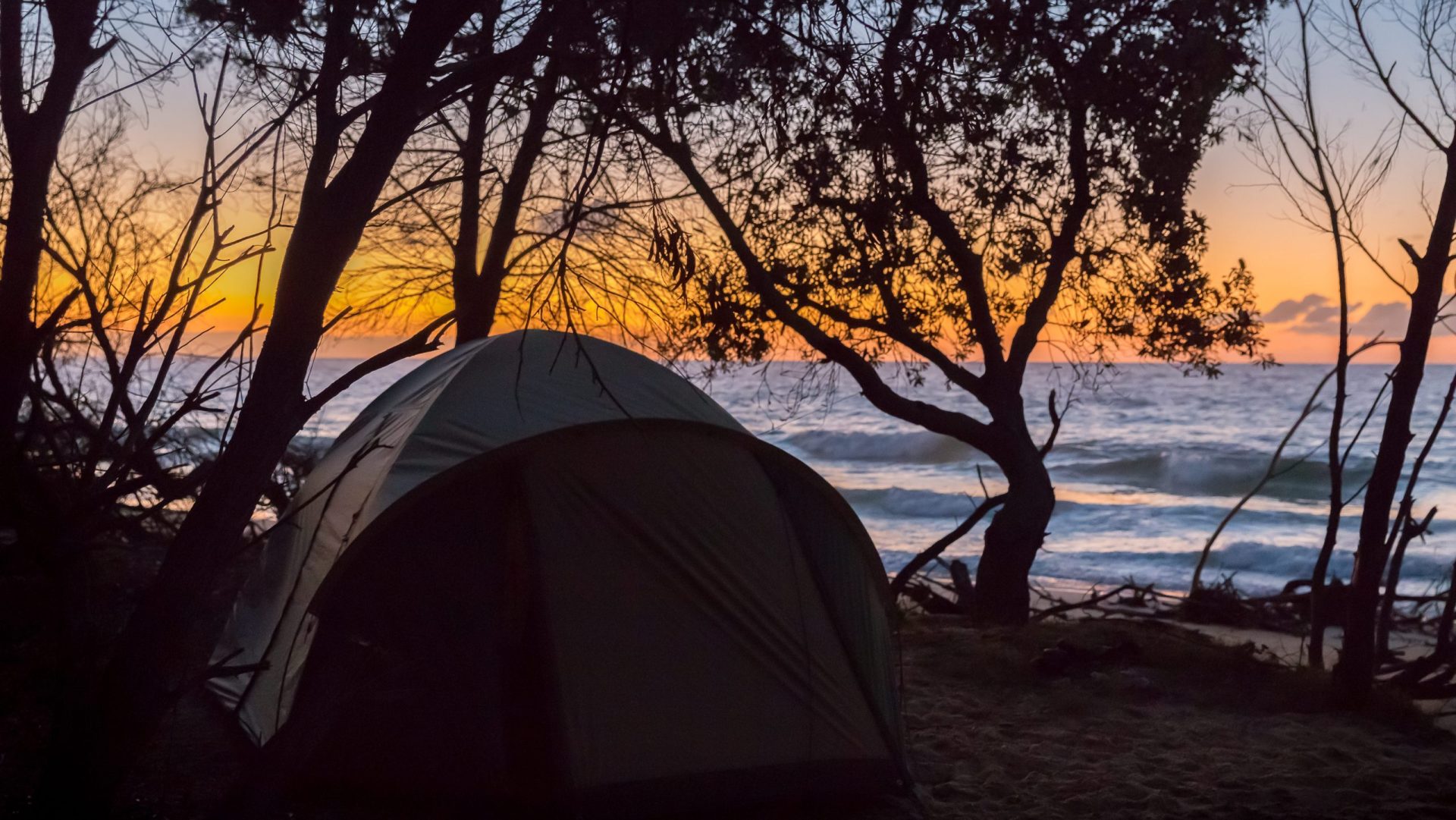 How To Get Un Stuck (when you inevitably get stuck)
Dig
I think you'd be nuts to head to Fraser Island without a set or two of MAXTRAX. Even though there's a fair few friendly four-wheel drivers floating around fabulous, fantastic Fraser, the ability to self recover is absolutely essential. We used ours more times than we could remember.
When you're really bogged, and you're tired of digging, it's handy to have a snatch strap – another must-have for Fraser Island. They use kinetic energy to yank a vehicle out of a sticky situation. Just remember to always use rated recovery points and a dampener on the strap itself as when things go wrong, they tend to happen very quickly. NEVER use a snatch strap on a tow ball.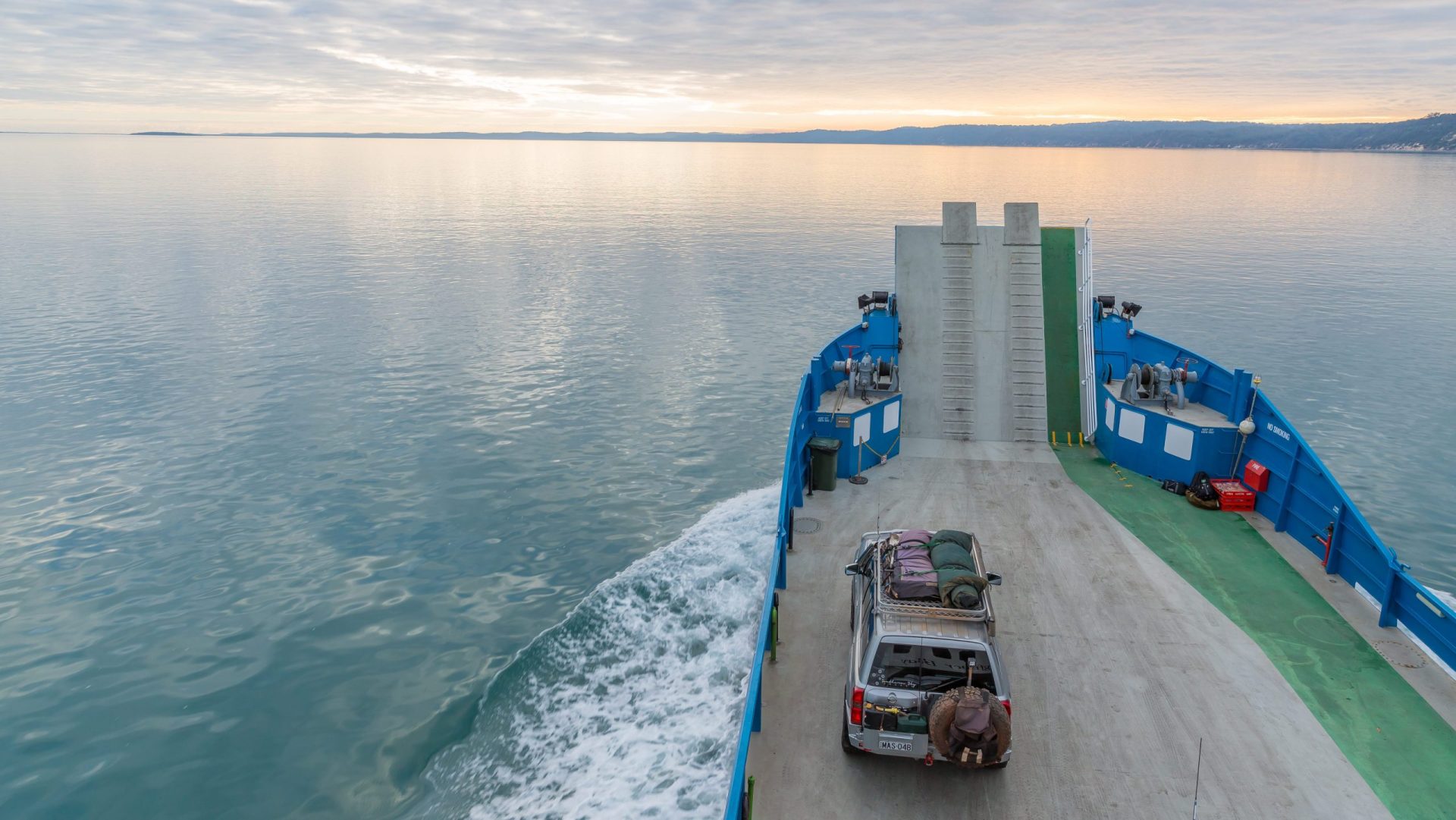 Quick Links
Fraser Island Fire-Lighter cops tiny $1334 fine
Is Fraser Island the silent killer?