When it comes to cooking, I could burn water. I'm blessed with a lovely wife who enjoys cooking, which works out well as I enjoy eating. Around the house, she can whip up a meal from scratch using nothing but tomato sauce and breadcrumbs … while I have trouble opening the can of baked beans I've found under the driver's seat of my GQ Patrol. "So why are you writing a cooking yarn?" I hear you (and my wife) exclaim. Well, when you lack the skills to create fine culinary delights, you do what every person does when slightly out of their element. Fake it until you make it. If I don't say so myself, I've managed to fake it pretty well. So on that note, here is a range of delicious recipes that are perfect for at home or while out camping.
1. Homemade pizza
Knowing there's no delivery service for kilometres to come makes tucking into a pizza at camp all the more special. A classic comfort food, combined with a fun do-it-yourself recipe is enough to get the entire family involved in cooking.
My pizza dough uses just two ingredients: self-raising flour and natural yoghurt. It sounds unusual, but trust me here!
Pizza ingredients (serves four to six)
Two cups of self-raising flour
500g greek or natural yoghurt
Tomato paste
Pizza toppings of your choice (I like onion, ham, pineapple, pepperoni, olives, but go nuts!
Grated cheese
Pizza method
Combine flour and yoghurt in a bowl, turn out onto a floured surface and knead for approximately ten minutes, dusting with extra flour until the dough is no longer sticky.
Separate dough into two even balls and roll out each on a floured surface.
Transfer the rolled-out dough to a pizza tray.
Spoon the tomato paste over the dough.
Top with ingredients and sprinkle mozzarella over the top (from edge to edge).
Heat your barbeque or camp oven until very hot. If you've got a pizza stone, even better – because it helps to distribute the heat evenly.
Once the stone is hot, slide the pizza onto it and close the lid. It takes about 20 minutes, but keep an eye on it while it's cooking.
Tip: Want a thicker crust? Don't split the dough in two. Roll the full amount into one base and allow for a little extra cooking time.
2. Spaghetti Bolognese
This is my Mum's recipe, and one I still cook once every few weeks. It is simple, and uses just a few ingredients. And best of all, you can mix it up using what you have available at the time.
Spaghetti Bolognese ingredients (serves four to six)
500g pork mince (you could also use beef or turkey if you prefer)
One 500g jar of Leggos tomato paste
One diced red onion
Six to 10 finely chopped mushrooms
Two cups of water
Two cubes beef stock
One pack of pasta of your choice
One grated carrot (optional)
Olive oil
Mixed herbs
Two cloves of garlic (crushed)
Spaghetti Bolognese method
Heat a large pot on high heat, and add a drizzle of olive oil.
Place mince into the pot, and stir until brown.
Add garlic and tomato paste, then fill the (now empty) jar with water twice and add it to the meat with the onion and beef stock.
Simmer on a medium heat; once bubbling add the mushrooms and carrot.
Cook until reduced; which should roughly take 15 minutes. Note: a longer, slower cook will always taste better, so get it on early and let the flavours do their thing.
Boil the pasta until soft, and add directly to the bolognese sauce. Stir until a good ratio of meat-pasta is achieved.
Top with cheese and mixed herbs, and you are ready for the best bolognese this side of Rome.
3. Chicken Curry
For those icy cold nights in the outdoors, chicken curry is the meal that will both warm and fills you up. This dish also gives you the freedom to spice things up (for those brave enough).
Chicken Curry ingredients (serves four)
Four diced chicken breasts
One cup of beans (sliced)
One small zucchini (thinly sliced)
One brown onion (chopped)
One can of coconut milk/cream
1½ tablespoons of curry paste (red or green)
Vegetable oil
Chicken Curry method
Heat a small amount of oil in a deep frying pan or camp oven over medium heat.
Add the onion and curry paste, and cook for roughly one minute. Add the diced chicken into the pan, and fry for a few minutes until you cannot see any pink chicken.
Pour in the coconut milk and stir it in well. Simmer for 10 to 15 minutes until the chicken is properly cooked.
Add one cup of beans and cook for another five minutes, then lay zucchini slices on top to soften for one minute.
Serve with boiled Jasmine rice and enjoy with your favourite beverage.
4. Cheese and Spinach Cob
An all-around winner, the cheese and spinach cob is a well-known and much loved favourite. It's easy to share and pass around the campfire, makes a brilliant snack for the afternoon before dinner, and is a no-mess option as you get to eat the plate (so to speak.)
Cheese and Spinach Cob ingredients (serves eight)
One large cob loaf
One large handful of spinach leaves
One small onion (finely chopped)
One cup of mayonnaise
One and a half cups of cheddar or tasty cheese (grated)
250g cream cheese
One teaspoon mixed dry herbs
Salt and pepper
Cheese and Spinach Cob method
Preheat a camp oven on a low/medium heat and drop in a trivet.
Slice a lid off the top of the cob loaf and scoop out the bread inside, ensuring you keep it in large pieces, while leaving the cob wall and base 2cm thick.
Mix all other ingredients in a bowl, and fill the cob.
Place the loaf on your trivet and bake for around twenty minutes, or until the filling has melted.
Start eating the cob once the filling levels drop.
5. Potato and Egg Scramble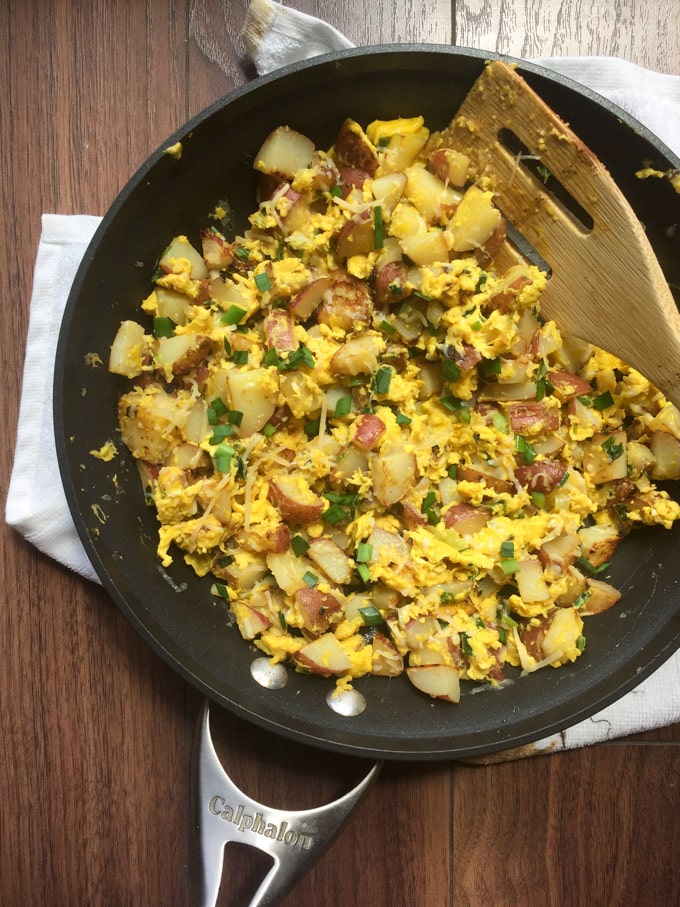 A big day of adventuring ahead? Look no further than the potato and egg scramble. This combination is a scrumptious breakfast that will fuel the whole family for hours. No one wants to hear "I'm hungry" from the kids one hour into a hike, so fill them up before you go with this delicious and easy breaky.
Potato and Egg Scramble ingredients (serves five)
Two diced medium potatoes
Eight eggs
One chopped onion
Two chopped capsicums
Two tablespoons of butter
Potato and Egg Scramble method
Add one tablespoon of butter into your cast iron pan over your fire. Melt it and spread it around.
Add the potatoes, onions, and capsicums. Cook until the potatoes are tender.
Drop in the next tablespoon of butter and once melted, add the eggs.
To ensure even cooking time, cover the pan with lid or tin foil and let it cook until the eggs are ready.
6. Potato Boats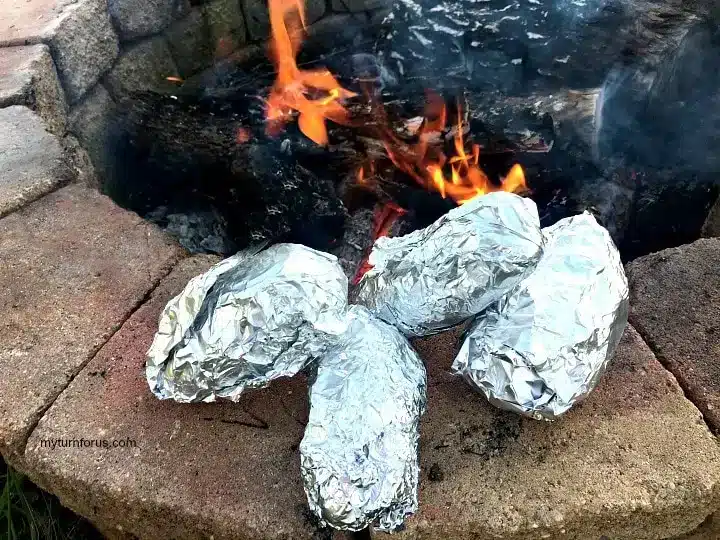 If you've got some left-over potatoes sitting around from your previous meals, you should consider making some potato boats. Easy, yet tasty, the ingredients within the potato boat can be swapped and changed to provide more variety and excitement. They're great as a snack or as a dinner side dish.
Potato Boats ingredients (serves three)
Three baked potatoes
Nine cooked strips of bacon
Cooked ham
Cheddar cheese
Butter
Potato Boats method
Take three baked potatoes and cut them each five times, without cutting them all the way through. Create six equally sized segments across the potato.
In each segment add bacon, ham, and cheese.
Lay out each potato on its own piece of tin foil.
Apply some butter on the tops of each potato and spread it around.
Seal the potato in tin foil and place it on a hot spot in your grill or over the fire.
Cook for roughly twenty minutes then serve.
7. Chicken Skewers
An easy and shareable meal for the campfire is chicken kebabs. This is a great option if you're looking for leftovers the next day! Once you've finished dinner, pop them in an esky to stay fresh. The chicken marinate flavours are totally up to you, but here is our favourite.
Chicken Skewers ingredients (serves five)
Two large chicken breasts cubed
1/4 cup soy sauce
1/4 cup maple syrup
One tbps sriracha sauce
One pineapple (cubed)
One capsicum (cubed)
Wooden skewers
Chicken Skewers method
Place cubed chicken breasts in a resealable snaplock bag.
Whisk together the soy sauce, maple syrup, and sriracha sauce.
Pour over the top of the chicken and massage into the chicken through the bag.
Allow the chicken to marinate for at least 15 minutes.
Soak wooden skewers in water for 10 minutes.
Slide the chicken pieces, capsicum and pineapple onto the skewer.
Grill chicken over the fire until thoroughly cooked through.
Coming home from a camping trip, in my opinion, should be a carload of happy people with full bellies. These delicious campfire recipes will help you do the latter while nourishing your bodies and, as a result, boosting your energy levels for the entire trip.