Spend a lot of time driving on rocks or through mud? Chances are you'll be after a set of mud-terrain tyres for your 4X4. Check out our 2020 Mud-Terrain Tyre Buyers' Guide.
Last month we released our updated 2020 All-Terrain Tyre Buyers' Guide listing of every make and model of all-terrain tyre available in Australia, from 50:50 tyres through to 80:20 rubber. This month we've produced our first ever Mud-Terrain Tyre Buyers' Guide and like these sorts of lists, every six to 12 months we'll dust the thing off and add or subtract tyres as they either become available or are no longer available.
Before we get into this let's actually breakdown a few differences between all-terrain and mud-terrain tyres. An all-terrain tyre is intended as, essentially, a jack of all trades; it needs to work on dry and wet roads as well as off-road. It does a little bit of everything well, if you like. A mud-terrain tyre on the other hand is a pretty focussed piece of equipment. It's designed to be tougher than an all-terrain, with a bigger and wider tread block to improve grip on muddy or rocky tracks. Muddies will eject mud and crap from the tread better than an all-terrain tyre will maintaining maximum traction where the face of an all-terrain might fill up.
Stay tuned because we've got a comparison test coming up that'll look at the pros and cons of both tyre types out in the field. It's not possible for us to test every single tyre on this list, so, if you own a set of these tyres or have a mate who does, make sure you leave a comment about your experience with the tyres. And if you do know of a tyre we don't have on this list then let us know and we'll update this Guide.
---
BFGoodrich Mud-Terrain T/A KM3
BFGoodrich is a household name when it comes to off-road tyres, it claims the KM3 offers 5 per cent better mud traction than the previous-generation KM2 tyre. This is down to what BFGoodrich call "mud-phobic bars" on the shoulders of the tyre that have been designed to release compacted mud to improve traction. The KM3 also comes with a "Terrain-Attack" tread pattern that is intended to 'deliver grip from any angle of approach'. The KM3 is also claimed to have 27 per cent tougher sidewall than the KM2 due to its "CoreGard Max" technology, which is intended to protect against punctures – it's essentially just a fancy way of saying it's got a thick sidewall and a 'specialised compound'. Available to suit 15- to 22-inch diameter rims.
---
Bridgestone Dueler M/T 674
Bridgestone claims its Dueler M/T 674 uses "revolutionary 3D technology" to improve durability and off-road performance. The 674 Dueler isn't your typical block-based design and comes with "3D Grooves", to help cut through mud, the "3D Shoulder Lugs" are claimed to provide strength and improve handling on sloppy terrain, and the "3D Buttress", a step-and-slope design created to provide increased control and stability in mud. The Dueler M/T 674 exclusively comes in light truck construction with a reinforced sidewall to provide a tougher tyre for tougher tracks. Available to suit 15 to 17-inch diameter rims.
---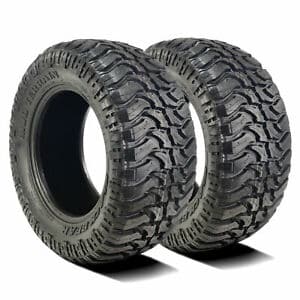 Black Bear Mud Terrain
A popular brand with off-road racing in the US, the Black Bear Mud Terrain tyre is one of three types the brand offers in Australia, although the sizes are limited compared to the US. According to Black Bear the brand has drawn off its motorsport heritage to produce a tyre with good 'speed' stability and performance as well as impact performance. The four-chunk tread pattern is designed to improve grip off-road as does the aggressive sidewall lugs and there are small ridges between the blocks to protect against stone drilling. Available to suit 15- to 20-inch diameter rims.
---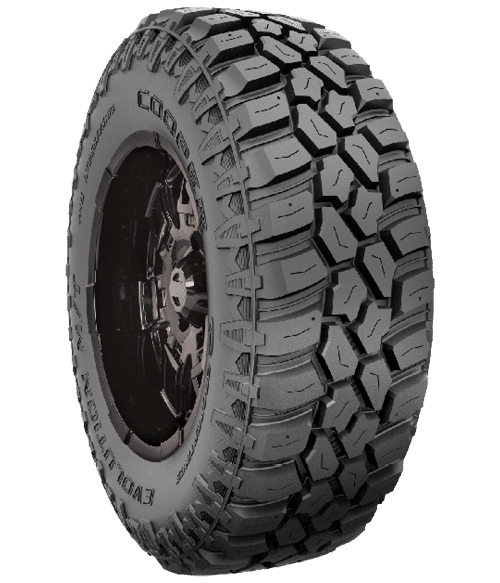 Cooper Evolution M/T
Cooper claims its Evolution mud-terrain tyre is ideal for recreational four-wheel-drivers with the Evolution M/T featuring, what Cooper calls, Earth Diggers which are designed to dig into loose dirt, sand and mud and provide greater traction. Then there are the Mud Slingers which Cooper describes as deep, wide voids between the tread blocks that it claims allow continuous cleaning away of stones and mud. The Evolution mud-terrain has been constructed from a "high tensile body ply [which] is 20% stronger than most other brands". Big claim. Available to suit 15 to 20-inch diameter rims.
---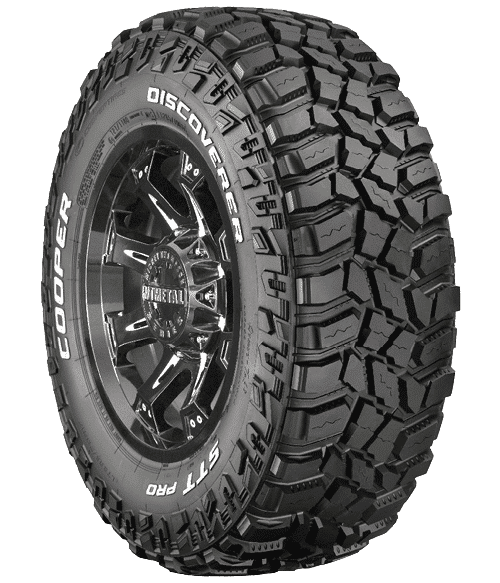 Cooper STT Pro
Cooper Tires calls the STT Pro its most advanced mud-terrain tyre to date. The STT Pro offers Mud Scoops and Mud Release Dimples that are designed to create air pockets to help flick away mud from the tread to maintain traction. It's constructed from an Advanced Silica Compound which has been formulated to reduce cutting and chipping while the "Armor-Tek3" wraps the tyre in an additional layer which Cooper reckons give the STT Pro at least 2.5 times the tear and impact-damage resistance of similar tyres. Available to suit 15 to 20-inch diameter rims.
---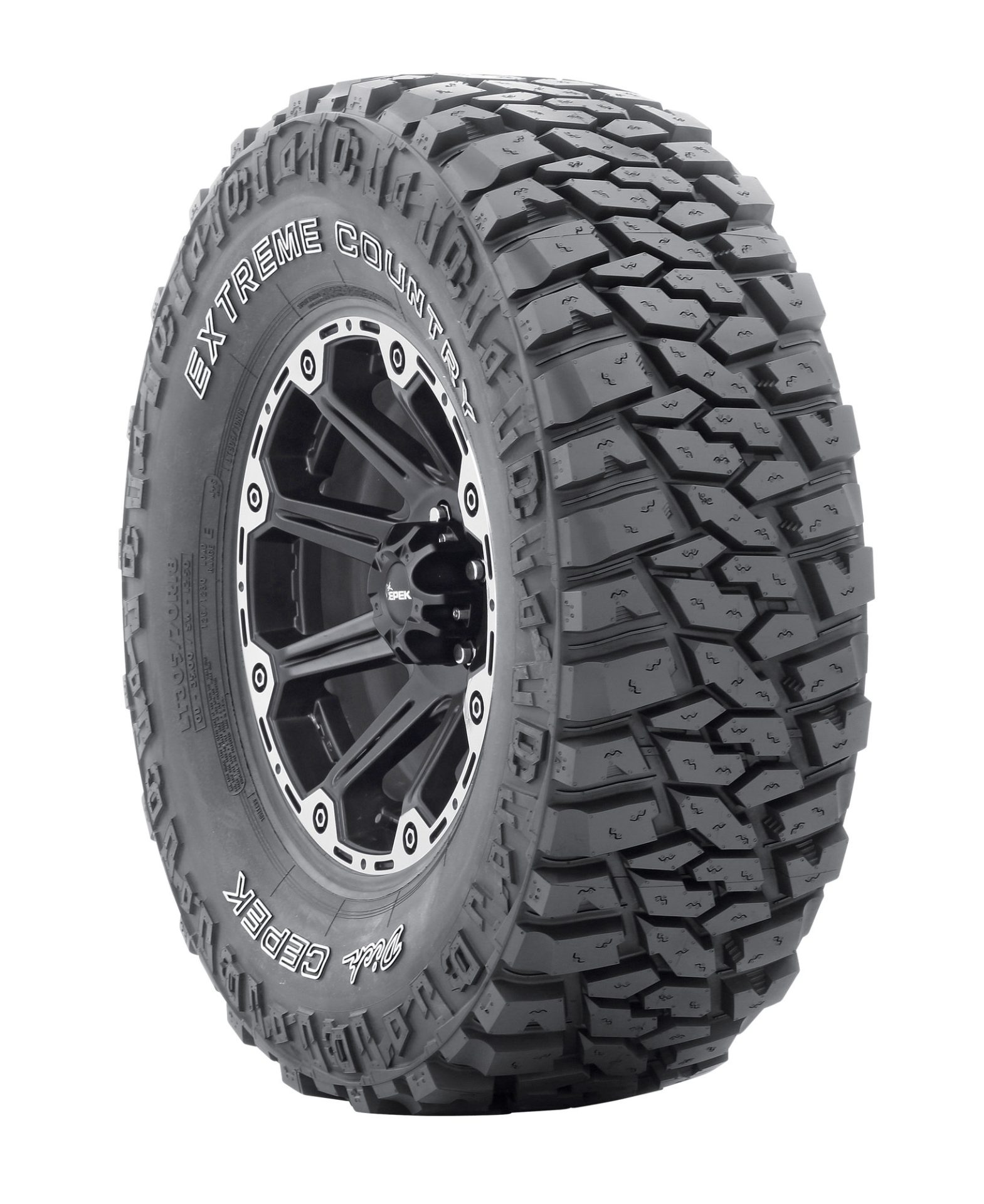 Dick Cepek Extreme Country
Dick Cepek is synonymous with off-roading, and the Extreme Country mud-terrain tyre has a "Two-Ply Next Generation High Tensile (HT) Body Ply Cord", which it claims enhances sidewall strength without adding weight, rolling resistance, heat buildup or ride harshness. The wide spacing of the shoulder lugs is claimed to improve mud shedding ability while the siping on the side helps with traction in ruts. Available to suit 15 to 20-inch diameter rims.
---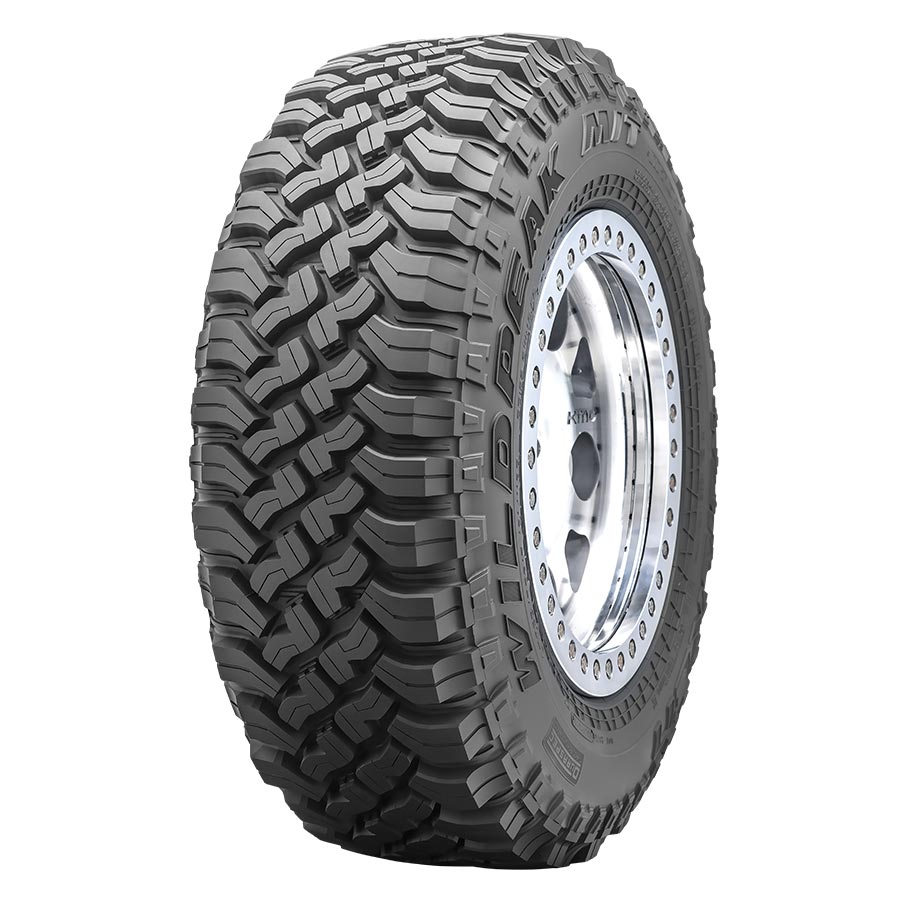 Falken Wildpeak M/T
The Falken Wildpeak M/T features Falken's "proprietary three-ply DURASPEC Sidewall Technology developed to sustain the most punishing off-road conditions". They come with aggressive sidewall siping for improved performance in ruts. The Wildpeak mud-terrains also feature a three-pitch tread pattern that Falken claims make them good on-road too. Available to suit 15- to 20-inch diameter rims.
---
Federal Tires Couragia M/T
The Couragia M/T is Federal's premier off-road tyre, combining "awesome off-road traction" with aggressive looks. The Couragia looks exactly like you'd expect a mud tyre to look with its deep tread block and square-edged shoulder lugs. Like all other mud tyre makers, Federal claims the Couragia M/T has a self-cleaning design thanks to the smaller lugs between the larger blocks. The Couragia M/T's also come with what is called 'long-life tread compound' which they say is a specially-formulated advanced tread compound that resists cuts, chips and abrasions providing more even wear and a longer lifespan, but then they all say that, right. Available to suit 15 to 20-inch diameter rims. Click on these words for more information.
---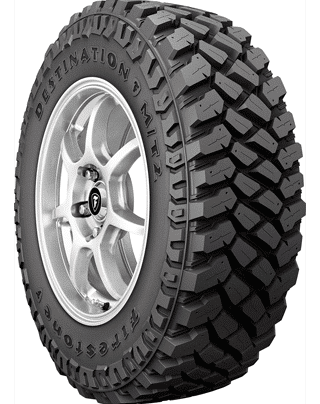 Firestone Destination M/T2
Described as a 'Maximum-Traction' product, the Firestone Destination M/T2 is its most aggressive tyre. Firestone claims the Destination M/T2 has been engineered to endure the demands of rugged off-road terrain. Our Wes is currently running a set on his HiLux and has written an initial review (the first 5000km) that you can read by clicking on these words. The Destination M/T2 tyres come with an aggressive tread pattern that has been designed explicitly with 'mud and stone rejection technology'. They also claim to come in a hardwearing cut and chip resistant compound and can be ordered exclusively in light-truck construction with a 3-ply sidewall. Available to suit 15- to 18-inch diameter rims.
---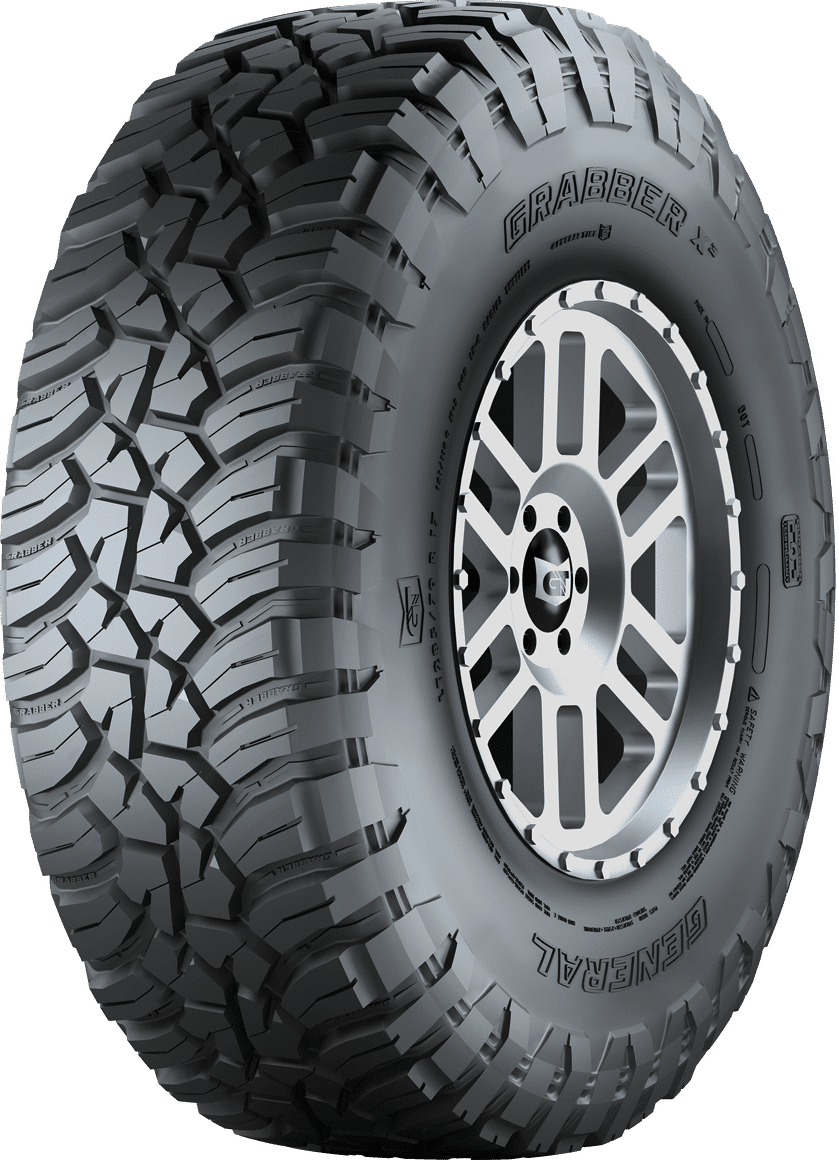 General Tire Grabber X3
General Tire's Grabber X3 is its new mud-terrain tyre claimed to offer extreme performance in mud, dirt, and rock, thanks to its specially- designed tread pattern, But General Tire claims these mud tyres are also good on the road and that's partly down to the shorter tread blocks meaning they're likely to be a little quieter than some muddies. To provide better control in the mud, the Grabber X3 has been designed with evacuation channels that claim to ensure quick and efficient self-cleaning. To give greater dirt performance, General Tire has designed the tread with additional biting edges which help when driving in ruts. For performance on rocky surfaces, the Grabber X3 has a toughened sidewall for cut resistance. The Grabber X3 is made with DURAGEN technology, which is a three-ply construction with ultra-high-strength steel belts to provide claimed durability and puncture resistance. Available to suit 15- to 18-inch diameter rims.
---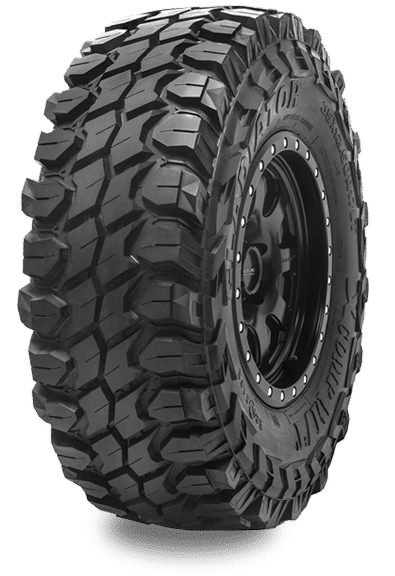 Gladiator X Comp M/T
One of the most aggressive looking tyres on this list, the Gladiator X Comp M/T has been designed for traction in sloppy and rocky conditions. And you can tell that from the looks of the thing, super aggressive tread blocks that are are off-set and the sidewall lugs are aggressive too for traction when driving in ruts and for keeping stuff away from the sidewall proper. The X Comp M/T has a three-ply polyester casing, along with two full steel belts and two full nylon belts. Available to suit 15- to 26-inch diameter rims.
---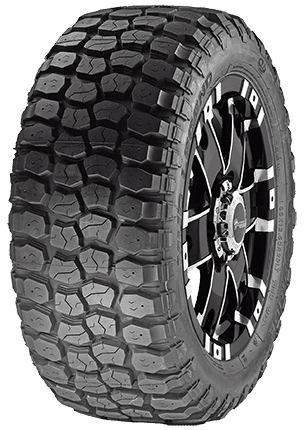 Goodride SL386
Goodride comes in at the cheaper end of this list if you hunt around online. The tread block is short but blocky and there's siping on the sides too although this isn't as aggressive as others on this list. They're a three-ply construction like most of the other muddies on this list. Available to suit 15 to 20-inch diameter rims.
---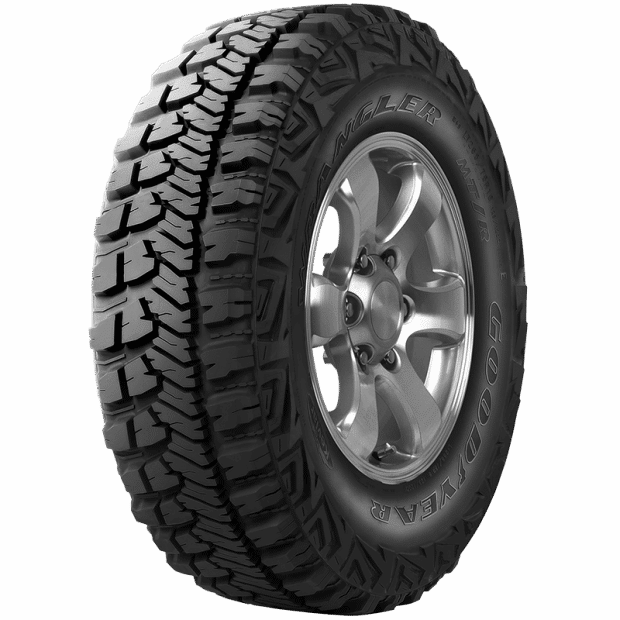 Goodyear Wrangler MT/R Kevlar
The Goodyear Wrangler MT/R Kevlar is designed with an asymmetric tread pattern as well as a layer of DuPont & Trade Kevlar in the sidewalls to provide toughness and resistance to cuts and abrasions. The tyre comes with a three-ply sidewall construction in addition to the Kevlar for improved longevity. The Wrangler MT/R Kevlar also comes with traction ridges on the shoulders for performance in ruts. Available to suit 15- to 18-inch diameter rims.
---
GT Radial Adventuro M/T
The Adventuro M/T is the most aggressive tread pattern tyre in the GT Radial range. One of its features is its aggressive block pattern design that GT Radial claims offers excellent traction in all weather conditions. GT Radial also claims the pyramidal-shaped tread and high void ratio provides better resistance to aqua planning and even greater self-cleaning. The Adventuro M/T also comes with a reinforced casing construction. Available to suit 15- to 16-inch diameter rims.
---
GT Radial Komodo M/T
Like the Nitto Mud Grappler below, the GT Radial Komodo M/T features an odd-looking scale pattern on the tyre's shoulder which GT Radial claims offers protection and grip – and, yes, GT Radial calls the shoulder lugs, wait for it, Komodo claws. The zig-zag shoulder block design is intended for both grip and self cleaning, there are protection ridges inbetween the blocks to protect against sharp rocks. The Komodo features two steel radial belts spirally wrapped in nylon for strength and protection. The low tread block design is intended for performance in rocky terrain. Available to suit 15- and 16-inch diameter rims.
---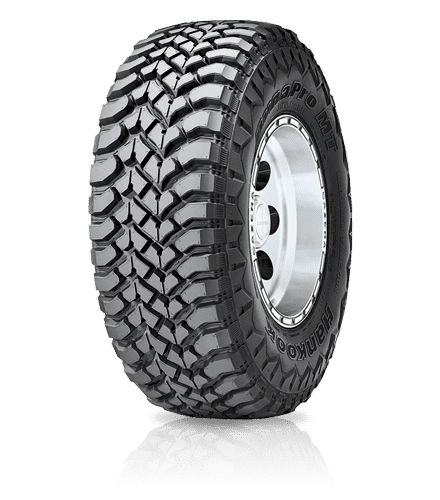 Hankook Dynapro MT
The Hankook Dynapro MT claims excellent multi-direction traction, grip, and "anti-puncture capability". The Dynapro MT comes with side protection blocks that Hankook claims shields the tyre against the shock of protruding objects while also working against pothole damage and even improving traction in soft dirt and ruts. They also come with an under-groove protector which you can see between the blocks on the shoulder, which is claimed to prevent impact damage while also softening shock when running them at lower pressures. The Dynapro MT also comes with nylon-reinforced, high-strength belts, which are said to provide greater strength and steering stability as well as durability. Available to suit 15- to 18-inch diameter rims.
---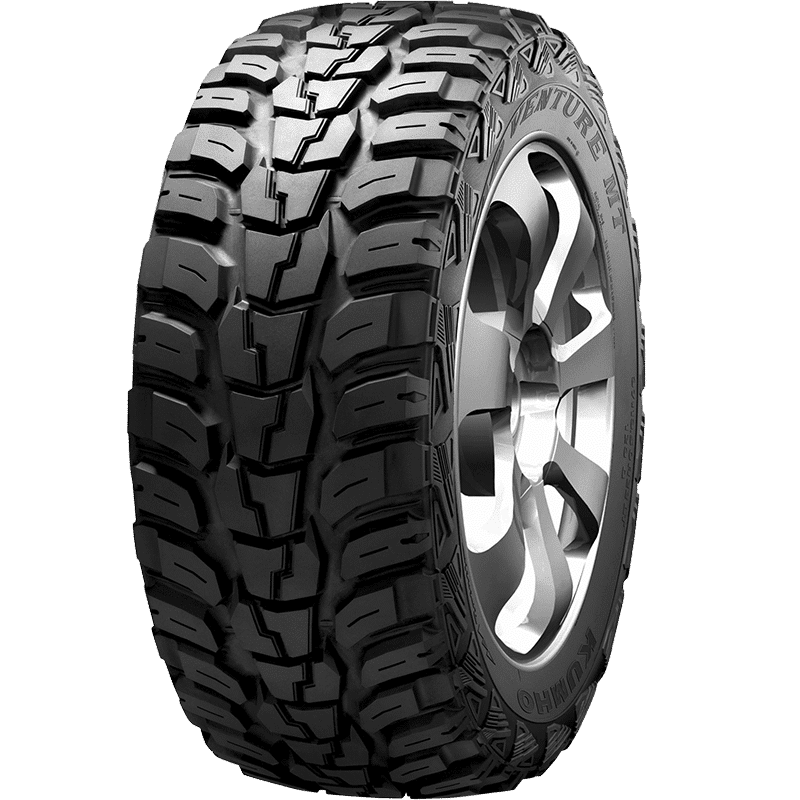 Kumho Road Venture MT KL71
The Road Venture MT KL71 is more aggressive than the Road Venture MT51 (below), designed to deliver traction on- and off-road. Kumho claims it is significantly quieter on-road compared to other mud-terrain tyres, they say this is thanks to the tight-packed centre blocks. Kumho describe the design of the tread patter as "a pattern design which utilises the theories of fluid mechanics for enhanced wet performance, climbing ability and traction both on and off-road". The KL71 also come with a lug-type block pattern that Kumho claims provide exceptional traction on mud and rock. Available to suit 14- to 17-inch diameter rims.
---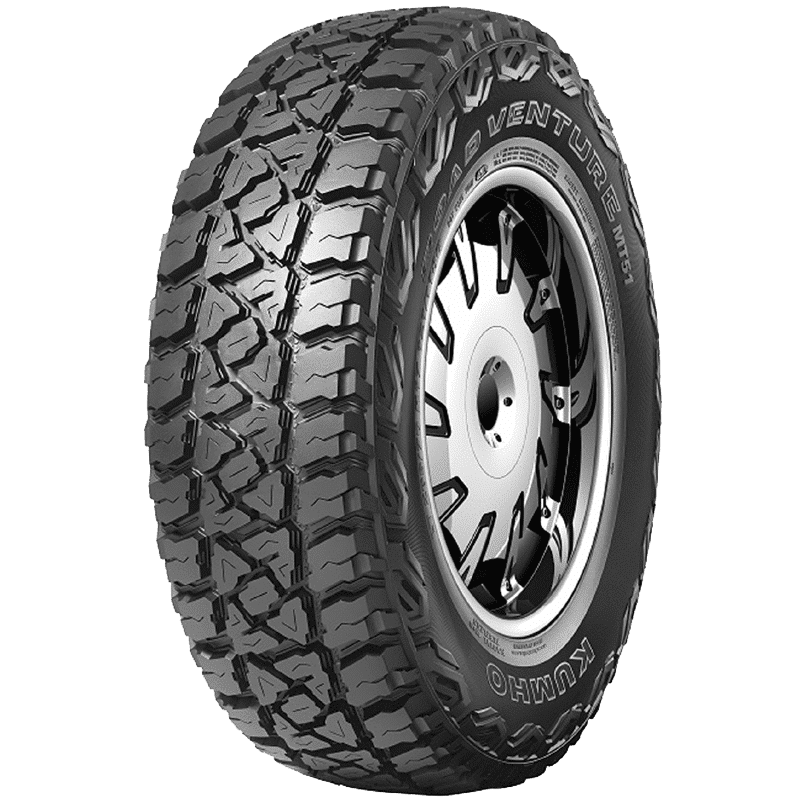 Kumho Road Venture MT51
Described as a milder mud-terrain tyre, the Road Venture MT51 offers a combination of tough mud-terrain performance with improved on-road dynamics. The Road Venture MT51 comes with a specially-designed chamfered deflector bar as well as a stone reject bar, and under-groove design all made to eject mud and stones for more traction while also minimising the risk of staking and sidewall damage. The MT51's three-level tread pattern is designed to improve on-road performance while not sacrificing off-road ability. Kumho also claims it has improved the durability of the tyres with better prevention of stone drilling as well as cracks and chips thanks to a new compound and construction. Available to suit 15- to 18-inch diameter rims.
---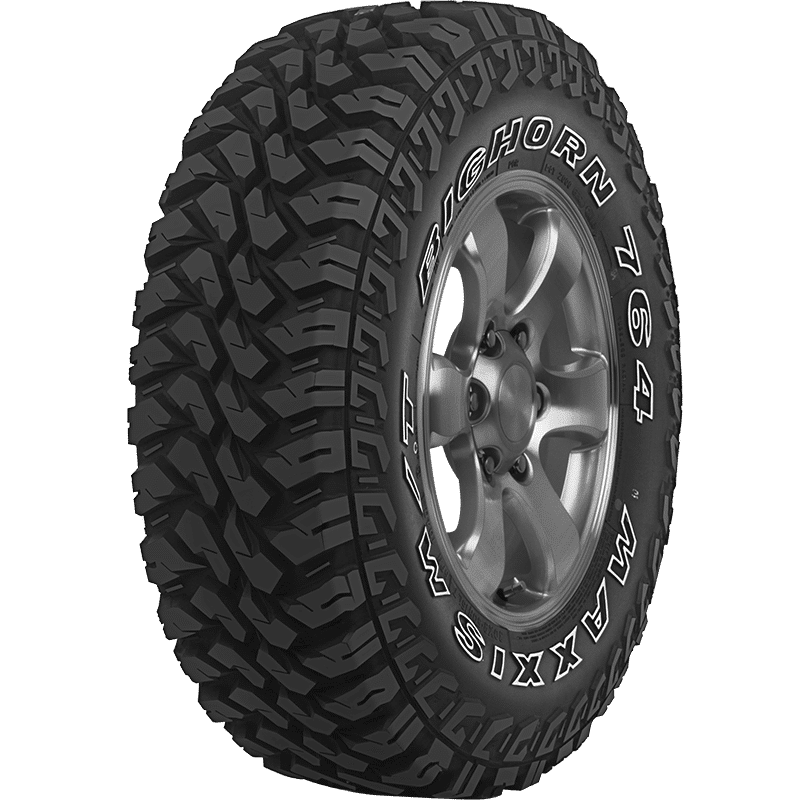 Maxxis MT764 Bighorn
The Maxxis Bighorn name has been around for a while and is well known for its off-road motorsport background, at least in the US. The MT764 comes with a multi-stage shoulder design which claims to reduce highway noise but also provide shoulder strength on uneven surfaces – this is an interesting claim as generally-speaking the gappier the tread block the noisier the tyre, so… Maxxis also claims that multi-stage shoulder comes with stone eliminators that are meant to enhance self-cleaning ability. It also comes with a dual-stage tread design, which they claim provides added traction and steering control. The MT764 Bighorn also comes with what Maxxis describe as anti-puncture siping which have a unique 'G-shaped' design and help with grip in ruts. Available to suit 15 to 18-inch diameter rims.
---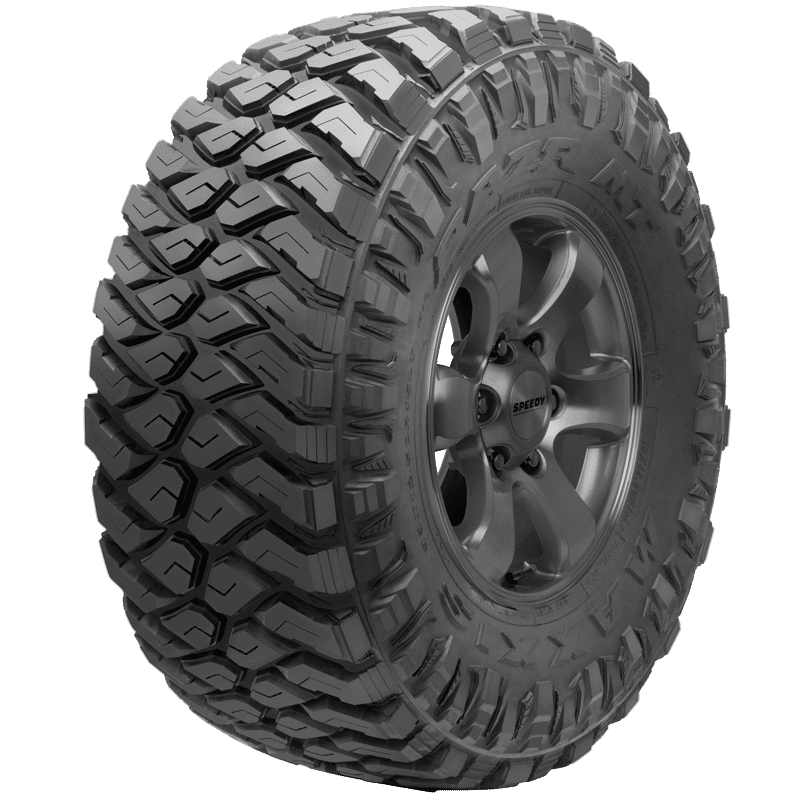 Maxxis MT772 RAZR
The MT772 RAZR is Maxxis' top-spec mud terrain tyre, designed off the back of Maxxis' motorsport knowledge and off-road racing involvement. The MT772 RAZR has a staggered shoulder blocks and aggressive sidewall siping, which Maxxis claims offers protection and traction in ruts. The tread make-up of the MT772 RAZR is also 'different' with what Maxxis describes as new chemical fillers to increase maximum tear resistance and tread life. Maxxis has designed the tyre with a dual-cord casing ply with addtional reinforcement fibres intertwined improving strength and longevity. Available to suit 15- to 18-inch diameter rims.
---
Maxxis M8060 Trepador
Allegedly designed for the rigours of high-speed off-roading, the Trepador Radial features staggered shoulder blocks and multi-curve siping additional traction bite in ruts. The Trepador features a conformable ply casing with aggressive sidewall design. It's constructed with a nylon belt reinforcing for stability at speed and puncture resistance. Available to suit 15- to 17-inch diameter rims.
---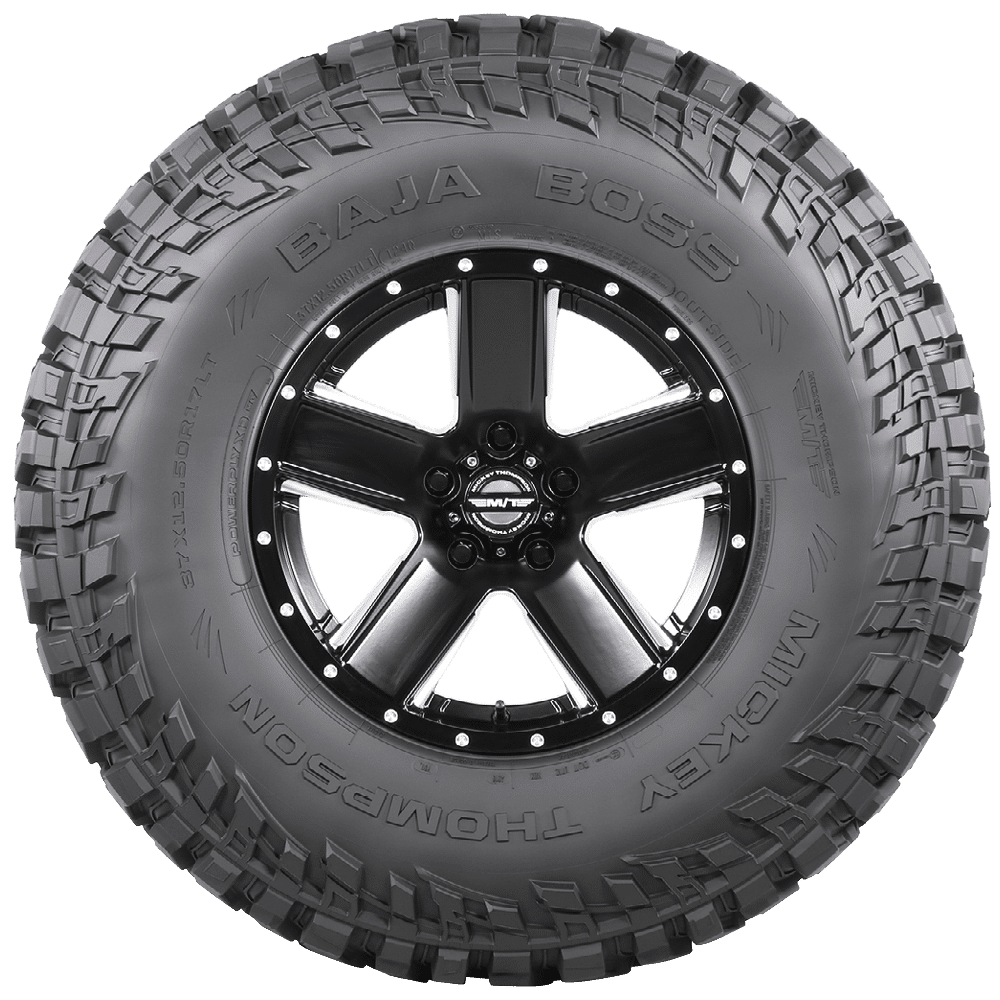 Mickey Thompson Baja Boss
The Baja Boss comes with Mickey Thompson's Powerply XD 3-ply construction, which it claims makes the Baja Boss virtually unstoppable. Hmmm. The Baja Boss offers an asymmetrical tread pattern which is claimed to help reduce noise and improve traction both on- and off-road. It also comes with four-pitch Sidebiters which Mickey Thompson claim are 50 per cent larger than any other Mickey Thompson tyre. The tyre also features stone-ejector ribs between the blocks. Available to suit 17- to 22-inch diameter rims.
---
Mickey Thompson Baja Radial Claw TTC
The Baja Radial Claw TTC has been made with what Mickey Thompson calls, 'state-of-the-art construction', with its Powerply Technology and compound formula using chemically-coupled silica to create a low rolling resistance tyre. The Radial Claw TTC comes with mud pockets in the tread that will help stop mud from becoming stuck in the gaps improving the tyre's self-cleaning ability. Mickey Thompson said it designed the tyre with a unique 23-degree tread angle which it claims is the perfect cutting and self-cleaning angle for traction off-road. The Radial Claw TTC also has 'De-coupled Sidebiters' Mickey Thompson claim that they provide both grip and sidewall protection when driving in ruts. Another unique feature o the Radial Claw is its 'Broken Centre Rib' which sounds painful, but Mickey Thompson claims it improves the tyre's performance when driving on an angle. Available to suit 15- to 17-inch diameter rims.
---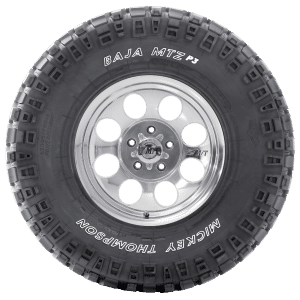 Mickey Thompson Baja Radial MTZ P3
The Baja Radial MTZ P3 is the latest-generation MTZ tyre with Mickey Thompson claiming it features all new construction and design. The MTZ P3 comes with more aggressive side biters that it claims improve traction and reduce sidewall damage. Along with the new sidewall tread they've fitted flex grooves to the tyre which area apparently intended to let the sidewall compress better when aired down. The MTZ P3 has stone ejectors and variable draft angles which Mickey Thompson claims will fling dirt and small stones out of the tyre to prevent stone drilling. Available to suit 15- to 20-inch diameter rims.
---
Mickey Thompson Deegan 38
Named after the professional freestyle motocross rider and rallycross driver Brian Deegan, the Deegan 38 tyre is less aggressive than the MTZ3 and is designed to be an all-purpose mud-terrain. The Deegan 38 comes with "micro-gauge sipes", which they say suck up and squeeze water out from the tread, as well as increase cut and chip resistance. The large outer voids and the scalloped shoulder lugs are intended to stop mud from clogging the tyre. Available to suit 15- to 20-inch diameter rims.
---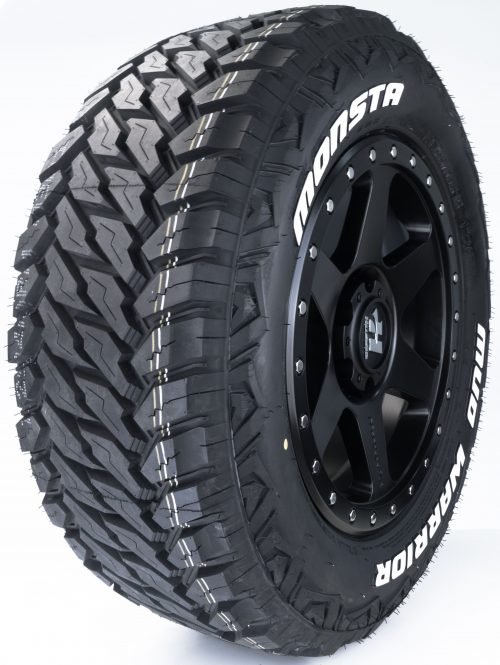 Monsta Mud Warrior
The Monsta Mud Warrior is described as, "the tiger of the off-road driving world. It's born and bred to do one thing very well. And that's ripping apart small areas of outback one rotation at a time". The whole ripping apart the outback thing is a bit much but, hey, that's marketers for you. The design of the tread is claimed to improve its water and mud shedding ability. The sidewall protection is a similar design to that of the Extreme Mud but even more aggressive. Available to suit 16- to 20-inch diameter rims.
---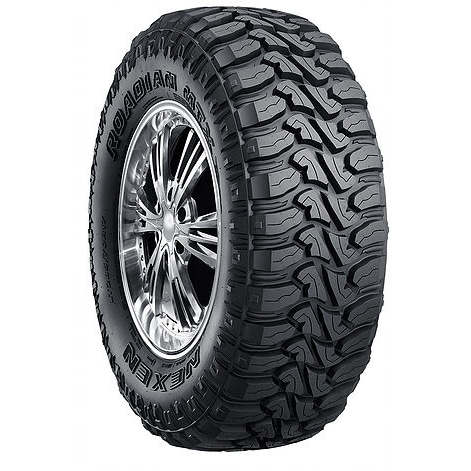 Nexen Roadian MTX RM7
The Nexen Roadian MTX RM7 is described as a "state-of-the-art" mud-terrain tyre with an aggressive tread pattern designed to be almost as good on-road as it is off-road. The Roadian MTX RM7 comes with three-ply sidewall construction as well as a reinforced rubber belt for strength and longevity when either carrying a load or being driven at reduced pressures off-road. The aggressive tread pattern is intended to provide maximum traction and strength in the harshest of terrains. Available to suit 15- to 18-inch diameter rims.
---
Nitto Mud Grappler
The Nitto Mud Grappler is described as an extreme mud-terrain, light-truck, 4X4 tyre. With its sidewall lugs and odd-ball, scale-esque siping they look almost reptilian but this design is claimed to improve protection against rocks, branches and roots. The Mud Grappler is also more gappy than some other mud tyres but this is so it, according to Nitto, can shed mud, water and rocks. Nitto states that the Mud Grappler has excellent puncture resistance thanks to a three-ply polyester sidewall construction as well as a high-strength steel belt for durability when being aired down off-road. Available to suit 15- to 20-inch diameter rims.
---
Nitto Trail Grappler M/T
The Nitto Trail Grappler Mud-Terrain is a light-truck tyre which Nitto says was, "forged in the fires of motorsport and has become renowned globally as a true do-it-all off-road tyre". Nitto claims it relied on 3D modelling to design a tyre that would be effective in the mud but without being too noisy (it's claimed to be 36 per cent quieter than the Nitto Mud Grappler) or grip-less on wet roads, and it apparently hit on the perfect tread arrangement. Like other muddies, the Trail Grappler consists of three-ply construction. And the Trail Grappler mud-terrain has both reinforced shoulder grooves and a large void ratio, both are claimed to help the tyre self-clean. The tyre also comes with Central Siping that Nitto claims cuts through standing water on the road to gain traction, which is said to decrease aquaplaning. Available to suit 15- to 20-inch diameter rims.
---
Pirelli Scorpion M/T
According to Pirelli the Scorpion M/T has been designed specifically to handle hard knocks off-road, the traction lugs on the sidewall aren't as aggressive as some on this list but they will provide additional protection and traction in ruts. A rim-protecting lip around the bead doubles as a barrier to prevent crap from getting into the tyre when you're running low pressures. Available to suit 16- and 17-inch diameter rims.
---
Toyo Open Country M/T
The Toyo Open Country mud-terrain is designed to provide quality traction in mud and other soft-terrain off-road conditions. The Open Country MT offers an open tread pattern with scalloped shoulder blocks, which Toyo claims are designed to both provide "excellent" traction as well as eject mud and rocks. The tyres also come with over-the-shoulder tread and siping in the tread blocks for water-shedding, grip and protection. Toyo constructed the Open Country M/T with a three-ply casing for strength and durability. Available to suit 15- to 20-inch diameter rims.
---
Yokohama Geolandar MT G003
Yokohama describes the Geolandar MT G003 as being for "the extreme off-road adventurer". The Geolandar MT G003 features Yokohama's "GEO-SHIELD Technology", which is a nylon cap along with sidewall plies and steel belts that is claimed to provide traction and tyre protection in ruts. The tyre is constructed from a triple polymer compound and Yokohama claims it has "Optimised Lug Grooves" for shedding water and maintaining traction. The Geolandar M/T G003 also comes with a "Mud & Stone Ejector" to keep the tread clean and help prevent stone drilling Available to suit 15- to 20-inch diameter rims.
---
Yokohama Geolandar X-MT G005
Yokohama claims the Geolandar X-MT G005 is the next step up in its mud-terrain tyre range, designed for "hardcore mud and rock-crawlers" and that it possesses "undeniable traction" and "ruthless performance". The Geolandar X-MT comes with an aggressive tread that Yokohama claim provides extreme traction off-road as well as tremendous crawling performance and self-cleaning capabilities. Yokohama also states the tyre's triple polymer compound and enhanced sidewall design provides greater tyre durability, as well as better off-road traction. The tyre also comes with "optimised lug grooves" which Yokohama claims increases wet road braking performance. Available to suit 16- to 20-inch diameter rims.