10 safety tips you can't ignore when exploring this summer
Words by Harry Temple
1 Emergency UHF channels and local area specific emergency information channels
If you spend a lot of time out of mobile reception, having a UHF and a solid understanding of emergency channels and when to use them can mean the difference between getting home safely or spending a couple of nights out in a risky situation. Emergency channel 5 and its duplex 35 are reserved for emergency communications only and are monitored by local authorities for transmission. Also steer clear of 22,23,61,62,63 as they are restricted for telecommand and future use. While travelling, you may also come across signs when entering rural towns that list area-specific emergency information channels. Make a quick note of the channel, in case an emergency situation arises while you are within the locality.
2 Fires Near Me app
Recently, the RFS has been working on a national version of the highly successful NSW smartphone app. Available on both Android and iOS, the app provides regularly updated warnings regarding fires that may be approaching your area, with warning levels and information about the scale and scope of the blaze. The app features a handy pinch and zoom map that piggybacks Google Maps with overlaid icons to quickly find your location and any encroaching fires. This same information displayed in the app is also available on the RFS website. (https://www.rfs.nsw.gov.au)
Download the latest version of Fires Near Me NSW:
For iOS, click here. 
For Android, click here. 
Download the latest version of Fires Near Me National:
For iOS, click here. 
For Android, click here. 
3 National park warnings
The NSW National Parks and Wildlife Service have constructed an interactive map to show all park alerts and closures, both planned and unplanned across the state. Also available in list form, this quick and easy check will give you the confidence to set out on your trip knowing if there are potential hazards at your destination. Covering everything from planned upgrades, closed parks, trackwork, current fire ban status and much more, it actually proved invaluable to me when planning a recent trip through the Old Grafton Road on the NSW north coast. Fires had been through the area in the days leading up to my arrival and through the app I was able to keep on top of the unfolding situation and adjust my plans accordingly. Check out the website here.
4 Have you let friends and family know where you are going?
Remember when you were young, and your mother would make you tell her where you were going and who you were with? Well turns out she wasn't being over-protective, she just had your best interests at heart. Before your next trip make sure to get in contact with at least one family member or close friend and let them know of your plans. Tell them when you plan to arrive at each specific location as well as any potential dangers you expect to encounter, and make sure to give them a set time at which you will contact them again to confirm your safe arrival.
5 Maps and written notes – technological failsafe
Most of us now use some form of GPS or mapping software on a device to navigate through our adventures. We now seem to steer clear of traditional maps bought from information centres or local councils. While these may not be as convenient as simply swiping with your fingers, they do have the advantage of sticking around after your phone or GPS goes for a swim or gets misplaced on a tricky section of track. Marking traditional maps with key points can be complemented with a set of written notes explaining the trip in detail. I often print a set of notes to complement maps as I find it easy to explain to any other parties on the trip and this way, I make sure I am always on the right track, without relying on technology (even though I still carry my devices – one can never be too prepared!).
6 Do you have a contingency?
Would you know how to get out of the area if the road behind you was suddenly impassable? Spending a couple of extra minutes prior to the trip planning out a 'Plan B' for any fire fronts or even a simple downed tree or rockslide is time well spent. Identifying a linking track or alternate road can save you valuable time and prevent making a rushed decision in the heat of the moment. In a worst-case scenario, do you have a survival kit with you in the vehicle if you are trapped with a fire front approaching? These kits aren't expensive to put together, yet they can make a major difference if or when the fire passes over your vehicle. Read more about them here.
7 Chat to the locals – no greater source of information in remote areas
It is important to remember that prior research can only yield information and updates from the past. You never know whether warnings have escalated, or if new events have unfolded or dangers arisen in the time since you have left home. That is why it is in your best interest to have a quick chat to the small-town service station attendant, or to ask the bloke with the beat-up farm truck passing down the main street a couple of quick questions about the area. There is no greater source of local knowledge than the very folk that call the place home. Keep your ear to the ground and not only will you be a safe as possible, you may just find some hidden gems that only the locals know about!
8 PLB (Personal Location Beacon)
You have probably heard of an Emergency Position Indicating Radio Beacon, or EPIRB. Commonly carried by both recreational fisherman and seafaring individuals, they can also be carried on land. However, a Personal Location Beacon (PLB) is preferred for outback travel, as they are much smaller and lighter, therefore easier to carry on your person and fit in your 4WD. It is important to ensure that your beacon is a GPS variant, rather than a non-GPS unit. The difference is not only the accuracy to which your signal will be triangulated, but the time it takes for the beacon to provide your location. GPS units are accurate to 120m and only take 20 minutes to relay a location, whereas the non-GPS beacons can only narrow it down to a massive 5km radius and can take up to five hours to do so. Time is of the essence, so make sure you pick up the beacon best suited to your needs. Click here for more information on beacons and their operating systems.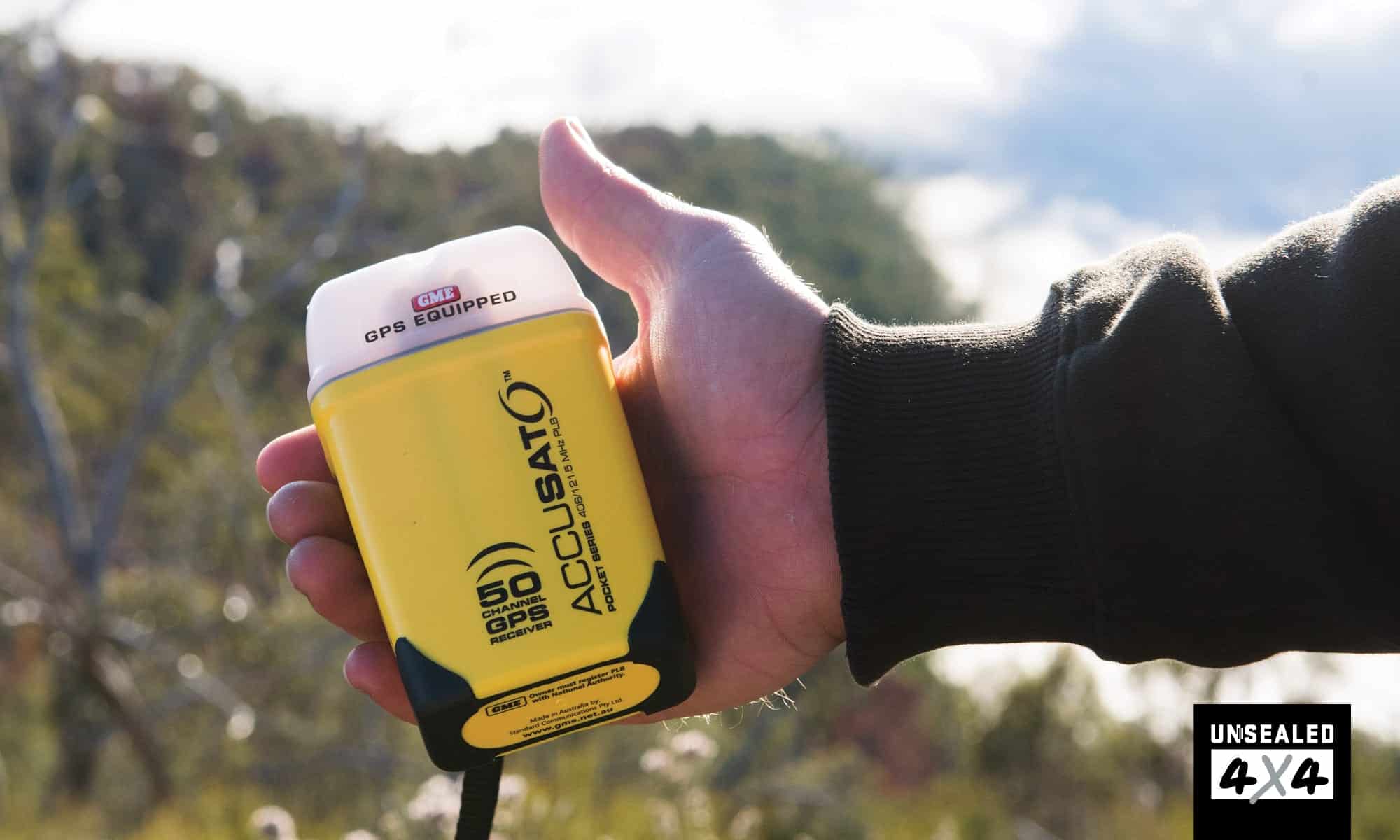 9 Water and food
I remember coming across a broken down carby 80 Series 'Cruiser on the Sturt Highway between Port Augusta and Coober Pedy. The occupants didn't speak much English and I remember offering one of them a lift with me into Coober Pedy to get help and a tow. I was shocked to find out they had only a small packet of biscuits and no water apart from the bottles in their hands. It was 45°C on the dash and even hotter in the full sun. Fortunately, I had packed enough to feed a small football team and gave them plenty of water and food while we journeyed back to civilisation. We ended up completing the rest of the trip in tandem all the way to Uluru. It's important to remember the 'rule of three's'. You can survive three minutes without oxygen, three hours without shelter in harsh conditions, three days without water, three weeks without food.
10 Fire bans and campfires
"It's not camping without a fire". That phrase gets thrown around a lot, but the simple fact is while we may strongly associate having a fire with camping, it isn't mandatory. With the dry conditions we have experienced throughout winter and early spring, it is no wonder that the fire season is already in swing and fire bans are now in force in certain areas. Penalties for noncompliance range from on-the-spot fines to thousands of dollars. Even if a fire ban isn't in force, good fire practices go a long way. Have a water supply on hand and clear the area around the fire or pit of flammable materials for at least three metres. It doesn't take much effort to check the fire ban status prior to a trip. This link to the RFS website holds all relevant fire ban information for NSW. For interstate readers, please check with your local authorities.
Click here to view the official RFS fact sheet for caravan and camping in the bushfire season.
EXPERT TIPS – WE SPEAK WITH THE NSW RURAL FIRE SERVICE
1. What can we expect from this bushfire season?
Currently NSW is being affected by drought conditions, this is having a two-fold affect. Grass land areas have limited fuel loads or growth therefore reducing the overall risk. This is particularly evident in areas west of the Divide. Forested areas on the other hand remain very dry and therefore carry an increased risk. The Service has highlighted in recent months that they are expecting increased fire activity in forested areas this fire season.
The spring (September to November) climate outlook shows drier than average conditions are likely for southern Australia extending up through NSW (west of the divide) and into central Australia. September and October are likely to be drier than average more broadly across most of the country. Spring days are likely to be warmer than average for Australia. With clear skies likely, the risk of frost and cold nights continue in the south, but overall, warmer than average minimum temperatures are likely in many locations.
2. What are some of the common forms of fire ignition out in the bush? Is there a particular one that occurs more than others over the summer months?
There is a wide variation for the cause of fires in NSW. Some of the most common causes include lightning, escaped private burns as accidental ignitions including sparks from tools and machinery and unattended campfires. Lightning with associated storm over the summer months does happen more frequently. These storms when they occur without any meaningful rain have known to produce dozens of new fires in a single afternoon. In the first few weeks of January last year, hundreds of new fires were started when a series of storms passed across the state.
3. How can 4WD owners prepare for the summer?
4WD owners may come across many different types of fires in their travels. These would include, but are not limited to, bush and grass fires, vehicle fires, electrical fires (within the vehicle) and gas fires (camping stoves). Owners should always have options prepared should a fire occur, such as a small 1kg dry powder extinguisher for electrical fire within the car. Even having a 1kg foam extinguisher would come in handy for any fire that doesn't involve electricity. A fire blanket could also be useful when it comes to cooking fires, especially in caravans or camper trailers.
4. If caught out in a bushfire in their vehicle, what action should the persons take to give themselves the best chance of survival?
If you're travelling during the bush fire season, you could be affected by a fire. Bush and grass fires often cross roads and highways. Smoke can reduce visibility and roads may also be closed without warning. If you are caught in a bush or grass fire in your vehicle, you should take the following steps:
• Call Triple Zero 000
• Park off the road in a clear area away from trees, scrub and tall grass
• Face the front of your car towards the fire
• Stay in the car below the windows to protect yourself from radiant heat
• Turn off the engine and turn on headlights and hazard lights
• Close windows and air vents
• Cover yourself with a woollen blanket
• Drink plenty of water
• Cover your mouth with a damp cloth
• Stay down until the sound of the fire has passed, carefully leave the car (it will be hot)
5. People seem to think that no matter where they go, the RFS will always be within reach. Is that true in remote and hard-to-access areas?
The NSW Rural Fire Service has over 2000 brigades across NSW. Even with this many brigades, there may be delays in responding to fires given distance and remote terrain. Owners should take measures to make sure they know what to do in case of a fire.
6. What is the biggest challenge you face trying to get your message across to the general population?
Getting people to understand that preparation and planning makes a significant difference. A lot of people do make statements like "I never thought it would happen to me". We live, work and play in some of the most bushfire-prone land in the world. With that comes a sense of responsibility to ensure we are well-prepared and informed.
7. How effective are personal fire extinguishers and how many should we carry?
Personal fire extinguishers can be very useful for a number of different fires. They can quickly and effectively extinguish a fire before it develops into anything too serious, providing it is the right extinguisher for the task.
8. Where can we get updates on unfolding events and fires?
If people are looking for information on bush and grass fires in NSW, they can find it at the following locations:
• Check our Fires Near Me page for current incidents
• Listen to local media
• Check social media pages such as NSW RFS Facebook and NSW RFS Twitter
• Bush Fire Information Line phone 1800 679 737
• If you are deaf, hard of hearing or have a speech impairment, contact us through the National Relay Service
o TTY users phone 1800 555 677 then ask for 1800 679 737
o Speak and Listen users phone 1800 555 727 then ask for 1800 679 737
o Internet relay users connect to the NRS then ask for 1800 679 737
o To report a fire or emergency (TTY users only), access TTY 106.