The all-new ARB BASE Rack is claimed to make carrying gear on your roof easier than ever.
Since its inception in 1975 ARB has been manufacturing bull bars and roof racks for 4X4s, and now the Aussie company has launched its all-new BASE Rack.
At first glance the BASE Rack might look similar to other platform roof racks on the market, but look a little closer and you'll soon spot several innovative design features that make it standout in a crowded market.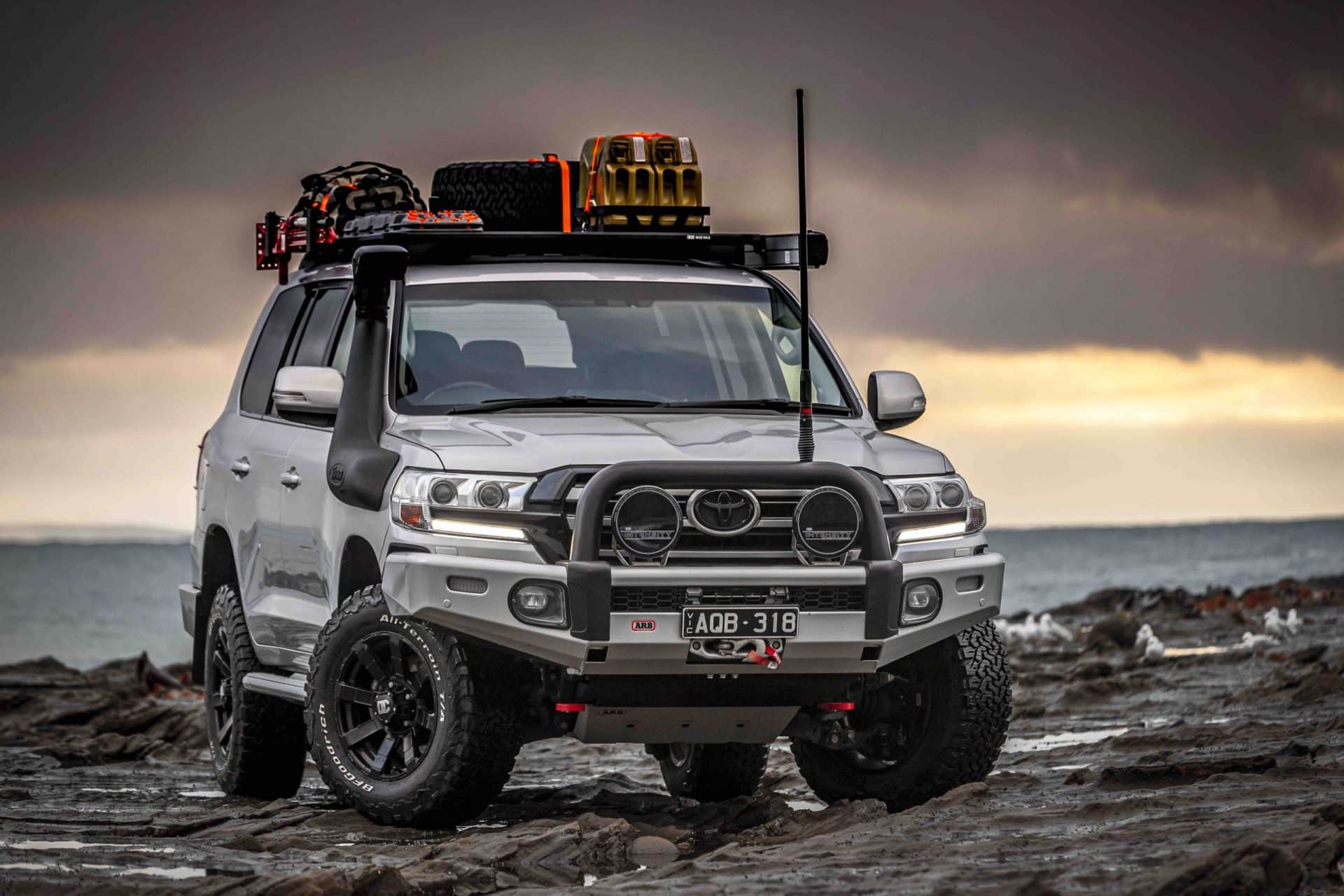 Extruded aluminium
First up, the BASE Rack is manufactured using fully welded extruded aluminium and it has lateral cross beams with enough inherent strength that a subframe is not required. The absence of a subframe means the rack can be mounted closer to the roof of the vehicle for a much lower-profile, yet ARB says the aluminium BASE Rack still offers the strength of steel at a fraction of the weight.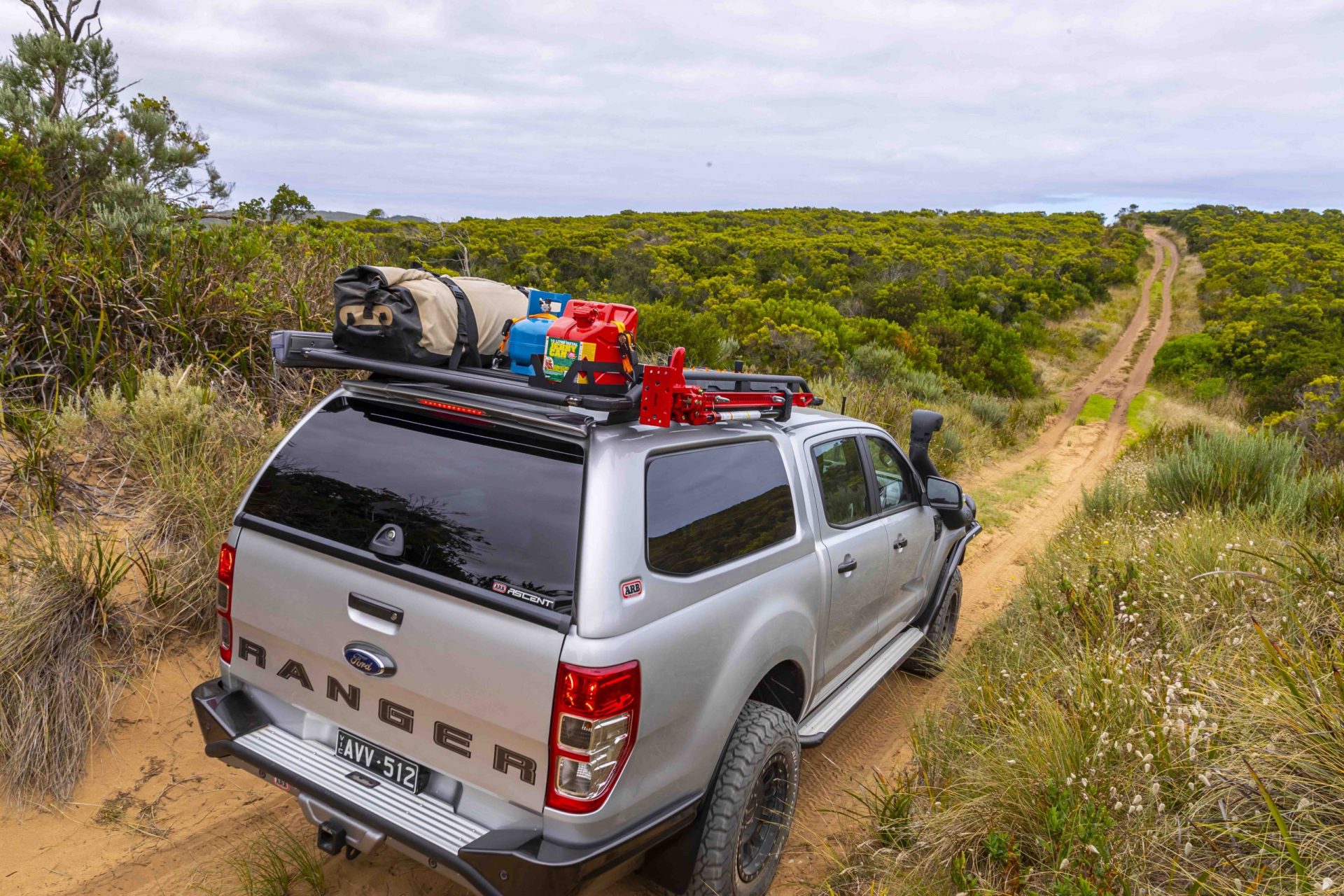 Dovetail mounting system
One of the main standout features of the BASE Rack is what ARB calls the dovetail accessory mounting system. The dovetail is essentially a groove that can be found on both sides of each lateral cross beam, as well around the external perimeter beams. There's a wide range of clamp mounts designed specifically to attach to the dovetail for easy fitment of various accessories. One advantage of this system is you can quickly and easily attach the clamp mounts without having to relocate other cargo that might already be mounted to the BASE Rack.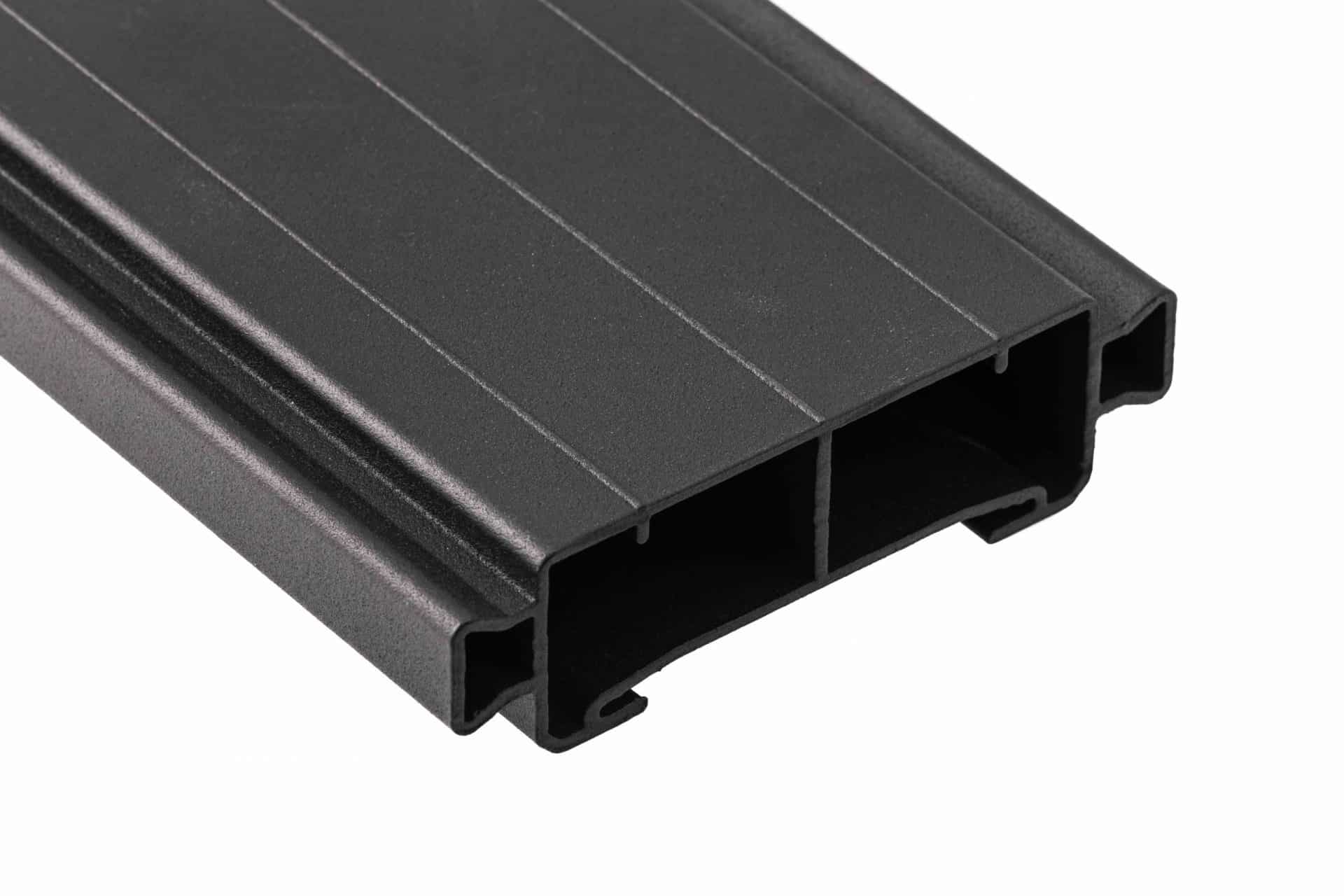 Another advantage of the dovetail system is that as the dovetails are located on the sides of the lateral cross beams and the outer edge of the perimeter beams, rather than on their top surfaces, other cargo can be put up on the BASE Rack without snagging on any protruding tie-down points.
ARB also points out that the dovetail design won't collect water, dust or other debris that can get caught in roof racks that have open channels in their cross beams.
Tie-down points
Using the clamp mount, there's a range of tie-down points including eye-bolts that provide a secure lashing point for standard J-hook ratchet and cambuckle straps, and these can be left on the rack while not in use.
There are spring-loaded tie-downs that can be used one-handed; a ratchet strap with a custom dovetail hook that stays in place once attached so you can walk around to the other side of the vehicle without it falling off; and a spare-wheel Y-strap.
There's also a roller-kit for loading long or heavy items.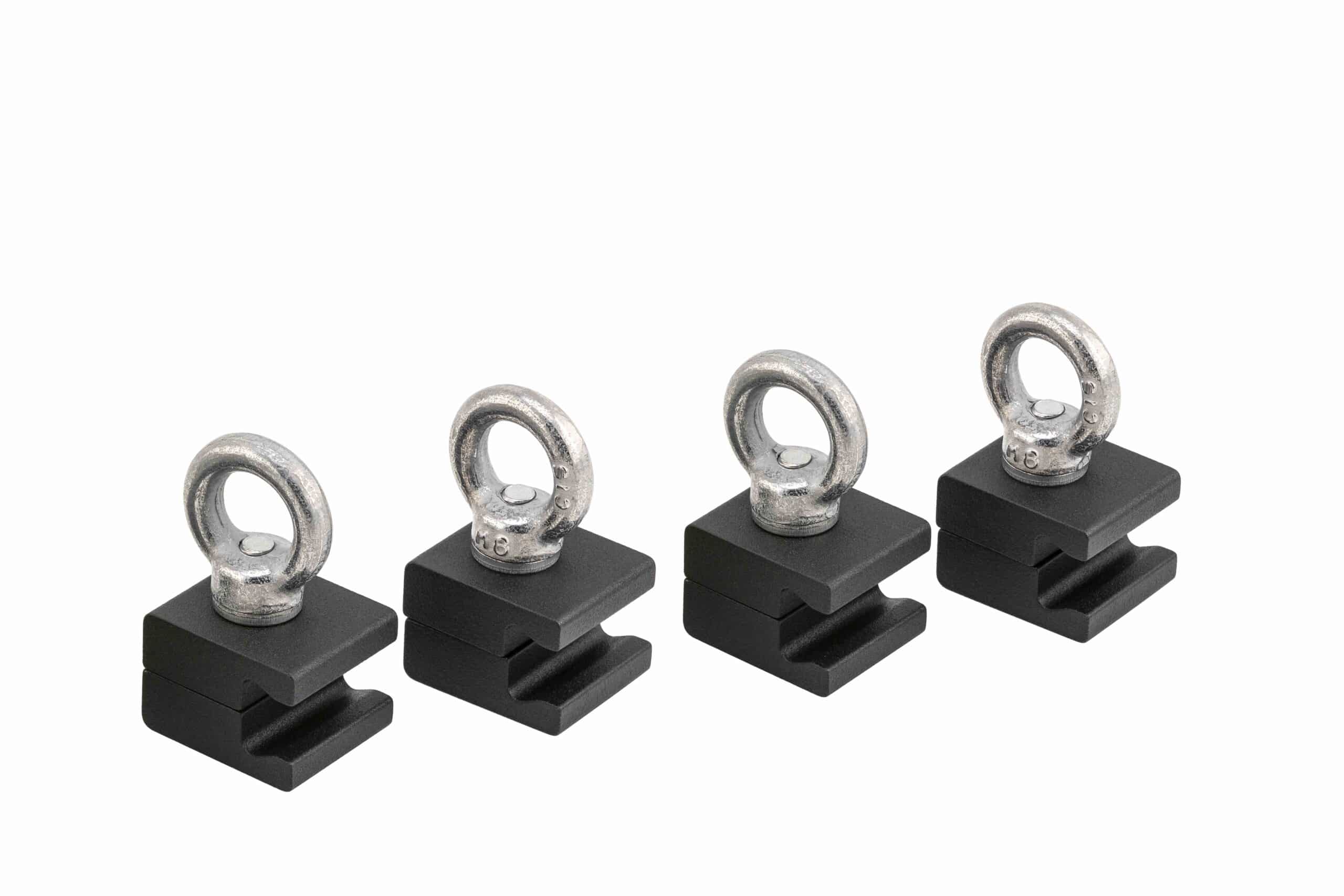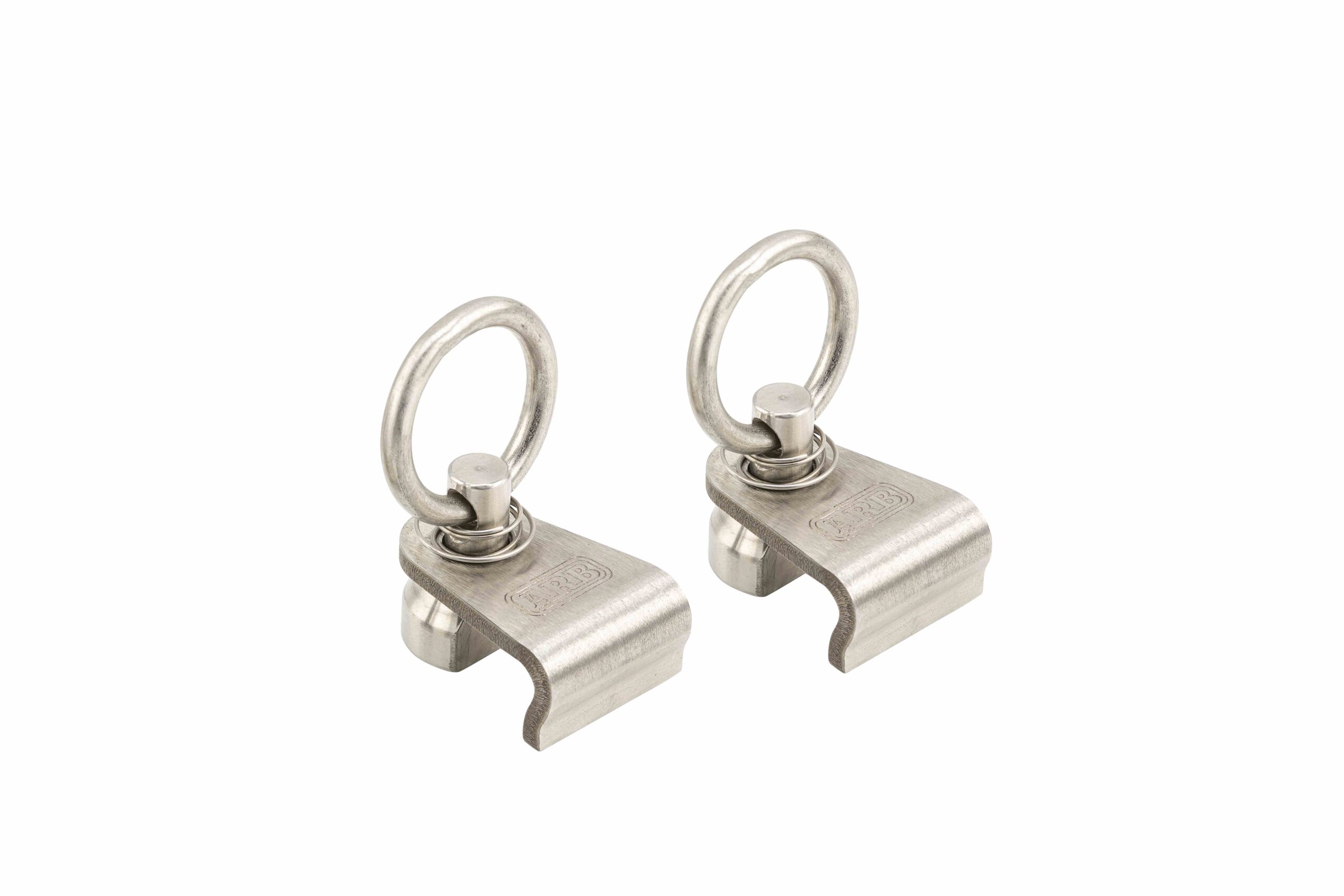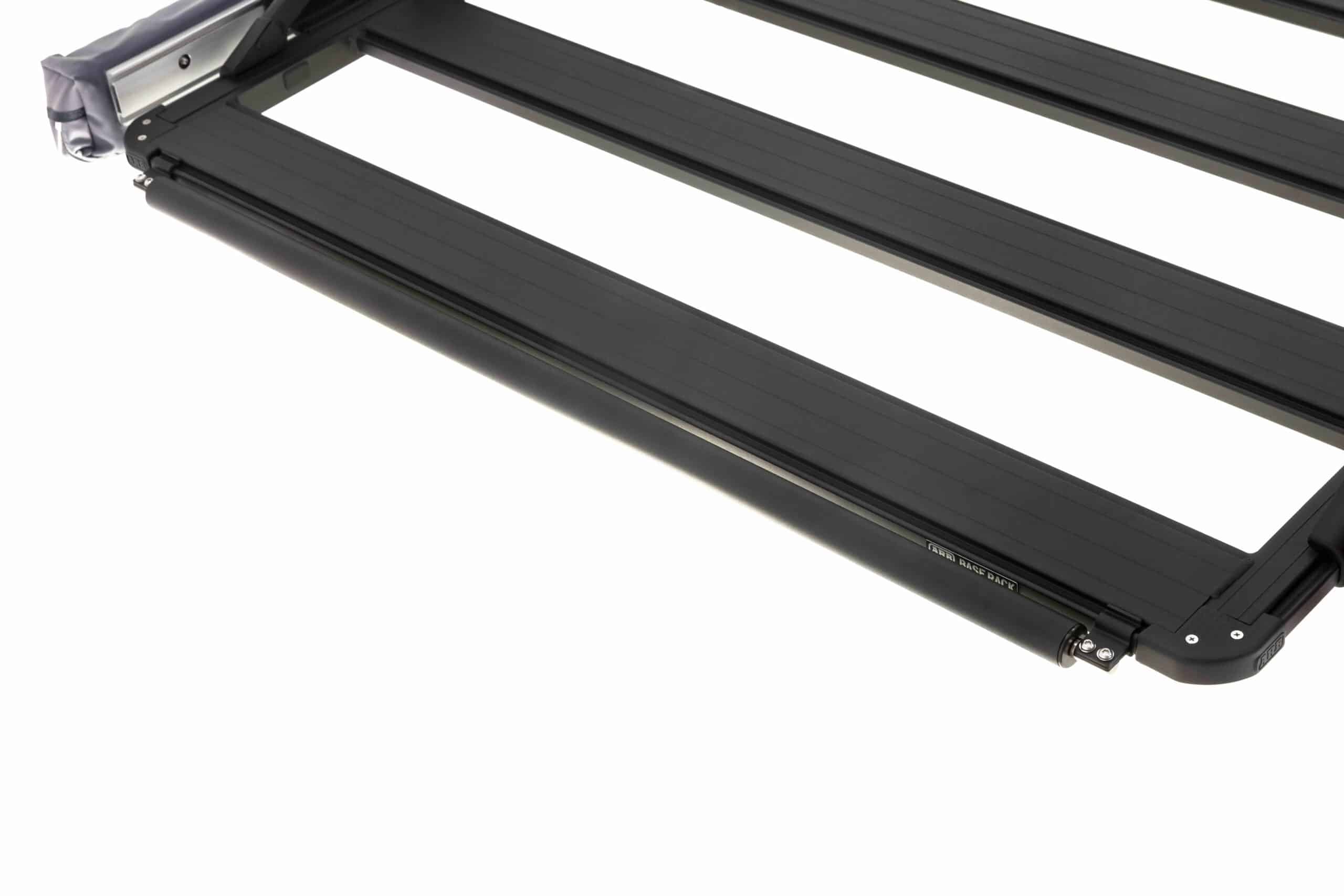 Customisation
The BASE Rack can be used as a flat rack with no rails, or optional kits can be purchased to transform it into a rack with 1/4 rails, 3/4 rails, trade rails or full rails. These can be easily attached and removed as required.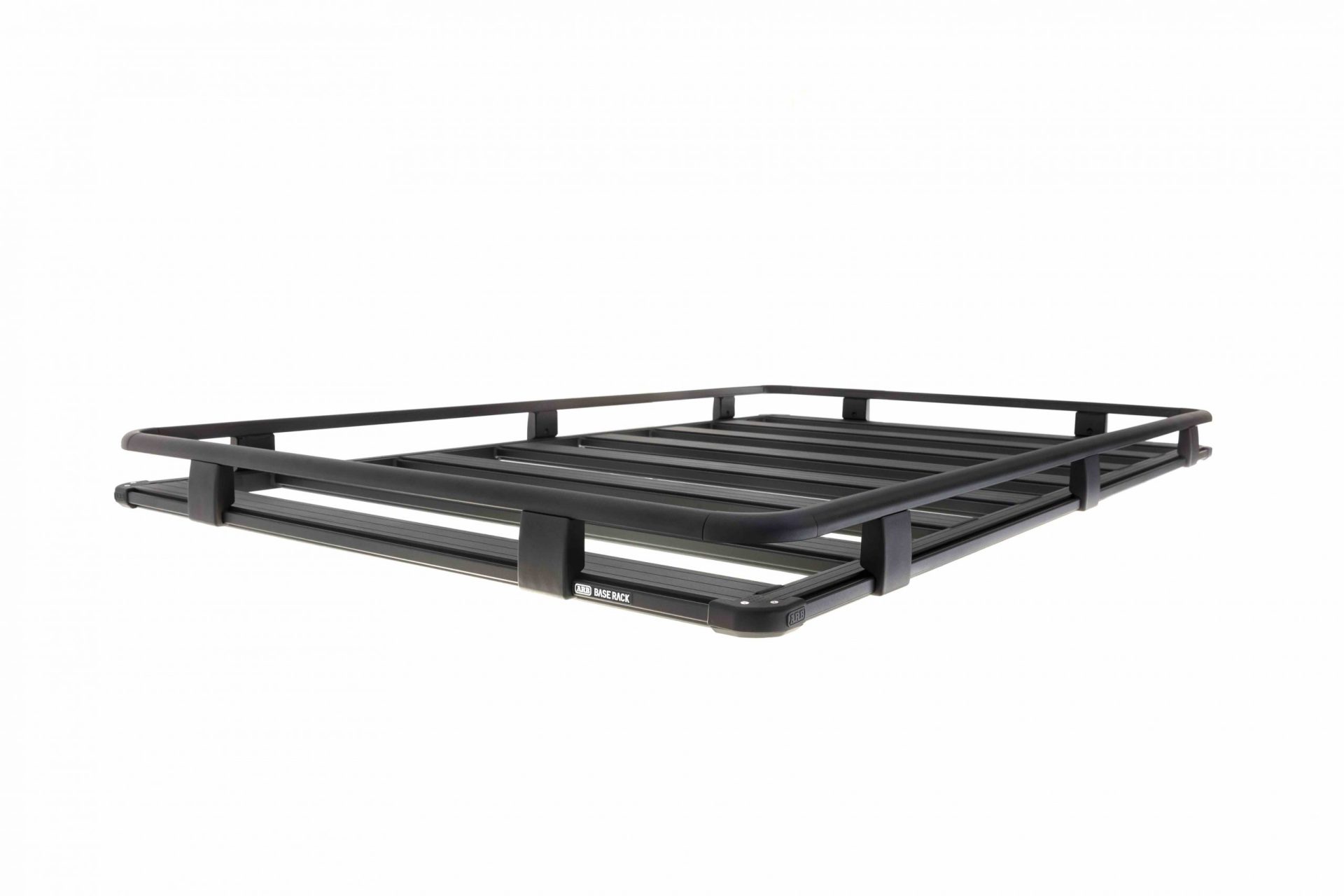 Awning brackets
There are two awning brackets: classic and quick-release versions.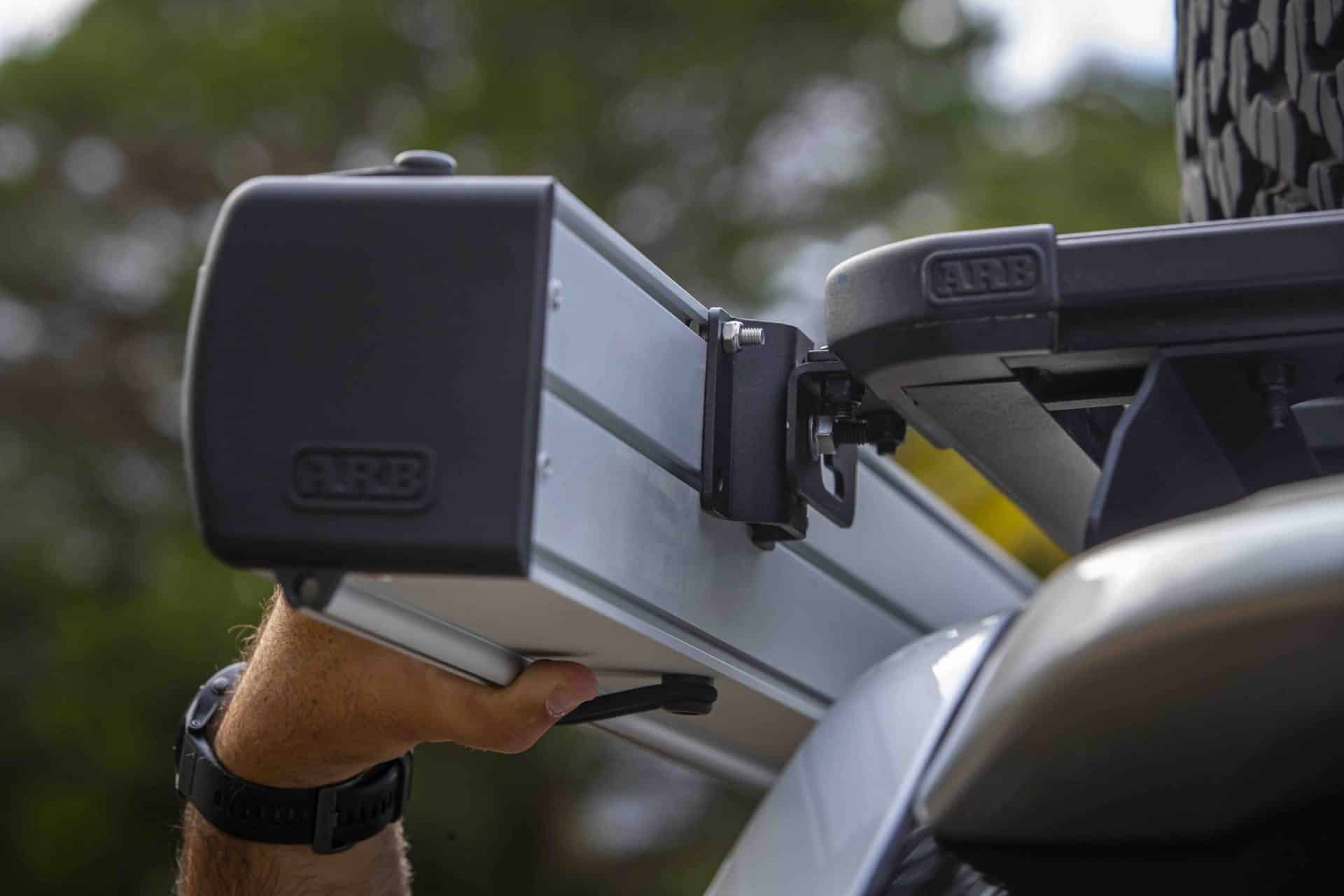 Hi-Lift jack holder
The Hi-Lift jack holder includes a quick-release function, jack cradle and security feature.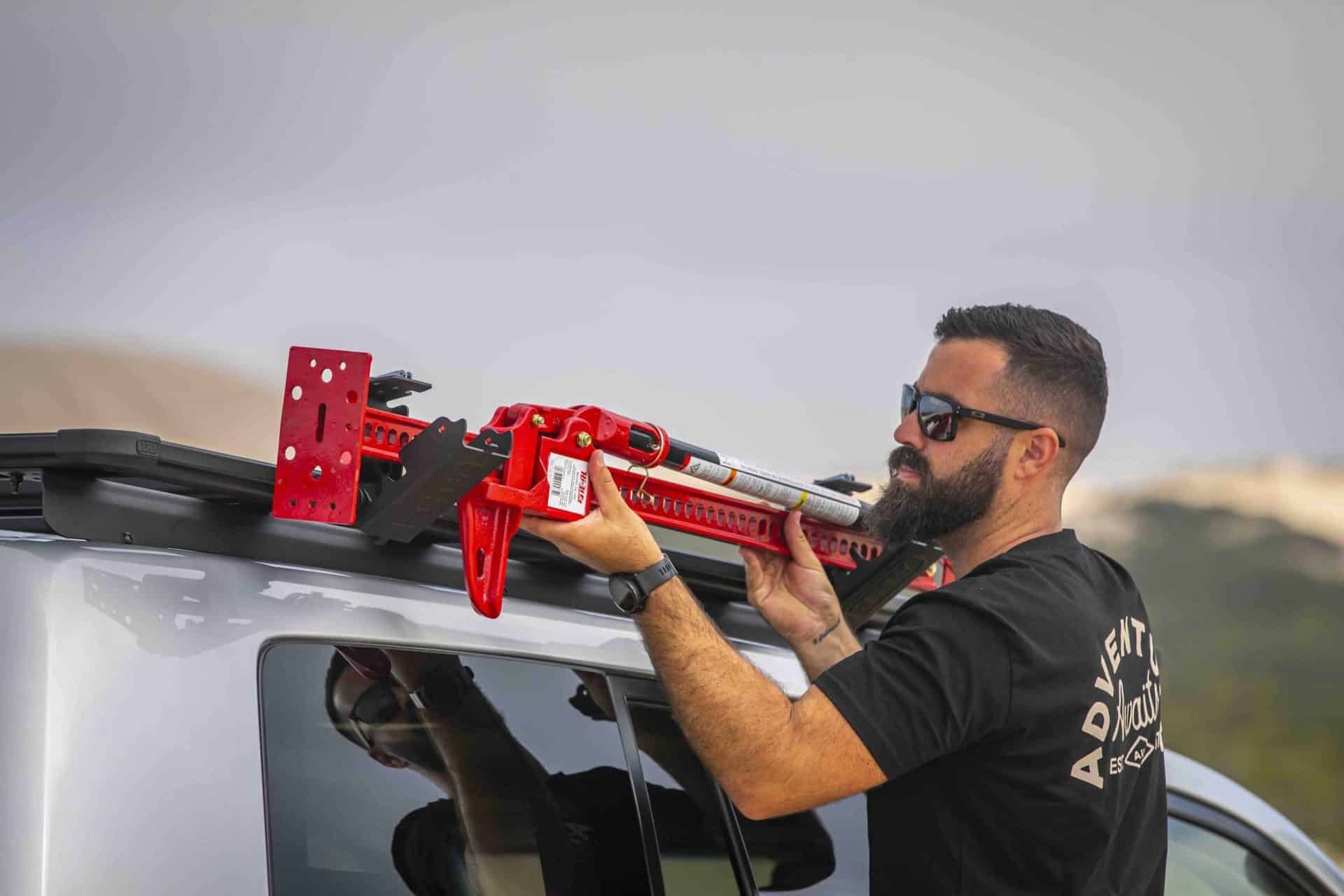 Recovery track holder
The recovery track holder is a set of brackets that connect to the dovetail track at any point and allow fitment of the track manufacturers' original mounting hardware.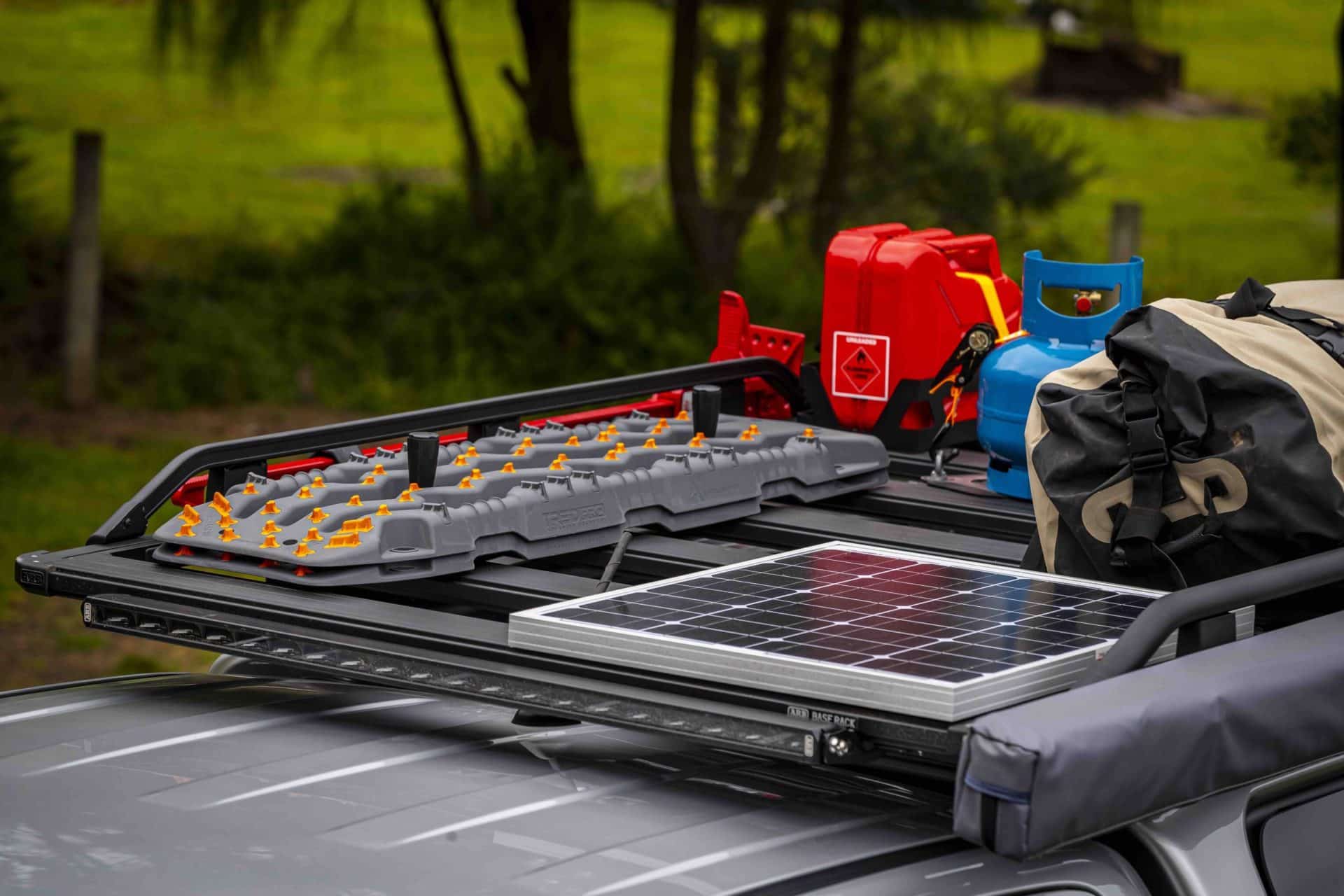 Jerry can and gas bottle holders
There are double or single jerry can holders, in either horizontal or vertical configurations, and the brackets are fitted with beam guides to ensure even distribution of weight across the rack.
The gas bottle holder can carry 2kg-9kg gas bottles.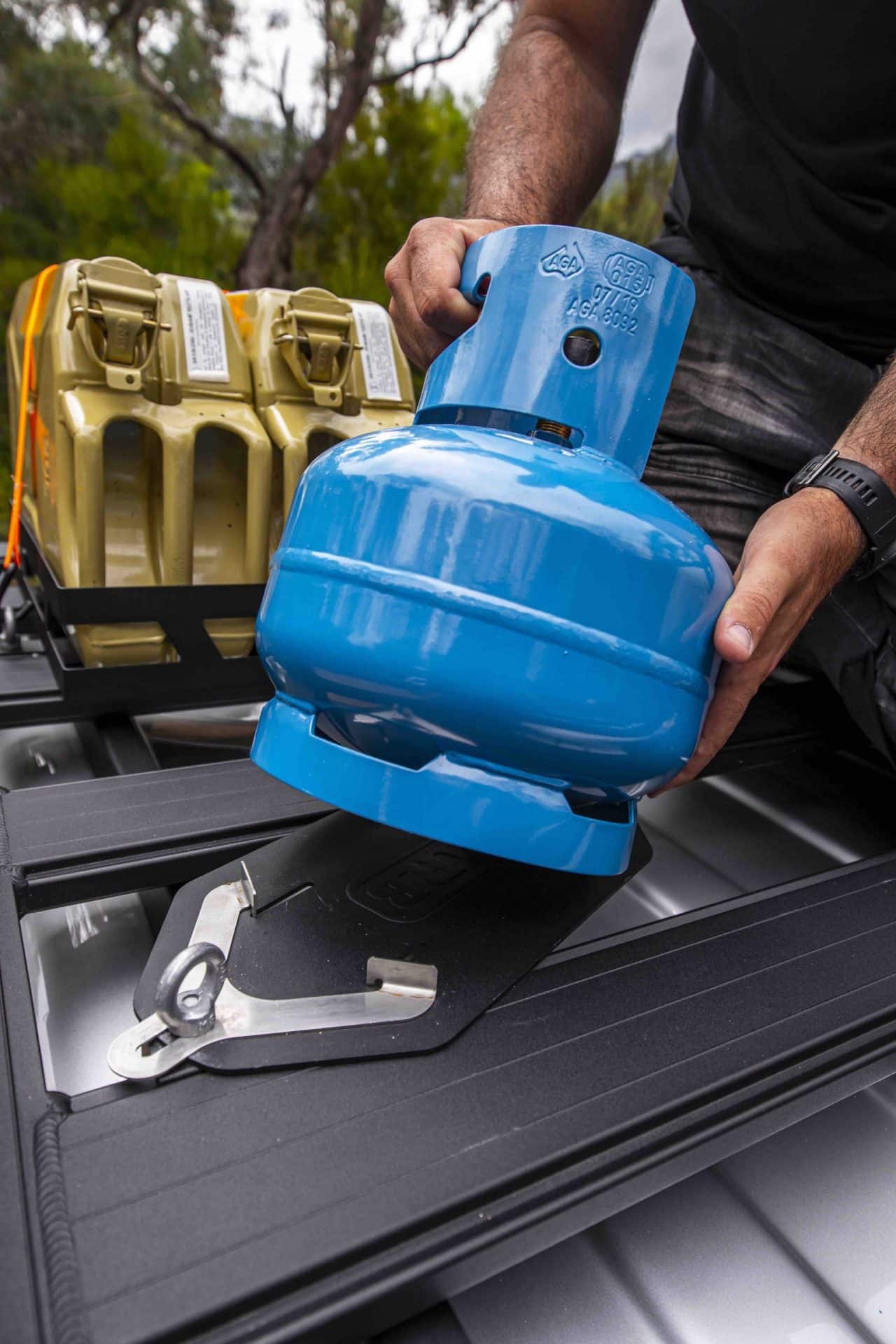 T-slot adaptor
For those who already have a range of accessory mounts, the T-slot adaptor allows for fitment of these accessories using the dovetail mounting system.
New LED light bar
Oh, and there's an all-new slimline LED lightbar designed specifically to suit the new BASE Rack. It has an aluminium body with black powder-coat finish, and has a strong-performing combination beam with the option to mount in front of the rack or under the rack as desired.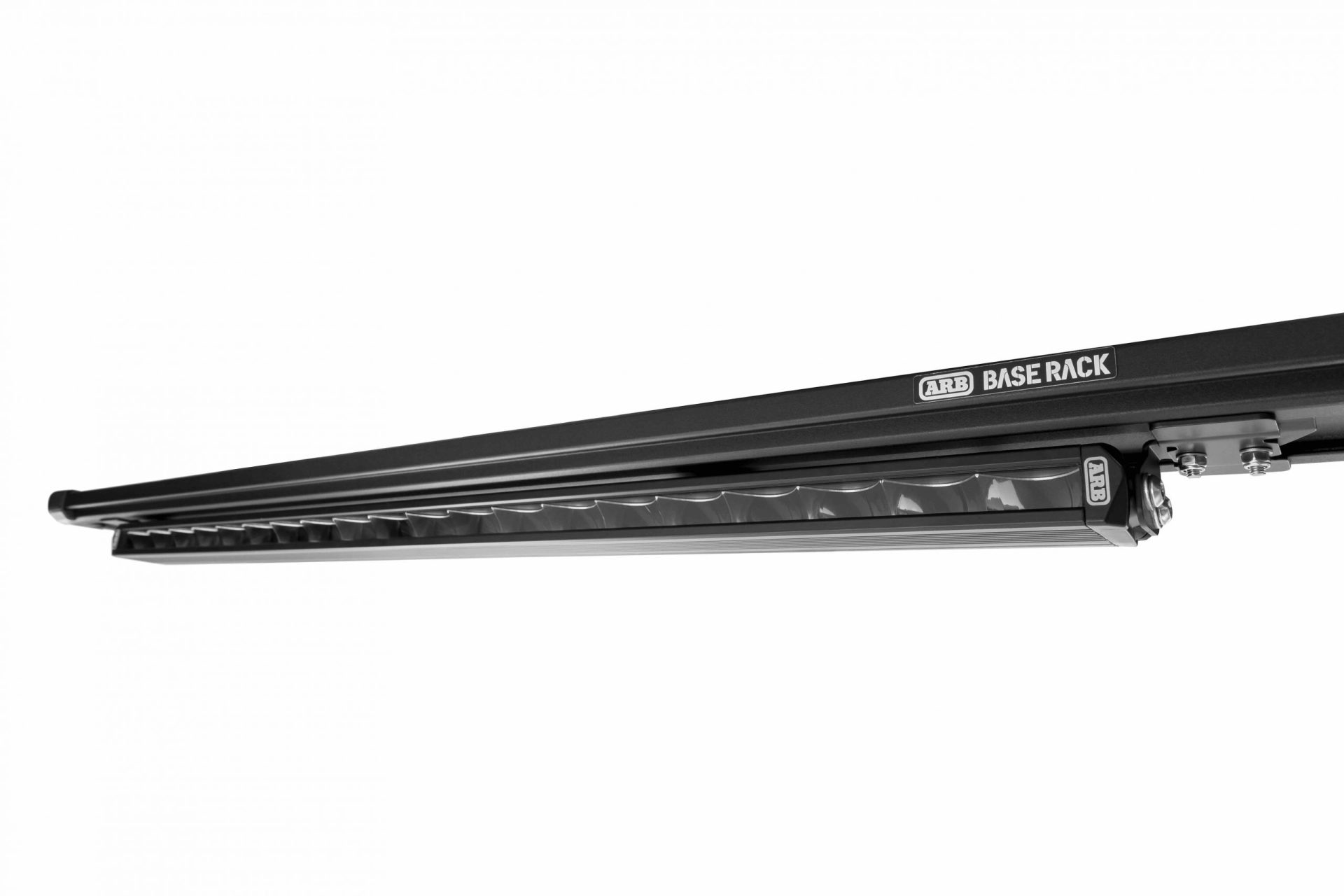 Wind deflector
A wind deflector is available for a number of wagon models which is designed to ensure "a quiet and enjoyable driving experience".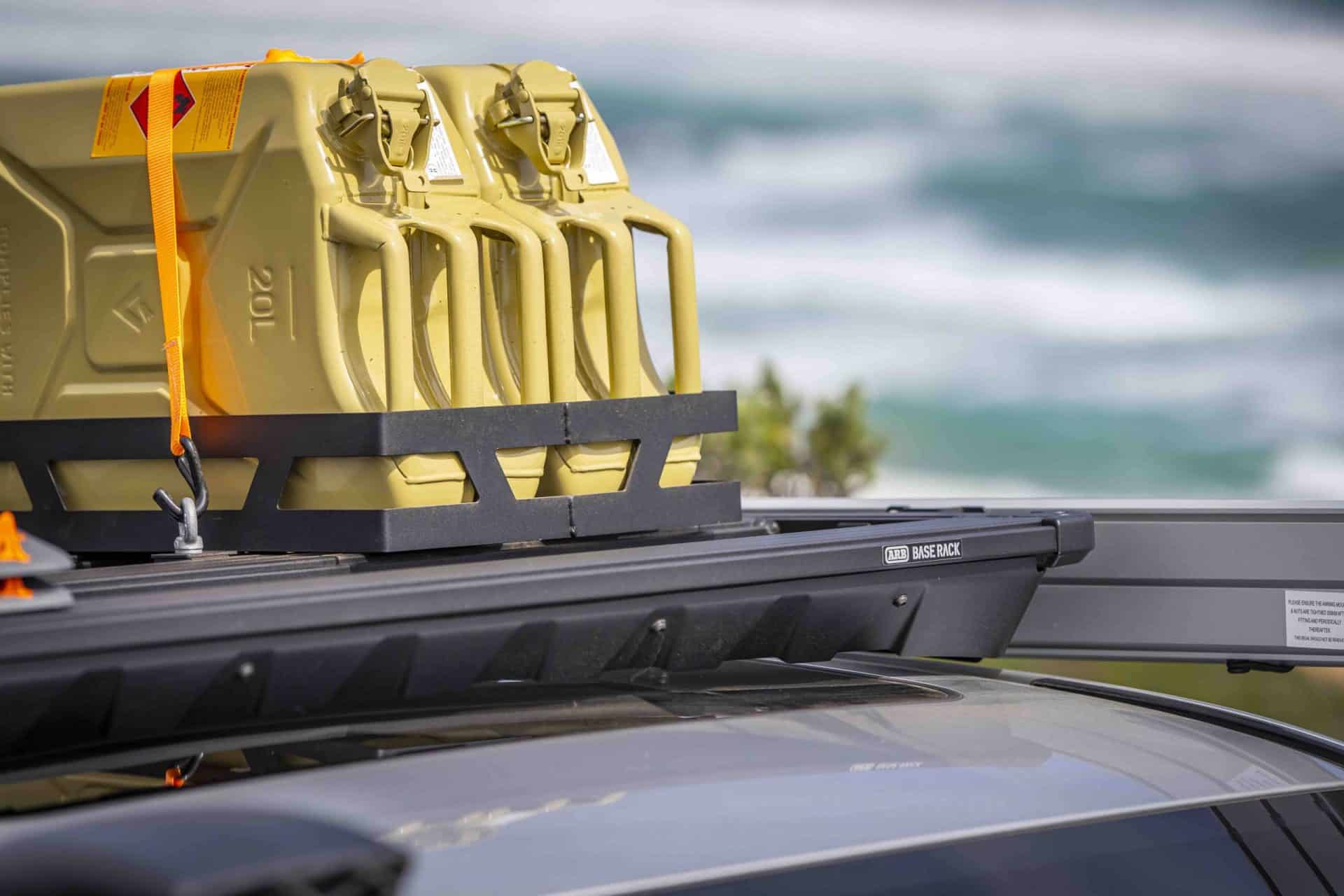 Vehicle fitment
At launch, the new BASE Rack is available to suit a wide range of vehicles and ARB canopies. Here's a full list:
ARB Canopy:
Toyota HiLux (2015+)
Nissan Navara (2015+)
Ford Ranger (2011+)
Mazda BT-50 (2011-2020)
Mitsubishi Triton (2015+)
Holden Colorado (2012+)
Isuzu D-MAX (2012-mid-2020)
Volkswagen Amarok (2010+)
Mercedes-Benz X-Class (2018+)
Toyota:
200 Series LandCruiser
100 Series LandCruiser
80 Series LandCruiser
70 Series LandCruiser
60 Series LandCruiser
Prado 150
Prado 90
Nissan:
Y62 Patrol
GU Patrol
GQ Patrol
MQ Patrol
Ford:
Mitsubishi:
Jeep:
Land Rover:
Defender
Range Rover Classic
Suzuki:
Dimensions and weight:
1255mm (l) x 1155mm (w)
12.7kg approximately
1255mm (l) x 1285mm (w)
14.3kg approximately
1545mm (l) x 1285mm (w)
17.1kg approximately
1835mm (l) x 1155mm (w)
18.5kg approximately
1835mm (l) x 1285mm (w)
19.9kg approximately
2125mm (l) x 1285mm (w)
22.8kg approximately
RRP: From $1140