Blackhawk's new universal Bump Stop is designed to provide you with a smoother ride from $65 to suit LandCruiser, Navara and Patrol.
The new Universal Extended Progressive Rate Bump Stop from Blackhawk is designed to provide an, er, progressive stop rather than a hard bump stop that 4X4s are fitted with as standard. Take a look at the picture above and you'll see the tapered, spring-like design this is intended to help slow the 'stop'.
With its furrows, the bump stop undergoes several rate changes depending on the load. This is caused by the binding of the furrows causing the rate to change significantly when extremely high loads are applied.
Indeed, Blackhawk claims its new design bump stop will absolutely reduce the bump steer sensation. Some of the vehicles the new design bump stop will work on are: Nissan Patrol GQ/GU front and rear, Toyota Land Cruiser 80 and 105 series rear suspension, and the Nissan Navara NP300 rear suspension.
The Blackhawk bump stop is said to provide an extension over the original equipment throughout the entire operating weight range, as seen in the graph provided by Blackhawk below. This is meant to provide a more comfortable ride in your four-wheel-drive.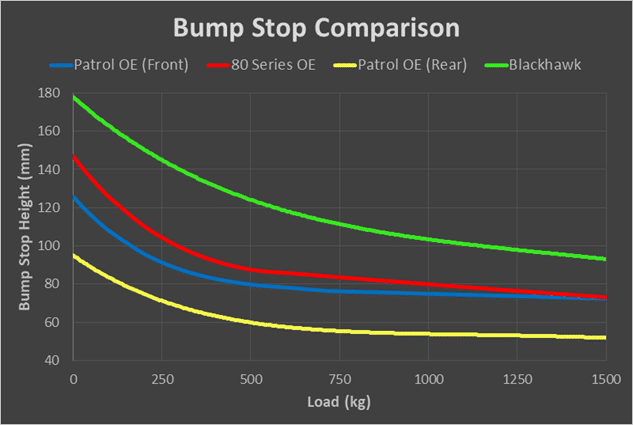 A single Bump Stop lists at $65 while a pair will cost you $130. For more information click these words