It may not be the prettiest camper in the park, but it sure turns a lot of heads
Words and Images by Gary Tischer
In a year when we have lost three well-known and established Aussie camper trailer manufacturers, Drifta continues to have great success with its camper trailers. A few of the reasons for this is the willingness to listen to the market, innovate in many different ways and to deliver a great Australian-made product with great aftermarket service. The evolution of the leaf sprung DOT to the air-bag suspension WUHT over the last few years has been nothing short of amazing.
For those who may not be aware, DOT stands for Drifta Off-Road Trailer and WUHT stands for Walk Up Hard Top. So really, it is a WUHT DOT. WTF you may say! That's enough acronyms, now let's get into the nitty gritty. I've seen caravans with less kit than this camper trailer has. It may not look like a sports car, but it is really quick to set-up and much better than a sports car when tracks get rough. For this review, I towed the camper up some steep hills and the FJ hardly knew it was there. Towing was a breeze and the adjustable independent Cruisemaster airbag suspension will be perfect for adjusting it to different conditions.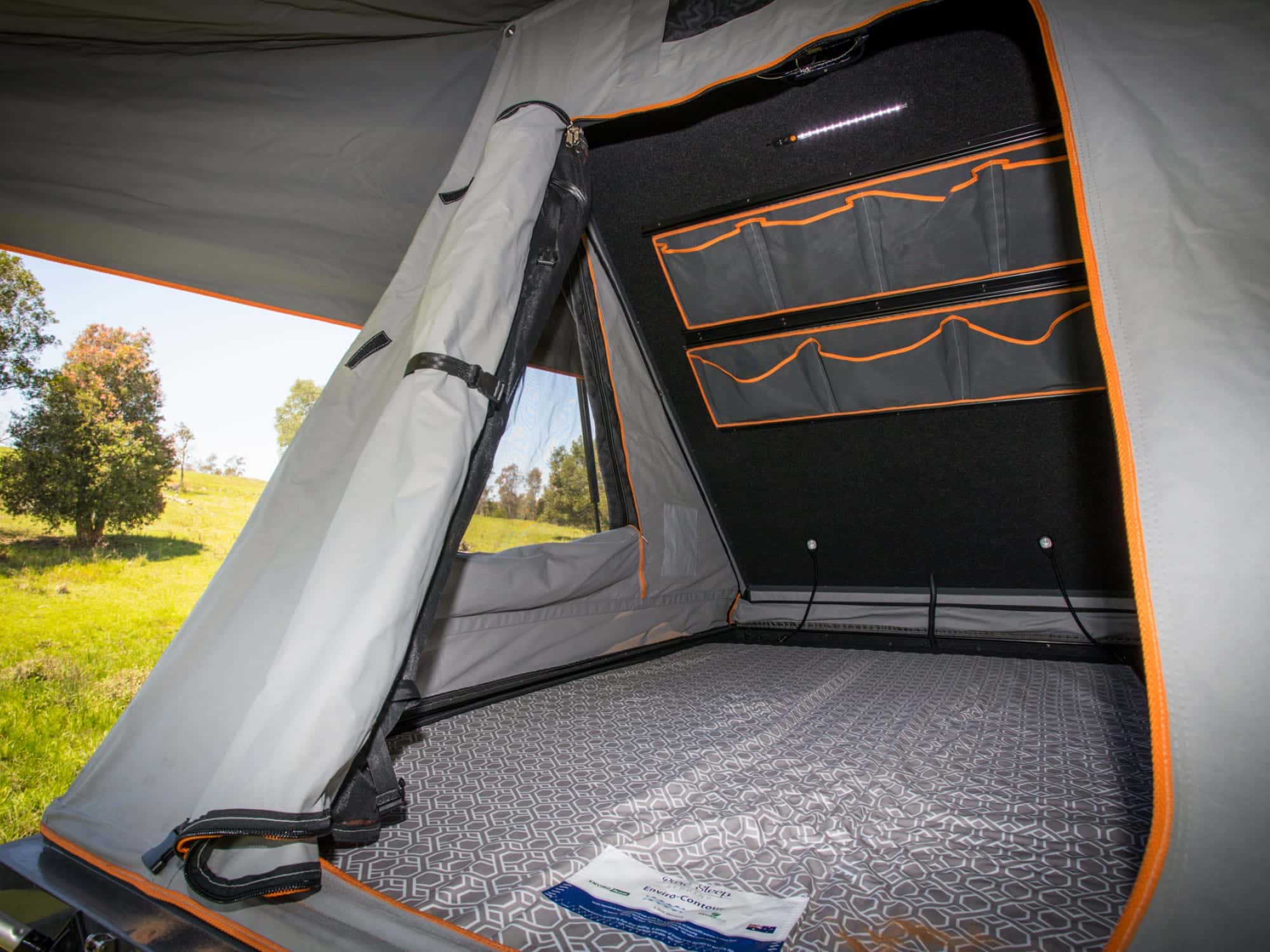 THE ACCOMODATION
When anyone mentions rooftop tent, people think of ladders and many shy away from a rooftop tent (RTT) because of the ladder. With typical Drifta style, Luke and the crew worked on different ways to get rid of the ladder. What is obvious now but not done before, is to use the front toolbox as a step. Everything for this was already there, it just needed someone to put it all together. If you watch the video, you will see there are plenty of places to hold onto if required, which makes the walk up into the tent entrance very easy for most people.
The rooftop tent is a Drifta design that may seem similar to some others but has a number of features that make it well-matched to the DOT. There is a 190mm thick queen-sized mattress, internal lights, electric fan, pockets, headboard storage area and 12V/USB plugs as standard inside the tent. There are also large windows for ventilation and the awning over the front entrance will help keep you dry.
This RTT can be retrofitted to earlier Drifta trailers and there are many people upgrading their older trailers. Drifta is known for its excellent aftermarket service, so much so, that people with other brands of trailers take them in to add rooftop tents and have other modifications done.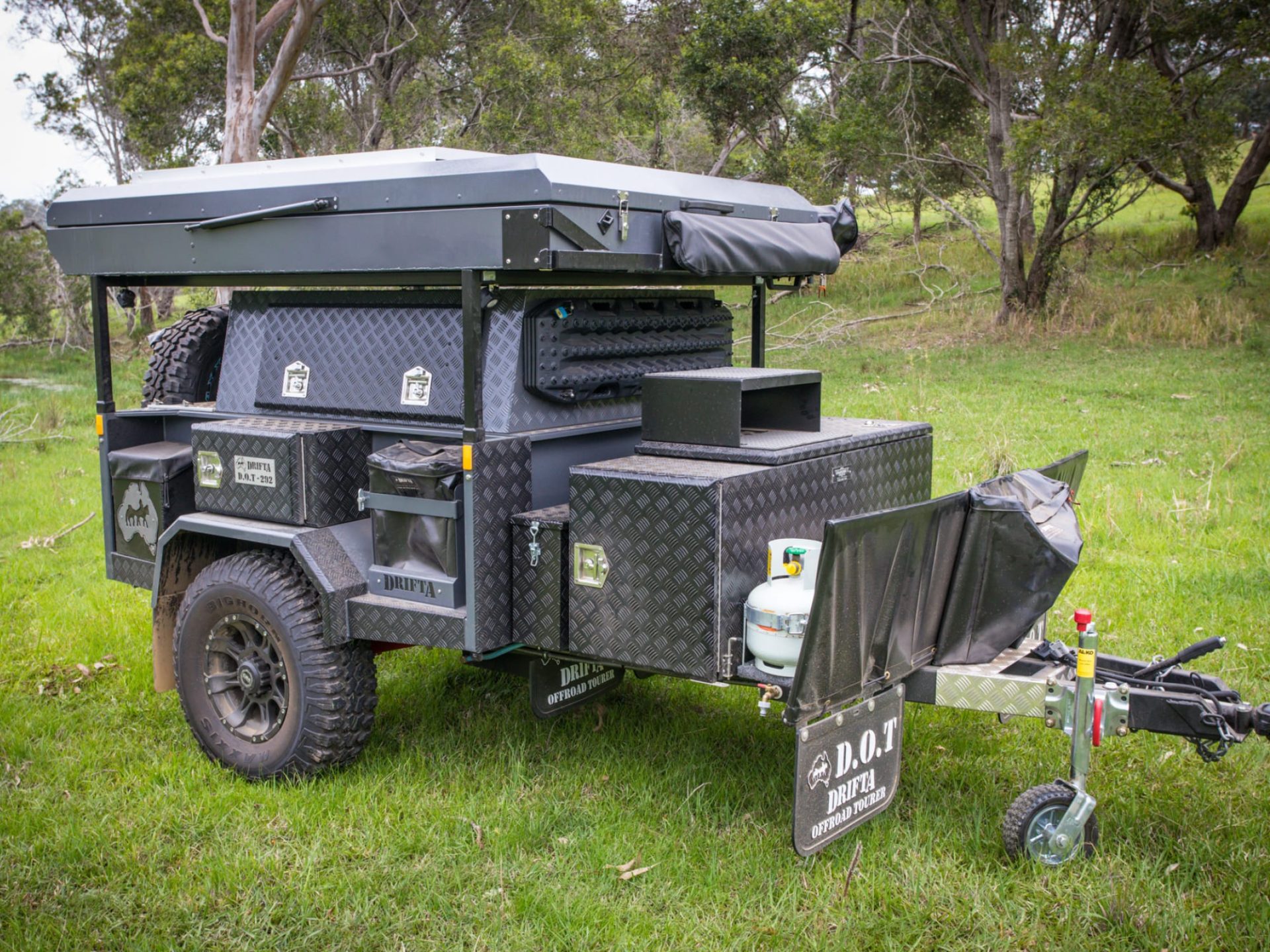 THE KITCHEN
Drifta kitchens seem to be the benchmark in camper trailer cooking and are fitted as standard in other brands of trailers as well as the DOTs. The pull-out kitchen is made of marine ply with a stainless-steel look. There are two slide-out boxes that make up the kitchen with one incorporating the stove area, mixer tap and Evakool 60-litre fridge. I would like to see the fridge tied down so it can't move up and down during travel.
A stove is not supplied as many who purchase a Drifta trailer already have their own, or want to choose different options. Metho stoves are making a comeback and are becoming more popular. The second slide-out box has pantry drawers, pole cradle and table, in addition to a very large storage area behind the pantry drawers. The mixer tap next to the stove area gets its hot and cold water via high quality brass fittings at the rear of the trailer.
Snow Peak gear from Japan is very popular with campers these days and some of these tables and accessories can be connected to the Drifta kitchen with a minimum of fuss, turning this into a full gourmet kitchen. Above the slide-out drawers is a large shelf area that can be used as storage while travelling. Opening over this shelf is a cover revealing more storage and the latest in electronic battery management systems. The Redarc Redvision Total Vehicle Management System was fitted to this camper and is optional. A 120Ah lithium is standard though.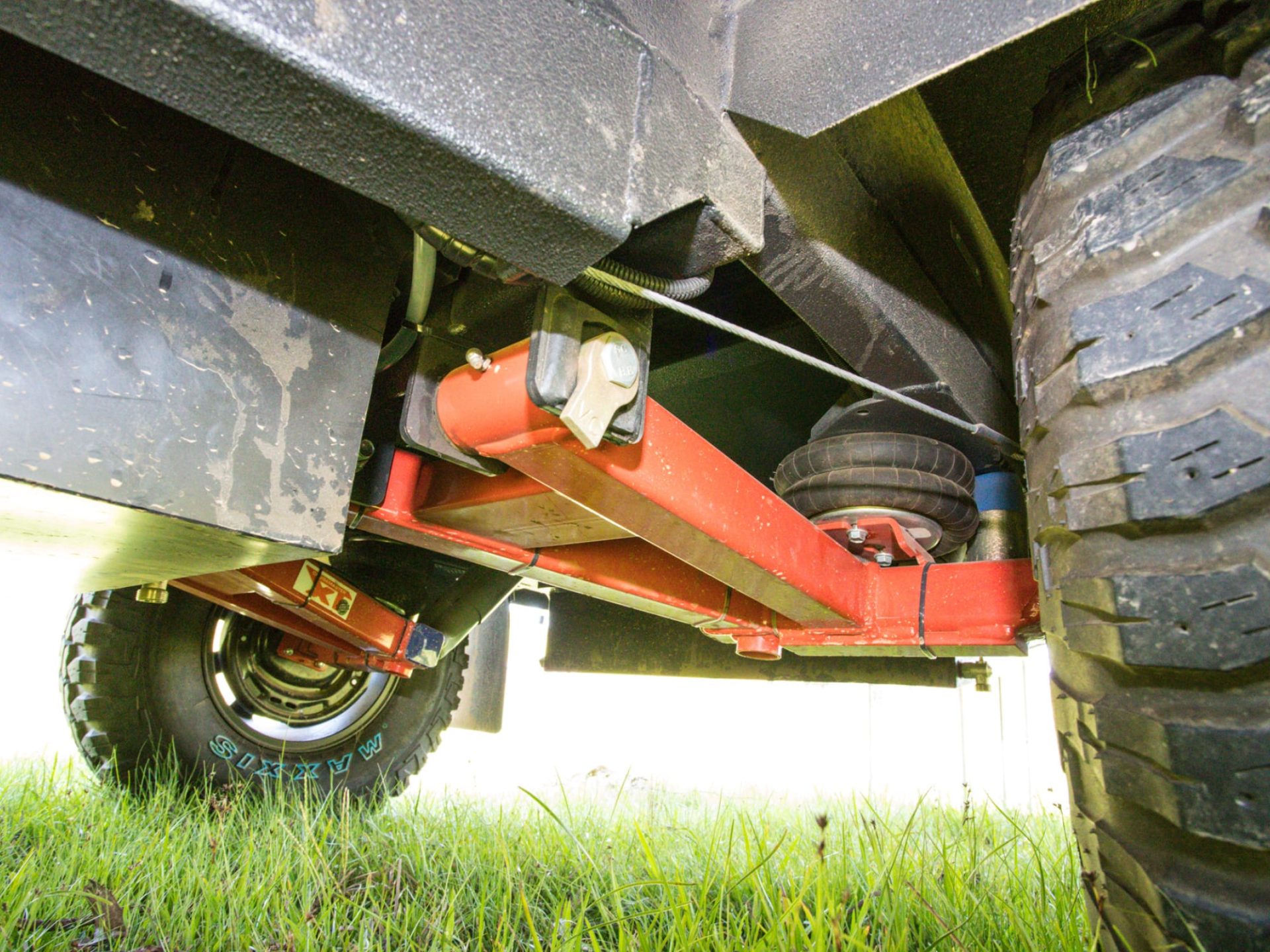 THE WATER MANAGEMENT SYSTEM
How water is managed in a camper trailer is not normally deserving of its own heading but this one is. Get your plumber's hat on, you may need it. Water is supplied from two 80-litre molded water tanks with brass fittings and lockable filler caps. Pretty standard so far. The front toolbox houses the Joolca Hottap which has brass fitting to both gas and water inputs. The real magic happens in the plumbing here.
The gas bottle is located close to the Joolca so does not need to be moved to connect the gas. The pump is able to draw water from either of the two onboard water tanks or from an external water source; this is handy if you are near a creek. Water can be drawn from 30 metres away so you can have a long, hot shower. Either of the two (or both) of the tanks can be filled from an external source using this same method.
THE FINAL WORD
Space does not allow detailing all the other features that are incorporated into the WUHT DOT, but much more detail can be found at the Drifta website. Not requiring a ladder to access the sleeping area is one of the main points of difference from other camper trailers. This is a solid, quality, fully Australian-manufactured camper trailer that ticks many boxes. It will suit a touring couple or a family with the addition of an Oztent, which will zip straight onto the awning. It is a pricey trailer but will certainly last the distance and take you there in comfort.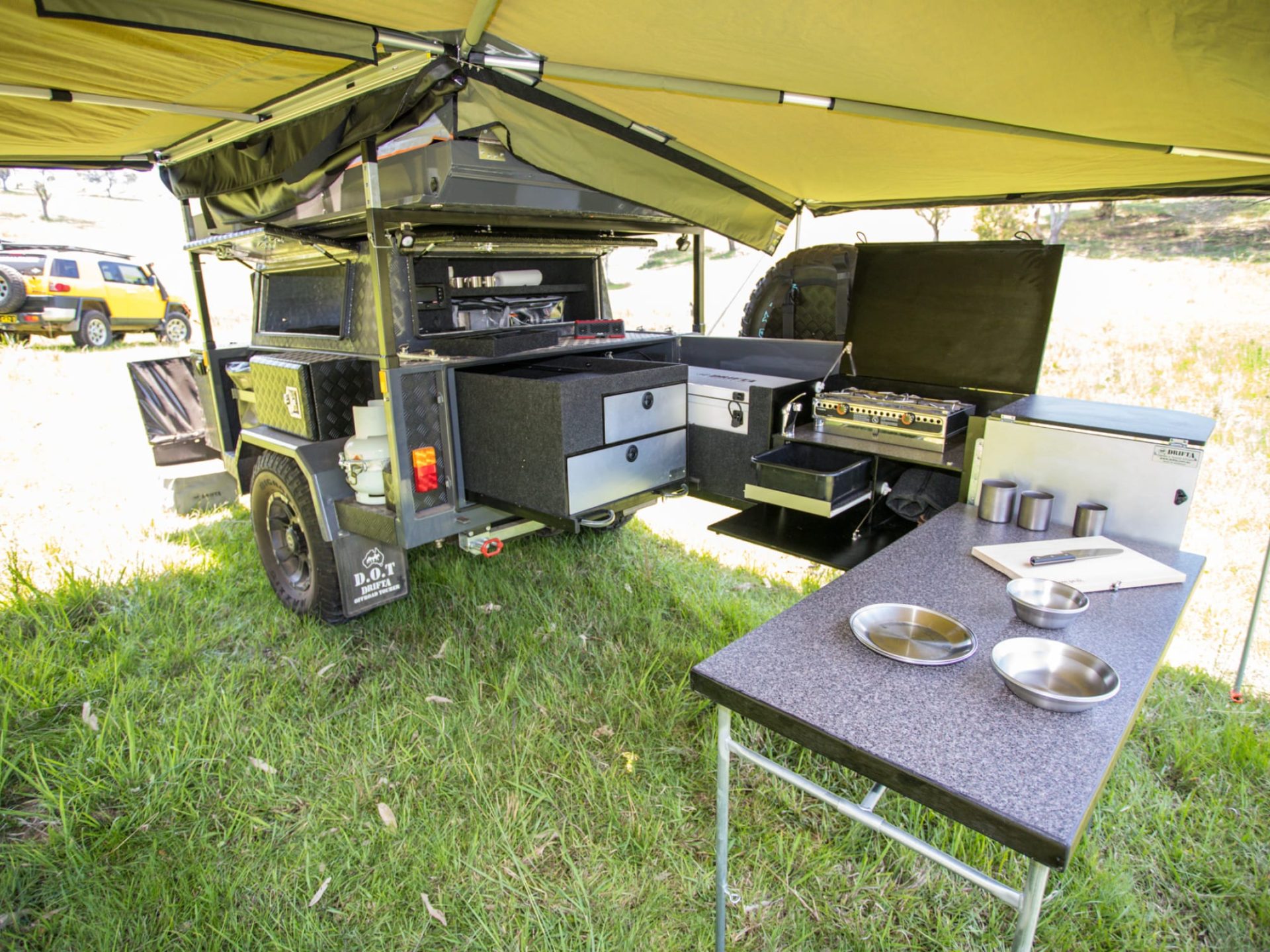 SPECIFICATIONS
Tare: 1150kg
GTM: 1700kg
Suspension: Cruisemaster XT independent airbag with dual shocks
Price: From $42,400
More info: Drifta
PROS
No ladder required to access rooftop tent
Quality, all Aussie-made
The rooftop tent design
The water system
CONS
Not in everyone's budget
Need to tie down the fridge