Okay, so how do you make a custom Ford ranger suitable for the big lap when it runs the 2.2L four-pot? Here's how…
This custom Ford Ranger from the Unsealed 4X4 Vault is unusual in that it runs the 2.2L four-pot… but that doesn't mean it's not a super-capable touring rig. Far from it, in fact.
Words and images by Harry Temple
When Sean and Jamie met online nearly four years ago, neither could have predicted that the first time they would live together would be the day they set off to explore Australia indefinitely in their 2015 PX Ranger. He had a hard time convincing her initially, resorting to strategically sharing images of beautiful beaches and remote gorges, dropping hints like "look at this one" and "isn't this spot beautiful?" But soon enough, her passion for escaping the 9-to-5 almost outpaced his and the race was on to make sure the Ranger was ready for the road.
Towards the middle of last year, Jamie started to get cold feet about giving up her job and entering the unknown. Around the same time, her grandfather (who had travelled full-time in his retirement) fell quite ill and before he passed away, he gave them some advice: "I wish we didn't wait as long, you have to go. You're young, you have to do it now". According to Jamie it was a kick in the butt and made them remember why they wanted to put it in gear and go in the first place. Leaving their entire lives in south-east Queensland and their jobs in a construction company and real estate behind, they started heading southbound on their lap in early 2019.
The plan was to go to the Cape in winter and get as far away from home as possible. Then head across the Savannah Way to the NT and from there the holiday will start in earnest.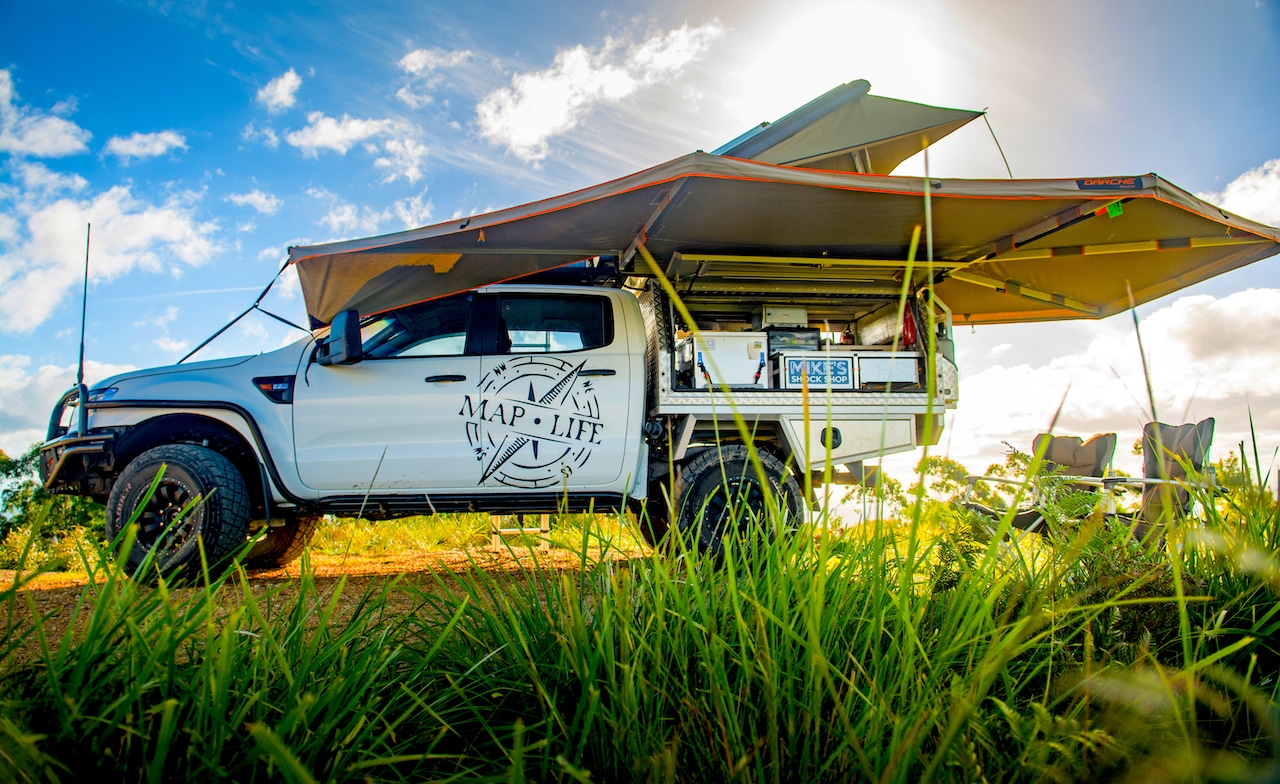 Sean spent his younger years racing motocross and the natural progression from two-wheeled toys to four-wheeled ones occurred after getting his licence. He got behind the wheel of his parents' PX on a beach run and not long after he picked up his very own 2015 PX, but in the 2.2 four-cylinder variant. Besides the cheaper rego, he explained that he wasn't initially planning to keep the Ranger longer than five years, but it's clear that plan went out the window along with the factory warranty. It's not very often you see the 2.2 engines in touring Rangers, so I was keen to find out how it had handled the treatment off-road. Much to my surprise, Sean reported that he has had no dramas what-so-ever over the first 150,000 kays, and attributes that to his fastidious maintenance, proper tune and religious vehicle checks. Having no mates in the 4X4 scene, he often journeyed out alone on beach runs and progressed to the tracks around Kenilworth and Glasshouse. When he saw some of the tracks out in the hills, the direction of the build changed. "It turned into an expensive obsession," Sean laughed, "every pay-check came in and all I could think of was, 'what can I get this with this?'"
The modifications
How can you make a custom Ford Ranger with a 2.2 suitable for long-distance touring? According to Sean and Jamie, it comes down to due diligence and dedication to getting things right the first time. They can comfortably get 670km from the standard tank, an impressive feat when you consider they are nudging GVM and have done everything except throw a solid axle under the front-end. That 11L/100km figure comes courtesy of the generous airflow granted by the four-inch stainless snorkel, the breathability of the three-inch exhaust and the cooling from a beaut front-mount HDI intercooler. Alloy piping can be seen all over the bay, for the intercooler, intake and radiator overflow. Making sure nothing goes awry from the extra power they gained after it was remapped by Just Autos, they have installed a Flashlube catch can and a secondary fuel manager filter to catch any dirty diesel on their lap.
Some custom hoops somewhat disguise the Xrox bar, but nothing disguises the improved approach angle it grants the 33-inch General Grabbers wrapped around the Allied Scorpion rims. Arching over the front tyres, a gentle yet stylish set of scrub bars and sliders by Elite Engineering are there to keep both animals and rocks away from the panels, especially if they are drawn to exceedingly bright LED bars that illuminate the road and surrounding bush at night. Up top, extra storage is thanks to a Rhino-Rack Pioneer Platform, providing a base for the space-case, recovery tracks, gas bottle and QuickPitch ensuite annex.
Not content with the el-cheapo eBay suspension on his custom Ford Ranger, the budget-price setup soon made way for some Fox 2.0s. But after figuring out they didn't like the loaded-up Ranger, they were swapped out for King 2.5s that have been valved to suit the weight. Together with the Superior diff drop and Blackhawk upper control arms, the ride is nothing short of luxurious. To carry the canopy, they went with Solve Offroad 500kg constant leaves with some Airbag Man airbags in case they want to tow. In a preemptive move, Sean installed a PSR chassis brace that fishplates the rear so they don't feature on one of the infamous banana chassis pages on Facebook.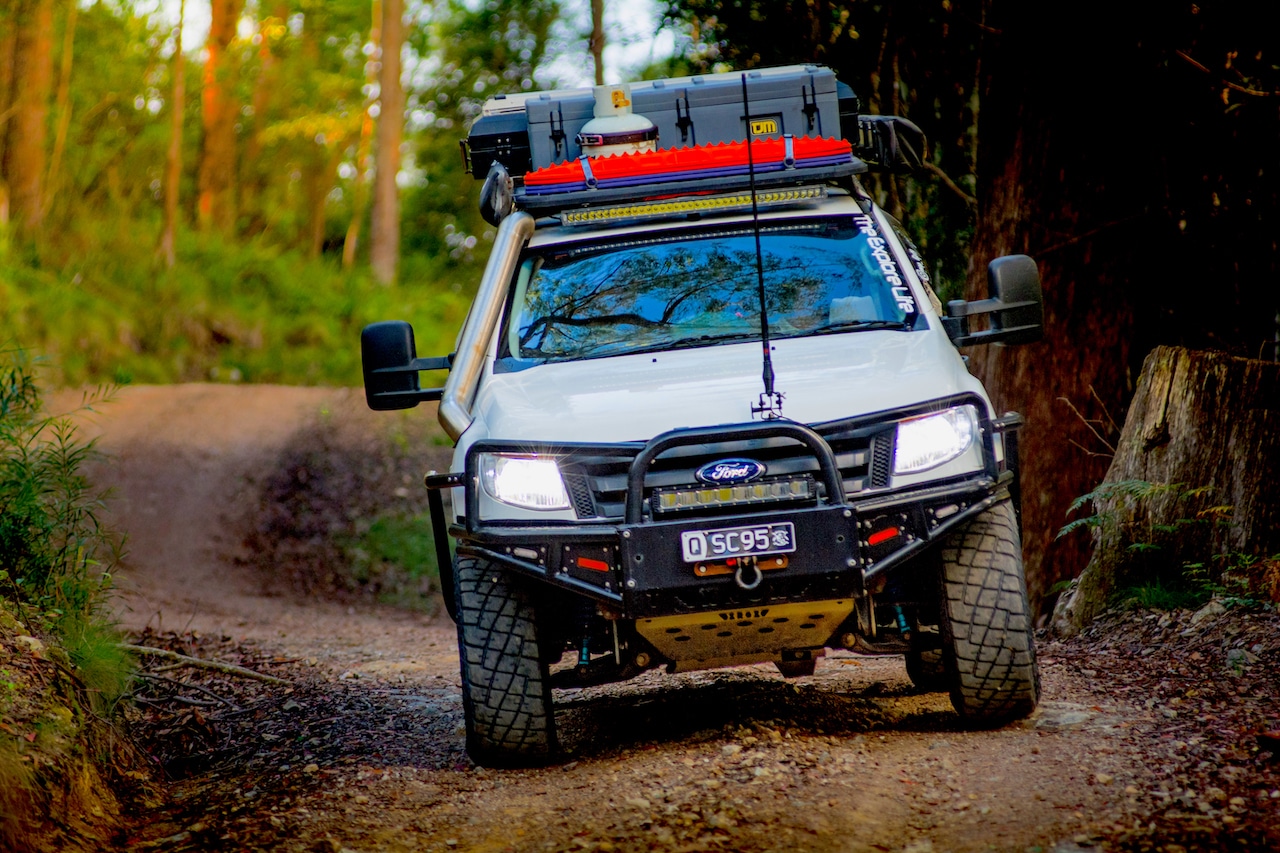 As they are very weight conscious, it wasn't a tough decision to go for an alloy canopy from Tough Tinnies and Terrain. Sean built the tray and installed an 80L poly water tank underneath, keeping the weight down low. Inside the fully insulated central-locked canopy, he made a set of drawers to maximise interior storage and separate all the heavy gear from the delicate electrical systems and expensive equipment. Wired up at home, the 12V system is powered by two 110Ah lead crystal batteries, which can be fed via the Redarc 1240 BC-DC charger or the two 120W solar panels fixed to the top of the Bush Company Clamshell rooftop tent. To keep all their cameras, laptops and batteries charged there is a 400W Enerdrive inverter as well as 240V inlet to top up the system when mains power is on hand. The system runs the 60-litre Engel fridge and 32-litre freezer, Travel Buddy oven, Joolca hot water system, plus all the LED lighting underneath the Darche 270° awning, as well as some small lights and convenient charge ports in the rooftop tent.
Final thoughts?
Jamie remarks that it's not uncommon for people to say that they are so lucky to be able to do what they are doing. "To be honest, luck has nothing to do with it, we have worked so hard to build the Ranger and save money to suit the lifestyle we wanted to have while on the road… we have enough saved to keep us going for about a year, but in saying that we are already putting out feelers for work to supplement some dollars on our trip". I think everyone reading this will be sharing your hopes of finding a new place to live during your adventure of a lifetime. Our fingers are collectively crossed for you guys – enjoy your lap.