The world's first hard sided roof top tent
What happens when you cross a rooftop tent with the luxury of a hard sided camper? Well, you're about to find out!
Annie and Ty Tatro from Redtail Overland in the USA have designed and successfully built the world's first hard sided rooftop tent and just like those never-ending KFC ads when the rugby is on, I just want to yell, "shut up and take my money!"
Calling it a rooftop tent is not entirely accurate though as tents have fabric walls. This design has rigid walls made from a carbon fibre foam composite that fold inwards to open and close. So rather than calling it a hard sided rooftop tent, the Tatros refer to it as a rooftop camper.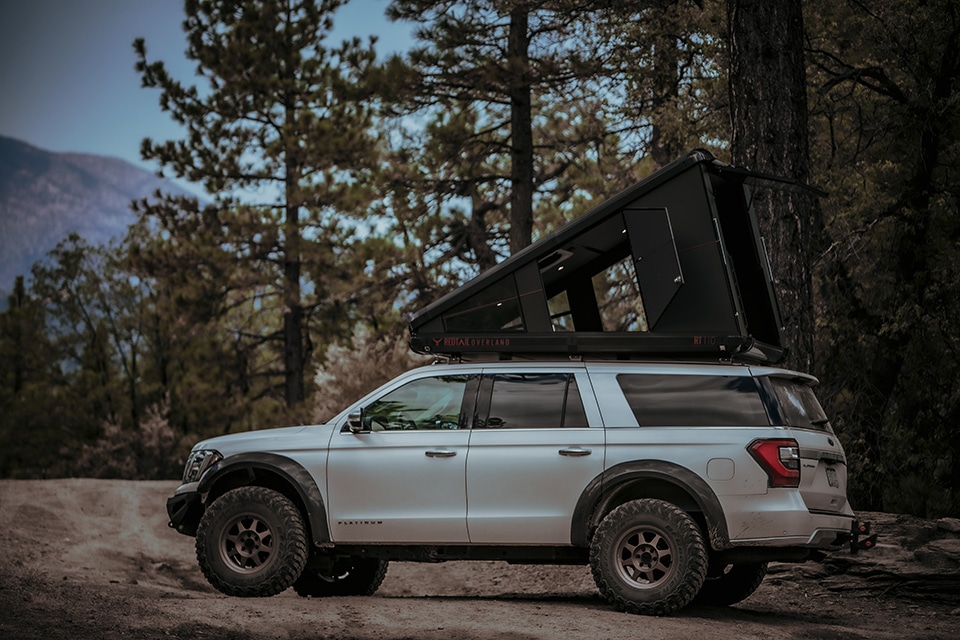 Together they have over 25 years of experience in the overland world, previously working for luxury expedition vehicle manufacturer EarthRoamer. Combine this with their own experience of travelling in every kind of camping set-up possible and they have created what looks like a hybrid of luxury off-road and bare-bones rooftop tent. It appears to offer the ease of exploration that a go anywhere rooftop tent allows. But it also has the benefits of being hard sided, which is a better match for cold weather and rain.
In case you're wondering how long it takes to unpack this hard sided rooftop tent … err I mean camper …
Watch how quick it unpacks here!
Less than a frikkin minute!!
The windows are huge and open up to let the outside in. However, they also close down snug and secure when the weather turns bad. They're made from a dual-pane polycarbonate that keeps the weight down and is both shatterproof and impact resistant.
A fully integrated solar and lithium battery keeps you living a high life. Enjoy a fan, lights and USB ports while a small inverter keeps the batteries charged on your laptop and camera. A diesel heater will keep you toasty and warm for those cold nights.
If your 4WD has a roof hatch, you can potentially gain access to your new home via the camper floor. I guess hatch access would be useful in the event of really s*** weather or a zombie apocalypse but I struggle to see myself using this without making a fool of myself by getting stuck. Otherwise, you'll need to climb up the ladder like a normal rooftop.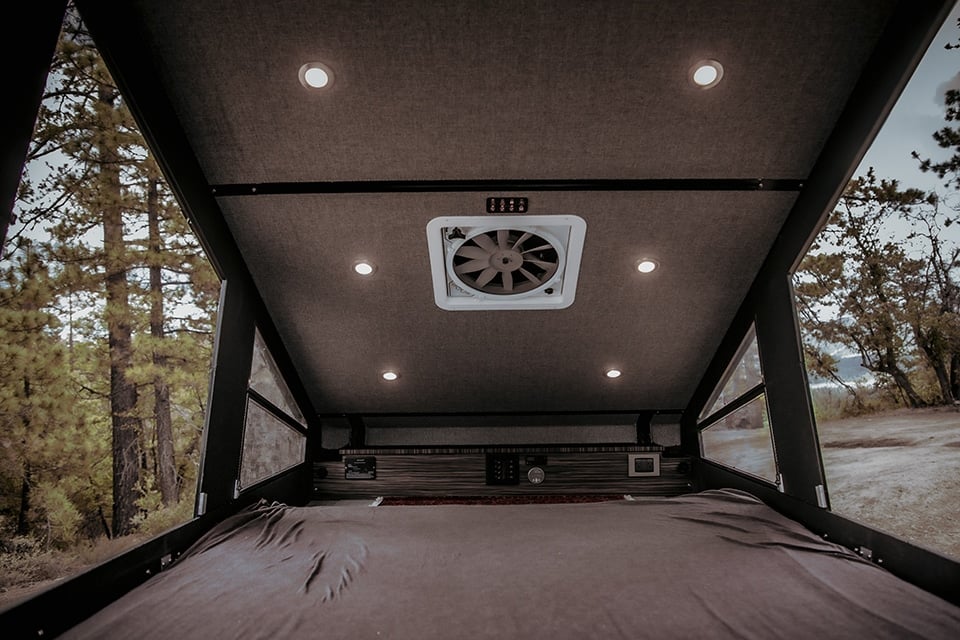 Will I need to sell a body organ to afford it?
Clearly, this is not a normal rooftop though and it's reflected in the price … which will quickly weed out the majority of those interested.
Starting from USD $19,500 (AUD $26,945) for the base model through to USD $31,500 (AUD $43,524) for the larger model with tonnes more features, this places it on par with the cost of a new car nearly. Unfortunately, the more affordable base model lacks the feature appeal of the top-end model.
Weight ranges from 102kg through to 150kg and although this is kind of heavy, it's surprisingly lighter than expected.
Unfortunately, our Australian dollars will currently do no good as it's only being manufactured in the USA for now. When I asked Annie if they had any plans for Australia, she replied that they hope to expand beyond the USA "but it's likely at least a year or two away."
"We hand build each camper following a low volume, high-quality business model, and believe in a factory direct experience for the customer so that we get to know them. This will surely evolve as we grow and start to expand."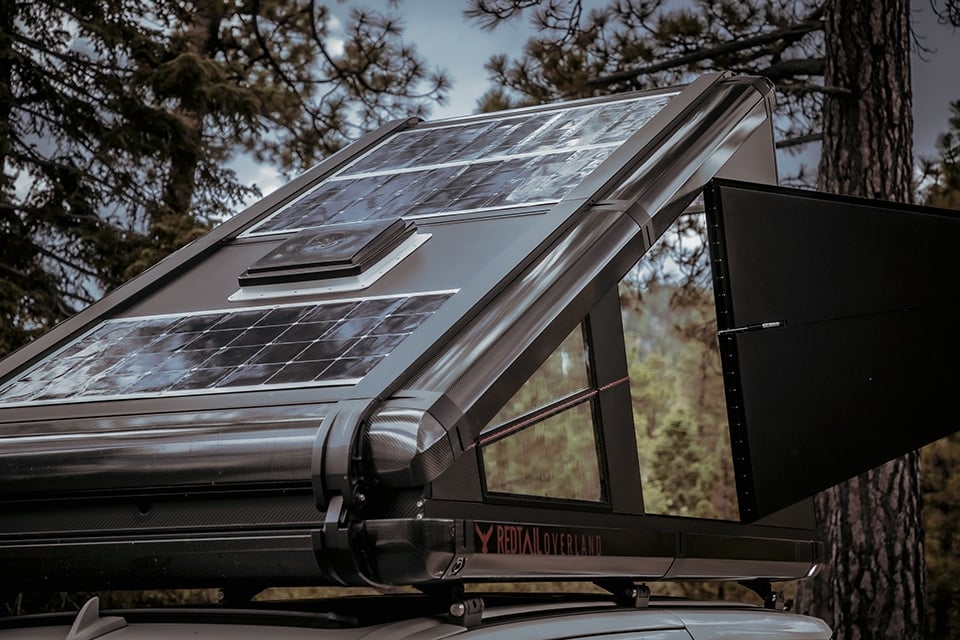 Do we want to try this hard sided roof top tent?
Hell yes! Why? Because according to the Tatro's, one of the models is large enough to squeeze kids in, thus solving my most annoying rooftop problem. The RT110 is the largest model and with an internal living space of 2.57m x 1.45m x 1.58m, there is enough length to squeeze a kid (or two little ones) in the excess.
Also, carbon fibre makes everything look really cool and I just love rooftops.
Would I buy one? Probably not. Although I appreciate and admire the value of a boutique offering and what is clearly both personalised and quality service, it's unaffordable for most as a rooftop. Unless this design is moved to a mass production model of manufacturing thus lowering the cost, the majority of us will not be able to justify dropping such a large wad of cash on a rooftop setup.
Unless ….. Does anyone know what the going rate for a healthy-ish kidney is these days?
Pssst … If you're new to the rooftop tent scene, make sure to check out our complete rooftop tent guide.