Kings Awning Tent Review
Product: Kings Awning Tent
Price: $169.95 – $199 + postage
Size: 2m x 2.5m // 2.5m x 2.5m // 2m x 3m
I recently bought a kings awning tent and after two trips away and 11 nights setting it up, sleeping in it and packing it up, I've now given it a thorough testing.
Although I love the roof top, due to my height (or lack of), it's a mission to get the tent bag on myself after packing up. Also, with a canopy already on the back of my Triton, I'm trying to find ways to drop some weight. Swapping out the roof top to the Kings awning tent results in an instant loss of at least 50kg.
How did it go? Keep reading to find out. But first, here's a quick rundown of the features and how it works.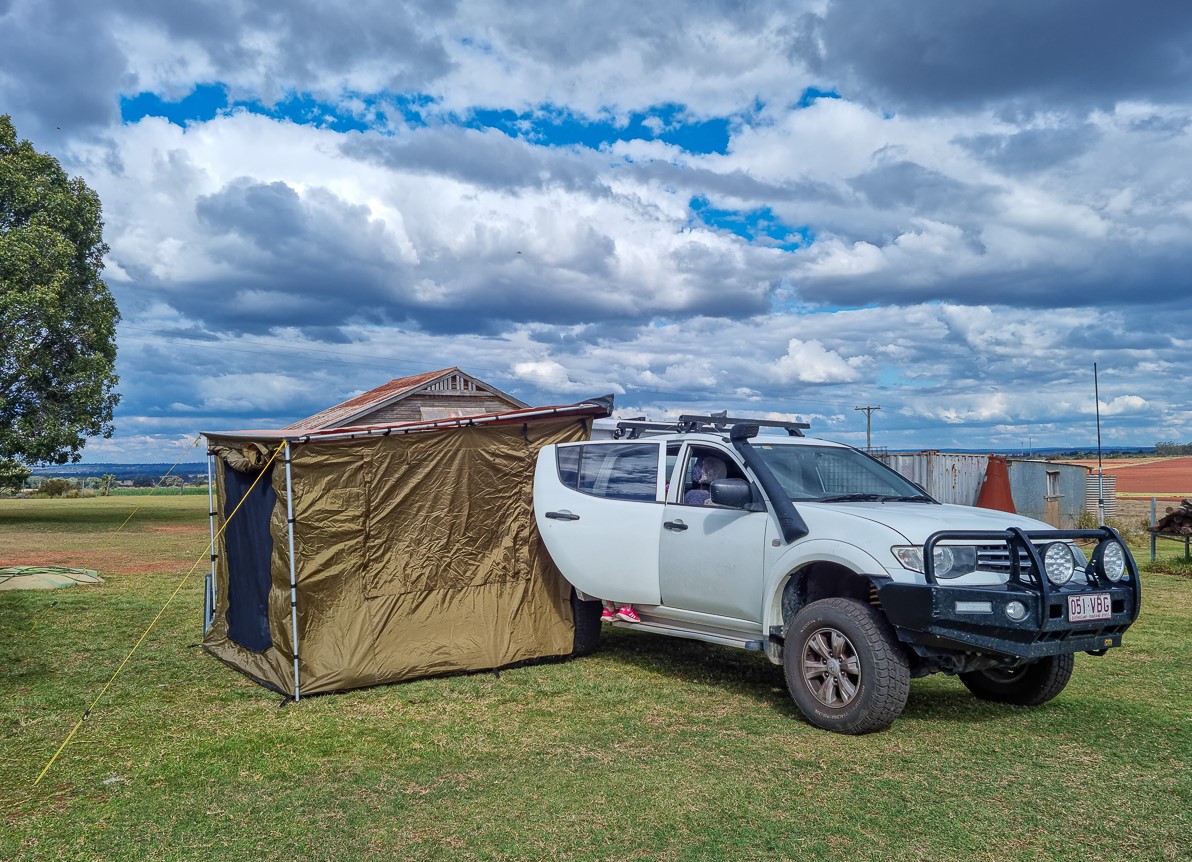 Features
The Kings awning tent comes in three different sizes to suit your existing Kings awning, which you will need to buy separately if you don't have one already. I couldn't say if it fits onto another brand awning as I already had a Kings. I got the 2.5m x 2.5m.
The tents are 2m in height and are fully enclosed with their own roof. The floor is a bucket floor made from PolyEthylene to keep the water out and the sides are 170gsm polyester. The whole thing comes in a compact travel bag.
Just like a normal tent, the windows and entrance roll up to reveal a fly that keeps air flowing and the bugs out. There is another large door at the back that provides access to your car.
The Kings awning tent attaches to your existing awning with a sail track at the back, a sail track/zipper combo at the front (which can remain on your awning for easy set up) and velcro straps that go around the existing awning poles. Then you just peg it out like a normal tent.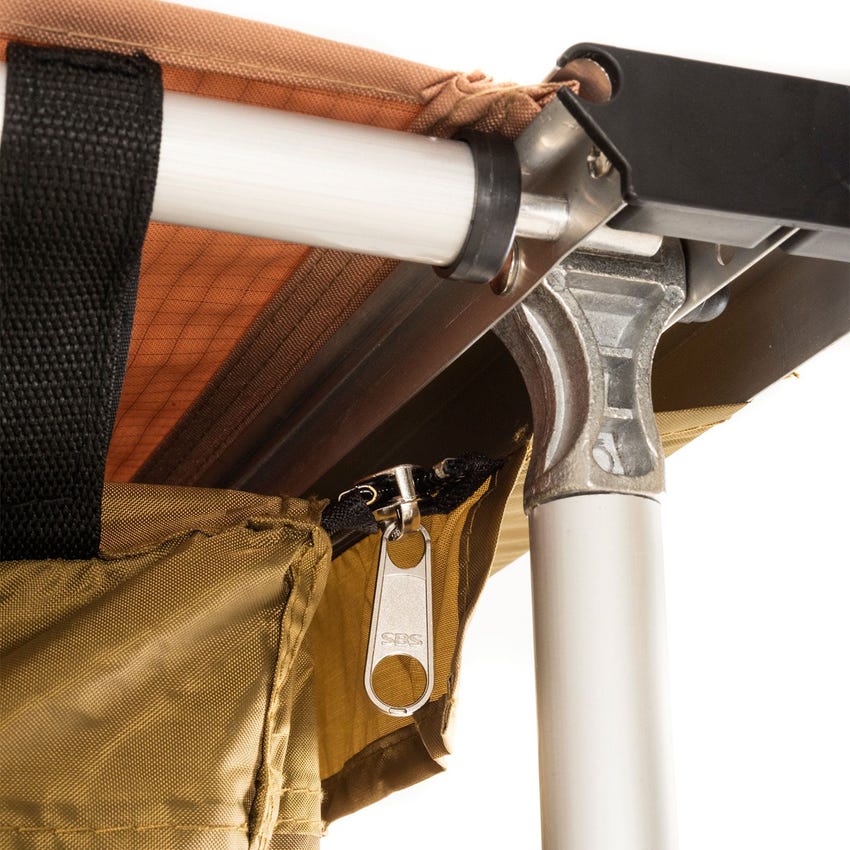 How did it hold up?
Well, all up it did pretty well and although it has some fantastic points, it has a few downsides as well which I'll talk about below. I took the Kings awning tent on its maiden voyage to a farm stay for a few nights in Kingaroy just myself and the kids. The next trip was for an 8-night adventure from Hervey Bay to Winton and back, this time with hubby in tow.
Set up and pack up
It's a fairly easy setup and I can get it up and down quickly on my own. It's not as quick as a rooftop but it's still only around 10 minutes.
Space
The 2m height is great and the 2.5m x 2.5m fits a double and single blow-up mattress with room to spare at the end for bags and equipment. There is room between the two mattresses but not enough room for a second single.
Rain
We got rained on and it is most definitely waterproof. Just make sure to slightly lower one side of the awning pole at the front so the rain can roll off one corner and not directly in front of your tent door.
Temperature
The large windows and door beat the heat really well, but only if there is a breeze. If there is no breeze, it turns into a sauna just like a regular tent. It got down to around 7 degrees in Kingaroy but we were warm enough with a sleeping bag and extra blanket.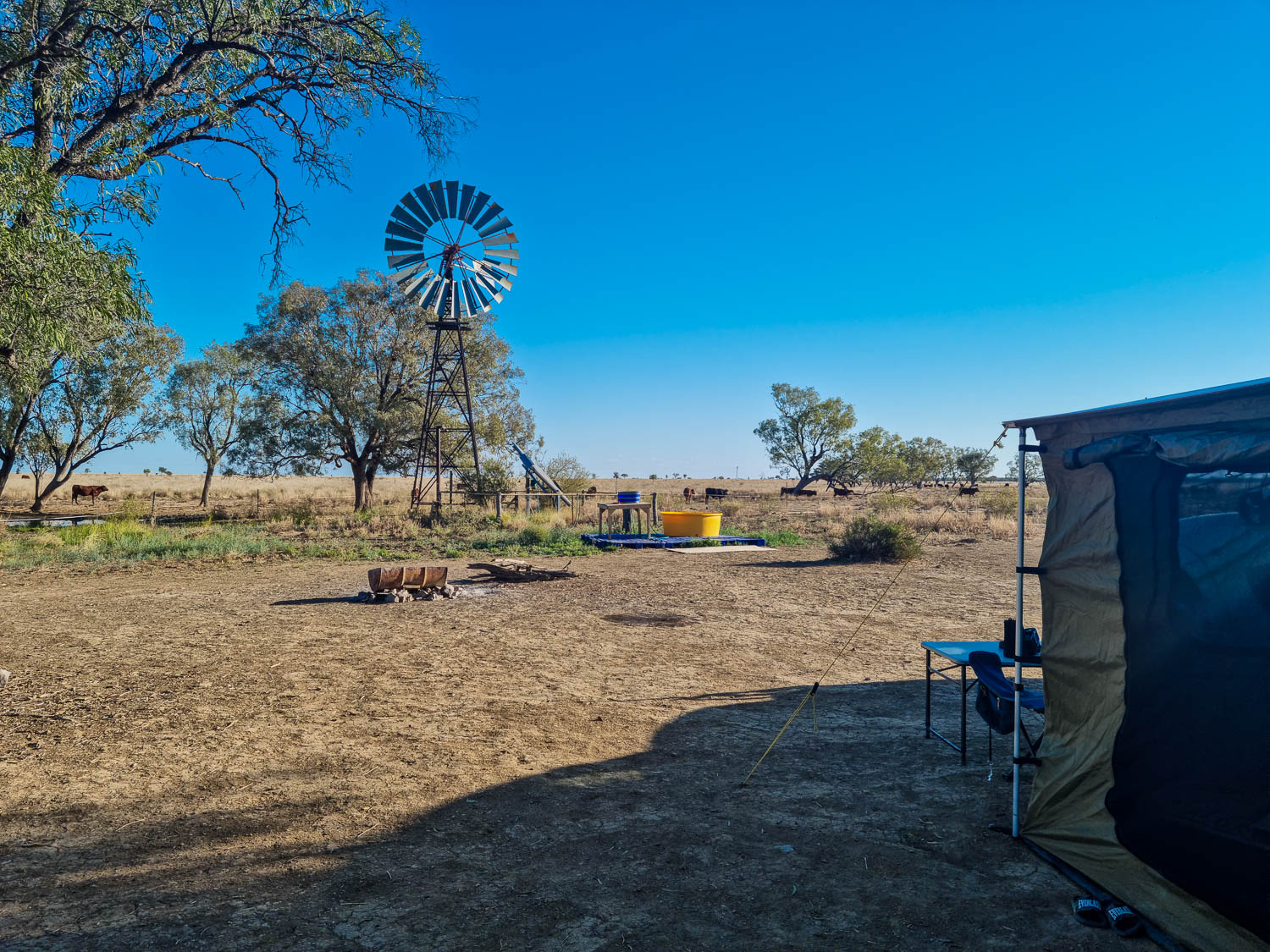 Wind
The Kings awning tent got a proper wind test in Winton when we experienced 61km gusts. I had to pack the awning tent away once the gusts hit around 50km, not because the tent wasn't holding up but because the awning itself wasn't. I pegged that sucker down good but the velcro strips on the awning itself would not stay attached to the poles, which were flexing dangerously. Yep, I left it up way longer than I should have. Hey, everyone has a she'll be right moment that backfires at some point, right?
As the Kings awning tent relies on the ability of the awning to be sturdy, this is a big problem. Also, it was noisy as hell flapping around in the wind.
Pros vs cons
Pros
Lightweight & packs up small
Affordable
Good air flow
Easy set up
Waterproof
Creates privacy
Cons
Noisy in wind
Awning it attaches too won't hold up in strong winds
Will need a back up sleeping plan in strong winds
If it's attached to your car you have to pack it up to go anywhere
The verdict
I really like it and are happy with the value for money. The ease of set-up is a big bonus as is having a decent size area to escape flies in the outback. I liked the access hatch at the back which was super convenient for accessing supplies in the car. Even if you don't plan to sleep in it, it's a great option to pair with a set of swags, giving you a living room of sorts.