We take the new Defender into the Aussie bush to see if it's any good off-road… and take an old one along for reference.
There's been plenty of talk about Land Rover's new Defender 'going soft' and that it's not the practical, go-anywhere, versatile agricultural machine that it used to be, and while some of this is true (it's certainly no longer agricultural), we thought we'd better find out how it performs off the road, in the Aussie bush.
Photos: Justin Walker
Feeling lazy and can't be bothered reading on? Check out the video below then:
Now we already know how good the new Defender is on the road from our drive at the recent Aussie launch, and we also have a fair idea of its off-road capability from our first international drive in Namibia, but to answer the question "Is it any good off-road in the Aussie bush?", we took it there. Oh, and we dragged along my old Defender for reference.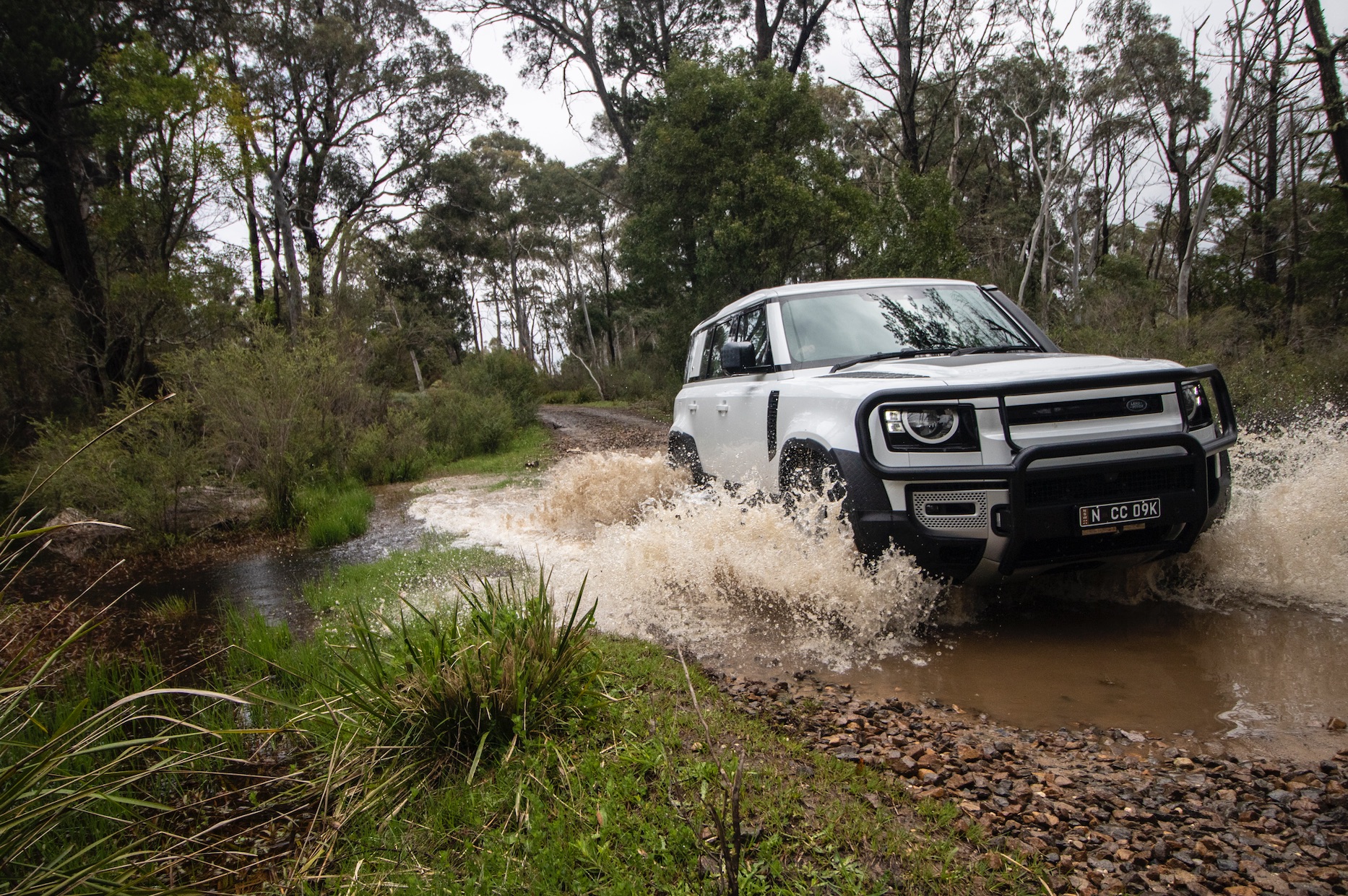 The new Defender… fitted with some off-road gear
The vehicle we tested was a Land Rover Defender 110 P400 S. That means it's the petrol variant that runs a 3.0-litre turbo-charged inline six-cylinder engine mated to an eight-speed automatic transmission with a trick full-time 4X4 system. With a handy 294kW on tap at 5500rpm and 550Nm from 2000-5000rpm, it offers plenty of on-road performance, including a claimed 0-100km/h time of 6.1 seconds and a top speed of 191km/h (we didn't test this… promise) but, again, it's how it works off-road that interests us.
In 110 P400 S spec as tested, the Defender starts at $95,335 plus on-road costs, which is slightly more than a Toyota LandCruiser GXL 200 Series ($92,696+ORC). Our test vehicle was also equipped with: a $3702 Towing Pack that adds All Terrain Progress Control (which is like an off-road cruise control), Terrain Response 2 (which includes several driver-selectable off-road modes), Configurable Terrain Response (so you can tailor your preferred off-road settings and access them easily) and Advanced Tow Assist and, of course, the tow hitch receiver; a $2086 Driver Assist Pack that includes Blind Spot Assist, Clear Exit Mirror, Adaptive Cruise Control, Rear Collision Monitor and Rear Traffic Monitor; a $1274 ClearSight Mirror (which allows you to see what's behind you even when you have gear loaded up to the roof); a $1079 Black Exterior Pack; an $806 Electronic Active Differential with Torque Vectoring by Braking; and $403 front fog lights. That brings price as tested to $104,685+ORC, which is a tad more than a LandCruiser VX 200 Series ($103,396+ORC).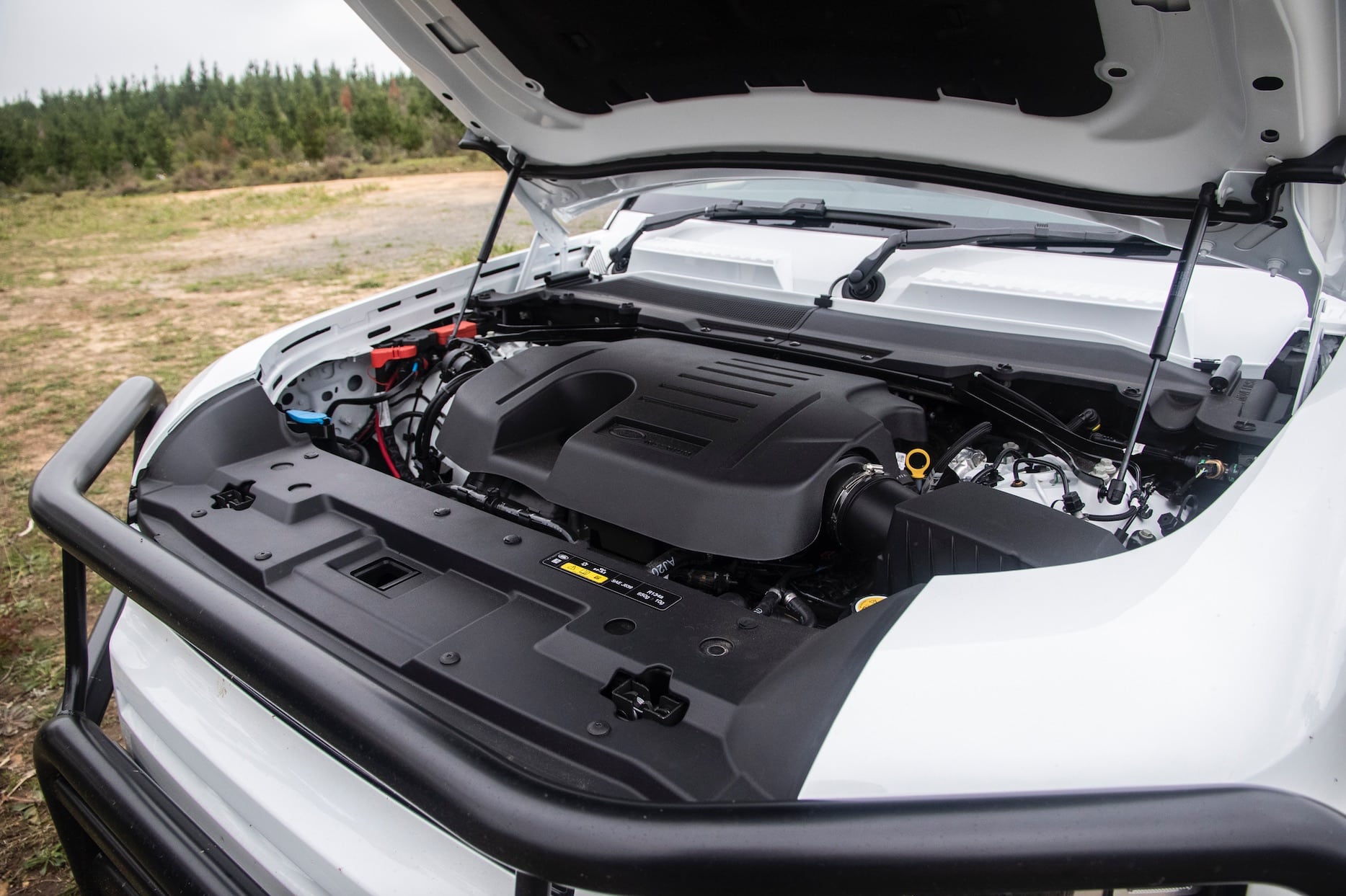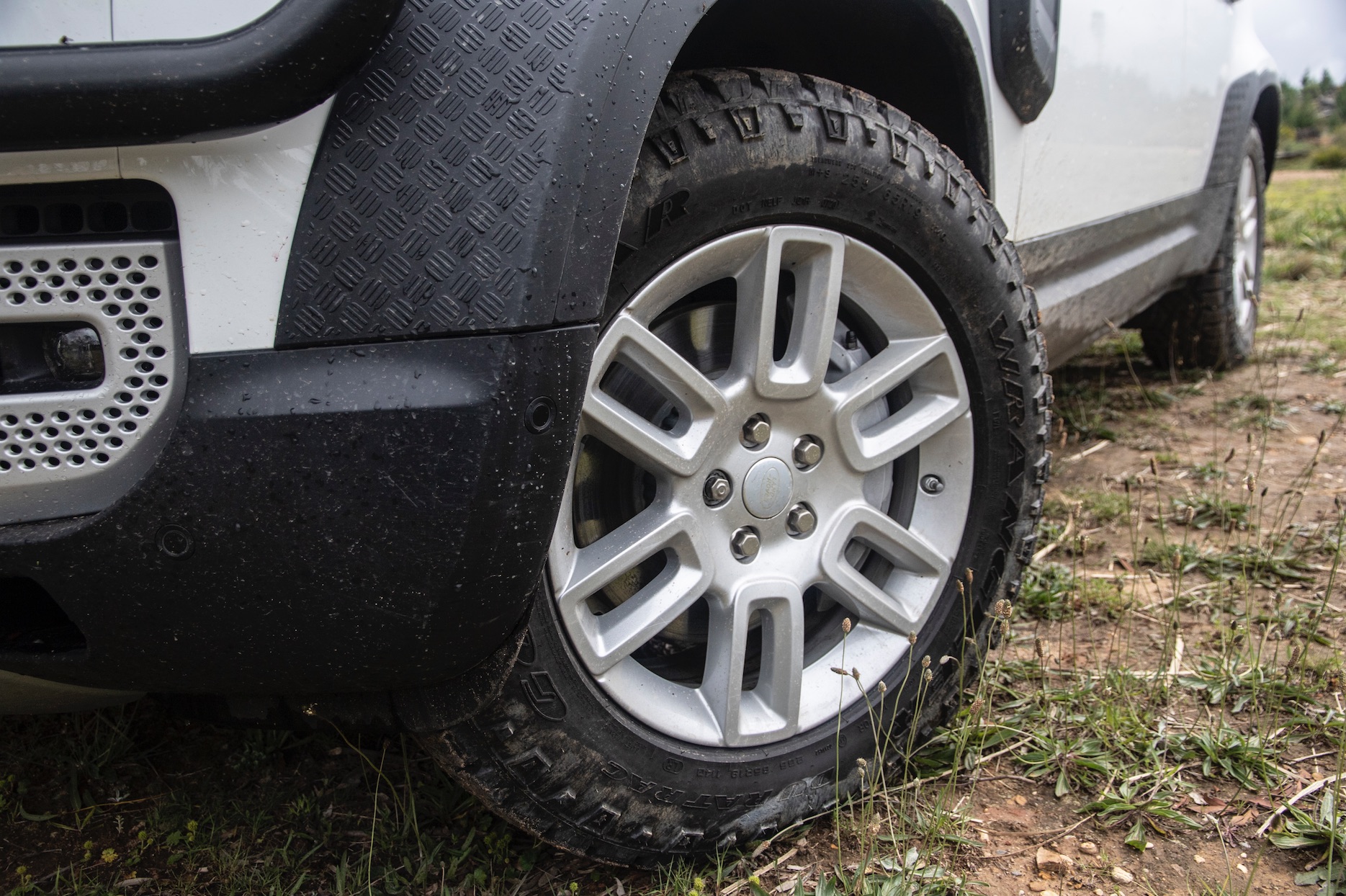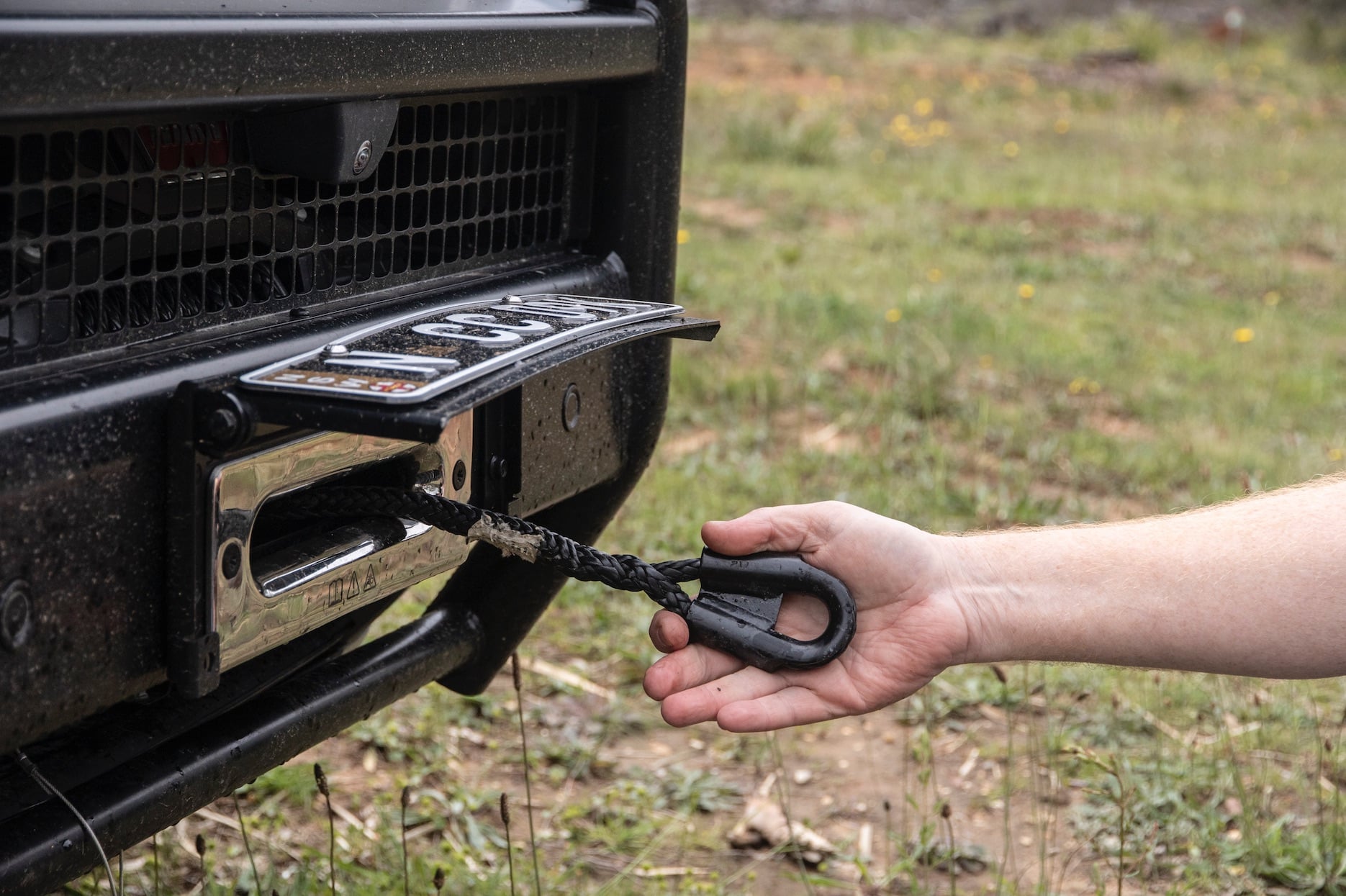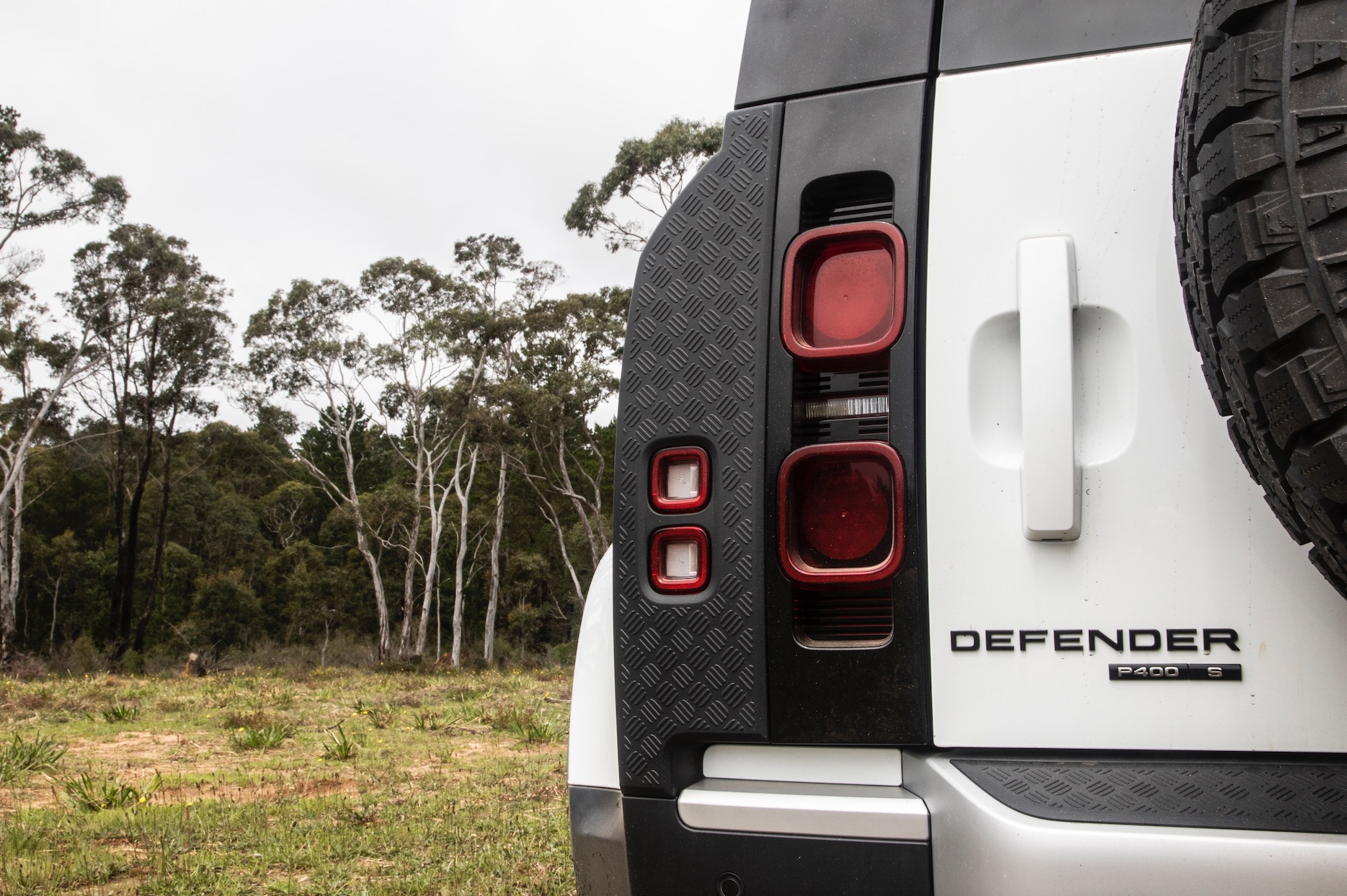 But wait, there's more… The test vehicle also came with a number of locally-fitted accessories including: a bull bar ($4495); a Warn winch ($4950); an Undershield ($1507); a raised air intake/snorkel ($1422); a chequer body-protection kit ($940); deep-sided rubber mats ($358); and a '110' bonnet decal ($280). It was also fitted with off-road capable 255/65R19 Goodyear Wrangler DuraTrac tyres. These extras add $13,952, bringing the final, total price as tested to $118,817, which is a lot, but still cheaper than a LandCruiser Sahara 200 Series ($124,396+ORC) with no accessories.
The reference point
We used my 1994 Land Rover Defender 110 Wagon as a reference point to see how the new Defender performs off-road. A 300tdi 2.5-litre four-cylinder turbo-diesel engine rattles away under the bonnet and this is mated to a five-speed manual gearbox and two-speed transfer case providing full-time 4X4 with a lockable centre diff. It also has front and rear ARB Air Lockers, long-travel Old Man Emu suspension and skinny but effective LT235/85R16 BFGoodrich All-Terrain KO2s.
My Defender only mustered a modest 83kW and 264Nm when new and a few ponies have probably escaped since then, but although on-road performance is less-than exhilarating, the old girl does a pretty decent job off-road. What's it worth? Dunno, really – make an offer. But certainly nowhere near $100k!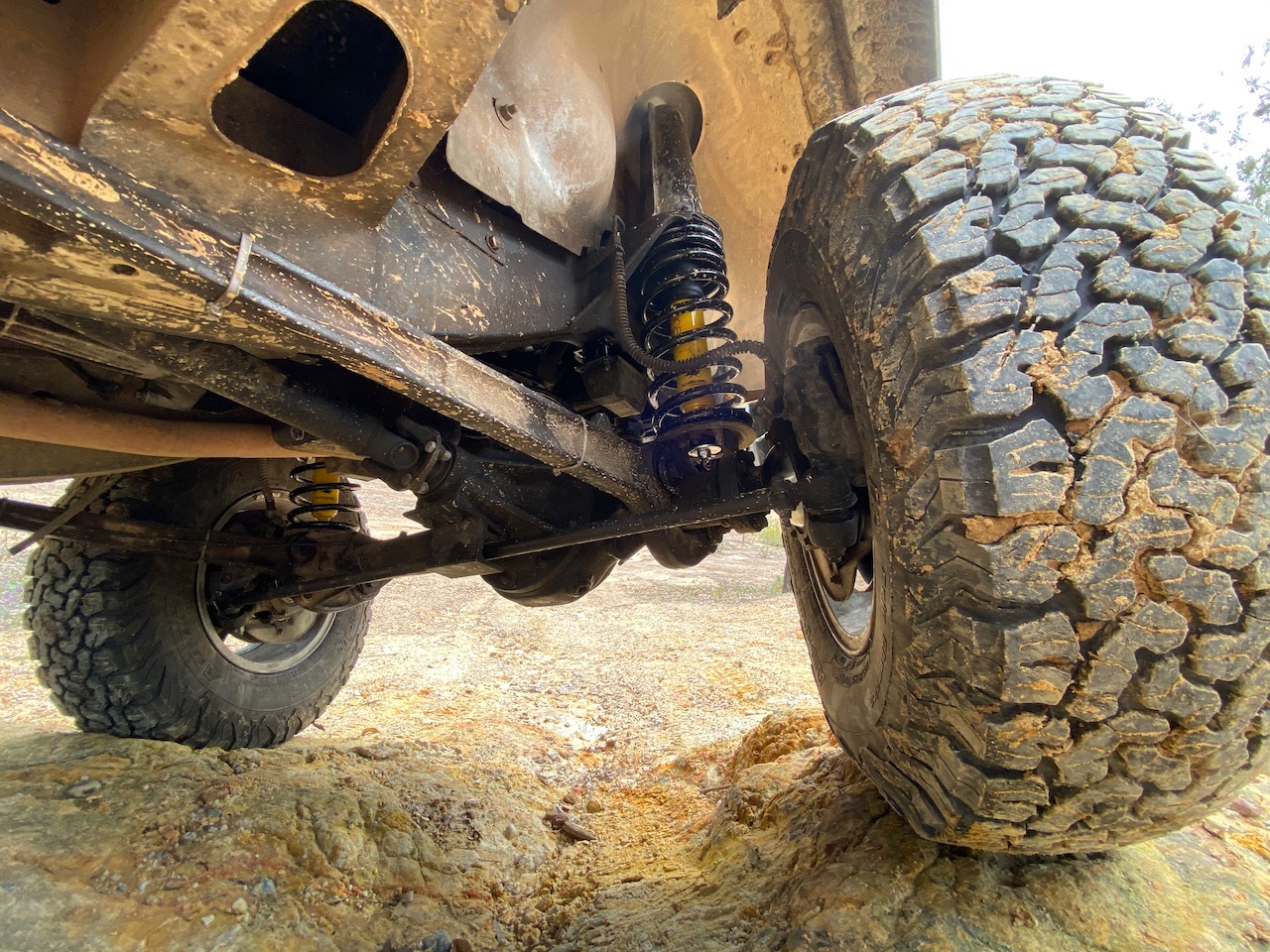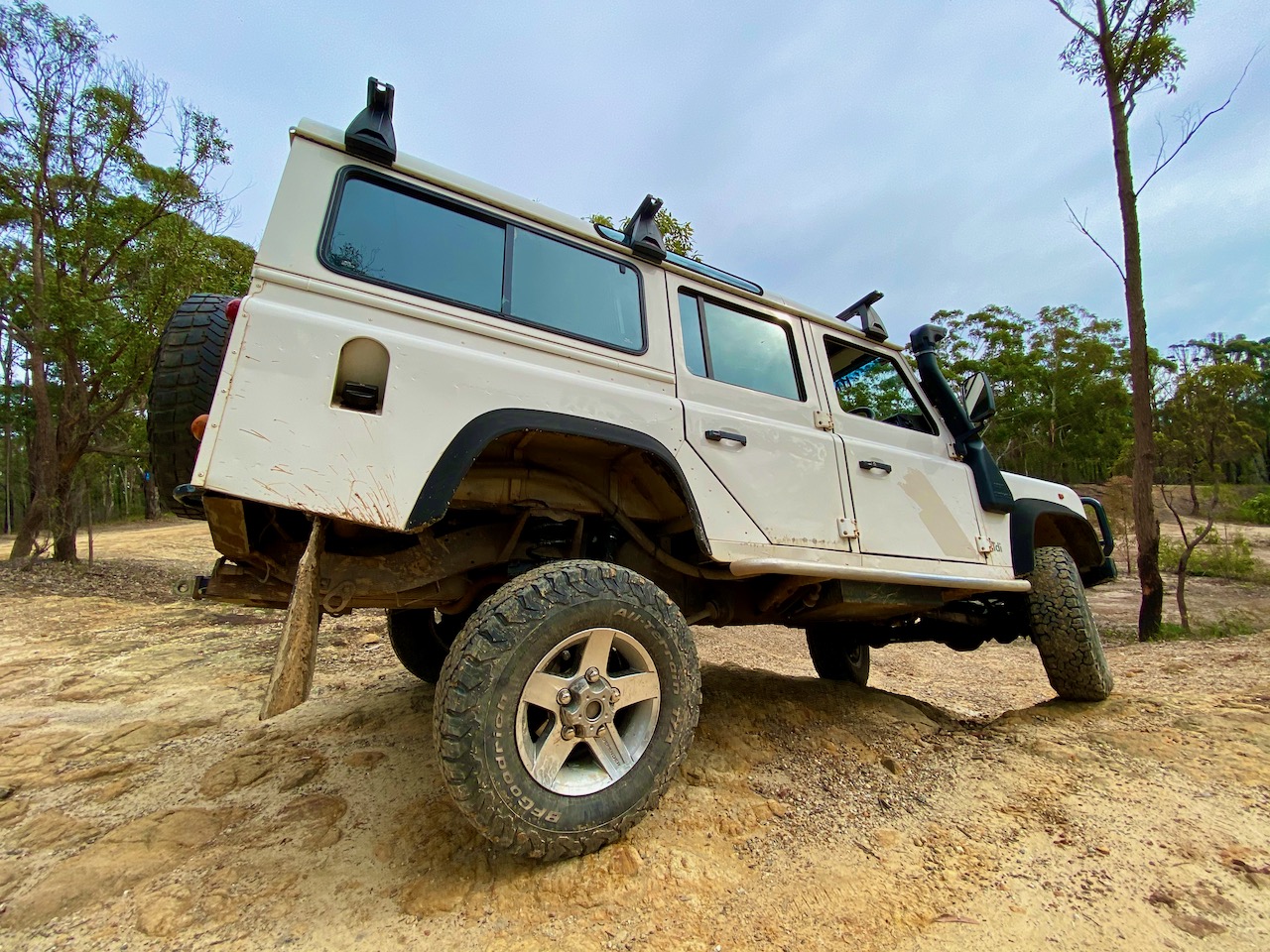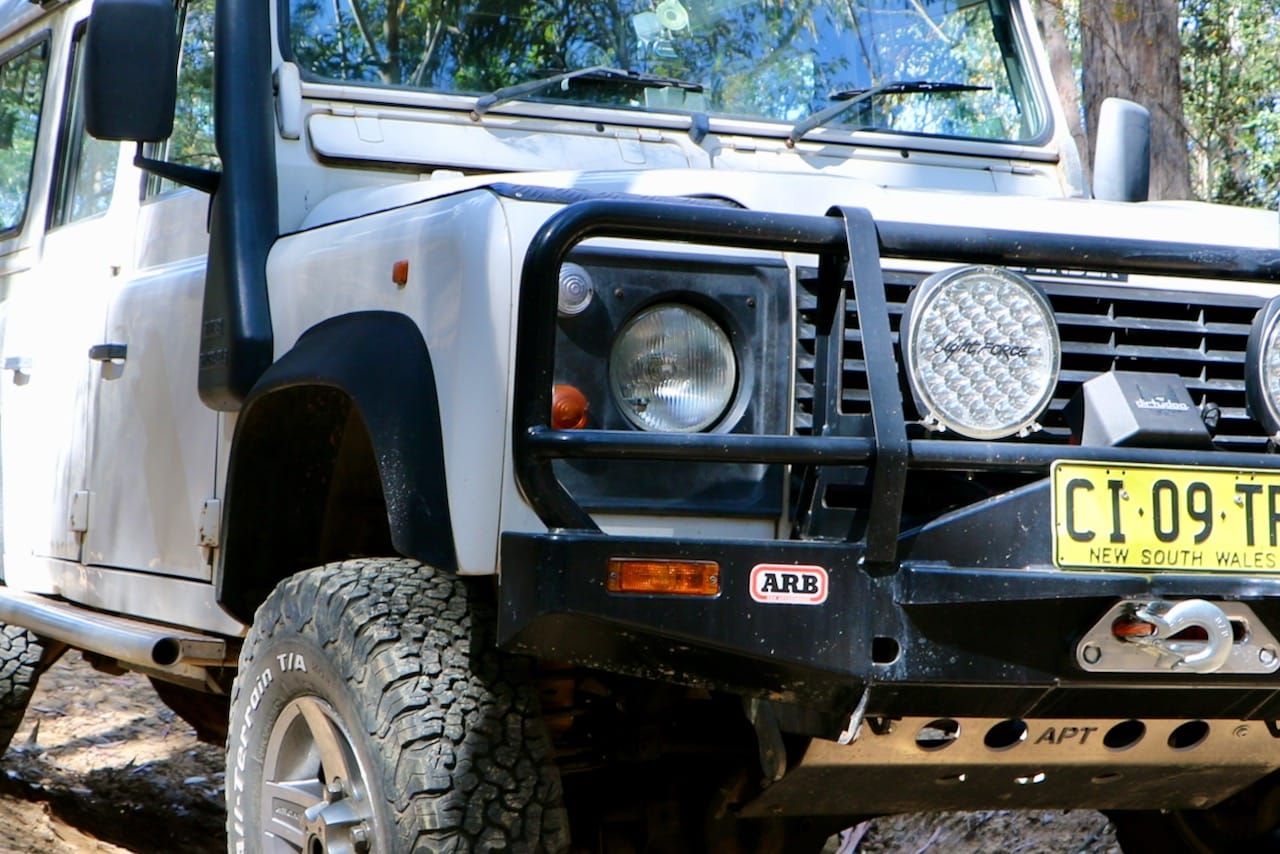 The test
Our first test was up a wet, slippery sandstone-and-mud hill on a heavily rutted track with big washouts. The old Defender crawled up the track in low-range first with no loss of traction, relying on its impressive wheel travel to keep all four tyres in contact with terra firma, and its lockers to ensure engine power was delivered equally to all four tyres.
I approached the track with a little more trepidation in the new Defender, not wanting to damage the more expensive beast. Although I have driven one before, it still took a while to re-familiarise myself with the new Defender's off-road system, which is controlled via a combination of console-mounted buttons and the centre colour touchscreen. Once I had the suspension in its highest setting, low-range engaged and Rock Crawl mode selected, I idled up the track at a similar pace as before. There was a hint of momentary traction loss on one of the front wheels but the electronics soon arrested it and the new Defender joined the old one at the top with minimal fuss and without grounding its belly. Good stuff, so far.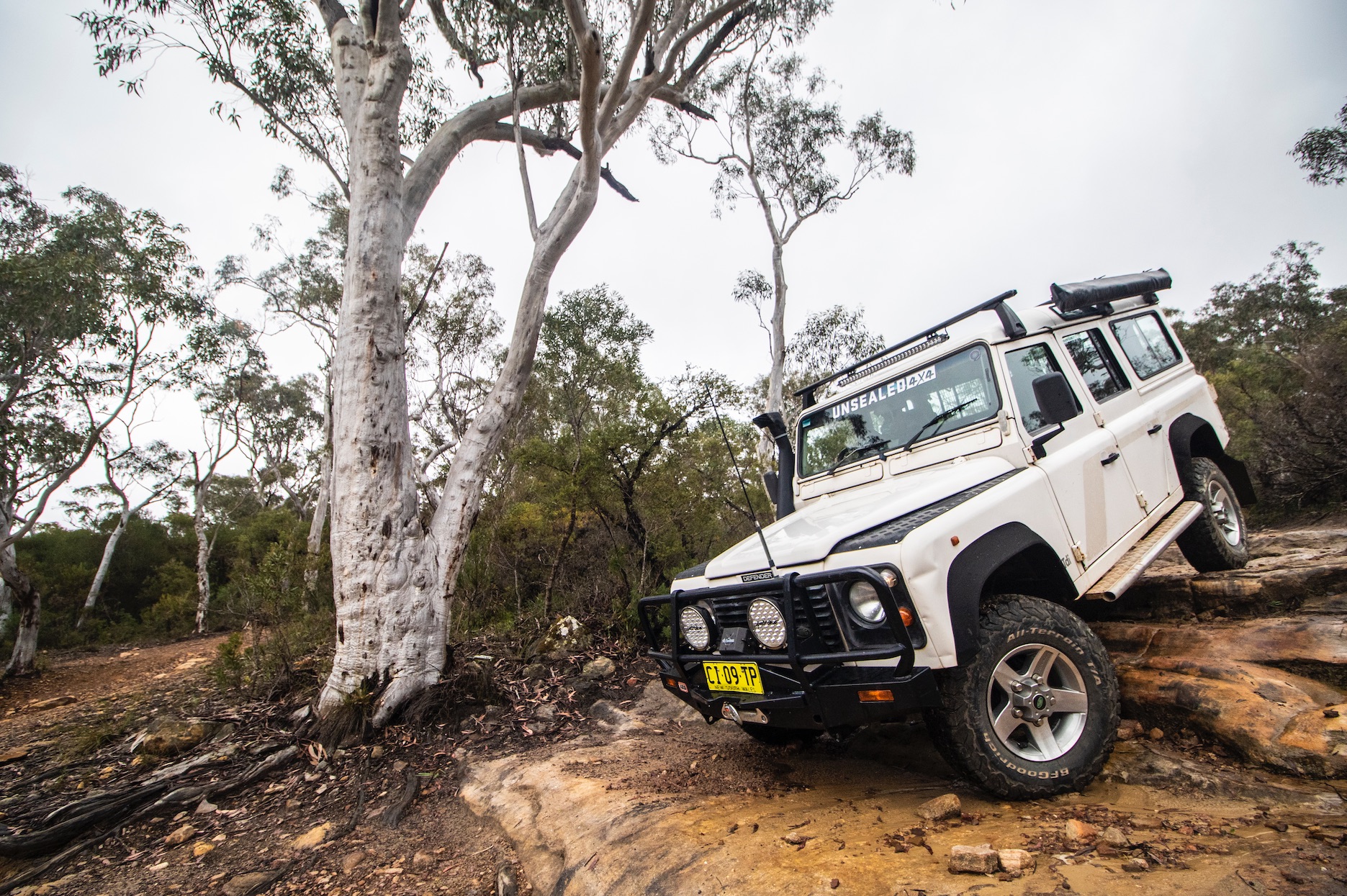 We drove along bumpy bush fire trails to the next tricky off-road section and again I had a run in the old Defender first. This steep descent had a couple of rock shelves on it that required careful negotiation to avoid any belly-scrapes. The old Defender has pretty decent low-range gearing and it made the descent with ease… and no scrapes, although I did momentarily lock a front wheel while leaning on the brake pedal. I then had a crack in the new Defender, fully expecting it to belly-out when it dropped off the first rock shelf, but I needn't have worried – in the high setting it has plenty of ground clearance, and the approach and departure angles are very impressive.
I walked the creek next as there was more water in it than I had seen in some time. When I dropped into a hole and the cold water came up to my belly, I decided to give the crossing a miss. We turned around and tackled the track we had just descended and, again, the old Defender walked up it easily. The new Defender, on the other hand, got stuck on the slippery sandstone and started to wheel spin. I think the wheelbase had a big part to play in this, as it seemed both front and rear wheels were trying to climb up rock shelves at the same time. After more throttle application failed to have the desired effect, I backed up and attacked the climb at a different angle and the new Defender made it up easily enough on its second go.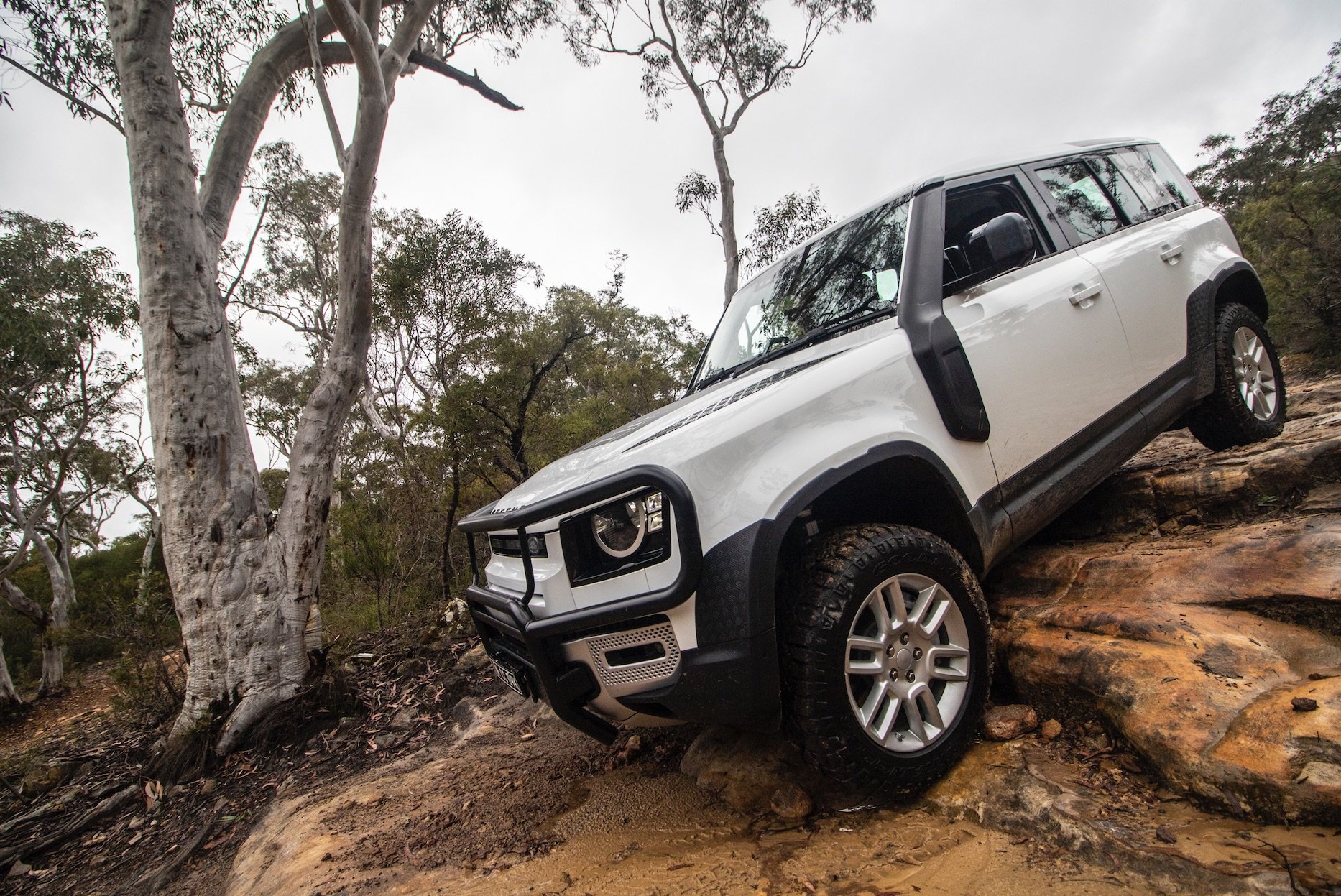 The final off-road set-piece was a cross-axle test. The holes were big enough to test the limits of the old Defender's suspension travel, and looking back at the video footage I reckon it lifted a rear wheel slightly, but with lockers engaged it again made it through without a loss of traction, although there was plenty of creaking and groaning inside the cabin as the chassis flexed and the body panels moved around. The new Defender definitely lifted wheels on this section, and quite a way, but its clever electronic traction aids ensured it made it through without a problem. Oh, and in near-silence; no creaks or groans, just a muffled shudder as the traction control did its thing.
So is the new Defender any good off-road?
Absolutely. The new Defender is certainly a very capable off-road vehicle. As well as its electronic traction aids, it has pretty decent wheel travel for a vehicle with fully independent suspension, it has impressive ground clearance and off-road angles, it has good low-range gearing and there are plenty of accessories available to improve its off-road performance, such as those fitted to our test vehicle.
Is it as good as an old Defender off-road? It would probably give a standard old-generation Defender a run for its money, but not one equipped with front and rear lockers. Yep, I reckon my old Defender won the day… until it was time for the long highway drive home, that is.
* Thanks to my mate Justin Walker for helping out with the video.