WINNER: Brett's 2014 Jeep Grand Cherokee Overland
This Jeep Grand Cherokee Overland certainly lives up to its name. Brett has spent a lot of time perfecting his touring build to tow his small camper trailer around and be comfortable for his wife and two young daughters. The Jeep features an ARB Deluxe steel bar with 12,000lb Runva winch and Dyneema rope. Brett uses a Rhino Rack platform to support a Darche 270° awning, with a rooftop storage bag to keep the gear dry and dust-free.
He's bolted a pair of MAXTRAX, a fishing rod tube, some LED reversing lights and a shovel mount to the rack too, while a pair of 160W solar panels on slides hang under the platform, which is connected to the auxiliary battery system and managed by a Redarc BCDC system. A Wilco swing-away spare wheel carrier also mounts a jerry can or two. The final pieces are the 18-inch rims and 32-inch tyres, which give more traction and clearance for the Grand Cherokee. Brett says he is looking forward to fitting a steel rear bar and snorkel, among many other ideas!
Congratulations Brett, we reckon you'll enjoy the Drivetech 4×4 merch pack we've put together for you!
Rhys' HZJ105 LandCruiser Ute
Rhys' 105 Series started life in 2006 as a wagon, chopped about by a previous owner into a pretty tidy king cab. The asthmatic 1HZ was ripped out and a 1HD-FT fitted in its place, the last of the mechanically injected Toyota diesels, and the one most worth having. Apart from the straight-through 3-inch exhaust, the mechanics are untouched.
A modest lift of two inches care of King coils and 305/70 R16 M/Ts mounted on 16×10 Allied Thunder rims keeps overall height sensible for a daily driver and keeps the wear and tear to a minimum. Rhys tells us that the future holds a H151 gearbox conversion and upgraded turbo for extra killa wasps for his 105, as well as setting up the tray a bit better for camping and dragging the trail bikes around. Cool ute, mate!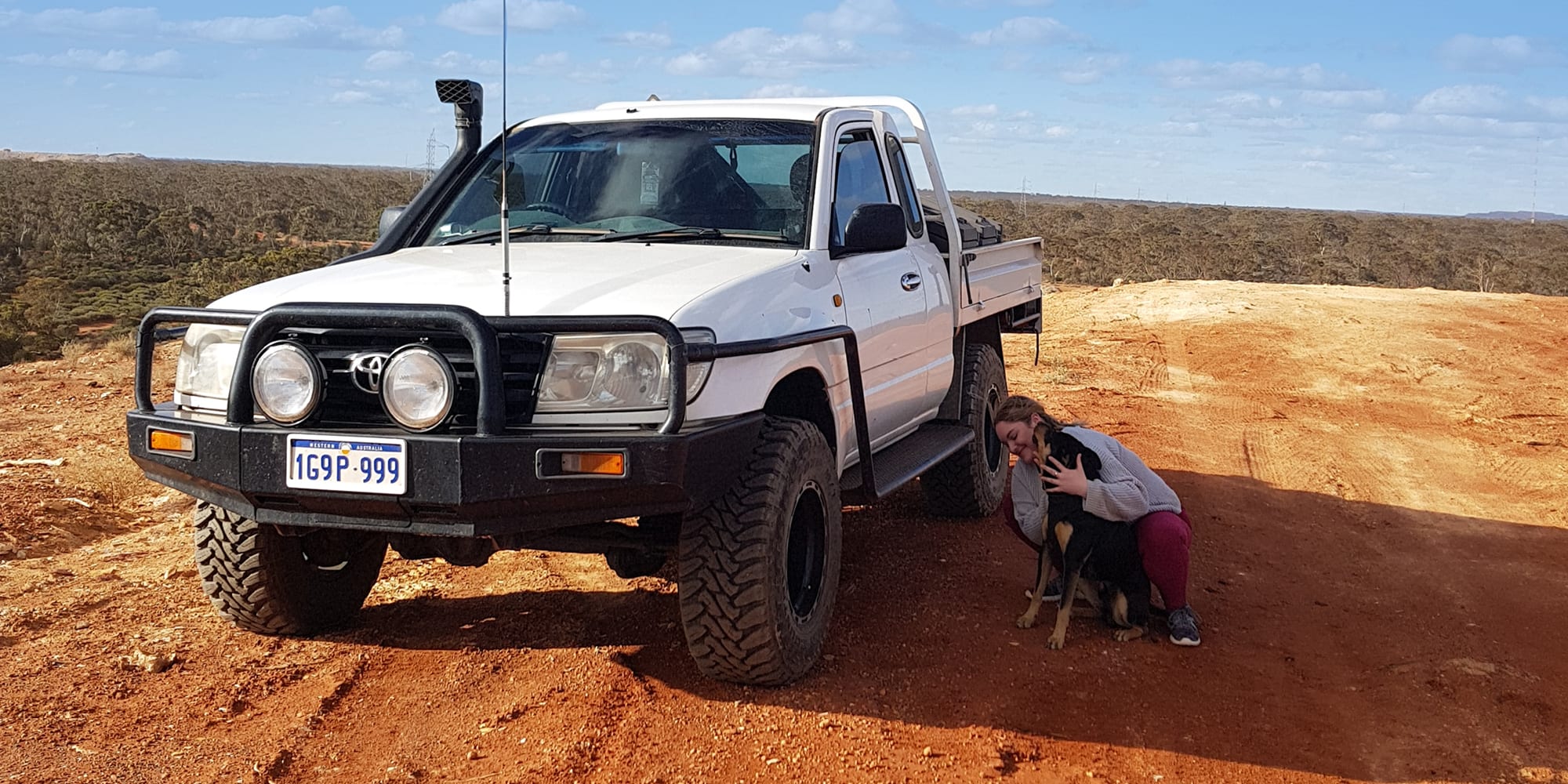 Patrick Brown's Toyotas
Patrick is clearly a Toyota man … his 2011 79 Series has been GVM upgraded to 3900kg with custom springs giving 50mm of lift and EFS XTR shocks and remote-controlled air bags for levelling. EFS also supplied the 13,000lb winch that mounts next to the LED lights in the genuine Toyota steel bull bar. The rear factory locker is supplemented by a front e-locker and an auto conversion using 200 Series parts, while shift controller and custom engine remap give the car genuine capability and towing strength.
The rear Alu-Tray with under-drawer supports the Concept Canopy with kitchen, dual batteries, Waeco fridge on drop-down slide and homemade swing-away wheel carrier. … and then there's the 1989 HJ61. Patrick has completed a total body-off restoration and brought it up to better-than-factory finish. Fantastic collection mate, thanks for sharing!