New styling, new technology, new engine and new levels of safety. Isuzu's latest MU-X boasts some decent Off-Road ability.
Combining bold and dynamic design, with a comprehensive suite of standardised safety, driver-assist technologies and improved capabilities including segment-topping 3.5-tonne braked towing capacity, the All-New Isuzu MU-X is the most advanced Isuzu ever built. Available from Isuzu UTE Dealerships from the 2ndof August, the All-New Isuzu MU-X will be available across three model variants; LS-M, LS-U, and LS-Tin both 4×4 and 4×2.
Regardless of variant, each model is equipped with new levels of premium features and finishes, the latest on-board technology including Android Auto™ and wireless Apple CarPlay®and is powered exclusively by Isuzu's new 4JJ3-TCX, 3-litre turbo-diesel engine producing 140kW and 450Nm matched with an intuitive six-speed automatic transmission.
"Australia is a very competitive new-vehicle market and I'm proud to say that the Australian-spec All-New MU-X was designed with the feedback from Australian motorists. After all, Australia is the world's largest market for the MU-X outside of Thailand, and with the significant importance of Aussie customers we've been able to specify our MU-X to better suit their exact and unique requirements," said Isuzu UTE Australia Managing Director, Hiroyasu Sato.
"By focusing on this feedback, we've fine-tuned the Australian specification; refined the areas that traditional Large-SUV drivers need, introduced new features that motorists want, and improved the overall formula to broaden the appeal and capability with all buyer-types, particularly amongst families and travellers."
"After all, not only did the first-generation MU-X prove exceptionally popular with families, it was a favourite with motorists travelling vast distances, often with something in tow. And, we're confident that the improvements in design and engineering instilled in the second-generation MU-X will meet and exceed the expectations of Australian motorists."
Traditionally favoured by customers seeking unparalleled value-for-money, dependability, and capability in a large SUV, the All-New Isuzu MU-X combined with its new levels of refinement, capability, and technology are set to amplify its adoration amongst a wider range of Australians.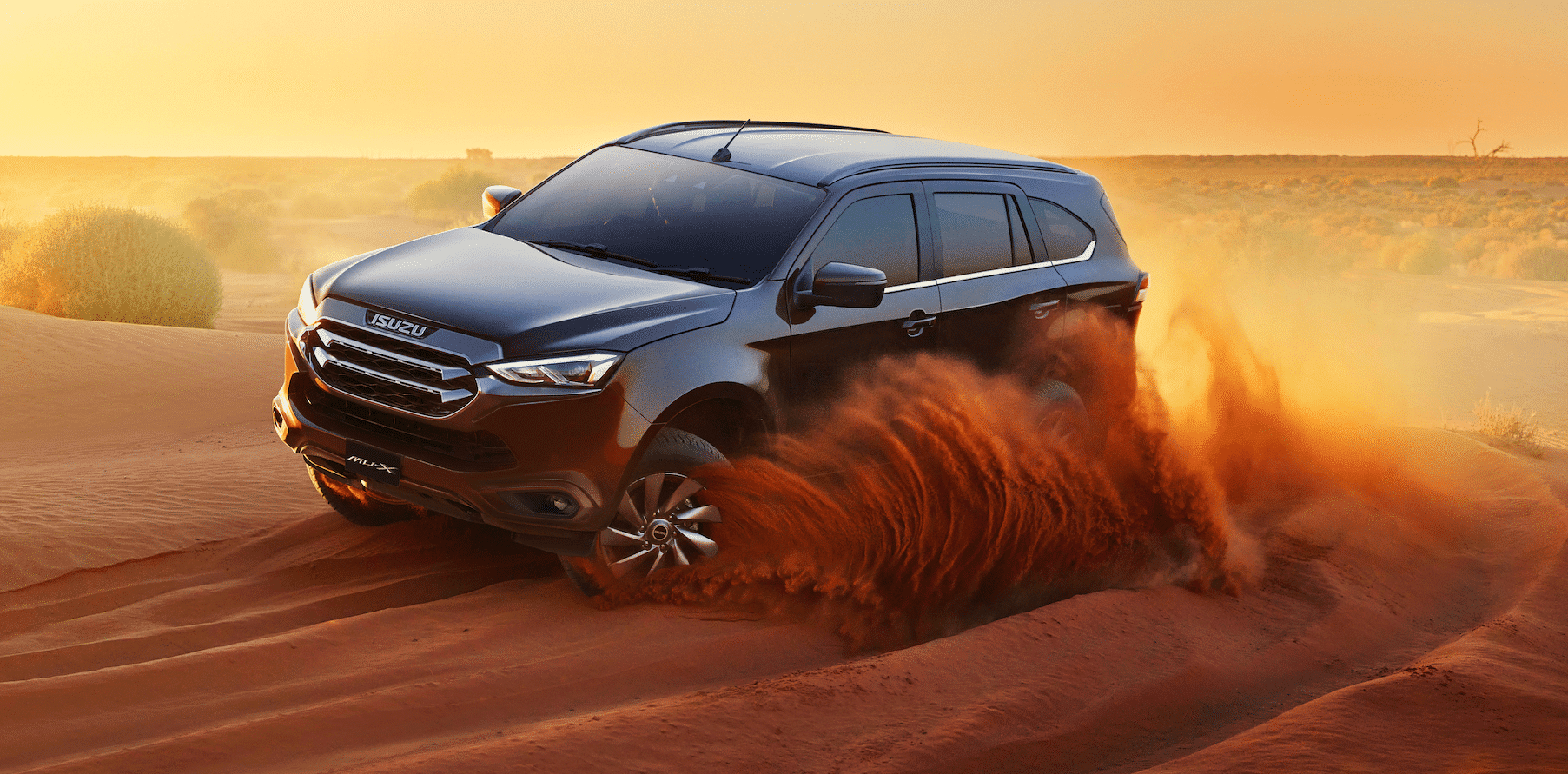 OFF-ROAD PERFORMANCE
With off-road enthusiasts in mind, MU-X 4×4 models further benefit from a new, stronger, and more efficient 4×4 drivetrain making shifting into a 2WD-High Range, 4WD-High Range, and 4WD-Low Range even easier via the '4×4 Terrain Command' dial. All 4×4 models are equipped with an electromagnetic locking rear differential (rear diff-lock) and a new off-road electronic driver aid, 'Rough Terrain Mode' which maximises drivability in technical, slippery, and rough conditions. Coupled with a welcomed improvement to the Approach, Departure, and Ramp-Over Angle due to the shorter front overhang, Isuzu engineers have also cleverly engineered the engine air intake system increases the MU-X's wading depth to up to 800mm. When combined with the new body and chassis affording impressive clearance angles and class-topping ground clearance, and improvements made to the powertrain and underbody protection, the All-New MU-X is now more capable than ever to handle off-road terrain.
TOWING AND TOURING
Fuelled by feedback from Australian Motorists, Isuzu engineers have focused on fine-tuning the drivability and capability of the All-New MU-X for Australia. Maximising range, versatility, and capacity whilst touring, towing, and exploring, without compromising on occupant comfort and safety on Australian roads. Close to half of all Isuzu owners choose an MU-X to tow their caravans, boats, and trailers, making range, efficiency, and towing capacity key amongst towing motorists.
The All-New MU-X has the ability to tow 3.5-tonnes and shares the same ladder-frame chassis constructed extensively of high-tensile steel as its D-MAX counterpart affording it increased strength, rigidity, and load-carrying capacities.
Compared to the previous generation MU-X, this new MU-X gains stiffer and stronger rear suspension geometry, while the front axle benefits from Isuzu's independent double-wishbone suspension design. All of this translates to improved overall vehicle composure, handling, and dynamics and increases braked towing capacity to 3.5-tonnes, payload capacity, Gross Vehicle Mass (GVM)to 2,800kg, Gross Combination Mass (GCM)to 5,900kg, and front and rear axle loads by +100kg and +50kg respectively ideal for families who don't pack light.
With new touring capabilities comes an expansion in the Isuzu UTE Accessory catalogue, with a selection of towing-focused accessories engineered specifically for Isuzu vehicles. These include a genuine tow bar kit, with either a 7-pin or 12-pin plug, a pair of ClearView extendable towing mirrors, with power-fold function and integrated Blind-Spot Monitoring alert lights and LED indicators, genuine Electronic Brake Controller and available for the MU-X for the first time, a genuine Weight Distribution Hitch (WDH) which are designed and tested to work in harmony with the on-board systems.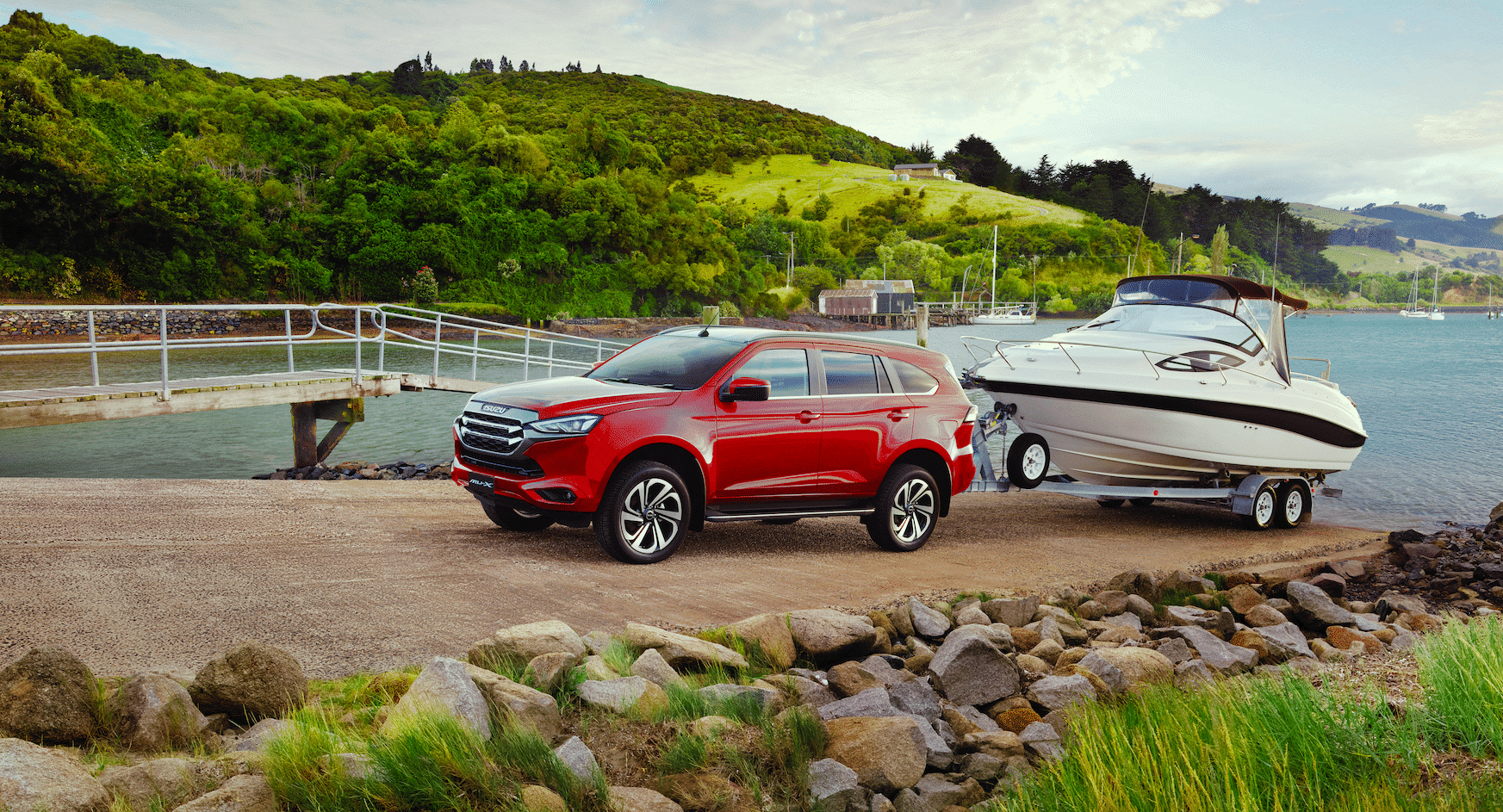 With fuel range an important consideration when on the road, the fuel tank capacity has been increased to 80-litres, 23% larger than in the previous-generation MU-X and combined-cycle fuel consumption figures returning 7.8-8.3-litres/100km.
On the outside, optimal visibility for touring is achieved with Bi-LED headlights with LED daytime running lights (DRL), featuring auto-levelling and automatic high beam control with LS-U and LS-T further benefiting from LED front foglights. Inside the cabin, all models feature front row and 2nd and 3rd-row roof-mounted air-conditioning vents (with dual-zone air-conditioning control in LS-U and LS-T variants) and for cooler months, the LS-T adds a touch more comfort with variably controlled heated front seats.
ENGINE AND DRIVETRAIN
Engineered for touring vast distances and evolved from the famed 4JJ1-TC HI that powered the previous generation-MU-X, the unique Australian-specification 4JJ3-TCX 3-litre, turbo-diesel engine in the All-New MU-X delivers linear and progressive torque across the entire rev-range. Power and torque outputs have been increased to 140kW at 3,600rpm and 450Nm at 1,600-2,600rpm a 10kW and 20Nm improvement over the preceding engine respectively. Midrange torque has also been further improved as a benefit to four-wheel drivers who require low-down torque. With less internal wear and tear through engineering, the new 4JJ3-TCX makes more power and torque, while emitting less noise and vibrations. It also sports new engine internals, a more efficient electronically controlled Variable Geometry System (VGS) Turbocharger, and a new high efficiency, high-pressure direct injection fuel system, that makes the most of each drop of diesel. Power and torque are also transferred to the wheels via a re-engineered, smoother, and more refined Aisin AWE6B45 II 6-Speed automatic transmission.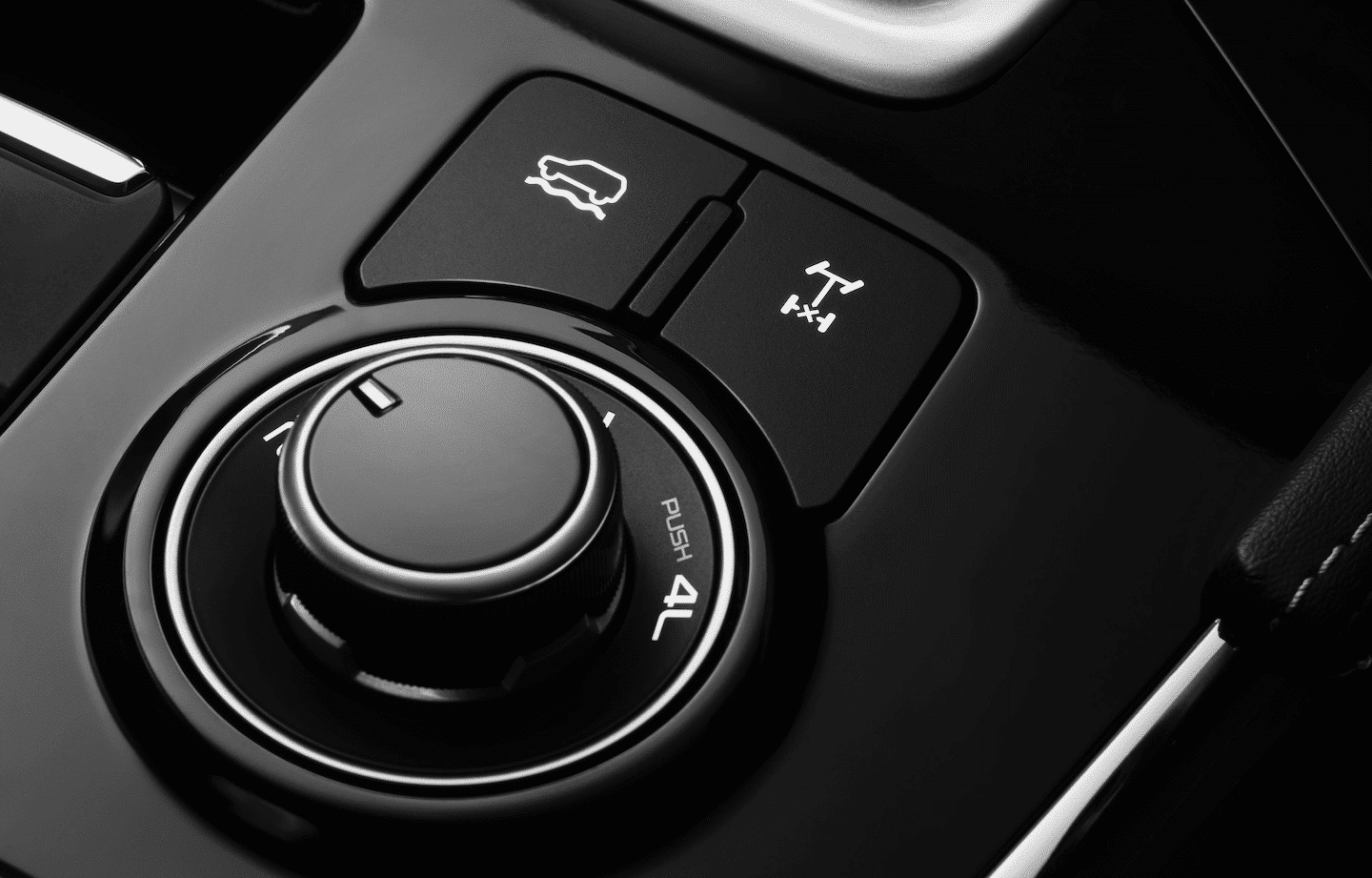 SAFETY & DRIVING CONVENIENCE
With safety, an intrinsic strand of the DNA architecture of the All-New Isuzu MU-X, Isuzu's Intelligent Driver Assistance System (IDAS) offers a comprehensive suite of safety and convenience features that complement the driver and dramatically improves the level of safety for all occupants, pedestrians, cyclists, and other road users. Standard across all variants, IDAS encompasses the main driving systems, combining Active Safety, Passive Safety and Driver Assistance technology into one complete package.
At the heart of IDAS is a Hitachi 3D Stereo Camera, a binocular camera system that can precisely detect and measure the distance, size, velocity, and depth of vehicles, pedestrians, cyclists, and other potential obstacles in front of the MU-X. Mounted high-up at the top of the windshield to increase the camera's range, field-of-view, and depth perception this 3D camera system enables the MU-X to detect more subjects with a lower risk of miss-detection and take the necessary countermeasures. All Isuzu UTE Genuine & Approved accessories have been specifically engineered and calibrated to work in complete harmony with Isuzu's IDAS allowing for seamless integration with provisions to mount a UHF antenna and additional driving lights. Some of the active safety features that IDAS encompasses include Adaptive Cruise Control with stop & go traffic functionality, Autonomous Emergency Braking, Blind Spot Monitoring, Lane Departure Prevention, Trailer Sway Control, Misaccelaration Mitigation, alongside other potentially lifesaving technology such as 8-airbags, including a knee and centre airbag.
Standard across the range, automatic windshield wipers detect rain and moisture on the windshield and automatically wipes when needed, while the LS-T grade now benefits from an anti-glare Auto-Dimming Rear-View Mirror; significantly reducing glare from dazzling headlights behind when necessary. Providing additional safety and convenience, all models come standard with a high-definition reversing camera with dynamic guidelines, which aids drivers by envisioning vehicle trajectory with parking lines that move according to steering input when reversing.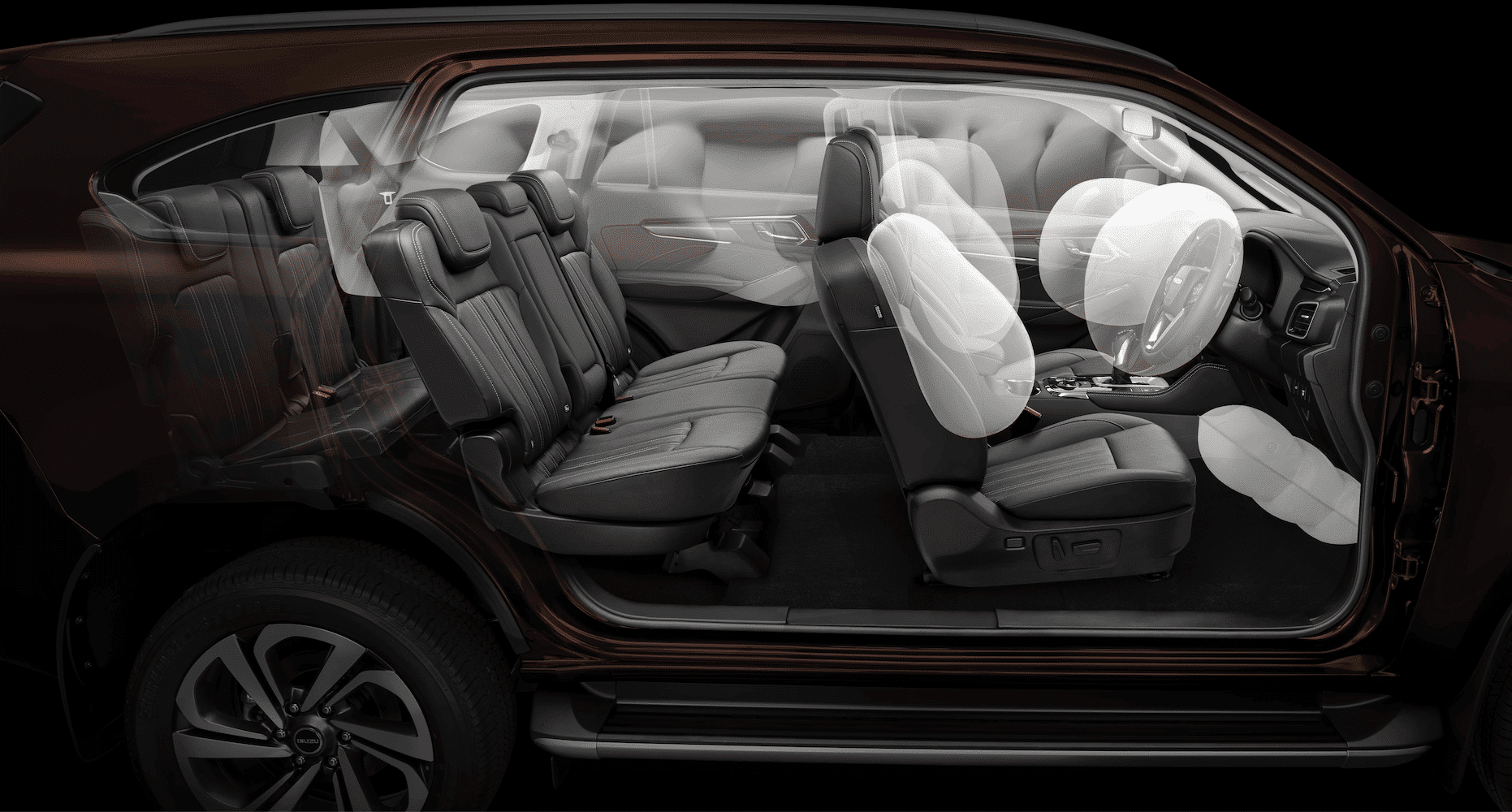 INTERIOR, INFOTAINMENT & STORAGE
With the majority of Australian motorists spending upwards of three hours on average behind the wheel each day, Isuzu designers meticulously integrated luxury and comfort into the very ethos of the interior design making the All-New MU-X the most relaxing and comfortable vehicle ever designed by Isuzu. Commanding the driver's view is a new premium leather-wrapped steering wheel (LS-U and LS-T) that is both supple to touch and moulded to fit comfortably in hand with audio controls on the left side and IDAS controls on the right side. Sitting boldly behind the wheel is a new instrument cluster, featuring both analogue dials for the tachometer and speedometer, with a 4.2-inch Multi-Information Display (MID) sitting squarely in between. This MID relays vital vehicle data back to the driver, including a digital speedometer, turn-by-turn navigation instructions (LS-U and LS-T), drive modes, fuel usage, and range data, menu sequences to the vehicle's IDAS, and new to the MU-XLS-T, a Tyre Pressure Monitoring System.
Featuring the latest in connectivity and infotainment technology, at the heart of the interior is a new 9-inch high-definition infotainment system (LS-U and LS-T), while the LS-M sports a 7-inch infotainment display. Smartphone mirroring is standard across all models, with Android Auto™ and wireless Apple CarPlay® conveniently ensuring that Android devices and iPhones® respectively remain connected.
Moving to the centre console, drivers will find a new Electric Park Brake (EPB) featuring an intuitive new Auto Hold system that can be activated at the push of a button; maintaining brake pressure when the vehicle comes to a halt. All MU-X models feature three USB ports and two 12V/120W accessory sockets located up front in the centre console and in the boot.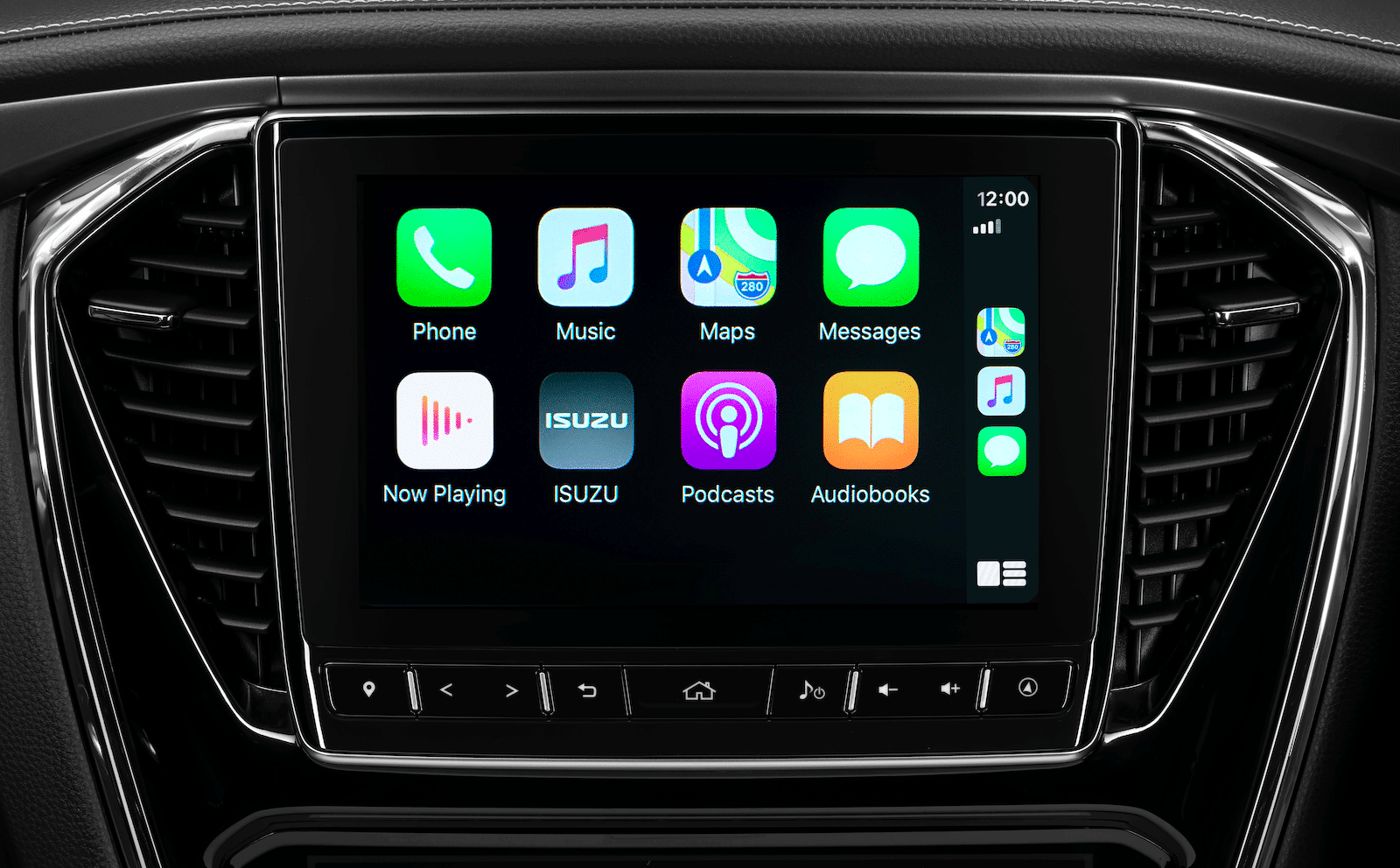 With a focus on passenger comfort, extra seating room has been afforded to 2nd and 3rd-row passengers. Seats are now trimmed in two levels of upholstery; premium high-grade cloth on LS-M and LS-U and quilted leather-accented on LS-T offering 6-way adjustment to the driver's seat in the LS-M and LS-U and 4-way adjustment on the passenger seat, with the LS-U further benefitting from power-adjustable lumbar support for the driver. The LS-T features variably heated front seats, with 8-way power adjustment on the driver's seat with under-thigh adjustment, power-adjustable lumbar support, and 4-way power adjustment on the passenger's seat. Coupled with soft-touch, elegant, and premium appointments throughout the interior, it is clear there is no bad seat in the cabin.
With an abundance of storage solutions and the best-in-class rear storage capacity of any ute-based SUV, the MU-X is well-equipped to accommodate the needs of modern families. All models feature dual glove box storage (main is lockable), 1.5-litre bottle accommodation as part of the twelve drink holders available on-board, centre console storage, large door storage pockets and more. Rear luggage volume has been improved to store 2,138 litres (SAE measurement) with the 2ndrow and 3rdrow folded flat, 1,119 litres with just the 3rdrow folded and 311 litres with all rows unfolded. Optimised for easier use, the tailgate is now lighter, opens further, and in the LS-U and LS-T, adds the extra convenience of an electronically controlled power tailgate operated remotely via the key fob, from the button on the dash, or via the buttons on the tailgate.
PRICING – RRP from 2nd August 2021
| | | | |
| --- | --- | --- | --- |
| Model | Drivetrain | Transmission | RRP before on-road costs |
| LS-M | 4×2 | Auto | $47,900 |
| LS-U | 4×2 | Auto | $53,900 |
| LS-T | 4×2 | Auto | $59,900 |
| LS-M | 4×4 | Auto | $53,900 |
| LS-U | 4×4 | Auto | $59,900 |
| LS-T | 4×4 | Auto | $65,900 |
| | | | |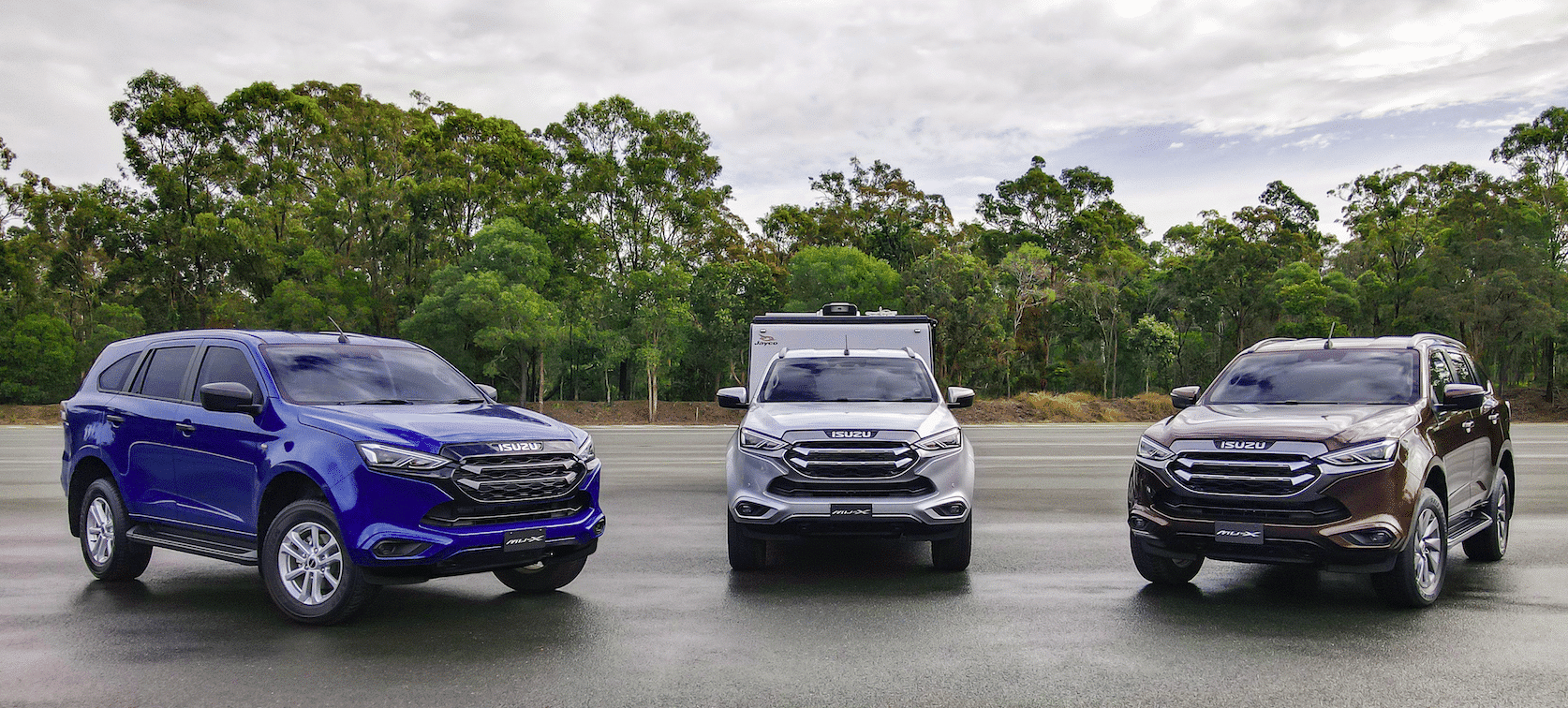 RANGE GUIDE
MU-X LS-M highlights (unique to the LS-M):
Isuzu's Intelligent Driver Assistance System (IDAS)
2,035kg (4×2) and 2,135kg (4×4) kerb weight
140kW/450Nm 3-litre turbo diesel 4-cylinder engine
6-speed automatic transmission
4×2 or 4×4 drivetrain with 2-High, 4-High and 4-Low,Rear-Diff Lock and Rough Terrain Mode (4×4 models)
Electric Park Brake with Auto Hold
230mm ground clearance, with 28.6° approach, 22.6° ramp-over and 27.6° departure angles.
17-inch silver alloy wheels with 255/65R17 Dunlop AT25 All-Terrain
Black trimmed door mirrors and door handles
Black and gunmetal grey front grille
Polyurethane steering wheel and gear selector
Carpet floor
High-grade cloth trim seven-seat upholstery
Passenger vanity mirror
Interior trimmed with easy-to-clean plastics and cloth door trim
Push Button Start with remote keyless entry
7-inch infotainment with DAB+, Smart Phone Mirroring Voice Recognition, Android Auto™ and wireless Apple CarPlay®
4-speaker audio
Air-conditioning with rear passenger air vents and control
Automatic Bi-LED headlights with LED daytime running lights (DRL),with auto-levelling and automatic high beam control
Automatic windshield wipers
LED combination taillights
Rear Park Sensors
Reversing camera with dynamic guidelines
MU-X LS-U highlights (features in addition to the LS-M):
Isuzu's Intelligent Driver Assistance System (IDAS)
2,060kg (4×2) and 2,155kg (4×4) kerb weight
140kW/450Nm 3-litre turbo diesel 4-cylinder engine
6-speed automatic transmission
4×2 or 4×4 drivetrain with2-High, 4-High and 4-Low,Rear-Diff Lock and Rough Terrain Mode (4×4 models)
Electric Park Brake with Auto Hold
235mm ground clearance, with 29.2° approach, 23.1° ramp-over and 26.9° departure angles.
18-inch tungsten silver'turbine' alloy wheels with 265/60R18 Bridgestone 684II HT
Powered body coloured door mirrors and door handles
Tungsten silver and chrome front grille
Carpet floor
Premium leather steering wheel and gear selector, with silver appointments
High-grade cloth trim seven-seat upholstery, with electric adjustable lumbar support (Driver's seat)
Dual driver and passenger vanity mirror with LED light
Interior trimmed with piano-black, chrome and silver and cloth door trim
Embossed bronze, chrome and third-dimensional crystal-like textures across the dials.
Push Button Start with Smart Entry and Start –smart proximity key allows for true, keyless entry and start/stop at a push of a button
Walk Away Door Lock –automatically locks when it senses the driver is over 3-meters away from the vehicle
9-inch infotainment with Sat-Nav, Voice Recognition, DAB+, Android Auto™ and wireless Apple CarPlay®
8-speakersurround soundaudio
Dual-zone air-conditioning with rear passenger air vents and control
AutomaticBi-LED headlights with LED daytime running lights (DRL), with auto-levelling and automatic high beam control
LED fog lights
LED combination taillights
Automatic windshield wipers with intuitive flat wiper blade design
Front and Rear Park Sensors
Power tailgate, with remote entry
Roof rails
Rear privacy glass with chrome window trim
Colours: Jasper Brown mica and Moonstone White pea
MU-X LS-T highlights (features in addition to the LS-U and LS-M):
Isuzu's Intelligent Driver Assistance System (IDAS)
2,085kg (4×2) and 2,175kg (4×4) kerb weight
140kW/450Nm 3-litre turbo diesel 4-cylinder engine
6-speed automatic transmission
4×2 or 4×4 drivetrain with2-High, 4-High and 4-Low,Rear-Diff Lock and Rough Terrain Mode (4×4 models)
Electric Park Brake with Auto Hold
235mm ground clearance, with 29.2° approach, 23.1° ramp-over and 26.4° departure angles.
20-inch machinedtwo-tonealloy wheels with 265/50R20Bridgestone 684II HT
Powered body coloured door mirrors and door handles
Tungsten silver and chrome front grille
Carpet floor
Premium leather steering wheel and gear selector, with silver appointments
Quilted leather-accented seven-seat upholstery withquilted leatherette across interior door trims and centre console
Dual driver and passenger vanity mirror with LED light
Variably controlled heated front driver and passenger seats
8-way power adjustable driver's seat, with electric adjustable lumbar support
4-way power adjustable front passenger's seat
LED ambient interior lighting
Premium leather steering wheel and gear knob with embedded ambient lighting
Interior trimmed with piano-black, chrome and silver and leatherette trim
Embossed bronze, chrome and third-dimensional crystal-like textures across the dials.
Push Button Start with Smart Entry and Start –smart proximity key allows for true, keyless entry and start/stop at a push of a button
Walk Away Door Lock –automatically locks when it senses the driver is over 3-meters away from the vehicle
Remote engine start –embedded with security measures to prevent unauthorised entry and theft
9-inch infotainment with Sat-Nav, Voice Recognition, DAB+, Android Auto™and wireless Apple CarPlay®
8-speaker surround sound audio
Dual-zone air-conditioning with rear passenger air vents and control
Automatic Bi-LED headlights with LED daytime running lights (DRL), with auto-levelling and automatic high beam control
LED fog lights
LED combination taillights
Automatic windshield wipers with intuitive flat wiper blade design
Front and Rear Park Sensors
Power tailgate, with remote entry
Roof rails
Rear privacy glass with chrome window trim
Auto-Dimming rear view mirror
Tyre Pressure Monitoring System
Colours: Jasper Brown mica and Moonstone White pearl