Just4Kids is a non-profit children's charity that supports disadvantaged children to experience a better quality of life – particularly those in regional, rural and remote locations. After a successful 2021, the charity has once again come up with a host of incredible incentives to encourage us to support their mission.
Join the 2023 Just4Kids Tag-a-Long Kimberley Adventure 
Have you ever considered a self-drive tag a long holiday with a difference? With the support of A24/7, Just4Kids is running its annual Tag-a-Long Motor Trail Adventure. Last year, the event was hosted in western Queensland's outback where the group supported youth with swimming challenges on the Dinosaur Trail Trek. In 2023, the team are stepping the excitement up a notch; they'll be heading to Western Australia on their 2023 Kimberley Adventure. 
What does the trip involve?
Good question! Well, aside from doing your part to support the charity's endeavours, this multi-day drive will see you cruising along some of the country's most surreal four-wheel driving tracks, soaking up the divine scenes of Western Australia's wild countryside. Experience serene beaches, rugged outback, native wildlife, and that unbeatable feeling of freedom that comes with off-road travel.
Along the way, you'll stay in significant towns and have the opportunity to enjoy events with the local community, seeing this incredible charity at work.
Start date: 11 May to 2 June 2023
Win a family getaway to Hamilton Island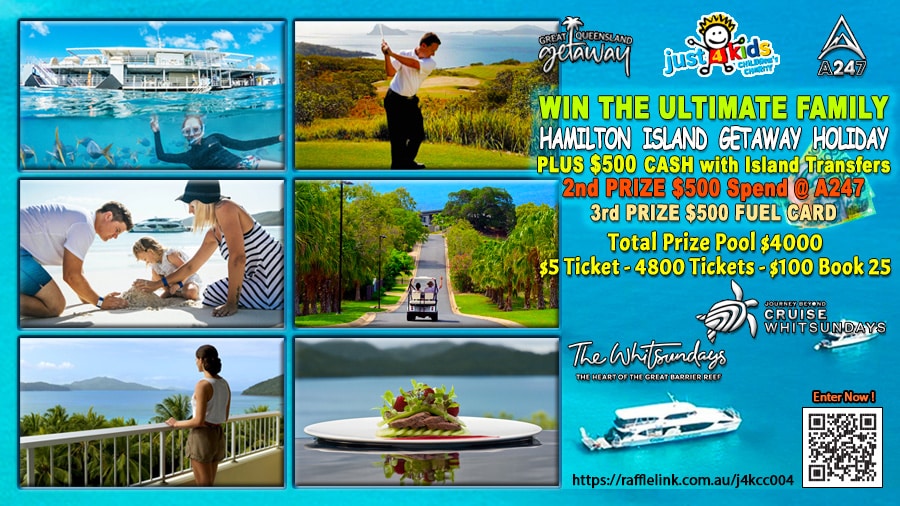 Imagine winning a four-night family getaway on Hamilton Island, plus $500 spending money. I don't need to tell you how good this raffle is. Plus, tickets start at just five dollars! What an awesome way to support the Just4Kids charity. The raffle closes on 14 June and will be drawn on 24 June 2022.