If you're into off-road driving, off-grid camping and an off-the-beaten-track historical hunt, then you're going to love Kroombit Tops National Park.
In 1945, a World War Two Bomber plane named Beautiful Betsy crashed into an unnamed hillside in what is now known as Kroombit Tops National Park in Outback Queensland. It wasn't discovered until nearly 50 years later when in 1994, park ranger Mark Roe saw something glinting in the sunlight off in the distance when checking on the results of a controlled burn-off.
By accident, he had found the crash site of Beautiful Betsy and solved a nearly five-decade-long mystery. Eight good men, all servicemen, died instantly when Beautiful Betsy crashed into the mountainside. The site is now preserved as a monument to the tragedy with plaques and a walking path around the debris.
You can access the Beautiful Betsy by high-clearance 4WD (but only in good weather). Finding it is an adventure in itself but then again, so is the rest of the National Park. This is one to add to your Queensland getaway bucket list.
Where to find Kroombit Tops National Park
Kroombit Tops National Park is located 1.5 hours from Gladstone and 3.5 hours from Bundaberg.
4WD tracks and finding Beautiful Betsy
There is limited to no reception at Kroombit Tops so you will need to download maps for the region before you get there. Google maps cannot be trusted here! A PDF printable map can be downloaded from the QLD Parks website.
The Razorback Track
The Razorback Track begins at the Valentine Plains Road entrance and is around 27 kilometres one-way, taking about two hours. A high clearance 4WD and experience are recommended with creek crossings, narrow tracks and steep sections. Expect fantastic views but do not attempt this track in wet weather.
Beautiful Betsy crash site
Access to the Beautiful Betsy crash site is by high-clearance 4WD only and can be found around 20 kilometres one way from the Tableland Road/Loop Road. The road is narrow for the most part so be aware of oncoming traffic so that you can pull over if need be.
The Loop Road
The Loop Road is a 35 kilometres circuit taking around two hours. Like the Razorback, experience is recommended, as is a high-clearance 4WD. If you're not already camping at The Wall, stop here for lunch as you head north to complete the circuit. There are some amazing views of the surrounding gorges and valleys from two natural lookout points on this track.
Where to camp at Kroombit Tops National Park
The three campgrounds at Kroombit Tops National Park offer no facilities. This means you will need to be completely self-sufficient with your own drinking water, rubbish removal, toilet, cooking and timber.
Book your campsite on the Queensland National Parks booking site.
The Wall campground
Accessible by the Loop Road, The Wall campground features a grassy clearing on the south bank of Annie Creek. The campsite is dominated by a large rock wall which I thought was really cool. Accessible by 4WD only.
The Razorback camping area
A small secluded camping area surrounded by a tall blackbutt forest. Found on the Razorback Track around a couple of kilometres past the turnoff from Tableland Road. Accessible by 4WD only.
Griffiths Creek camping area
An open flat grass area around 100 metres from Griffiths creek on Tableland Road, a few kilometres south of the Barracks. This site can be reached by conventional vehicles in dry conditions.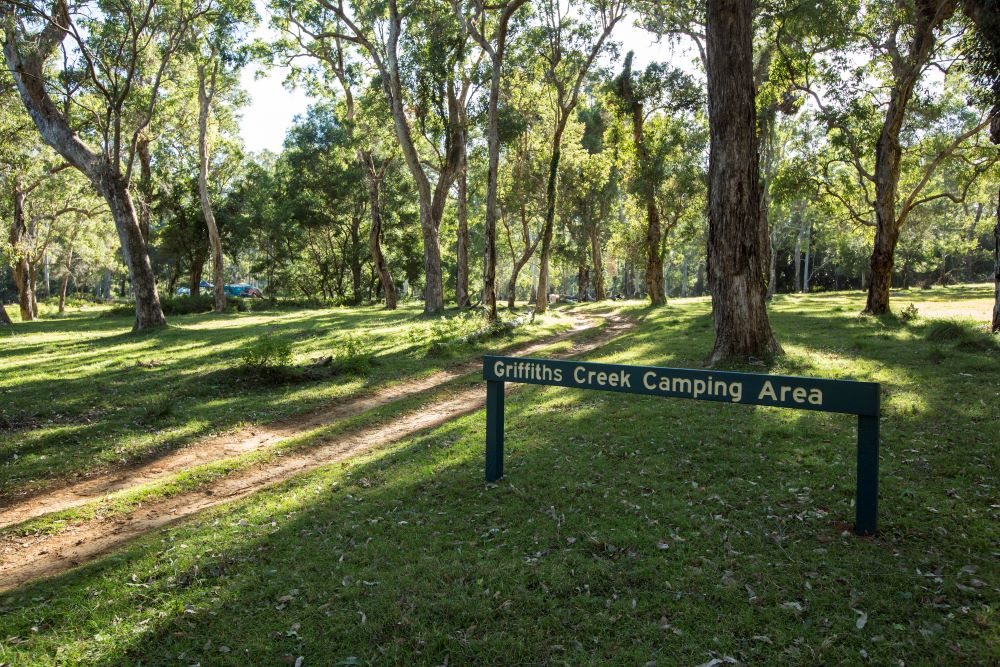 Things to do at Kroombit Tops National Park
Stroll the Rainforest Walk – A 300-metre defined track through an unusual and beautiful tropical rainforest. Be warned, there are leeches in this rainforest section.
Walk around the Beautiful Betsy Crash Site Loop – A 700-metre return trail through the actual crash site with excellent signage.
Hike the Escarpment Track – A 13-kilometre one-way hike from Griffith Creek Picnic Grounds to The Barracks, the track follows the eastern escarpment through open blackbutt and forest.
Stop at The Lookout – A 100-metre return track that leads to a platform for amazing views from the eastern escarpment looking over the Boyne Valley.
Know before you go
Some of the roads within Kroombit Tops National Park are shared with the Bicentennial National Trail, so be on the lookout for horse riders, hikers and mountain bike riders. Many roads are impassable in the wet and you can expect to see cattle at some points along the way.
Check out the QLD Park's page on Kroombit Tops National Park for more information.