Ford Ranger Raptor Vs Holden Colorado Z71 Xtreme Vs Mercedes-Benz X350d Vs Toyota HiLux Rugged X Vs Volkswagen Amarok V6 Ultimate 580
Words by Bruce Newton
BACKGROUND INFO
We are entering a whole new world where dual-cab utes are no longer mere tools of trade, but prestige high-performance and high-cost luxury vehicles. The new Mercedes-Benz X350d 4Matic Power personifies this evolution. The badge, the 80K price, the powerful V6 turbo-diesel engine. Don't expect to see an apprentice plumber banging around in one of these.
Then there's the Ford Ranger Raptor. Inspired by desert racing pre-runners, it is almost as expensive and just as focused on performance as the Benz, only in a very different way. No apprentice tradie can afford one of these either. So, two extremes here and no better way to test them out than in the cauldron of an Aussie summer up against logical rivals, including the Volkswagen Amarok V6 580 Ultimate (phew), the limited edition Holden Colorado Z71 Xtreme, and the most expensive version of the most popular dual-cab of them all, the Toyota HiLux Rugged X.
The location for our testing are the chunky, challenging tracks of the northern Flinders Ranges and the desert sands and claypans that surround it. No school runs, no urban commuting here, we'll let someone else worry about that.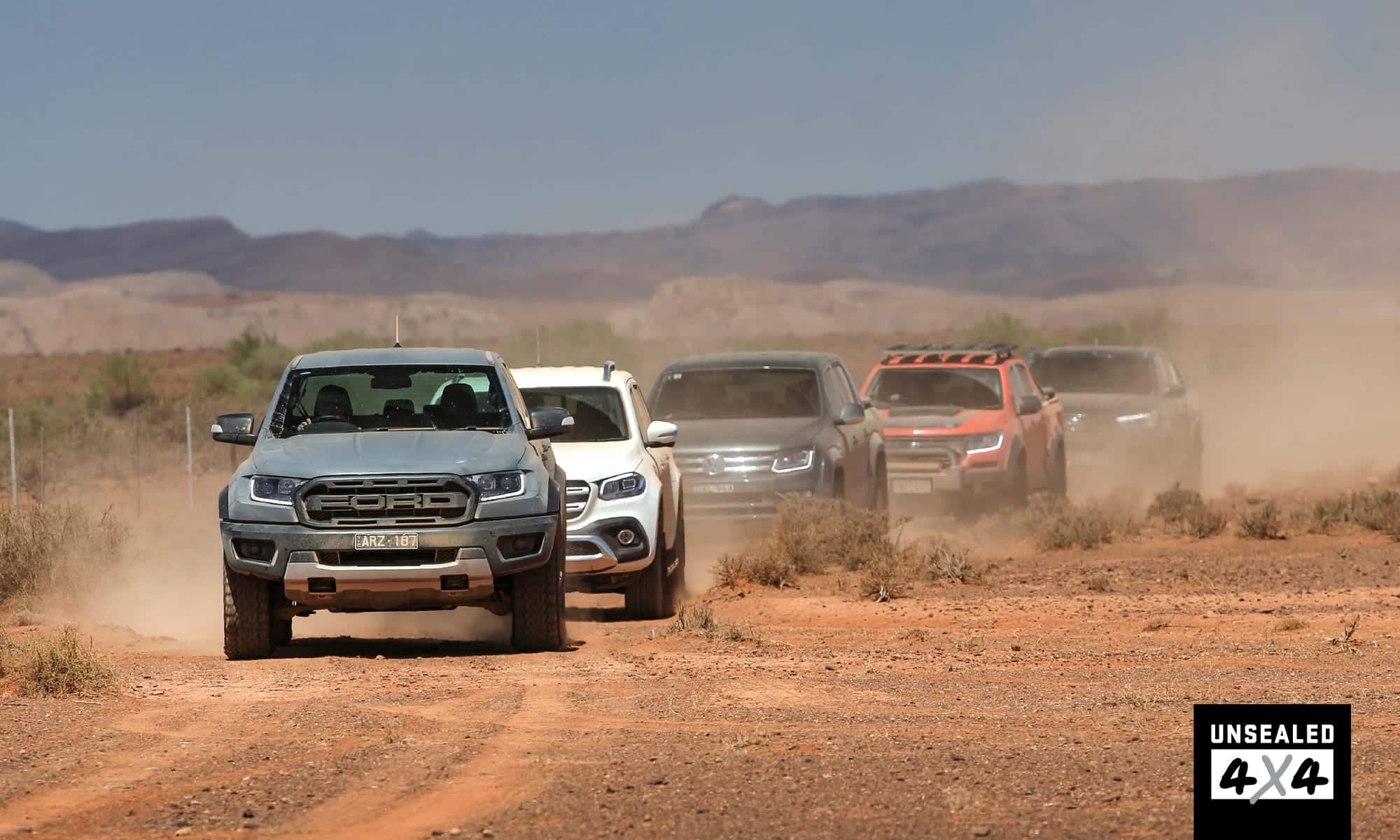 VEHICLE SPECS
Ford Ranger Raptor
Price before on-road costs: $75,390
Engine: 2.0-litre 4-cylinder bi-turbo diesel
Transmission: 10-speed automatic
Power: 157kW
Torque: 500Nm
Kerb weight: 2332kg
Safety: 5-star ANCAP (2015)
Claimed Fuel Economy: 8.2L/100km
Holden Colorado Z71 Xtreme
Price before on-road costs: $69,990 driveaway
Engine: 2.8-litre 4-cylinder turbo-diesel
Transmission: 6-speed automatic
Power: 147kW
Torque: 500Nm
Kerb weight: 2150kg
Safety: 5-star ANCAP (2016)
Claimed Fuel Economy: 8.7L/100km
Mercedes-Benz X350d 4Matic Power
Price before on-road costs: $79,415
Engine: 3.0-litre V6 turbo-diesel
Transmission: 7-speed automatic
Power: 190kW
Torque: 550Nm
Kerb weight: 2190kg
Safety: Unrated
Claimed Fuel Economy: 8.8L/100km
Toyota HiLux Rugged X
Price before on-road costs: $63,690
Engine: 2.8-litre 4-cylinder turbo-diesel engine
Transmission: 6-speed automatic
Power: 130kW
Torque: 450Nm
Kerb weight: 2252kg
Safety: 5-star ANCAP (2015)
Claimed Fuel Economy: 7.9L/100km
Volkswagen Amarok V6 Ultimate 580
Price before on-road costs: $71,990
Engine: 3.0-litre V6 turbo-diesel
Transmission: 8-speed auto
Power: 190kW
Torque: 580Nm
Kerb weight: 2244kg
Safety: 5-star (2011)
Claimed Fuel Economy: 8.9L/100km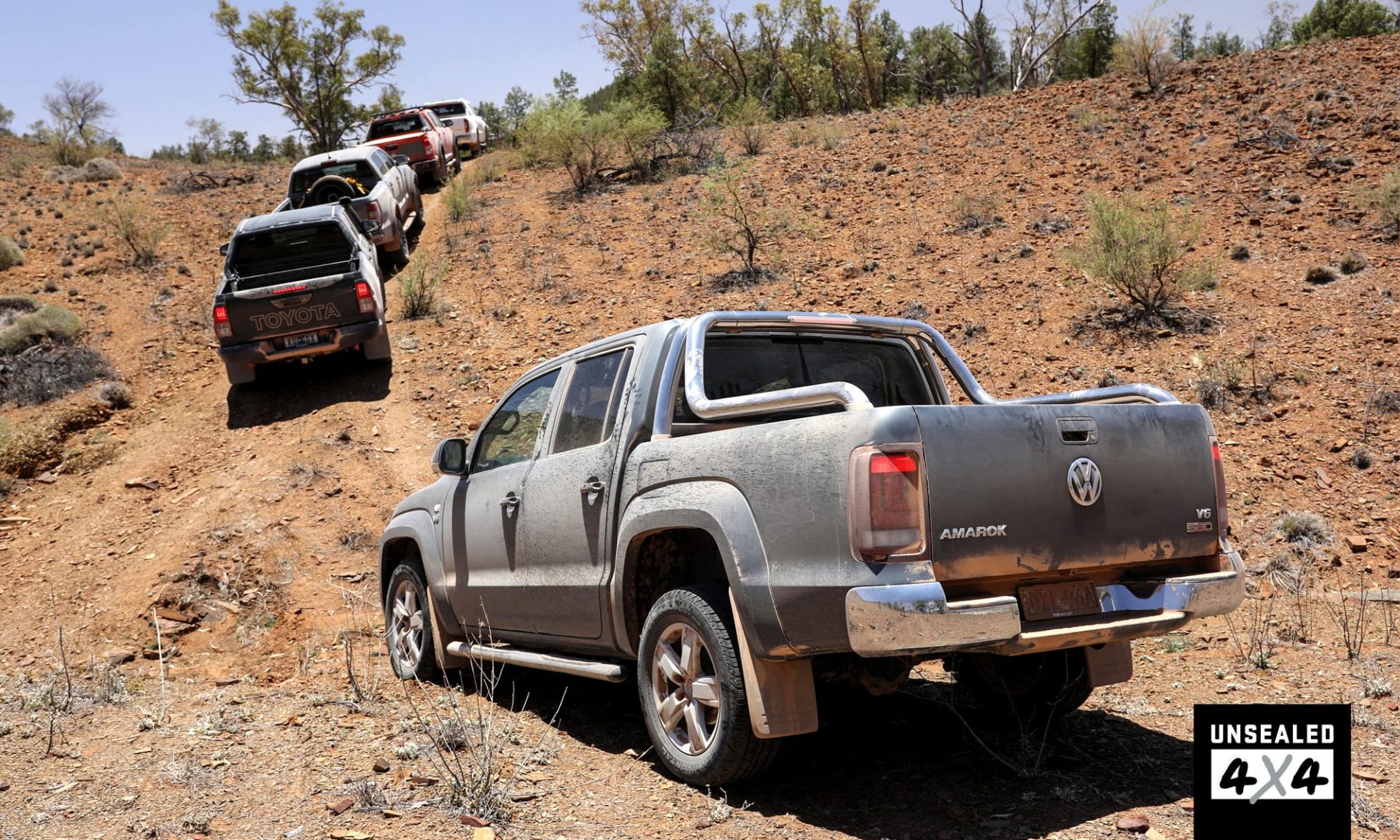 OVERVIEW
At $79,415 before on-road costs (ORCs), the top-spec X350d sets a new pricing benchmark for the dual-cab 4X4 market. This is the flagship model in the range, yet our test car still added black leather seat trim (up from the Artico artificial stuff) for $1750 and white metallic paint for $950. It also added a $1990 Style Pack that included privacy glass, a powered sliding window in the rear windscreen, side steps, roof rails and 18-inch alloy (19s are standard).
Naturally, no ute is complete without accessories; so there's an $899 bedliner, $1551 silver sports bar and a $2063 towing kit. All up, still before ORCs, that's $86,268. Yes, I hear you. A bunch of this stuff should be standard at an 80K starting point. Mind you, Benz is offering $5000 worth of accessories if you buy an X350 before March 31. The Raptor is $75,390 before on-roads, a price that lifted from $74,990 in the new year. The only option added to our vehicle was prestige paint for $600. The Amarok starts at $71,990 and our example added Iridium Grey metallic paint for $610 to reposition at $72,600 before ORCs.
Then comes the Colorado at $69,990 drive-away. Nothing more to add here as that vehicle comes standard with just about every accessory in Holden's locker. And the Rugged X? Again, with the six-speed auto substituting for the standard manual transmission and $550 worth of premium paint added, the price is $64,240. Expensive, but still the cheapest vehicle here.
When it comes to engine performance it's the Amarok's 3.0-litre V6 that has them all covered. It punches out 200kW on overboost – up from the standard 190kW it makes along with the X350 – and is clearly on-top in terms of torque with 580Nm. At the other end of the scale the HiLux's 2.8-litre four-cylinder makes the least power and torque … and feels like it from behind the steering wheel. Looking at the numbers, the Raptor is the longest (5398mm), the Amarok the shortest (5254mm), the Raptor is the widest (2028mm) and the Colorado the narrowest (1872mm).
The Benz is the tallest (1893mm), without counting the Colorado's roof tray, while the Raptor has the longest wheelbase (3220mm) and the HiLux the shortest (3085mm). The Ranger is the porkiest at 2332kg, which is no surprise considering the amount of strengthening and modification that's gone into the chassis and body. The Colorado is the lightest at a still substantial 2150kg. In terms of warranty, the Benz comes with three years/200,000km, which looks a bit drab compared to the five-year/unlimited kilometre warranties offered by the rest.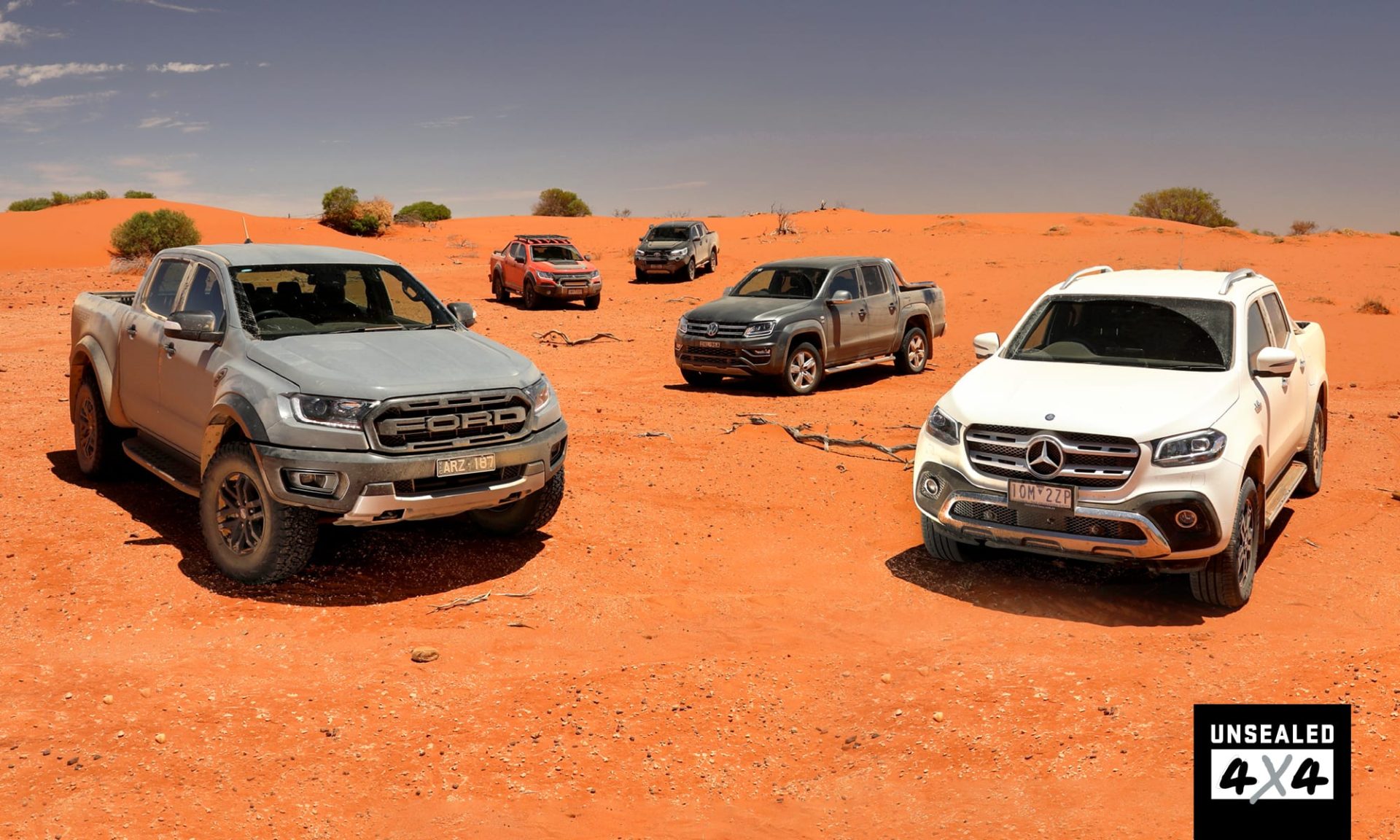 DRIVELINES
Unlike the four-cylinder versions of the X-Class, the X350 has a Benz rather than Nissan drivetrain. The single-turbo V6 is a Benz unit, as is the seven-speed transmission and permanent 4X4 system, which includes low range and a locking rear differential. Dynamic Select offers five modes to tailor engine response, the automatic transmission's shift points, and the ECO start/stop function for on and off-road driving.
But as noted previously, the Amarok, also powered by a single-turbo 3.0-litre V6, pips the Benz on outputs. But while it also gets a permanent 4X4 system and eight-speed auto, it misses out on low range. Instead, in the truly gnarly stuff, you're offered the assistance of a locking rear diff and an off-road mode that plays with stability control, ABS, transmission settings and includes hill descent control.
The Ranger comes with a controversial new Panther 2.0-litre bi-turbo four-cylinder 2.0-litre diesel engine. Why controversial? Because the rest of the truck is so capable plenty of people feel it should have a more potent donk. With a 0-100km/h claim of only 10.5 seconds, they probably have a case. The Raptor runs a 10-speed auto (yes 10!) and a modified version of the Ranger's part-time 4X4 system, including a locking rear diff.
The Terrain Management System offers six different driver-selectable modes, including all-out off-road 'Baja' mode that increases the stability traction control threshold and holds gears for longer. The Ranger drivetrain was the only one to strike issues, dropping into limp-home mode at least twice towards the end of our time with it. A pre-production test car, it went back to the Melbourne-based team that developed it for an examination. They found a vacuum pipe disconnected on the clean-air side of the air filter that allowed dust to get past the air filter and reduce vacuum available to the turbocharger. Result? Limp-home mode. Ford says it's a one-off finger issue, not a design fault as Toyota admits it has with the HiLux.
Speaking of which, the Toyota driveline is the very definition of the orthodox dual-cab pick-up: 2.8-litre four-cylinder turbo-diesel, six-speed auto (a manual is standard), part-time 4X4 and a locking rear differential. As we've pointed out previously, this engine is the tail-ender when it comes to performance and it also has a couple of well-documented issues with its diesel particulate filter and the above-mentioned dust leakage past the air filter. Buyer beware!
Which leaves the Colorado; 2.8-litre four-cylinder, six-speed auto and part-time 4X4. But no locking diff. It opts for a limited slip helical unit that's arguably a better solution than a locker for most situations, bar extremely challenging – dare we say extreme? – off-road drives. Obviously, with the sort of work we were doing, the official fuel consumption figures went out the window, with figures settling in the 11-12L/100km range rather than the 8-9L/100km that are claimed. Braked towing capacity is a three-way tie at the maximum 3500kg between the X350, the Amarok and the Colorado. The HiLux managed 3200kg and the Raptor only 2500kg.
INTERIOR
The X350 barely changes inside the cabin compared to the four-cylinder models. Sure, there's a new aluminium dash trim and black roof liner, but the fundamental twin-dial backlit instrument panel is familiar, along with the circular air vents and non-touch screen plonked atop the concave dashboard. The V6 carries over the four-cylinder's issues too. Namely, a paucity of storage and a lack of reach adjustment for the steering column (only the VW and Toyota offer this). It also carries over the lesser X's primary cabin benefit, which is quietness. This is the most serene of all five contenders to ride in.
But in terms of presentation, the Ford gets the nod thanks to its terrific leather sports seats, chunky steering wheel, magnesium flappy paddles and user-friendly Raptor-branded controls. The effective if drab Amarok is probably the runner-up. The Colorado is convincingly the best for rear-seat space and adds the convenience of a split-fold base with under-floor storage. The Ranger is number two for space in the back seat, while the Amarok struggles. The Rugged X's instrument presentation is fussy and space-limited.
The unarguable asset of the X350 is its standard safety equipment, which is class-leading. Included is autonomous emergency braking and active lane-keeping assist that not only detects drift but corrects the steering, a really useful birds-eye camera and seven airbags. Curiously though, the X350 does not twin AEB with active cruise control, which seems like a gimme really.
No other vehicle in this test has AEB, which is a real disappointment. The Raptor's meant to get it this year, but for now it's only trick feature is lane-keeping aid/warning. The Amarok is hopelessly underdone in safety terms for this money, not even offering rear-seat airbags. The Colorado's star turns are lane departure warning and forward collision alert while the HiLux is only slightly better off than the Amarok. At least its rear-seat passengers get airbag protection!
You could easily get lost in the tricks and permutations of comfort equipment. So let's just look at a few key items and see who gets what:
Dual-zone climate control: Benz, VW, Ford
Satellite navigation: Benz, VW, Ford, Holden, Toyota
Power-operated front/driver seats: Benz, VW, Ford (driver only), Holden (driver only), Toyota (driver only)
LED headlights/driving lights: Benz, VW, Toyota, Holden
HID headlights: Ford
Apple CarPlay/Android Auto: VW, Ford, Holden
Ford Ranger Raptor
Payload: 758kg
Tub dimensions L/W/H/Between arches: 1743 x 1560 x 561 x 1139mm
Ground clearance: 283mm
Wading depth: 850mm
Approach angle: 32.5º
Break-over angle: 24º
Departure angle: 24º
Holden Colorado Z71 Xtreme
Payload: 857kg
Tub dimensions L/W/H/Between arches: 1484 x 1534 x 466 x 1122mm
Ground clearance: 215mm
Wading depth: 600mm
Approach angle: 28º
Break-over angle: 22º
Departure angle: 22º
Mercedes-Benz X350D 4Matic Power
Payload: 1011kg
Tub dimensions L/W/H/Between arches: 1587 x 1560 x 475 x 1215mm
Ground clearance: 222mm
Wading depth: 600mm
Approach angle: 30º
Break-over angle: 22º
Departure angle: 25º
Toyota HiLux Rugged X
Payload: 748kg
Tub dimensions L/W/H/Between arches: 1569 x 1645 x 470 x 1109mm
Ground clearance: 251mm
Wading depth: 700mm
Approach angle: 28º
Break-over angle: 25º
Departure angle: 21º
Volkswagen Amarok V6 Ultimate 580
Payload: 836kg
Tub dimensions L/W/H/Between arches: 1555 x 1620 x 508 x 1222mm
Ground clearance: 192mm
Wading depth: 500mm
Approach angle: 28º
Break-over angle: 23º
Departure angle: 23.6º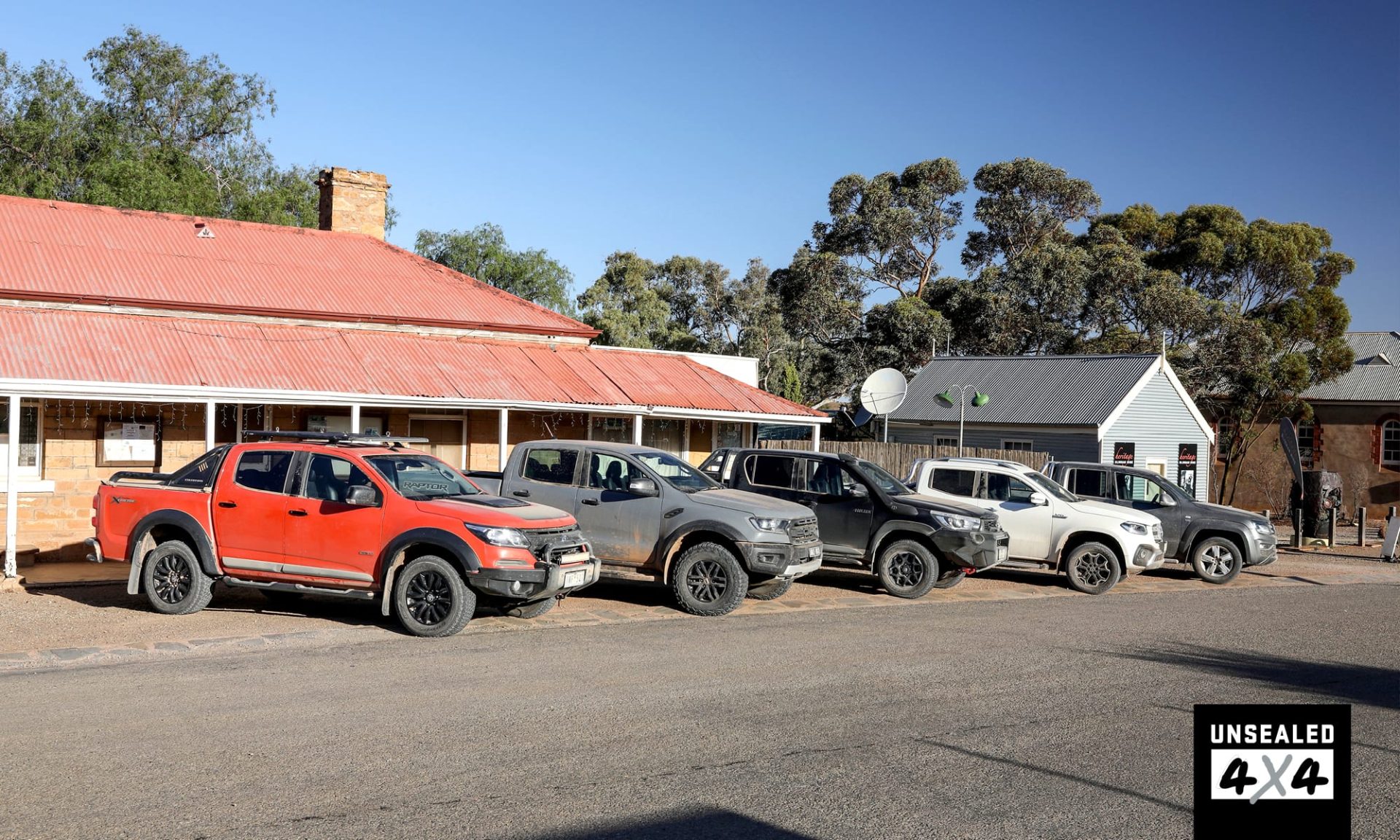 EXTERIOR
The Xtreme is the dress-up king of this lot, adding a clamed $19,000 worth of gear to the standard Z71, including a winch bar with integrated Warn 10,000lb winch, LED light bar, a vehicle recovery kit with snatch strap, a towing package (without trailer brake controller), roof tray, rear steel step, fender flares, black tubular side steps, a black grille, soft tonneau cover, bonnet bulge and 18-inch Goodyear Wrangler Kevlar-reinforced all terrains.
The Rugged X dresses up locally with a hoopless high-tensile steel front 'roo bar sitting under a new grille, a snorkel, a winch-compatible alloy bash plate, 17-inch alloys and A/T rubber housed under moulded wheel arches, heavy-duty steel side-steps, a four-piece sports bar that can carry up to 75kg vertical mass or help tie down 200kg in the tray. A heavy-duty rear bar has more recovery points and an integrated tow bar.
There's also an LED light bar that does a brilliant job of lighting up the road ahead. The best on-test. Easily. Any time we had to drive at night the HiLux led the way. The Raptor has less stuff hanging off it than the Holden and Toyota but looks the toughest thanks to its chunky front bumper and blacked out Ford grille, a steel bash plate with twin tow hooks, wider stance and pumped out composite guards with air curtains, black powder/grit-coated die-cast aluminium side steps and 17-inch BF Goodrich KO2 rubber.
Check out the key numbers and you can see the Raptor not only looks the goods, it canes the rest when it comes to all the key clearance measures. The Amarok dresses things up with a sports bar, side steps and a spray-on UV-resistant bed cover. As previously noted, the Benz resists any embellishments … apart from V6 badging.
The Ranger, Amarok and X-Class can fit an Aussie 1165mm x 1165mm pallet between the rear wheel arches, so it certainly paid off for Benz to widen the donor Navara chassis! In payload terms it's the X-Class on top. At the opposite end of the spectrum, the Rugged X really suffers with all the extra weight it carries to offer 'only' 748kg. Oddly, its clearances are slightly inferior to the standard HiLux SR5 as well, except in terms of corner angles, which the new front bumper really improves.
ON-ROAD PERFORMANCE
The Raptor really is a complete chassis overhaul of the standard Ranger, which is itself one of the best dual-cabs to drive on-road. The track has been widened, the leaf spring rear-end replaced with coils and a Watts Link. Up-front the double A-arms are aluminium and there are outboard-mounted coil-over Fox Racing Shox internal bypass dampers, a redesigned and braced T6 chassis, big ventilated brakes front and rear (the Benz and VW also get all-round discs) and the aforementioned engine and automatic transmission.
So, you're probably thinking, "Why list all this out now, shouldn't that be in the off-road section?" Well sure, but here's the good bit. The upgrades to Ranger that turn it into a Raptor also make it into a better on-road drive too. It gives up ultimate cabin quietness to the Benz and the VW and it's only quicker in a 0-160km/h drag (in controlled conditions!) than the bog-slow HiLux, but in every other way it's the best on-road drive here.
It handles, steers and rides with both verve and calm – a really amazing combination when you think about it. The ability of those Fox dampers to stiffen by up to 10 times is integral to this ability. So soft rolling over the bumps and then controlling the body as it leans into a corner. Nothing else here can match it. The Benz, which also comes with a coil rear-end, rides well and handles pretty neatly without a big load onboard. But we remain skeptical of its abilities when filled to the gunwales. Why not say the same thing about the Ford? Well the Raptor's payload claim is a lot less than the X350, which is over a tonne.
The Amarok is also pretty refined when it comes to the ride and handling. And like the Benz it's got a quiet cabin, well-isolated from road noise. What both Germans do best is blow everything else out of the way in a straight line. Of the two of them, the Amarok has the edge at legal speeds, with much better tip-in throttle response. The Benz has surprisingly obvious tip-in throttle turbo lag from launch. It really is press … wait … go. Frustrating.
But the higher the speeds get, the closer the Benz claws back to the VW's tailgate. The Colorado is a pretty amiable truck all-round, but its engine is noisy and so is the roof rack once the speed gets up. The ride gets pretty coarse on the harsh stuff too. The HiLux? It's just lethargic in its engine response and uninspired in its on-road driving feedback. Undoubtedly the tail-ender, Toyota needs to do some work here to catch up to the leading players.
OFF-ROAD PERFORMANCE
No matter what the circumstances, the Raptor absolutely dominates its rivals off-road. High-range at high speed. Low-speed in low range. Sand, rock, gravel, flat, lump, up, down. You name it, it was better. On rutted gravel roads and yumps it floated beautifully over the top at speed, keeping the wheels on the ground and transmitting power effectively.These are the sorts of roads that would normally have utes shaking, rattling and – quite literally in some cases in our past – disassembling.
Not the Raptor. The contrast with even the highly-rated Ranger Wildtrak is startling. Move to the dunes and the Raptor is in a league of its own, churning on through the sand while others are slowed. There's no obvious shortage of punch – or gears for that matter – low down. And even when it's revving, this engine is significantly quieter and smoother than the old five-cylinder 3.2-litre turbo-diesel Ranger offers.
Transfer to the steeps of Mount Samuel and the Ranger comes up trumps again. Ambling unfussed in low range, it has more clearance and articulation than anything else here. Its advantage is never more clearly demonstrated than negotiating creek crossings with steep entries and exits. It works its way through, touching down only its tow bar.
The rest have to be reversed and forwarded, repositioned and have small rocky bridges built across holes that would cause bodywork to be graunched. Everything got everywhere the Raptor did, but none did it as easily – or enjoyably. The Raptor is the first 4X4 I can think of that inspires the same sort of driving excitement and passion that a really cool sports car does. Sure, you can admire something like a hot German SUV for its performance, or a Jeep Wrangler for its sheer off-road doggedness, but the Raptor is truly involving to drive. It achieves so much and feels great doing it.
The best of the rest? Well, the Benz shakes off its lag issues in low range and clambers around effectively. The Colorado is an effective off-roader and so is the HiLux, although sometimes it conquered obstacles better with its finely tuned traction control on and the rear diff unlocked.
Plaudits also to Holden and Toyota for their locally-developed front bumpers, which provided superior protection and improved cornering clearance in tough terrain. Additionally, the Rugged X also gets proper tow hooks front and rear, something missing from the Xtreme.
The Amarok's off-road mode works really well, but even with a low first gear finite throttle control is lacking without low range. Clearance is not the best thanks to the side steps – avoid them and it's better than the Benz – and before you head out of town get the standard 20-inch rubber changed for something more sensible – we opted for 18s. We swapped the Benz from 19s to 18s as well. But really, to sum up, everyone wanted to drive the Raptor. All the time.
CONCLUSION
So, there you have it, a week of pounding around the Flinders Ranges and adjacent deserts provided an eye-opening experience. Not only was the scenery incredible and the weather inhospitable, the performance of one vehicle in particular was startling. I'm sure you can guess which one. But click on the link to see if your suspicions are confirmed … and to check out the amazing places we visited while conducting this comparison.