The Toyota HiLux Rugged X comes loaded with gear to enhance it's off-road capability, but is it the gear you really need?
The Toyota HiLux Rugged X has finally landed in showrooms some three months after Toyota released the upgraded and more powerful HiLux range to the Australian market. The reason for the delay? The dreaded COVID-19, which has wreaked havoc on manufacturing in Melbourne where select HiLux SR5s are transformed into Rugged X models.
With Victoria's lock-downs lifted, and production finally under way, Unsealed 4X4 was lucky enough to get our mitts on the updated Rugged X and Rogue variants for a round of on-road and off-road testing.
Here it is in action:
The Rugged X is loaded with gear designed to improve off-road capability, and there's no doubt it does, but is it the gear you really need?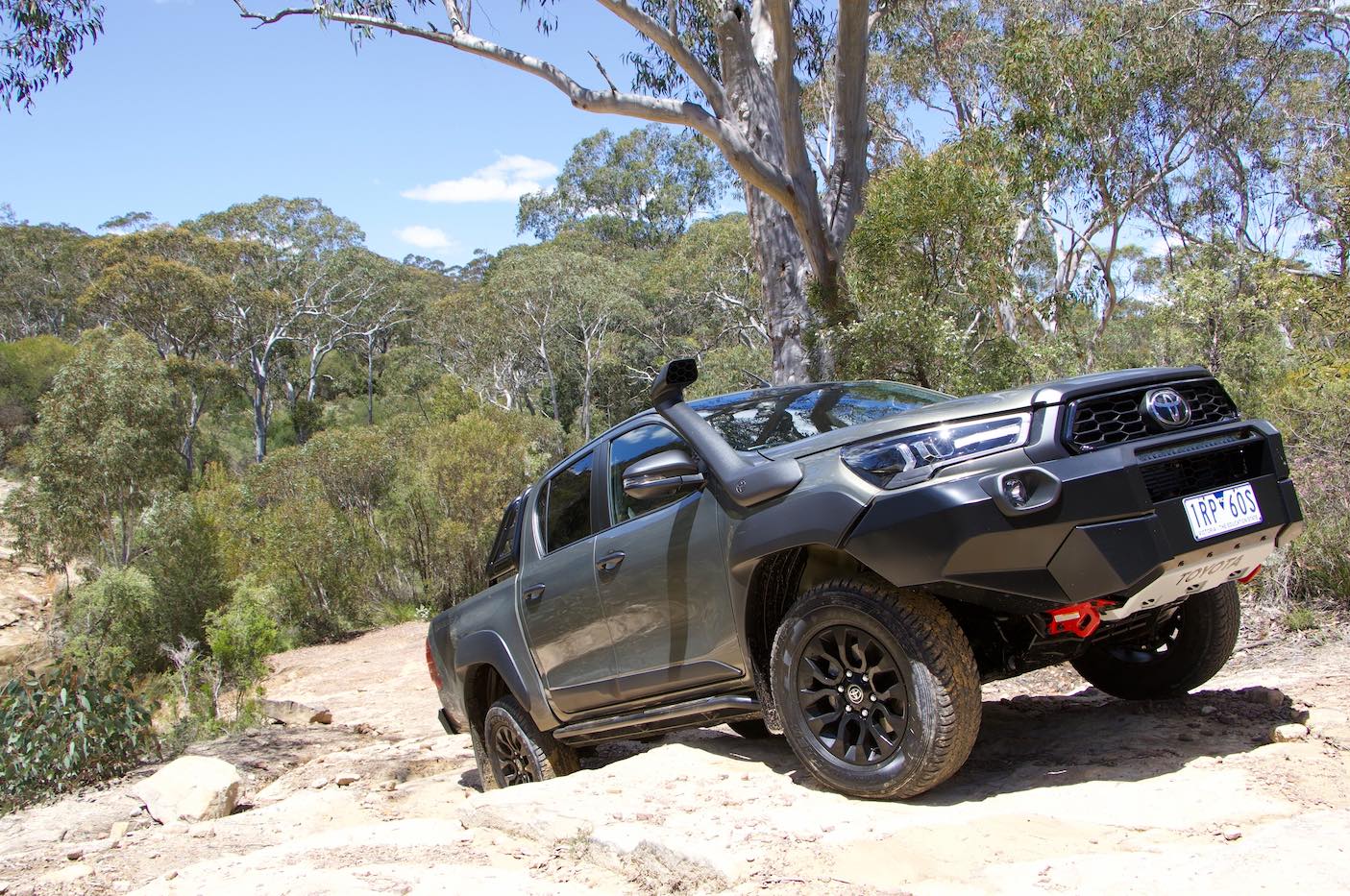 What is Rugged X?
Toyota describes the Rugged X as "fully equipped for off-road adventures straight out the showroom". Essentially it's Toyota's new top-spec hero HiLux for those who want to drive off-road, and it'll set you back $69,990 +ORC, which is $7500 more than the previous-generation Rugged X ($62,490 +ORC), but it is packed with equipment over and above a HiLux SR5 ($62,420 +ORC) on which it's based.
As it's based on the latest-generation HiLux, the new Rugged X gets the more powerful 2.8-litre four-cylinder 1GD engine that makes a claimed 150kW of power at 3600rpm and 500Nm of torque from 1600-2800rpm. The engine is mated to a six-speed auto and a part-time 4X4 system with electronic traction control and a user-selectable locking rear diff.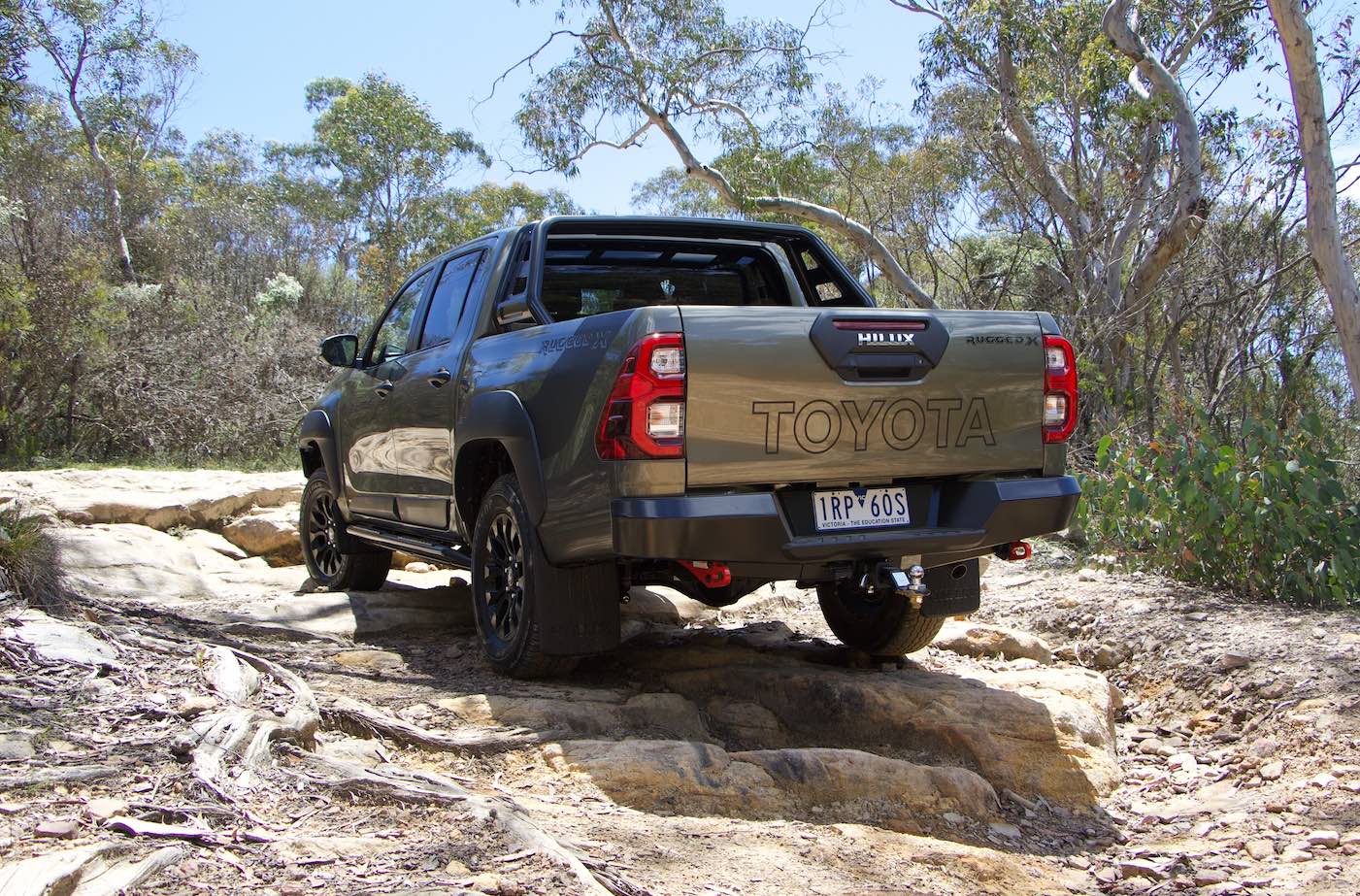 Over and above HiLux SR5, the Rugged X is locally fitted with equipment including a unique grille, dark headlights, a steel front bumper with outboard driving lights and LED light bar, a lower bash plate with HiLux lettering, revised front spring rates (to handle the extra weight up front), a snorkel with a reversible head, bright red front and rear recovery points, steel side steps with integrated heavy-duty rock rails, a steel rear-step bumper, standard-fitment tow bar, a unique sports bar with rated lashing points, moulded tub and tailgate covers and more pronounced wheel-arch flares, unique 17-inch black alloy wheels, courtesy lights built into the mirrors, and signature 'Rugged X' decals on the bonnet and rear-quarter panels.
The inside also comes in for some special treatment with the eight-inch colour touchscreen with Apple CarPlay/Android Auto mated to an enhanced JBL nine-speaker sound system, the seats covered in black perforated leather, and the standard fitment of all-weather floor mats.
For the full list of HiLux SR5 kit that comes standard on the Rugged X variant you can refer to our previous HiLux SR5+ Double Cab Pick Up test and our HiLux SR5 Double Cab Chassis test.
What makes it worth more than an SR5?
Of course, this is purely subjective, but I reckon the Toyota HiLux Rugged X looks better than a standard Toyota HiLux SR5. The revised grille and steel front bar give it a more purposeful look and the matt-black bonnet and side decals look great, especially against the Oxide Bronze of our test vehicle. I'm not a huge fan of the red recovery points though, and the front ones hang quite low and are prone to grounding when driving off-road. The bash plate, however, looks good with its 'HILUX' cutout and is certainly thick enough to offer decent protection.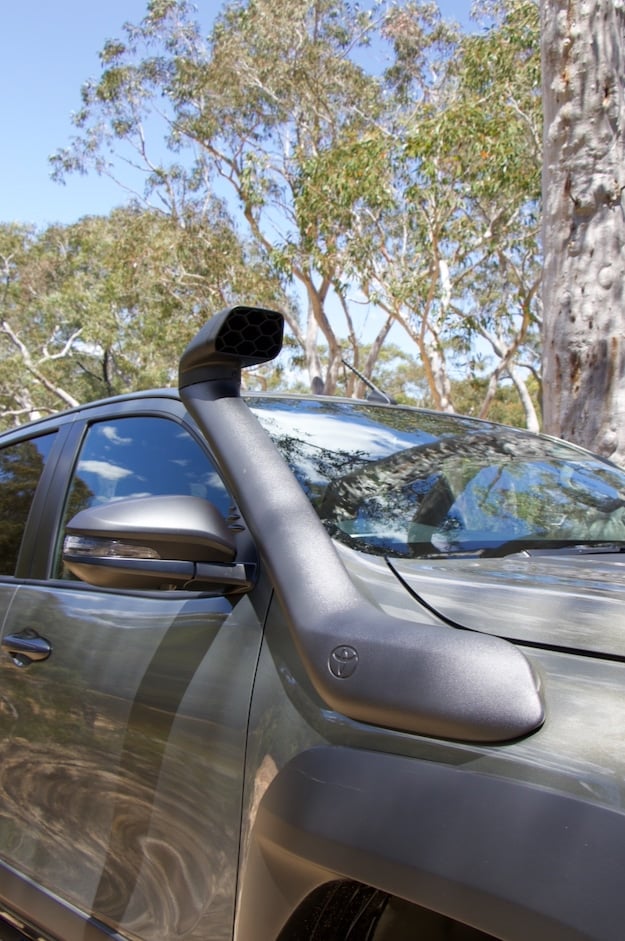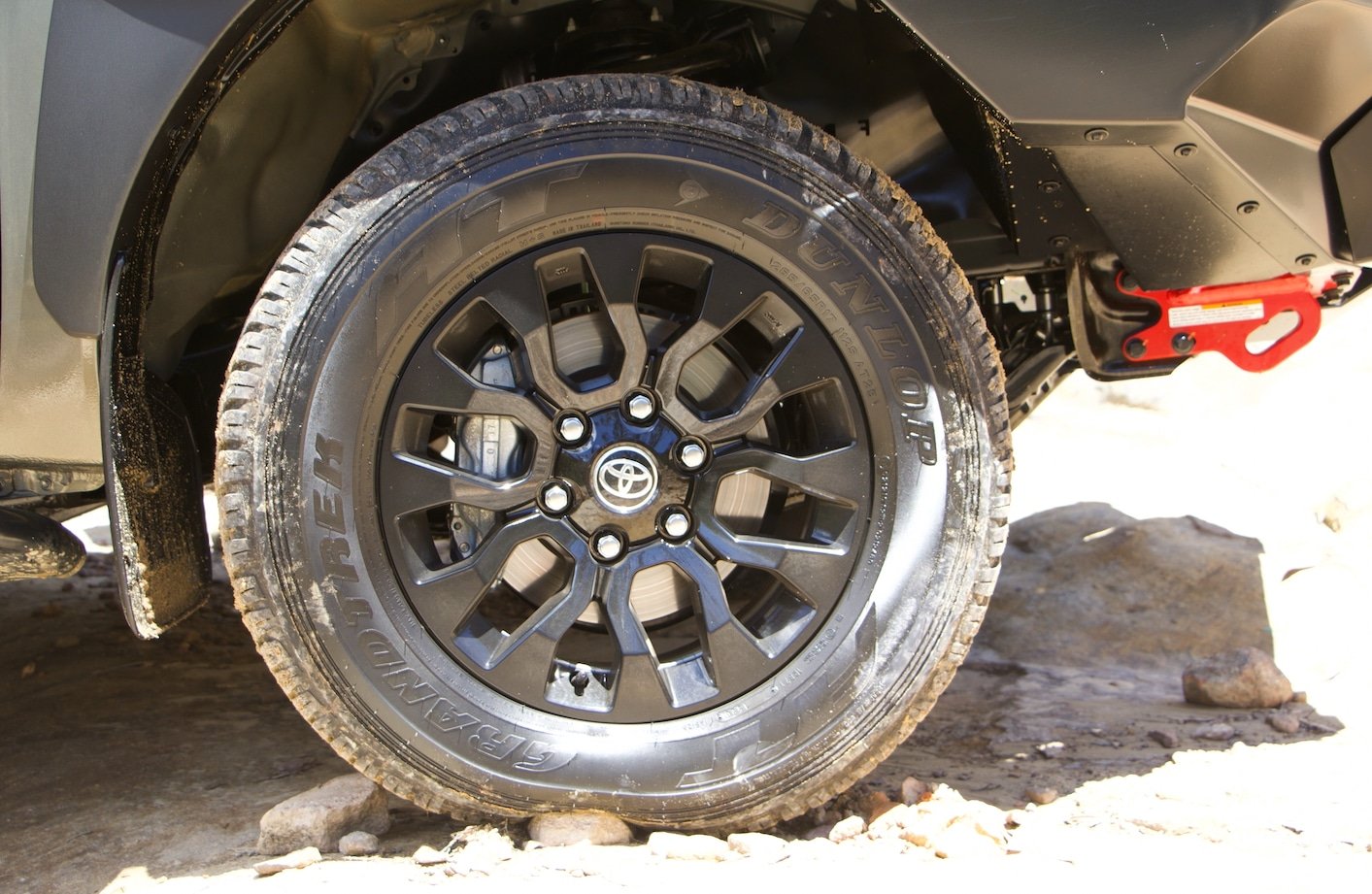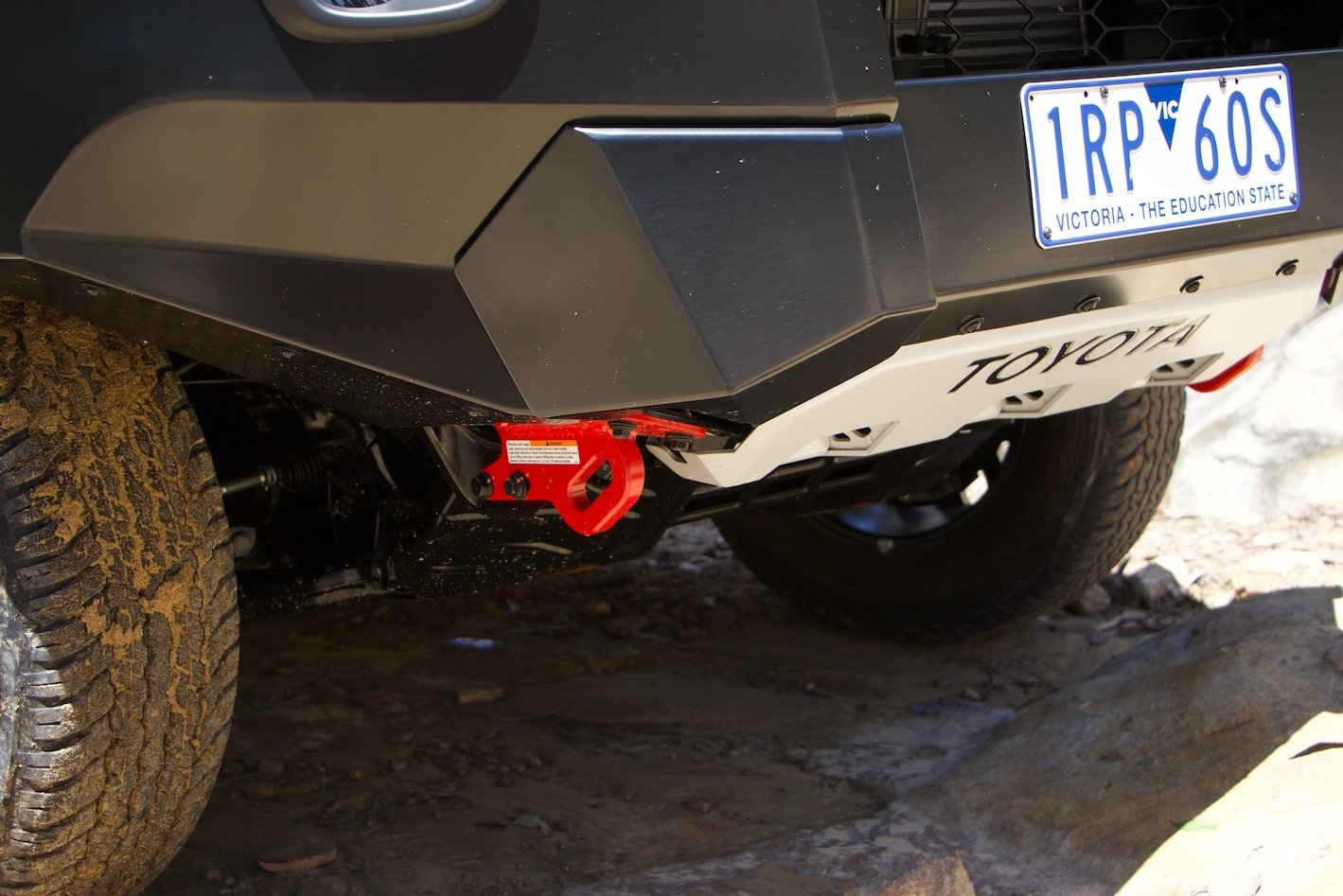 The standard snorkel is of obvious benefit, both for water crossings and driving in dusty conditions, and the steel rock sliders will definitely please those who want to see how far they can drive their Rugged X off-road. Yes, these are genuine rock sliders, certainly capable of supporting the weight of the HiLux, even if you get hooked up on a rock with two wheels in the air.
The sports bar serves a genuine purpose too, as it's rated to hold loads up to 200kg, as well as 75kg vertical loads, so you can secure a dirtbike to it, for example. And, obviously, the standard fitment tow bar will please those who haul a boat, van or camper.
The JBL sound upgrade? Well, that's something Rugged X drivers will be able to appreciate every day of the week, whether driving on the road or off it.
What's it like on the road?
Performance-wise there's not much to pick between the Toyota HiLux Rugged X and the SR5 variant on the road, but what is noticeable is the Rugged X's slightly heavier front-end and its heavy-duty front springs. Put simply, the Rugged X feels more planted and controlled on bumpy sealed roads than the slightly flightier SR5, and it also feels more composed on loose gravel. It's not a big difference, but it's a difference nonetheless.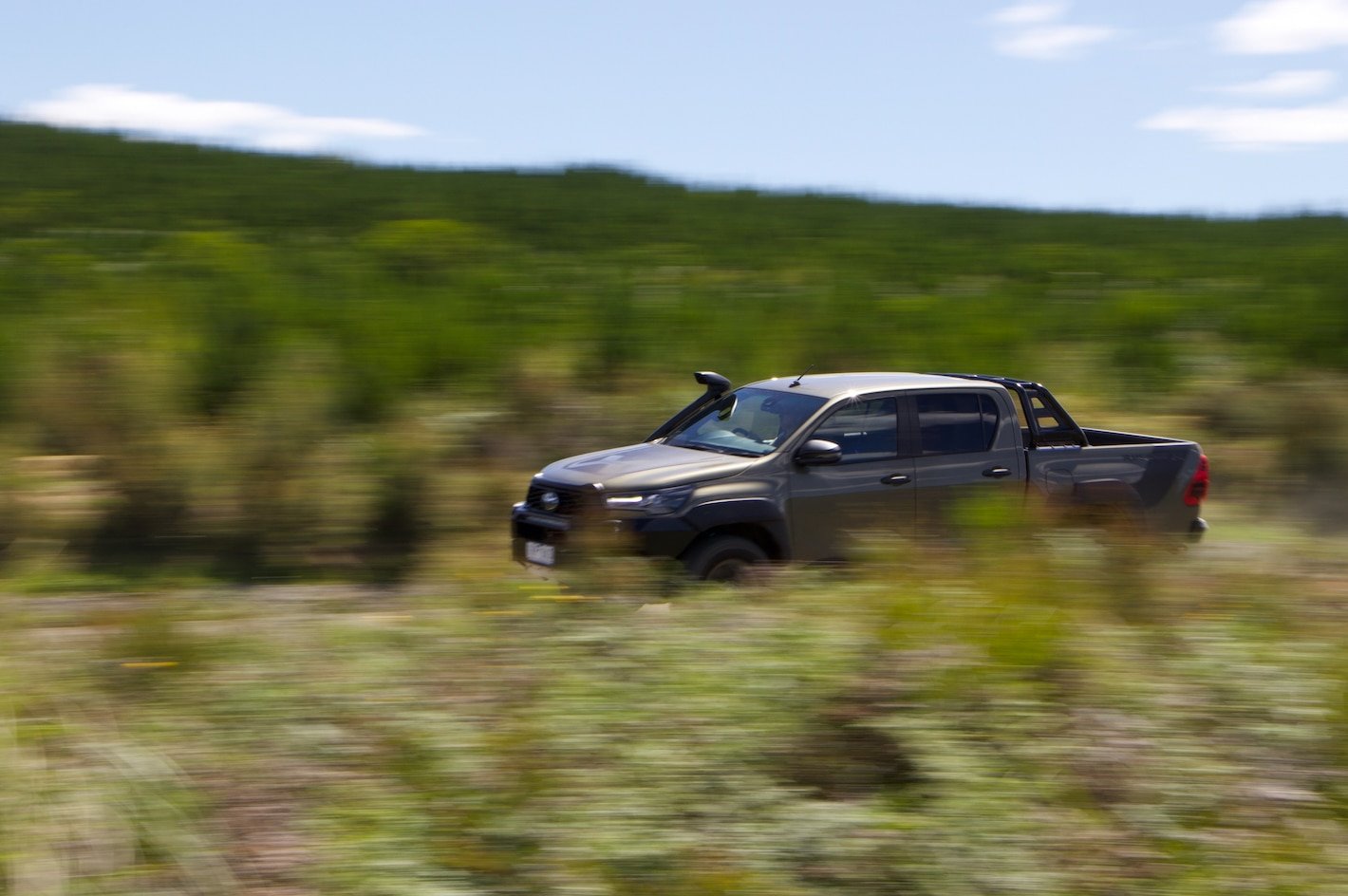 Unladen ride quality is decent-enough too, which is something Toyota worked on quite a lot with this latest-generation HiLux, which has retuned rear springs and shocks, and revised rear shackle bushes.
What's it like off-road?
Once again, off-road performance is akin to the HiLux SR5 on which the Rugged X is based, which means it's up there with the best of the 4X4 utes currently on the market. There's decent wheel travel front and rear, good low-range gearing, plenty of low-rpm torque, an effective electronic traction control system and a standard fitment rear diff lock.
Of course, you can push the Rugged X further off-road than a HiLux SR5 simply due to the fact it's fitted with more protection, including that front bash plate and those awesome rock sliders.
The standard 265/65R17 Dunlop Grandtrek ATs seem to work well enough off-road, but for regular off-road use, or long-distance outback trips, you'd want to fit some tougher LT rubber to better match the rest of vehicle's hardware.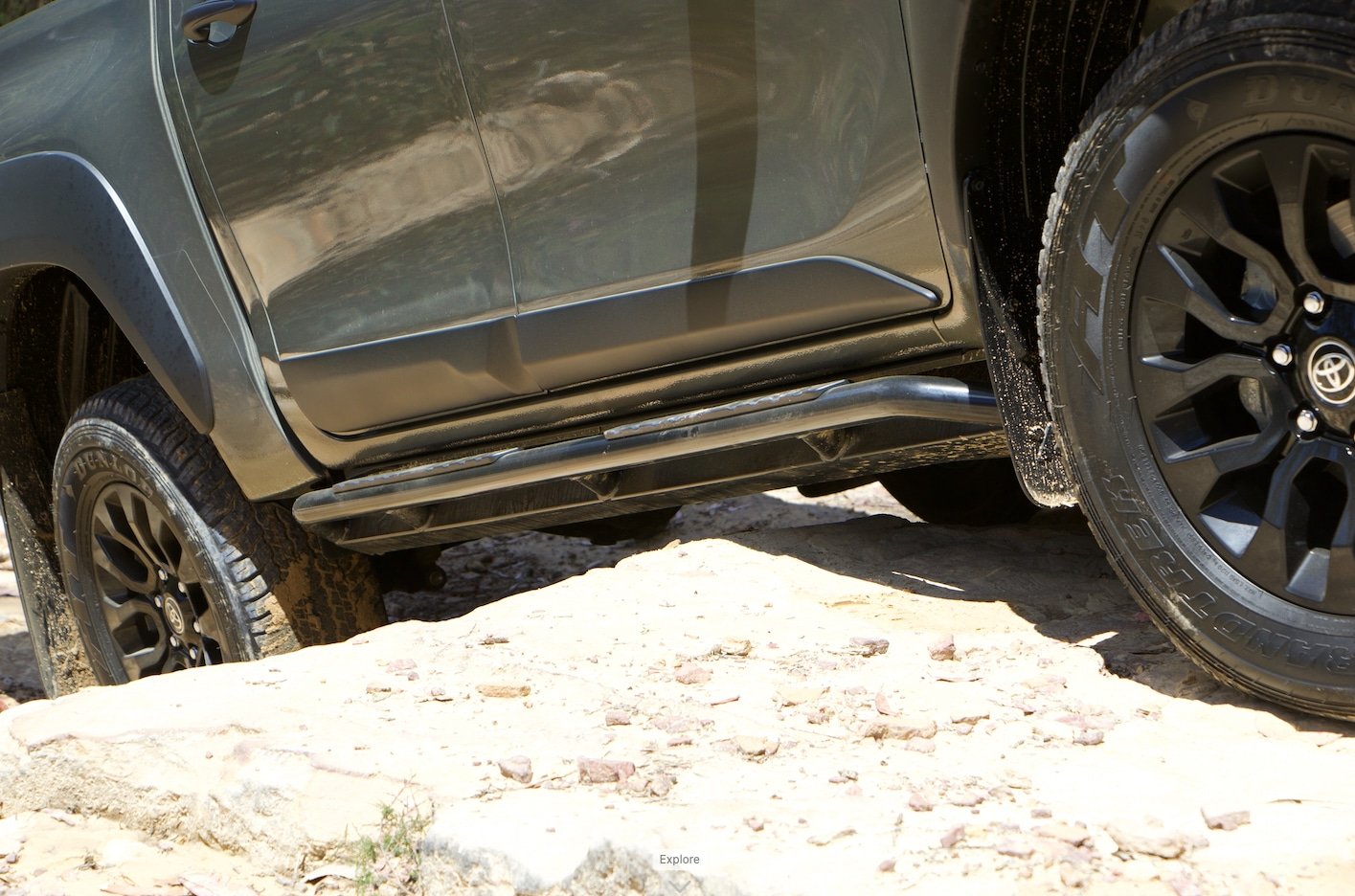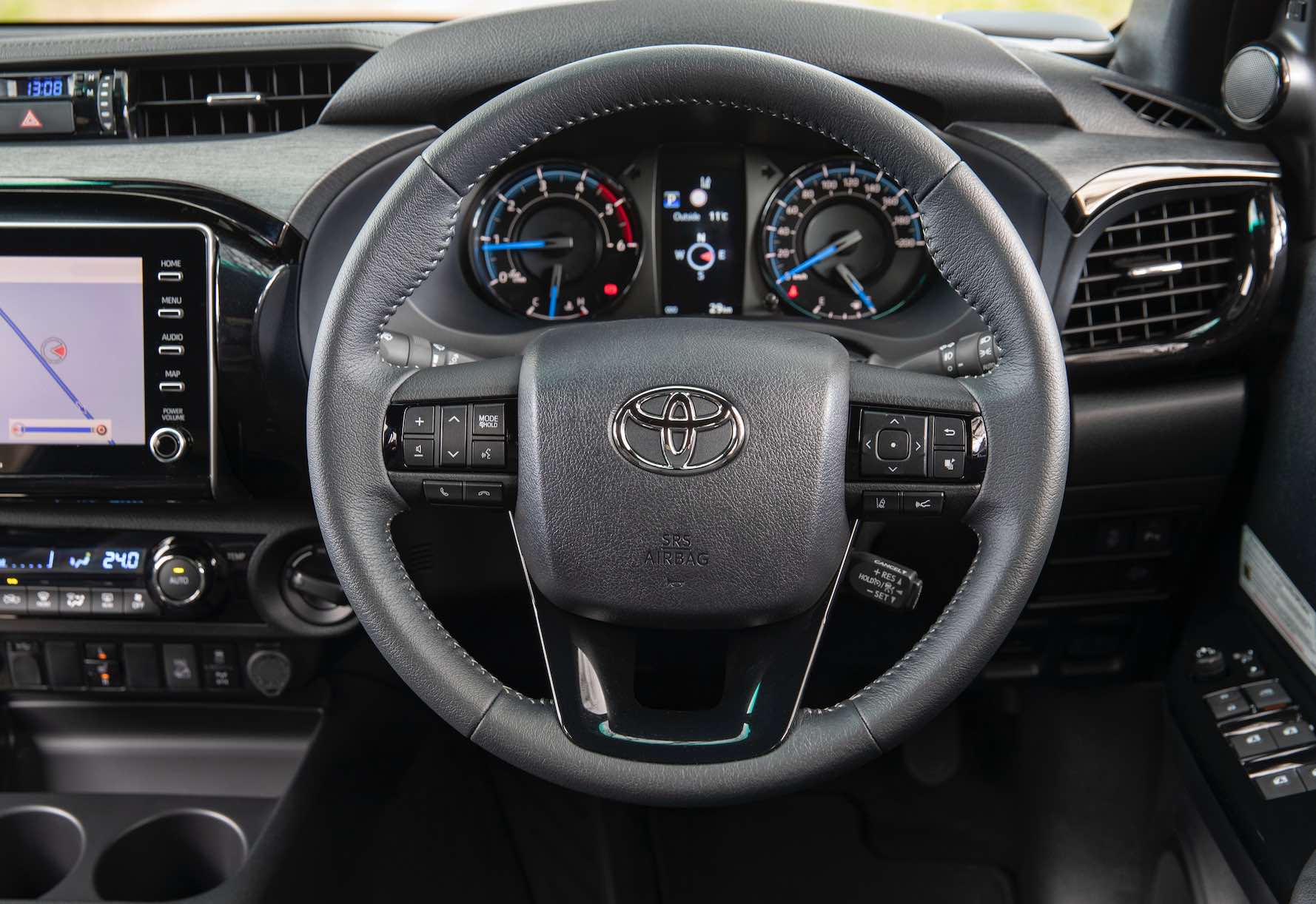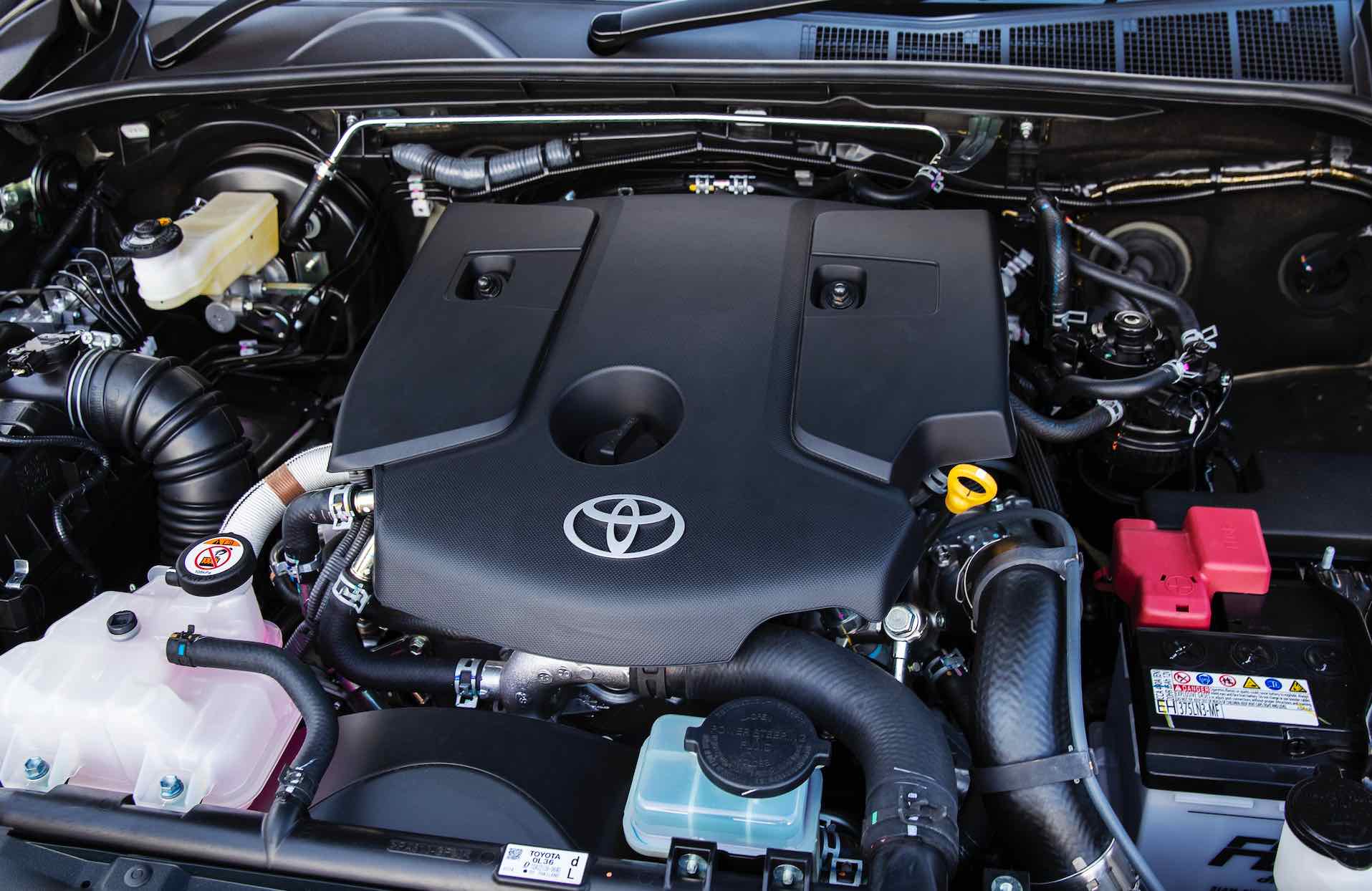 Is it worth the money or should you accessorise your own ute?
There's no doubt the Toyota HiLux Rugged X comes with a lot of extra gear for the $7570 ask over a HiLux SR5, but depending on what you want to do with it, that gear might not be exactly what you need. For example, if I owned a Rugged X, I'd still want to fit LT rubber, a canopy and a winch, which would mean replacing the front steel bumper. I'd probably also replace the all-weather floor mats with rubber mats with raised edges. In other words, I'd be better off buying an SR5 and kitting it out myself. But if I just wanted to haul a couple of dirtbikes, go off-roading on the weekends and didn't deem a winch necessary, and was happy with the OE floor mats, the Rugged X would be more up my alley, so to speak.
One other consideration is Rugged X owners can rest assured that the OE accessories are covered by the HiLux's new-car warranty.
Keep an eye out for our upcoming test on the 2021 Toyota HiLux Rogue.