Take a trip down memory lane and check out the Top 5 79 Series LandCruisers that have featured in Unsealed 4X4.
The 79 Series LandCruiser is the darling of Instagram… and why not? With its old-school truck looks and V8 oiler up front it has long been seen as the perfect platform to build the ultimate 4X4. Over the years Unsealed 4X4 has featured many a 79 Series and here are our Top 5.
5. Kyle's Insta-Inspired 79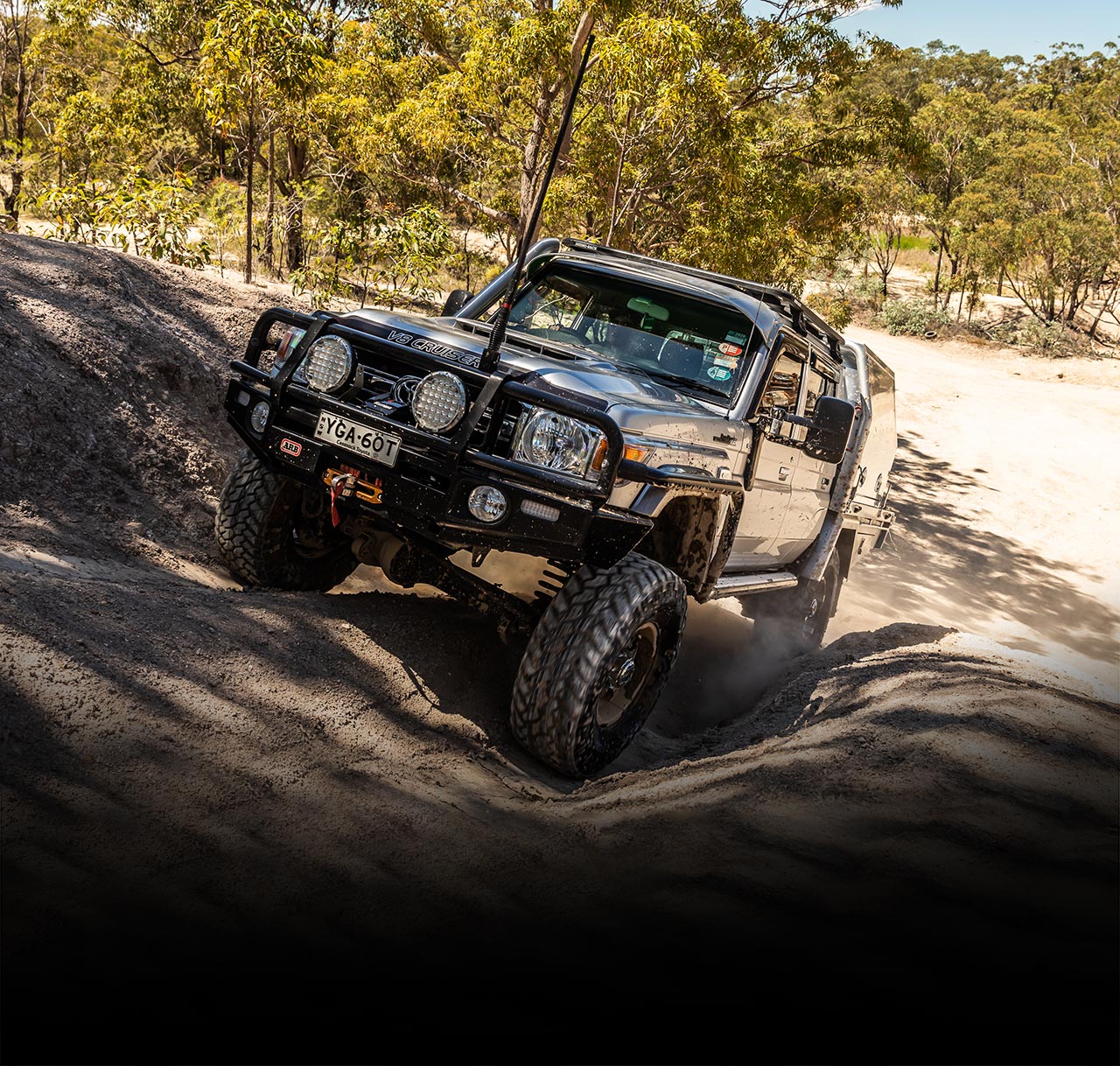 This 79 Series comes in at number five. Built by owner Kyle, the 79 Series was inspired by the many accounts right across Instagram, and of course the V8 under the bonnet. Kyle told us that the potential of upgrades to the 1VD, along with the Cruiser's solid axles, made it a package too good to resist. With fitment of a GSL exhaust, tune and snorkel, as well as an NPC heavy-duty clutch, this 79 Series went from 151kW at 3400rpm and 430Nm at 1900rpm to 167.1kW at 2500rpm and 710Nm at 1900rpm. Like all good builds, Kyle has substantially lifted his 79 as well as fitted a 1200L jack-off Rolloc Canopy on a tray.
Kyle's 79 Series first featured in Unsealed 4X4 Issue 072. To read more about the build click here
4. Rocket Rod's Auto 79 Series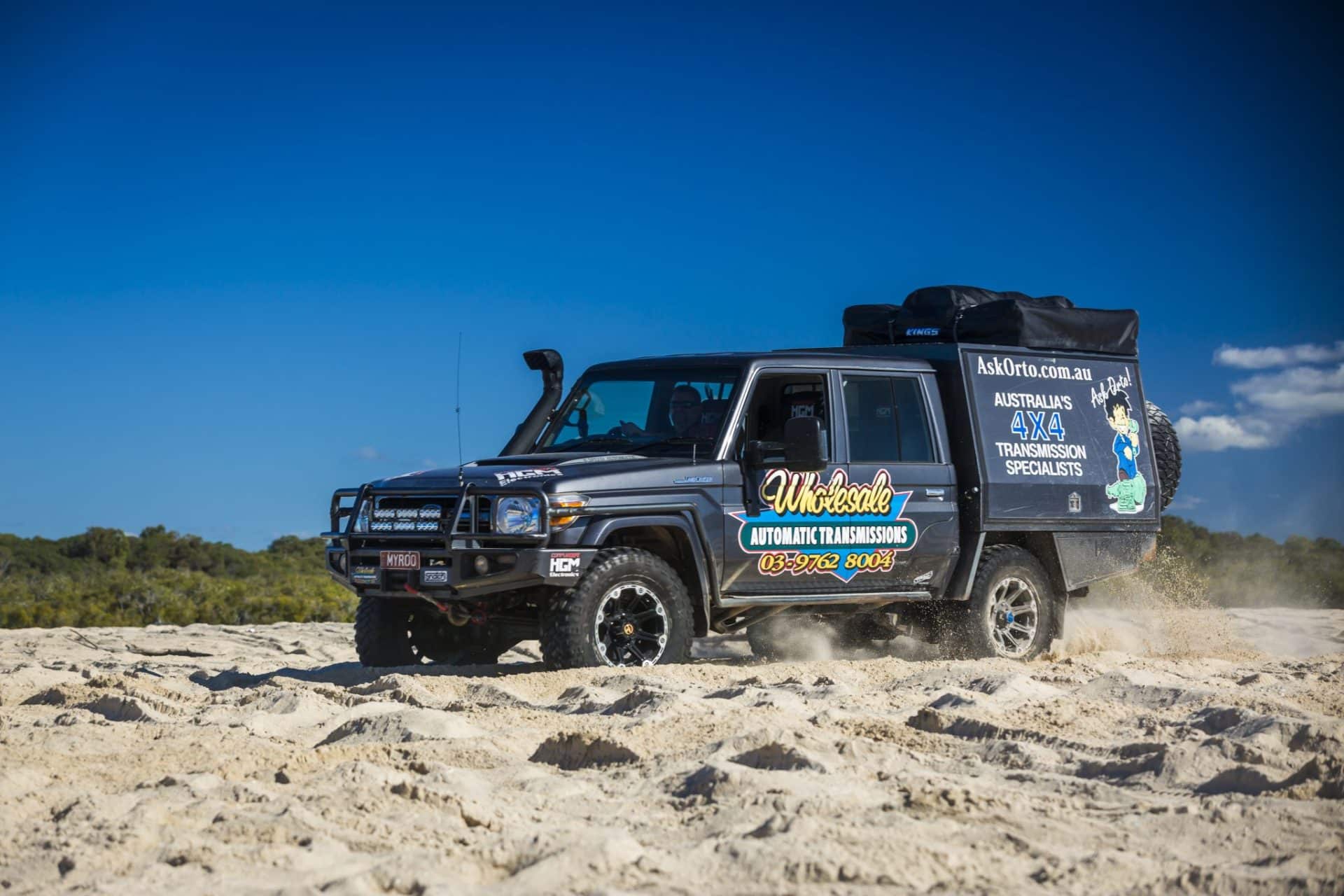 Being the owner of Wholesale Automatic Transmissions, you'd expect Rod to be able to put together a neat 4WD of his own, and his 79 Series is just that. Of course, the first upgrade that was made was the manual to auto conversion, Rod's bread and butter, with a six-speed automatic transmission now sitting in place of the old five-speed stick-shift. However, he didn't just stop there, with a fully floating Jmacx rear diff housing with Chromoly axles inside, along with the factory front and rear lockers, which ensures the wheel track is aligned. The 79 also has a Safari high-flow snorkel, Dynomotive turbo, Legendex three-inch stainless exhaust and a Unichip. And all that is just scratching the surface of this impressive vehicle.
Rod's 79 Series first featured in Unsealed 4X4 issue 041. To read more about the build click here
3. Jacob's Flexing 79 Series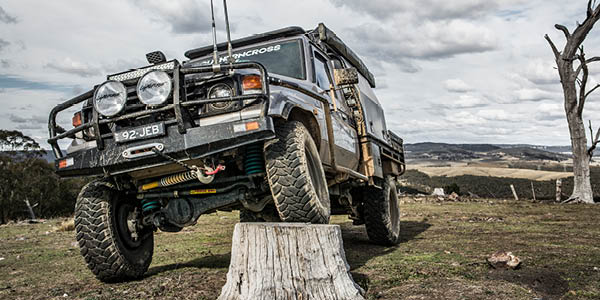 After an unfortunate incident in his 80 Series, Jacob went from extreme tracks to touring, and that's how he has set up his 79 Series. A 2001 N/A 1HZ farm-spec single cab was his base, and he built from there. While it was intended to be a tourer more than a comp truck it didn't stop Jacob from fitting it with a four-inch heavy-duty lift. Under the lift he has 33s sitting nicely, which Jacob claims are perfect as they don't slow the Cruiser down too much, however, it wasn't going to win many drag races to begin with. For the tray, he fitted two large alloy boxes that have been fitted out with shelves and draws, however most importantly they have water and dust sealing, and the way they're fitted leaves Jacob with reasonable rear vision… as well as leaving room for a couple of motorbikes on the back. Jacob also has water and air on tap, making his 79 Series like a driving servo.
Jacob's 79 Series first featured in Unsealed 4X4 issue 050. To read more about the build click here
2. Grant and Linda's 79 Series Super Tourer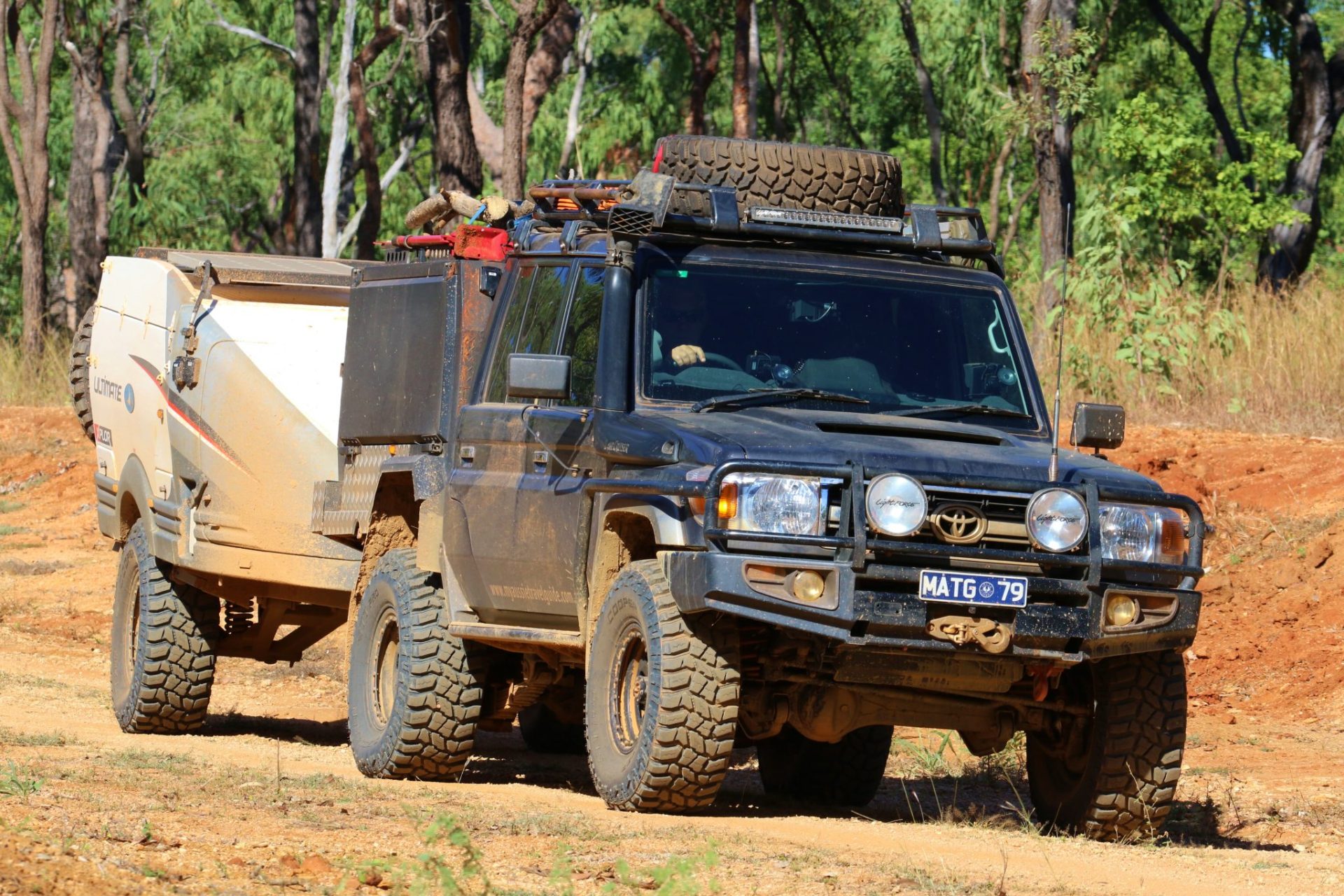 Grant and Linda have crossed this country more than once, so anything they drive has to be tough enough to last. Built to be a long-term tourer, so they could provide us with some of the best travel this land has on offer, they choose a 79 as their base and built it up from there. A Steinbauer performance module was one of the first accessories fitted, providing the 79 with the extra low-down torque they desired. Of course no build is worth it's salt without a lift, and they've gone the route of a three-inch Tough Dog suspension lift, which has left enough room to fit 35s underneath. An additional fuel tank and pre-line fuel filter were installed so they didn't have to worry about their diesel quality or distance, particularly when towing. The canopy was a custom rebuild, allowing them to design it however they saw fit. This has included a custom-built modular storage solution from Drifta as well as an upright Waeco CR65 fridge. On the roof racks, you'll find either a rooftop tent or a Foxwing awning depending on their trip.
Grant and Linda's 79 Series tourer first appeared in Unsealed 4X4 issue 031. To read more about the build click here
1. Adam's 6X6 79 Series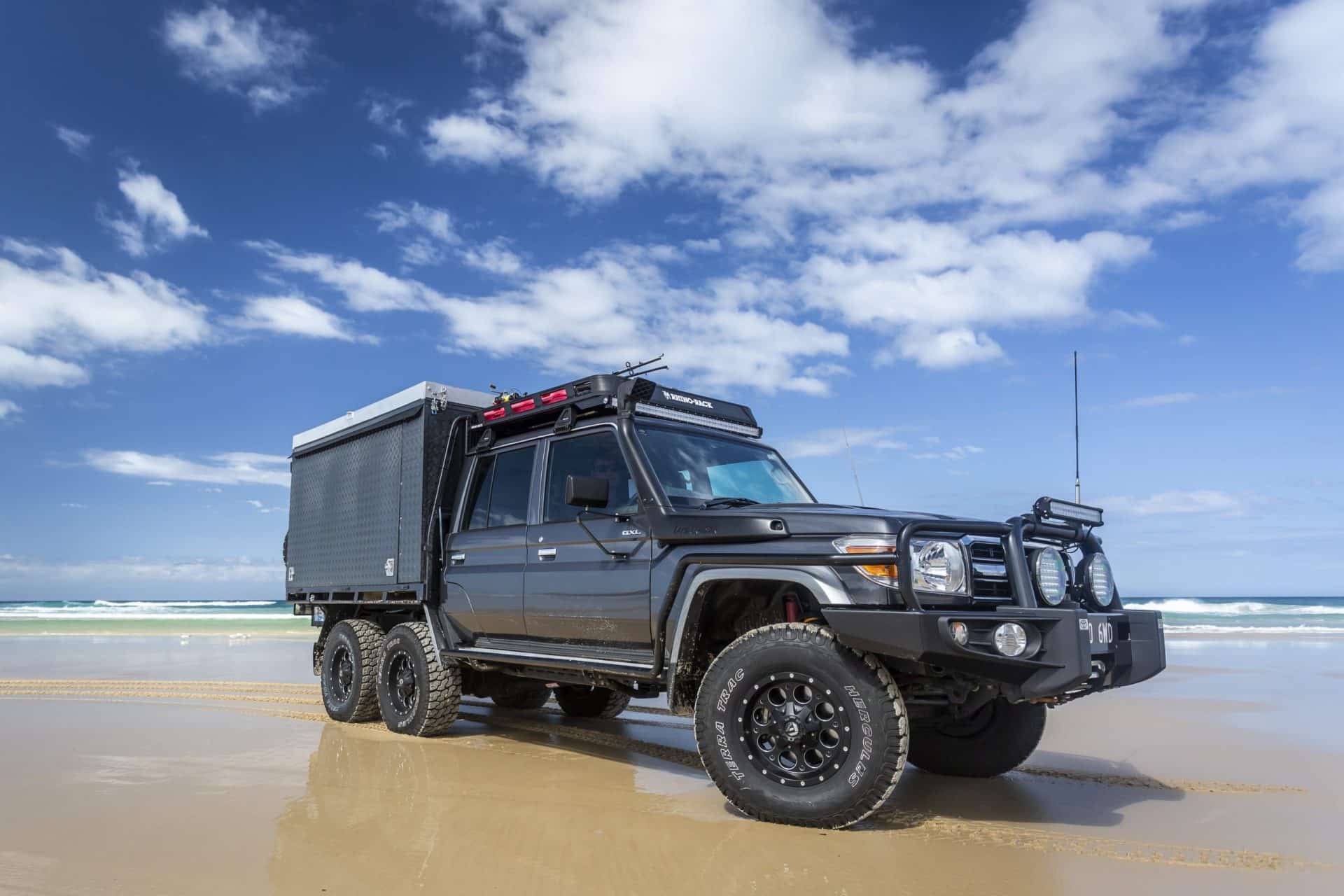 Adam's 79 Series isn't your normal LandCruiser. He has gone through his fair share of four-wheel-drives, however, landed on the 79 for its reliability and ease of parts, and then set to work turning it into one of the best going around. Needing a GVM and GCM solution due to work requiring him to carry pallets and concrete blocks, it led Adam to 6×6 Australia near Lismore. When there he sampled a recently converted 6×6 and he knew he had found his solution. He then bought a shiny new 79 Series and shipped it straight there. Using the original gearbox and front and rear diffs, the intermediate diff is built in a Ford nine-inch housing and has a power divider to prevent windup. The extra diff is also fitted with an ARB Air locker, while the front and rear diffs have the factory e-lockers, meaning Adam can have fully locked six-wheel-drive traction when needed. However, it wasn't just adding an extra axle; the chassis was lengthened by a metre and also braced, with a heavy-duty tray fitted to the back as well. Adam's 79 Series Cruiser is a serious bit of kit, with plenty more done to it as well.
Adam's 6X6 79 Series first appeared in Issue 055 of Unsealed 4X4. To read more about it click here.