Toyota has now released a CSE (Customer Service Experience) bulletin which gives a retrospective 10-year warranty on the DPF of certain HiLux, Fortuner and Prado models.
With the class action lawsuit against Toyota for its DPF issues surging ahead, Toyota Australia has just launched a retrospective 10-year warranty for the DPF (Diesel Particulate Filter) on certain HiLux, Fortuner and Prado models. The new warranty has not been widely publicised by Toyota but was sent to some owners via a letter through the post.
The letter, which was sent to owners of impacted vehicles, confirms that some owners have "experienced an issue with the DPF which may present as substantial white smoke discharged during the regeneration process, illumination of the Malfunction Indicator Lamp and in some cases, as a precautionary measure, a reduction in engineer power ('limp home' mode)".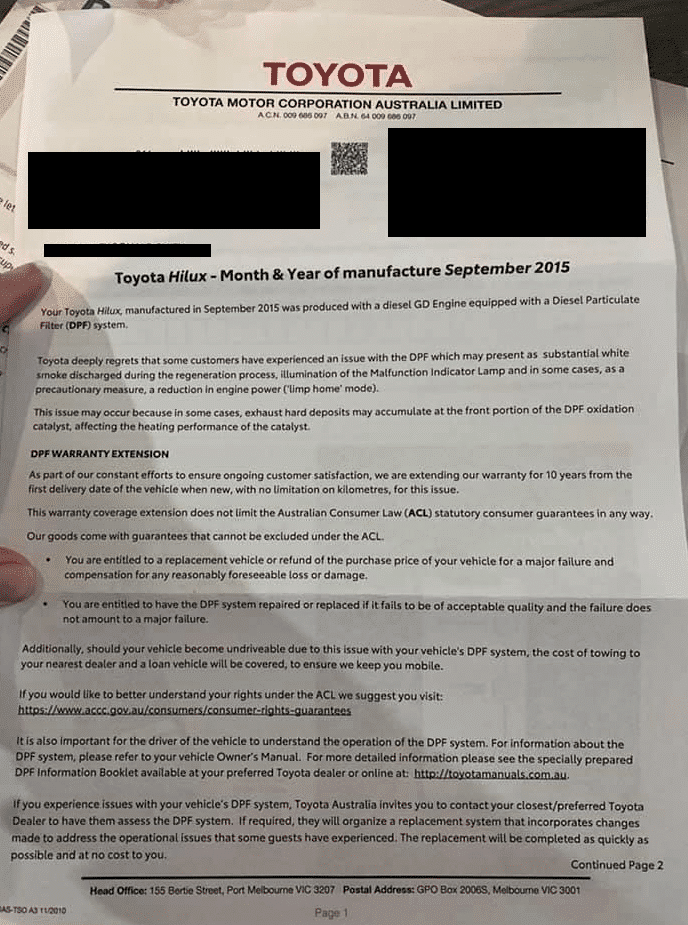 The warranty being offered spans 10 years from the date of first delivery of the vehicle when it was new, and also has no limitation on kilometres. The letter further goes on to say that if the vehicle should become undriveable due to an issue with the DPF, the cost of towing to the nearest dealer, and the cost of a loan vehicle, will be covered while the repairs are undertaken.
In addition to the letter sent to some owners, there's now a page on the Toyota Australia website that you can find here that explains the measures the company will take to rectify affected vehicles.
The website page essentially explains that Toyota has an existing CSE underway for the models impacted by the DPF issues. A CSE involves proactively getting in touch with all owners of the affected vehicles and giving them the opportunity to present the vehicle to their local dealership, and having the CSE performed free of charge.
The CSE includes reprogramming the ECU with the latest software for DPF regeneration, and also replacing the entire DPF hardware with an updated model. This includes both the DPF itself, as well as the fifth injector that controls the regeneration of the DPF system.
Not all DPF equipped models are included in the CSE and warranty; you can see below the models that are included in the CSE.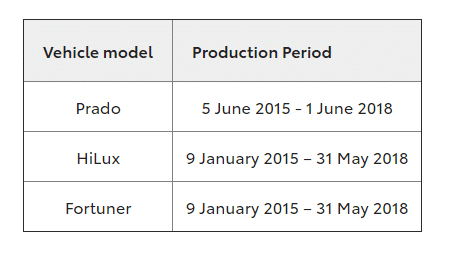 Toyota has noted that this CSE is not specifically a recall and that for this issue to be classed as a recall, the defect would need to have the potential to create a safety risk to consumers. Essentially, as the DPF issues do not create a safety hazard, then no recall has or will be initiated. Toyota has further gone on to note that this new CSE, replacement of components and 10-year warranty surrounding the DPF has not come about due to the pending class action against Toyota. Toyota has stated that the CSE is to "ensure we are living up to our customer's expectations".
After Unsealed 4X4 presented Toyota Australia with a list of questions regarding the issue, including why has the CSE bulletin not been more widely publicised (e.g. a press release)?, Toyota responded late this afternoon with the following media statement: