Portable jump starters are getting smaller and more portable so when it comes to sparking life into a dead battery is the Uniden UPP 1000 any good?
The most powerful of Uniden's jump start range, the UPP 1000 is said to be able to crank over diesel engines up to 5.0L in capacity and petrol engines up to 7.0L. With the compact UPP 1000 on hand, and an array of stationary vehicles to choose from, we thought we'd put it to the test
What is the Up 1000 and what does it cost?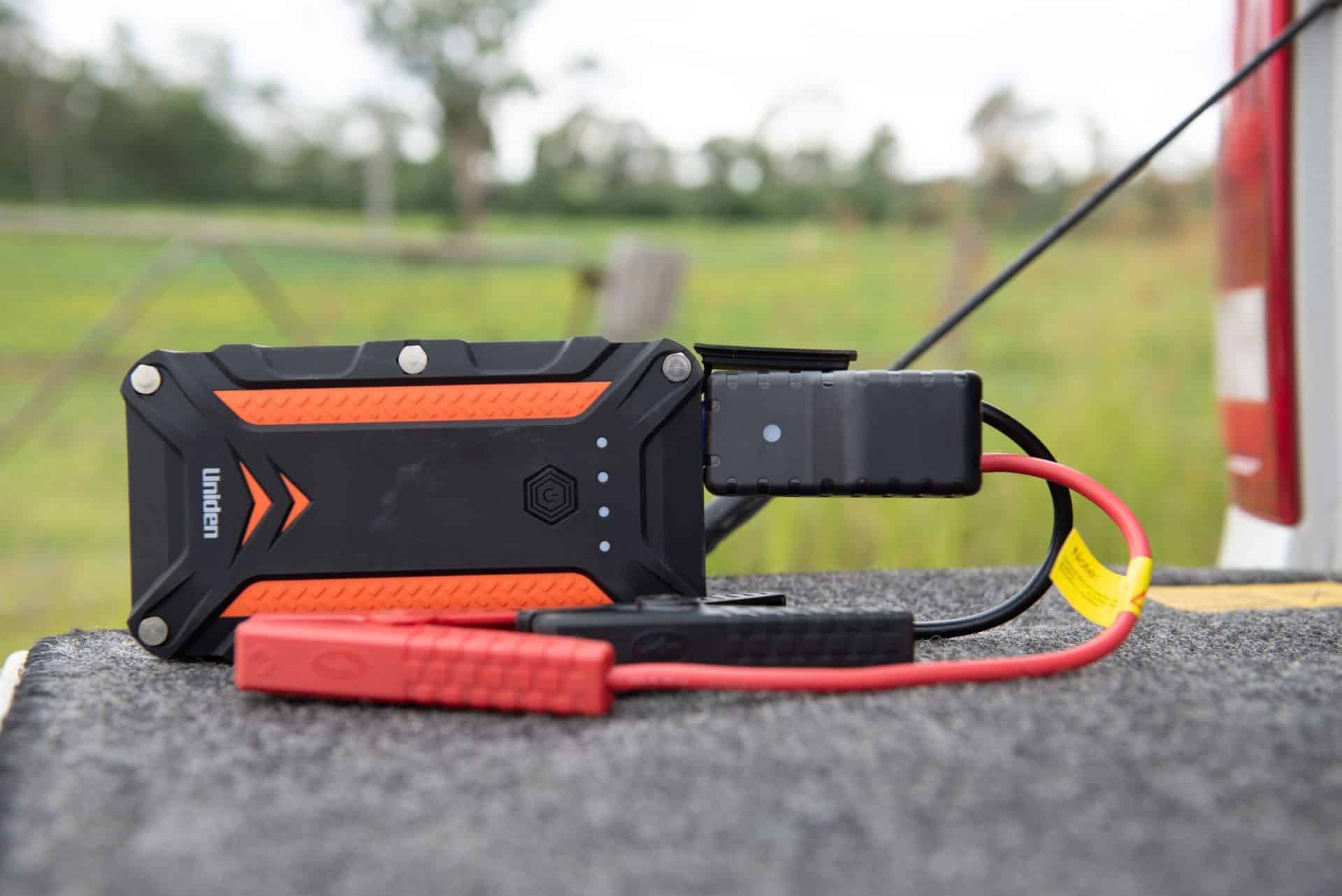 The Uniden UPP 1000 tested here has a 10,000mAh battery capacity and it retails for around $200. There are two other models in the Uniden Jump Start Kit range: the UPP 136 and the UPP 120. The UPP 136 has a battery capacity of 13,600mAh and is said to start 5.0-litre or smaller petrol engines and 3.0-litre or smaller diesel engines, and it retails for around $150. The smaller capacity UPP 120 is also claimed to be able to start 5.0-litre petrol/3.0-litre diesel engines, but with a 12,000mAh capacity. This model comes with a compact air pump and retails for around $180.
The Uniden UPP 1000 Jump Start Kit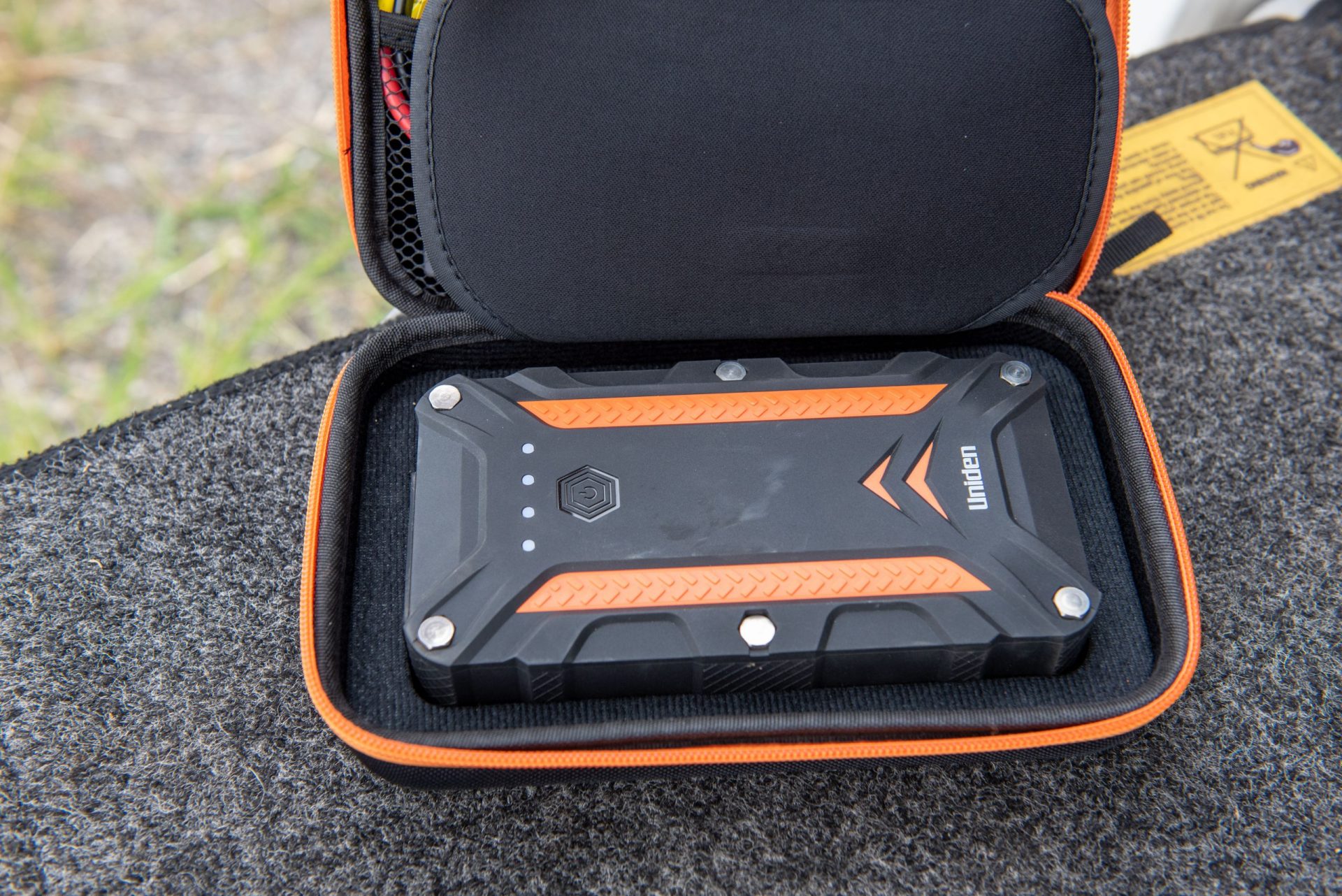 Jump Starters are becoming more compact and easier to store in your 4WD, and some are even waterproof and built to withstand rugged terrain. So if it can crank your 4X4 then the Uniden UPP 1000 could be the best backup to have handy whether it be for a day trip or longer drives.
For starters, the Uniden UPP 1000 is housed in a tough and waterproof case so when you get a flat battery in the rain (because that's when it always happens) you won't be in strife. It is IP67 rated and Uniden also says it is shockproof so there's no need to worry about it bouncing around when you're driving over corrugations. The 10,000mAh UPP 1000 has a peak current of 1000A and a start current of 500A. Uniden says that with this sort of power it can start vehicles with petrol engines up to 7.0-litres in capacity and diesels up to 5.0-litres. The UPP 1000 Jump Start Kit also has a claimed lifecycle of up to 1000 discharges, which should provide plenty of worry-free years.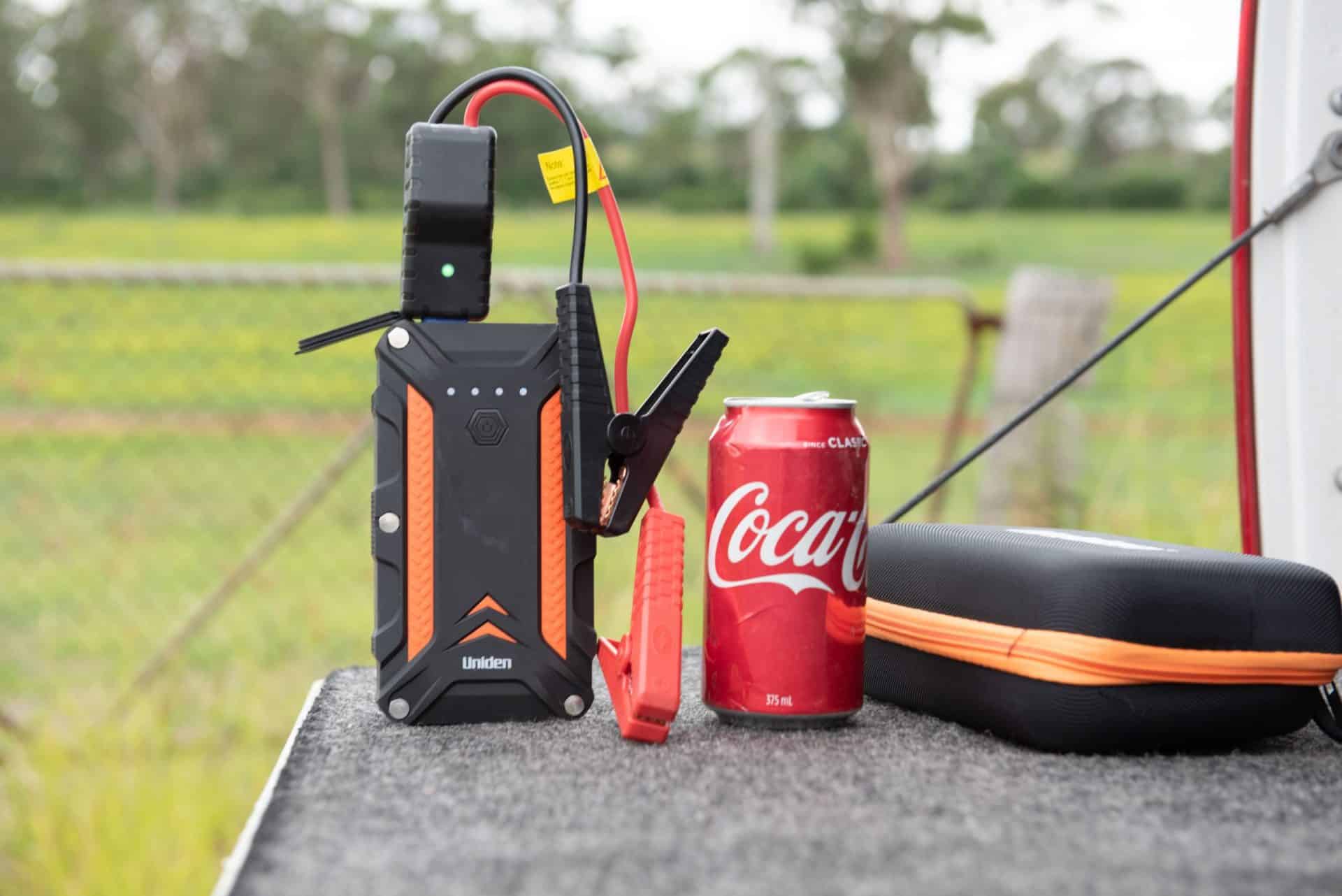 The UPP 1000 jumper cables feature smart clamp protection for peace of mind, providing protection from short circuits, battery overload (it won't pump your battery with too much charge) and over-discharge (it won't overly discharge the jump starter by draining it completely). The smart clamp protection also protects from over-voltage (power surges) and low-voltage. It also has temperature protection so if something goes wrong and either the UPP 1000 or the vehicle battery get too hot it will stop the charge. The UPP 1000 also comes with reverse charging protection, so your battery pack won't be damaged from trying to start an extremely depleted battery. Moreover, it has reverse connection protection, so you won't ruin your electrics if you have a brain fade and hook it up the wrong way.
Like many other jump starters, the Uniden UPP 1000 Jump Start Kit can also be used as a portable battery pack. It comes with a 3in1 Mini USB/Micro USB/USB-C cable so you can easily charge your devices. Furthermore, the UPP 1000 Jump Start Kit also functions as a powerful LED torch, which has a flashing mode to attract attention in emergencies.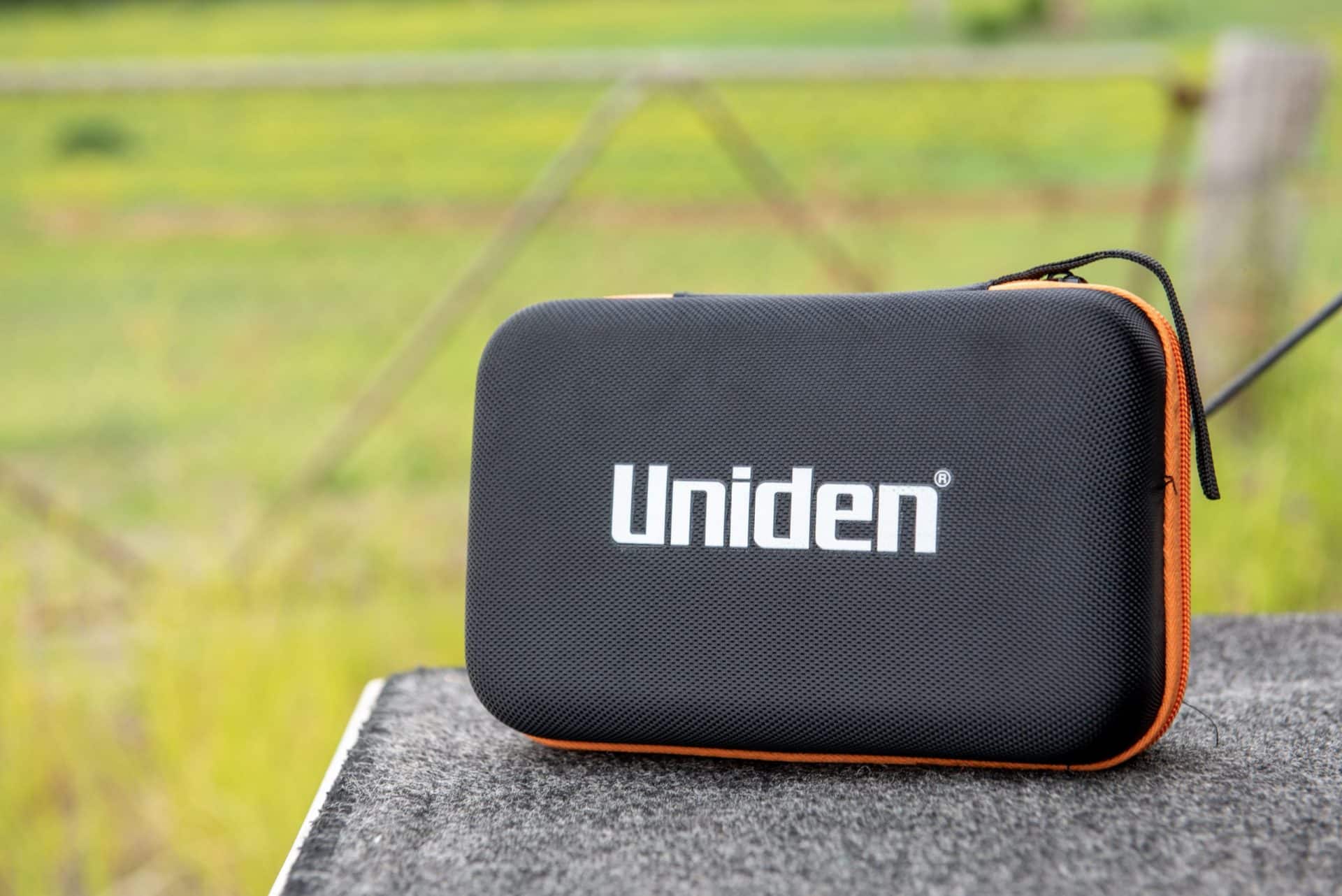 The UPP 1000 can be charged from either a 240V AC wall socket or a vehicle's 12V DC lighter socket thanks to the included AC and USB power adaptors.
Despite its generous capacity and features, the UP 1000 is quite compact and it comes in a durable carry case so you can easily store it in your vehicle at all times, such as just in the glovebox. In fact it's smaller than a set of jumper cables.
Let's put it to the test
The testing process was relatively straightforward: could the Uniden UPP 1000 Jump Start Kit resurrect a weak battery that had been flat for weeks? The test vehicle was a 2.0-litre four-cylinder diesel VW Amarok and while only a small-capacity engine we had tried to revive it a few weeks back to no avail, which left us doubting the UPP 1000's chances. Our confidence dropped even further when we put a multimeter to the stricken battery and saw a dismal 1.6V. Immediately the thought was that we needed to find a different car with a flat battery, not a completely dead one, but we gave it a shot anyway.
To give the Uniden the best chance of success, we made sure to charge it up to 100% and then made sure all of the vehicle's accessories were switched off, such as lights and air conditioning.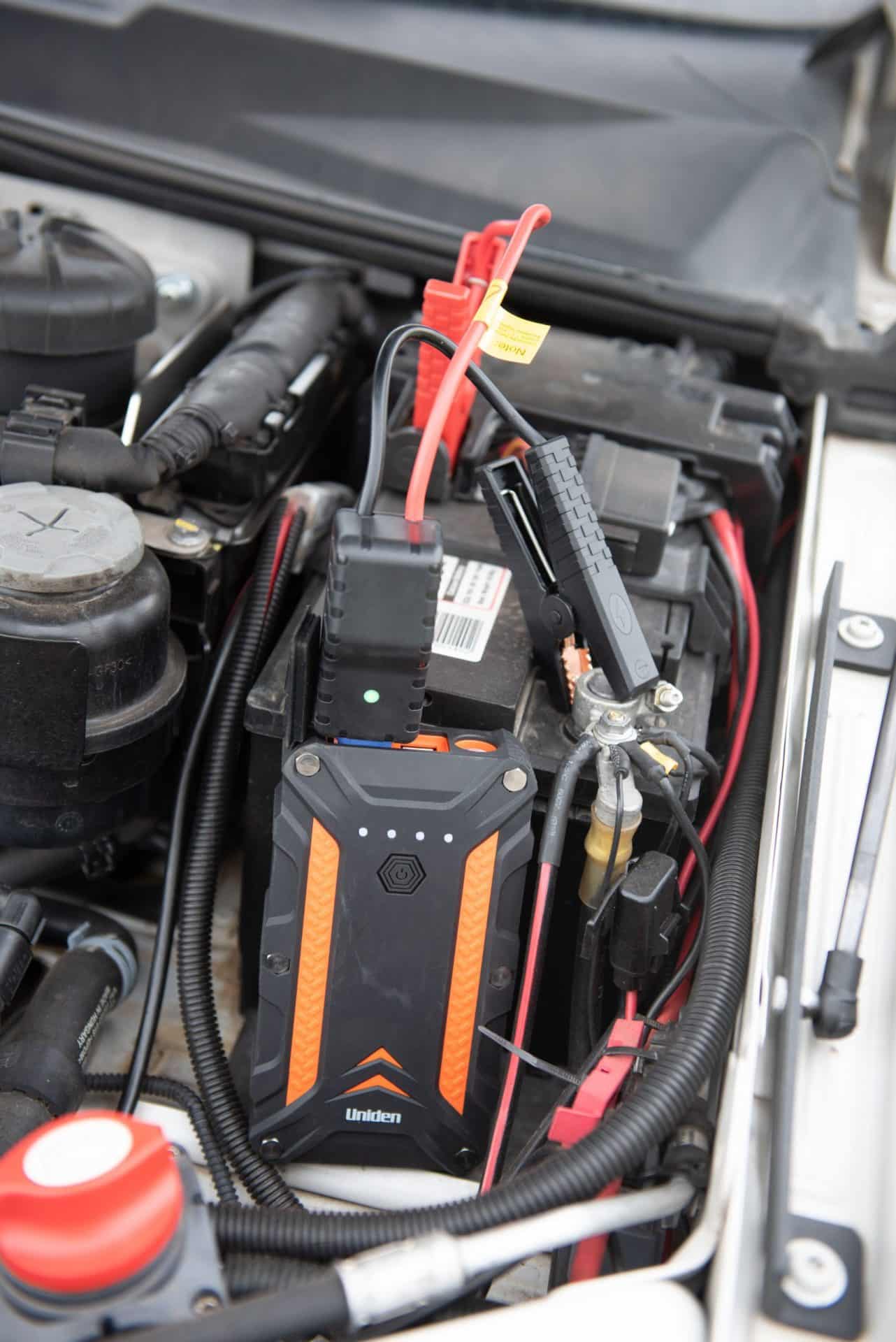 On connecting the UP 1000, the lights on the dash came on, which was the first time we'd seen that in a long time, but it still wouldn't kick over. On the second attempt the lights came on again, and the glow plugs warmed, but the engine still didn't come to life. Our third attempt was a repeat of the second. When we started to think we'd been wasting our time, we noticed an overload button on the back of the Smart Clamp jumper leads. We pressed the overload button, had another go, and the Amarok amazingly spluttered to life.
To say we were amazed would be an understatement; this Amarok that had been dead in the carpark for over a month yet this small shoe-sized jump starter was what finally brought it back to life. After some brief, very understated celebrations, we switched the Amarok off and rechecked the battery with the multimeter. The voltage on the battery read 12.11V but quickly dropped to 11.2V, so it's well and truly kaput.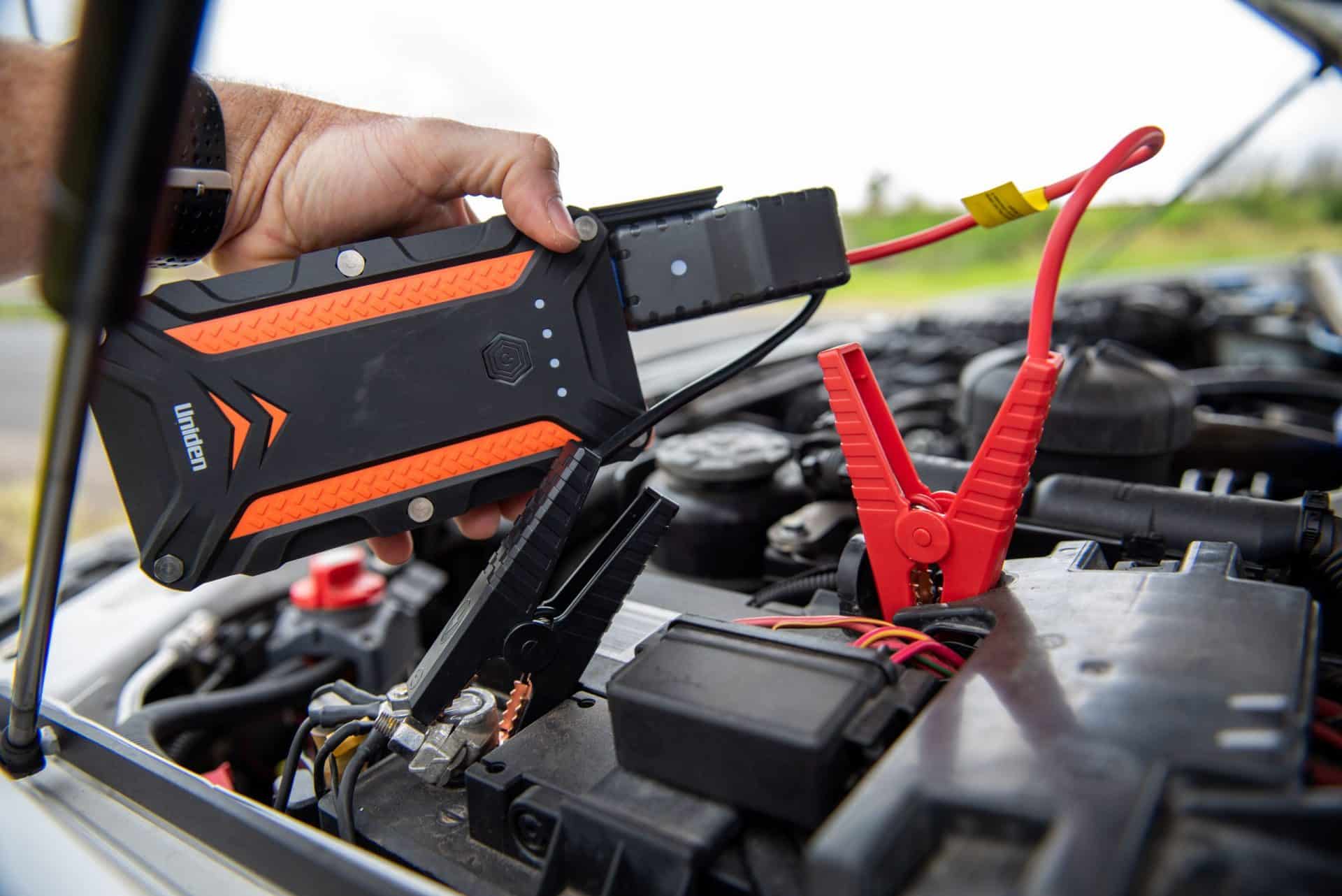 The first thing that we learnt from this is not to underestimate something just because it comes in a small package. Before we tried jumping the car, we had the UPP 1000 Jump Start Kit at 100% charge. After the three failed attempts and then the successful start, with force start mode on, the UPP 1000 only dropped down to 50% battery charge. While you'd hope when out bush your battery would never drop as low as 1.6V, (if it does you need to sort out some wiring), we were impressed and would be reassured in the knowledge that you could get going at least two times, if not more. While we don't have a 5.0-litre diesel or a 7.0-litre petrol engine laying around with a flat battery, we're quietly confident this unit would crank them over with a reasonably flat battery.
A jump starter, a torch and a charger for your laptop, smartphone, tablet or whatever, in a waterproof and shockproof housing, and smaller than a shoebox – amazing.
So, what do we think?
My previous experiences with portable jump starters hadn't left me impressed, but the Uniden UPP 1000 worked. It cranked over our completely dead four-cylinder Amarok so I can't wait to see a dead 'Cruiser on the tracks to test it out on a larger capacity motor. I reckon everyone should have one in their glovebox.
Check out our first-look video here
What did we like?
It's small and compact enough to fit in your glovebox, backpack or even a purse;
Multitool style, it's a jump starter, a charger and a torch, all it needs is a bottle opener and it'd be perfect; and
It works! So far in all our testing, it does what it says on the box, which is always satisfying.
What did we dislike?
It would be good to have a digital display for the battery readout rather than just four lights; and
The Smart Clamp jumper cables could have a bit more length to make it easier to get reach further apart terminals, however we understand the reason for the length is to avoid any voltage drop.