In this weeks edition of 'From the Vault', we bring you a rather mental blown 1GR-FE-powered N70 HiLux, because horsepower is life!
Not wanting to go near a diesel-powered D4D HiLux, simply because of the early issues with the injectors locking open and popping engines, Matt Bell picked up this 1GR-FE powered 'Lux about seven years ago. He wasted no time bolting the Raptor V supercharger kit on it, adding some more fuel, and dootsing up the beach like there's no tomorrow in a blown HiLux. We caught up with Matt (actually, he caught up with us… really easily too) out on the beach recently, and he let us have a gander at it – and filled us in on all the little bits and pieces his old girl's got running under that sleek black exterior.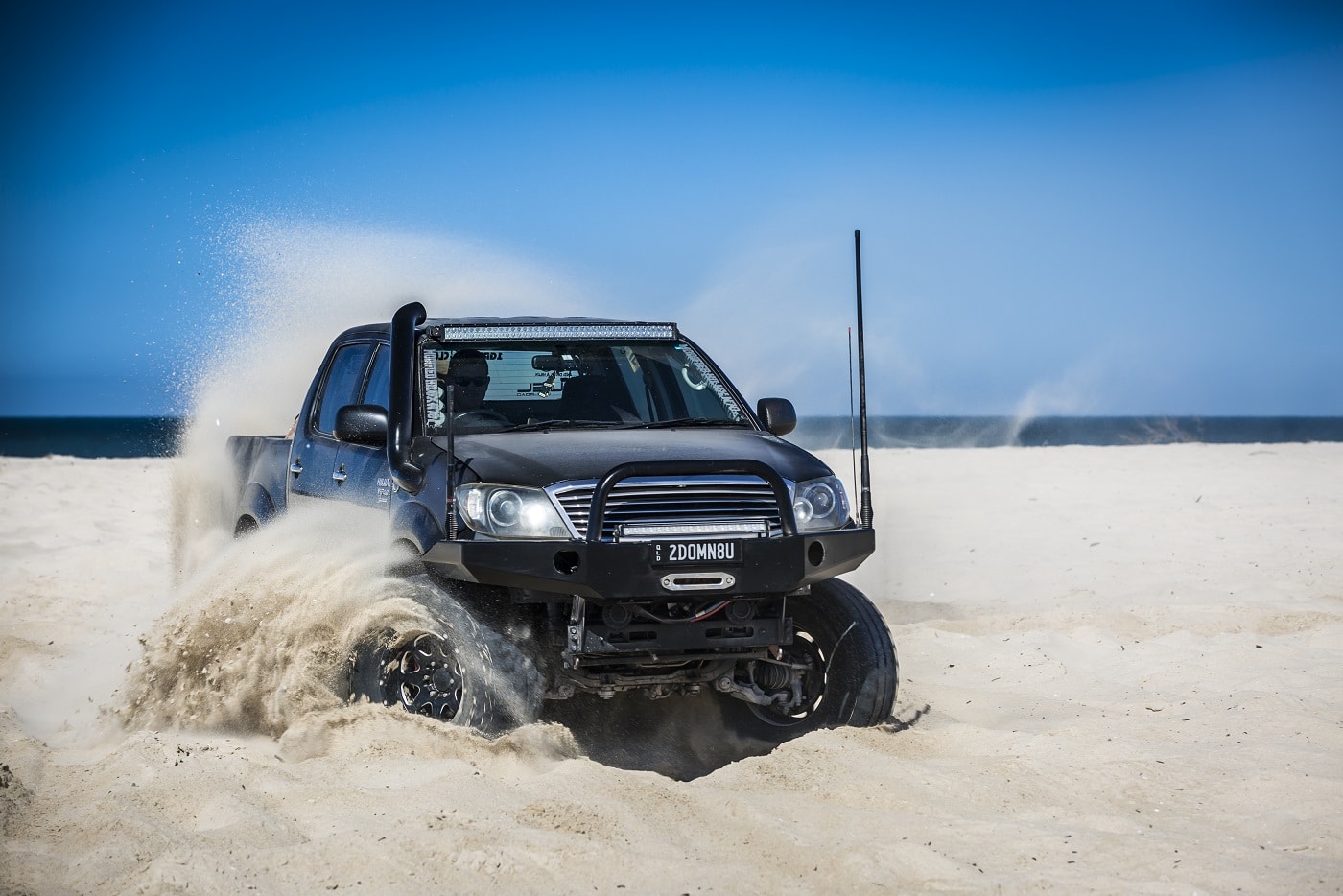 The vehicle
This 'Lux started life in 2006, being one of the first of the GGN25 model HiLuxes to land in Aus. It got bunted about for a couple of years as a general runabout, until Matt got his hands on it in 2010 – stock as a rock. As you can see, it's changed a little from a stock HiLux… with a blower, lift, camping mods, and a few extra bits and pieces.
Matt tells us he went for the 1GR powered 'Lux simply because back in 2010 when he picked this up, it was the only thing around with a big petrol engine; and a ute was more practical than, say, a Prado… and a damn sight better looking than the Y62 that came along a couple of years later (and he also got to keep his man card – apologies to the Y62 owners out there, I just can't bring myself to not make fun of them).
The bolt-ons are where things get interesting with this HiLux – instead of going and finding himself a blower off the actual TRD HiLuxes (back when TRD meant more than just a sticker kit and front bar) and bolting it on the side of the 1GR, he's gone completely aftermarket. Intake, induction, exhaust, cooling, the works… all have been modified to get the most out of this bus.
After Matt finished showing off in front of us on the beach (in a controlled manner naturally), we got a good look at his truck and even got some photos too. Be warned, this may even sway some of the most steadfast diesel diehards to think long and hard about a blown 4.0L.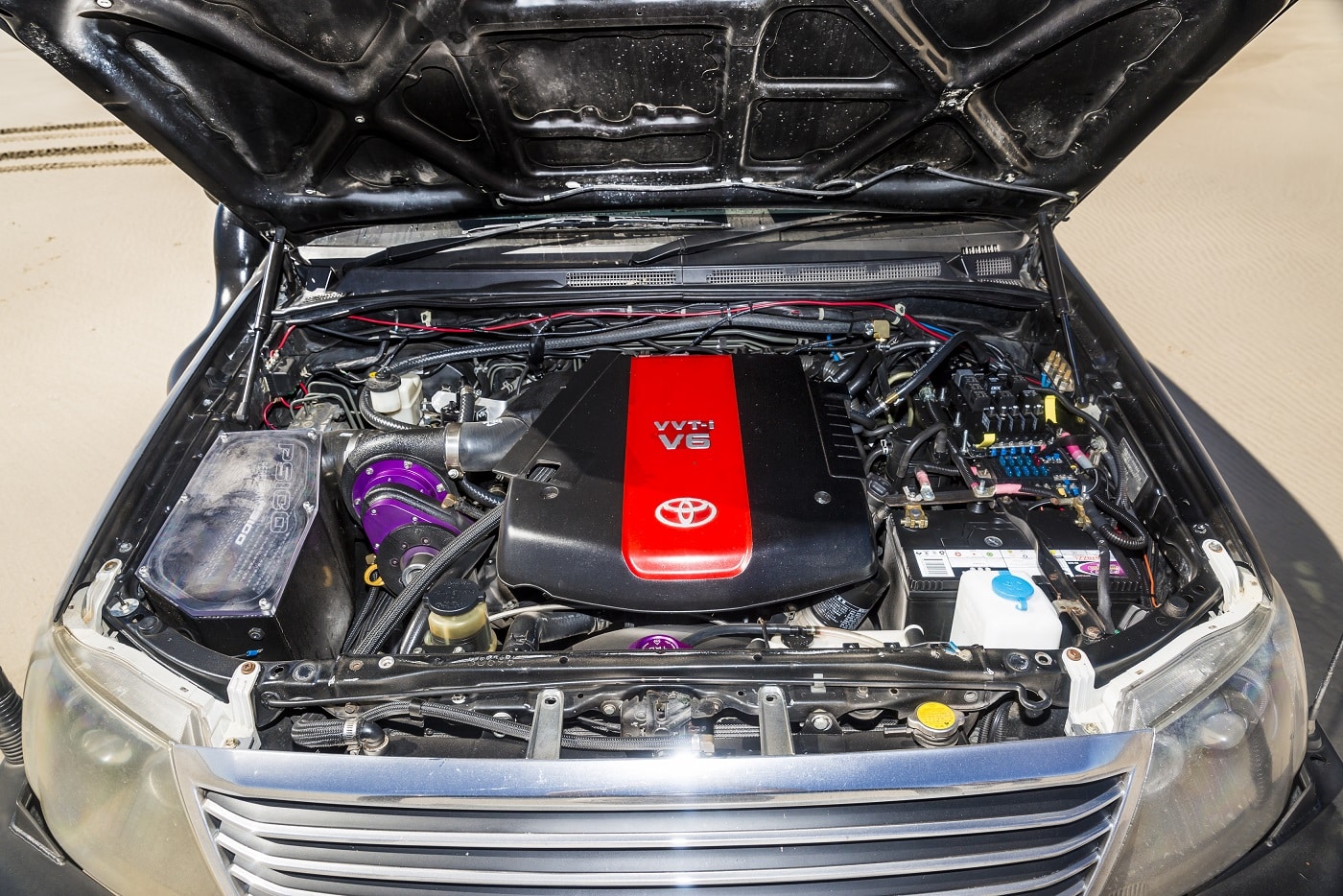 The modifications
Straight off the bat, Matt hasn't messed around with off-the-shelf stuff for the HiLux. Just looking at the barwork proves that point: A Buds Customs plate front bar, Phat Bars angled sliders, and Phat Bars 5mm underbody bash plates covering the radiator to diff, diff to gear box, and box to transfer. He's also got a full set of rock crawling lights under the cab. In the front bar Matt's got a Runva 11XP low-mount winch with synthetic rope, and up on top of the bar there's a 20-inch Great White LED light bar and pair of GME UHF aerials, and a 42-inch Stedi up on the roof.
On suspension duty there's a set of Monster Rides damper adjustable coilovers raised three inches in the front, and a set of 2-inch extended shackles with Dobinson MRR Remote Res shocks. There's also a 2-inch body lift fitted to get the cab that much higher, making room for the Achilles Desert Hawk XMTs in 305/70R17 wrapped around Fuel Boost 17×9 alloys with –12 offset.
Helping the 'Lux pull up after getting off boost, Matt's done the front conversion to 120 Prado 338mm discs and callipers, and fitted a set of DBA T3 slotted rotors while he was in there.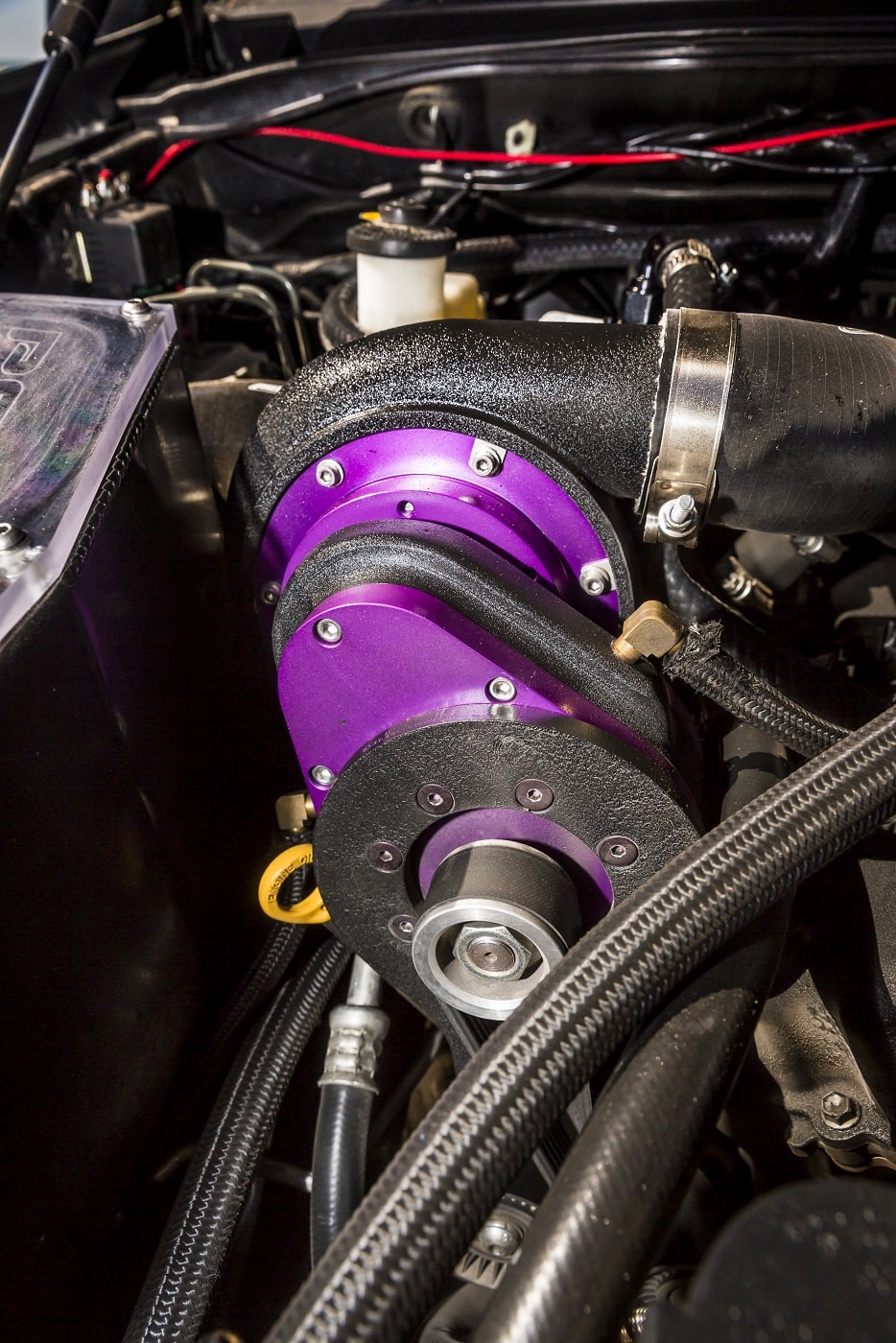 Moving to where the fun starts on the blown HiLux – the engine bay – Matt has gone a little bit silly with the mods, but we'll be buggered if it isn't simply awesome. He's thrown a Raptor V supercharger at the 1GR with a 7psi pulley, a Power Mod piggy-back ECU, PSICO Performance air box, 725cc Injector Dynamics injectors, Aeromotive 340lpm fuel pump, and two Radium Engineering catch cans… because well, blow by. Feeding into the PSICO air box he's got a 4-inch snorkel also by PSICO and a full 3-inch Hurricane exhaust system from the long tube extractors all the way to the back.
Inside the cab Matt's got some tasteful mods, without overdoing it. Up the front he's got both GME and Uniden UHFs looking after comms, an Alpine head unit with a bunch of Alpine speakers and a 1,000W Pioneer sub taking care of the bottom end. Gauge-wise there's a set of Prosport gauges in oil temp, water temp and oil pressure. There's a set of custom drawers built into the rear seats, with a pair of 100Ah batteries back there. DC-DC charging is managed by a CTEK Dual 250S with the Smart Pass unit, and a Waeco CF50 is keeping the beers cold.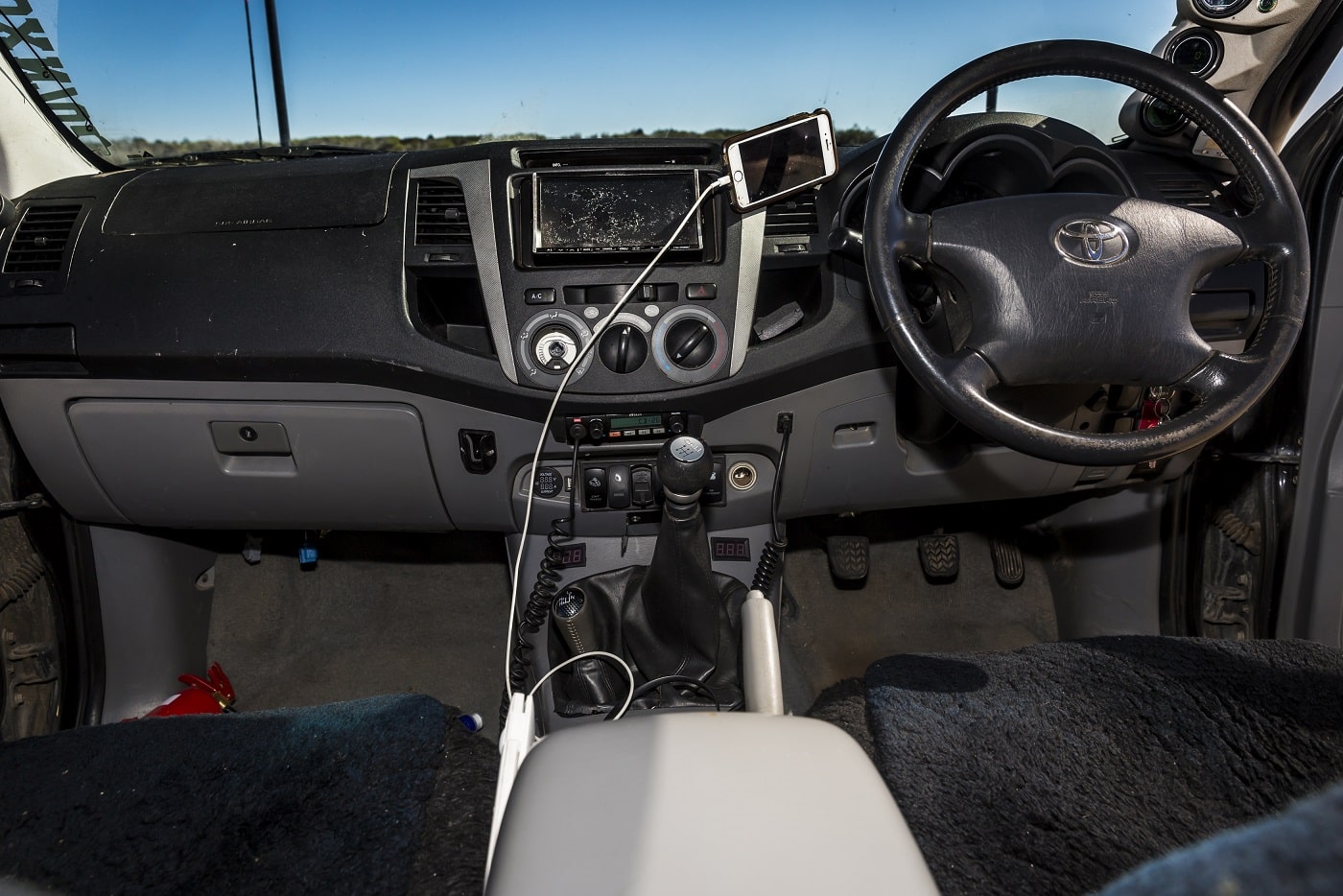 Final thoughts and Matt's advice
Considering the majority of 'Luxes we get to see are of the turbo-diesel variety, it's refreshing (and more than a little amusing) to see a blown 4L petrol boosting around. This thing absolutely goes like a shower of the proverbial, and would do us in a pinch for a bloody quick fishing and camping rig.
After yarning with Matt for hours about his bus, here's a couple of pieces of wisdom he threw at us: Make your mind up whether you want auto or manual before you buy it and mod it, as the auto conversion is on the list for Matt; and bolting a blower on the side of a 1GR-FE is the greatest thing he's ever done – saved him all kinds of hassles trying to shoehorn a V8 in there, and gets him just as much power. Not bad for a blown HiLux!