Why I love the Mereenie Loop Road Trip in Central Australia
The Mereenie Loop is an epic back road journey from Alice Springs to Uluru. Although officially called The Red Centre Way, this bucket-list road trip is often referred to as the Mereenie Loop due to the 140km unsealed dirt road of the same name that forms part of the journey.
Why do I love it so much?
Well, it connects three amazing destinations in Australia – Alice Springs, Kings Canyon and Uluru – and it's way more fun than driving the Stuart and Lasseter Highways. In fact, I love it so much that I have subjected my family to a 30-hour road trip from the East Coast of Australia to do it not once, but twice now.
Here's what it looks like on the map:
Yeah I know, it doesn't look like a loop, does it? Well, I've left the loop open-ended as you can complete the loop by either backtracking the way you came or by taking the highway back up to Alice Springs. It's up to you!
How long should I take to do it?
According to Google Maps, you can get from Alice Springs through to Uluru via the Mereenie Loop in just under 8 hours. However, there is really no point to the road trip if you do it this way as you will miss out on every single epic stopping point along the way. Trust me, you don't want to do it this quick.
I recommend a minimum of 5 days but 10 days is spot on as this allows you to camp beside and swim in stunning waterholes, explore Kings Canyon, and enjoy Uluru Kata-Tjuta National Park. It also leaves a day to shoot back up the highway to Alice Springs.
Here's what you will experience on the Mereenie Loop Road Trip (aka The Red Centre Way) starting from Alice Springs: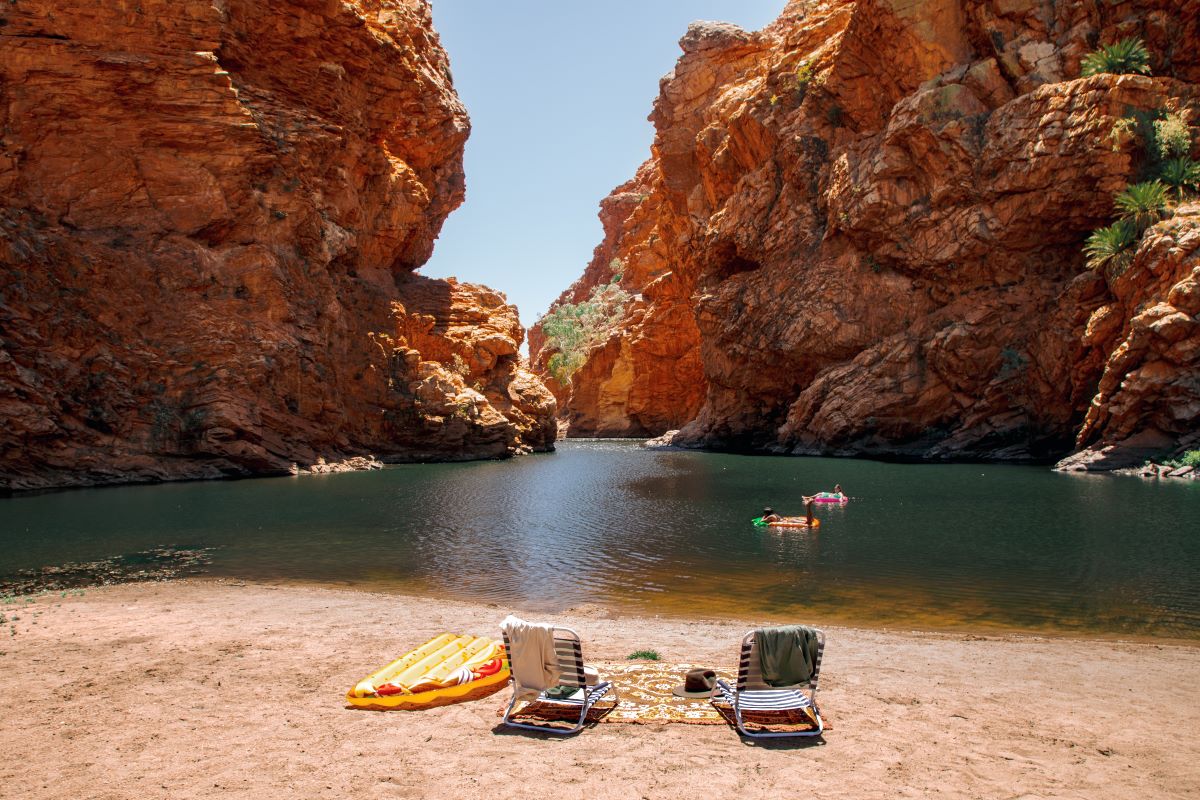 The West MacDonnell Ranges
The West MacDonnell Ranges are amazing and I have no doubt will be the highlight of any explorer's Mereenie Loop road trip. Don't miss the opportunity to both swim in and camp at Ellery Creek Big Hole, Ormiston Gorge, Finke 2 Mile and Redbank Gorge. Read our article on the Best Camping Spots in the West MacDonnell Ranges for more information on these great swimming holes and campsites!
If time is on your side, stop in and check out Tnoralla (Gosse Bluff), a 20km crater from a comet crash around 142.5 million years ago. It is strictly 4WD access only and it's also the last opportunity to use a toilet before hitting the Mereenie Loop Road and reaching Kings Canyon.
The Mereenie Loop Road
The 140km Mereenie Loop road is known for corrugations and washouts. In fact, both times I have driven this road it has rattled the bolts free on our rooftop tent. The first time we drove this road a few years ago it was fairly smooth sailing. More recently, we drove this stretch a second time and it was rough as guts with quite a few deep washouts.
Don't forget to let your tyres town before starting this road and you will also need to watch out for wild brumbies, camels, kangaroos and more.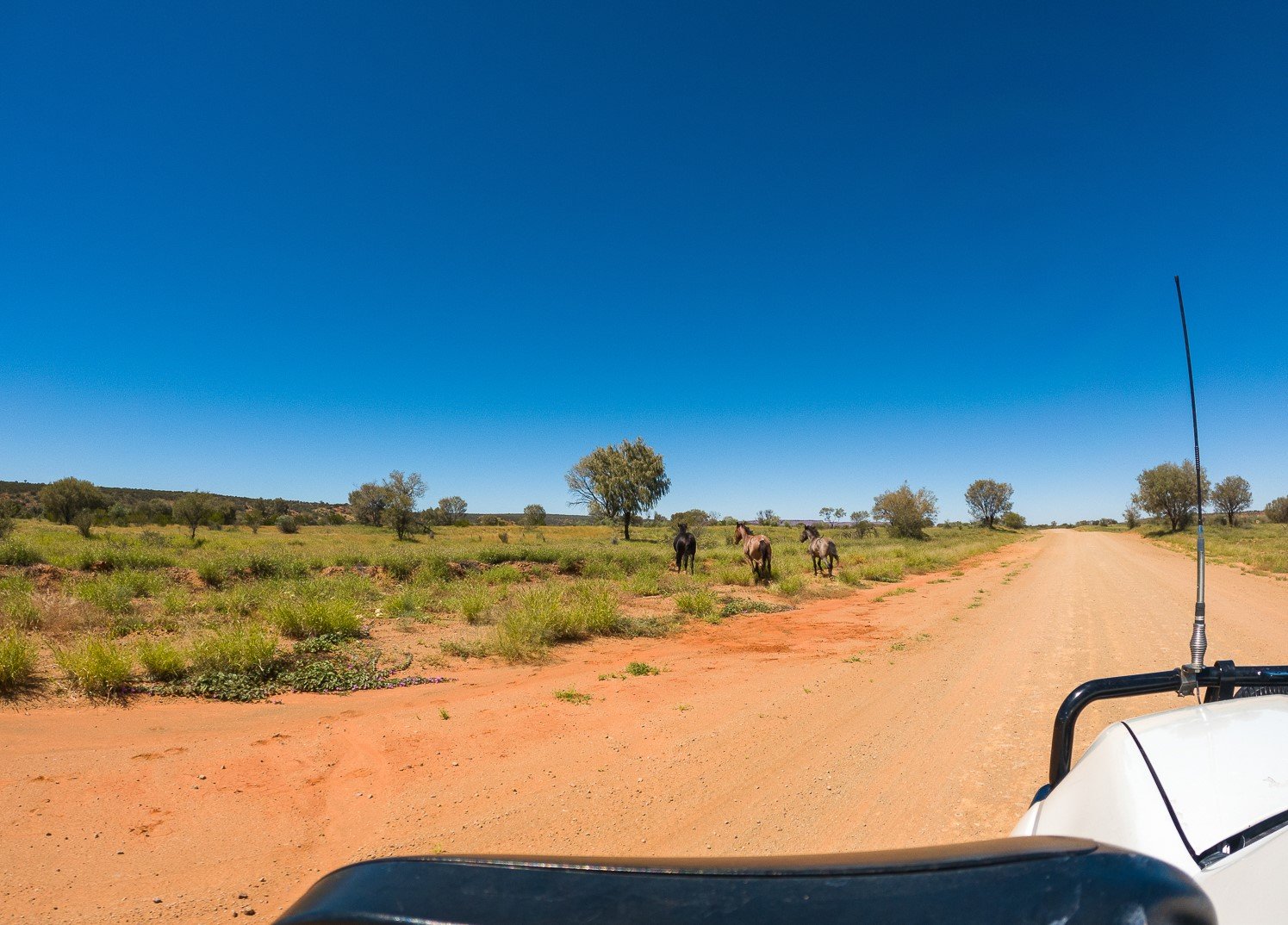 Kings Canyon
Once the Mereenie Loop spits you out at the other side, the road will eventually become sealed again and you will find yourself at Kings Canyon Resort. Here you can either camp, glamp or live it up in a hotel room for a night or two while you explore Kings Canyon. Take a night off from self-catering as there is a bistro here with great meals.
The 6km Rim Walk is a must-do at Kings Canyon but I should warn you, the first ascent is steep and nasty on legs that are not used to inclines of any sort. If you're not feeling up to it, there are a few other shorter walks to do as well.
Uluru Kata-Tjuta National Park
After leaving Kings Canyon, head down Luritja Road and follow the signs to Uluru-Kata Tjuta National Park. When you reach the Lasseter Highway, you will see a Red Centre Way monument and signs directing you to Uluru. You can't miss it!
The next 300km (3 hours) are boring as hell but if you're into geocaching, there are a few hidden along this stretch to break up the drive. You'll spot Uluru long before you reach it and although climbing it is no longer allowed, there are heaps of fun ways to experience it including pedalling around it on pushbikes, foot power, camel power, segway, helicopter and more. Kata Tjuta (formerly known as The Olgas) is just as amazing as Uluru with some amazing hiking tracks through the unique landscape.
Top tip – If the sunset viewing area is full at Uluru, head to the sunrise viewing area for awesome photos of Uluru in silhouette against the colourful Central Australian sky in all of its glory.
I recommend booking in to do a Field of Lights tour while you're at Uluru. What is the Field of Lights you ask? Well, it's an outdoor art exhibition by celebrated artist, Bruce Munro involving over 59,000 spindles of solar lights spread over an area larger than 7 football fields. Oh … and Uluru is the backdrop.
Most people stay at Ayers Rock Resort which has a camping ground, shops, and hotel-style accommodation.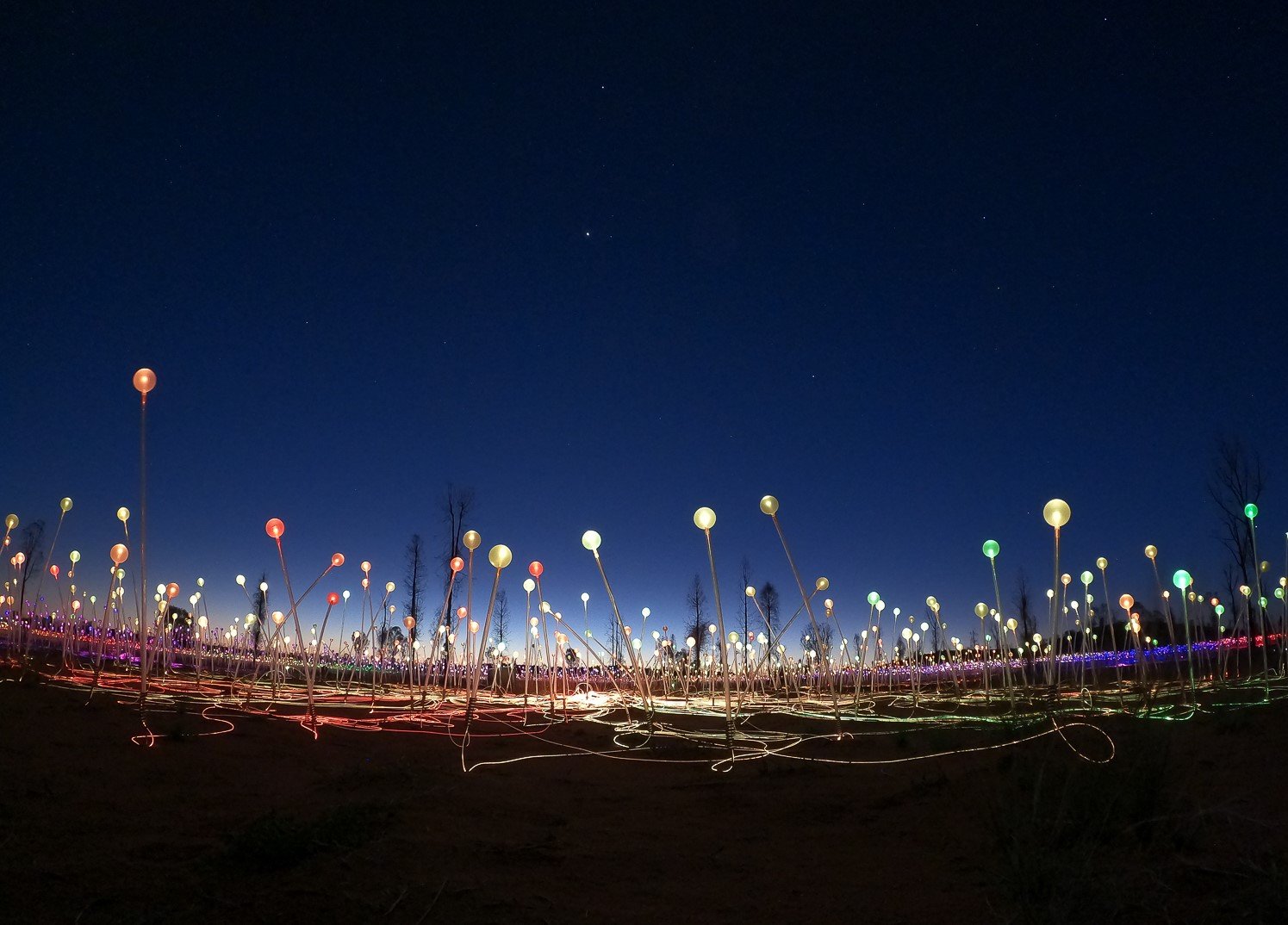 Completing the loop
At this point, you can either head back the way you came, or shoot 470km (around 5 hours) up the Lasseter and Stuart Highways to complete the trip in Alice Springs.
Need to know before you go
You will need a Mereenie Loop Road Permit to embark on this fun road trip and although much of the route is sealed, a 4WD is required to manage the parts that are not sealed and to access Tnorala, Redbank Gorge and Finke 2 Mile. The pass covers the official Mereenie Loop dirt road which crosses through Aboriginal-owned lands. It only cost $5 and permits can be obtained from the Alice Springs Visitor Centre and Kings Canyon Resort reception.
An entry fee is payable to enter Uluru Kata-Tjuta National Park. I recommending getting it online before you arrive as it's much quicker to get through the entrance to the park if you do.